Last Updated on November 24, 2021 by DMEditor
It is one thing to want to provide the best user experience on your website. And it's another thing to know precisely how to do it—using real, website visitors' data.
No guesswork.
You want to discover what your visitors are eye-balling, clicking, reading, and watching. Website visitors' engagement.
If you can find out how deep they scroll down your web pages, how easy-to-fill they find your forms, and what site elements frustrate them, you can make it right and provide the best website experience for your visitors—the kind of proactive action that guarantees higher conversions.
And that's where heatmap software, web analytics tools, and visitor recording programs come in.
The best heatmaps and visits recording services right now will empower you to watch and discover exactly how a few to thousands of web traffic interacts with your website elements.
The programs then present actionable data in easy to analyze data visualization methods, so you know what to do next.
Some solutions go on to help users like you A/B testing functionality or split tests to trial the changes you make and see what works best.
By understanding what makes your website tough to navigate, how deep visitors go, and what elements they interact with the most, you'll know what to improve to offer exceptional experiences that rocket your conversion rate optimization.
While there are a bunch of heatmaps, visitors recording, and web analytics tools to choose from, this post is a review of CrazyEgg vs Mouseflow.
Main Differences Between CrazyEgg vs Mouseflow
The main differences between CrazyEgg and Mouseflow are:
Mouseflow offers built-in A/B testing, whereas CrazyEgg does not
Mouseflow offers full visitor recordings, whereas CrazyEgg just does heatmaps
Mouseflow has scrollmap recording, whereas CrazyEgg does not
Mouseflow offers a more robust mobile app compared to CrazyEgg
CrazyEgg is slightly less expensive than Mouseflow
Well, it is a comparison. And if Hotjar, Lucky Orange, Inspectlet and other Mouseflow and CrazyEgg alternatives have to pop up to make the post even more resourceful to you, then so be it.
But before comparing Mouseflow and CrazyEgg feature benefits, how about a little backgrounding?
But First, Bottom Line up Front: With Mouseflow at your disposal, you can go beyond heatmaps, with screen replays (visitors recordings), and scrollmaps. For this reason, I personally prefer mouseflow here.
CrazyEgg vs Mouseflow Overview
How CrazyEgg Works
Unlike all-in-one alternatives, Neil Patel's CrazyEgg is a heatmapping tool. It uses mouse tracking technology to establish how your website visitors interact with the different elements on it.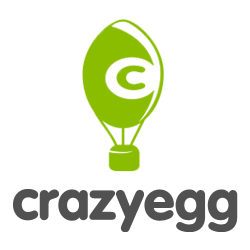 You can track and get a visual of:
Which elements visitors are interacting with
Where visitors are clicking ("Hotspots")
How visitors journey or navigate around your site
How deep visitors scroll down a page with Scrollmap View
Which web pages they visit most
Where they are coming from
Which areas of your website are ignored
You can see these CrazyEgg benefits in action by generating heatmap analytics reports and reviewing visitors' recordings.
How Mouseflow Works
Mouseflow makes a top CrazyEgg alternative because it can do what the latter can and then some. The Copenhagen based firm is an all-in-one heatmapping, visitors' recordings, and web analytics tool.

Like its name suggests, it uses mouse tracking technology to accomplish these (what CrazyEgg calls "Eye Tracking").
Find the best Mouseflow features in the Special Features section for a more-detailed lowdown.
Some people feel being a jack of all trades can mean you are a master of none. Is that the case with Mouseflow?
Read on to find out.
CrazyEgg vs Mouseflow Review: Which is the Best Solution for You?
Ease of Use
Both programs are decidedly easy to set up and start using.
CrazyEgg only requires you to provide your site URL to receive a fast and free demo right before you can get started. Perhaps its decision to stick to heatmapping only helps declutter its dashboard, making it easy to learn even if you are new to heatmap tracking software.
All CrazyEgg pricing plans are free for the first 30 days, so you can take that time to know your way around. That also means you'll need to provide your payment details like credit card number before accessing the "free trial".
With Mouseflow, you might need a bit more time to wrap it around your little finger. But once you do, it should no longer be a bother. However, Mouseflow continues to update its user interface and now more than ever you'll have most of what you need in the dashboard or using just a few clicks.
You can test Mouseflow in your specific use case, though. You'll get up 500 sessions, across three websites, and have all access to its heatmaps, forms, funnels, as well as user feedback until you have wiped out the token/credits (1 credit = 1 session).
Alternatively, Mouseflow provides a 14-day trial that you can take up to experience how it works first-hand.
So, if you have a large team or number of clients you are working with you might prefer the easier to learn program of the two—if having more advanced features is not a requirement you need.
Still, you'll need to manually install a small portion of JavaScript before the last tag on your website in both cases.
Customer Support
Both Mouseflow and CrazyEgg offer several ways to reach out to them in case you are stuck and need help running your piece of their engine.
Mouseflow provides a free video library to help users learn each of the five major Mouseflow features. You can also keep up to date with Mouseflow news, program updates, and hacks by browsing their active blog and social media channels.
But if you need in-depth help to reap maximum ROI from your Mouseflow account, the company offers paid consultations. They can dig in for the data you want and even have one-on-one discussions with you about what they find and what they recommend you do to boost your conversion rate optimization.
CrazyEgg has a Help Center, blog and six social media platforms to connect on. The Help Center is particularly loaded. It hosts quick start guides, video demos, article tutorials, troubleshooting tips, and how to complete CrazyEgg tasks (using each one of its features).
If you need email or live chat support though, both offers might not impress you that much. While they offer email addresses, at times the responses are generic and at most times slow to come by.
Still, while CrazyEgg pegs its support on its ease-of-use only, Mouseflow avails phone support for all plans.
Special Features
CrazyEgg's domain is snapshots, recordings, and A/B testing. Now for heatmap snapshots and visitor recordings, it is a common offering between Mouseflow and CrazyEgg.
Where the latter differentiates itself is in providing traffic source data and A/B testing capabilities among a few others.
CrazyEgg Special Features:
CrazyEgg's Confetti Reports empower you to see:
How long it takes visitors to click on an element on your site
Which country they are from
Which browser and device they are using
Which search engine they are using
Which websites referred them to you
And more personalized heatmaps to help you understand your visitors' wants and needs, so you can figure out how to serve them and get what you need in return—conversions.
With A/B testing or split testing support, you can choose to measure which configuration, website design, landing page style, web copy, sales copy, image positioning, form positioning and other elements' characteristics encourage positive visitor actions.
Borrowing a feather from Hotjar and Mouseflow, CrazyEgg recently added Visitor Journey View to users' dashboards. What that does is help you track, monitor and record a visitor's interaction with your website elements from the time they land on it to the last page or element they visit.
That means you can track and discover how your website users experience your site first-hand via user behavior reports. You can learn what works, what frustrates them along the process, and what you can do to make the journey as simple and engaging as possible.
For example, you can discover deadlinks that dissuade your visitors from gaining more information so they can know enough in advance to trust that by signing up to your newsletter, they'll be getting non-spammy, valuable emails in the future.
Moreover, you can favorite recordings that you deem important so you can retrieve them later for further reference. You can also segment click activity based on the source it came from but you can't do the same with Scrollmaps.
Not only that, but CrazyEgg will allow you to onboard your entire team, customize your account, as well as integrate with a host of third-party services (more on CrazyEgg integrations in the Integrations section).
Mouseflow Special Features
If you want more than decent heatmaps to understand your visitors' needs, Mouseflow also focuses on funnels, feedback, and form analytics tools on top of the primary heatmap and session replay features (CrazyEgg's only offerings)
Yet, Mouseflow's Session Replays (visitors' recordings) allow you to segment or tag different recordings however you want. For example, you can tag recordings based on which source they came from like "Google", or even what action they took immediately they landed on your site.
Like CrazyEgg, Mouseflow will let you record, view and analyze visitors' mouse movements. In touch devices, these will record as finger taps.
Mouse movements are important to monitor particularly because they offer a streaming view of where your visitors' eyes likely focus on. So Mouseflow mouse movements will let you know exactly where users are looking and clicking instead of taking action based on assumptions.
What the Funnels feature does is provide you with an advanced tool to track a visitor's page-to-page activity.
You can use it to identify how visitors land on your pages, what action they take next, and how they move along their journeys towards say, checkout or signing up.
Funnels allows you to analyze visitor journeys from start to finish so you can find out where along it they bounce off and fix it.
The feature is more elaborate compared to CrazyEgg's Visitor Journey recordings. But other heatmaps and visitor recordings alternatives like Hotjar, Lucky Orange, SessionCam and Inspectlet offer as much as Mouseflow's Funnels does.
Here's a visual example of how it works: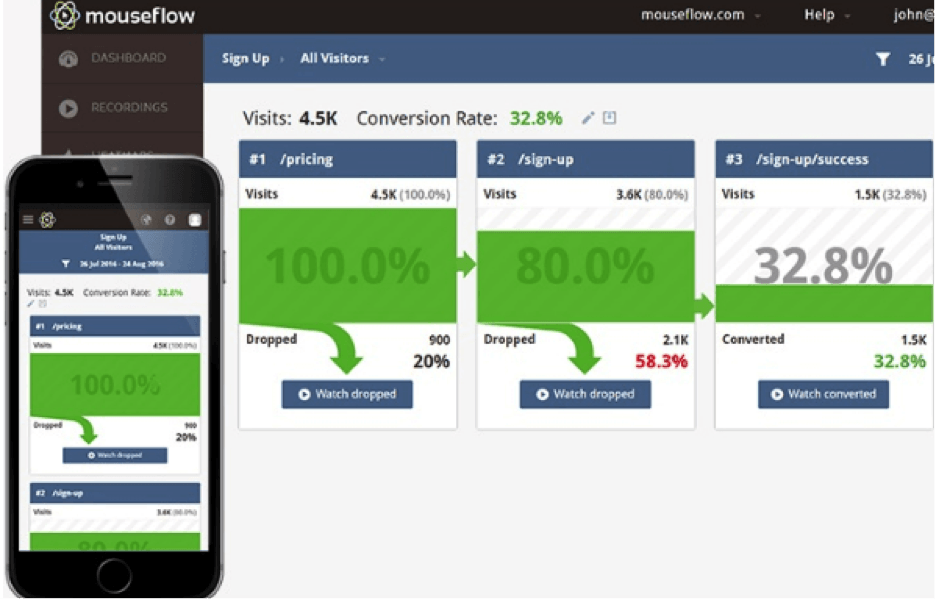 Courtesy: Sprout24
Another feature you'll want to use is Form Analytics. With it at your disposal, you'll be able to track and understand what form elements make it hard for you to convert visitors into subscribers and buyers.
For example, you can see which questions visitors answer quickly, take time on, answer shallowly, or skimp over. Then you can rephrase the question or choose to remove a particular question to see if you get better form fills.
Like CrazyEgg, you can split test how different forms help you convert more visitors to subscribers.
Feedback will help you gather user opinions and improvement suggestions so you can deliver even more fluid and targeted experiences to the people that matter.
You can use the feedback you get in combination with your Funnels data to understand what your visitors are telling you and what they really need. For example, you can create custom, interactive surveys that target one of your Funnels segments/tags.
By helping your audience get what they want and is hassle-free, you can almost certainly increase your website engagement and conversion rates.
Creating the custom surveys is pretty quick and easy, too. While Hotjar's Survey tool is more elaborate than Mouseflow's survey tool, unlike using CrazyEgg, you'll be able to collect real people's takes on what would make them happier and more fulfilled when browsing your website pages.
Compatibility and Integrations
Both CrazyEgg and Mouseflow are web-based applications. They do not offer mobile apps, except for Mouseflow which provides support for Windows Phone devices.
However, you can still access either service from a laptop computer on the go. You can also check your sites' heatmaps, screen recordings, and analytics from a mobile device because both platforms use responsive design to make their use mobile-friendly.
But if you need to integrate another service you use, Mouseflow supports the chunkiest selection between the two heatmapping services.
Both platforms integrate with essential services such as WordPress, Shopify, Squarespace, Drupal, Instapage, Weebly, Optimizely, Magento, and Google Analytics to mention just a few. To help you along in segmenting/tagging session replays, Mouseflow works with Google Tag Manager, so you can combine the two for best results.
Check them out: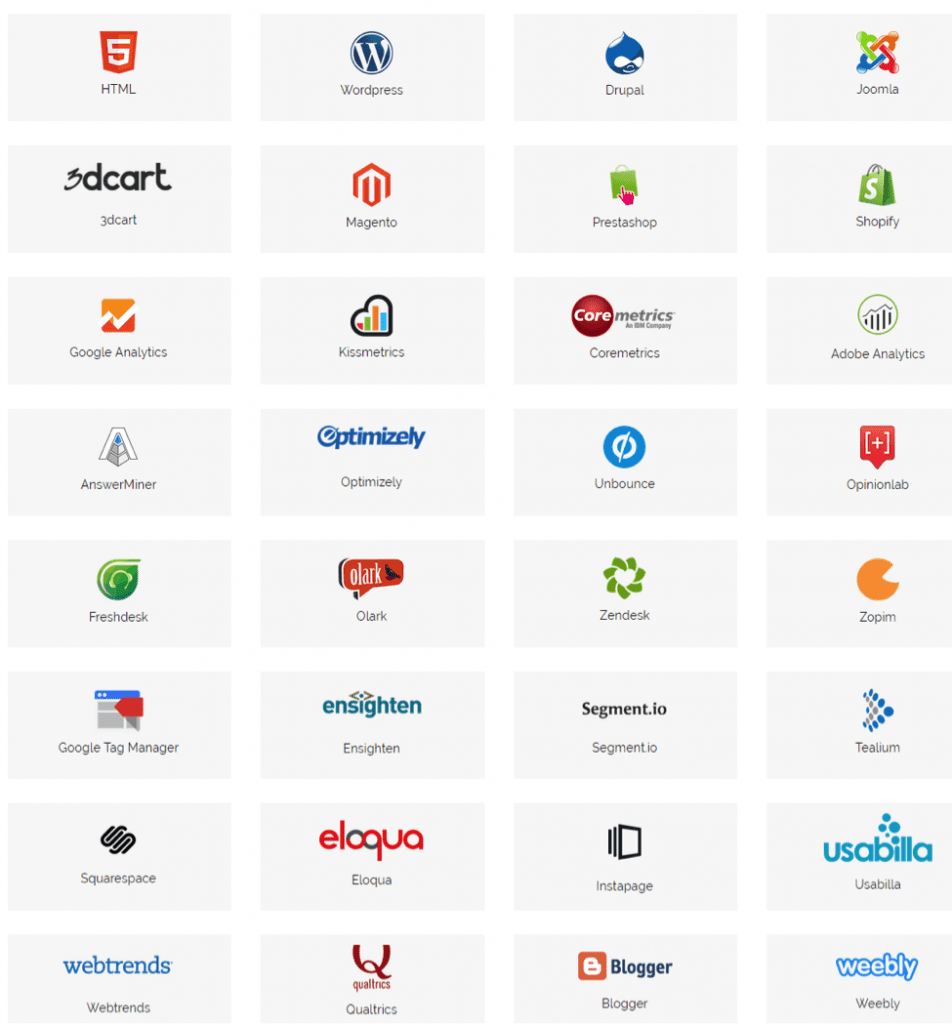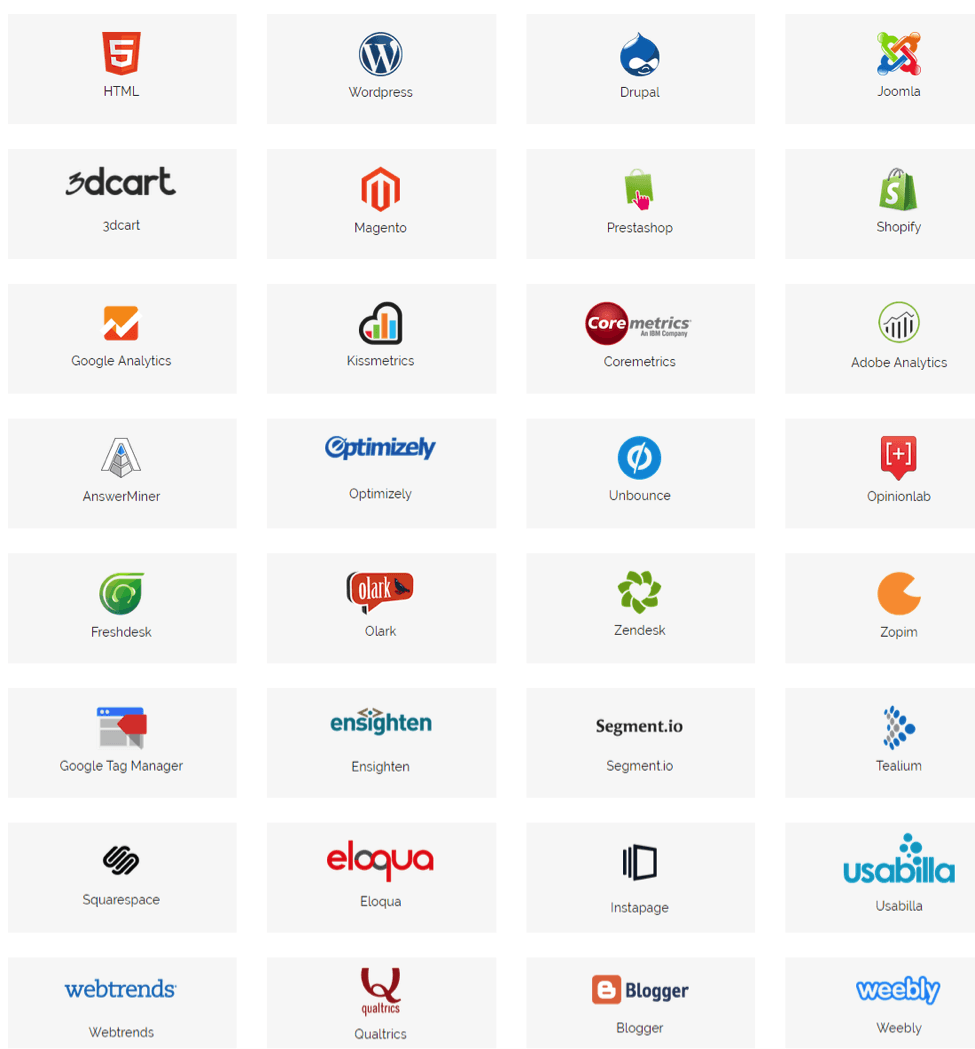 A few Mouseflow integrations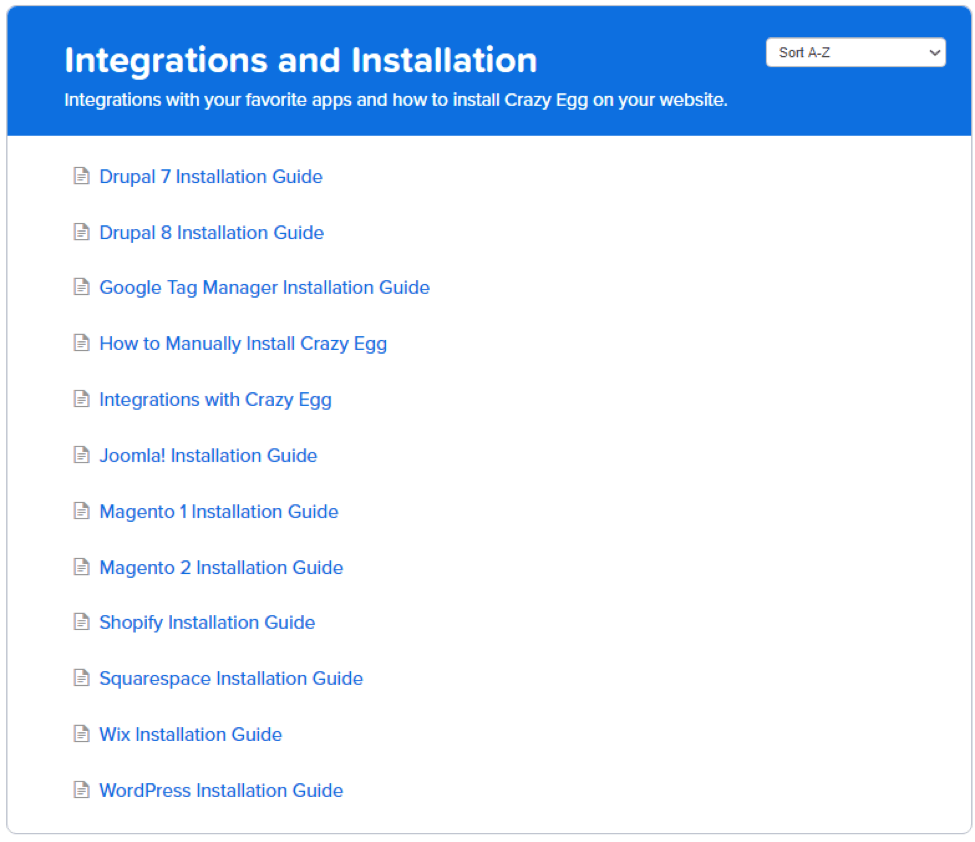 CrazyEgg integrations
Web Analytics Tools
You probably already use Google Analytics. But you might find its set of features limiting and want a more detailed program to help you capture in-depth analytics regarding what your site visitors are doing, when, where, how, and why, as well as at what time of day or night.
As discussed in the features section above, you can expect to get custom analytics from either solution. CrazyEgg is great at capturing and presenting heat mapping data. But Mouseflow offers more powerful, data-backed insight.
With Funnels, Form and Feedback analytics tools, Mouseflow outshines CrazyEgg here because you can use those to further understand what your visitors want from start to finish, how to improve your lead capture forms, and get first-hand suggestions and responses so you can further tailor your sites' elements to provide solutions and engage visitors hassle-free.
CrazyEgg vs Mouseflow: Pricing
Both companies provide scalable solutions that any business at any point in its growth curve can use and grow with—from solopreneurs and freelancers to SMBs and larger enterprises.
In both cases, plan pricing is based on pageviews you'll receive per month.
Mouseflow goes on to charge based on the number of websites you have and how many months you'd like them to host your data. You can also choose between making monthly or annual payments.
Also, note their pageviews per month differ from their sessions per month metrics.
For example, in the base Mouseflow $29/month plan, you can have up to 10,000 pageviews per month. But the company will let you record 2,500 sessions per month when you choose that plan.
Check out what we mean in this Mouseflow pricing model: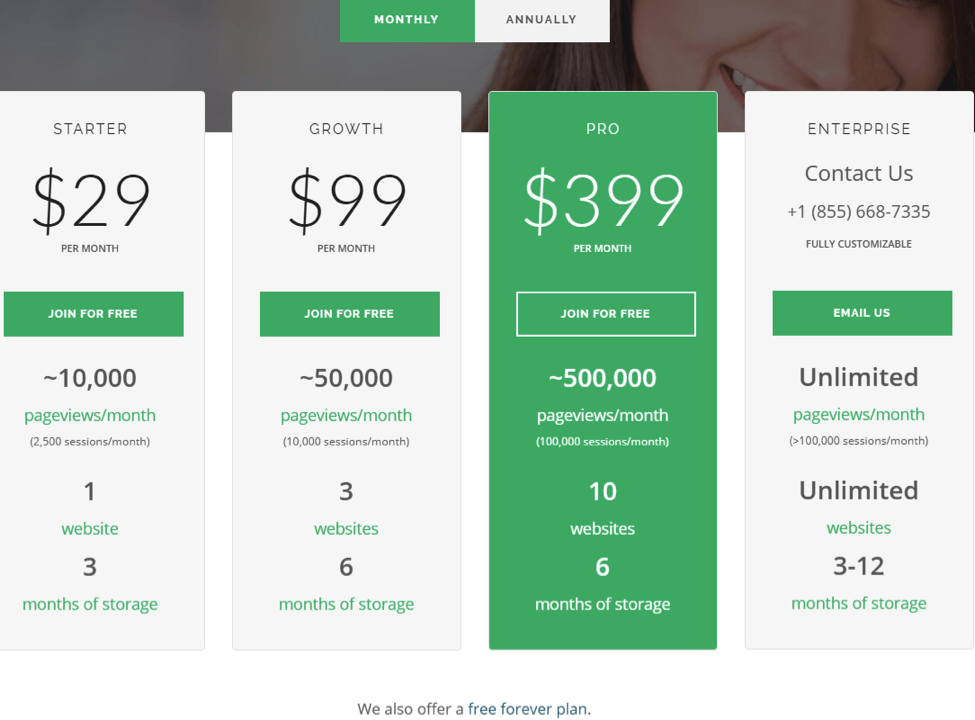 Mouseflow
On the other hand, CrazyEgg offers roughly similar pricing tiers.
There are sessions/month tokens like Mouseflow offers. Instead, you'll get a specified number of tokens for heatmaps, recordings, and the number of months you'd like your data hosted on CrazyEgg web servers.
However, all plans offer unlimited A/B testing and domains. You can also add as many members to your team as you want whichever plan you purchase.
Check this out: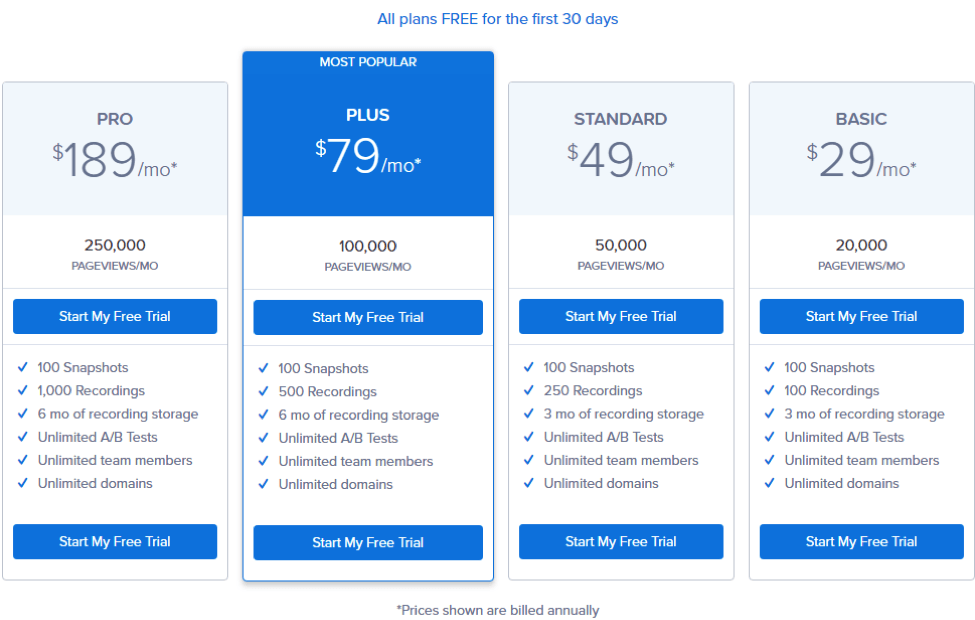 CrazyEgg pricing
Also, notice how Mouseflow's plans seem more expensive. That is, until you consider Mouseflow conveys more advanced session replays, segmentation, and conversion tools than CrazyEgg. So, comparing Mouseflow with Hotjar or Local Organic's pricing might make more sense in terms of overall value.
Does that mean Mouseflow's richer features set makes it's the best heatmaps and screen replays software around?
Mouseflow vs CrazyEgg Conclusion
The best solution for you will, of course, depend on what you are planning on accomplishing now or in the near future.
If you want a simple, heatmapping software, CrazyEgg could be your top choice.
It'll help you capture, record and analyze heatmaps, scrollmaps, visitor recordings, visitor journeys and use A/B testing to customize your site to what your audience responds positively to. You can also favorite recordings you find important, making them easier to retrieve for implementation at a later date or for further analysis.
Bottom Line: With Mouseflow at your disposal, you can go beyond heatmaps, screen replays (visitors recordings), and scrollmaps. For this reason, I personally prefer mouseflow here.
You can track user experiences from when they land on your site to when they exit using Funnels, see how they interact with your forms and how you can improve that with Forms Analytics, and gather first-hand responses and suggestions from real users with Feedback surveys.
Over to you.
What are you looking to accomplish at this point in time or in the near future using solutions similar to CrazyEgg and Mouseflow?
Further Reading: