Last Updated on November 24, 2021 by DMEditor
Discover the most reliable, efficient web analytics tool for your websites visitor's engagement.
Websites with the best user experiences easily convert visitors into customers and that is what you should aim for. But it is one thing to provide an efficient user experience on your website and another thing altogether to know how to effectively do it.
Stop guessing what your visitors want and find a reliable web analytics tool that will reveal why your visitors are not converting into customers – and what to do. These tools will help you better understand what you need to improve on your website by employing the use of session replay, heatmaps, funnels, among other many features.
Web analytics tools are known to help you discover what your visitors are clicking, scrolling, reading and even watching while on your website. Put it another way, they easily enhance a website's visitors engagement.
Imagine discovering what your visitors are looking for on your website, which pages they are scrolling, which forms are easy to fill, and which elements on your web pages frustrate your visitors all the time even encouraging bounce rates.
By understanding what your visitors are doing, and the actions they are taking on your website helps you provide the best user experience for them further enhancing higher conversion rates. There are hundreds of heatmaps, session replay, and web analytic tools for websites on the web. It's upon you to choose what will meet your needs and exceed your expectations.
This post is a comparison between Mouseflow and Inspectlet as a way to find the best all-in-one analytics tool for your websites visitor's engagement.
Ready? Let's dive in.
How Mouseflow works

Mouseflow is a robust web analytics tool that is designed for improving conversion rates. You don't have to keep guessing what your visitors are struggling to find on your website or which elements on your web pages are causing frustrations for them. Mouseflow is designed to record JavaScript errors, friction, frustrated user behavior, and much more.

Here is what Mouseflow lets you track:
How people exactly use your website including what frustrates them most. In other words, it provides a session replay that allows you to track their mouse clicks, mouse movement, scrolls, forms, etc. This helps in the elimination of guesswork, in turn, helping you to enhance web user experience.
Activities that matter on your site. This all comes down to heat maps that shed more light on the trends of users on your website and what they're anonymously clicking or touching, scrolling, paying attention to as well as their exact location on the map. Heatmaps easily uncover what works and what doesn't on your site.
Discovers where your visitors are leaking out. Mouseflow has integrated funnels which help identify or analyses key journeys and processes that visitors are taking on your sites such as sign-up or checkout.
Identifies what helps or hurts conversion rates. Visitors interact with a lot of features on your website including forms. Mouseflow monitors how visitors interact with forms in real time. In other words, it measures blank submissions, refills, drop-offs, errors and more.
Encourages visitors to tell you what's wrong on your site. You can target a specific audience in seconds when using this analytics tool to track your visitor's feedback. It is a fact that visitors need help from time to time, experience issues, and sometimes are frustrated even. Mouseflow helps in providing valuable feedback when it matters most.
You can experience all these benefits by replaying the full visitor's experience on Mouseflow platform in order to understand how to optimize your site, boost conversion rates, as well as identify pain points of your visitors.
How Inspectlet works

Inspectlet is a worthy competitor of Mouseflow and an alternative, too. While google analytics tell you what exactly to do get conversion rates, Inspectlet tells you why. It does this effectively by using user sessions recordings and heat map visualization among other features.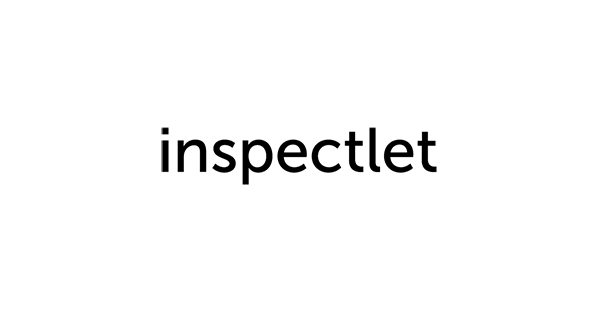 With Inspectlet recording tools session features, you are able to playback everything your visitors did or are doing on your website. It's like having someone look over your shoulders when performing a task.
Here's what Inspectlet does for you:
Records videos of your visitors in real-time as they using your website. Every click, every scroll, every mouse movement of your visitors is recorded to identify or let you know how visitors are using your site. You no longer have to guess again.
Provides insights on what users are looking for when navigating your website. Different visitors have different mindsets and unless you know how they're using your website you will never understand their needs. Inspectlet helps you discover what gets your visitors confused on your site and what gets their attention.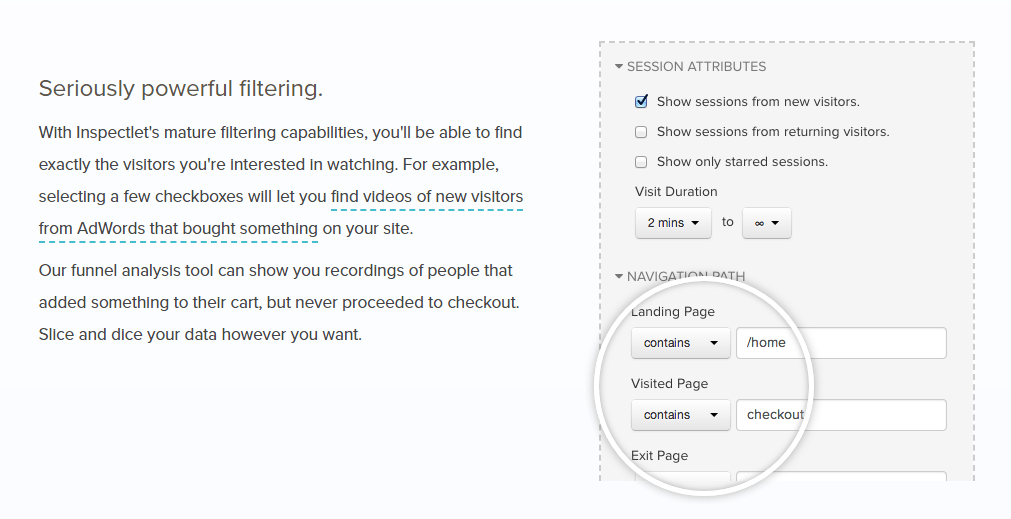 Finds videos of new visitors from AdWords that bought something from your site. In other words, Inspectlet has a powerful filtering capability that helps you find exactly the visitor you are interested in – who bought what, who added what on their cart, etc.
Shows you where and why people are dropping off. This is what conversion funnels feature integrated within Inspectlet is designed for. It allows you to replay sessions of visitors getting lost on a particular step. Inspectlet helps you track down drop-offs easily.
To help you understand where people are exactly looking on your website, heatmaps visualization features on Inspectlet come in handy, too. These features help you:
Track heat maps of your visitors. You're able to visualize their mouse movements, scrolls, and clicks and exactly what they're reading and on what parts on your site.

Provide heatmaps outline focus. Helps you know whether your visitors are clicking on your texts, image, link or even a particular button expected food.
Scroll heatmaps. Every website owner wants to know how far visitors are scrolling down on their web pages. Heatmaps visualization feature provides that info, easily.
Mouseflow vs Inspectlet: Which is the best solution between the two?
Ease-of-Use
Both programs are easy to set up and start using.
On Mouseflow, you can create your account and start immediately on a 14-day free trial with no credit card required. And you're only required to provide your website URL, email address and password in order to access the demo for setting up Mouseflow.
Mouseflow regularly updates its user interface which sometimes will make it look different but helps you more than ever to access the dashboard easily with just a few clicks. When you're signed in, you will have access to funnels, forms, heatmaps, among other features.
Inspectlet is rather different, but simple to set up and start using as well. Signing up is easier because it provides the pricing models and beneath each one of them is a sign-up button. So you are able to choose the best pricing model you want to start with.
This makes it easier for anyone who wants to get started with Inspectlet. With $0, you can sign up on the free pricing plan, which lets you access 1,000 recorded sessions a month, 1,000 A/B test visitors a month, as well as 10,000 approximate page views per month, and much more.
Customer Support
You can access customer support on both analytics tools easily in case you are stuck or need help in understanding their features or running your piece on their engines.
Mouseflow customer support uses free videos to get you to help with understanding how to use their five top most features as a web tool. Mouseflow boasts a blog and social media channels where you can get program updates, Mouseflow news to keep you updated on latest upgrades.
The good thing about mass flow customer support is that they provide you with in-depth assistance to enhance your return on investment while using your mouse flow account.
In other words, they provide you consultations on how to improve your growth rate and conversion rates of your website. Customer support does this easily by digging up important data or have one-on-one discussions with you on what you need to do to further boost your conversion rates.
Inspectlet also has a blog and resources to help you access customer support like providing a direct email address to their support team. But sometimes these emails from support team are generic and a bit slow to come by. Simply put, Inspectlet pegs their support based only on the ease-of-use. This makes Mouseflow support better.
Bonus info
As a unique web analytics tool, Mouseflow goes above and beyond industry standards to meet your needs and exceed your expectations by helping you understand visitors needs whenever they visit your site. This is why it mainly focuses on form analytics, feedback, and funnels etc.

Also, you can tag your recordings based on where exactly the coming from. For instance, you can tag different recordings from Google as a way to help you understand what your visitor's action was immediately or before they landed on your website.
Inspectlet, on the other hand, allows adding custom attributes for link or button clicked search, and helps you change page URL. You can also manually trigger a new session when using Inspectlet by triggering a call using the main JS code to reset sessions.
Compatibility and Integrations
While these web analytic tools are different they are almost similar on compatibility and integrations. For instance, both Inspectlet and Mouseflow are web-based applications.
This means they are not accessible on mobile applications besides Mouseflow which provides support for Windows Phone devices.
However, you can access both tools on your mobile devices thanks to the use of mobile-friendly responsive designs on the website. So it becomes easier to conduct a check on your website analytics, screen recording or session recordings, heatmaps among other features while on the go. So you can still access either tool on any device whether on desktop or mobile platform.
For best results with Mouseflow, employ the use of Google Tag Manager to achieve effective and reliable results. Inspectlet integrates easily with Shopify, eBay, Mediafire, Heroku, Salesforce, ABC, Siriusxm, Segment, Cisco, Michael's, WordPress, and more.

Mouseflow, on the flip side, integrates with more existing platforms and still continually works with your favorite tools. Magento, Optimizely, Weebly, Squarespace, WordPress, Drupal, Instapage, and many others. See below image.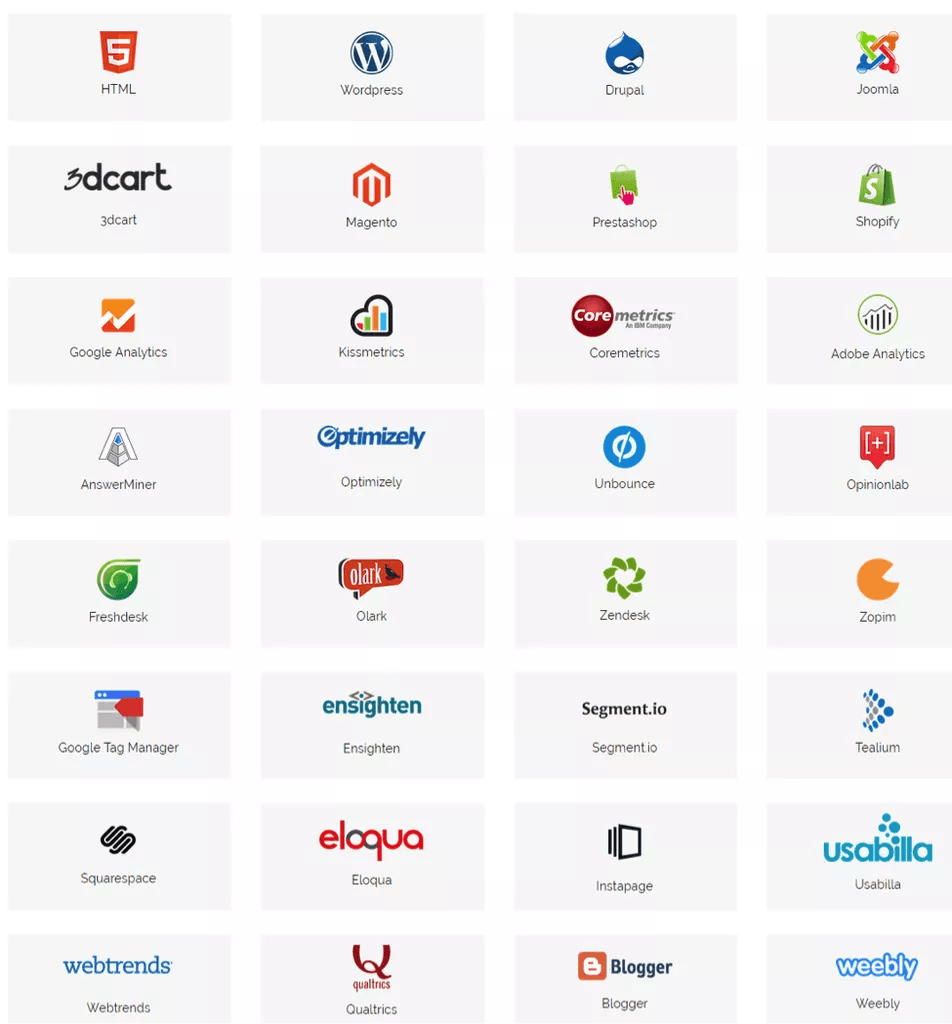 Mouseflow vs Inspectlet – Pricing Model
Both web analytics tools provide scalable pricing solutions that any business or website can be comfortable to grow with regardless of whether they are a large enterprise, freelancers, or entrepreneurs as well.
Both Mouseflow and Inspectlet pricing plans are based on page views that you will receive on a monthly basis. And both are flexible plans to meet your needs
On Mouseflow, you get to choose whether to make monthly or annual payments. And this is primarily based on how many websites you'd like Mouseflow to host data, and also for how many months.
However, there are two sides of Mouseflow pricing model where you are charged based on sessions per month, and page views per month. For example, in the Growth pricing plan, you receive 50,000 page views a month and 10,000 sessions a month for $99.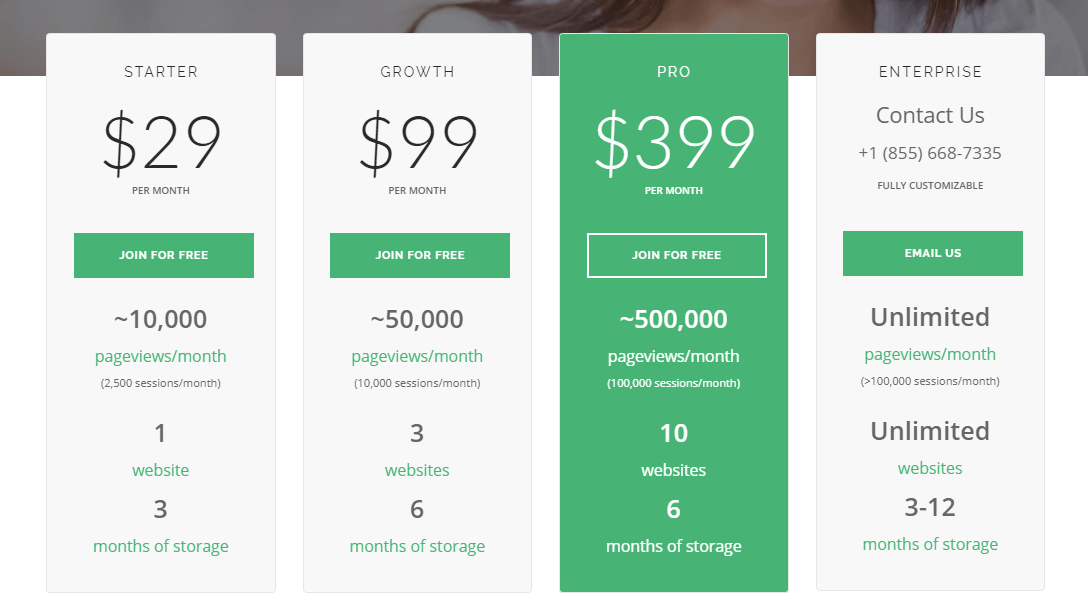 On the other hand, Inspectlet pricing model is not somewhat different. You also get charged on monthly sessions and approximate page views a month.
However, Inspectlet pricing plan includes a wide range of plans as opposed to Mouseflow four. This includes the enterprise, accelerate, growth, startup, micro, and free pricing plan. If you purchase any of these plans annually you stand a 15% discount off.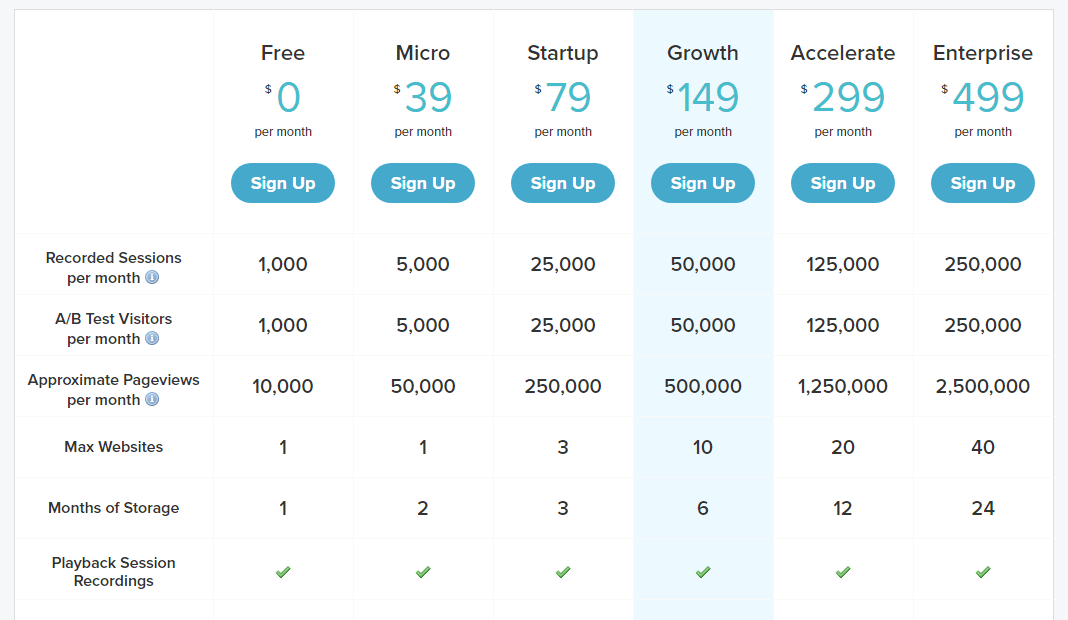 This pricing plans could be similar in a way but Mouseflow pricing plans are expensive this is primarily because you get more advanced conversion tools, session replays, segmentation, and other advanced features. So Mouseflow pricing is based in terms of value you stand to gain.
Conclusion: Inspectlet or Mouseflow?
While both web analytics tools are useful and effective, you need to choose whichever suits your plans or what you aim to accomplish in the near future.
Just Heat Mapping? If your sole objective is to employ the use of a simple heat mapping software that's economical and less complicated, Inspectlet should be your ideal go-to tool.
You'll enjoy recording and replaying videos of visitors, recognize what your visitors are looking for and how they use your site, mature filtering capabilities, and watch sessions recording of visitors drop off from your site, among other important features. You can also tag sessions and users which helps you mark interesting events and identify individual users.
Need MORE? Forms + Bounce Rates + Advanced User Experiences? Mouseflow, on the flip side, is a lot more complicated and goes beyond heatmaps, session recordings, and scroll maps. It lets you see how forms interact with visitors on your site, helps your track bounce rates and user experiences when visitor's land on your web pages, and what they are doing and from which location. In this respect, going with Mouseflow here is a more complete package.
Consider what you need prior to making a decision to choose either of these tools.
Here are some other related articles: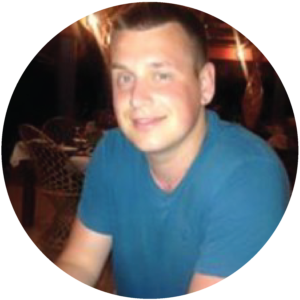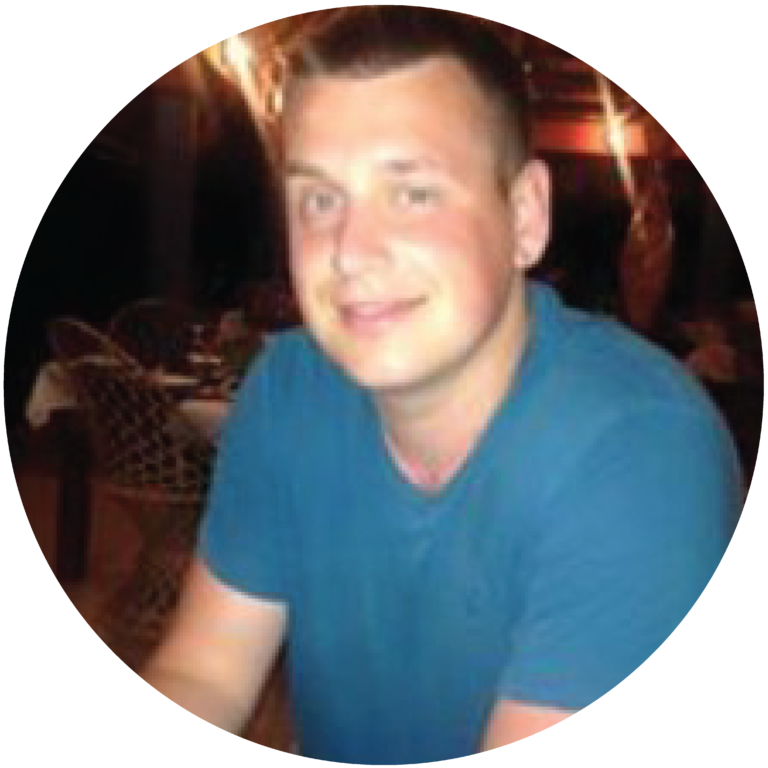 Latest posts by Ewen Finser
(see all)
Get 40% OFF for 3 Months