Last Updated on November 24, 2021 by DMEditor
Read on to find out which between Crazy Egg vs Hotjar is the better Heatmapping software, and ultimately, the better conversion tool for your site.
It is true and real marketers know this about a good heat map.
Assuming is the mother or father of all slip-ups. Nowhere does this wise saying chime true than when you are a webmaster who cares about his or her users. Marketing has little to do with setting up a page and smacking your hope on falling stars that it will work to convert right out the gate.
Main Differences Between Hotjar vs Crazy Egg
The main differences between Hotjar and Crazy Egg are:
Crazy Egg offers a 30-day free trail, whereas Hotjar only offers a 15-day trial
Hotjar is currently used by almost twice as many websites compared to Crazy Egg
Crazy Egg scrollmaps show how long visitors spend on a specific page elements, whereas Hotjar just shows how far a visitor scroll
Hotjar tracks mouse movements in addition to clicks, whereas Crazy Egg just tracks clicks
The surest way to improve your sites' UX design, inform those occasional web development projects, and to ease your visitors' struggle to access important information, is by reading between the numbers.
Now, these type of actions helps rocket conversions.
Capturing and digesting your users' data can help you to gain insight into what they are doing on your site, which areas they interact with, probably why and how you can help them find a solution they seek.
The data gives you the insight to take informed action.
So no matter the industry and size of your organization, you need to stop assuming and using your gut feeling about what your users want and grasp the whole story by using the best heatmapping software around for your business.
In return, you will almost certainly boost or spike resurgence in your conversion rate to drive leads, sign-ups, subscriptions, and sales through the roof. Not to mention reducing your bounce rate.
And so we are asking, based on what features, the case uses, pricing plans, and so on between Hotjar and Crazy Egg are the best.
Hotjar vs Crazy Egg: Comparison of the Basics
Both are similar in that they will help you to collect feedback from users. This is made possible by using site analytics (quite similar to what Google Analytics can help you accomplish, but on steroids this time).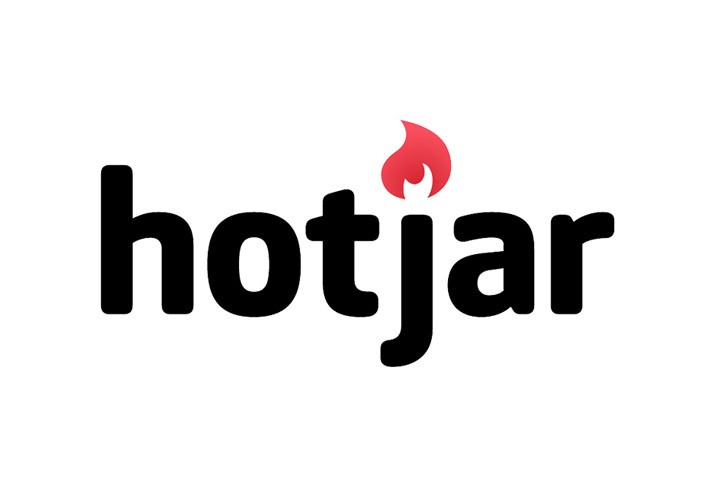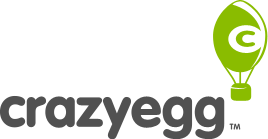 According to 4-year statistics captured by analytics and tracking firm, Datanyze, both Hotjar and Crazy Egg are used in over 100,000 busy, Alexa-ranked sites on the internet. They are popular, no doubt.
Still, both make understanding your prospects an insightfully visual and fun experience thanks to the figures you capture and to analyze on your own, or integrate with a third-party site traffic analysis tool to get the big picture.
Crazy Egg vs Hotjar similarities continue to roll out from there but on a different context and note.
They serve up different client experiences for different webmasters. What are these experiences?
1. Ease of Use and Signing On
If you are a true marketer who puts up a page and measures for what works and what doesn't. If you want to truly capture your visitors/users aspirations vividly, signing on to either Hotjar or Crazy Egg is a fantastic idea.
Based on our experience of it, they both are quite easy to learn (approachable learning curve) and plug into your website. Immediately you log on to their sign up page content and that form needs filling, they pretty much guide you through the initial steps of installing the code on your site and also what features they have and how those may apply to your needs in terms of case uses.
But if you stutter along the way, you can email a webmaster friend or use Google Tab Manager to roll out the code and all. In fact, using GTM not only makes your work easier, it can also help improve your site's SEO optimization prospects.
Immediately you sign up, you get an account from which you can view, review and control a bunch of aspects. Hotjar is especially fantastic here in that you can bunch other similar sites and view and configure them from one dash. How awesomely convenient.
2. Platform Support
There ain't no scrambled eggs here! Crazy Egg decided to make the quality of support you get a part and parcel of your pricing scheme of choice. That means when you use their free trial and cheaper plans, you almost get "cheaper" support.
We have heard a number of complaints about the generic responses the company boxes and pings. And even when they do get back to you, it is after you had to dig up something from somewhere else and so are not that reliable on that front.
It is a different story altogether at Hotjar. At the time of this writing, Hotjar offers both phone and Live chat support on their site. We also have feedback indicating that Hotjar customer support is pretty helpful and reliable.
From emails to chartbot messages to phone conversations, all are solid and useful if you want some tutoring or help when you are stuck. And they don't take the whole week to get back to you, either.
3. Platform Integrations
Speaking of support, you can expect to use Hotjar analysis and tracking features on a number of devices and operating systems. Whether your users get to your site using a desktop, mac, laptop or mobile device, you can see, monitor and track what they clicked, tapped and scrolled through to from your Hotjar account's dashboard.
Analytics Platform Tools
And while Crazy Egg offers pretty similar functionalities they integrate with different third-party sites. Note that both are basically Google Analytics alternatives, and as a loud testament they both do not integrate with Google Analytics, therefore the in-page analytics for content, form analytics, and web page analytics will be different from what you are used to if you use Google Analytics.
This doesn't mean that these analytics are any less helpful than what you are used to with Google. Quite the contrary, you'll get better metrics by which you can gauge the success of your site.
Also, as much as it would be helpful to plug into Dropbox and Google Drive for backing up heat mapping data (heatmap analytics) and for purposes of syncing that information with multiple devices in different locations, those too do not make the final cut into either Crazy Egg of Hotjar. Neither do either integrate with Salesforce Sales Cloud, Slack, Facebook, Twitter and Campaign Monitor.
However, if you use Optimizely, Boast, and Bitium, Crazy Egg integrates to both. So for example, when you can integrate easily with Optimizely it means setting up heatmaps is an automated task with their heat map tool, user recordings get tagged by source, and you are able to store more visitors' actions data. That will save you hours in addition to optimizing your analysis and tracking capability.
Hotjar does not. You get to integrate with HubSpot Marketing and Shopify, instead. That means if you are gearing your site towards inbound marketing and are especially keen on funneling, Hotjar will serve you just right.


In fact, while Hotjar is highly geared towards helping you gain data to inform actions that you can take to boost your funneling, Crazy Egg is more about capturing the data so you can comprehend what places and site feature your users are interacting with not necessarily to guide them towards your product and checkout pages.
Still, you can integrate your Crazy Egg account with UserTesting if you want to utilize A/B testing to decipher how visitors interact with your site's UX. Crazy Egg does not primarily support A/B testing like Hotjar. So if you want to identify issues on your website but feel you do not have the technical goods to implement it yourself, Crazy Egg/UserTesting can help inject power and pizzazz into your questions.
The latter offers a comprehensive tool for inviting and hiring your own community of split-testing users if you want to independently figure out how you can improve your visitors' experiences while they browse your site—and ultimately, convert them to loyal, buying customers, boosting your conversion rate.
So if you are planning to identify UX design issues on your website as well as identify trends in your visitors' behavior, probably to help you roll out new site developments, Hotjar could be right up your alley. Hotjar also integrates especially well with such business applications and systems as WordPress and Magento.
So depending on your unique visitors/users and conversion goals (conversion rate targets), you can choose whichever set up serves your interests best.
4. Supported Devices
Do keep in mind that both Hotjar and Crazy Egg are web-based platforms. That means while you can see what mobile device visitors are doing on your site, the companies do not (as of yet) offer a mobile app to help you see what they engage in while you are on the go.
Yet, you can use either user analytics tool with your Windows, Linux, and Mac devices. But while Crazy Egg comes with Android and iPad/iPhone support both are conspicuously missing with Hotjar.
Again, you get to decide what truly matters to you and your website goals.
Hotjar vs Crazy Egg: Comparing Features
Both offer a bunch of features which we'll take a quick look at.
1. Hotjar Platform Features Set
There are a bunch of amazing tools here.
Empowers you to see what people are clicking, where and how far down they scroll, what device they are using and from what source they came from. The "hottest" (fiery-colored white patches) indicate where most visitors are going, interacting with or clicking on.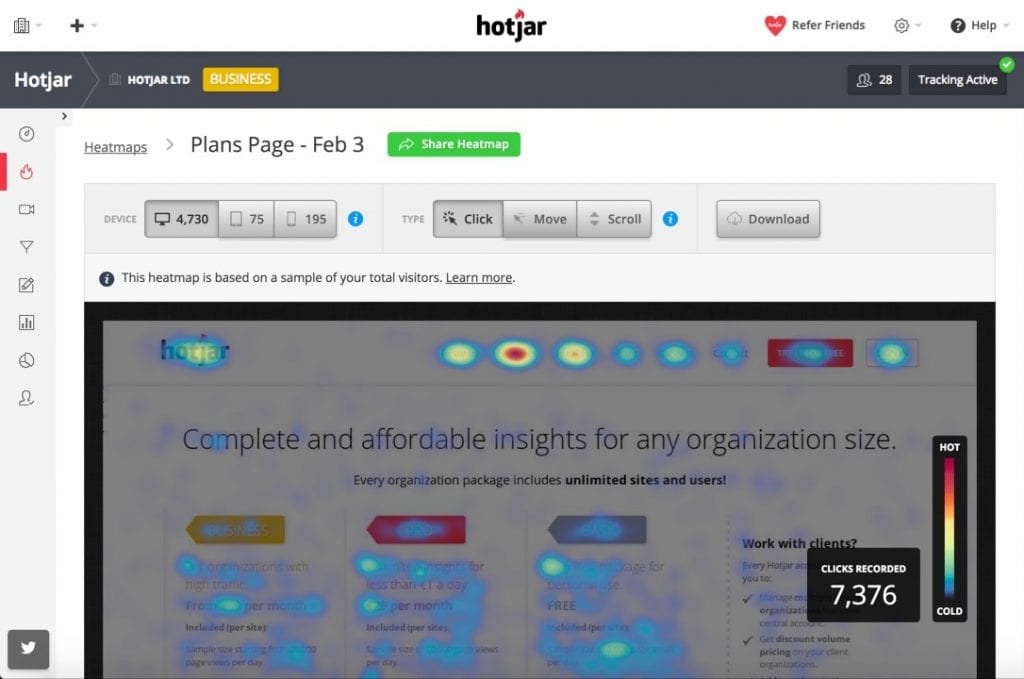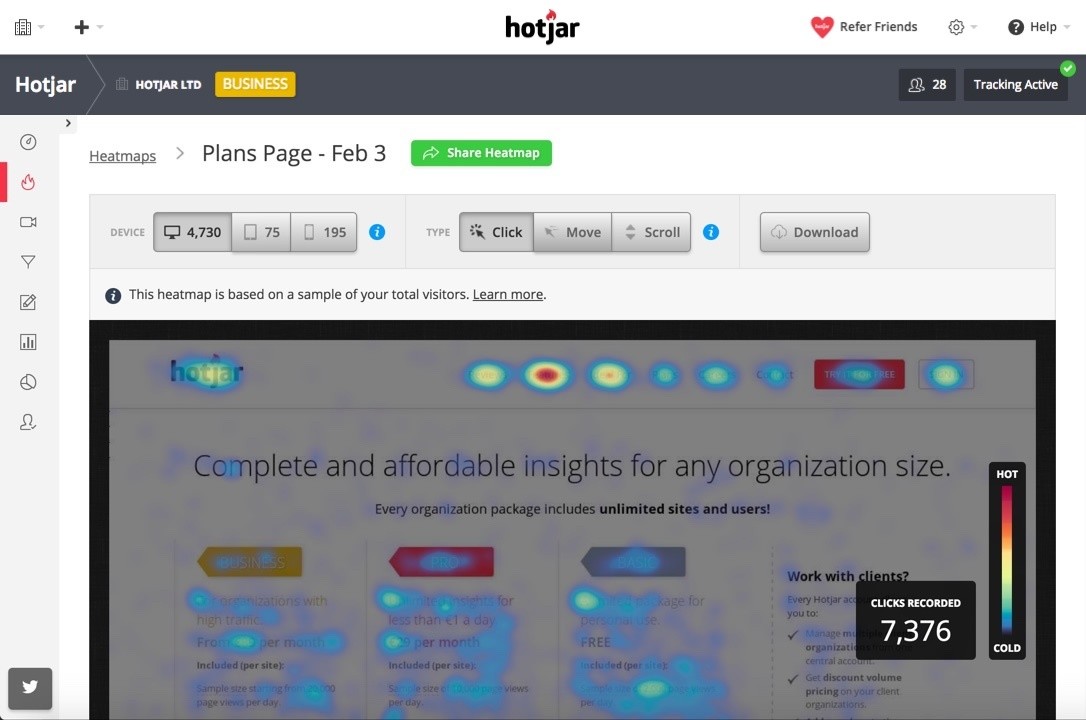 You get to gather a ton of useful data using a heat mapping tool.
This is a fantastic tool that allows you the power and tracking ability to monitor your website visitors actual visits and interactions in real motion with session replay. So you learn exactly how they interact with certain features of your site as if you both are sharing the same browsing session.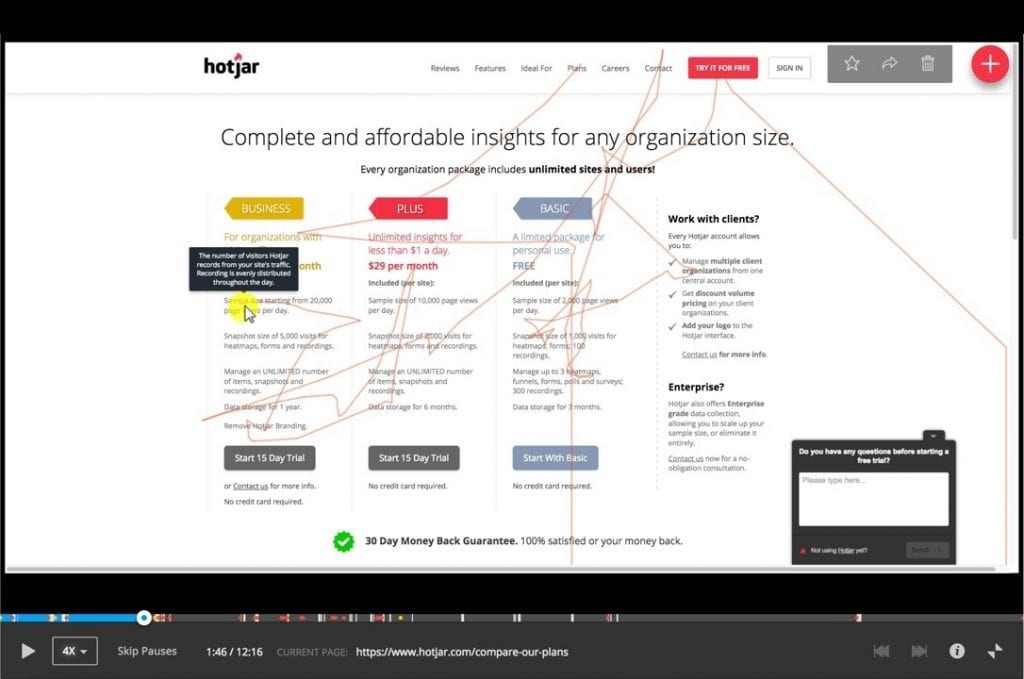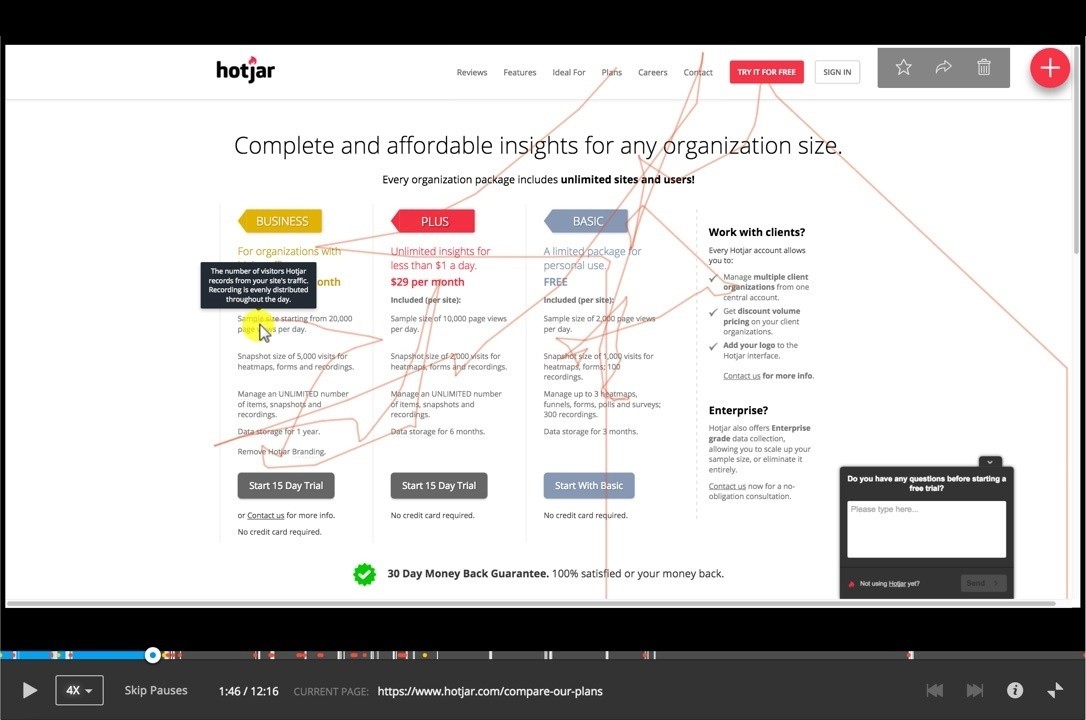 Conversion Funnels (CRO Tools for boosting Conversion Rate)
Helps you to find out how people are progressing through a series of desired actions so you can come up with ways to motivate them to your call to action button and take your desired action thereafter.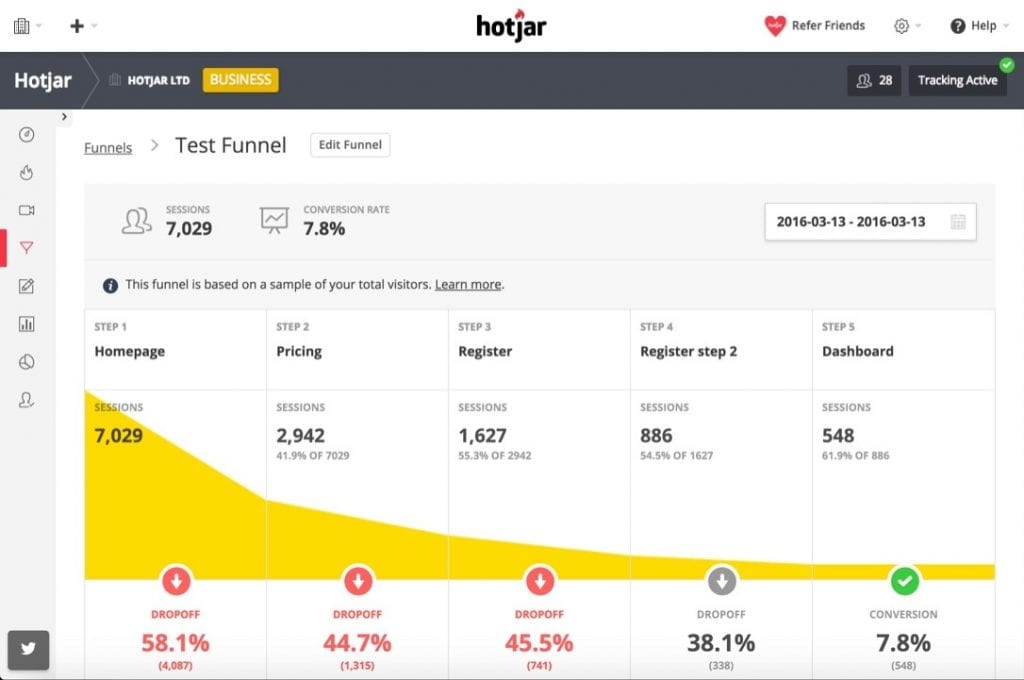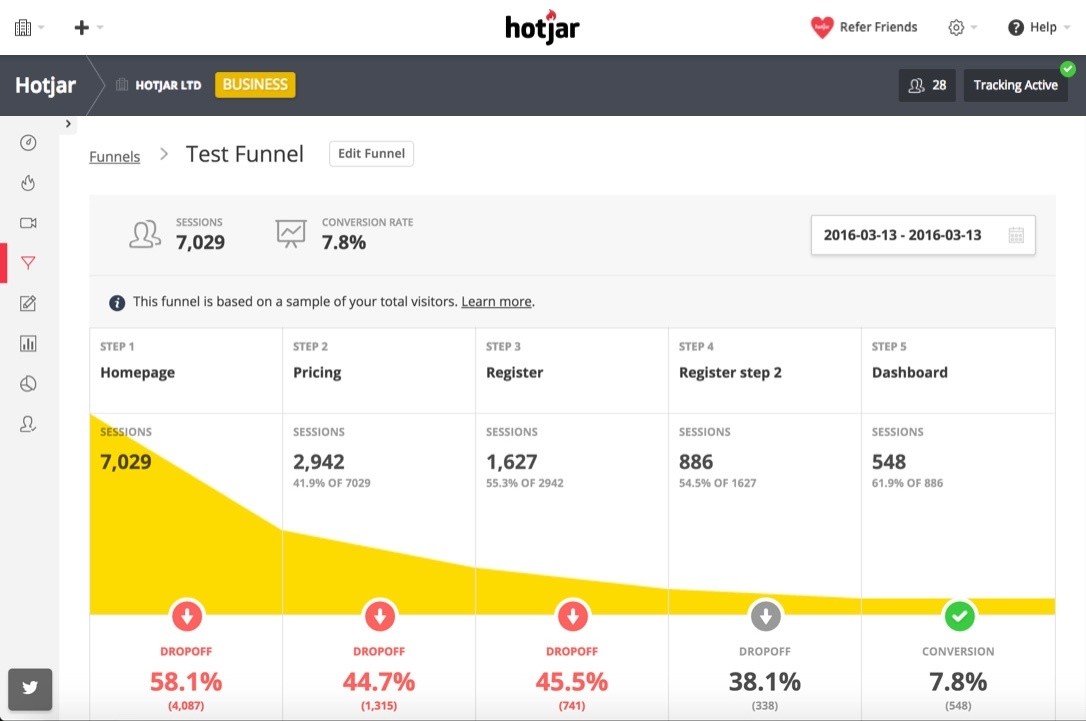 Here's another fantastic duo of tools to help you gather constructive user feedback towards optimizing your site for better user experiences or other goals. It is all good if you only receive 2% in response. It is better than getting none at all by not using the tools
Hotjar gives you the power to autonomously reach out to individual users and request or hire them to help you gain insight on what to improve in your UX design based on how they think of their browsing experience on it. Hotjar then includes the tools to help you analyze and marshal the data.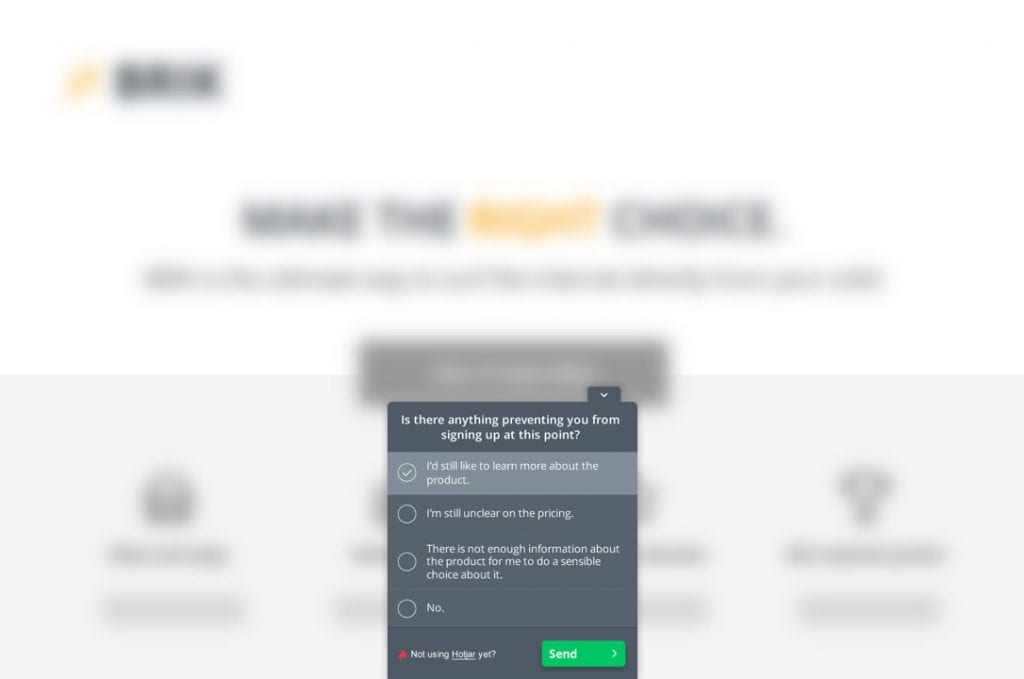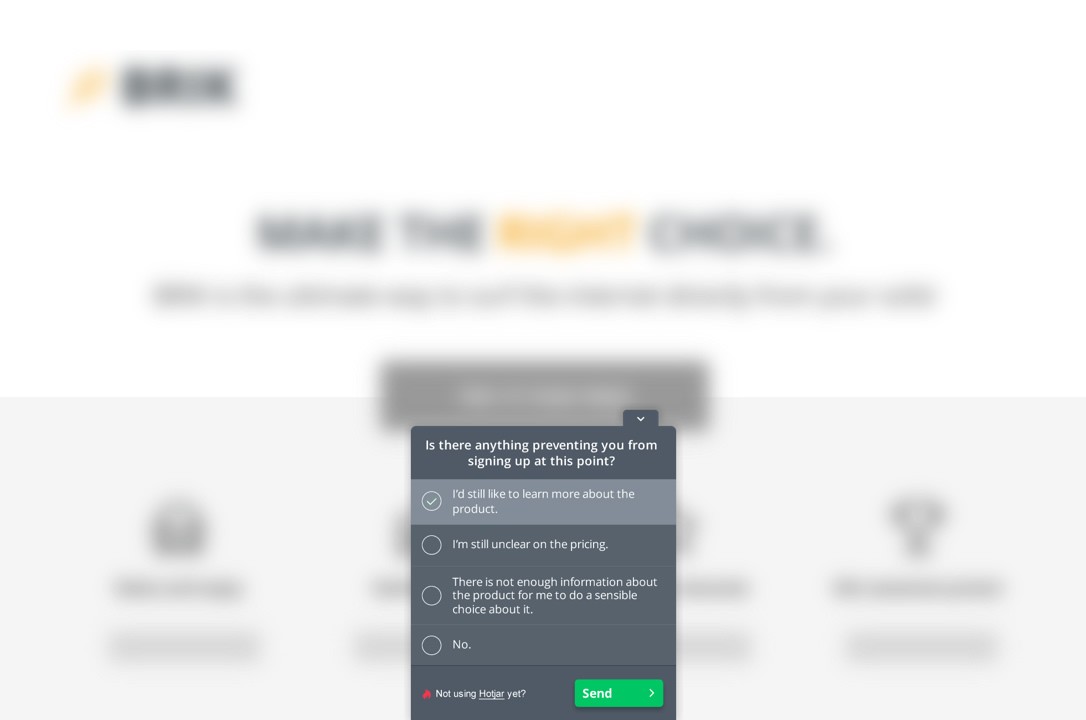 2. Crazy Egg Features Set
Here are the gold mines that CE offers.
Crazy Egg has only Heatmaps, which further branch into more sub-features that work the same way Hotjar's tool do. The most clicked on spots are shown in red and least engaging ones indicated in blue, so you can focus on optimizing either some more.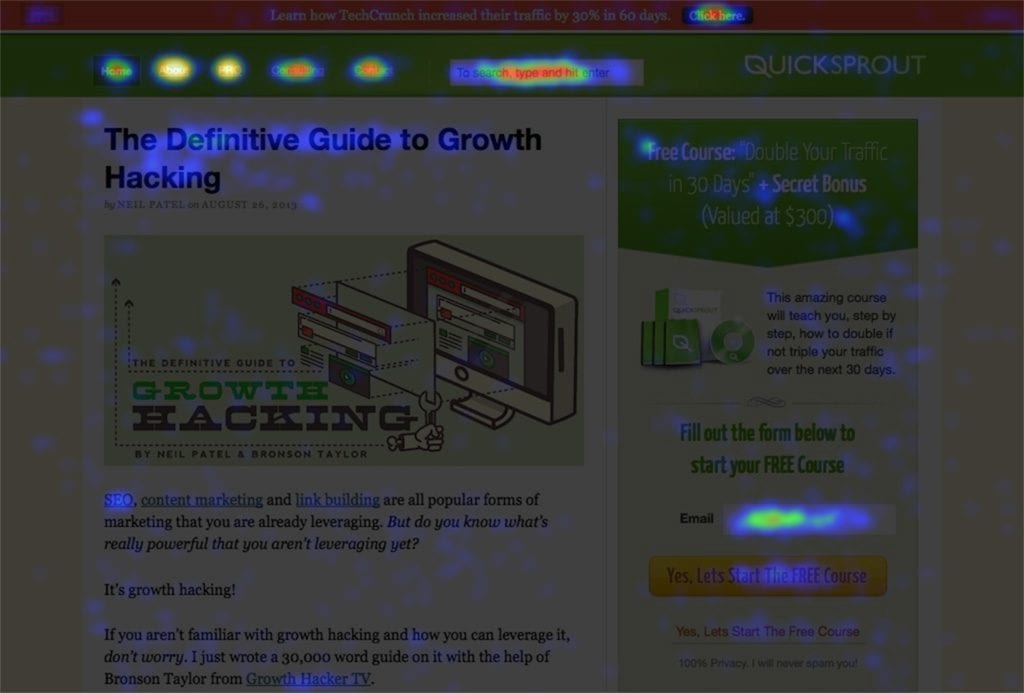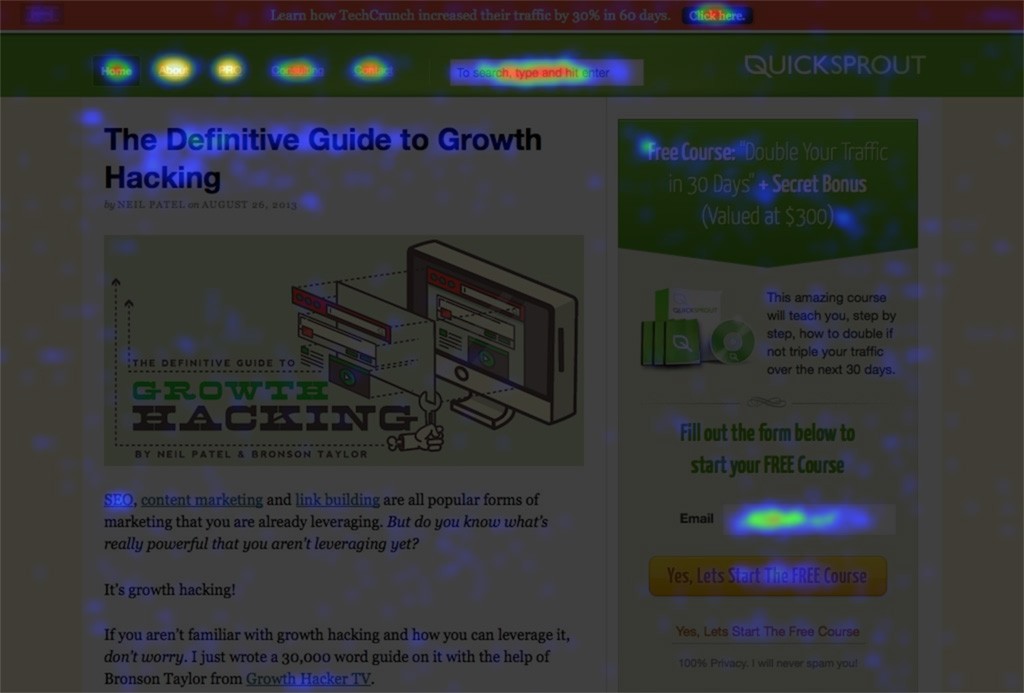 It displays hotspots more like taking an X-ray of your web site—so it can appear a little cramped if you have thick text and multimedia on your site.
Shows you how far down visitors are getting on your website pages, so you know where to place your call to action tags or how to motivate them to browse further down your pages.
Use overlay view to get a grasp on the number of clicks and how many views a link on a particular page is getting.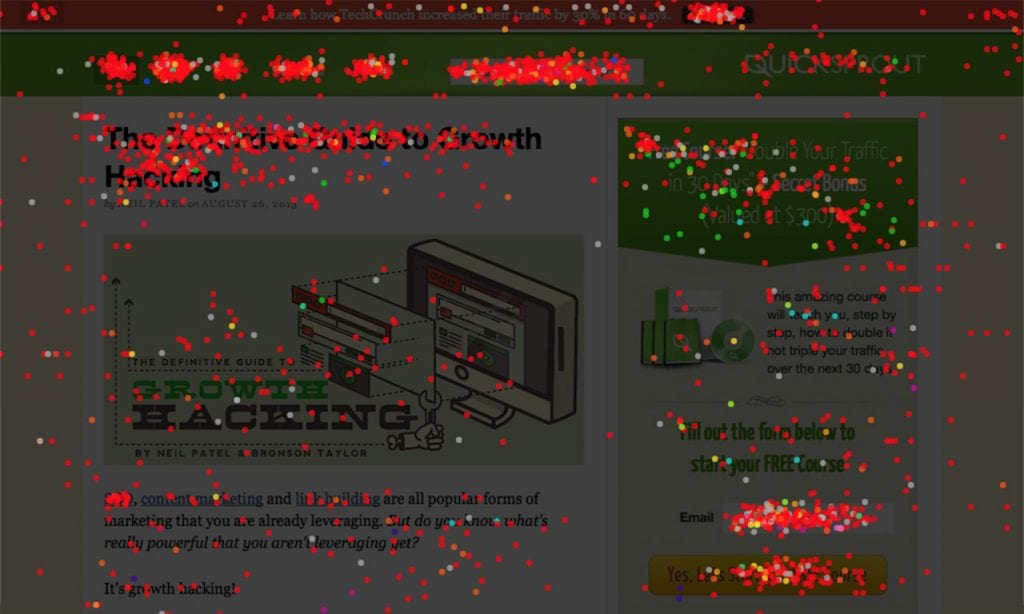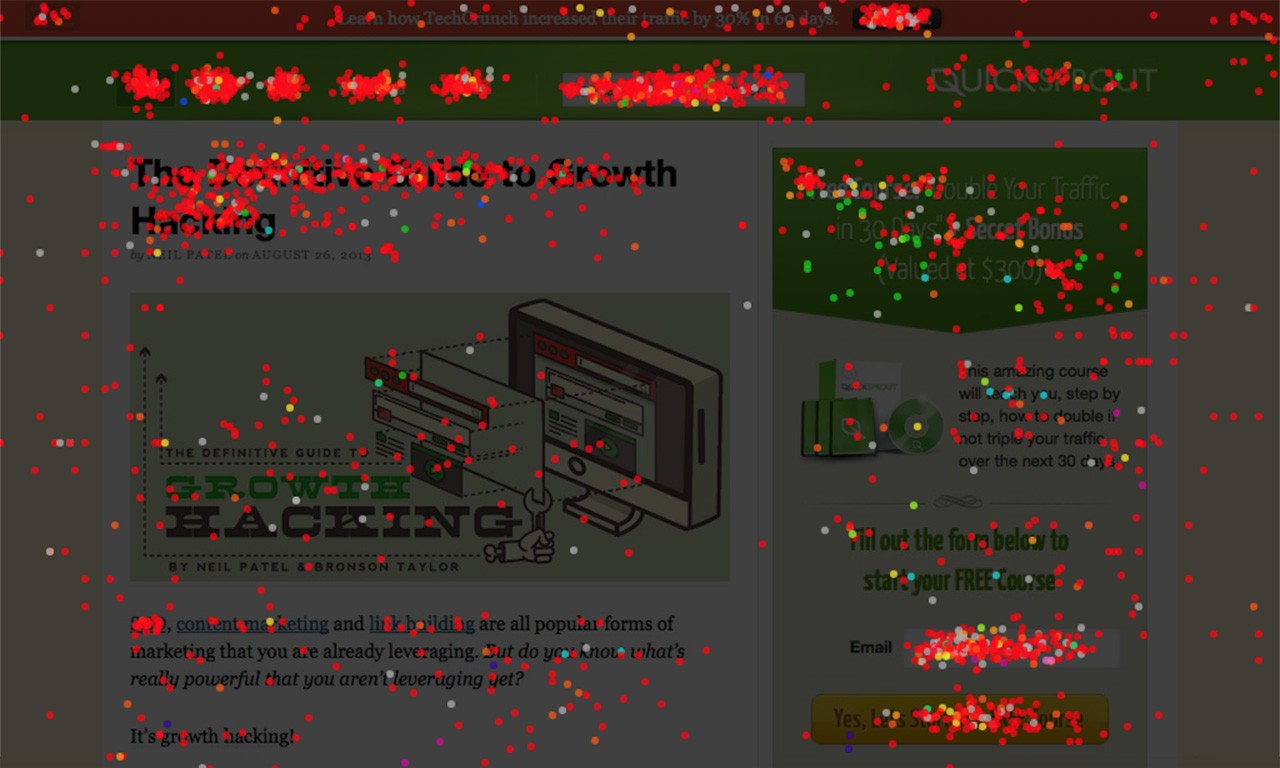 For deeper features review you might want to check out our unbiased and in-depth Hotjar review and Crazy Egg review separately.
Comparing Crazy Egg vs Hotjar Pricing
Between Hotjar and Crazy Egg, who offers the most value for money?
How about we start with the comprehensive Hotjar pricing scheme, shall we?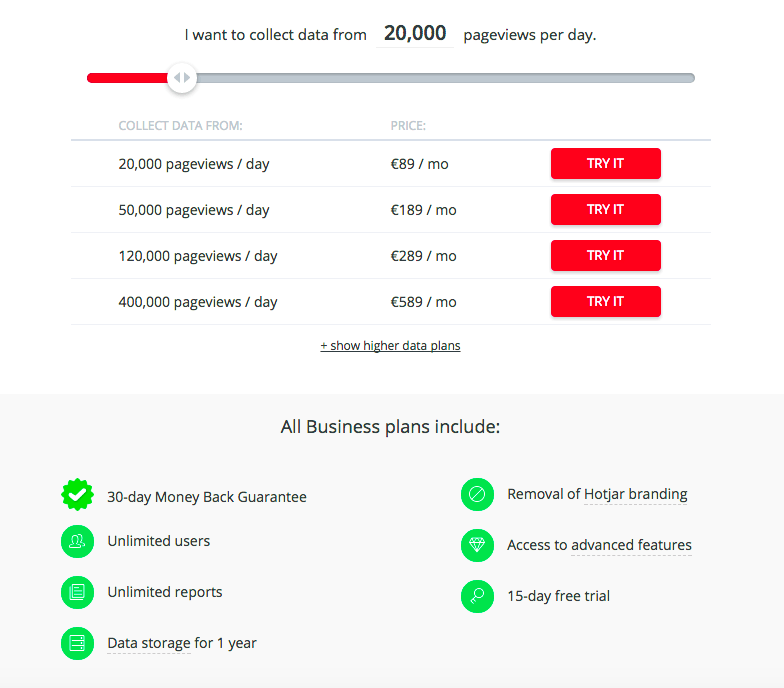 From their price plans, it is clear that Hotjar wants to seduce freelancers, small and medium business owners and also large enterprises to come to their fold.
Freemium Basic Plan (The Basic Egg)
For starters, Hotjar offers a free base plan. It is free forever and is especially handy when you are new to analytics and want deeper insights. Same thing if you are not that new to analytics but want prefer to test-run whether Hotjar's analytics and tracking suite can suit up your site like you might hope it would before committing money to a long-term subscription.
Support with the free version remains fantastic. You can grab this offer if your site gets up to 2,000 pageviews daily and do not need your analytics data stored past 3 months. Expect the basic plan to let access up to 1000 snapshots of heatmaps and forms in addition to 100 recordings.
Pro Plan (The Hard-Boiled Egg)
Get the $29/month pro version (paid annually) if you are impressed or if you garner 10,000 pageviews per day—well, or if you do both.
You'll get double the snapshots and recordings offered in the Basic plan as well as 6 months of data backup.
Business Plan (The Omelet!)
Organizations attracting high traffic, as busy as 20,000 to 2,000,000 pageviews daily, can invest $89/month (charged annually) to get 5 times the Basic plan heatmaps, forms, and recordings snapshot size. Also, includes 1-year data backup.
In practice, though, you can manage an unlimited number of items (such as server calls, number of users and (your) multiple websites), snapshots and recordings.
So you get to save tons of time since you can kick-start initiatives and go live within minutes compared to other vendors where you'd have to involve multiple teams to add tracking and help with QA for days or weeks.
If you want to help optimize your clients' sites, you can get their Hotjar for clients plan for $9 per month, per client on top of your other subscription plan. This is a disruptive bargain compared to other vendors, plus it saves you time and headaches of having to triangulate through different software suite dashboards for different clients.
Now how does Crazy Egg pricing plans compare?
Try Crazy Egg free of charge
Instead of a Freemium version, they offer a 30-day trial run, which you can use to gauge if Crazy Egg is for you.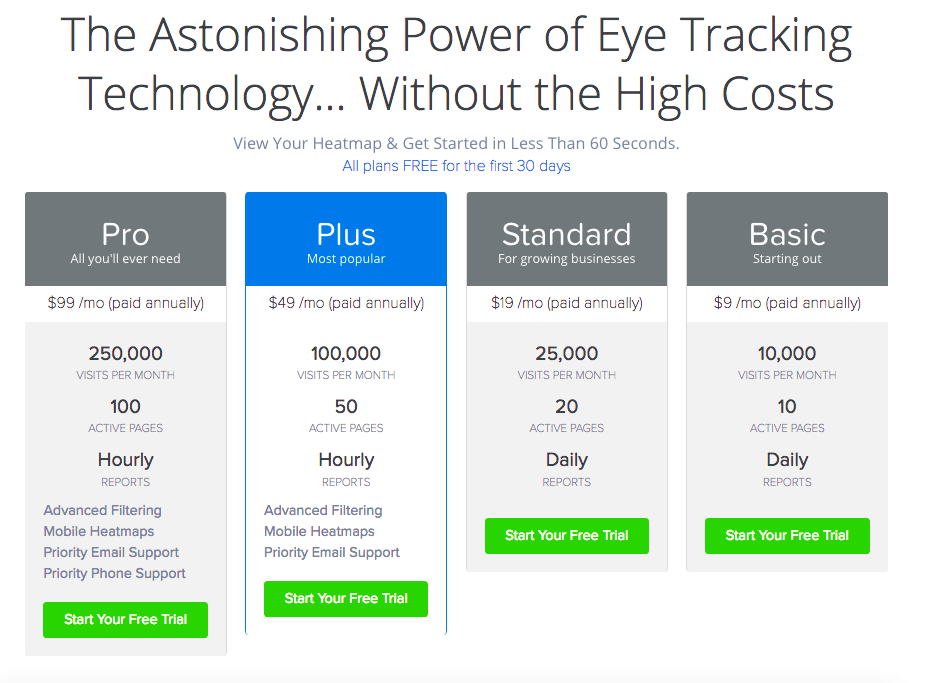 For $9/month (charged annually), you can get to get daily reports on what's happening on 10 active pages on your site if you receive up to 10,000 pageviews per day.
You get support for multiple domains and receive heatmap, confetti, overlay, scrollmap and list reports daily. However, the free version might leave you stranded since it provides minimal email and phone support and offers no mobile users heatmaps and advanced filtering.
Shell out $19/month (paid annually) and you get data on 20 active pages if you get up to 25,000 pageviews a day. Other features here are similar to the Basic plan offering.
Their (apparently) most popular plan gives you hourly reports on a decent 50 active pages if you attract up to 100,000 pageviews daily. Here you get everything the lower plans have and miss. All except priority phone support, which is a preserve of the next plan here. Get it for $49/month (charged annually).
Their ultimate, $99/month (charged annually) plan is the big deal. Suits you if you garner 250,000 pageviews a day, need optimizing reports on 100 active pages, have multiple users and expect priority phone and email support.
In other words, the Pro plan is for you if high traffic sites optimization is your forte.
Hotjar vs. Crazy Egg Comparison Conclusion
So to figure out which between Hotjar and Crazy Egg is the better website and conversion rate optimization solution look inwards. Assess your goals to help you understand what your visitors want and need and how they want it by literally seeing what, on your site, they are interacting with and how often and almost with what zeal.
When you do, either Crazy Egg or Hotjar can help you fix user experience glitches, optimize landing pages and opt-in forms, as well as increase loyalty, boost conversions and rocket sales.
If I had to choose how I like my eggs, I would have to say I'd start with Hotjar first. Depending on what goal you are after, Hotjar offers competitive pricing plans that work for most businesses. Enjoy your eggs!
Further Reading on Data Analytics, Conversion Rate Optimization Software and CRO in General: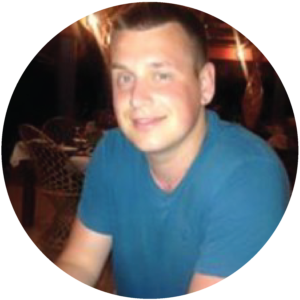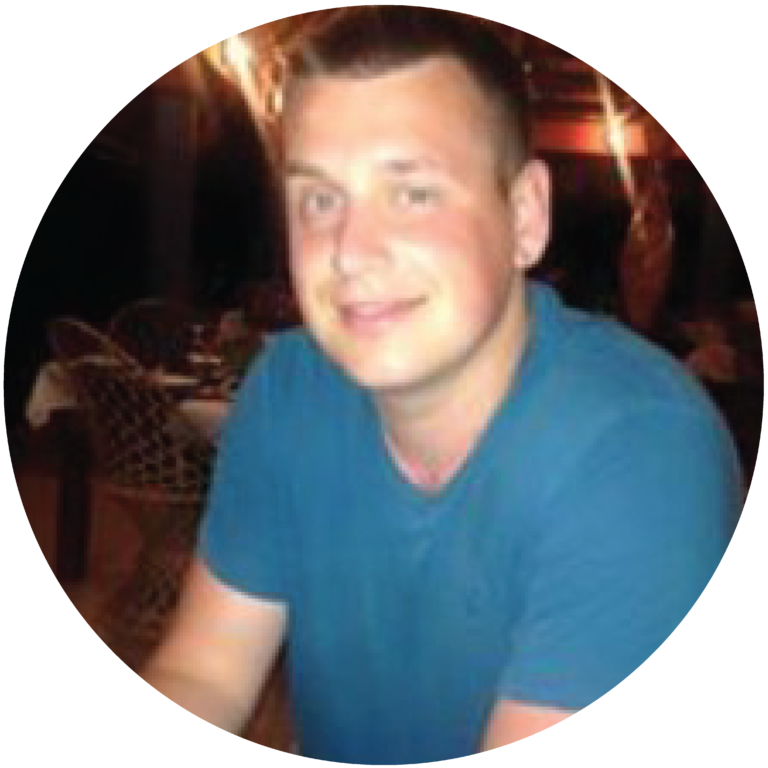 Latest posts by Ewen Finser
(see all)
Get 40% OFF for 3 Months