Last Updated on November 23, 2021 by DMEditor
The old saying is true — 68% of online experiences begin with a search engine. That's why SEO is an integral part of every marketing strategy.
But how do you improve your SEO? If you use WordPress as your CMS platform, you're in luck. You have limitless SEO plugin options and many of them are available for free.
While Yoast is one of the main plugins that people choose, consider your other options. One plugin that's starting to gain traction is Rank Math SEO. But is this plugin worth it? Here, we will provide more details on Rank Math SEO including its features and how it compares to the competition.
What Is Rank Math SEO?
Rank Math is a free WordPress SEO plugin. The ultimate goal of Rank Math is to ensure you have good SEO rankings and standards. Rank Math monitors more than just your general SEO ranking based — this plugin monitors how you rank for individual keywords, specific web pages, and more.
Keep in mind, Rank Math focuses on on-page SEO; however, Rank Math focuses on advanced on-page techniques as well as basic techniques. If you're looking for someone else out of an SEO plugin, be sure to look at our competitor's section below.
Rank Math Features
For a free plugin, Rank Math comes with some impressive features. Here's a breakdown of each.
Keyword Suggestions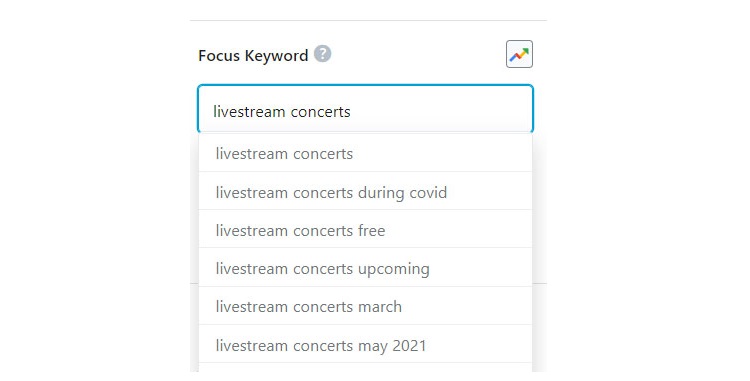 A cool feature of Rank Math is it provides a myriad of different keyword suggestions. When you select your keyword, the plugin ensures you use the keyword in the title, meta description, URL, and throughout the content.
This is my first time using Rank Math, and I'm more accustomed to Yoast, Keywords Everywhere, and Ubersuggest (though I use the latter two for my own websites, I use Yoast for other clients). I'm mainly comparing this to Yoast since it's the most similar to Rank Math.
While I like Yoast, my beef with it is it forces you to use the keyword a specific number of times. If you don't use the keyword enough, you get a red or orange rating. But if you use the keyword too much, you also get an orange or red rating.
This is difficult if your keyword is unnatural (such as "how to get freelance clients") or a term you will likely use throughout the text (such as "freelance clients").
Because of this, I was excited to see how Rank Math's keyword tool compares. I run a music blog, so I used a previously written article about livestream concerts as an example. I plug in the keyword and I generally got good ratings. My keyword was in the title, meta, URL, and content.
I did get a few errors. Your errors are separated into different categories. You can click the drop-down menu to view them in more detail.
For example, my keyword density was at 50%. They explain that there's no set keyword density rule, but to not make it too high. I got an orange rating, but it didn't seem to impact my SEO score.
Hint: next to each item is a question mark. You can click the question mark for more information.
My only beef with Rank Math is it's hard to find on your blog. If you have the Gutenberg Editor, navigate to the toolbar (top right of the screen). You'll see the Rank Math logo, which looks like a bar graph.
Click that and a window will appear on the right hand of the screen. You'll have to enter the keyword as a "focus keyword," NOT as a tag on the WordPress settings tab (I was confused about this at first).
Otherwise, I like Rank Math's keyword tool more than Yoast's.
Edit Meta Data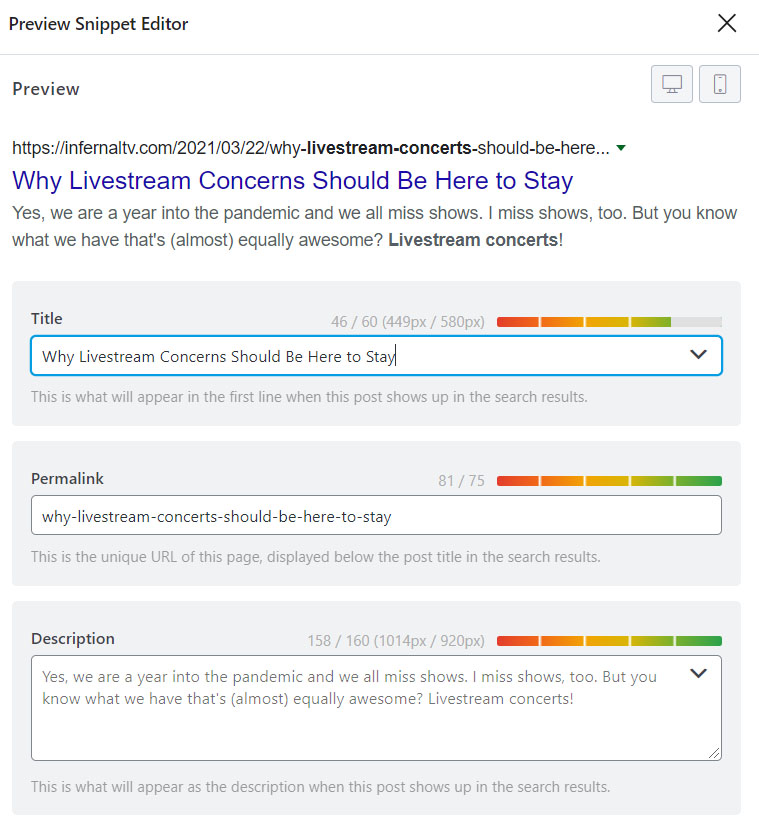 One beef I have with the Gutenberg Editor is I think editing metadata is nearly impossible. However, Rank Math offers a solution for this. On the Rank Math tab, click the blue "Edit Snippet" button. Here, you can enter your title, description, and permalink.
Offers Suggestions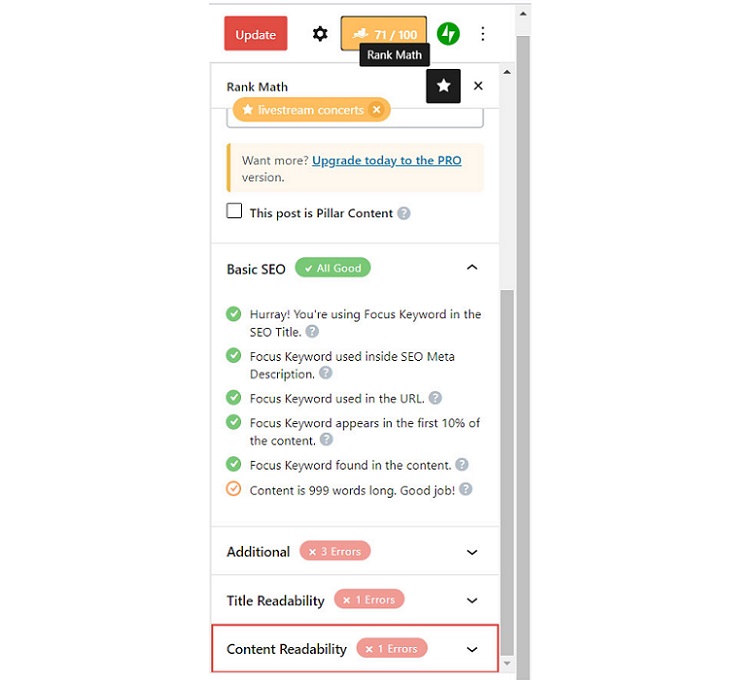 If you're new to SEO, Rank Math offers suggestions to improve your SEO. An example is title readability and length. The Rank Math snippet tool will gauge whether or not your title is long enough and will offer suggestions, such as adding a number to your title for a listicle.
SEO newbies may also not know specific ranking factors, such as blog length and linking. If your blog is shorter than 600 words, Rank Math will ping you for that.
They will also ping you if you don't have internal or external links. Internal links are links that direct the reader to other pages on your website and external links are links that direct the reader to other websites. Both are highly beneficial to SEO.
Content Readability
Rank Math also offers a content readability section. However, I don't care for this too much. Sure, it offers great recommendations, such as writing short paragraphs and including media. However, it doesn't go as in-depth as it could.
For readability, I recommend trying Hemmingway App or Grammarly Premium. Both look at aspects such as passive voice, difficult sentences, grammar errors, and adverbs to improve your writing. Keep in mind, Hemingway App is free while Grammarly Premium is a paid service (though you can use the free Grammarly service).
Yoast also wins in this category. I will explain more in another section.
Downloading the Rank Math Plugin
The other beef I have with Rank Math is the downloading process was slightly inconvenient. I understand why — in order to give you accurate rankings, you have to verify your website and set up Google Analytics. But still, these were steps I wasn't expecting.
Install and Activate the Plugin
The process starts as any other plugin download process starts — simply navigate to the plugin section of your menu, click "add new" type "Rank Math," and select "Install" then "Activate."
Register
From here, you'll have to register your account. You can sign up with WordPress, social media, or your name and email. I chose my name and email.
Connecting Your Google Account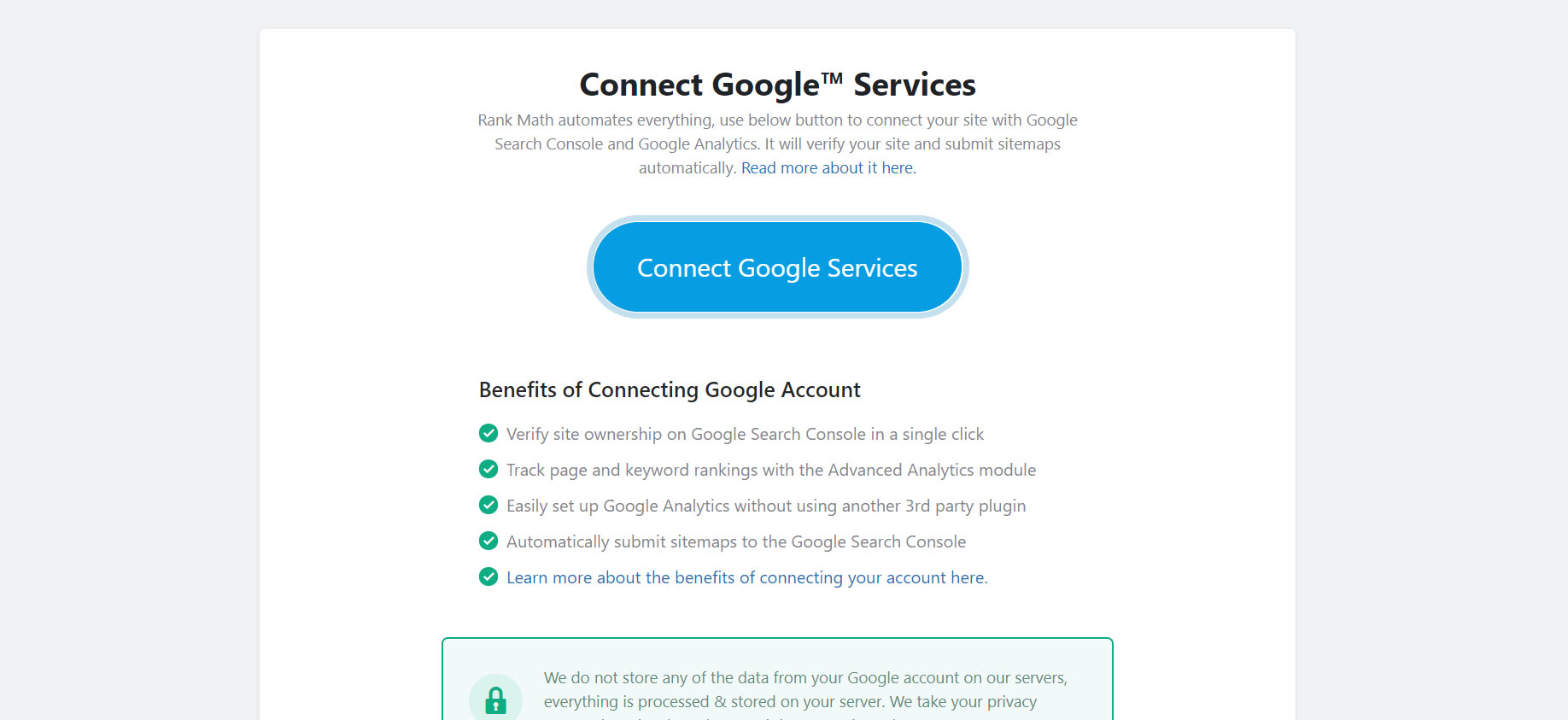 Connecting your Google account is easy. Click the blue button and select the correct account. There will be another screen that confirms certain information. This is the part I thought was annoying. Approve all of that. After that, you're finished and you'll go back to the dashboard.
Rank Math vs. The Competition
As stated previously, Rank Math has many competitors. Yoast is their most notorious, but they're not Rank Math's only competitor. Here's how Rank Math performs against similar plugins.
Yoast
Let's start with the big competitor first. Many claim that Yoast is the most popular WordPress SEO plugin. There are some ways that Yoast wins and others where Rank Math wins. For example, I think Yoast is far more user-friendly than Rank Math. However, it has more limitations than Rank Math.
I also like how Rank Math isn't as stringent as Yoast in their SEO and content recommendations. However, Yoast does win in other categories.
Remember how I mentioned that Rank Math doesn't offer in-depth content readability suggestions? Yoast looks for more in your content, such as passive voice, transition words, and gives your content a Flesch Reading Score.
I personally think Hemingway App is still better than Yoast in this category, so you can get away with using Rank Math and Hemingway together for the same benefits.
Pre Post SEO
I honestly have never heard of this tool, but a simple look on their website tells me they're the cheaper and WordPress-friendly alternative to SEMrush. They check the status of your links, content readability, keyword density, plagiarism, they give you an SEO score, an article rewriter (wow!), and they even have their own grammar checker.
Doing a quick search, I can see they got mixed reviews. While it's not a free tool, they're worth considering if you need more from an SEO plugin.
FAQs
Question: Is Rank Math Safe?
Answer: Rank Math is safe (or at least I had no issues). To ensure you don't experience issues, always download the latest Rank Math updates as well as the latest WordPress updates.
Question: Is Rank Math Free?
Answer: Rank Math is a freemium service. They offer a free plugin that comes with basic features, such as the on-page SEO help and keyword suggestions. This is what we used for the review. However, they also offer paid plans that come with more features.

The Pro plan is $59/year and lets you track 500 keywords, can support unlimited personal websites, offers 24/7 support, and more.

The Business plan is $199/year and can track 10,000 keywords, offers support if you use Rank Math for client websites, and more.
Question: Are the Paid Plans Worth It?
Answer: Both of the paid plans are more robust than the free plugin. But the way in which you're optimizing your website depends on the plan you choose. Seasoned pros with their own business or agency will benefit from the Business plan, while personal bloggers and solopreneurs will benefit from the Pro plan.

Keep in mind, all of these plans – including the free plan — come with a suite of impressive features. Either way, you'll be satisfied with Rank Math.
Question: How Do You Upgrade Your Free Plan?
Answer: Let's say you tried the free Rank Math plan and want to upgrade to a paid plan. Rank Math offers an easy way to do this. First, go to the website and purchase the subscription you want. From here, you'll download the updated plugin.

After the plugin downloads, upload the download file to your WordPress plugin page. Go to the Rank Math plugin and click Connect Now to activate the updated plugin. From here, it will take you to the Rank Math website where you'll have to approve the change.
Question: How Do You Activate Rank Math?
Answer: After you install the Rank Math plugin, you'll see a button that says "Activate." Click that. You have to activate the plugin in order to use it.
Question: How Do You Use a Schema Markup in Rank Math?
Answer: Schema markup is important for SEO. In short, Schema markup tells search engines what type of content you're producing. This impacts how your website will appear on SERPs.

Fortunately, Rank Math makes it easy to alter your Schema markup. When editing your draft, click the Rank Math icon on the top-right toolbar and click Schema. From here, you can make any necessary adjustments.

You can also head over to the Rank Math section in your plugins and set default Schema preferences if desired.
Rank Math SEO: The Final Verdict
Rank Math is becoming a popular SEO plugin for WordPress. Even its free version is powerful, offering you on-page SEO insights, keyword suggestions, and more. But if you need more benefits such as comprehensive SEO reports, there are two paid plans you can try.
Compared to competitors, there are pros and cons to using Rank Math. Yoast is its largest competitor, and I prefer Rank Math's insights. However, Yoast is more user-friendly and offers more resources to improve your content.
Overall, the SEO plugin you choose depends on your needs and what's best for your website.
Still need to find the best SEO tools? We offer a comprehensive guide to ensure you choose the best SEO platform.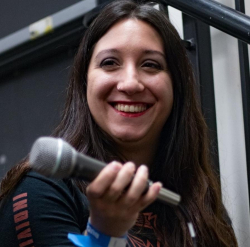 Latest posts by Stephanie Jensen
(see all)
Get 40% OFF for 3 Months