Last Updated on May 6, 2022 by DMEditor
In our Webex vs GoToMeeting webinar software review, we'll be looking at the two platforms in detail, to help you decide which one you'd prefer.
We know that collaborating with your employees is essential – whether you're within the office or working remotely. With so many video conferencing software available out there, it can be challenging to know the right one to choose.
Webex vs GoToMeeting – M

ain Differences
The main differences between Webex vs GoToMeeting are:
Webex has a competent free version full of features, whereas GoToMeeting requires a paid subscription with fewer features

Webex has a fantastic customer service department, whereas GoToMeeting has a slow and unreliable staff

GoToMeeting has more customization options for its software, whereas Webex isn't as well versed in featured past its free option

GoToMeeting has more encryption software built-in, whereas Webex requires an extra opt-in for better security features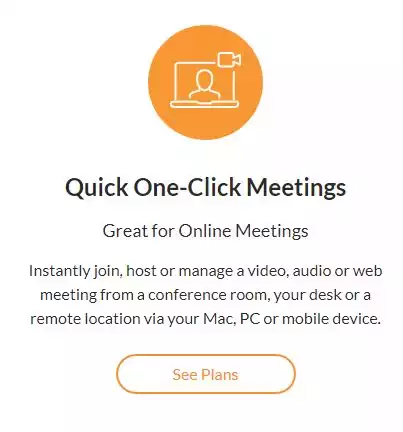 We Use GoToMeeting!
Personally, we use GoToMeeting for all official company business. Here's why. Seamless email integration + calendar management (we use GSuite), advanced control (who can speak, who prestents, etc), even syncs with project management tools!
Try Gotomeeting First
We earn a commission if you click this link and make a purchase at no additional cost to you.
Webex vs GoToMeeting: What is Webex?
Founded in 2007, Cisco Webex is an American company that develops video conferencing and web conferencing applications. It was created to help businesses speak and collaborate without breaking the bank.
Webex – the Main Features
File and whiteboard sharing options

HD video – active speaker for webinar settings, thumbnail, grid, and floating

Personal rooms with up to 100 speakers (200 for Business plan)

Multiple web apps including calendar integration and Q&A polling

Unlimited messaging, GIF sharing, emoji, and mobile voice command

Starter plan includes user management and administrative controls

Plus plan includes customizable links, analytics, and troubleshooting

Business plan provides branding customization, Microsoft Exchange and syncing
Features and Utilities
Both the free and Webex premium plans offer the full suite, coupled with standard video conferencing features. Included with Webex is a screen sharing feature, a competent calendar app, call scheduling for you and your employees, and file sharing. For a question and answer session, callers can run polls for participants. These inclusions make the platform interactive
For those who want to opt into a premium plan, advanced features like MP4 call recording (or meeting recording / webinar recording), encrypted cloud storage, and custom link calls are available. Another useful tool is the ability to access information of people on the call – which is valuable to mid- to large organizations that support a large staff.
We recommend administrators purchase the premium plan for the high level of control over user accounts and features available for calls. The Business and Plus tiers include an administrative portal with data-driven insights on when employees use the platform, webinar engagement, troubleshooting advice, and analytics for individual users.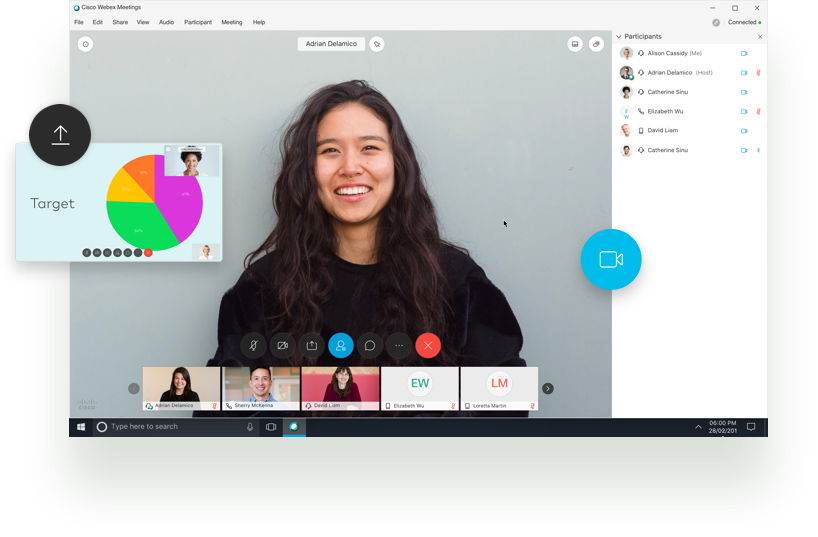 Setup
Cisco Webex has an easy setup process that exists in three steps. Most devices can download the software from their website or on the app store. You can use Google, Facebook, or Microsoft accounts to log in as a user on mobile, but this option isn't available on PC or macOS. To download on your computer, double-click the file in downloads, and a wizard will launch. Continue with the setup and the app will start automatically,
Performance and Interface
For those who have used Google Meet (part of Google Workspace), the interface is similar. On both the desktop and tablet, the app runs smoothly and displays prominently. With the add-on apps, like the Outlook calendar or polling system, shows upcoming meetings and results. You're able to move these apps around on the interface.
The quality of the video test was impressive and pleasing to the eye. There are many built-in features on the free version to adjust the microphone volume, camera settings, app locations, and text boxes. In a four-way call, the audio was clear and didn't crack and often streamed between 720p and 1080p.
Security
Cisco Webex has plenty of advanced security options that make it an incredibly secure platform for video sharing for each meeting participant. The default encryption option encrypts all data traveling between the client and Webex servers using AES 256-bit encryption. Based on current computing power, it's practically impossible to break or hack AES 256-bit encryption through brute force.
Although not included, a higher level of data protection called end-to-end encryption is available as an extra fee. For administrators who want to upgrade to end-to-end encryption, you'll also receive more control over security, user's accounts, and the ability to activate multi-factor authentication with mandated password changes. For conferences of 50 or more participants, this will be a necessity to ensure protection.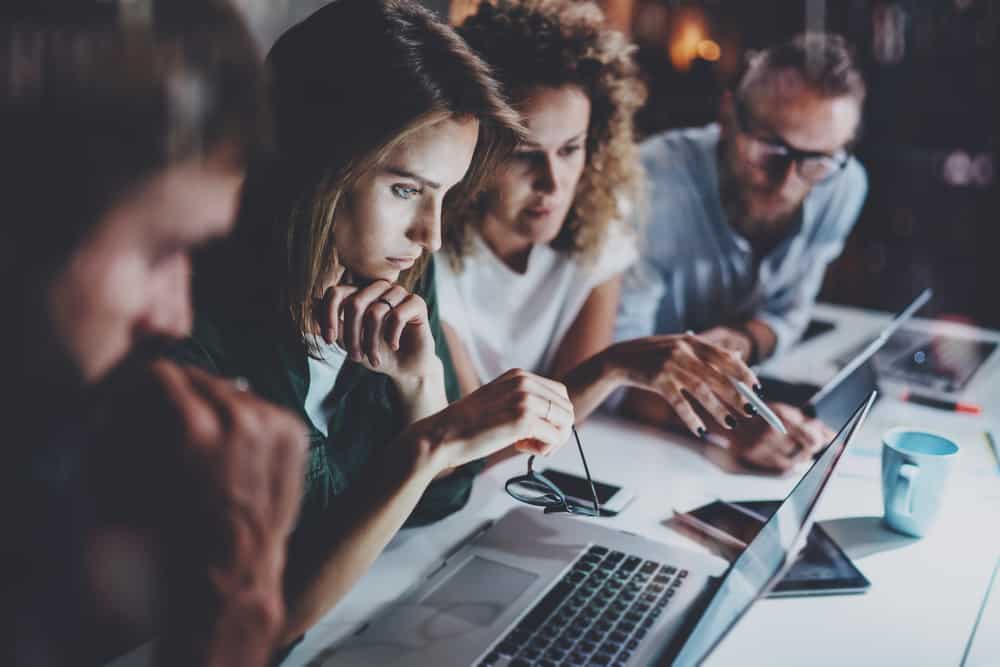 Webinar Platform Customer Support
The pricing plan option determines the level of support available to the user. The Free option only has online support, while the Starter plan has customer support available during business hours. Both the Plus and Business plans have 24/7 customer phone support.
Online support offers many industry-standard options, such as video tutorials, community forums, and how-to guides. For complicated issues, users can contact the Webex team by speaking with an AI chatbot, or directly by calling the support center. Our test determined that the average wait to talk to a representative was over 25 minutes. However, the customer support staff were both friendly and helpful.
Pricing
Cisco Webex offers four-tiered packages for its video conferencing software. The free version of the software offers most features. All pricing options include the desktop and application, file and whiteboard sharing, HD video with a thumbnail, active speaker, grid, and floating views. Free also includes private rooms, host meeting controls, unlimed messaging, and file sharing.
The Starter plan also includes private room links, recording transcriptions, MP4 meeting recordings, and user management controls. Plus, subscribers can assign alternate hosts, have a customizable Webex site URL, and an administrative portal with the ability to look up analytics and troubleshooting options. Finally, the Business plan allows personal branding, single-sign-on, Microsoft Exchange, and Active Directory sync.
Free – up to 100 participants

Starter – $14.95 per host, per month – up to 50 participants, 5GB storage

Plus – $19.95 per host, per month – up to 100 participants, 5GB storage

Business – $29.95 per host, per month – up to 200 participants, 10GB storage
Webex: Pros and Cons
Here's what we like and dislike about the platform.
Pros
Full video conference service to host a large number of participants

Webex teams provide a platform that allows staff to connect

Bundled call software – saves you money on multiple programs

Free service allows over 100 meeting participants

24/7 customer support with fast messaging for Plus tiers
Cons
An extra fee charged for call-me feature

Customer support is limited for the free tier

End-to-end encryption not included by default
Webex vs GoToMeeting: What is GoToMeeting?
Initially founded in 2004, GoToMeeting is a desktop sharing, online meeting, and video conferencing software package designed to meet with other customers, clients, and computer users via the internet in real-time.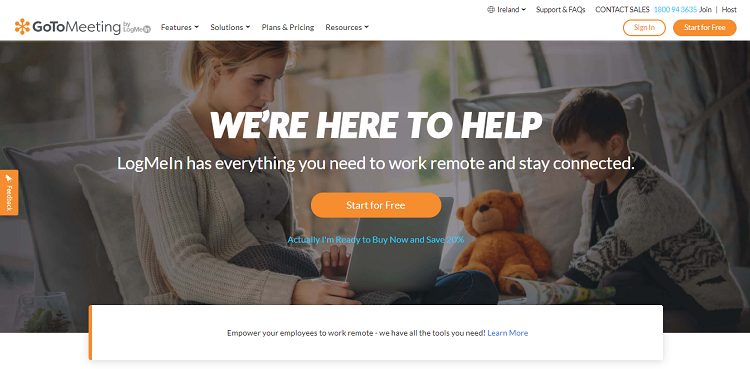 GoToMeeting – the Main Features
HD Video with screen sharing capabilities

Fully integrated web audio

Unlimited meetings with no time limits

Business messaging, mobile app, and single-sign-on

Business tier incorporates unlimited cloud recording, transcription, and sharing

Business tier includes integration with Google Calendar, Salesforce, Slack, and Office 365

The Enterprise tier is 100% customizable for your needs

Possibility of up to 3,000 participants at once in one call
Feature and Utilities
GoToMeeting has a wide variety of features that appeal to business owners. High Def video and screen-sharing is crystal-clear on all devices, even on small mobile devices. Users can set up a room for employees to come and go as they please or schedule a one-time meeting. Regardless, participants can join on a conference line or over the internet.
The major selling point for the Business plan is its unlimited cloud recording, so you can share or review meetings without needing to delete your cache regularly. Automatic transcription in the English language and Smart Assistant can make conferences easier to direct and highlight important items. For one-on-one conference calls, users can chat among organizers discreetly, or create groups for larger meetings.
For users who prefer to take their own notes, GoToMeeting supports sharable note-taking that's saved automatically through the whiteboard application. The whiteboard app is helpful for project leaders that need a visual of their product in real-time. For more in-depth collaboration, the administrator can pass control to the other participants who can run the meeting for you.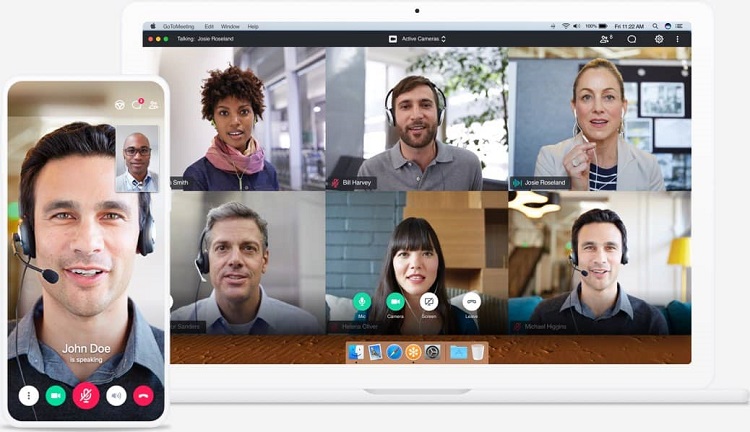 Setup
GoToMeeting has an easy three-part setup process. Most devices can download the software from their website or on the app store.
You can use Google, Facebook, or Microsoft accounts to log in as a user on mobile, but this option isn't available on PC or macOS. To set up GoToMeeting, log into the online dashboard then create your first meeting after installing the software. To complete the process, send a meeting invitation.
Performance and Interface
The online dashboard is innovative because it's fully customizable. The initial settings are similar to Skype, where the customization options are on a drop menu on the right of the page.
Options like audio, screen, and video camera have their own lists. You can play with the audience view settings on the same menu, as well as add and drop attendees. Finally, the bottom buttons control the whiteboard, chat, and other settings.
The iOS app has a similar experience, with the same clear audio and video quality despite the small size. In our opinion, the mobile device calendar functions better on the app than the desktop, because upcoming meetings show up automatically and ping as notifications similar to text messages. Really helpful for busy professionals.
Latency is almost non-existent, with about a half-second delay between client and host video and audio. However, energy demand was high on both the computer and phone and ran at about 1.3% GPU and 250MB of Ram. Plug your phone and laptop in for longer sessions.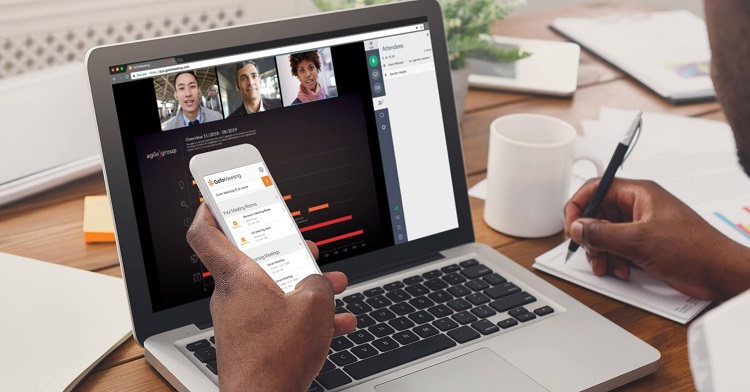 Security
The lowest tier for GoToMeeting has fantastic security with multiple levels of encryption. At the base level, TLS encryption is used to protect servers, while AES 128-bit encryption keeps data safe at the system from being compromised. TLS encryption specifically protects email, web browsing, voice over IP and instant messaging, while AES 128-bit encryption is nearly impossible to crack by brute force.
Organizers have complete control of who attends the meeting. Administrators can block participants from entry, disable cameras, chat, and mute users. As the organizer, you can help improve security by encrypting your rooms with passwords.
Support
The customer support bot is quick at finding answers, and the FAQ and knowledgebase on their website are fully stocked with helpful videos and guides. GoToMeeting has local numbers in all countries of operation and 24/7 telephone support. From our experience, the customer service staff takes a long time to answer back and often refer you to email. It took 48 hours for a response, which can disrupt your plans for daily conference calls.
GoToMeeting has an easy-to-understand pricing system in three tiers. Plans target organizers (who schedule meetings, share recordings, and invite participants) with no time limits and unlimited sessions. Choose from Professional, Business, or Enterprise. There is no free option, but every plan can take advantage of its 14-day money-back guarantee.
The Business plan includes integration with Google Calendar, Salesforce, Slack, and Office 365 and allows automatic note-taking, mouse sharing, and cloud recording. With the Enterprise plan, you can customize your software to suit your needs.
Professional – $14.00 per organizer, per month – up to 50 participants
Business – $16.00 per organizer, per month – up to 250 participants
Enterprise – Based on a custom plan – up to 3000 participants
GoToMeeting: Pros and Cons
Here's what we like and dislike about the platform.
Pros
User-friendly with an easy sign-up, scheduling, and hosting process

Multiple ways to join meetings from desktop or mobile

Video and audio are crystal clear due to a variety of customization options

Customer support bot is quick at finding answers

Incorporation with artificial intelligence for easy note-taking
Cons
Limited in active video feed with starter only allowing 25 cameras at once for the first tier

Live customer service support is lack-luster and rarely helpful

Not enough customization options for the price
Webex vs GoToMeeting

Frequently Asked Questions
Is GoToMeeting free?
No, GoToMeeting isn't free and doesn't have a free option. However, it's pricing tiers are reasonable and contain a number of helpful features. If you're unhappy with the product, you can take advantage of the software's 14-day money-back guarantee.
Is GoToMeeting better than zoom?
Zoom is a free-to-use video conferencing software with similar features to GoToMeetings, but the comparison isn't tricky to make. Zoom, for all its positives, is limited in its features and functions. In our opinion, GoToMeeting is a better software.
Is Webex free to use?
Webex is free to use, and sign up is easy and quick. You need to sign up with a Webex account before you can join meetings. With their free plan, you can conference with up to 100 participants, use screen sharing, have private rooms, and have HD quality videos.
How do I know if Webex is working?
There are multiple ways you can troubleshoot a call, but the easiest way to see if your video is working is by testing in a meeting. Go to https://www.webex.com/test-meeting.html and follow the instructions on the official Webex website.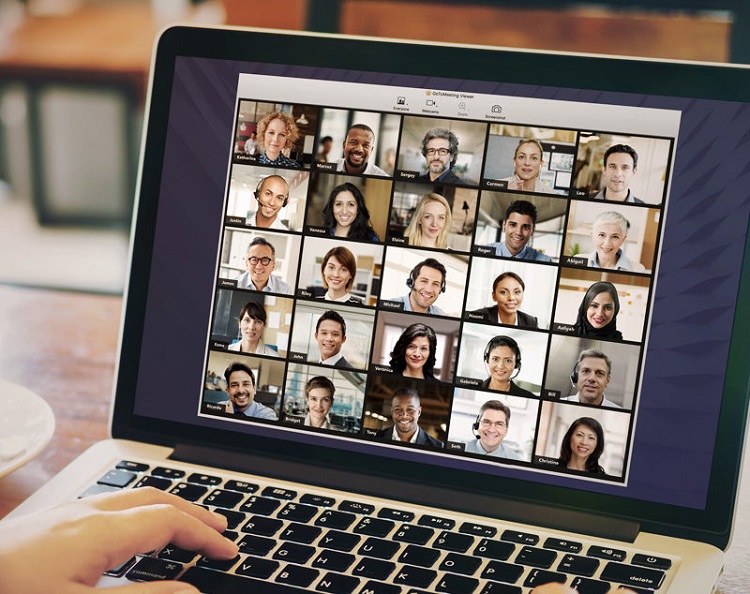 Webex vs GoToMeeting: Final Verdict
Let's take a look at how the two compare.
Video Conference Tool Features
By comparison, GoToMeeting has schedules meeting, secure instant messaging, Microsoft outlook integration, screen and application sharing, audio conferencing by phone and computer, and video recording – but only for PC users. By contrast, Webex has file transfers, privilege assignments, video support, application and screen sharing, and the ability to invite participants to active meetings.
Both GoToMeeting and Webex have a wide array of features, but Webex is more advanced. It helps that Webex has a free version.
Interface (Useability)
GoToMeeting is easy-to-use and user-friendly. For people who have never used conference software, GoToMeeting has a quick learning curve. On the other hand, Webex isn't as intuitive as GoToMeeting. While it's appropriate for beginners, it will take a few hours to understand. Due to its wide variety of tools, it may take a few conferences before you become proficient.
GoToMeeting is more intuitive, great for beginners, and can integrate with Outlook without an add-on. The only problem is the terrible customer service for GoToMeeting subscribers if something goes wrong, or you're stuck using the software.
Security
Both GoToMeeting and Webex are safe and highly rated for their performance and reliability. Both software come with AES 128-bit encryption, which makes your data nearly impossible to crack. Both have high-quality encryption protocol in-place. GoToMeeting has more options to keep meetings safe because it allows the administrator to kick and password protect conferences.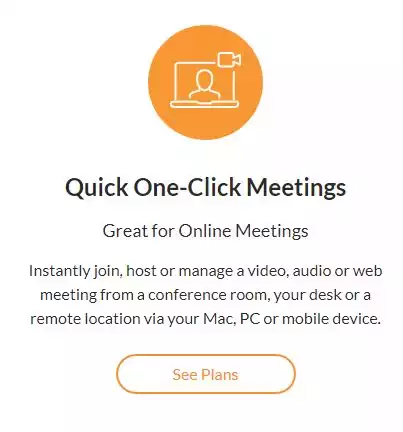 We Use GoToMeeting!
Personally, we use GoToMeeting for all official company business. Here's why. Seamless email integration + calendar management (we use GSuite), advanced control (who can speak, who prestents, etc), even syncs with project management tools!
Try Gotomeeting First
We earn a commission if you click this link and make a purchase at no additional cost to you.
Webex vs GoToMeeting: Which One is the Winner?
Both platforms have their strengths. However, we do have a clear winner here. GoToMeeting is a more user-friendly platform and allows you to lead video conferences without stressing over a large number of features – you just need to get past the poor customer service.
Although Cisco Webex Meetings has a large number of features, you can still achieve a lot with GoToMeeting, and the good it can do to your business makes it our top choice today.
Further Reading on Web Conferencing Software: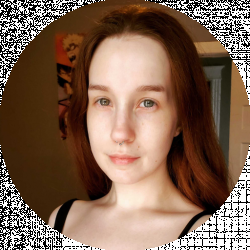 Latest posts by Katrina Dent
(see all)
Get 40% OFF for 3 Months