Last Updated on January 15, 2023 by Ewen Finser
You've probably heard this before.
Some ecommerce gurus say that one is built for large enterprises, while the other is seemingly ideal for small and mid-size businesses. Then there's the group that believes that each of these platforms can be applied both ways.
Well, meet OpenCart and Magento- two of the biggest ecommerce platforms today.
We've seen quite a number of successful online stores capitalize on their functionalities to build, manage, and progressively sustain their ecommerce processes.
But, let's face it. It would be impossible to leverage both at the same time. Your only option here is relying on one that's adequately optimized for your current business structure and marketing framework, plus future upscaling strategies.
The selection process, however, is not that simple. While both Magento and OpenCart are great platforms, each is enhanced in its way- to provide a unique set of features tailored to specific businesses.
So, of course, while one might have worked excellently for a certain online store, proceeding on the same route may conversely turn out to be a disastrous decision over the long haul.
I'll tell you what though- let's save the betting for Sunday night football. And focus on making informed decisions for your online store.
This ecommerce platform review covers every crucial detail you need to know about OpenCart and Magento. Then, of course, it goes ahead to weigh them against each other to compare their functionalities and corresponding capabilities.
So, without further ado, let's dive in…
OpenCart vs Magento: Overview
OpenCart
OpenCart is essentially an open-source ecommerce platform developed on PHP/MySQL code.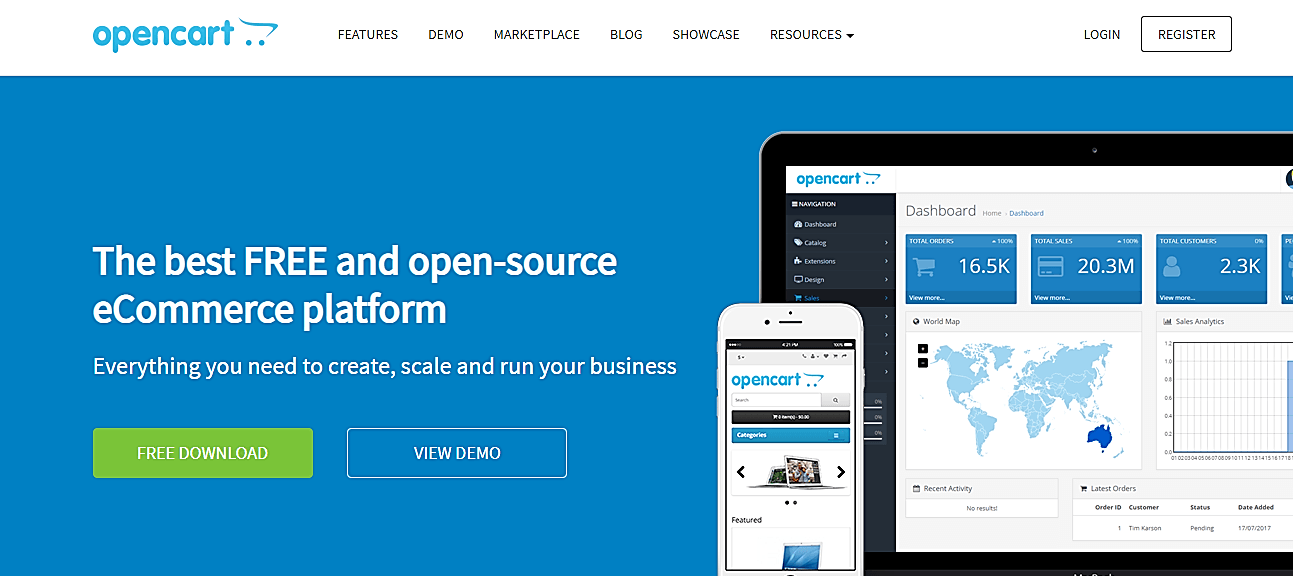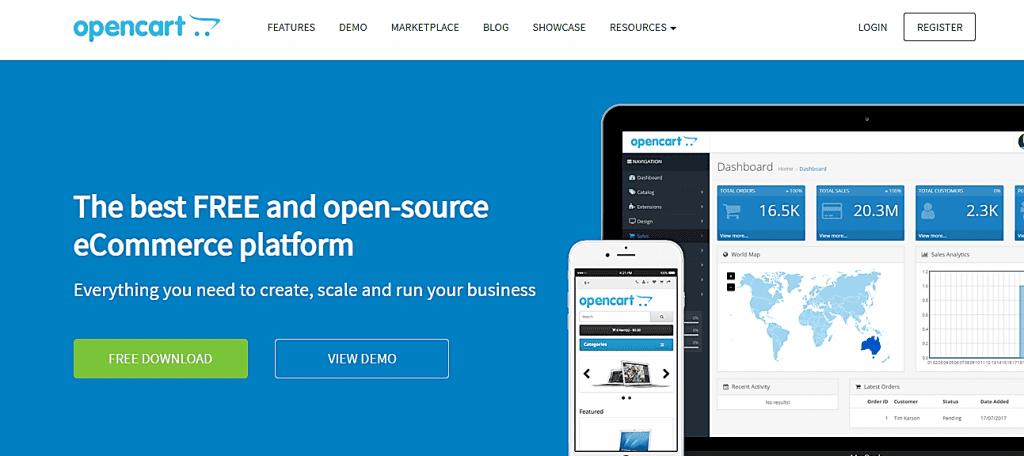 Normally, it's available a free solution for online stores, and it's particularly renowned for user-friendliness, intuitiveness, plus its wide selection of extensions. Store owners have also praised it for its lightweight structure, which can be leveraged by novice merchants for enhanced site performance.
As a result, OpenCart has hosted more than 885,000 websites over the years, with the current usage size stretching to more than 345,000 live websites. Most of them are small and mid-size businesses in the U.S, Russia, U.K., Ukraine, and Brazil.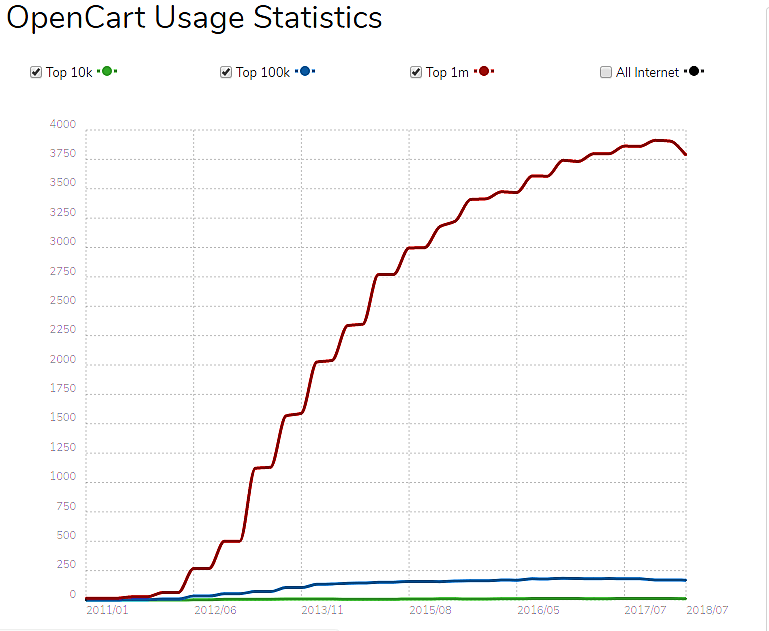 Magento
Owned by Adobe, Magento is also an open-source ecommerce platform.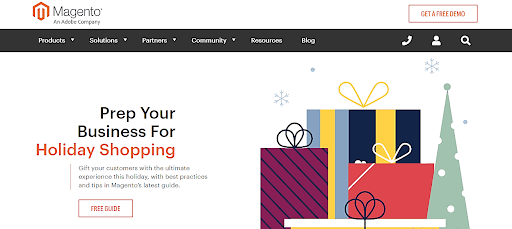 This platform is predominantly recognized for its customizable structure, which grants online stores a substantial amount of flexibility when it comes to site configuration and control.
In addition to creating an online store, you can use Magento for building personalized shopping experiences, customizing back-end ecommerce management, marketing your products, tracking orders, managing payments, and coordinating shipping. In case you need additional functionalities, you can install selected extensions from its marketplace or other online sources.
Such provisions have seen Magento attract slightly more than 808,570 websites– with the number of live sites currently at 218,000. It's particularly popular among large enterprises, and the bulk of its users hail from the U.S., U.K, Netherlands, and Germany.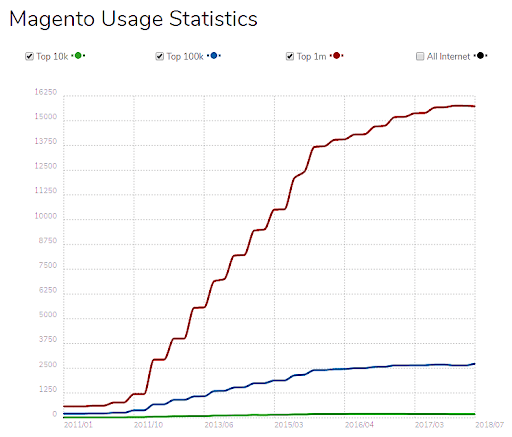 Verdict
OpenCart and Magento are similar in many ways. In addition to their open-source structure, they are both built in PHP, and can be downloaded free of charge. They have also attracted extensive user and developer communities- which consequently continue to develop many extensions that provide additional ecommerce functionalities.
That said, the principal difference between the two is the fact that while OpenCart is simple enough to be tweaked by novice merchants, Magento is rather complex but extensively customizable. As a result, each powers ecommerce quite differently.
OpenCart vs Magento: Features
User-Friendliness
OpenCart
As soon as you fire it up, you'll notice that OpenCart is entirely optimized for simplicity and user-friendliness. It's one of those ecommerce platforms that can be adopted by pretty much anyone- including entrepreneurs who are not quite conversant with coding and web development.
In addition to a lightweight intuitive interface, OpenCart provides a simple and straightforward installation process.
Basically, all you need to do is download OpenCart from the web then proceed with an easy 4-stage installation process. In case of any difficulties, you can count on its support documentation- which comprehensively outlines the entire procedure, with relevant images for demonstration.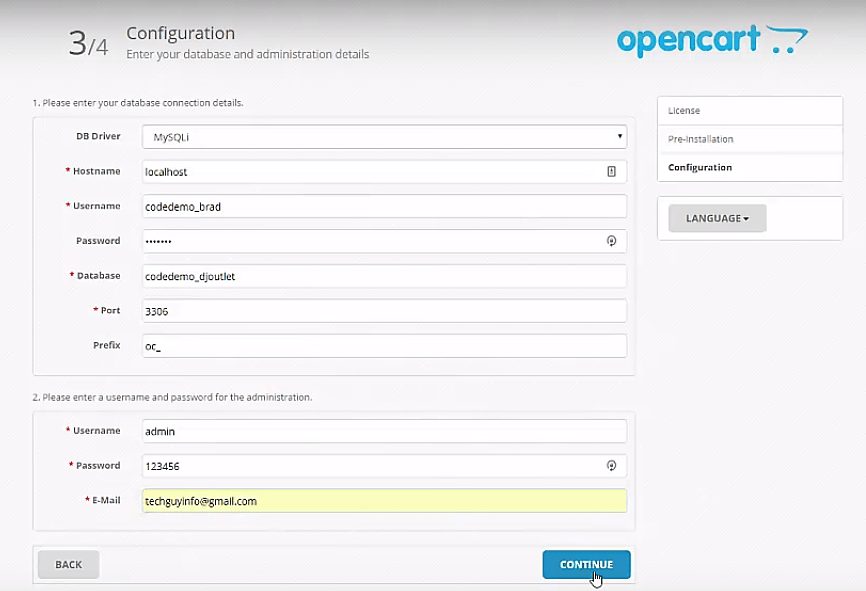 And that's just the first part. It should take you only a couple of minutes.
The theme system is also comparatively simple and intuitive all-round. Accessing the directory is an effortless procedure of navigating through the catalog, then view and finally theme directory. Subsequent adjustments can be conducted by copying the default appearance.
Magento
Magento is many things- but simple is not one of them. It comes with a rather complicated structure supporting equally complex features. You need solid open source coding experience under your belt to be able to comfortably tweak it accordingly.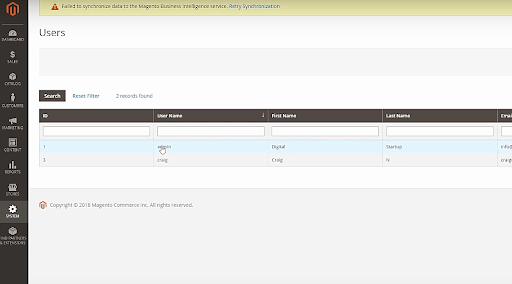 Well, you could argue that Magento also provides documentation for installation. That's commendable- but, following it through step by step would be difficult for most beginners.
To make matters worse, it takes up quite a lot of disk space and resources. So, of course, installing Magento could be a costly affair for some users.
But, don't get me wrong. You could still install it all in a matter of minutes. However, be prepared to deal with additional complications when it's due for updates- which, as a matter of fact, are usually rolled out every 10 to 15 days.
Security updates, for example, require you to update all the files in your server.
But get this- upgrading to a new Magento version allows you to choose between updating only the security files, or the entire system.
Verdict
Simplicity and overall user-friendliness are undoubtedly one of the principal differences between these two platforms. While OpenCart is straightforward enough to be leveraged by novices, Magento has a pretty steep learning curve which confuses even average users. The only way to survive here is hiring an experienced developer.
On the bright side, a well-skilled developer can capitalize on Magento's structure to achieve just about anything.
Customization
OpenCart
Adapting your site to your brand should not be much of a problem on OpenCart. You're bound to find an ideal set of extensions from its marketplace, which hosts more than 13,000 free and premium extensions.
And that's not all. There are more options if you're willing to fork out some money. It should cost you between $10 and $489 per module.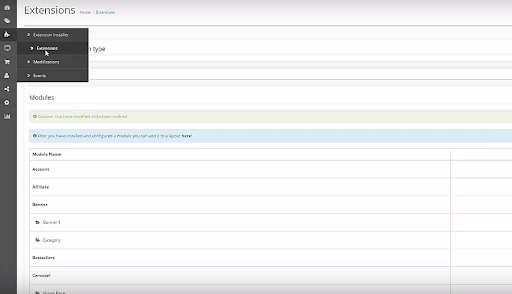 The best thing about this is the fact that you can introduce additional functionalities to your online store. Consequently, you'll be able to expand your business accordingly.
And speaking of expansion, it turns out that OpenCart can also support multiple stores on one user account. In fact, the whole setup process takes just a few minutes.
Other than that, the number of products you can sell on OpenCart is unlimited.
Magento
Although working on Magento is relatively difficult, it seems to make up for that by providing a holistically customizable platform.
Its marketplace, for example, is heavily loaded with themes and extensions for pretty much all types of ecommerce stores. While extensions cost between $9.99 and $999, you should be able to acquire a suitable theme for $29 to $299.
In addition to that, Magento provides a wide range of possible ecommerce opportunities, thanks to a solid offering of more than 350 features. It facilitates multiple stores on a single account, plus allows extensive adjustments on its open source code.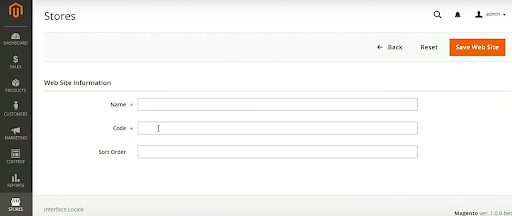 All in all, setting up a dynamic online store here is possible- as long as you have a set of skilled coding hands to back you up. And if you considered expanding geographically, you'd be pleased that Magento supports multiple languages plus a wide range of international currencies.
Verdict
Magento and OpenCart are excellently customizable thanks to a wide array of themes and extensions, plus the fact that they are both open source platforms. Furthermore, they support unlimited products and multi-store management. However, with more than 350 solid features, Magento presents more ecommerce opportunities than OpenCart- which only provides about 100.
But, OpenCart outdoes Magento when it comes to the number of themes and extensions in their respective marketplaces.
Store Management
OpenCart
All things considered, OpenCart seemingly seeks to ease ecommerce management.
Right from the admin panel, you'll be able to track order statistics and edit customer information, products, and various store sections. Following up on your store's overall performance is also very convenient from this vantage point, thanks to real-time info on sales, customers, orders and standard analytics.
Interestingly, catalog management is also part of the admin panel- and it includes several control functions. In addition to adding unlimited products and categories, you can edit product descriptions, plus take advantage of filters to crawl through the inventory.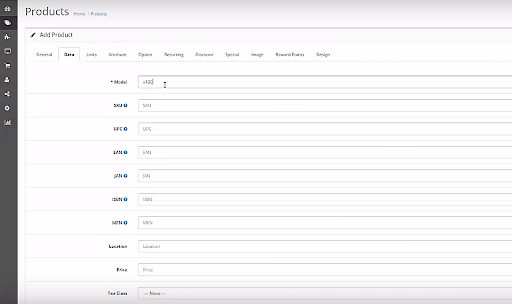 And you know what? You can sell anything- physical products, digital items, and subscriptions. If your store deals with the latter, you can leverage the recurring profile feature to streamline deliveries. It helps users track payments made for various customer subscriptions.
Now, when it comes to following up on orders, OpenCart allows you to filter, view and edit buyers by their identities, plus order status and ID. Unfortunately, the number of actions that users can perform is quite limited.
Well, at least it seemingly makes up for that with numerous possible payment gateways. As a matter of fact, there are more than 36 options, most of which accommodate international payments.
And to further facilitate international businesses, OpenCart provides several shipping methods by default. Apart from USPS, you get UPS, Royal Mail, Parcelforce, FedEx, Citylink, and Australia Post.
Magento
Magento's admin panel is also rich in-store information. You can view the average order amount, search terms, customers' purchases, overall sales level, and other critical store analytics. Other than that, you'll be able to do minor adjustments on your store's sections straight from the admin dashboard.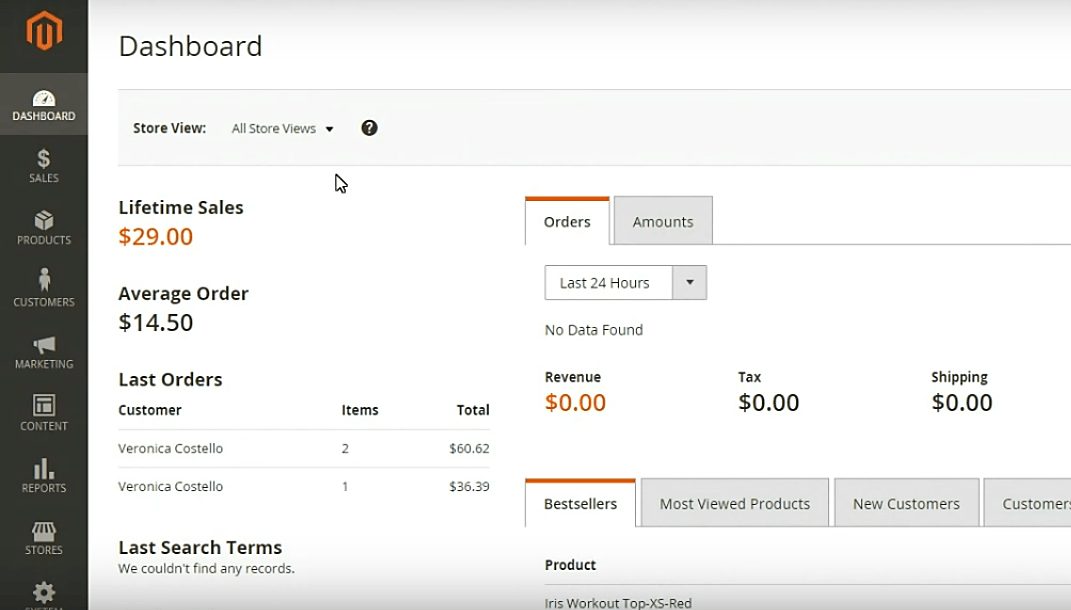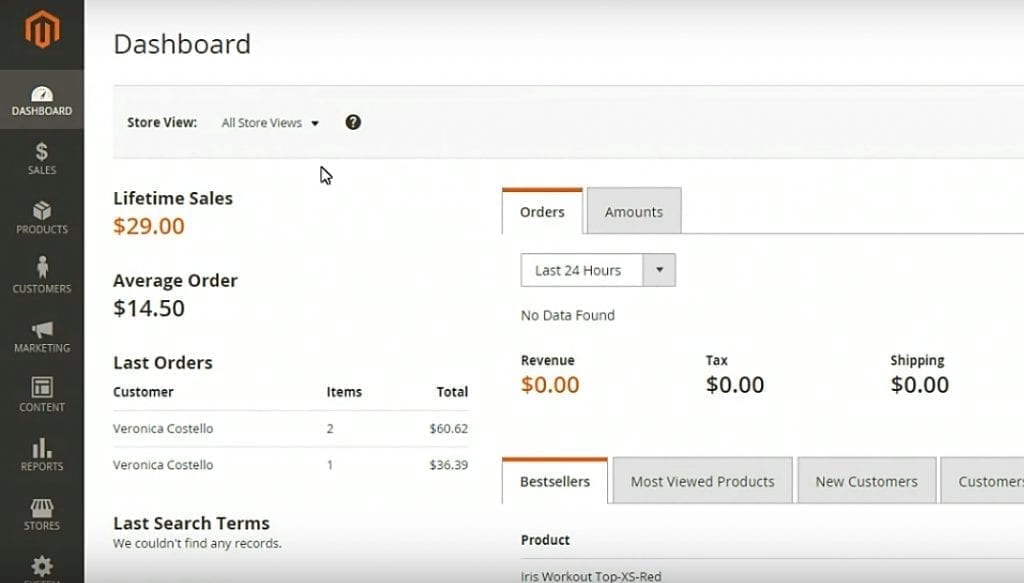 As we shift to catalog management, you'll notice than Magento's is considerably advanced. It supports unlimited products and categories, with unrestricted attributes. That means that you can group your products by color, size, origin, features, etc.
To top it off, Magento further powers inventory management with functions like product filters, product tag moderation, setting minimum and maximum quantities, reviewing back-ordered products, etc.
And just like OpenCart, you'll be pleased that Magento is flexible enough to accommodate different types of products- physical, digital, and subscriptions. Recurring profiles, however, can only be used after enabling the option through Catalogue then Manage Products.
Now, all in all, order management is extensively dynamic on Magento. From the admin panel, for example, you can work on the product and categories settings, as well as create, edit, view and fulfill orders. Then to streamline order preparation, Magento allows you to print packing slips, shipping labels, and the corresponding invoices.
In addition to that, businesses can manage customer reorders when they are dealing with recurrent purchases, and set up customer email notifications for regular orders.
Finally, your international customers will appreciate a multilingual store, plus multicurrency support. You can even work on your store payment processing to include tax rates based on customer location.
Verdict
Both Magento and OpenCart have developed a complete store management framework incorporating all the elements that are critical for dynamic ecommerce. Their admin panels provide a general overview of the store's performance in real-time, plus they support unlimited products, order tracking, inventory filters, description editing, etc.
There are only slight differences in functionalities. Magento's catalog management, for example, is more advanced compared to OpenCart's- which seemingly offers limited actions. OpenCart, on the other hand, comes with more shipping providers by default.
SEO, Marketing and Promotions
OpenCart
Organic search is, by far, the principal traffic source for most ecommerce sites. Consequently, we'd expect that a platform as big as OpenCart would prioritize on SEO.
Well, it turns out that there are good news as well as bad news.
The bad news here is that although you get notable OpenCart SEO features, the platform does not adequately optimize its sites for search engines by default. If you want to fully capitalize on search traffic, you have to handle the bulk of the SEO yourself.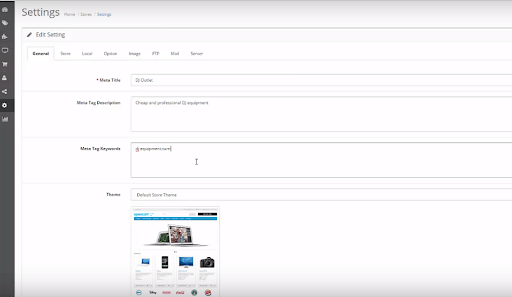 For example- since the platform's default URL structure is not exactly SEO-friendly, you have to change the settings to support SEO URLs.
And while you're on the settings tab, you might want to also edit all your individual pages' categories' and products' meta-title and description.
Now, the good news is that there are plenty of extensions you can leverage for SEO. You could install one for selected SEO features or choose to rely on full packages loaded with multiple SEO features.
The extensions also come in handy in general digital marketing and promotions. You can launch coupon campaigns and so on.
These would effectively supplement OpenCart's default affiliate system that can run and track promotional campaigns, establish unique discounts, and boost overall in-store sales.
And to keep things organized through the promotional campaigns, you can capitalize on OpenCart's customer groups. This allows you to set different prices for selected customers in line with the respective campaigns.
Magento
Well, Magento is also not quite heavy on automatic search engine optimization. But, at least it comes with a wide range of customizable SEO features.
On meta-data for example, you can set idea meta-titles, keywords, and descriptions for products, categories, and CMS pages. If it turns out to be too much work, you can take advantage of the mass settings for the products' meta-data.
When we switch to the URLs, the system also allows you to customize all the product URLs for search engine optimization. In addition to URL rewriting and redirecting optimization, Magento supports editing for URL suffixes, plus canonical tags for products and categories.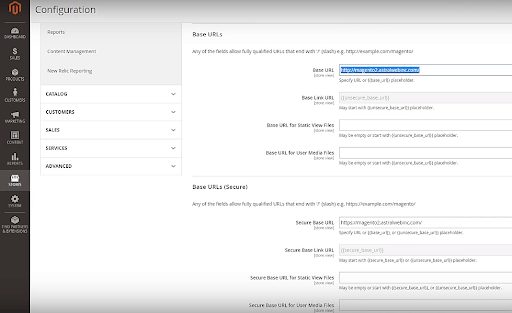 Other than that, you can capitalize on performance optimization, pagination customization, rich snippets, and XML sitemap configuration.
If you need additional SEO capabilities, there are numerous extensions available that provide analysis and full-stack tweaking features.
Then, to fully capitalize on the consequent traffic, Magento provides several notable promotional functionalities. You can establish relevant upselling and cross-selling offers, coupon deals, or discounts- to target individual buyers or groups of prospects. They can be further adjusted for different item combinations, various time periods, special occasions, and so forth.
Verdict
Evidently, SEO, marketing and promotions are critical to OpenCart and Magento. They support search engine optimization, and offer a wide range of features to boost sales through promotions. However, all things considered, Magento comes with more SEO options compared to OpenCart. But, its entire structure is pretty complex, and the whole customization process would be very challenging to a novice.
Magento also goes ahead to provide better promotional features by default. OpenCart, on the other hand, gains points by supporting more extensions for SEO, digital marketing and promotions.
Analytics
OpenCart
If there's something that's always guaranteed in ecommerce, it has got to be change. A strategy that's increasingly effective today might eventually become redundant due to the fluidity of digital business and customer trends.
How your business adapts depends on your critical analysis capabilities, among other aspects.
Now, to facilitate the corresponding decision-making process, OpenCart offers a host of analytical tools for keeping tabs on your entire online store.
On marketing, for example, OpenCart provides reports related to your affiliate activity, individual affiliates, plus the specific marketing campaigns.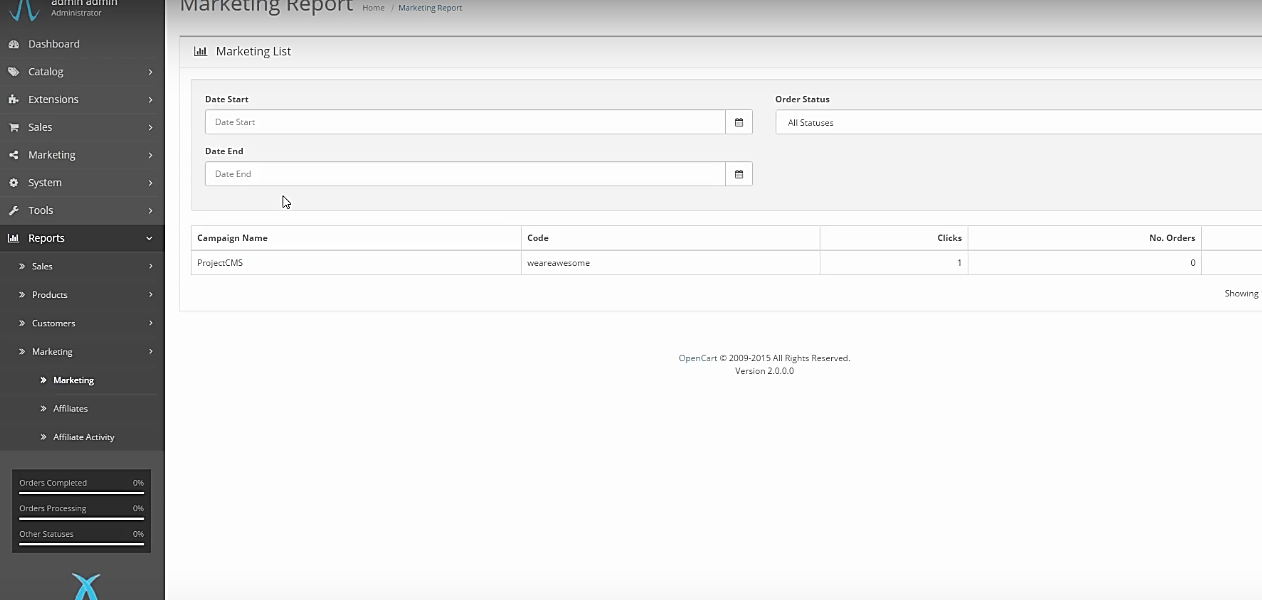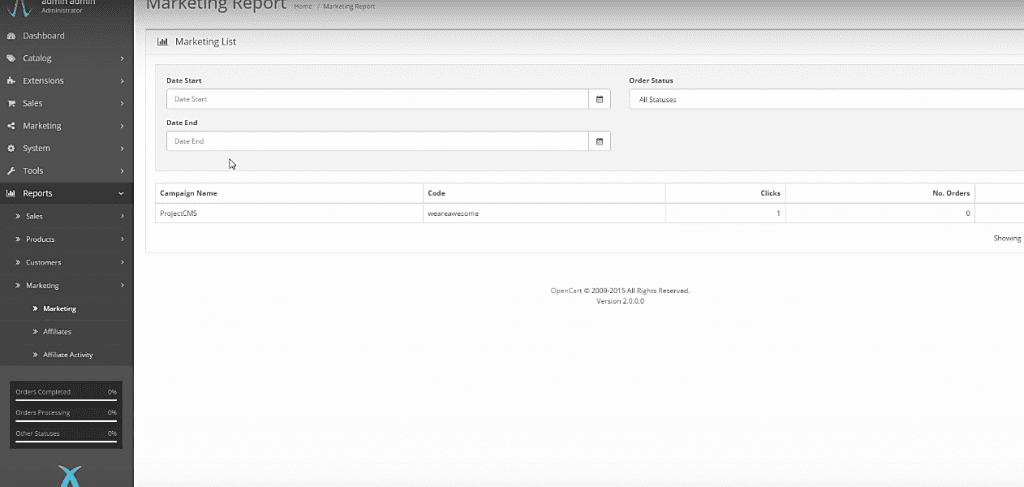 As leads continue rolling in, you'll be able to track their numbers plus the respective consequent activities- including pages visited and products viewed. The reports also cover all the orders made by specific customers, searches conducted, and the corresponding credits or reward points.
And when it comes to sales, you can access information on the entire inventory and products- including details on orders, tax, shipping, product returns, plus coupons.
To top it off, Google Analytics can be integrated into OpenCart to provide crucial pointers about your web traffic in real time.
Magento
By default, Magento also comes with an array of analytical tools covering several aspects of your online store.
The subsequent marketing reports provide information about newsletters, abandoned carts, search engine terms, plus the items added to individual carts.
If you need heads up on the progress of your store's sales, Magento's reports cover PayPal settlement, coupons, refunds, shipping, invoices, tax, plus the resultant orders.
And speaking of product orders, you can also view data on downloads, items ordered, stock size, bestsellers, and views gained.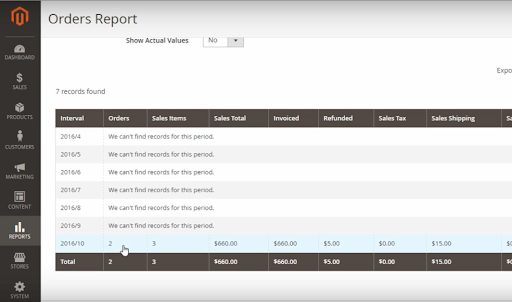 Now that sounds good. But, what about customers?
Well, to track various traffic parameters, you can take advantage of Magento's integration with Google Analytics.
Then consider supplementing that with the platform's default customer analytics, which provide real-time data on new customers, plus their respective product reviews, number of orders, and the corresponding amounts paid.
Verdict
Both Magento and OpenCart provide relevant analytics on all the critical elements of your store- customers, products, sales, and marketing. Plus, they support Google Analytics for accurate real-time tracking of numerous traffic parameters.
That said, Magento emerges the winner here- thanks to additional default in-store analytics. The abandoned cart report, for example, is one crucial piece of information that you can get on Magento by default, but is unavailable on OpenCart.
Pricing
OpenCart
Quite simply, OpenCart is a free open-source ecommerce platform. Downloading and installing it is completely free of charge.
But, here's the kicker. As you probably recognize by now, nothing is really free for the long haul. While acquiring OpenCart won't cost you a dime, you'll have to pay for hosting and subsequent extensions.
As a lightweight ecommerce solution that typically requires about 30Mb of server space, hosting a standard online store will cost you at least $4-$5 a month.
Well, of course, you can systematically upgrade your hosting plan as the business expands. But, sadly, this would introduce other possible costs in addition to upgrading charges.
You see, expanding an online business means that you'll also need extra functionalities. While you could opt for the free modules, it goes without saying that the bulk of OpenCart's most effective extensions come at a price. A typical one, as we've already stated, will cost you at least $10, and the price range extends all the way to $489.
Other than that, expect to pay about $16 to $99 for a typical online store theme.
Magento
Things get a little bit complicated when we switch to Magento's pricing.
The main site itself mentions nothing about what it would cost you to set up and maintain an online store on Magento. They don't even have a pricing tab outlining the cost schedule.
Anyway, we tested it out. And get this- it would cost you at least $22,000 per year to fully implement an online store on Magento. Magento Commerce license starts at that price- excluding the corresponding site development costs.
And that only covers the basic solution. It can get even more expensive when you consider other Magento products like Order Management or Business Intelligence.
Business Intelligence, for instance, is a comprehensive analytics platform that combines information from third-party tools, Magento's extensions, and your database- to provide critical business insights.
While Magento Business Intelligence Pro will cost you $500 per month, Magento Business Intelligence Essentials is available for $100 per month.
Other than that, Magento's themes cost between $29 and $299, while extensions in the marketplace are priced at $9.99 to $999.
Quite expensive, don't you think?
Verdict
Right off the bat, it's pretty clear that OpenCart is cheaper than Magento- by a long shot. While the installation is free, hosting starts at around $4 per month, while themes will cost you $16-$99, then $10-$489 for each extension. Compare that to the tens of thousands of dollars it would cost you to fully implement your site on Magento. And more to acquire supplementary products like Magento Order Management.
Why, you ask? Well, Magento is an extensive, fully-customizable platform for large enterprises. OpenCart, on the other hand, is pretty light and straightforward. It's suitable for small businesses.
Summary
So, now what? We have highlighted the pros and cons for OpenCart and Magento for you to review and it all comes down to your business needs. Do you have a large store that is growing fast? If so, Magento will be a good choice for you, its scalable to support the growth of larger stores. If you are a smaller company that is trying to build your store independently, OpenCart is more suitable because its more intuitive and affordable.
Compare these variables against your individual business needs. What do you think? What would you rather go for- OpenCart or Magento?