Last Updated on April 22, 2023 by Ewen Finser
A glance into the Kartra pricing guide might confuse you for a bit.
And no, this has nothing to do with poorly-arranged user plans. On the contrary, Kartra has done quite a great job of organizing its pricing schedule. Plus, its core package details, from the respective feature sets to the corresponding Kartra cost schedule, are adequately visible.

Unsure About Kartra?
I was skeptical at first, too. The features looked great, but the relatively short time in business gave me pause. I was finally able to find their FREE Trial (14 days) which put my fears to rest. It's "hidden", but here's the link!
Try it Free
We earn a commission if you click this link and make a purchase at no additional cost to you.
[mv_video doNotAutoplayNorOptimizePlacement="false" doNotOptimizePlacement="false" jsonLd="true" key="sjejpnrfqoapgyageiun" ratio="16:9″ thumbnail="https://mediavine-res.cloudinary.com/v1638904248/tdknso6v4lpypenq9s1b.jpg" title="Karta Pricing Plans Explained" volume="70″]
So, where's the problem?
Well, you see, Kartra is no ordinary hosting platform for online business. Its tools stretch from web hosting and e-commerce store management to customer relationship management, omnichannel digital marketing, customer service, unlimited emails, and team management, just to mention but a few.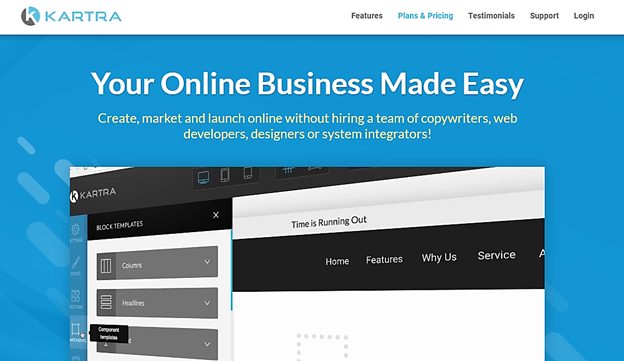 That's impressive, I admit. But, while this all-in-one approach to online business is a great thing altogether, all these features happen to complicate the pricing schedule.
I believe you've noticed that too. There are just way too many variables and elements to compare as you try to choose a perfect option from the Kartra membership account pricing schedule.
Well, of course, everything would have been simpler if shifting from one package level to another was just a matter of upscaling maybe one or two parameters. But, it turns out Kartra adjusts almost every measurable attribute in its user plans.
Each package now comes with its own volume of Kartra features, including the leads Kartra feature, custom domains, help desks (helpdesk portal), team members, membership sites, products (digital product or otherwise), pages (page builder), bandwidth, emails per month, etc. Plus, you still have to consider the possible impact that Karytra's universal plan features, the bonus tools, the pricing discounts, and the available add-ons might have on each package.
Now that's a heck of a lot of stuff to review as a business owner or decision maker, especially if you're in a hurry. Pretty overwhelming if you ask me. Then to make matters worse, the Kartra pricing page doesn't provide a guide on the type of users each package is optimized for.
Yes, I'm talking about those short blurbs that software providers usually place on their pricing pages to describe the target users of various pricing options. The types that usually go like this; "for beginners and startups….", or "for fast-growing business…."
Get the point?
Worry not though, because I took the liberty to thoroughly analyze everything on the Kartra pricing page- the 5 packages, plus their accompanying online business features, extras, add-ons, bonuses, discounts, and of course, the respective annual and monthly billing schedules.
Consequently, I've now broken each plan down to its fundamental attributes to give you a good idea of the expected target users. Stick with me and you'll ultimately clear any doubts regarding the best Kartra pricing plan for your business.
Now, let's take a closer look…
Kartra Pricing Plans
At first, the Kartra pricing schedule (pricing plan) might seem like it offers 4 pricing plans- Kartra Starter, Kartra Silver, Kartra Gold, and Kartra Platinum packages in that order of hierarchy.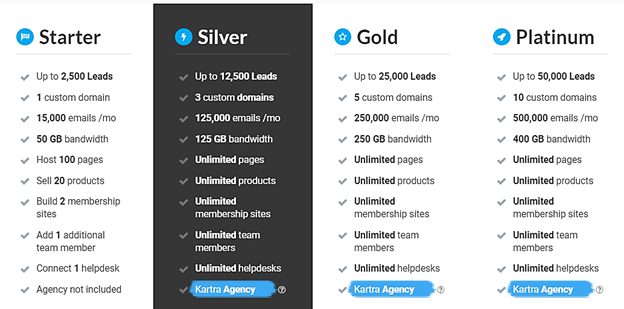 That's not all though. After a closer look, you'll notice that Kartra comes with not 4, but rather 5 pricing plans. The missing link is the Enterprise plan (sometimes called the Diamond Plan), which happens to be the least conspicuous option because Kartra doesn't say much about what to expect with this Kartra plan. It only advises you to contact support.
That said, let's begin by exploring the standard features, tools, and provisions you should expect from all the plans:
Features You'll Find In All Kartra Pricing Plans
All the Kartra pricing plans provide:
Integrations and API for facilitating connections with third-party apps.
A branded Kartra Calendar for time management.
The Kartra Helpdesk system for streamlined and optimized ticketing plus live chat customer support.
Kartra Checkouts for secure and convenient online selling of products and services via PayPal and card payments.
Karta Pages for creating responsive web pages by combining an intuitive drag-and-drop site builder with an array of elegant pre-designed templates (landing page builder).
Kartra Leads for keeping info on your prospects and leads.
Kartra Forms for targeting and capturing prospects.
Kartra Funnel Builder and Campaigns for setting up and managing dynamic digital marketing campaigns (sales funnel builder).
Kartra Mail for building and running email and SMS marketing campaigns (email automation).
Kartra Memberships for creating and managing membership-based businesses (membership site).
Karta Affiliate Management for launching, tracking and coordinating your affiliate programs.
Kartra Video for engaging customers through elegant videos (includes video hosting).
All The Features In Each Kartra Pricing Plan
Kartra Starter Plan – $99 Per Month (For Startups and Small Businesses)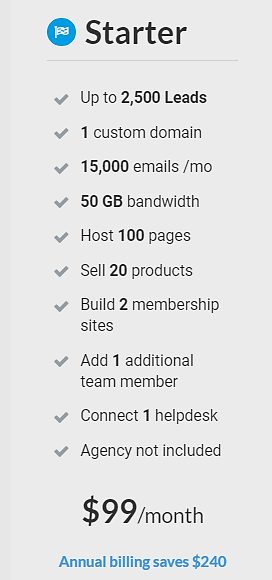 With standard monthly pricing of $99, the Kartra Starter plan is undeniably the cheapest option on this platform.
But, if that sounds a bit costly, it turns out you could make this plan a lot cheaper by simply going for the annual billing option. Subsequently, you get to save about $240 per year, which relatively translates to monthly pricing of $79.
Now, whichever you choose to proceed with, the Kartra Starter plan will, in turn, give you- among other features- 50 GB bandwidth, 1 custom domain, 15,000 emails a month, hosting privileges for up to 20 products, and a contact list limit of 2,500.
Not the best, I'll admit, but these provisions should comfortably support a startup or a small business for some time. Then later, you might have to upgrade when you, for instance, grow your contact base beyond 2,500 or perhaps exceed the set allocation for your email marketing campaigns.
Another thing that might convince you to seek an alternative package is the lack of the Kartra Agency tool suite. This is particularly critical for service-based businesses like web design agencies, which need tools for managing both clients and projects at the same time.
Other than that, the Kartra Starter Plan is quite decent for most small businesses. Its pricing might seem costly at first, but it starts making sense when you consider the possible costs of alternatively acquiring the same range of tools from different providers
All in all, here are the basic features you should expect from the Kartra Starter Plan:
Connect 1 helpdesk.
Add 1 additional team member.
Build 2 membership sites.
Host and sell up to 20 products.
Host 100 web pages.
50 GB bandwidth.
15,000 emails per month.
1 custom domain
Build a base of up to 2,500 contacts
Kartra Calendars
Kartra Helpdesks
Kartra Videos
Kartra Affiliate Management
Kartra Memberships
Kartra Mail
Kartra Funnels and Campaigns
Kartra Forms
Kartra Leads
Kartra Pages (Kartra page builder)
Kartra Checkouts
Kartra Silver Plan – $199 Per Month (For Growing Businesses and Agencies)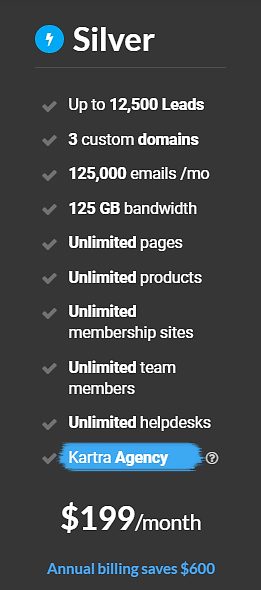 To qualify for the Silver Plan on the Kartra pricing schedule, you'll be required to add $100 to your monthly Starter Plan payments. Otherwise, you could opt for the annual billing schedule, which will reduce your yearly costs by $600 and the relative monthly cost would go down to $149.
Well, that's more or less double the cost of the preceding Starter Plan. Any reason for the substantial difference?
Turns out there are several.
The restriction on the number of contacts, for example, increases from 2,500 to 12,500. Then the bandwidth size, on the other hand, is adjusted from 50 GB to 125 GB, while the volume of emails per month moves from 15,000 to 125,000.
Notice anything peculiar with that?
Well, the fact is, every single provision on the Starter Plan has more than doubled. Hence, the rate of $199 per month is understandably fair.
And you know what? It gets better.
In essence, the bulk of the features here are completely unrestricted. Karta removes all the limitations on the number of helpdesks, team members, membership sites, products, and web pages.
What does that mean?
Quite simply, it places the Kartra Silver Plan within the range of growing businesses. You'll have the freedom to expand your activities and sales funnel (or landing page) without worrying about extra limitations.
Then get this. The Kartra pricing system further throws in the Kartra Agency tool suite at no extra cost. This gives you the privilege to step up your activities to the agency level plan.
And with that, here's a summary of all the plan features that will come your way through the Kartra Silver Plan:
Connect unlimited helpdesks.
Unlimited team members.
Unlimited membership sites.
Host and sell unlimited products.
Host unlimited web pages.
125 GB bandwidth.
125,000 emails per month.
3 custom domain domains
Build a base of up to 12,500 contacts
Kartra Calendars
Kartra Helpdesks
Kartra Videos
Kartra Affiliate Management
Kartra Memberships
Kartra Mail
Kartra Funnels and Campaigns
Kartra Forms
Kartra Leads
Kartra Pages
Kartra Checkouts
Kartra Agency
Kartra Gold Plan – $299 Per Month (For High-Traffic and Growing Medium-Sized Businesses)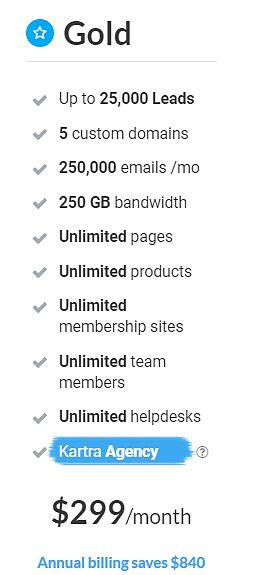 As your business grows with time, it'll begin attracting a relatively high volume of web traffic, plus tens of thousands of leads. This is where the realm of medium-sized businesses starts, and the Katra pricing schedule provides just the right suite of tools in the form of the Kartra Gold Plan.
Well, interestingly, the Gold Plan package itself shares a lot of similarities with the Kartra Silver Plan. Not entirely though, because while they both offer unlimited helpdesks, team members, membership sites, products, and web pages, there are several notable differences when it comes to the number of emails, custom domains, and leads.
The Kartra pricing plan at this level tries to help your business cope with the demands that come with a high traffic volume. So, the Silver plan's 125 GB bandwidth is pushed to 250 GB, while 125,000 emails a month are bumped up to 25,000 emails a month.
Then to match that, Kartra further allocates 5 custom domains plus storage for up to 25,000 contacts.
This should be enough for expanding agencies as well as growing medium-sized businesses that are running multiple stores or fronts.
In turn, you're required to pay a standard monthly rate of $299 for the Gold Plan. But, if you choose to pay your bills on a yearly basis, the monthly pricing relatively goes down to $229. That means the Kartra pricing system will have you saving about $840 every 12 months.
Some of the principal features you'll get for that include:
Connect unlimited helpdesks.
Unlimited team members.
Unlimited membership sites.
Host and sell unlimited products.
Host unlimited web pages.
250 GB bandwidth.
250,000 emails per month.
5 custom domain domains
Build a base of up to 25,000 contacts
Kartra Calendars
Kartra Helpdesks
Kartra Videos
Kartra Affiliate Management
Kartra Memberships
Kartra Mail
Kartra Funnels and Campaigns
Kartra Forms
Kartra Leads
Kartra Pages
Kartra Checkouts
Kartra Agency
Kartra Platinum Plan – $499 Per Month (For Established Medium-Sized Businesses)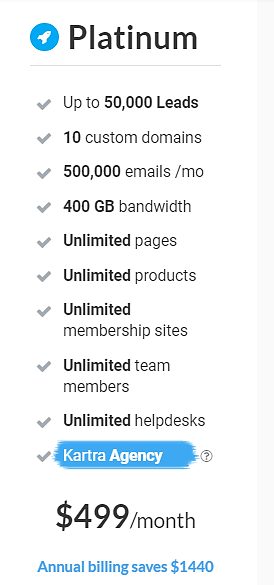 There comes a time when a steadily growing medium-sized business finally breaks into the class of established market leaders. More specifically, this is the league that's made up of influential and highly profitable medium-sized businesses that run multiple selling fronts across several domains and channels.
With that comes a lot of business, hosting, and campaign demands, which the Katra pricing system tries to cater to using the Platinum Plan.
This is the highest-level package on the marketing platform as far as the default predefined plans are concerned. Anything above this is considered a custom package.
Anyway, you probably won't need to scale further in the near future because, as it turns out, the Kartra Platinum is extremely generous with its allocations.
In addition to the standard unlimited assets, you get a whopping 400 GB of bandwidth, as well as 10 custom domains. I guess that should work well for a business with multiple online stores.
Then to facilitate the corresponding campaign demands, this Kartra pricing plan goes ahead and throws in half a million emails per month, plus storage for up to 50,000 leads.
Now that's a fair balance of features.
The only problem is, it doesn't come cheap. This Platinum Plan will have you coughing up $499 per month. But, if you choose the annual billing option, the cost drops considerably to $379 a month. This should eventually save you about $1,440 every year.
Karta Enterprise Plan – Custom (For Large Enterprises)
This is the mother of all the Kartra pricing plans. And as the name suggests, it's reserved for large enterprises.
You won't find any defined features though. Rather, Karta requests prospective users to get in touch with the customer support team, which will subsequently analyze your demands before setting up custom feature sets with unique allocations.
That said, this is where you place large corporations and dominant brands with huge sales numbers and extensive marketing campaigns (via in depth sales funnel builds). I'm talking about millions of email sends per month.
Frequently Asked Questions:
Does Kartra works with behaviour automations?
Yes! Kartra collects some of your recipient's behaviour patterns that you can turn on to improve your email performance.
Can I personalize the Emails with Kartra?
If you want your emails to be more personal, you can customize them to show the name of the receiver with very simple programming options.
Does Kartra notifies me if my emails are marked as spam?
Yes! With Kartra you can monitor your email performance, to avoid your unsubscription/spam ratios to increase.
Conclusion: Which Kartra Pricing Plan is Best?
Now, for the sake of simplicity, here's everything you should expect on the Kartra pricing schedule in a nutshell:
So, now that the Kartra pricing schedule caters to almost every user level (including a free Kartra trial here for 14 days), where do you think you belong? With the startups and small businesses at the Starter Plan or the big boys at the Platinum and Kartra Enterprise Plans?
I'll leave you to decide.
Meanwhile, it's worth noting that most of the users here sign up for the Karta Silver Plan. It seems to have the right balance of Kartra funnel features, email list capabilities, and marketing tools for most businesses.
Why?
I guess they go for the cheapest Karta pricing option that carries the common set of unlimited privileges.
Further Reading on Kartra and Landing Page Software: