Last Updated on April 24, 2023 by Ewen Finser
Having a CRM (client relationship management) tool as part of your business system ensures effective workflow for all business operations. The right tools help you manage clients, projects, and billing in one place – minimizing the stress that comes from juggling several different systems at once.
The need to grow has forced many small businesses to look into a comprehensive CRM system. As such, the tools available to help manage these businesses continue to diversify. HoneyBook stands out as an excellent CRM tool for many small businesses, but with the rising popularity of its competitors, an important question to ask is; how does it stack up?
One way to answer this question is by looking at HoneyBook's alternatives and competitors. Here we explore what experts look for in a CRM system and how HoneyBook compares to the best of the best.
Top HoneyBook Alternatives and Competitors
Below are five of the best CRM systems for small businesses you can use today.
Dubsado

FreshBooks

Bloom

Hello Bonsai

Salesmate
HoneyBook CRM Overview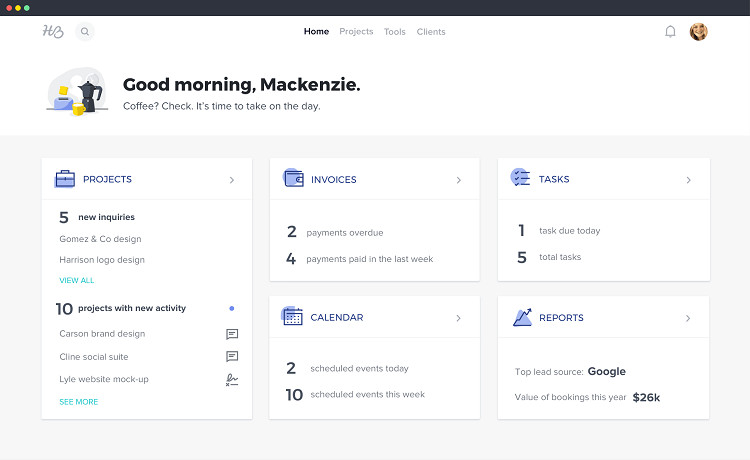 HoneyBook is a cloud-based client management software designed to help small businesses streamline their workflow and maximize productivity under a single platform. It is an all-in-one business management platform with tools that handle client management, project management, time tracking, billing, invoicing, proposal creation, and contracts.
Describable as a small business workforce automation tool, HoneyBook provides users with interactive dashboards and actionable analytics to ensure that all vital business operations are running smoothly. Its design is built around an account management system, making it perfect for freelancers and other service-based business owners.
Self-employed professionals are HoneyBook's main demographic, but other businesses can benefit from their services. The need to use the tool on the go is one of HoneyBook's most significant selling points. It's available on Android, iOS, just about any browser, and tablets.
HoneyBooks' intuitive pipeline, its white-glove setup capability, and its billing plan offerings all make it a formidable competitor in the $73 billion CRM industry. Its customer support system is top-notch, making this tool an obvious choice for small business owners looking to optimize their workflow.
HoneyBook Features
HoneyBook is more than just a business management tool; it is a complete set of tools for business success with all the hooks and nooks of a CRM system.
Whether you want to focus on managing your time, projects, billing, or task lists, this tool is for you. While its main function is to manage client relationships and information, HoneyBook provides more perks for businesses that need their CRM to be multifunctional.
Some of its most notable features include:
Invoice processing:

Create customized invoices, send them on their way, and get paid faster.

Proposal creation:

Manage marketing materials, presentation documents, proposals, and contracts all in one place.

Scheduling:

Book appointments, set up meetings, and put your time to better use.

Online contracts

: Use templates to create contracts online and sign them with a few clicks.

API/integration:

Seamlessly connect your other tools to your HoneyBook account for a truly efficient workflow.

Automation sequences

: Define automated messages and processes using HoneyBook's built-in automation feature.

Project management

: Easily track the progress of your projects, tasks, and milestones.

Online payments:

Get paid faster with online invoicing and payment capabilities.
The above features are the most notable functions of HoneyBook. Other tools may emphasize a few different features, but it is safe to assume that no competitor has as many features integrated into its software as HoneyBook does.
HoneyBook Pros
Intuitive and user-friendly interface

White-glove service for setup, training, and customization

Pipeline focused on account management

iOS and Android compatibility

Excellent task management
HoneyBook Cons
Not ideal for large businesses

Limited integrations

Additional withdrawal and deposit fees

Can't export client information
HoneyBook Pricing
Other CRMS will charge a per-use fee for their services, but HoneyBook is a flat-rate service based on the billing plan you choose.
There are three plans available:
Starter plan

: $9/month

Unlimited monthly: $

39/month

Unlimited annual:

$390/year
The plans include an all-in-one solution covering client communication, payments, scheduling, and more. The starter plan gives you access to all the features but limits the transactions to a total of $10,000 plus a 6-month limit to concierge support.
The unlimited monthly plan comes with unlimited concierge support, unlimited transactions, and access to all the starter plan features. The unlimited annual plan offers the best value with all the features in the starter and unlimited monthly plans. Users get to save 17% by paying for the yearly plan.
Once you join any paid plans and realize that they don't offer what you need, HoneyBook offers a 60-day money-back guarantee. It accepts payments through Visa, MasterCard, and American Express. HoneyBook uses SSL encryption to keep your information private and safe.
What to Look for in a CRM Software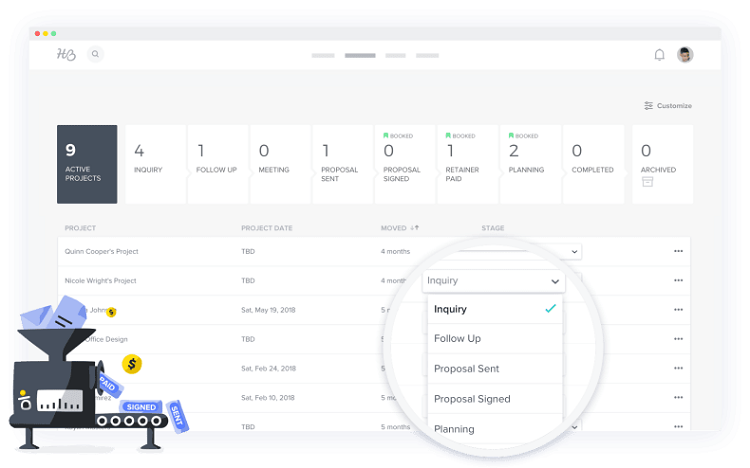 When comparing HoneyBook with its competitors, it is important to look at the features that come standard in any great CRM system.
For many small businesses, the following are critical:
Integration capabilities:

A CRM that promotes integration with other popular tools is a must-have for businesses that want to save time and work smarter.

Multi-platform availability:

You can't be chained to your computer when you have a successful business to run. A CRM that you can use on any popular device or browser is a must-have for busy professionals.

Ease of use

: We all have priorities, but user-friendly software should be at the top of your list. If the CRM you are considering offers a steep learning curve or cumbersome interface, that may not be what you want for your business.

Comprehensive customer support:

No matter how good your CRM is, it is a major inconvenience if it doesn't help you solve problems quickly and easily. You can't afford to waste time and money with software that doesn't meet your standards, so customer support is important in your evaluation process.

Fast and simple setup:

There's no point in waiting around to get started with your new CRM. Look for an option that's simple and quick to set up, so you can stay on task running your business.

Mobile access:

Your CRM should be available to you on all your devices. That's something that HoneyBook does better than other options, making it an obvious choice for mobile business owners.
HoneyBook Competitors and Alternatives
HoneyBook isn't the only CRM tool on the market. Many other competitors offer similar capabilities, but some are better than others. Comparing HoneyBook to its major competitors can help you decide which is the right choice for your business.
Dubsado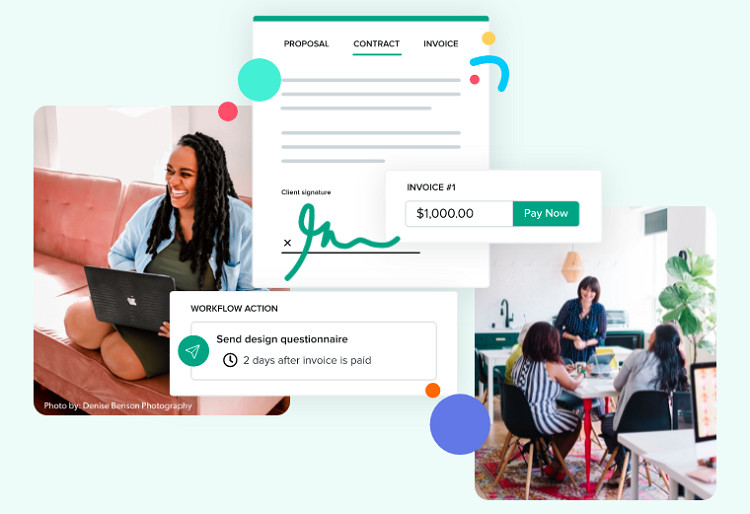 Dubsado is an all-in-one business management tool often used by freelancers and small businesses looking for a comprehensive solution. Its CRM section is a valuable tool for keeping customer information organized and accessible.
Dubsado competes with HoneyBook, especially because both tools promote collaboration and streamlined workflows among small business owners. While they boast similar features, HoneyBook has a better user interface with a less steep learning curve than Dubsado.
Notably, Dubsado has better accounting integrations with robust invoicing and payment systems. It also has better project management capabilities, including Gantt charts and document sharing tools.
Dubsado Core Features
Below are features that make Dubsado stand out from other CRM tools.
All in one proposal features

Question mapping

Invoicing

Client portal access

Scheduler (Calendar booking)

Workflow automation

Customizable tools

Committed customer success

Reporting and bookkeeping
Dubsado Pricing
Dubsado features a simple pricing model. For $40 per month, you have access to the entire management system and can connect as many clients as you need. There's free data migration with custom branding and hands-on support throughout the week. You can opt to pay the $40 or an annual fee of $400.
Dubsado Pros
Unlimited free trial

Excellent customer service

Comprehensive accounting features

One-stop-shop solution
Dubsado Cons
Unavailable mobile app

Steep learning curve
Dubsado and HoneyBook are excellent CRM tools. However, HoneyBook offers more flexibility for mobile users and better integrations with other tools.
Hello Bonsai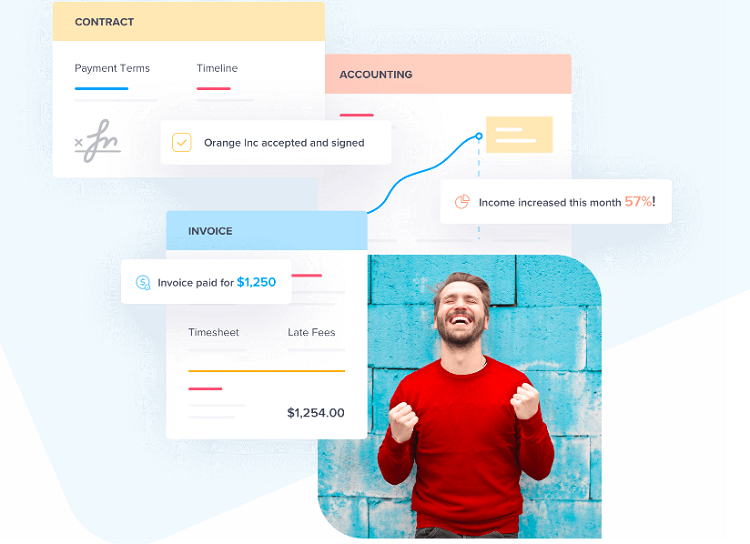 Hello Bonsai or simply Bonsai is a CRM tool designed with small businesses in mind. It offers an affordable option for new entrepreneurs and freelancers looking for streamlined, on-the-go solutions.
Bonsai features a range of customizable tools for easy organization. It claims to have more features than other CRMs on the market, but at a price point, that low-volume businesses can afford. User experience is a priority for Bonsai. However, HoneyBook offers a better UX and a more straightforward setup process.
Notably, Bonsai has more comprehensive accounting features than HoneyBook, with the ability to track payments and revenue. It also has better integration with accounting tools, including QuickBooks and FreshBooks.
Bonsai Features
Below are features that make Bonsai stand out from other CRM tools.
Proposals

Contracts

Accounting

Tax

Time tracking

Invoicing and payments

Reporting

Task and time tracking

Client CRM
Bonsai Pricing
Bonsai uses two pricing models. However, you can supercharge your business with add-ons at an additional cost. Below are their basic pricing models.
Workflow:

$19/month

Workflow plus

: $29/month
For an additional, $9 you can invite other users to access the entire account. An additional $10 will help track your expenses, estimate quarterly taxes, and identify write-offs.
The workflow plan gives you access to all the essential features, including iOS, Android, Chrome & Mac Apps. The workflow plus has everything in the basic plan but includes a client portal, priority support, client forms and questionnaires, and workflow automation.
Bonsai Pros
Data import is possible

Comprehensive accounting features

Better customization options

Simple pricing plans

No add-ons
Bonsai Cons
Occasional glitches

Contract creation tool has limits

Incomplete time tracking features
Both HoneyBook and Bonsai are excellent CRM solutions. However, if you need more control over your workflow and want to track time effortlessly, HoneyBook is the better option.
Bloom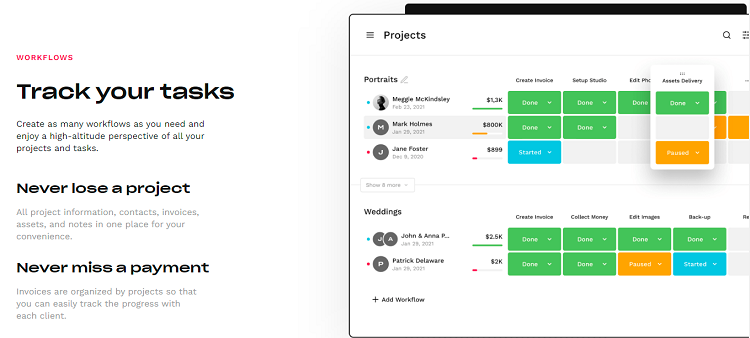 Bloom is a CRM designed for creative entrepreneurs and freelancers. It's excellent for constantly on-the-go teams and content creators who want to generate leads, sign contracts, automate emails, book projects, and sign contracts.
It has a mobile app for iOS devices that helps you manage your team's communication, streamline workflow, and stay organized. Customer support is available around the clock on the Bloom help center via live chat, phone support, and its Facebook community.
Bloom may not be as diverse HoneyBook, but it certainly has a lot to offer CRM solution seekers.
Bloom Features
Bloom offers wide-ranging features. Here are some of the essential ones you should know.
Capture leads

Manage projects

Sign contracts

Track tasks

Track payments

Integrate with other tools
Bloom Pricing
Bloom has three pricing plans.
Starter:

Free

Standard:

$39/Month

Studio:

$79/Month
The free plan is ideal for new freelancers starting out and allows you to book one project at a time. The standard is ideal if you have a steady flow of clients and organize and grow your business. The studio plan is most suitable if you run an agency and work with multiple employees and brands.
Bloom Pros
Intuitive user interface

All in one feature

Supports lead import (via CSV file)

Email automation
Bloom Cons
Mobile access for iOS alone

Lack of accounting features
Overall, HoneyBook and Bloom have a lot in common. They are both excellent CRM tools that help manage client information, tasks, and project details. However, if you want a more versatile tool that lets you generate contracts, invoices, track expenses, and integrate with other tools, HoneyBook is the better option.
Salesmate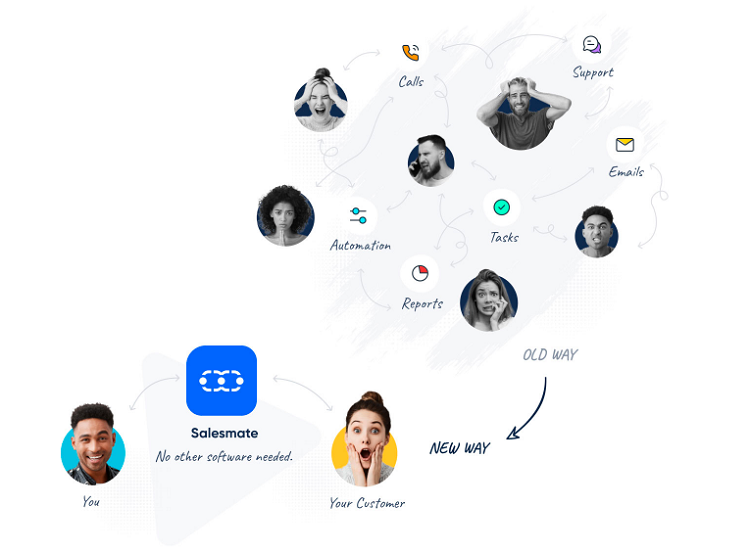 Salesmate is another excellent CRM solution. It helps you manage leads, track projects, collect sales reports, schedule meetings, and automate relationships. Unlike HoneyBook, its focus is more on sales and less on managing business operations.
Salesmate integrates with top-tier business apps, including Shopify, Slack, Zapier, WordPress Aweber, and other essential tools you need to work on the go. It has more integrations than HoneyBook. In addition, it comes with Android and iOS apps alongside a Chrome browser extension to help you access your CRM from anywhere.
Unfortunately, its focus on sales makes it harder to process other tasks that are efficient in HoneyBook. As such, it's best suited for established businesses that rely more on leads and referrals. It's also lacking in accounting features, so you will have to rely on other tools for this purpose. The brighter side is you'll have direct support in its user community, live chat, and help center.
Salesmate Features
Below are some of the essential Salesmate features you should know:
Contact management

Text and Email management

Team inbox

Built-in calling

Workflow automation

Activity tracking

Sales report

Deal tracking
Salesmate Pricing
The Salesmate pricing plans are ideal for businesses at all levels. It offers four pricing plans with the ability to pay either annually or monthly.
Starter:

$144 per user/year ($15 per user/ month)

Growth

: $288 per user/year ($30 per user/month)

Boost

: $480 per user/year ($50 per user/month)

Enterprise

: Custom pricing
Salesmate has straightforward pricing with affordable plans for teams of all sizes. The starter plan is most suitable if you start a new business or campaign with no significant investment. For a more customized approach, opt for the enterprise plan.
Salesmate Pros
Extensive integrations

iOS/Android apps

Affordable pricing

Ease of use

Ideal for small and large businesses
Salesmate Cons
No accounting features

No invoicing options

Limited customizations

Focused solely on sales management
Salesmate's focus on sales makes it easier to manage contacts, emails, and communication. Nonetheless, HoneyBook works well for both sales and managing business operations.
FreshBooks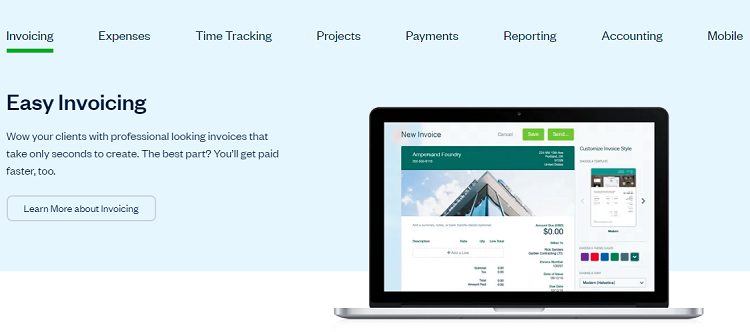 FreshBooks is an invoicing and accounting solution suited for self-employed professionals, businesses with several employees, and those that operate with contractors. It's also an excellent tool for non-profit organizations.
You can create beautiful invoices, send them to clients, collect payments and organize expenses in one platform. What's more, the time tracking feature helps you monitor how much time you spent on a project and which projects required the most of your attention.
Even though FreshBooks and HoneyBook are competitors, you can still integrate these tools for a more comprehensive management solution. The essence of the integration is to sync contacts between these platforms for improved communication and management.
FreshBooks Features
Below are features that make FreshBooks stand out:
Accounting

Client management

Invoicing

Mileage tracking

Payment processing

Proposal

Reports

Expense tracking
The above features make FreshBooks a powerful solution for managing projects and keeping tabs on your business. It's also an affordable CRM tool for small businesses with a significant budget.
FreshBooks Pricing
FreshBooks has four pricing plans. The plan you choose will depend on the number of clients you want to manage and the features you require.
Lite

: $6/month (5 billable clients)

Plus:

$10/month (10 billable clients)

Premium

: $20/month (Unlimited billable clients)

Select:

Custom pricing
FreshBooks and HoneyBook are a tough match. However, FreshBooks stands out as a flexible and affordable CRM with all the necessary accounting features.
Other HoneyBook Competitors and Alternatives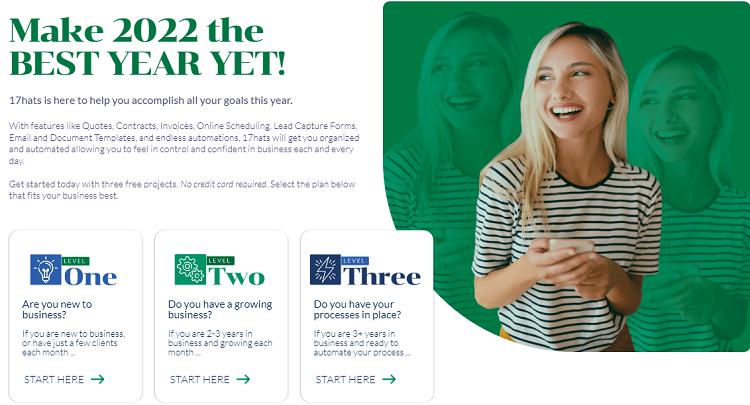 Below is a list of other HoneyBook competitors
17Hats

Indy

Holded

Flowlu

Plutio

Elorus

Betterlance
FAQs
Question: What is the Difference Between HoneyBook and Dubsado?
Answer: The main difference is in their specialization. HoneyBook focuses solely on creatives, while Dubsado is suited for design studios and agencies of all sizes. However, HoneyBook has more comprehensive features for creative management.
Question: Is there a Free Version of HoneyBook?
Answer: HoneyBook offers a 7-day free trial. The free trial gives you access to all the features of the select plan, add unlimited members and benefit from unlimited concierge support. After your trial expires, you can subscribe to any paid plans.
Question: Are HoneyBook Contracts Legal?
Answer: HoneyBook contracts are legal and designed to protect both parties. The legally binding documents include all the nitty-gritty details of the project, including deadlines, deliverables, milestones, and terms. Both parties must sign the contract before the project starts.
Honeybook Alternatives And Competitors: Conclusion
HoneyBook is an effective tool for creatives, freelancers, and small business owners. It stands out as an affordable yet flexible CRM with all the necessary features required to run a business.
HoneyBook's alternatives and competitors include Dubsado, Salesmate, Bonsai, Bloom, FreshBooks, and Salesforce. If you are looking for an alternative to HoneyBook, consider Dubsado and FreshBooks. They excel at providing comprehensive CRM and accounting features.