Last Updated
In our post, we will be comparing Printful vs Teespring to see which one comes out on top as having the best features for your online business.
As more and more consumers embrace digital shopping, retailers (and marketers, solopreneurs, artists, etc.) have embraced drop shipping. With drop shipping, the seller doesn't have to keep any goods in stock. Instead, they send order and shipping details to a manufacturer, retailer, or wholesaler for fulfillment.
Thanks to dropshipping, the print-on-demand (POD) industry has taken off. With POD, a seller can create an accessory or piece of clothing – like a coffee mug, tote bag, beach blanket, custom t-shirt, etc. – with a customized design or logo and place an order, but without actually having to do much of the work.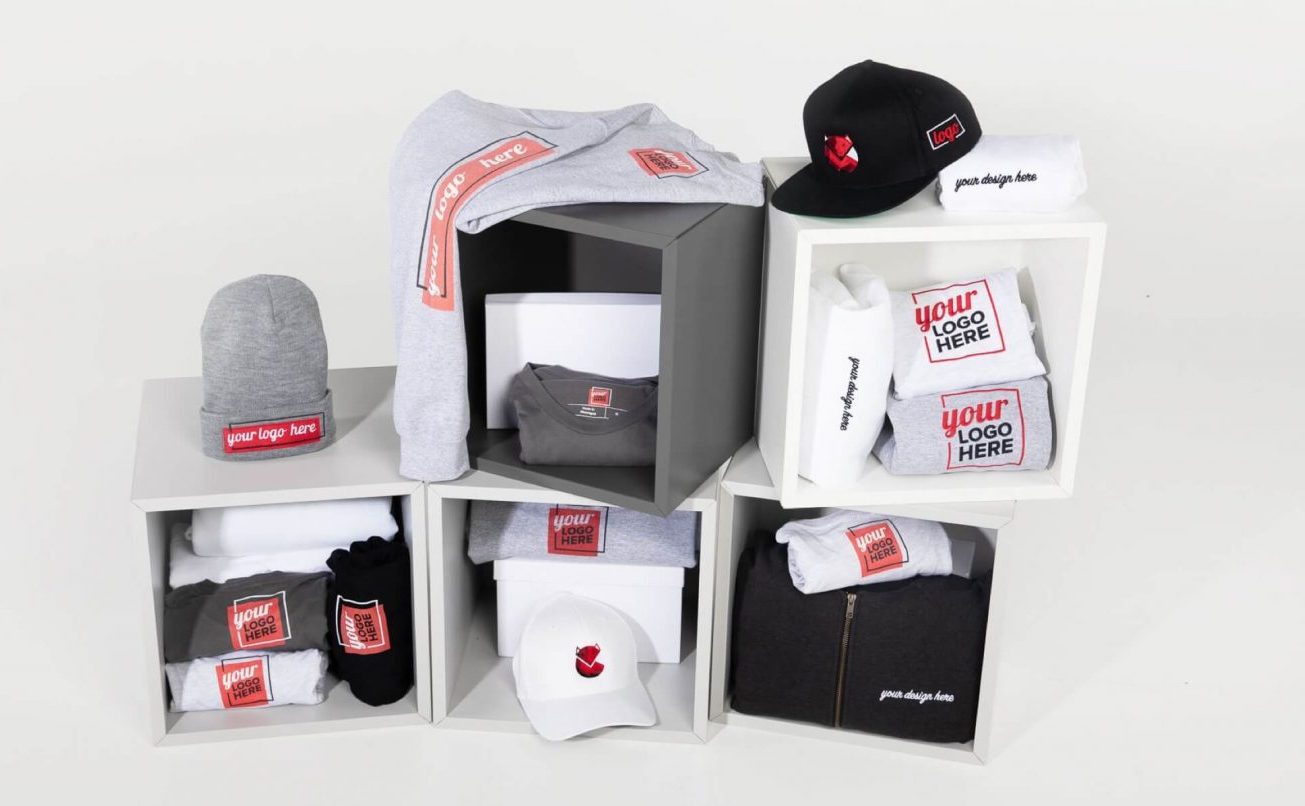 After choosing the product, uploading the design, and making some business-related choices (like custom product description, pricing, and shipping method), the POD service handles the rest. In some cases, even creating the t shirt design that will be added to the item can be done for you.
Essentially, a POD service takes care of manufacturing, printing, and fulfillment for you so that you can sell customized physical products without actually keeping any in stock. Printful and Teespring are two leading providers in the POD niche.
An Overview of Printful vs Teespring App
With both Printful and Teespring, everything is handled for you, including printing, fulfillment, and shipping. Once you come up with a design, they'll help you create your products and set your options, and then they'll pretty much take it over from there.
With both companies, manufacturing is handled in-house – with some other POD companies, manufacturing is outsourced. You don't have to pay for any type of membership plan, either. Both companies are paid based on a product's base price when you make a sale.
The Main Differences Between Printful vs Teespring
The main differences between Printful vs Teespring are:
Printful has a vast product catalog with a lot of items and sub-options, whereas Teespring has a much smaller and more limited product line.
Printful lets you order samples at a reduced price every month, whereas Teespring doesn't have any special offers for samples.
Teespring lets you sell from their ecommerce platform offering a built-in audience and marketing features, whereas Printful is best for connecting an existing eCommerce shop.
Printful vs Teespring: Which Has the Best Features?
In this section, we'll put Printful and Teespring head-to-head to see which one comes out on top when it comes to the most important features of a POD service.
Catalog App
The first thing you'll want to assess when choosing a POD service is the breadth of products available – if they don't have the items or options that you want to sell, you'll want to choose another provider.
In general, a larger catalog is better. However, you could find a provider you love that offers exactly the products you want, even if they have a limited selection.
P.S. The products are blank, which is how you're able to print your own designs on them. Often, there are options for certain products, like different sizes and colors for tees.
Printful Products Catalog
Printful has several products that you can design and sell, including:
Apparel for men, women and children, plus flip flops
Aprons
Bags (backpacks, laptop cases, tote bags, etc.)
Beach towels
Bean bags
Hats in several styles (baseball caps, beanies, visors, etc.)
Jewelry (bracelets, earrings and necklaces)
Mugs
Phone cases
Stickers
Pillows and pillowcases
Wall art (canvas prints and posters)
Printful either uses direct-to-garment (DTG) printing or embroidery, though DTG is their standard method and the one used on most products.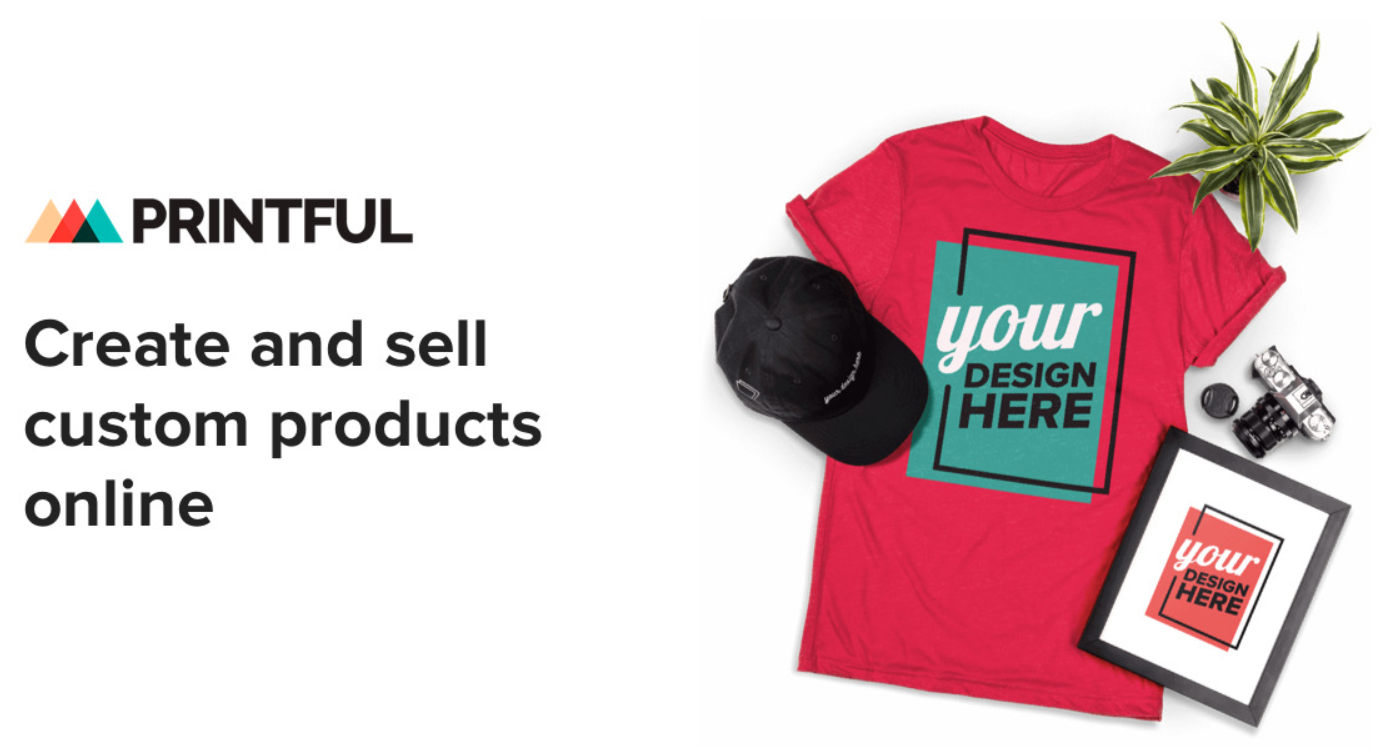 Here's where Printful stands out from other POD providers: they have in-house creatives who can help you with your design. So, if you're not a graphic designer or if you have a half-baked idea that you haven't been able to complete, they'll help you out or take over.
Furthermore, if they don't have a product that you want to sell, you can choose a different supplier, and Printful will still handle fulfillment (printing and shipping).
Teespring's Catalog
Teespring has a number of products to choose from, including:
Apparel (hoodies, leggings, socks, tees, etc.)
Beach towels
Canvas prints
Flags
Mugs
Phone cases
Pillows
Posters
Tote bags
Teespring uses either DTG printing or screen printing.
The Winner
Printful definitely beats out Teespring in this category. Not only do they offer a broader range of products than Teespring, but having their creative professionals at-the-ready to help you finalize your art is an enormous help.
Printful vs Teespring: Product Pricing
When it comes to POD pricing, companies have a base price that they charge for the product. That means that's the price you pay the company for the product, so you'll want to make the price you sell the product for higher to earn a profit (factor in shipping cost, too).
Printful's Product Pricing
The number of colors used in a design won't impact pricing, and you don't have to sell a minimum number of products to use Printful.
We love their helpful calculator, which lets you choose a product you want to sell and then select how much of a profit you want to make. From there, it'll show you the different options for that product type and what you'd have to price them at to make your desired profit. (The calculator page is also where you can view base prices for products.)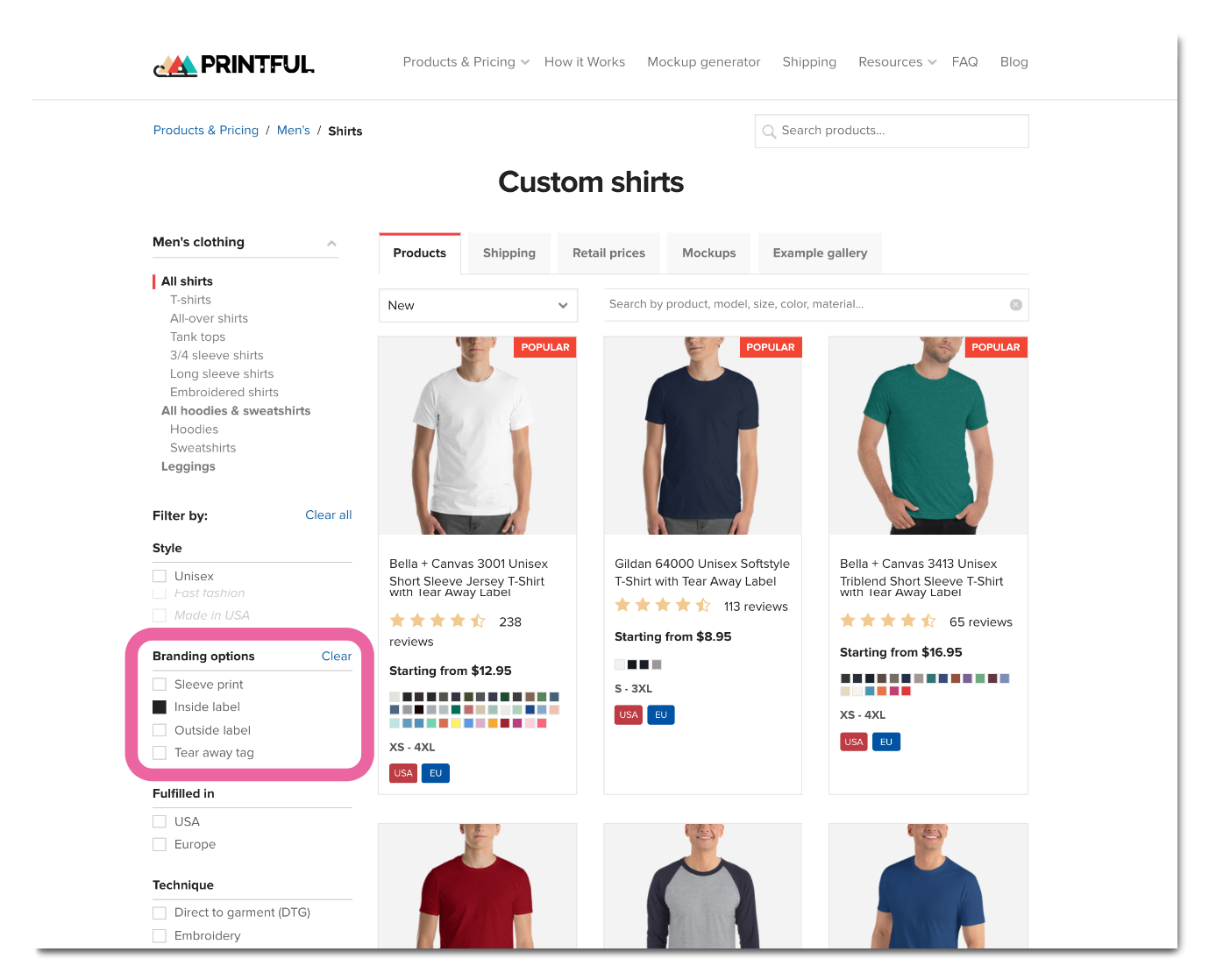 Teespring's Product Pricing
When you create a product, Teespring will recommend a final price – however, you can adjust the price to whatever you want if you want to increase your earnings. You can find base prices for their products here.
The number of colors used in your design won't affect pricing, just like with Printful. However, a double-sided design can increase the base price of a product. You may also get a discount based on the number of items sold during the previous month.
The Winner
When you put product prices for common items head-to-head, they're about the same. For example, mug and t-shirts (from shirt designs) are priced around the same amount whether you go with Printful or Teespring (though Printful has more options within product categories, which can change the price for "special" features). We still have to go with Printful here, if only because their profit calculator is so helpful.
Printful vs Teespring: Mockup Generator
Every POD service should have a mockup generator, which is where you'll "build" your products to choose the size and placement of your design, plus select options to offer customers. The tool should be easy to use since this is where you'll be spending most of your time.
Printful's Mockup Generator
Printful's mockup generator is user-friendly, sleek, and easy to get around, with a walkthrough to help you get started. You'll choose the product, set your preferences for color, material and size, and then start designing. You can also add clip art or text to your own graphics.
Depending on the product you choose, there are a lot of options for placement, too. For example, with a t-shirt, you can design the front and back, which is standard, but you can also add design elements to the sleeves and even the label.
Teespring's Mockup Generator
Teespring's mockup generator is a little annoying to use because the editing menu has a black background, which can strain your eyes. Otherwise, it's a standard mockup generator. You can view different sides of certain products – for example, you can see the front and back of a tee.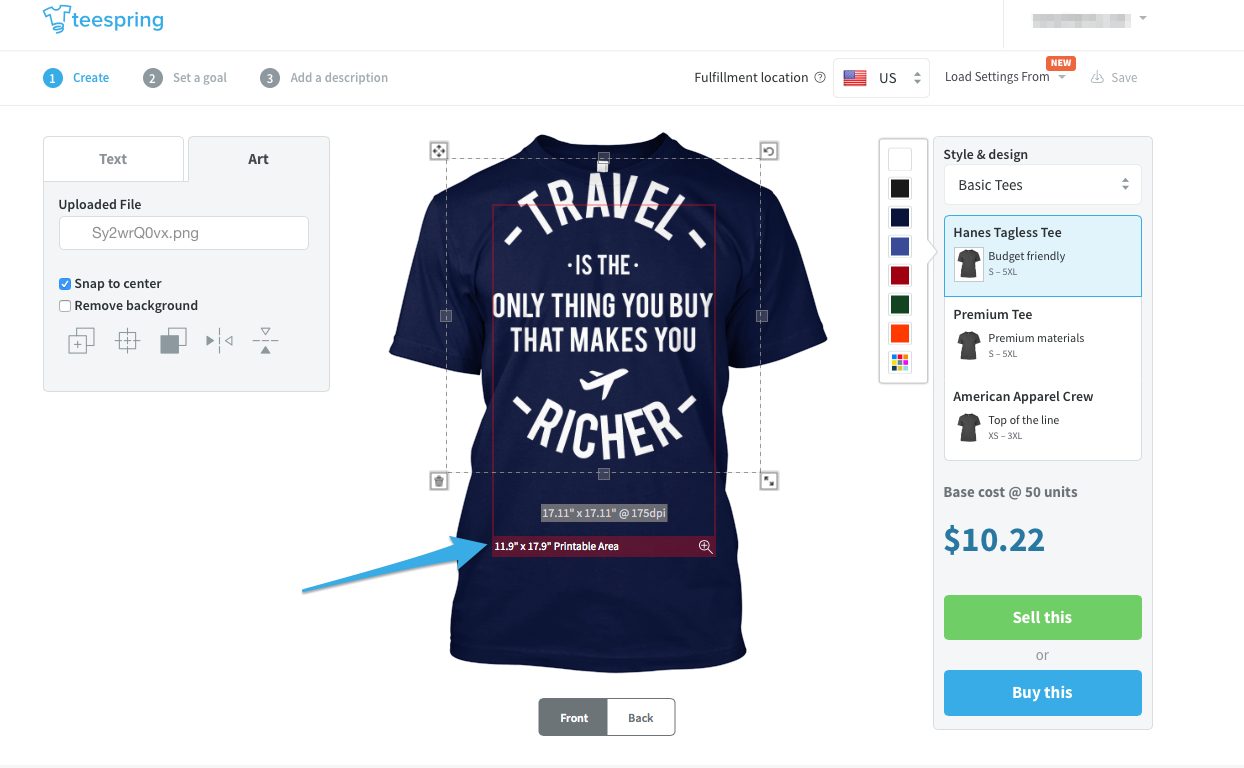 On top of uploading a graphic, you can also add text by typing it onto your product using the mockup generator (so, without creating a JPG or PNG with text first). From the generator, you'll also choose product colors and set your price.
The Winner
We prefer Printful's mockup generator because it's easier on the eyes, has more guidance for first-time users, and is a higher-quality tool overall – it's kind of a product creation hub for sellers.
Printful vs Teespring: Free Designs
Let's say you want to design a product, but you don't have graphic design skills. Or, you want to try out a POD service, but you don't want to create or upload your own designs during a test run. Some POD providers will have free designs that you can play around with and even use on your for-sale products.
Note that if you sell merchandise with these designs, it'll be hard to compete with other sellers because your designs won't be original – however, the free designs are excellent for testing out the mockup generator.
Printful's Free Designs
You can easily access Printful's free designs by searching for "sample files" from the dashboard. The designs are royalty-free, so you can use them for any reason, commercial or personal (so long as you're using them with Printful's products).
Teespring's Free Designs
Teespring will sometimes include free designs in their blog posts, like in this one. You can also access their free designs in their Google Drive folder here.
The Winner
A provider's free designs shouldn't be a selling point, because we don't recommend you use freebies in your for-sale items, but we have to go with Printful here because their free designs are a lot easier to access than Teespring's.
Printful vs Teespring: Samples
Before you offer a product to customers via your store, you'll want to get a sample of the product to see how it looks in person – especially if this is your first time working with a POD company.
Printful's Samples
When you order a sample from Printful, you'll get the item for 20% off the list price. Plus, when you order a sample, you'll get two products, not just one. There's a limit of one sample order per month, though, which can be tricky if you want to test products more often. There may be the option to order more samples if you integrate your shop with an eCommerce service or if you generated a certain amount of income the previous month.
Teespring's Samples
With Teespring, you won't get a discount for a sample product – you'll have to pay the regular base price.
The Winner
Clearly, Printful comes out on top in this category.
Printful vs Teespring: Your Online Store
Some POD providers let you connect your eCommerce shop to integrate it with your Printful print account, while other providers ask that you sell directly from their website. Some, like Printful, have both options.
Printful's Store Options
If you currently have an online shop, you can integrate it with Printful using one of many popular eCommerce platforms, like Amazon, Shopify app (via the Shopify App Store), or the WooCommerce app – there are around 20 or so to choose from.
When you integrate Printful with an existing shop, your products will auto-sync so they're present in your online shop without you having to add them manually.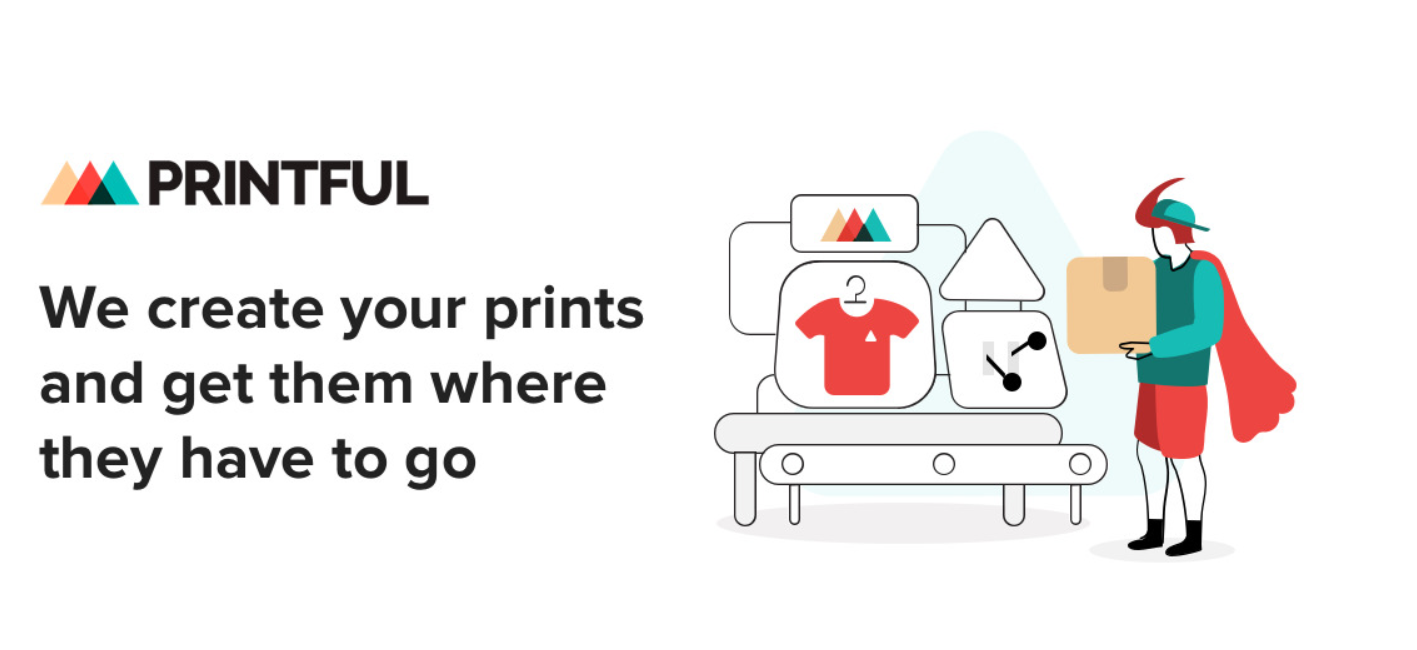 If you don't have an online shop, though, you can sell on Printful itself.
Furthermore, Printful will photograph or take videos of your products, which you can then use in marketing and sales channels.
Teespring's Online Store Options
Teespring has a built-in marketplace where you'll sell your products. Within your Teespring store, you have a lot of control:
Create a custom online storefront with a banner
Set certain products as private
Set a selling end date on a product
Use marketing tools, including cross-selling and retargeting campaigns
View product analytics and connect Facebook Pixel or Google Analytics
Moreover, you can create multiple storefronts with Teespring in case you want to promote different brands and branding options, product types or themes separately.
Where Teespring shines is with its marketing integration options. You can connect Teespring to YouTube to have your products displayed under videos or during live streams.
You can also integrate with Twitch to have merchandise displayed next to a live stream, and fans can make a purchase without even leaving the stream.
The Winner
This is a tough one because Printful offers both options – integrating with your existing store or selling directly from their site. However, we have to give it to Teespring, because it has advanced marketing options that are especially helpful for video content creators, and they're able to offer those marketing options because you're selling directly from their platform.
Printful vs Teespring: Shipping
Customers want to get their product fast once they've paid for it. However, since POD companies handle shipping for you, you're at the mercy of their shipping rates and delivery time frames.
Shipping with Printful
Printful takes up to seven days to print and package your items. After that, shipping can take up to eight days if it's going to the U.S. or Europe and up to 20 days if it's going to another international location.
Rates depend on the item you're shipping and where it's going. To get an idea, though, shipping one t-shirt within the U.S. costs $3.99, and you'll pay $1.25 for each additional item shipped. Shipping in Europe costs $4.39 and $1.09, respectively.
You can get more info about shipping with Printful here.
Shipping with Teespring
With Teespring, rates and delivery times will vary based on the product and destination.
For example, shipping apparel within the U.S. is $5.99 for standard shipping and $19.99 for rush shipping. In the U.S., items sent with standard shipping will arrive within 12 business days, while items sent with rush shipping will arrive within five business days. There's also a super rush shipping option for $29.99 – however, it's unclear what the super rush delivery time frame is. If additional items are added to the cost, shipping rates for those items may be lower.
You can see their complete shipping costs chart here and their shipping time frames information here.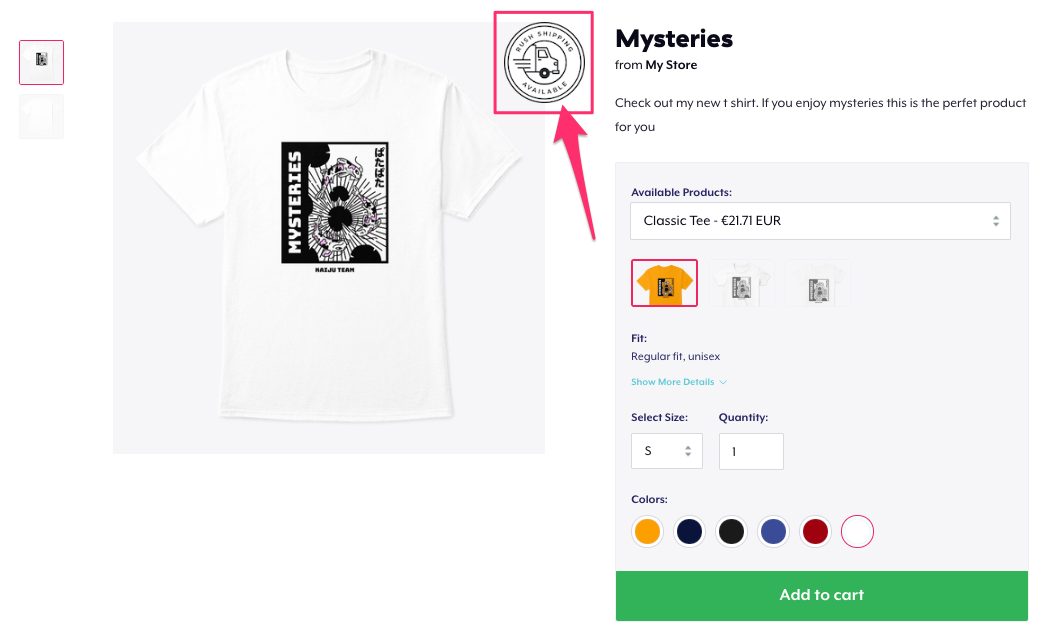 The Winner
This is kind of a toss-up. Printful has slightly lower prices (product-depending) but longer shipping time frames, while Teespring charges a bit more but gets your products delivered quicker – maybe. Ultimately, since shipping rates and times are so close, this shouldn't be your deciding factor when choosing between the two services.
Printful vs Teespring: Getting Paid
You've done all the work, and now you want to get paid! Here's how to cash out once you've made some sales.
Getting Paid by Printful
It's not clear how sellers get paid by Printful, but since most users will be integrating Printful with their own eCommerce shop, payments are likely handled over there (like on Shopify, for example). It's unknown how you get paid if you sell directly from Printful, though.
Getting Paid by Teespring
When you request a payout, you can get paid within 48 hours from Payoneer or PayPal. You can also opt to receive a check, but it'll take longer.
The Winner
Teespring is the winner here because of their straightforward method for paying users and for getting them paid within as little as 24 hours in some cases.
Printful vs Teespring: Customer Service
While both of these services are quite user-friendly, you still want to be able to get help if something goes wrong – otherwise, your sales could suffer.
Printful's Customer Service
Printful's customer service team is available via chat, contact form, email or phone. They also have helpful information on their blog and in their FAQ section. You can also connect with other Printful users in the brand's communities on Facebook, Instagram, and YouTube – the admin team may have a presence there, too.
Teespring's Customer Service
The Teespring training center has all sorts of strategies for running a successful shop, including a quick start guide for first-time users. Then, the FAQ section helps you find answers to common questions and troubleshoot on your own. If you need to speak with a customer service agent directly, you can chat with them during regular business hours or you can send them a message.
The Winner
Teespring's training center is invaluable to budding sellers, which is why we've chosen it as the winner in this category.
Frequently Asked Questions:
Why is Printful so expensive?
Printful – and some other POD companies – are thought of as expensive for the seller because the profit margin can be low if your products aren't priced high enough. Some sellers prefer to keep product prices low so they can sell more, though.
Can you really make money on Teespring?
Since Teespring is its own marketplace and has a built-in audience, you may have a better chance of making money on Teespring than if you were to set up an eCommerce store and promote it from scratch. Teespring also has a lot of marketing options that are perfect for video creators.
What's the best print-on-demand company?

There are several POD companies out there to experiment with and choose from, with Printful and Teespring among the best. Personally, we're fans of Printful because they have standout features and a team of creatives who will help you finalize your designs.
What are the benefits of a POD service?

There are a lot of reasons to love POD services:
1. There's no need to purchase expensive equipment or machines or find a storage facility or warehouse to house your products.
2. Inventory is always in-stock (unless, for some reason, the POD provider runs out of or discontinues a certain product) and you don't have to manage it.
3. You (usually) don't have to pay any upfront costs – you pay the provider when you make a sale. This means there's a lower risk because you won't waste money by paying for something like a membership upfront.
4. Every part of the fulfillment process is taken care of, including printing, packaging, and shipping.
When you use a POD service, you can put your time, effort, and energy into your brand and creating designs customers will love – managing the more tedious parts of the business will be outsourced.

What are the drawbacks of a POD service?

While they come with a lot of perks, POD companies do have some drawbacks.
1. The profit margin can be low if you don't want to price your products above a certain amount. Since you have to pay the provider for the product and shipping, what you end up earning may be negligible.
2. If your prices are too high, on the other hand, you'll have a difficult time selling a lot of products – and, with some companies, the more you sell, the lower the base price will be.
3. You don't have control over the print quality of the product, so it may take some trial and error to find a company you trust.
Printful: The Ultimate Winner
Yes, the fact that Teespring has its own marketplace means that you'll get more visibility and have a built-in audience from the second you set up your shop.
However, if you already have an eCommerce shop, Printful is the clear winner here.
It beats out Teespring when it comes to so many important categories, including breadth of product selection, mockup generator, and samples. And since other important features like product pricing, shipping rates and times, and customer service are relatively the same between the two providers, Printful's standout characteristics give it a major competitive advantage.
Further Reading on Print on Demand Platforms: