Last Updated on January 15, 2023 by DMEditor
Out of all of the technological advances in marketing, marketing automation is becoming one of the most sought-after tools. As it sounds, various marketing automation (MA) tools automate different functions. This can include email marketing or any other function in your entire strategy.
There are various marketing automation platforms out there, but SharpSpring is one that's receiving attention. Formed in 2012, SharpSpring is a highly capable platform that offers great features and perks for one monthly price.
Is SharpSpring worth it? Read our in-depth and unbiased review for our insight.
What Is SharpSpring?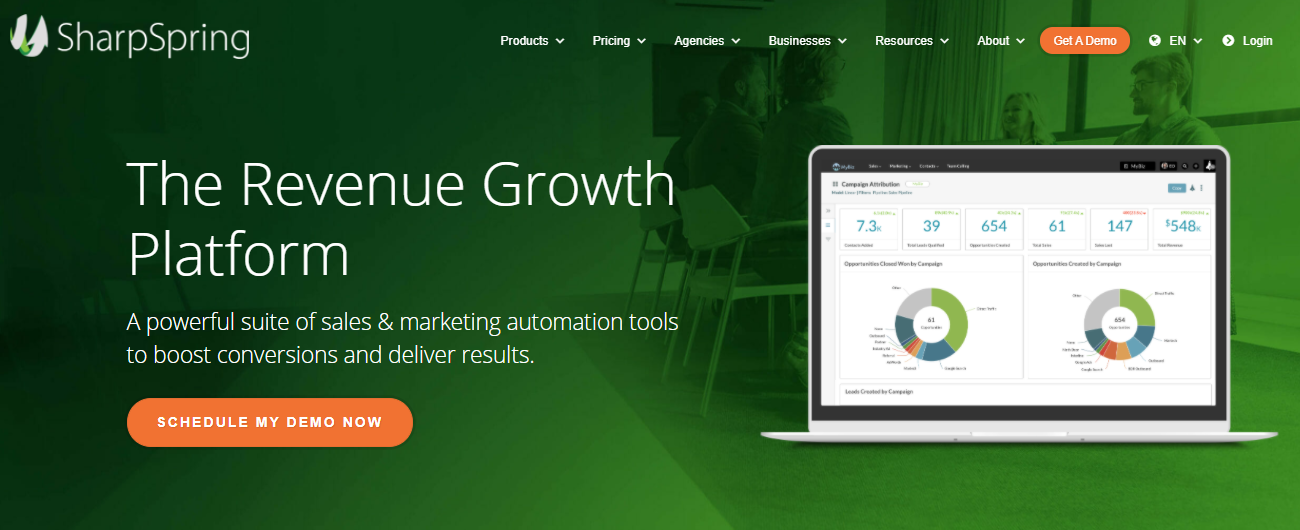 Before starting this review, let's go over some of the basics. SharpSpring is a cloud-based marketing automation platform that offers a full suite of marketing functions, such as email and social media marketing. Users also get a CRM, reports, and more.
What makes SharpSpring stand out is how they're a marketing automation platform built for agencies. The CEO of SharpSpring had former experience working for agencies, so SharpSpring provides a solution for agencies to track their clients' successes as well as their own success.
SharpSpring targets three major needs: lead generation, facilitating your strategy, and customer conversion. As a marketing automation platform, their goal is for automation to take over core components of your strategy and to use humans whenever it's appropriate.
Another major factor of SharpSpring is how they focus on customization. SharpSpring attracts major agencies who likely have years of experience under their belts. They understand that agencies have their own methods and unique software needs. Because of this, SharpSpring offers a platform where agencies can create their own space.
What I also find interesting about SharpSpring is how they use unique factors to engage their clientele. Semantics is an interesting example; SharpSpring uses terminology you may recognize from other technology companies, like calling leads "opportunities." This can help give clients some familiarity with their platform and their vocabulary.
SharpSpring is also very flexible. They offer behavior-based email marketing functions, support various integrations, and universal CMS compatibility.
SharpSpring's biggest goal is to help businesses increase leads and better manage their marketing campaigns. They're constantly updating their platform to ensure they offer all solutions for agencies.
SharpSpring Pros and Cons
Pros
First, SharpSpring offers unlimited users on all plans. This is beneficial for many reasons. If you have a larger agency, you don't need to pay extra to accommodate your entire team. With this perk, everyone on your team can access a variety of advanced automation features as well as a powerful CRM.
In addition, SharpSpring offers an app marketplace to add a variety of integrations to your account.
Your monthly price also includes unlimited support, making this a great deal for the price you pay.
Because of this, businesses will save money. SharpSpring includes all of these factors into your plan. You're mainly paying for the number of contacts you hold in your CRM. We'll go over pricing in a later section to break down what's included in the monthly rate.
Cons
Many customers have reported some downsides, other than the occasional slow speed and bugs.
For example, SharpSpring has received criticism for falling behind competitors in terms of certain functions, such as email and landing page builders.
Earlier, I mentioned I find it interesting how SharpSpring uses its own unique semantics. While this can engage customers, it can also confuse customers.
For example, they refer to "campaigns" as anything the brand is doing to drive engagement, not necessarily the combination of tactics that make up an end goal in marketing (what most people, including myself, may associate as a "campaign").
Last but not least, users have reported that canceling SharpSpring is difficult.
SharpSpring Features and Functions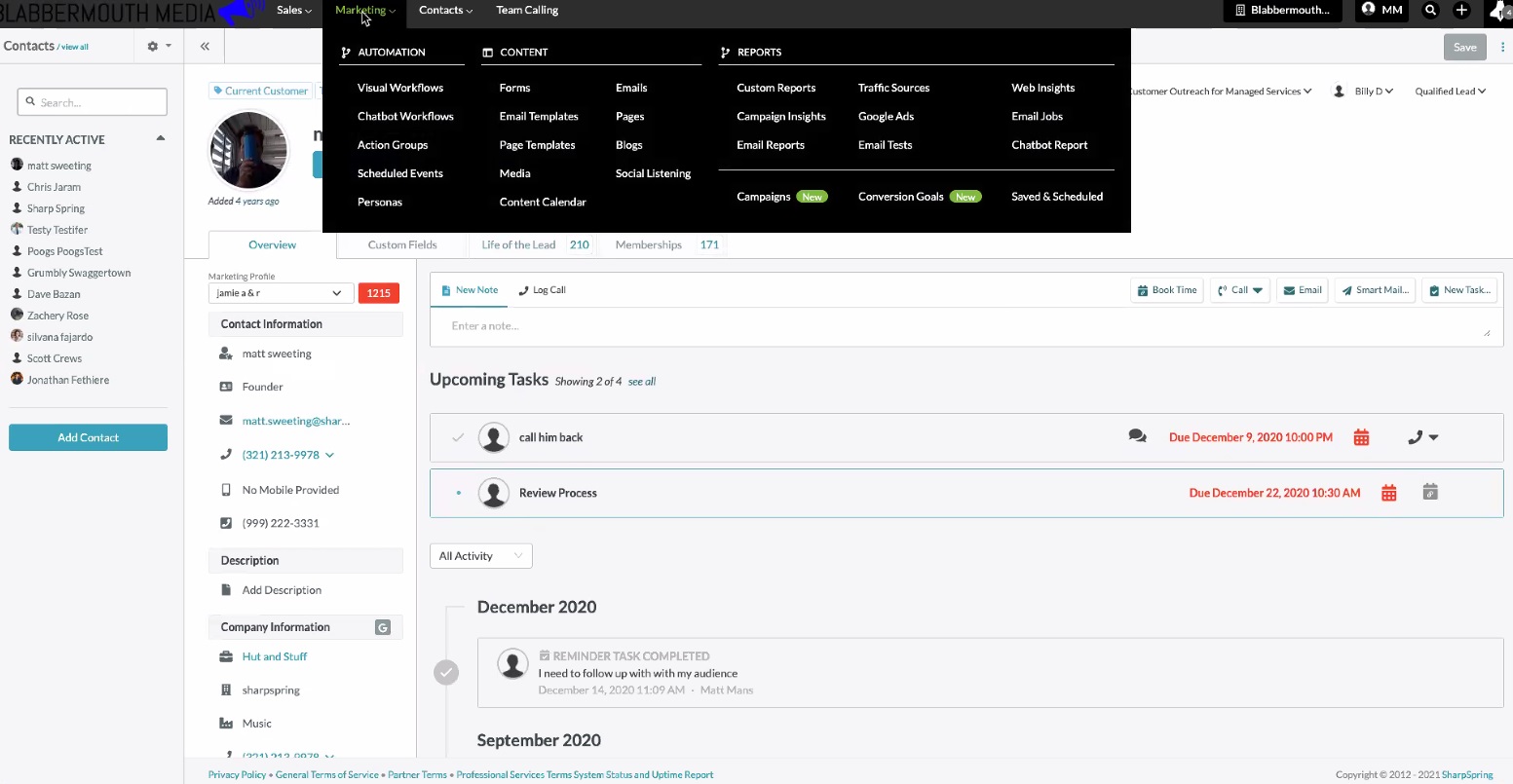 SharpSpring is an all-in-one marketing automation platform. While SharpSpring may not have the most advanced features, they do boast an impressive list that all teams can use. Their features and functions include:
Email marketing
Marketing automation
Visitor IDs
Web forms
Landing page builder
CRM
Social media marketing
Blogging
Analytics and reporting
Multi-device tracking
Let's go more in-depth into some of its main features.
Email Marketing Automation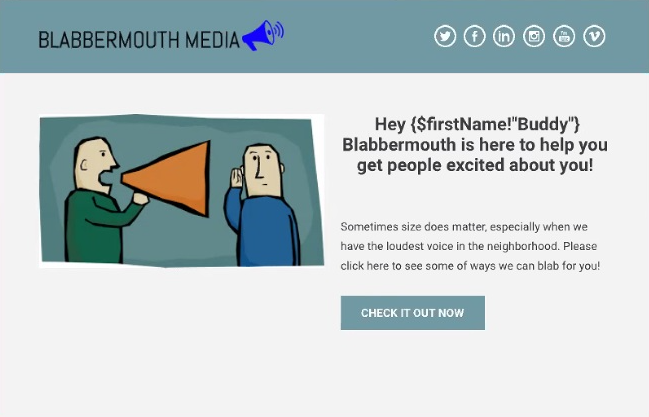 SharpSpring not only offers email marketing automation but offers a variety of tools to create the best marketing emails. Some of the tools they offer include a drag-and-drop email builder, a library of email templates, and email personalization opportunities. If you prefer, you can also create custom-designed emails.
Their automation capabilities are also powerful. In addition to mass sending out emails, marketers can also send emails to specific users based on their previous actions.
Before sending out emails, you can test them out. In addition, you can track the opening of the email to any other actions the user may take, such as downloading content or filling out a form.
Marketing Automation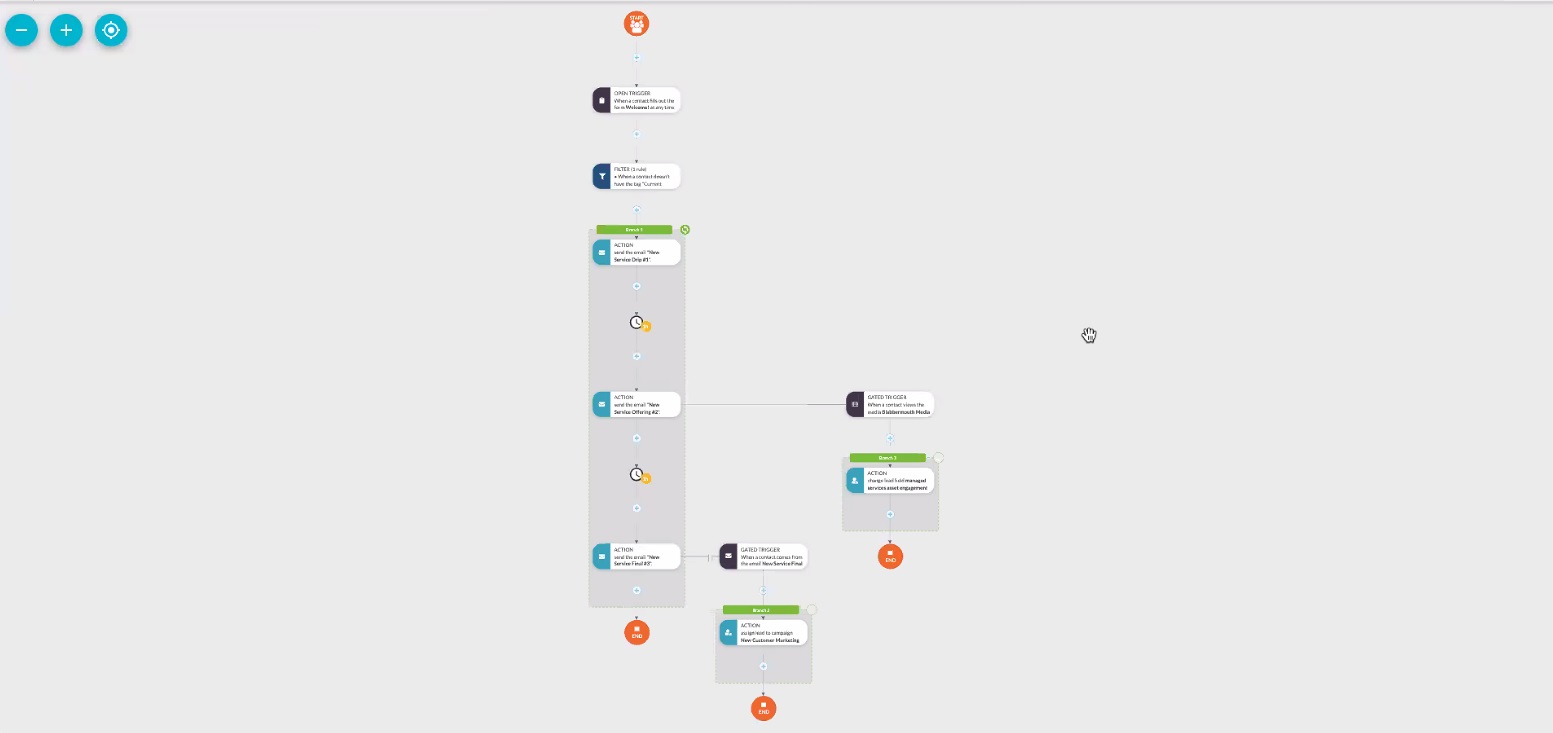 To control automation, SharpSpring offers a visual workflow builder to create custom automation. The workflow will capture a "trigger," or an action completed by the lead.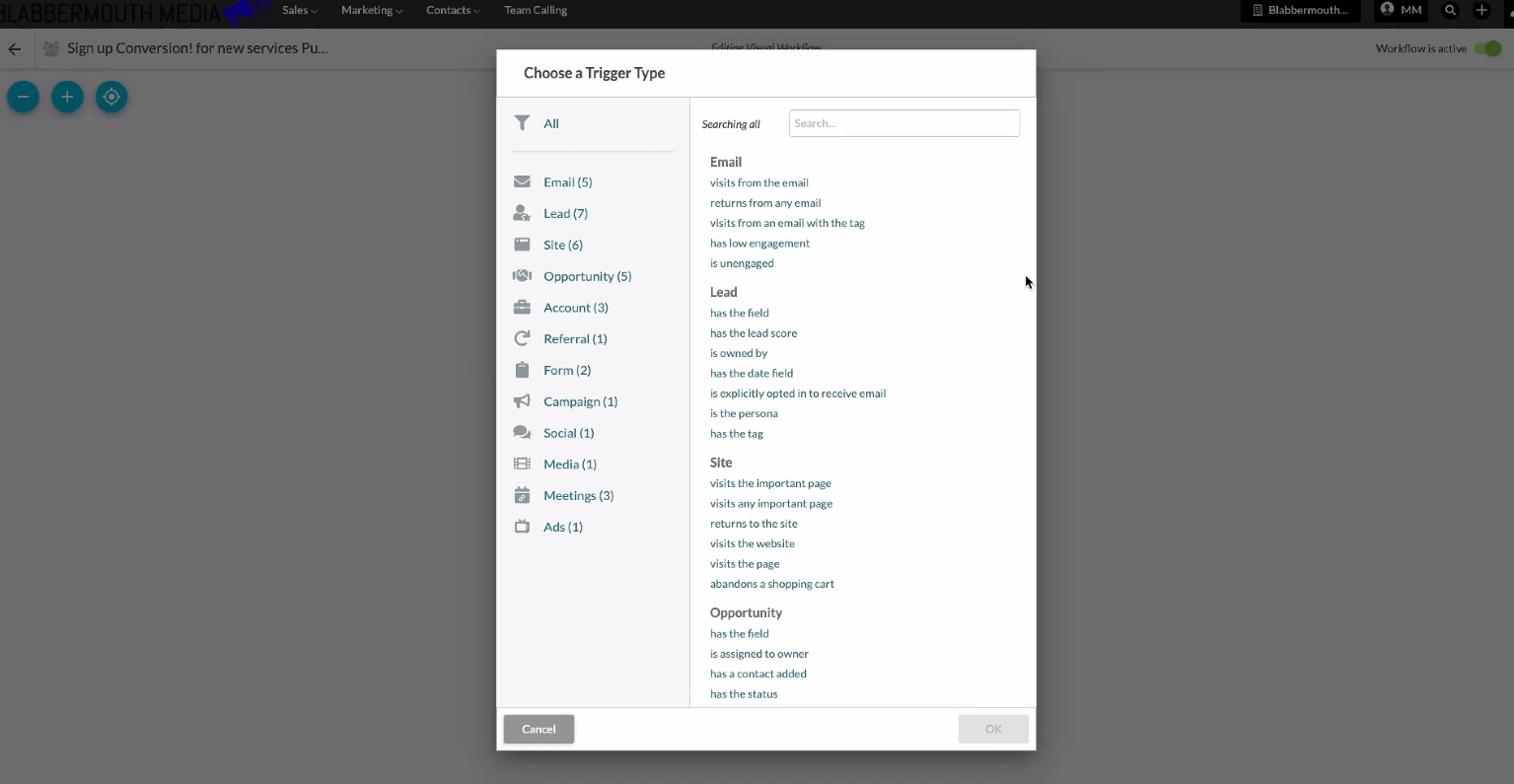 Triggers have three main parts:
Fit – what we know
Engagement – what they have done (clicked through an email, filled out a form, etc.)
Sales – change in opportunity
In addition, the workflow can identify drip campaigns. When a lead completes a role in the drip campaign, they're automatically separated from the campaign when they respond to a specific trigger. From here, you can send these leads content that corresponds with their actions and their interests, rather than forcing them through the same campaign as those who haven't responded to triggers.
This brings us to another goal that separates SharpSprings from competitors. In terms of marketing automation, SharpSpring aims to send content that the audience wants, not necessarily sending them as many emails and forms as possible.
SharpSpring's marketing automation system can also support personalization. With the merge variables feature, SharpSpring can collect information from emails. This will help make your emails and other marketing messages more customized, helping you drive leads through the sales funnel.
Keep in mind, compliance is one of SharpSpring's biggest priorities. If a lead has requested to end communication, the lead will be removed from the system.
Analytics and Reporting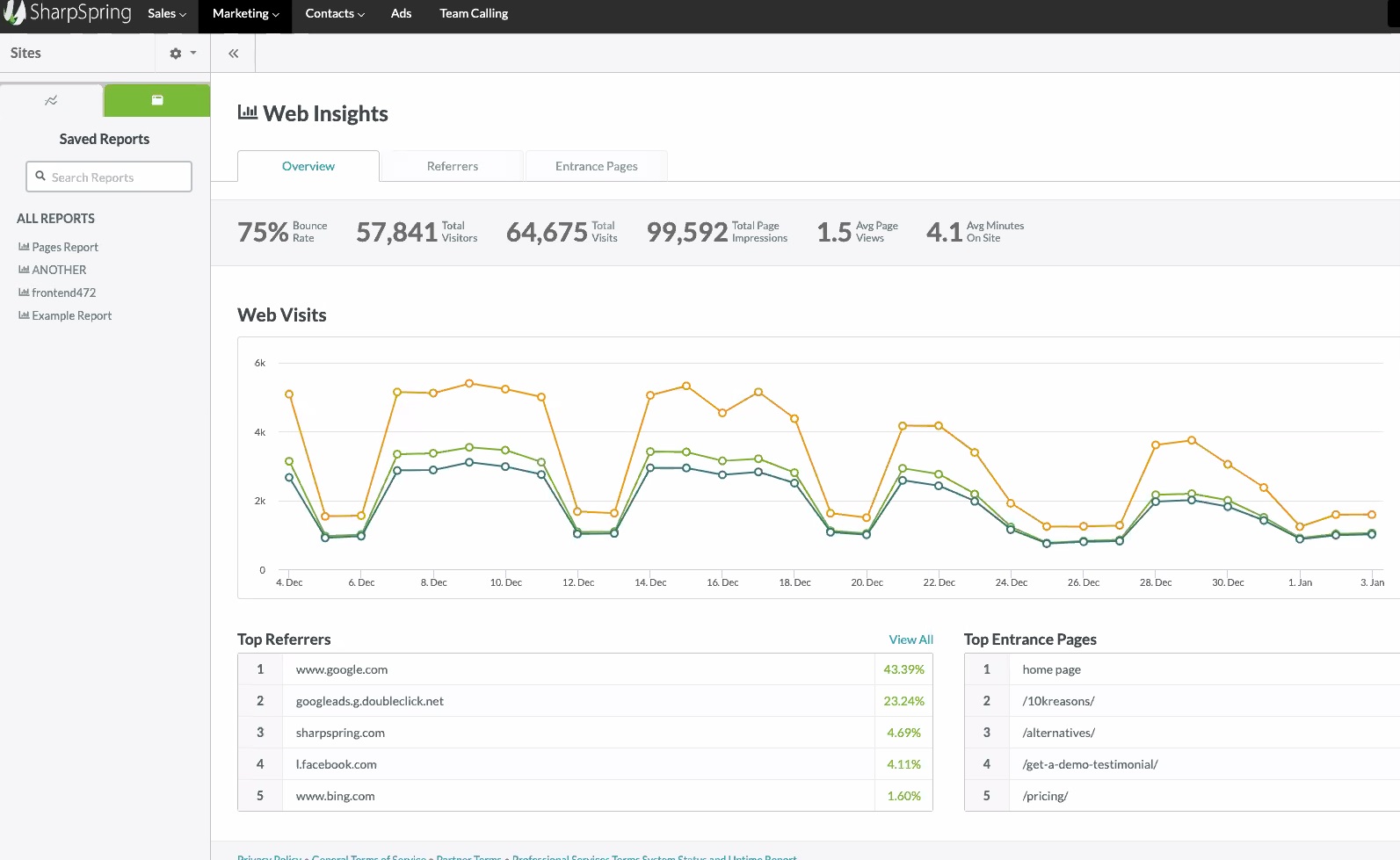 All marketing strategies include reports that show your successes and where you need improvements. SharpSpring can easily provide this data. They offer reports for campaign tracking, emails, multiple device tracking, behavior, and ROI reports. You can also build your own custom reports.
They offer a variety of dashboards for marketers to view. For example, the Web Insights dashboard can let you track as many websites as you need. You can view metrics such as:
Bounce rates
Average time on a website
Referrals
Entrance page
And more
You can view these metrics across all of your tracked websites, helping marketers target which campaigns are the most successful.
CRM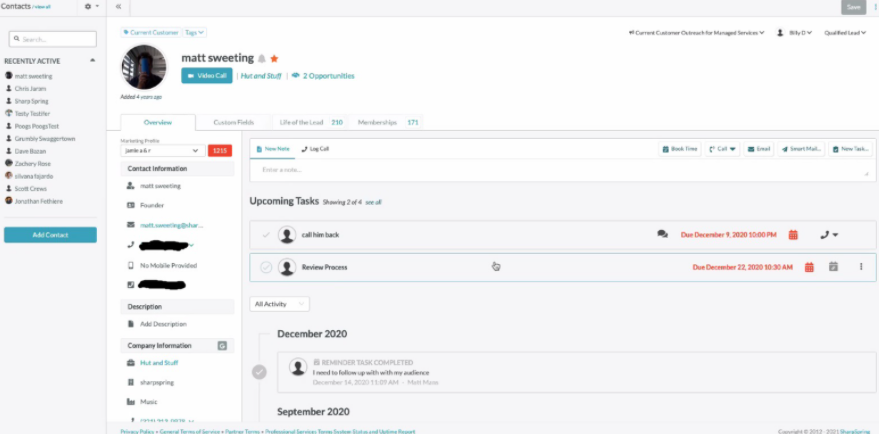 SharpSpring features a built-in CRM to manage your contacts. Their CRM is very intuitive and acts as an all-in-one workstation. You can view all of your contacts in one centralized area where you can input all of their necessary information and even view the life of the lead. All of your contacts are separated by their email, which is the unique identifier.
From here, you can contact your leads directly on the same platform. SharpSpring supports a variety of integrations, so you can use a third-party communication tool of your choice to contact your leads without leaving the platform.
You can also set up meetings through their "Task" section. You can create tasks for yourself, another team member, and even management.
SharpSpring offers an easy way to import all existing contacts into your dashboard. They also have an open API setup to migrate contacts from another platform.
You can also see your lead's progress in the sales funnel by filtering out their email actions, tracking their cookie behavior, site visits, and form submissions (what forms they filled out and what they said). SharpSpring also offers a quicker and more efficient way to see lead activity via the Life of the Lead Tool.
Let's now focus on the Life of the Lead Tool. This is a visual-focused look at your leads and the different actions they performed. As you can see in the screenshot, there are various icons that represent different actions and goals. Some of these icons include:
Globe: visit your website(s) and which one(s)
Envelope: email
Calendar: meeting booked
Flag: hit a conversion goal
Clipboard: filled out a form
And more
SharpSpring also offers a powerful sales pipeline. You can customize the stages that fit your campaign and you can make as many pipelines as you need to. The sales pipeline is also automated, moving leads to different stages when they complete specific actions.
Forms and Landing Pages
SharpSpring offers an easy-to-use system to create forms and landing pages. Their system uses a drag-and-drop builder so even the least tech-savvy can create great lead-capturing pages.
If you even want to avoid that type of design, SharpSpring also offers pre-built landing page designs so you can avoid the difficult design process. Their landing page and form builder is as intuitive as their email builders, resulting in seamless communications.
Their forms are especially effective. You can design your form with auto-populating fields, custom fields, and include your CTA.
With these forms and landing pages, you can easily improve your personalization. You can also use integrations to make specific landing pages, such as for webinars.
Agency View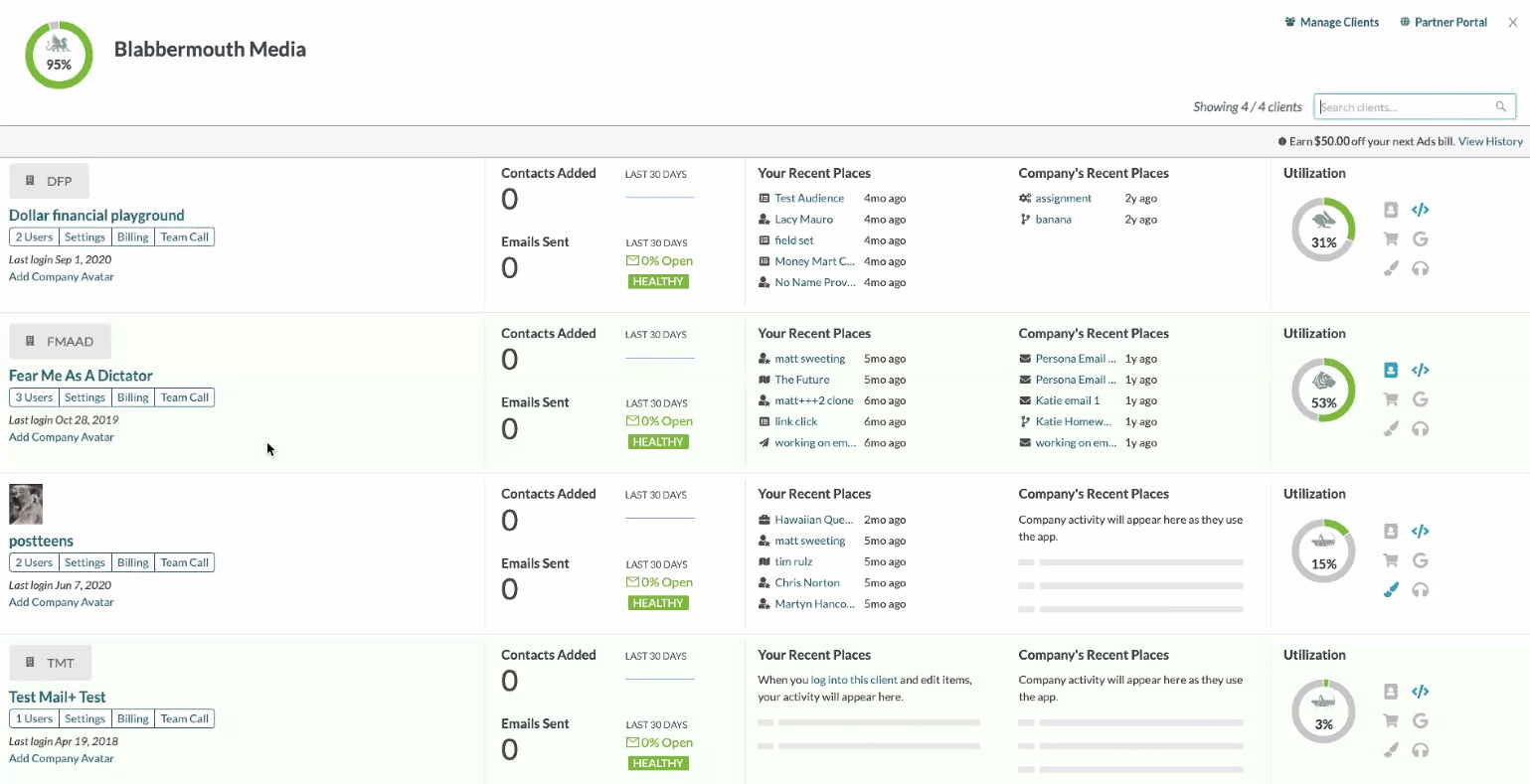 As stated previously, SharpSpring offers marketing automation for agencies. That's why agencies get their own unique platform.
Agency view displays all of the companies that they represent in addition to your agency. You can view metrics such as contacts added and emails sent, and you can even control certain tasks on this dashboard such as billing. This way, you can see their success while creating your own workstation.
Content Calendar
Honestly, I'm in love with SharpSpring's content calendar. I've reviewed many content platforms, project management tools, and social media scheduling platforms. Never have I've seen a content calendar as intuitive and organized as SharpSpring's.
You can schedule posts for your social media channels, blogs, and even your emails. You can connect as many websites and social media channels as you need, which is ideal for agencies representing numerous companies.
Going back to the idea of SharpSpring as a workstation, I love how you can post directly on the calendar. For example, if you want to post a Facebook status, you can do so directly on the calendar view.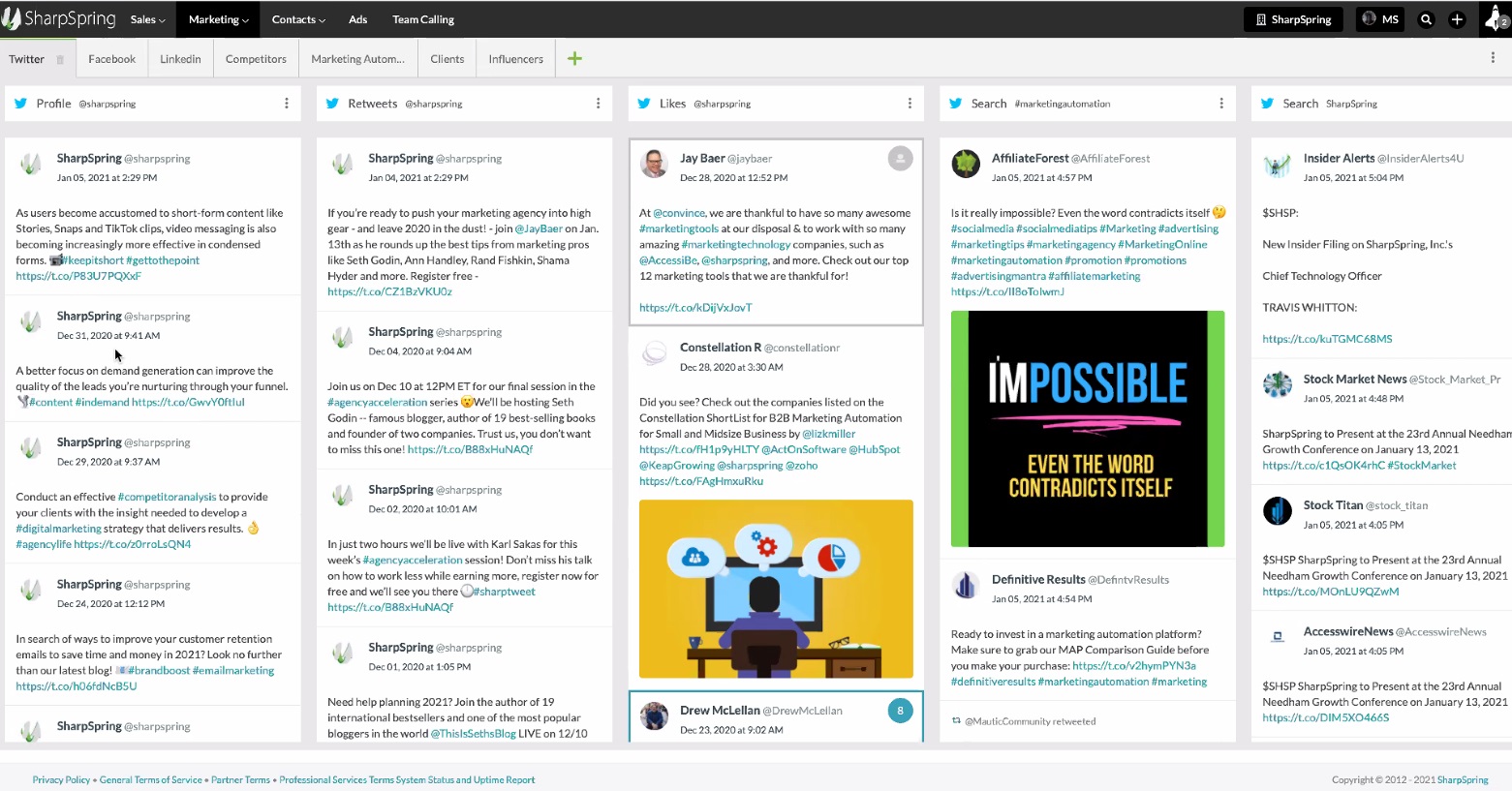 Like many social media platforms, SharpSpring offers a stream view to better monitor your brand's mentions, messages, and other types of engagement.
Pricing

While these features are great, businesses are concerned about one main factor: price. They offer a variety of plans and separate each tier by the number of contacts you need for your CRM. Here's a breakdown of SharpSpring's pricing:
1,500 contacts: $550/month
10,000 contacts: $850/month
20,000 contacts: $1,250 month
Agencies and enterprises with millions of contacts can also get their own plan.
These prices look expensive, right? You'll actually save a significant amount of money with SharpSpring. That's because all plans support a specific number of contacts whereas competitors will charge you per user on the plan. SharpSpring offers unlimited users on all plans.
Let's say you choose a competitor and your agency has 30 employees who all need access to the system. If their price is $25/month per user, your monthly cost increases to $750. And what if you decide to hire more people? You'll have to pay more or may even need to upgrade to a new plan.
You don't have to worry about this with SharpSpring. You can scale your service by the contacts in your CRM, no matter if you have a team of 30 or 3,000 employees.
Not only that, but competitors may not be transparent with their fees. For example, you may have to pay extra for the full suite of services that SharpSpring offers. But every SharpSpring plan includes unlimited features as well as users.
The only downside is the price tag is still large for small teams and brand new agencies.
If you're unsure if SharpSpring is right for you, you can always try their demo.
SharpSpring Customer Support
What if you need to contact customer service? SharpSpring lets you submit support tickets. If you need to speak with a representative, they have a live chat or you can contact their customer service line.
You can also use any of these additional support functions:
Training
Community forum
Surveys
How Does SharpSpring Compare to the Competition?
SharpSpring isn't the only marketing automation and CRM on the market. But what makes SharpSpring stand out? For one, they specifically cater to agencies and let agencies create a workstation that works for them.
But what I find unique is how they support various user roles. Unlike competitors, SharpSpring supports unlimited users. Since users can better define their role and actions on SharpSpring, your team will be better connected and organized.
SharpSpring also focuses on quality over quantity. With marketing automation, they use powerful personalized functions to ensure leads are receiving the content that they respond to.
SharpSpring's Competitors: What's the Better Pick?
SharpSpring isn't the only marketing automation and CRM on the market. SharpSpring has a couple of big-name competitors. But what platform is the better option?
ActiveCampaign
ActiveCampaign is also a CRM/marketing automation tool and it's very similar to SharpSpring. However, this tool is targeted at smaller businesses and is scalable.
They also price by contact list and their prices are cheaper than SharpSpring's. Unlike SharpSpring, ActiveCampaign doesn't support unlimited users and features. Still, if you don't have a big team and only need basic features, this might be an ideal option for businesses.
Their features are still great, even on the entry-level plan. ActiveCampaign has also experienced great reviews; for example, users reported fewer software glitches compared to SharpSpring.
HubSpot
HubSpot is one of the biggest names in marketing automation and CRMs. HubSpot is also constantly growing; for example, they recently added a CMS to their limitless array of features.
SharpSpring and HubSpot are similar in the sense that they offer a powerful CMS and high-level automation tools.
The main difference is both platforms target different types of businesses. HubSpot is ideal for small marketing teams and agencies. They charge per user, which means the costs can increase quickly. This also means HubSpot isn't the most scalable option; if your team grows, you'll need to spend more money.
SharpSpring caters to larger teams. While the price tag may not attract startups, SharpSpring is a good solution for businesses of all sizes but is specifically ideal for large marketing agencies.
However, HubSpot has great reviews. Customers state it has great usability and amazing UI/UX quality.
FAQs
Question: How do you cancel SharpSpring?
Answer: SharpSpring promotes that their service requires no contracts and you can cancel at any time. However, I can't find a way to cancel their service. Googling "How to cancel SharpSpring" only displays instructions to delete bank account verification.
Reviewers have stated they struggled to cancel SharpSpring, with their customer service messages being ignored.
We suggest you only sign up for SharpSpring if you 100% want their service. Their demo doesn't require a credit card number, however, we don't suggest giving away any financial information without first consulting how to cancel your account with the company directly.
Question: What Does Marketing Automation Do?
Answer: Marketing automation automates various marketing tasks, such as email marketing. In other words, you don't manually need to send or post marketing materials and even control basic tasks in your campaigns.
SharpSpring not only offers marketing automation but uses advanced functions such as behavioral marketing. This makes SharpSpring extremely competitive.
Question: Does SharpSpring Offer a Good CRM?
Answer: SharpSpring's CRM is unique in that it identifies prospects based on page tracking, scoring engagement, completeness, and more. This way, you can send your prospects and customers personalized messages. You can also automate tasks through your CRM.
SharpSpring Review: The Final Verdict
SharpSpring offers a great marketing automation solution for agencies. You get powerful features and an all-in-one marketing suite at one price. They offer transparent pricing and businesses can save money on their all-in-one solution. They're devoted to making a customizable workstation for teams of all sizes and offer powerful features to boast.
However, SharpSpring isn't perfect. What we don't like is how difficult it is to cancel your account. Fortunately, a credit card isn't required for the demo. But we don't suggest giving away your credit card information until you know how to cancel your account.
With that being said, you should consider some of SharpSpring's competitors. Their two biggest competitors are HubSpot and ActiveCampaign, but there are plenty of others that offer marketing automation and a powerful CRM.
Still not sure how to find the best CRM? Refer to our help guide!
Further read: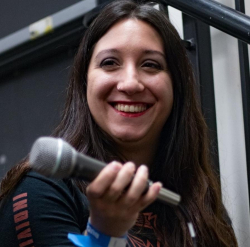 Latest posts by Stephanie Jensen
(see all)