Last Updated on January 16, 2023 by DMEditor
If you've not already added video and YouTube marketing to your advertising arsenal, then it's high time you changed that.
Luckily for you, you're in the right place because the TubeBuddy app can help you do exactly that. Don't just take our word for it, scan through this unbiased TubeBuddy review to get a feel for whether it complements the needs of your business.
In addition, I'll discuss whether the new free version plan is worth it in this TubeBuddy review and when to opt for the paid plan (premium plan / TubeBudy Pro License).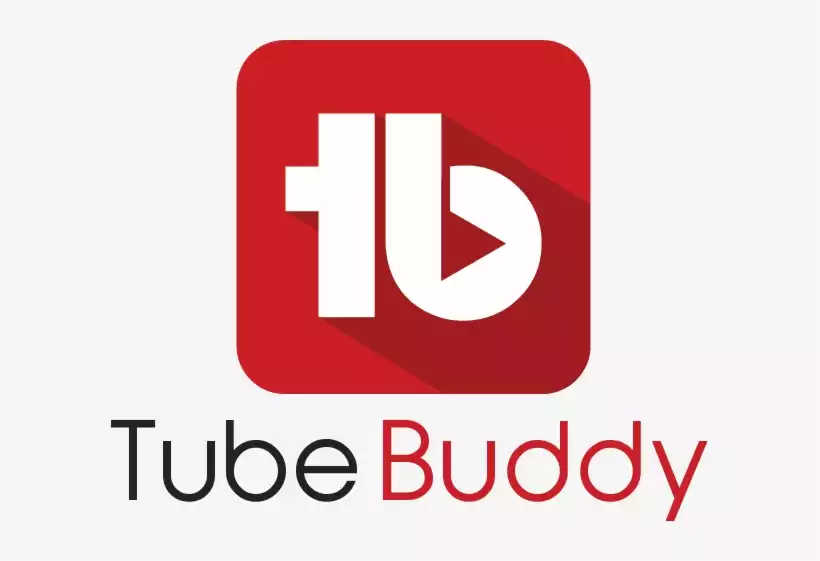 I Prefer TubeBuddy
I'll admit that I didn't really "get" the need for channel management tools initially. How hard can it be? Boy was I WRONG. TubeBuddy brings it all together with best in class analytics, bulk processing, and kick ass video SEO optimization!
Get TubeBuddy Free
We earn a commission if you click this link and make a purchase at no additional cost to you.
In short, it's a program that empowers you to oversee, manage, and scale your YouTube channel success. You'll gain access to numerous features that help you make the most out of this thriving video marketing platform.
Best of all, you can access all these handy tools from inside the regular YouTube dashboard. So, everything you need to master your video marketing campaigns are conveniently located in one place.
How Does TubeBuddy Work?
Well, TubeBuddy's effectively an extension you install onto your internet browser (browser extension). It appears like a menu inside your YouTube account (YouTube channel) so you can access the tools with just a simple click (also works as a Chrome extension).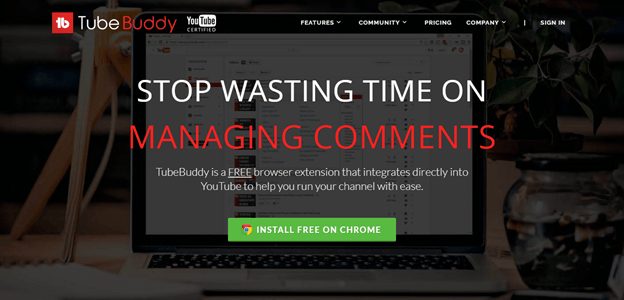 How Much Will TubeBuddy Set Me Back?
If you're working with a limited budget, you'll be pleased to hear TubeBuddy offers its users a free version. Despite not having to spend a dime, this software still boasts plenty of nifty features for you to get the ball rolling.
TubeBuddy also offers four paid-for packages. These provide a longer list of features which are certainly worth the investment (if you're taking YouTube traffic generation seriously).
Below we've outlined what each TubeBuddy plan includes:
The major drawback of the free plan is that it doesn't give you the option to publish YouTube videos to Facebook as Facebook videos. You also can't process your videos in bulk. You'll even notice the 'Tag Explorer' is somewhat limited (in comparison to the paid packages) Consequently, you could miss out on the SEO juice you need to get multiple videos ranked!
So, who's the free plan best for?
Answer: newbies. If you're first starting out, the free version is a great place to begin.
TubeBuddy Paid Plans
There are three paid plans to choose from. The cheapest bundle's the TubeBuddy Pro Plan which starts at $9 a month. You'll primarily gain access to features centering on productivity tools and video optimization.
The next step up is the Star Plan. This will set you back $39 a month and permits you access to everything in the Pro Plan plus, plenty of other time-saving tools, most notably the bulk video processing function.
Last but not least, there's the Legend bundle which entitles you to all of TubeBuddy's features.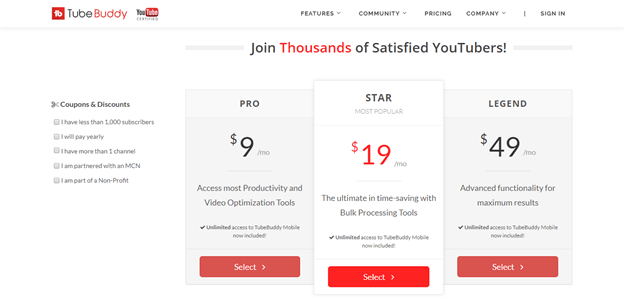 TubeBuddy's Features
Here are some of TubeBuddy's more popular features:
Video Tag Explorer [Keyword Explorer]:
This allows you to find and use the best possible tags for your videos for achieving maximum exposure via keyword research.
This is essential for optimizing your videos to rank higher in YouTube search results. This massively cuts down the time you'd otherwise have to spend trying to find appropriate tags. With Tube Buddy all you have to do is enter the main keywords you're trying to rank for, and they'll take care of the rest!
Video Tag Lists:
TubeBuddy allows you to create a list of tags to use at a later date saving you having to type out each and every one manually!
The Tag Sorter:
Utilize this keyword tool to find out which tags (keyword) boast the most weight so you can put them at the beginning of your video's tag list. Again this helps to maximize your video search engine optimization (YouTube SEO tool) efforts.
Embedding options:
If you've used a YouTube channel to market your brand before (YouTube channel management), you'll already know that its embedding options for both videos and playlists are extremely limited. However, TubeBuddy provides you with loads of options:
The ability to customize the appearance of your embedded videos
You can insert force-closed captioning
You can disable play controls
Ensure your videos loop automatically
Enable JavaScript API
Publish to Facebook:
As the name of this feature aptly suggests, you can publish videos to your Facebook profile or business page from YouTube-automatically.
This is incredibly handy. Otherwise, if you were to share a YouTube video, you'd have to paste the YouTube link. Or, you'd have to go back to Facebook and re-upload your video. Either way, it's not ideal, whereas TubeBuddy allows you to post your upload as a native Facebook video, rather than a YouTube video. This also means you'll access the benefits of Facebook videos- like auto-playing.
TubeBuddy A/B Testing:
This video A/B testing feature permits you to split test various features. This is the most effective way to see which video title, tags, and thumbnail imagery achieves the best results.
Quick-Edit Toolbar:
Without a tool like TubeBuddy, it isn't easy to edit video for more than one of your videos in a playlist at a time (bulk update). Typically, you'd have to keep going in and out of individual videos to make the modification, while trying to remember the precise moment where you left off. Whereas, with TubeBuddy's quick-edit toolbar you can click on each of the thumbnails of the videos you want to edit and make the necessary changes (bulk processing tools).
Canned Responses:
Time is money, so re-writing the same responses to the YouTube comments you receive isn't a great use of your resources! You can utilize TubeBuddy's canned response feature to publish quicker answers to FAQs. You can even inject a degree of personalization by using shortcodes that address the commenter by their first name.
Best Time to Publish:
TubeBuddy's algorithm works out the optimal time to publish your videos to help achieve the best possible engagement with your audience, based on their understanding of the YouTube algorithm. They calculate this right down to the exact days and hours!
Card Templates and End Screen Templates:
If you have a working knowledge of YouTube video marketing, there's a good chance you already know about cards. In short, they're CTA's (calls to action) that you embed on YouTube videos – these typically pop up towards the end of the clip.
More often than not, you create the same set of cards for all your uploads as a YouTube creator – which is such a drain on your time! With TubeBuddy, you can save a card template as you make and use them, so they're ready to go for future videos.
The same is true of end screen templates, these work precisely like card templates except they're used explicitly utilized for end screens – as you could probably already tell from the name!
GIF Generator Tool:
Again, just like the name suggests this feature lets you create a GIF to use within a specific part of an upload.
Emoji Picker Tool:
Emojis are a super simple way of making your video titles stand out from the crowd. When you capture the eye of a potential viewer, you stand half a chance of getting them to click through to your actual video. WithTubeBuddy's emoji picker you just select the emoji icon located by the title field and choose the emoji you want to insert- simple right?!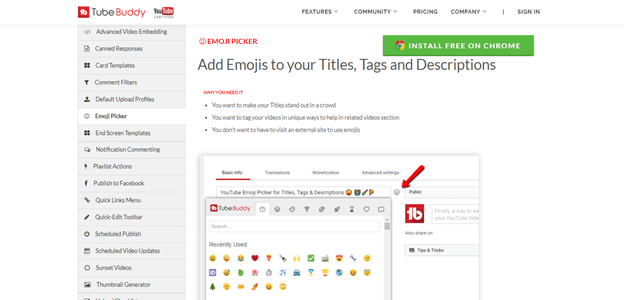 Comment Filter Tool:
As your YouTube channel grows, you'll receive more and more comments. Occasionally, it's challenging to keep up with them all! Use TubeBuddy's comment filter to find the comments you want to see. The dropdown menu will bring the following kinds of comments to your attention:
Comments containing specific questions
Feedback with a positive vibe
Statements exuding negativity
Ones you haven't responded to (yet!)
Comments with replies disabled
Remarks containing profanity
Just to name a few methods to gorw your YouTube channel!
Again, this is another major time-saver and is an absolute must-have for anyone looking to boost engagement with their audience or build rapport with their following.
Notification Commenting Tool:
A while ago you could reply to comments left on your YouTube videos from the notification bar on your dashboard. Sadly, YouTube has since disabled this feature. However, with TubeBuddy you'll notice a "Reply" option below each of your comment notifications.
Brand Alerts Tool:
This feature monitors YouTube on your behalf to find videos, channels, and playlists that pertain to your brand. This is amazing for getting a better idea of the kind of reputation you're creating for yourself among the YouTube community.
Thumbnail Generator Tool:
As fun as creating eye-catching thumbnails are, it can massively eat into your time. With TubeBuddy you can save templates to help you create professional looking thumbnails- quickly. This also enables you to keep your brand consistent which is essential for encouraging viewers to remember you!
Upload Checklist Tool:
Do you have a list of specific things you do each and every time you upload a video? If so, you'll never have to worry about forgetting a single step again. TubeBuddy provides a checklist where you can set yourself reminders. From here you can check off each item on your list as you complete the tasks!
Demonetization Audit Tool:
This feature scans through your video content on YouTube to find anything in your titles, tags, and descriptions that could result in a loss of revenue.
Export Comments Tool:
You can export your YouTube comments to a CSV file to review and analyze them at a later date.
Health Report Tool:
This gives you a better idea of what's working and what isn't based on your audience demographics. It watches retention rates and traffic. This info is crucial for better optimizing your videos.
Real-Time Sub Counts:
This allows you to see whether you're losing or gaining channel subscribers.
Social Media Monitor:
If you want to get a better idea of who's talking about your videos (and where these social media discussions are taking place) this is the feature to use. With a couple of clicks, you can see which of your social media channels people are chatting about your uploads.
Video Topic Planner Tool:
Sometimes viewers leave comments requesting video content they'd like to see you cover in the future. If you like their ideas, you can click the TubeBuddy icon that sits below the comment. From there you'll need to select "Add as Comment Suggestion." You can refer back to these at a later date under the "Comment Suggestions" tab.
Auto Translator:
This feature is ideal for any brand with an international audience. With this, you can ensure viewers can read your video titles and descriptions in their native languages. The auto-translator will even translate the video tags into the necessary languages.
Best-Practice Audit:
This helps to ensure your video is set up correctly. The best-practice search engine audit also makes you aware of any broken links in your description and prompts you to insert keywords in your titles, tags, and descriptions.
Opportunity Finder Promotion Tool:
This is where TubeBuddy provides you with actionable advice on how to increase your reach and boost your brand. When used correctly you'll massively reduce the amount of time spent searching for promotional opportunities.
Search Explorer (Keyword Explorer):
This is amazing for helping find long tail keywords (Keyword Explorer). These are an absolute must for ranking your videos and increasing reach. With the search keyword explorer tool you'll get a better idea of the sort of traction to expect, and the level of competition surrounding the keyword phrase. With all this info, you're in a better position to select high converting keywords.
Playlist Actions:
With TubeBuddy you can order your playlist based on watch time, a number of subscribers gained alphabetical order and viewer engagement. Alternatively, you can completely randomize your playlists!
Competitor Scorecard:
This keeps an eye on what your competition's getting up to on YouTube. You can see what they're doing well and more importantly, the things they're doing…not so well. This is hands down the easiest way to see how you stack up against your competitors.
TubeBuddy's 'scorecard' directly compares your channel with others to get a better feel for the difference in views, engagement, subscribers, and video uploads. You can even download this as a report to use in Excel which is handy for monitoring differences over time.
Competitor Video Upload Alerts:
You'll be alerted every time a competitor uploads a new video either with an email, text or via a TubeBuddy notification (for new video).
Description Promotion:
You can use this feature to promote one of your videos in all the descriptions of your other videos by inserting a link to be shown in these video uploads.
Pick a Winner:
If you're running contests to try and interact with and grow your following, you can use this tool to randomly pick a winner from all the commenters, including people who commented on social platforms other than YouTube.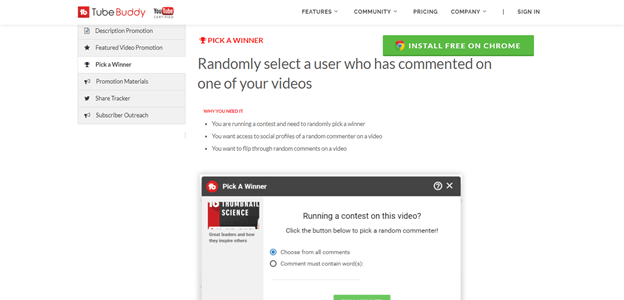 Channel Access:
You can securely give other people access to your YouTube account. This is fabulous if you have a small team helping you out or if you're a social media manager and want to share with a client the progress you've made growing their presence on YouTube.
Channel Backup:
Enjoy the peace of mind that comes with this backup feature. It stores all your video metadata away from YouTube, so should the worst happen you should be able to recover your channel.
Channel Valuation:
With the help of SocialBluebook.com you can find out how much to charge for sponsorship gigs based on an accurate estimation of your channel's value.
Just to name a few!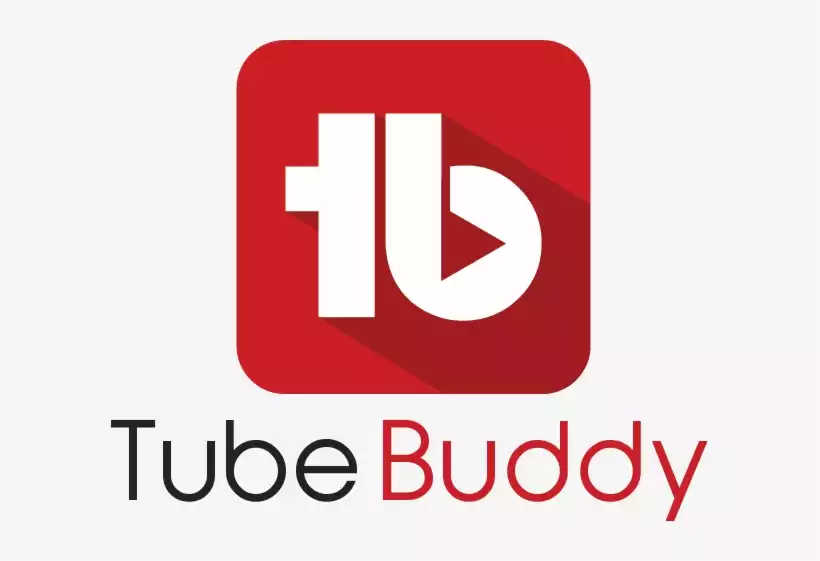 I Prefer TubeBuddy
I'll admit that I didn't really "get" the need for channel management tools initially. How hard can it be? Boy was I WRONG. TubeBuddy brings it all together with best in class analytics, bulk processing, and kick ass video SEO optimization!
Get TubeBuddy Free
We earn a commission if you click this link and make a purchase at no additional cost to you.
How Do I Get Started with TubeBuddy?
There's an extension for both Google Chrome and Firefox, so first things first, you need to choose your preferred internet browser. Then do the following to get up and running with the browser extension:
Head to TubeBuddy's website and create an account
Click the button that says; 'install free on Chrome' (or FireFox)
This then directs you to the internet browser's extension store.
From here you'll have to click 'add to Chrome' (or whatever the equivalent is for FireFox).
You should then see TubeBuddy's icon in the top right of your screen
Head to YouTube.
If you haven't already linked your YouTube channel to your TubeBuddy account, TubeBuddy will take you through the process,
Once you've done that, you should see TubeBuddy's drop-down menu on your YouTube dashboard
Voila, that's it! That's all you need to do.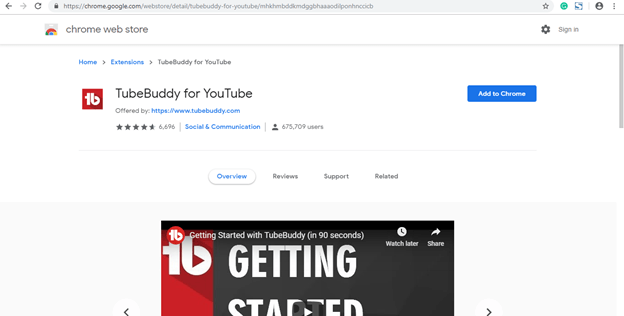 Advantages to Using TubeBuddy
One of the best things about this software is that TubeBuddy is YouTube certified. As such, it's way less likely you'll go to use TubeBuddy to find it's no longer compatible with YouTube (Yes, this, unfortunately, happens with other programs that are not YouTube certified!)
TubeBuddy users report the software to be super easy to use. Some even claim that without this resource they wouldn't have access to the vital data they need to optimize their videos and channel.
Disadvantages to Using TubeBuddy
Unfortunately, TubeBuddy only works for one YouTube channel. So, if you're a social media manager or have several channels, you'll need to set up multiple TubeBuddy accounts.
Also, the more advanced features like bulk editing (bulk processing tools) are only available with the more expensive plans. Some TubeBuddy users also report that their customer service could be improved.
TubeBuddy FAQ
Is it safe to use TubeBuddy?
Yes, TubeBuddy is perfectly safe to use. TubeBuddy is "YouTube Certified" which means that it has made it through some formal process officially with Google. Some other services (competitors) have tried to feature creep over time and caused Google to crack down and penalize accounts. Of the competition, TubeBuddy has the longest track record of partnership here.
Is TubeBuddy Actually YouTube Certified?
Yes, TubeBuddy is YouTube Certified.
Which is better VidIQ or TubeBuddy?
We personally lean towards TubeBuddy as the better option, but check out my in depth comparison where I outline which users both tools are best for.
TubeBuddy Review Final Thoughts
There's a good reason why TubeBuddy is one of the most popular YouTube tools on the market. It provides all the tools you need to grow your audience and manage your YouTube presence. Best of all, it's incredibly easy to use (particularly the Chrome extension), so you'll hit the ground running in no time!
Bottom Line Summary: If you already have a massive YouTube following, TubeBuddy is hands down near-on essential. You and your team will save so much time when you use this resource to its full potential.
If you still have your doubts, check out TubeBuddy's free plan. Although you'll only have access to a limited array of features, it'll give you an idea of the overall functionality of the software without you having to spend a bean!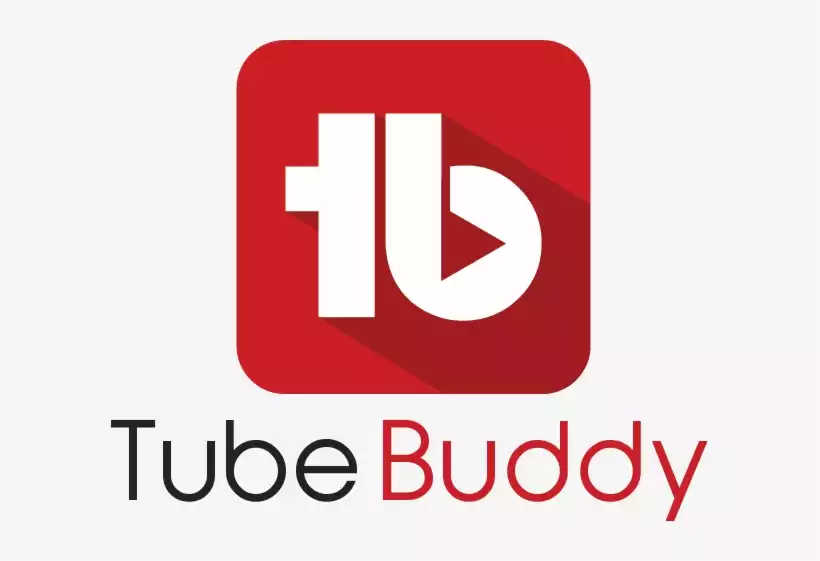 I Prefer TubeBuddy
I'll admit that I didn't really "get" the need for channel management tools initially. How hard can it be? Boy was I WRONG. TubeBuddy brings it all together with best in class analytics, bulk processing, and kick ass video SEO optimization!
Get TubeBuddy Free
We earn a commission if you click this link and make a purchase at no additional cost to you.
Have you got any experience using TubeBuddy? If so, we'd love to hear about your thoughts and experiences in the comments box below. We look forward to hearing from you soon!
Here are some other related articles YouTube tool & video marketing software you may be interested in: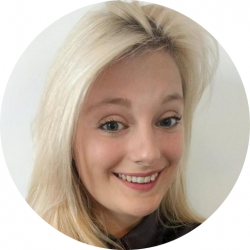 Latest posts by Rosie Greaves
(see all)