Last Updated on May 19, 2022 by DMEditor
It's time to edit those awesome videos you made, but which video editing software should you use? I'm taking a look at Movavi vs Filmora today to help you answer that question.
Both of the software programs are great for making good-looking videos, but one might fit your needs better than another. Even if you're a beginner, you can start editing with these without feeling too overwhelmed. Keep in mind that the platforms continue to change as advancements happen, so don't watch videos that are too old to learn about them.
Continue reading this article, and I'll go over important features of Movavi vs Filmora as well as things to consider about the video editing software.
Main Differences Between Movavi vs Filmora
The main differences between Movavi vs Filmora are:
Movavi is easier to use with a simple interface, title selection, and good preset effects, whereas Filmora is a little less user-friendly
Movavi has good preset effects that are easy to use, whereas Filmora has the best presets of any beginner video editing software
Movavi doesn't have as much ability to customize titles and text, whereas Filmora lets you change the font, size, color, and more
Movavi is on the lower end of pricing, whereas Filmora is a little higher priced—but still affordable
Since neither Movavi nor Filmora would break the bank, you'll have to make your determination of which one you like by the features and functions. After we look through both of these, I'll let you know what my top pick is out of the two as well as some other options you might consider.
Movavi vs Filmora: Movavi Overview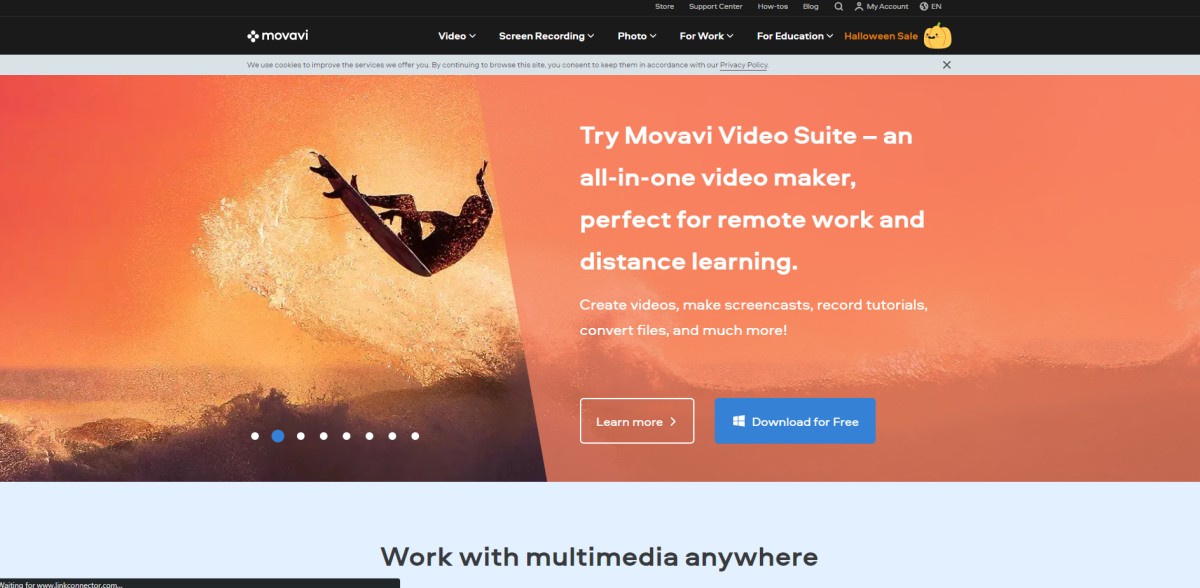 Movavi has been around since 2004 and went from a small start-up to a thriving business with over 400 employees. They continue to update and upgrade their software, and many YouTubers enjoy using this product for their projects because of the many options available to make videos fun and creative.
Movavi gives creators a wide variety of programs to help with the creation process. It doesn't matter what device you use or if you want to edit photos or videos. There is a program for you. We're focusing on the video editing software, so you can see how it performs against Filmora.
With over 3 million users around the world, Movavi helps creators everywhere make better videos.
The beauty of Movavi is that it can take care of all your video needs. It can help you create, edit, convert screen recordings, and more. Whether you're a beginner or a seasoned pro, you can figure out the Movavi editor and create videos that rival the best video creators—once you get the hang of the software.
Since it supports Windows 7 and above, you don't have to worry if you have an older version of Windows. You'll also be able to learn as you edit with its built-in training. You never have to worry about feeling lost in the sauce with the Movavi video suite.
Pros
Intuitive
Plenty of stickers, effects, and filters
4K rending
Intro mode
Cons
Movavi vs Filmora: Filmora Overview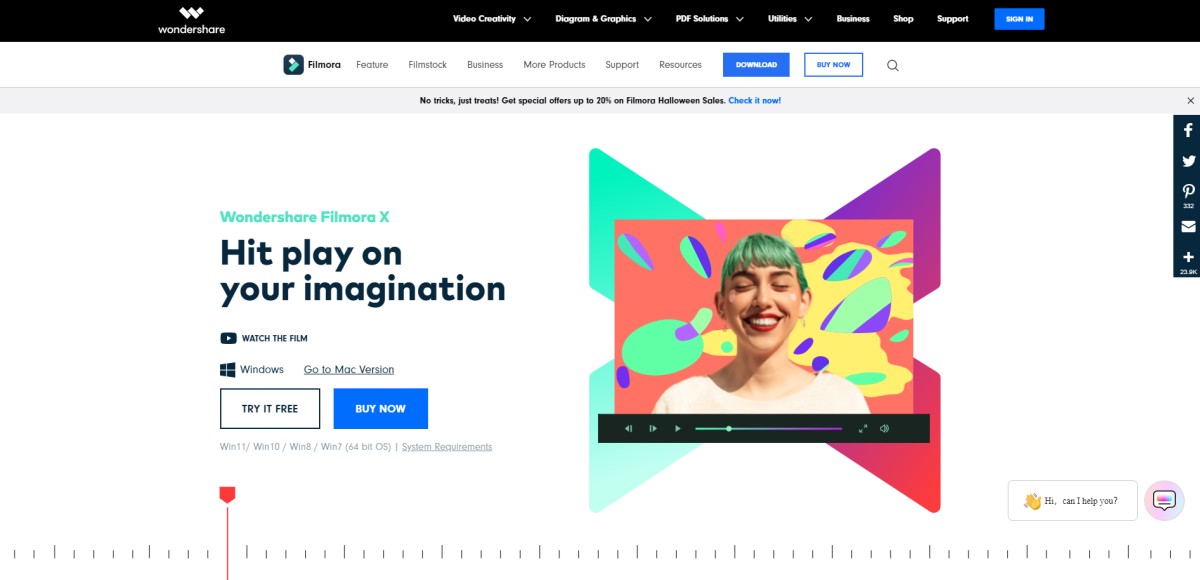 Many YouTubers talk about using Filmora currently or in the past, but not everyone wants to make videos for YouTube. In fact, Filmora can work for people that want to create videos for many reasons.
Filmora launched in 2015 as Wondershare Video Editor and has gone through some major changes since its origin. It offers the standard transitions, trimming, overlays, and other effects you see in almost every other video editor. If you rewound to a couple of years ago, the software wasn't as impressive as it is now, but it can hold its ground pretty well right now.
Filmora has a subscription model, which some people like, but if you're like me—you're not a fan.
If you have Windows 7 through 10 or macOS 10.7 to 11, you're good to go as far as compatibility with your system. It takes up an average amount of space on your device as well, so it's nothing to freak out about.
Honestly, there isn't much to write home about with Filmora. In fact, it's a little behind the times and only started to catch up a few updates ago.
Pros
Attractive interface
Not too pricey
Fast rendering
Decent selection of effects and overlays
Cons
The occasional crash can be maddening
Not as many fancy fine-tuning tools as its counterparts
Is Movavi or Filmora Easier to Use?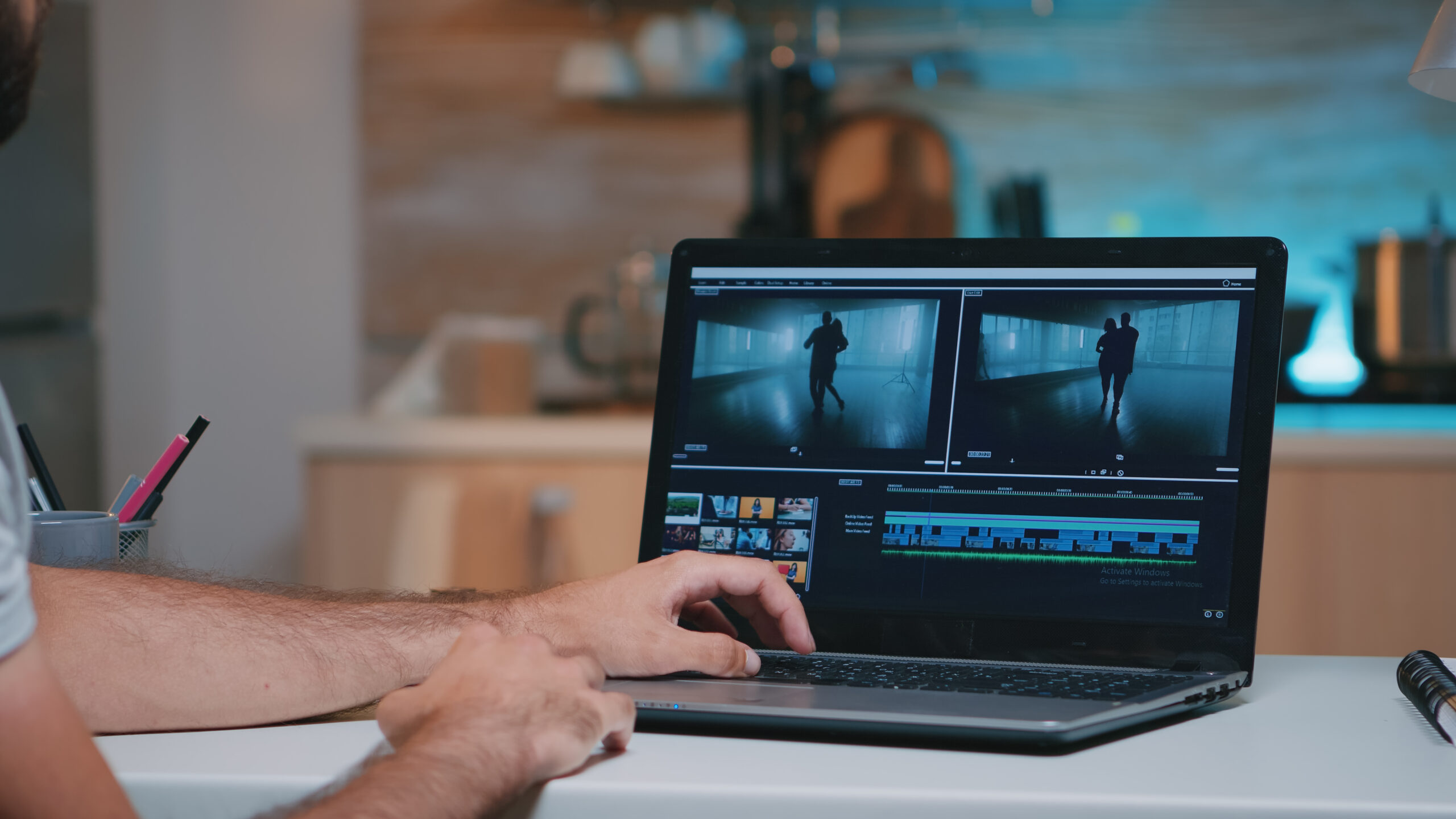 From my personal experience and the experience of other users that are way deeper into video than I, Movavi is the easiest option to use. That's not saying it's a favorite of all of these people; it's just saying it is the easiest.
You can easily drag and drop to create some pretty cool videos. Not only that, they have a tutorial that walks you through the different steps as you go.
Can Movavi or Filmora Make Your Videos Look the Best?
Both Filmora video editor and Movavi video editor have the ability to help you create professional videos. The important thing is to make sure you will use the video editing software. If it's too confusing for you, it's likely you'll never mess with it.
Pricing for Filmora vs Movavi
Depending on which pricing method you prefer, you'll have a favorite with their payment plans. I'm all for paying for something once and being done with giving the company money. Unless there are some add-ons, I want to buy or something.
Movavi Pricing
Video Editor Plus costs $44.95 for a 1-year license with access to all the features of Video Editor Plus, or you can buy lifetime access for $64.95.
VideoSuite costs $84.95 for lifetime access to a single PC. You get everything in Video Editor Plus, along with media files conversion and screen recording.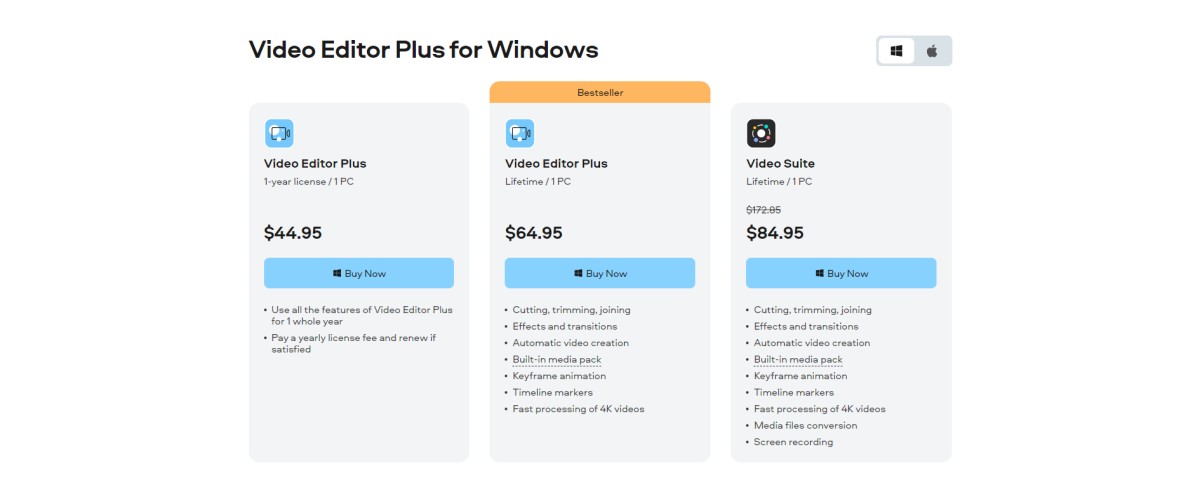 Filmora Pricing
Filmora's annual plan costs $49.99 per year and renews annually unless you cancel it. You no longer have the watermark on your videos, and you get one year of updates from Filmora.
Filmora's perpetual plan costs $79.99 one time, and you get the version of the software you buy for life with any updates to that version of the software but not future versions of the software.
Filmora's bundle subscription plan costs $109.99 per year and renews automatically unless you cancel it, so you always have the latest software and all extras.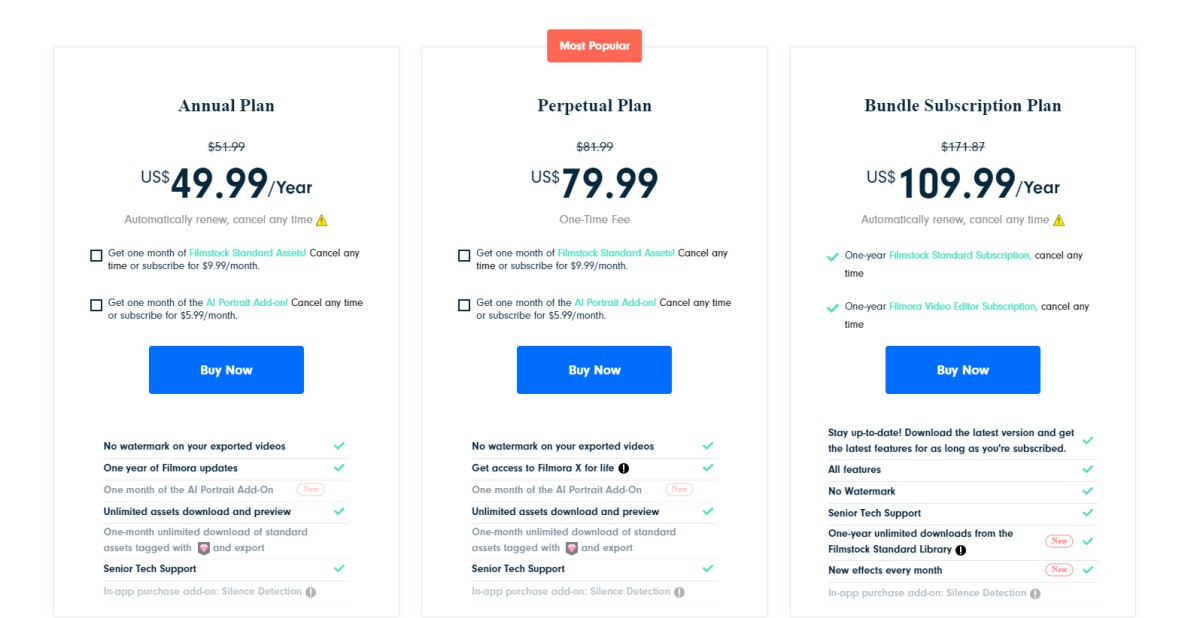 Adobe Premiere Pro: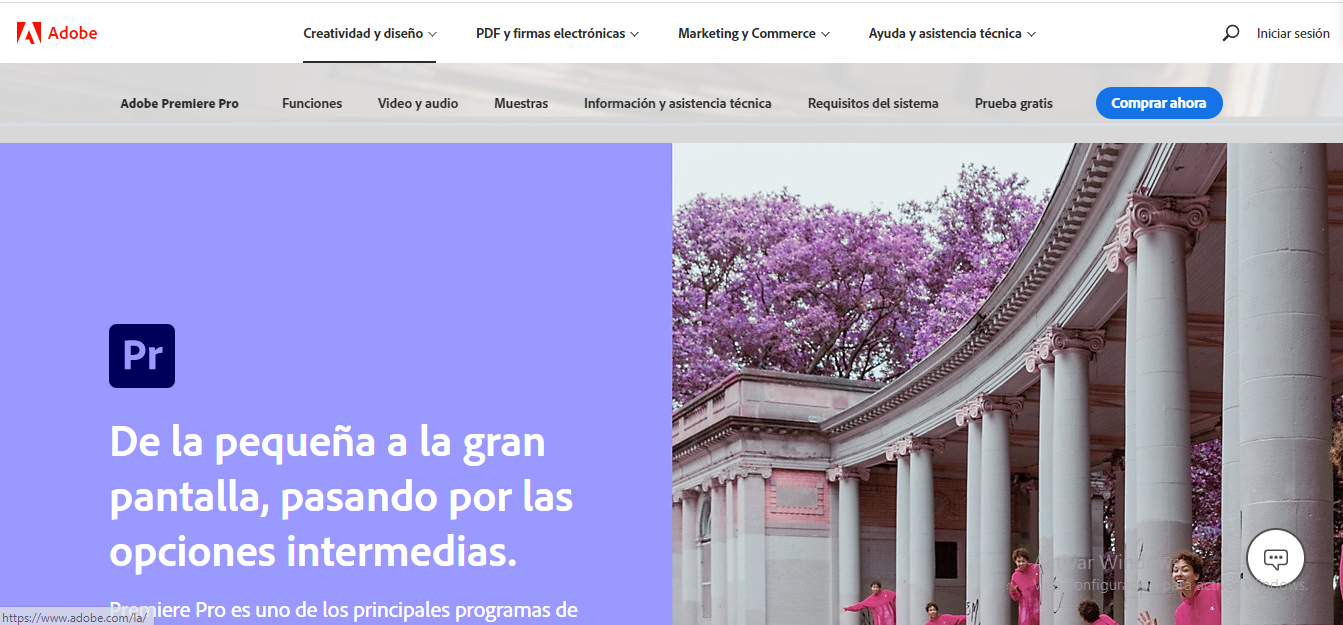 This is very powerful video editing software. I've used it to edit some videos, and it did really well, but it took me a really long time to learn. If you have the patience and ability to continue learning then this could be a good option for you.
Final Cut Pro:
This software is extremely fast and works well with Apple computers. The interface is easy to learn, and it's popular with a lot of YouTubers.
CyberLink PowerDirector 365: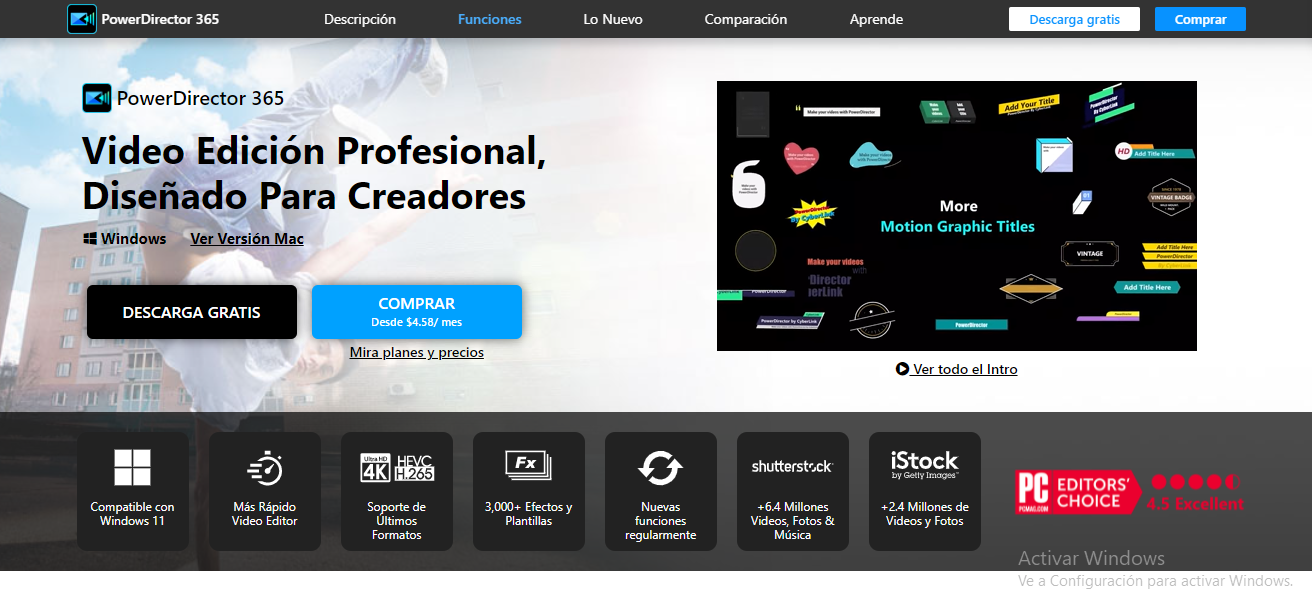 This software is less expensive than Adobe Premiere Pro, but it has a lot of the same powerful features.
Apple iMovie:
This is a good video editor for beginners, and it comes free with Mac products.
What Are the Benefits of Using Paid Video Editing Software?
There are some free video editing software options, but not all of them give you the robust editing experience you need. Paid video editing software often helps by giving in-depth tutorials, and sometimes they have customer support that can help you work through the kinks.
FAQs
Question: Is video editing software worth the investment?
Answer: Yes. Putting raw video up often looks unprofessional and can't catch people's attention. Having a nicely polished video can help your YouTube channel, business, or whatever else you're making your video for.
Question: How does video editing software work?
Answer: All video editing software operates under the same idea. It's to polish the video, make it more interesting, cut out parts you don't need, add in parts you want, and create an overall better experience. It works by cutting, cropping, inserting, and recording over the video you put in the editor.
Question: Do I need to buy any special equipment to make videos?
Answer: Many people use their cellphone to make videos since the quality of video on our cell phones is so high now.
Question: Do I need a green screen?
Answer: Not everyone needs a green screen. If you plan on changing out the background behind you, then you want to get one.
Final Verdict in Movavi vs Filmora
Now we've come down to the wire, and I have to say that my favorite is Movavi over Filmora. I love how easy it is to use, and it's super sleek in its design. You can easily buy add-ons if you want to get more filters, stickers, effects, and other things. If you don't need them, you don't have to buy them, and that keeps the cost of the video editing software low.
Movavi is a budget-friendly video editing option, but it does everything you need it to do to make a great-looking video. Filmora is a good option too, but it's still a little behind for my tastes.
Don't forget to check out some of our other articles like Filmora Alternatives and Movavi vs Camtasia.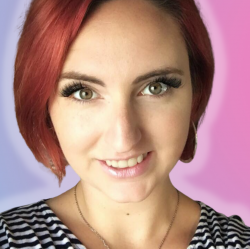 Latest posts by Jessica Lauren Vine
(see all)
Get 40% OFF for 3 Months