Last Updated on January 15, 2023 by DMEditor
Today we are going to be looking at Ninja Outreach review, one of the best tools to connect you with the perfect social media influencers and bloggers to promote your brand.
Influencer marketing is now one of the best ways to get your brand in front of your target audience with outreach prospecting.
Why?
Because no matter what type of business you run, it is highly likely that your target audience can be found on some form of social media.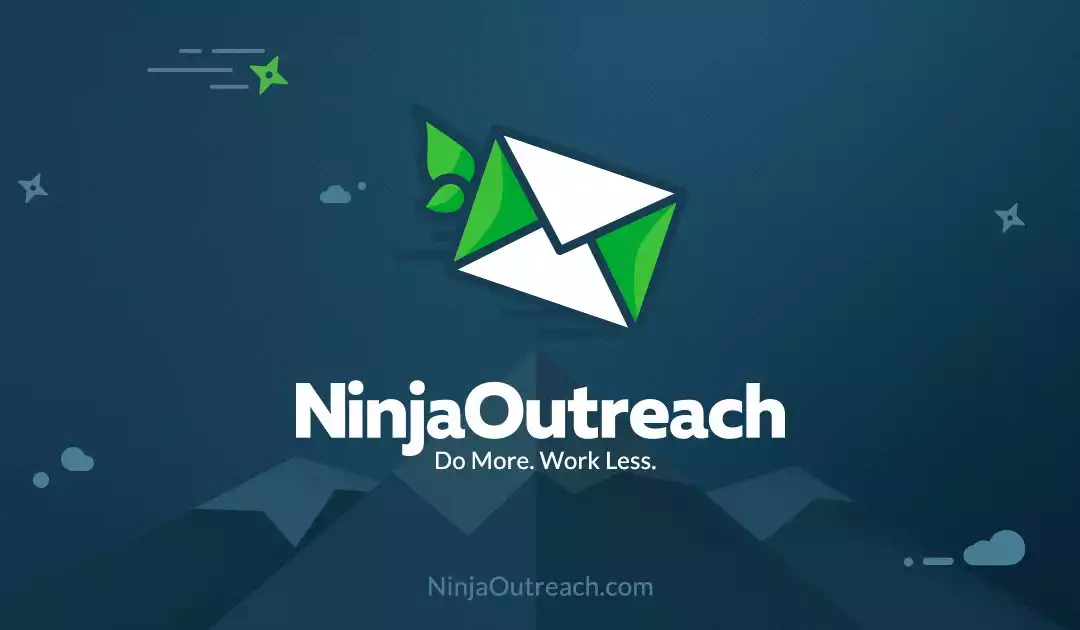 Ninja Outreach Will Change Your Life!
If you are still doing outreach the old way - the way I did for years - you are wasting a LOT of time. All those spreadsheets and systems I created manually are replaced with one easy to use dashboard to manage outreach efforts. Try it!
Try Ninja Outreach FREE
We earn a commission if you click this link and make a purchase at no additional cost to you.
In this NinjaOutreach review, we are going to be looking at all of the prospecting features and services available, as well as the pros and cons of using the service, so that you can decide for yourself if it is the right tool to help you reach influencers for your brand.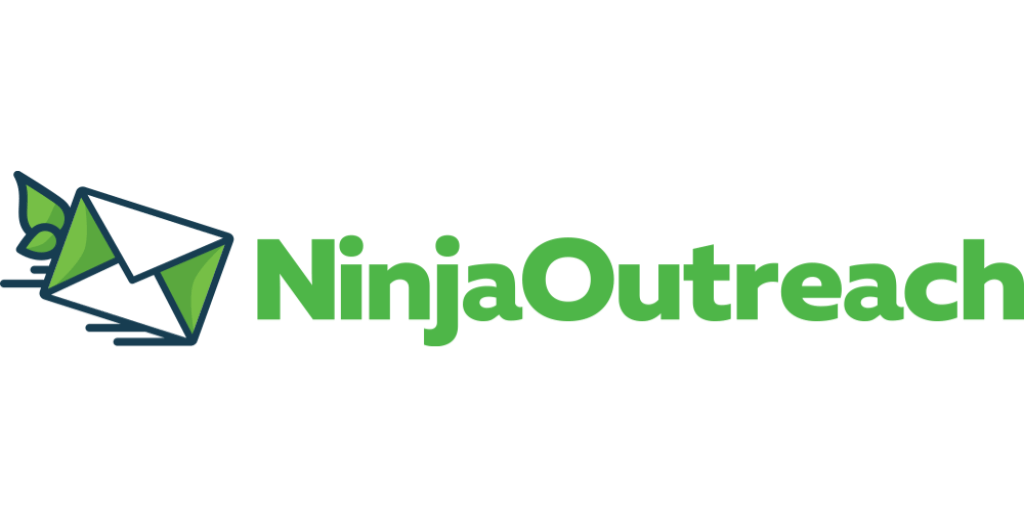 So why do you need to work with influencers? Why can't you just advertise? Sure, you can run ads on social media, and your target customers will probably see them, but what's better than an advert?
Listening to someone you know, like, and trust, telling you about a product or brand they love. And which one would you pay more attention to? … Exactly! Instagram, in particular, has seen a huge increase in popularity over the last few years and is currently the fastest growing social network, and although Facebook currently has the largest user base, Instagram is catching up fast.
Despite unjustified claims that influencer marketing is dead, it seems that it's growing faster than ever, with no signs of stopping. Influencer marketing as an industry has grown from around $3.0 Billion in 2017 to over $6.5 Billion in 2019, and it's still growing.
With over 3.2 billion daily active users, social media is a great way to get your brand in front of your target customers, and by using influencers to help promote your products or services you are going a step further than traditional advertising, as influencers have thousands or even millions of followers who trust them and respect their opinions.
Which is exactly why now is the time to start working with Influencers to promote your brand.
So without further ado, we are going to get started with this review. By the end of this review, you will know absolutely everything you need to know about Ninja Outreach, as well as it's pros and cons so you can make an informed decision on whether this is the right tool for you.
Let's get started…
Ninja Outreach Review – Is Ninja Outreach The Best Social Media Marketing Tool?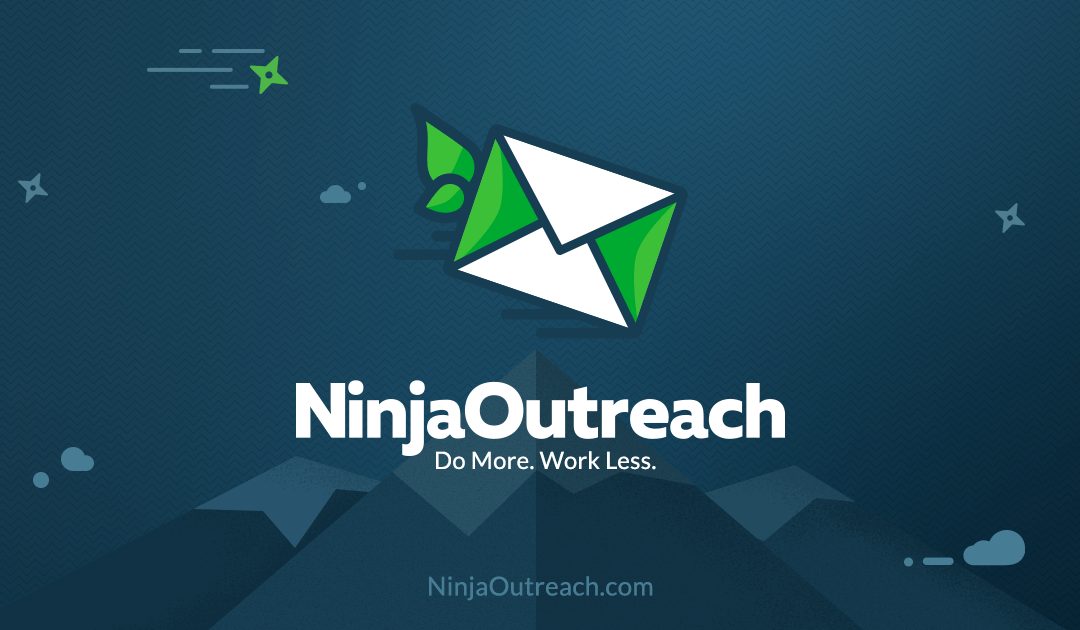 Ninja Outreach is an influencer marketing outreach software that connects digital marketers and small businesses with the right bloggers and social media influencers who can help them promote their brands and grow their online presence in a more organic way than traditional advertising.
Previously, influencer outreach would be quite a laborious task, requiring multiple types of software to search for, sort through, and connect with influencers. Ninja Outreach has everything you need to connect with influencers, all in one place.
The main things you can use Ninja Outreach for are:
Link building
Guest posting (guest post outreach)
Product promotion
Content marketing promotion
Social media marketing
Expert roundups
Sponsored post outreach
Resource page link building
Podcast or interview outreach
Business Marketing Branding & PR
As well as reaching influencers and bloggers, you can also generate new leads or guest posting opportunities for your business.
Ninja Outreach is easy to use. To get started all you need to do it type your keyword into the search bar, and you can start to search for influencers by industry, geographic location and more.
Prospecting: Your search results will show the prospects name, description, SEO metrics, contact information, and engagement data, so you can sort through and choose the influencers that will suit you the best.
You can then save all of your prospects as a list, which can be sent to your team members to work on, sent to clients, or even exported and saved.
Once you have your list, you can easily manage your relationship with your prospects by adding notes, tags and relationship stages, and when you are ready to reach out, you can simply load your list and start to send emails automatically with customized email templates that you have created for your brand.
You can track email opens, clicks, and replies so that you can stay on top of everything, and make sure nothing gets missed.
Key Features of Ninja Outreach Platform
Business Lead Generation
Find Instagram Influencers
Find Top Twitter Influencers
Influencer Marketing Agency Software
Link Building Software
Contact Relationship Management
Scalable and Effective Influencer Outreach Tool
As you can see, Ninja Outreach provides all of the tools you need to reach out to influencers and leads, no matter what your business niche is. So let's take a closer look at the key features.
Business Lead Generation
If you are looking to grow your business, then this tool can help you to get more leads, market your business, and get more sales. Ninja Outreach has a huge business leads database containing over a million profiles that you can search through by typing in your business niche and target area.
You can easily identify leads with the largest audiences and higher social reach by specifying the ideal amount of followers on Instagram, Facebook, Pinterest, Twitter, or YouTube. You can also find businesses with the highest engagement rates by specifying the number of likes, comments, or shares for each social media platform.
If you are looking for more accurate information you can also search for specific key phrases, or request the search res lots to show URLs containing your keyword or key phrase.
If you are looking for the email addresses of your leads you can import a list of the URLs you want to check, and Ninja Outreach will crawl the URLs for emails and contact information for people in the business. You can also search for specific opportunities such as giveaways, guest posts, interviews, product reviews, sponsored posts, and resource pages.
Once you have gathered all the information you need you can save it to a list with just one click to be used for future outreach campaigns. You can also save leads on the go by using the free chrome extension which is synced to your Ninja Outreach account.
The best thing about using Ninja Outreach for lead generation is how much time it can save you. It speeds up the whole process and provides you with an instant list of valid names, email addresses, and URLs that you can you for your campaigns. You can also find exactly what you are looking for more efficiently by filtering with smart tags, so you can choose to view profiles tagged as influencers, companies, bloggers, executives, agencies or journalists.
Once you have saved all the leads you want, and you are ready to get started with an outreach campaign, you can schedule emails to be sent to your business leads. You can schedule the time and date you want your emails to be sent out, and you can also specify the number of emails you want to be sent out each day, as well as scheduling follow up emails to be sent after a certain time period.
If you would like different leads to receive different emails, you can filter your leads by their tags, as well as by any previous campaigns they might have been involved in. Any mass emails you send out can be personalized with your leads name and other details by using custom fields which will automatically populate with the customer's personal information as required.
You can save your email templates in your template library, so you can easily reuse old campaigns that have worked well, and you can keep adding to the library as needed.
How to Find Instagram Influencers with Ninja Outreach
You can find Instagram influencers for your campaign with just a few clicks! You get started by selecting the industry or niche that you want to work with. There are 82 categories to choose from so you can be sure that you will find the right fit.
After selecting the category you can also select the country, region and even City if required. The ability to choose the City makes this a great tool for local businesses who want to get in front of a local audience.
You can view how engaged the influencer's audience is through their engagement rating, which is given as a percentage and color-coded for good/bad, and you can also see the total average number of likes and replies per post. Another useful thing is that you can see how much the influencer charges per post, so you can make sure you are targeting people within your budget.
Once you have found the Instagram influencers you want to work with you can add them to your list of leads, and all their details will be filled in for you automatically, saving you hours of manual research.
The lists you have saved can be used immediately or saved for future outreach, and you can export all of your leads to a CSV file so you always have a backup in case you need it.
Influencer Marketing Agency Software
For large scale influencer marketing, Ninja Outreach offers a large scale all-in-one marketing agency solution. The agency solution gives you unlimited searches, so you can work on bigger campaigns, as well as unlimited email scheduling, unlimited users, more data storage, and a higher export quota.
Using Ninja Outreach can save you a lot of time and money, as you can find and contact the right journalists, bloggers, and influencers in just a few clicks. You can filter all of the requirements you need, such as Domain Authority, followers, shares, and any other metrics you need, so you are left with a list of perfectly matched prospects for your campaign, and with Ninja Outreach's 25 million contacts, you will never run out of leads for your clients.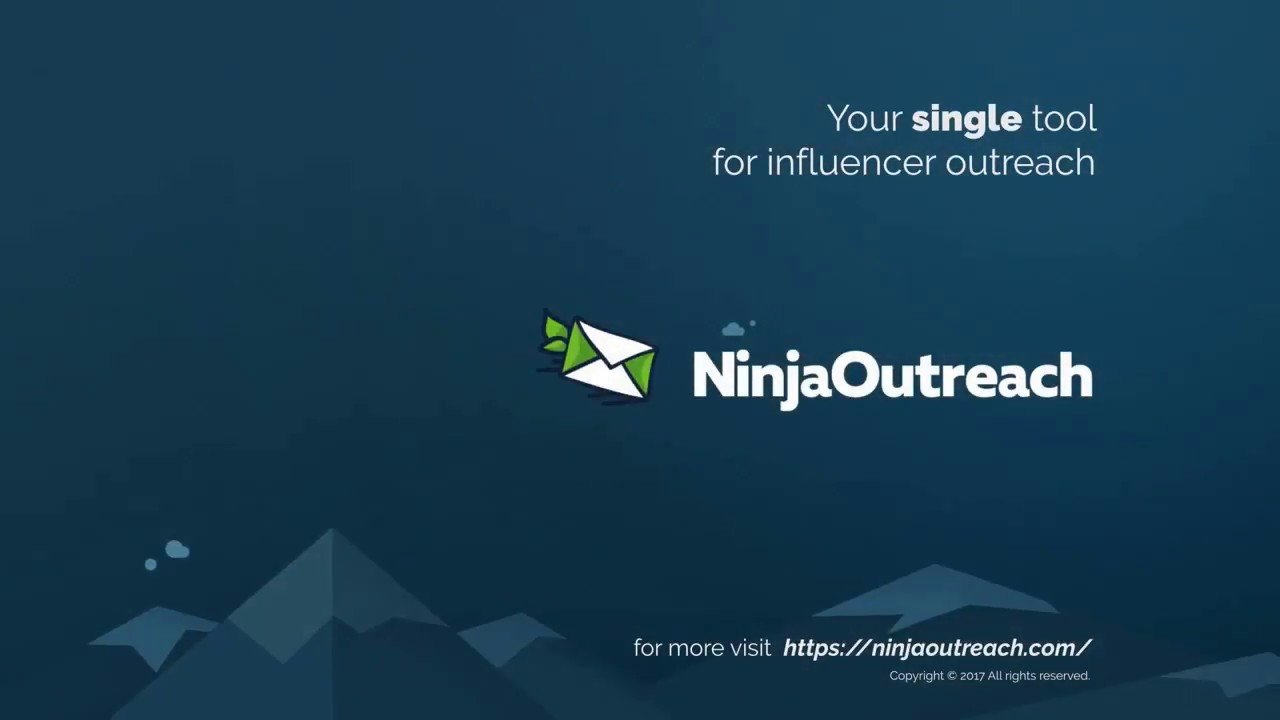 You don't have to worry about accidentally collecting dead email addresses either – Ninja Outreach can find an email address in seconds with its site crawler, and validate the email too, with its built-in email validator.
Ninja Outreach automates most of the tedious tasks when it comes to outreach. You won't have to manually send any more emails, and there is no need to fill in contact forms, as you can auto-fill everything with just a click or two.
There is no need to write outreach email from scratch either, as you can choose from a library of templates, and just tweak them slightly to fit the campaign you are working on. Although you will be sending mass emails, email customer will receive a unique email, as you can create custom fields for their name, website, or any other details you would like to include to give the email a personal feel.
After sending your campaigns you will be able to review them and view data such as opens, clicks, and replies, so that you can see how successful your campaigns were, and follow up with anyone who didn't reply. You can also use this data to save any templates that have performed particularly well.
Another great feature of the agency solution is the ability to work on multiple projects at once without losing track of everything. You can organize your leads either by the client or by project, and you can also sort leads by other metrics such as SEO and social. Each lead interaction can be tracked by using relationship status labels, and you will receive notifications about how well your campaigns are doing 24/7.
You can add unlimited team members, which is perfect for agencies who are growing. You can assign as many team embers to each project as you require, and to make things run smoothly you can leave notes for your team so they know who to follow up with, when, and why.
Link Building Software Platform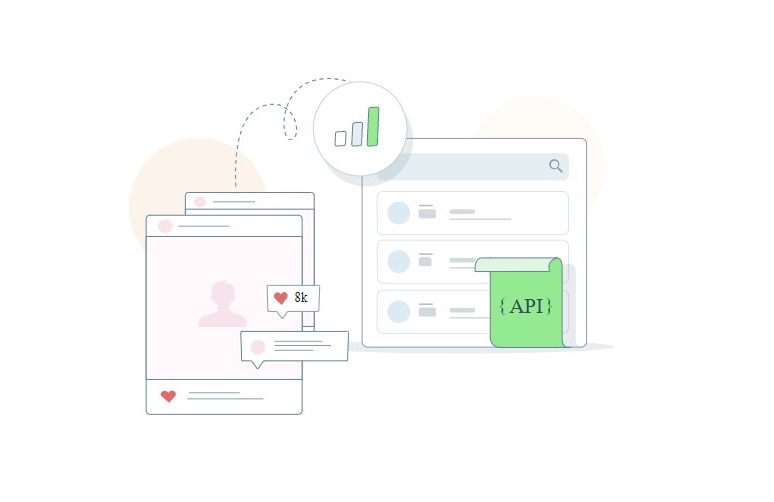 Ninja Outreach saves you hours each week by enabling you to automate your link building efforts. There are a few different outreach strategy options you can use for link building with Ninja Outreach, including:
Competitor link building
Broken link building
Guest post link building
Resource page link building
Expert roundups
Link roundups
Infographic link building
The podcast and interview link building
To find link building leads you can search the database by industry/niches well as location, which will give you access to thousands of high authority link building leads for you to contact.
You can also sort your leads by their SEO metrics and domain authority, so you can contact the ones with the highest authority first. To automate your link building outreach process you can send unlimited email outreach campaigns to your prospects, with up to two automated follow-up emails.
The people you are emailing won't realize you are sending mass emails because you can create custom fields which automatically populate with their personalized information, such as their first name and website URL.
You can save and track any interactions and conversations with your leads, and you can attach tags and notes using the inbuilt CRM.
Contact Relationship Management
Ninja Outreach's inbuilt CRM allows you to keep track of all interactions with each lead so that you can see how your relationships are progressing. This is a really useful tool when you are working with hundreds or even thousands of contacts, as you can keep track of everyone you are working with, and know who you need to follow up with and when.
The CRM itself is really easy to use, and it works seamlessly with all of the other features, you can simply add tags to contacts which will help you sort and filter them later. You can also add the most recent relationship status with them, such as if they have published a post, so you know exactly where you are in your campaigns.
Ninja Outreach Pricing Plans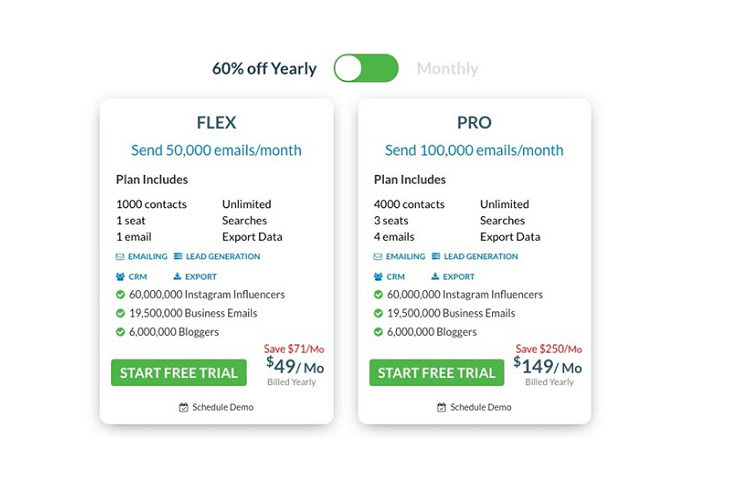 Ninja Outreach has two core plans, and the price varies by how many emails you would like to send each month, and how many users you need.
The plans are called 'FLEX' and 'PRO'. The FLEX plan includes 1000 contacts, 1 seat, 1 email, and unlimited searches and export data. With this plan, you have full access to their entire database of 60,000,000 Instagram influencers, 19,500,000 business emails, and 6,000,000 bloggers. This plan costs just $49 per month (billed yearly) and is suitable for business owners and webmasters looking to do their own influencer outreach.
The PRO plan is pretty similar, except you can have 4000 contacts, 3 seats, and 4 emails, so it's a great plan for large businesses with a marketing team, or small agencies marketing companies who are looking to do influencer outreach on behalf of their clients. This plan costs $149 per month (billed yearly).
The Pros and Cons of Ninja Outreach
As with all popular tools, Ninja outreach has its pros and cons, let's take a look…
Ninja Outreach Pros
Saves you hours of time by automating your influencer outreach
Very useful knowledge base area to help you get to grips with how to use Ninja Outreach to your advantage
There is a 7-day rink free trial so you can try out all of the features before deciding whether it is the right tool for you
It allows you to work on several different link building strategies at once so you can grow your business as quickly as possible
It's very affordable for a tool that can save you so much time, particularly for agencies
You find highly targeted results when you are searching for suitable influencers to work with
You can contact your prospects automatically with 'personalized' emails using custom fields (one of the best prospecting tools I've used)
Ninja Outreach Cons
You need to integrate your own email account, as Ninja Outreach does not include email software. This also means there will be an additional cost if you decide to open up a new account with a new email provider
Although there is a free trial, 7 days isn't very long and might not be enough time to try everything out properly – A 14-day free trial would be ideal
Does not include all social media platforms, just Instagram and Twitter
Ninja Outreach Review – Is it worth the money?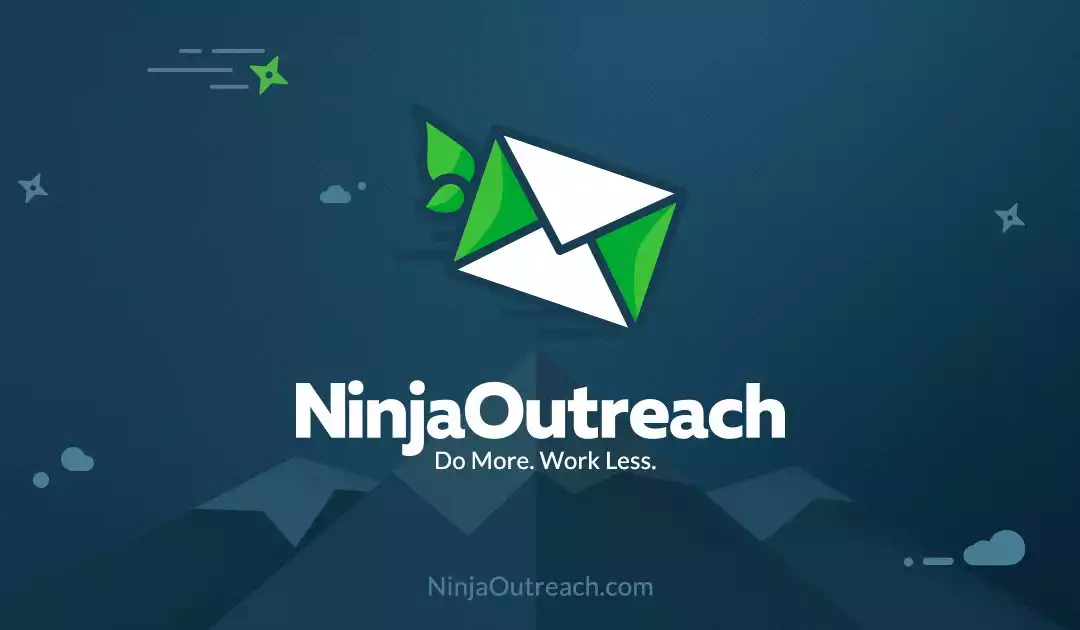 Ninja Outreach Will Change Your Life!
If you are still doing outreach the old way - the way I did for years - you are wasting a LOT of time. All those spreadsheets and systems I created manually are replaced with one easy to use dashboard to manage outreach efforts. Try it!
Try Ninja Outreach FREE
We earn a commission if you click this link and make a purchase at no additional cost to you.
Ninja Outreach is without a doubt one of the best tools available for influencer outreach, and we are pleased to say that we can highly recommend it to anyone who is looking to start working with Influencers. As well as finding influencers to work with on social media campaigns, you can also use Ninja Outreach to automate your link building, which can save out hours every week on what is normally a difficult and labor-intensive task.
Ninja Outreach has a database of over 78 million contacts in a huge variety of industries, so you will be sure to find the perfect influencers for your brand to work with. You can filter through the entire database in seconds, choosing filters such as Industry, location, SEO metrics, domain authority, and more, leaving you with a list of prospects that are just right for you.
The fact that you can automate entire email campaigns is fantastic. You can set a maximum number of emails to be sent each day so that you don't go over your monthly allowance, and then you can just set it and forget it. You can also automate up to two follow up emails for anyone who didn't reply to your first email.
Bottom Line: Overall, Ninja Outreach is a great tool that can save you huge amounts of both time and money, as well as helping you to quickly grow your business through influencer marketing, link building, and lead generation. The influencer marketing industry is growing fast, with no signs of slowing down, so if you want your business to stay ahead of the game it's definitely something you should be exploring.
If you would like to give Ninja Outreach a try, you can sign up for their free 7-day trial here.
Here is another related article you may be interested in: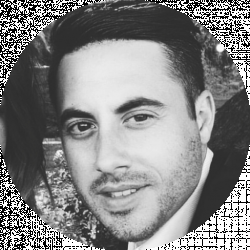 Latest posts by David Borgogni
(see all)