Last Updated on January 15, 2023 by DMEditor
As a writer, you might have started your blog with the best of intentions at heart. Yes, money could be an end goal, but a blog often means more to a writer.
For one, it is that creative space where you are allowed self-expression. BuzzSumo is a content research and content discovery tool that helps target your audience, identify key influencers (social media) better as well as get ideas from your peers.
In your blog, you can share your passions, thoughts, feelings, and ideas and connect with like-minded people. This is the most pleasant prospect of writing.
Your blog can be an even more satisfying if it actually makes a difference in causes you care about, by creating or raising awareness towards such purposes. What's more, every writer blogs because they believe that they have knowledge worth sharing. So your blog is essentially making the world wiser!
Unfortunately, you and a million other bloggers are chipping their nails typing away at content that could potentially drown in an ocean of other published blog posts online.
Data shows that over 5 million posts are published each day around the globe, across social media and CMS platforms. Therefore, your heartfelt post is basically one drop in one giant ocean. So, how will your intended audience find it? Is the situation hopeless?
Nope. There are tools and strategies today that can assist you in your content creation, its research, and promotion.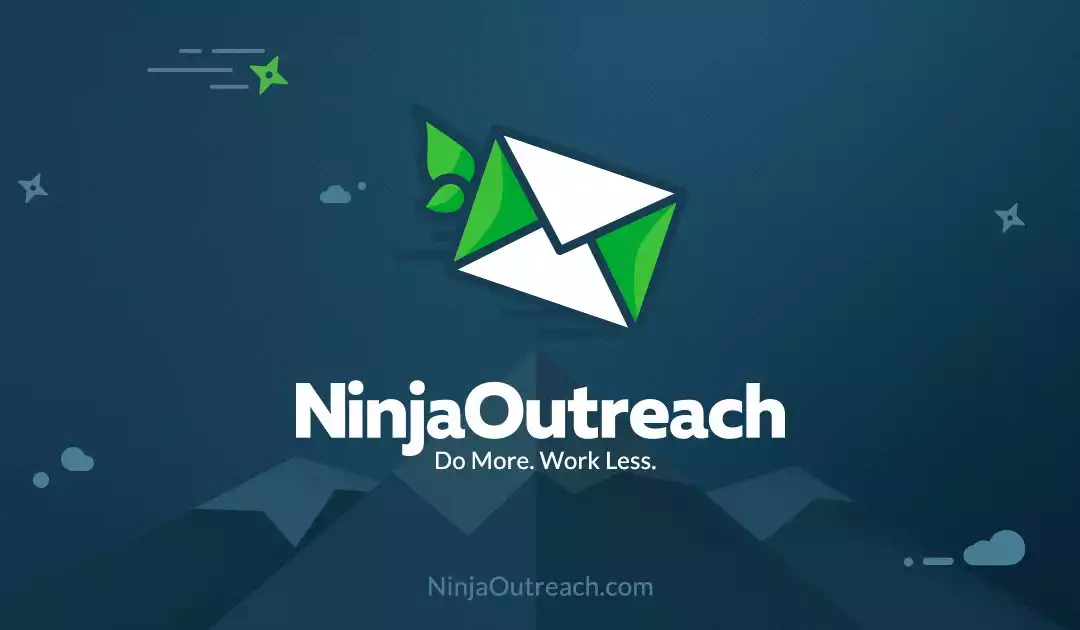 Ninja Outreach Will Change Your Life!
If you are still doing outreach the old way - the way I did for years - you are wasting a LOT of time. All those spreadsheets and systems I created manually are replaced with one easy to use dashboard to manage outreach efforts. Try it!
Try Ninja Outreach FREE
We earn a commission if you click this link and make a purchase at no additional cost to you.
Ninja Outreach is an influencer marketing outreach software that connects digital marketers and small businesses with the right bloggers and social media influencers who can help them promote their brands and grow their online presence in a more organic way than traditional advertising.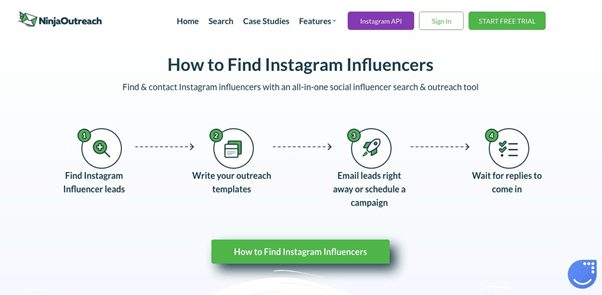 Ninja Outreach is without a doubt one of the best tools available for influencer outreach, and we are pleased to say that we can highly recommend it to anyone who is looking to start working with Influencers on social media and elsewhere (influencer outreach tool).
As well as finding influencers to work with on social media campaigns via social networks (viral content as a side effect), you can also use Ninja Outreach to automate your link building, which can save out hours every week on what is normally a difficult and labor-intensive task.
NinjaOutreach vs Buzzsumo
The main differences here are that NinjaOutreach has a dedicated Instagram Search module, automated outreach, Gmail integration, advanced lead management, allows for notes and tagging (Relationship Labels), and offers 24/7 live chat support. Beyond that it offers EVERYTHING Buzzsumo does as a marketing and research tool, but typically for less money (depending on your exact plan).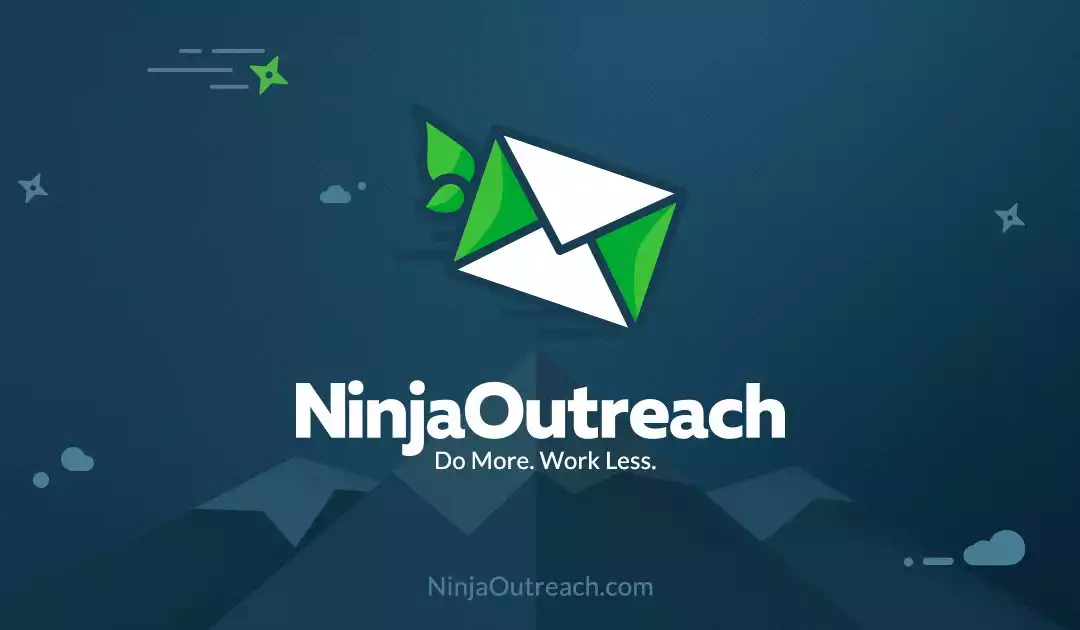 Ninja Outreach Will Change Your Life!
If you are still doing outreach the old way - the way I did for years - you are wasting a LOT of time. All those spreadsheets and systems I created manually are replaced with one easy to use dashboard to manage outreach efforts. Try it!
Try Ninja Outreach FREE
We earn a commission if you click this link and make a purchase at no additional cost to you.
Further Reading: My Full NinjaOutreach Review.
Social Animal stands out for its content marketing prowess. The tool is also a great content research platform for content discovery, especially for bloggers who are highly engaged with social media platforms. With it, for instance, you can analyze tons of articles and get tips from it about the best social media platform will work best for your content. The software also directs on essential metrics such as title length.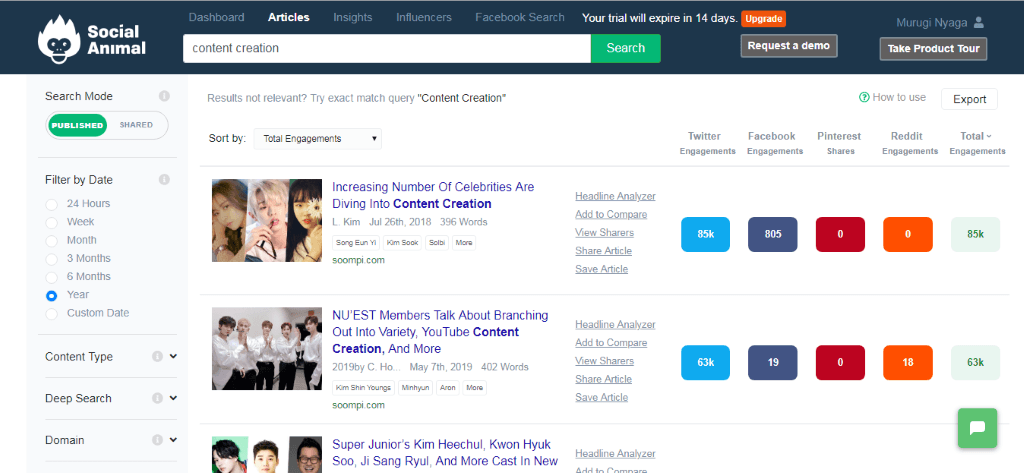 The software's Insights feature does an in-depth analysis of thousands of articles and will direct you too on the best posting times as well. There also is an Influencer Search tool that can find you useful influencers based on search terms or keywords.
It also does provide an influencer score that will assist you in narrowing down the list of results. If you are more of a Facebook person, Social Animal has a Facebook Search feature that also does an analysis of the Facebook pages of your competitors.
By using the sentiment analysis and engagement data provided (analytics), marketers will be in a better position to design a content marketing strategy on Facebook that beats that of your competitor's hands down.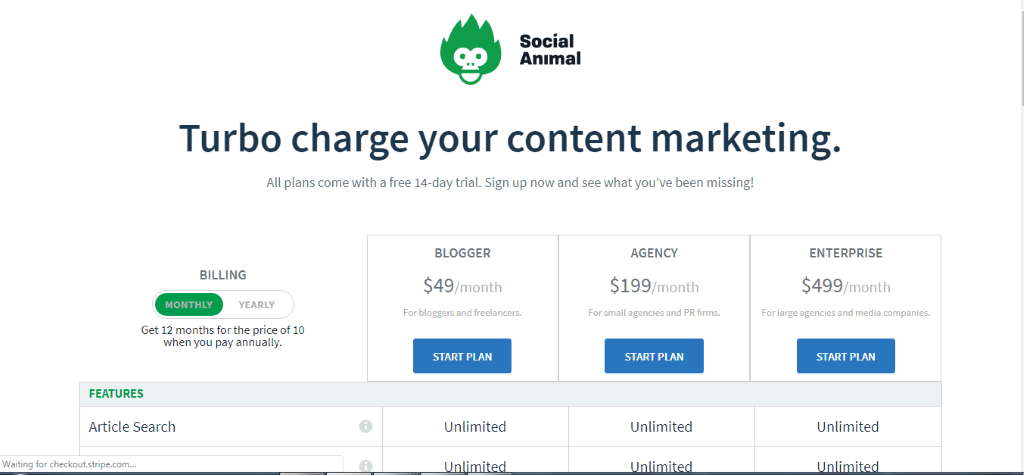 Social Animal vs BuzzSumo
Social Animal is a fantastic alternative to BuzzSumo, especially for bloggers on a tight budget. Its Blogger account, for instance, costs an annual $41/ month compared to BuzzSumo annual $79/month for its cheapest Pro account.
Social Animal's features are in many ways just as good as BuzzSumo's, and it's Deep Keyword feature does not only do a title search unlike BuzzSumo's but search within an article too.
Check Out the Latest Social Animal Promotions
3. Feedly
Feedly is viewed as the to go to news reader for the OG's who loved good old Google Reader, before its imminent demise brought on by changes to Google's information searching arithmetic changes. Google Reader's fans loved the respite the app offered from packaged content that does not really take into account what your viewership tastes were.
RSS feeds been all the rave in the past, and Feedly has put them back in vogue. With Google's arithmetic overreaching its mandate, Feedly offers its users a refreshing way to access information on social media.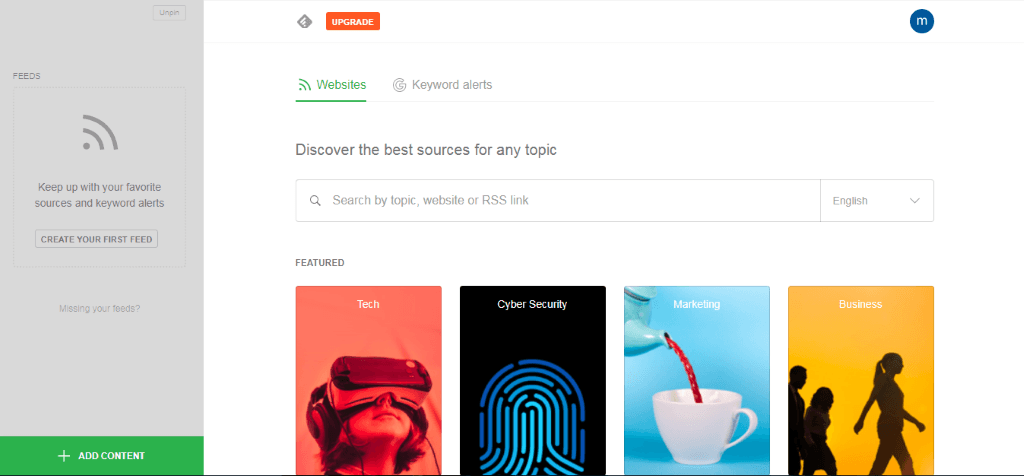 With Feedly, you no longer are bound to viewing Twitter shared content with the most views and shares or perpetual news feeds from Facebook that does not hold your interest. RSS, which is an acronym for Rich Site Summary or Really Simple Syndication, makes it super easy to track content updates in a standardized format. With it, for instance, you can access a comprehensive yet continually updated content from sites that you adore. Feedly is a fluent RSS feed reader and makes it much easier to view confusing headlines from all over the globe.
Feedly currently has over 14 million users to its name has been around since 2008. It has, however, become more of a content research tool rather than an entertainment tool. It has mutated to a content creator's, top research assistant, marketing strategy tool, or intelligence tool because it is not hampered by social media metrics. As a web content creator, all you need to do to keep up with your niche or chosen topic of research is hop on into Feedly and follow 100 sources on Feedly's free version.
The software has a clean looking interface, which gives a very easy to use site finder. If you have a niche or topic you are working on, all you need to do is create a Collection on it and input the sites on your searched list. With Feedly, you can ensure that you engage with fresh or popular content.
It's Pro account has useful features such as sharing of feeds with your peers or subscribers. It also makes content curation easy, especially to Evernote or Pocket.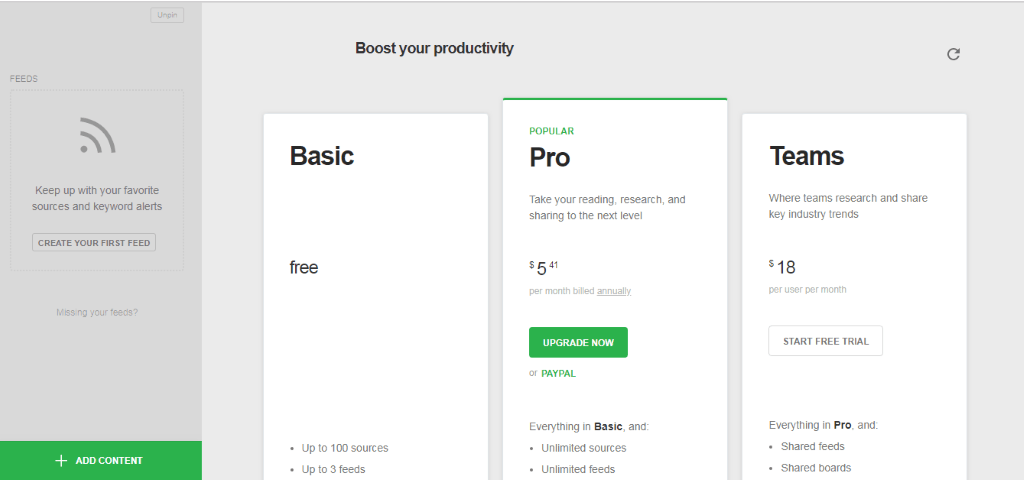 Feedly vs BuzzSumo
As far as aesthetics and top of the range content research, promotion and creation features are concerned, BuzzSumo takes the cup. BuzzSumo wide range of tools might, however, might be wasted on a blogger who has not grasped the content marketing fundamentals fully.
Its price is also restrictive, and either does it have a free account. Feedly, nevertheless, is affordable, and it has a free account that can be of great assistance to writers. It's Pro account is also a small$5.41, perfect for small-time bloggers.
4. Ahrefs
Ahrefs is well known as a backlink checker but has a lot more features that are very useful for bloggers. As far as SaaS tools are, concerned Ahrefs is top notch, playing a big part in the eradication of black hat SEO content marketing tactics in the past. Ahrefs, however, has formidable content optimization writing, keyword and competitor research, and site management tools.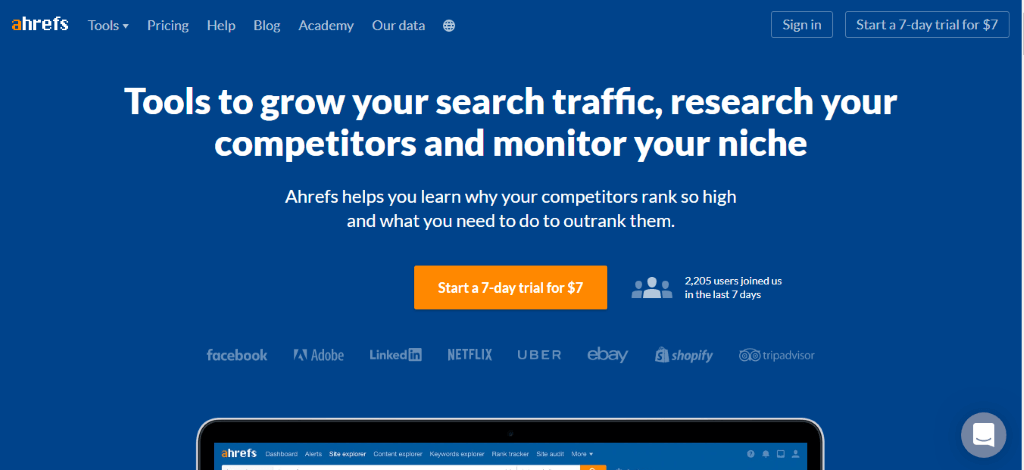 This toolbox will not only assist you in picking great content topics but share it with the right people as well as perform useful outreaches when sharing content. The Content Explorer feature is a handy tool for skyscraping and topic generation. With it, you can access relevant issues and trends in your niche of choice. The beauty of the Content Explorer tool is its speed of use. All results in their details are usually displayed at lighting speeds. You can use the content filters availed to narrow down results.
The Content Explorer tool not only avails thousands of industry trending topics but a lot of analytics data for content discovery and insights. It is possible to sort all the search results by social media platforms, total shares, user-generated content and referring domains or search engine traffic.
The Ahref influencer search is another of its outstanding features. You can search for your favorite influencers and view the articles they have tweeted. You can see their follower statistics and even export relevant data analytics for outreach campaigns via their built in social media analytics tools.
The Keyword Explorer is another one of Ahrefs top-notch tools. This tool organizes its search results in a spotless, organized, and structured manner, which makes it very efficient. The other tool that gives BuzzSumo a run for its money is the Ahrefs Rank Tracker. Input your keyword of choice, and you will access your keyword rankings perfect for content marketing and SEO. The feature has a competitor, pages, metrics, and grossing details of your keyword searches arranged in four neat tabs.
Ahrefs goes above and beyond BuzzSumo's capabilities (and better than BuzzSumo pricing if you include the other features) with its robust SEO capabilities and also gives a neat Site Explorer tool.
With it, marketers can monitor every part of their target audience (sometimes referred to as "social listening" or "media monitoring"). You can access data analytics on the blogs top pages and content, outgoing links, paid search statistics, and its top landing pages.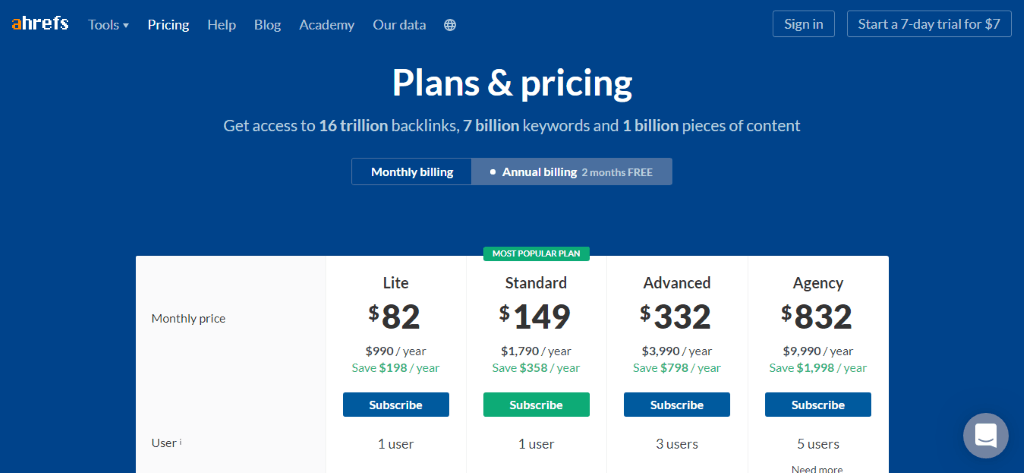 Ahrefs vs BuzzSumo
BuzzSumo is definitely a great platform that helps speed up content creation. It also perfect for investigating popular content and works great for content amplification, influencer identification, and content promotion.
Ahrefs, on the other hand, has more advanced backlinking resources and beneficial data points (analytics) for the advanced content marketer. It is usually identified as a fantastic SEO tool, but its capabilities do go beyond SEO. The platform offers excellent assistance in content creation and research as well as its promotion. It also has unique competitor analysis capabilities as well as site audit.
Both software has almost the same range for their annual, monthly subscriptions. The Ahrefs Lite, for instance, the cost is $82 but with two free months while BuzzSumo's Pro costs $79.
BuzzSumo Alternatives Overview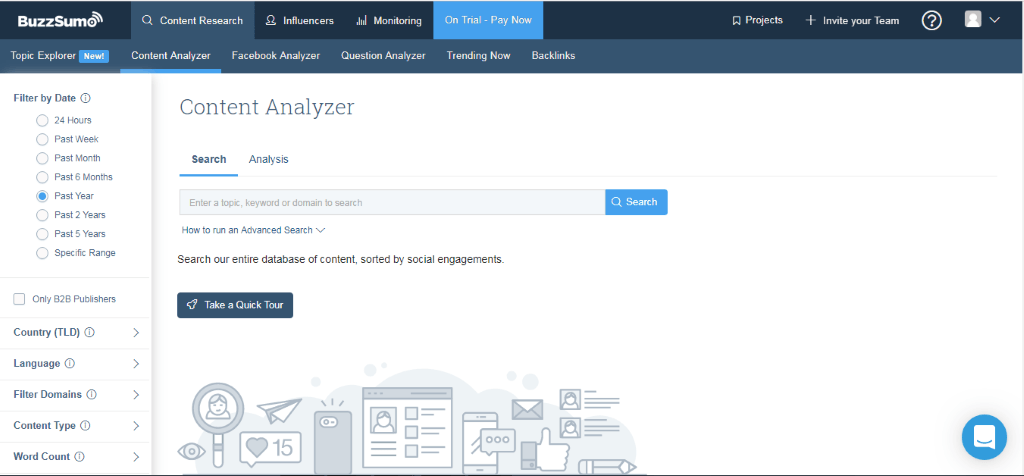 BuzzSumo's Features
Easy generation of topics for your posts that will pique your audience's tastes and interests. The powerful tool does this by gathering exciting and popular content from the world wide web's most influential publishers in your area of interest.
BuzzSumo also can inform you on what the latest content building strategies are. Are infographics more suitable for your audience, or should you stick will old school text-based content?
Do you need a little assistance from influencers in your niche? Influences can go along way in promoting your content, and it is much easier to build your online presence through them than doing so from scratch. Leverage their popularity, and the exposure will work wonders for your blog.
Like many other bloggers, you might live in fear that perhaps your competitor has content that is more suitable for both your audiences. BuzzSumo has a competitor surveillance tool that will give you the down low on content that is bringing in more interest on your competitor's blog.
With the tool at hand, you can also monitor mentions of your blog or brand and spot misleading info early. This feature will also assist you to connect with leads interested in your content that eventually may bear commercial fruits.
BuzzSumo has a minimal, modern yet elegant look and its core features are the centerpieces of its website. You can access a free but limited account so that you can dip your toes in the software's features before forking out some good bucks for its premium features. There are different tabs on the software's home page where you can use your preferred mode of content research filter.
BuzzSumo main advantage is its offering of seven content research filters. These filters range from the most common filters by date, language, country, or results to beneficial ones like content type, word count, or filter domains.
The software's project creator will enable you to save content that has potential so that you can later compare, analyze, or monitor it for use. BuzzSumo also offers deep backlinks and content analysis features that will keep you ahead of the curve. You can utilize Skyscraper campaigns, for instance, to search for popular content, and then create excellent blog pieces that are much better than your researched content.
Afterward, go ahead and share your top of the range content with influencers or top sharers in your niche. From BuzzSumo it is quite easy to access the needed top sharers from its "Top Sharers" tab. As good as this sounds, BuzzSumo's has only integrated its top sharers feature with Twitter, so if you are heavily dependent on LinkedIn, Instagram or Facebook this content distribution tool might not work very well for you. Nevertheless, if you are on Twitter, BuzzSumo will make serious waves on your behalf, through its outreach and influencer research features.
Another of BuzzSumo's flaws is its rather steep pricing for its entry-level plan. The $79 price tag is not very reasonable for beginner bloggers, and even so, if a blogger can afford, the plan has its limitations to BuzzSumo's top features.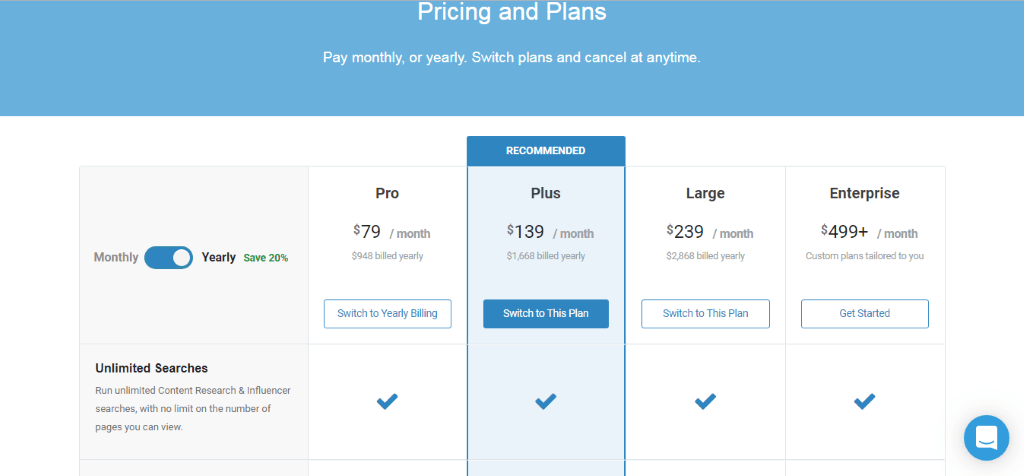 Frequently Asked Questions
Where does the related keyword data come from in Buzzsumo?
As a marketing tool, Buzzsumo help you as a influencer discovery method and social media analytics. The related keywords from Buzzsumo are sourced directly from Google search.
How do I remove content from Feedly?
If you are using Feedly as your trending content tool and you need to remove some of the content, go to the main navigation bar and click the "Edit Content" button, and select the sites you need to remove and confirm the action.
How is The Ahreft CTR calculated?
Ahrefs marketing tool creates the CTR or Click Through Rate curve for every keyword based on the clicks from all the mobile and desktop versions of your target.
So Which Discovery Tools Are Best for You?
None of the platforms mentioned are identical in use and feature, but each has its own advantage.While some like Ahrefs and BuzzSumo are feature packed content analytics and social media monitoring platforms, their price range could keep them away from smaller bloggers looking for budget-friendly but robust content research, creation, and marketing tools.Feedly Pro, for instance, is a great tool for content creators researching on topics that go beyond the realm of the obvious keywords and touch on viral social trends.. At the end of it, what matters is the purpose the tools have to play in the blog content creation process. Here are other related articles you may be interested in: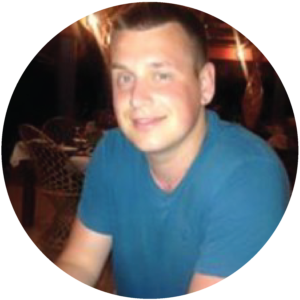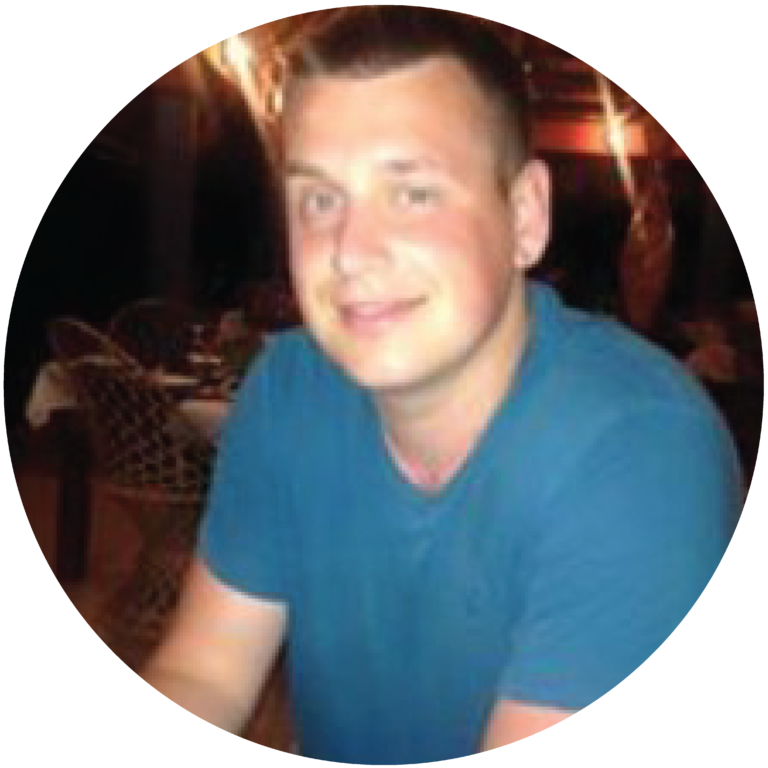 Latest posts by Ewen Finser
(see all)