Last Updated on June 21, 2023 by Ewen Finser
SharpSpring is a great CRM platform with tons of features for businesses – the question is, what is the best SharpSpring pricing plan, and how can you choose the right one for your business?
SharpSpring's pricing may seem steep at first glance. However, they offer a lot of great technology that can make a huge difference to businesses.
We'll be looking at each pricing plan, covering what you'll get, as well as a general overview of what to expect from SharpSpring.
Let's start by looking at the basics of SharpSpring!
About SharpSpring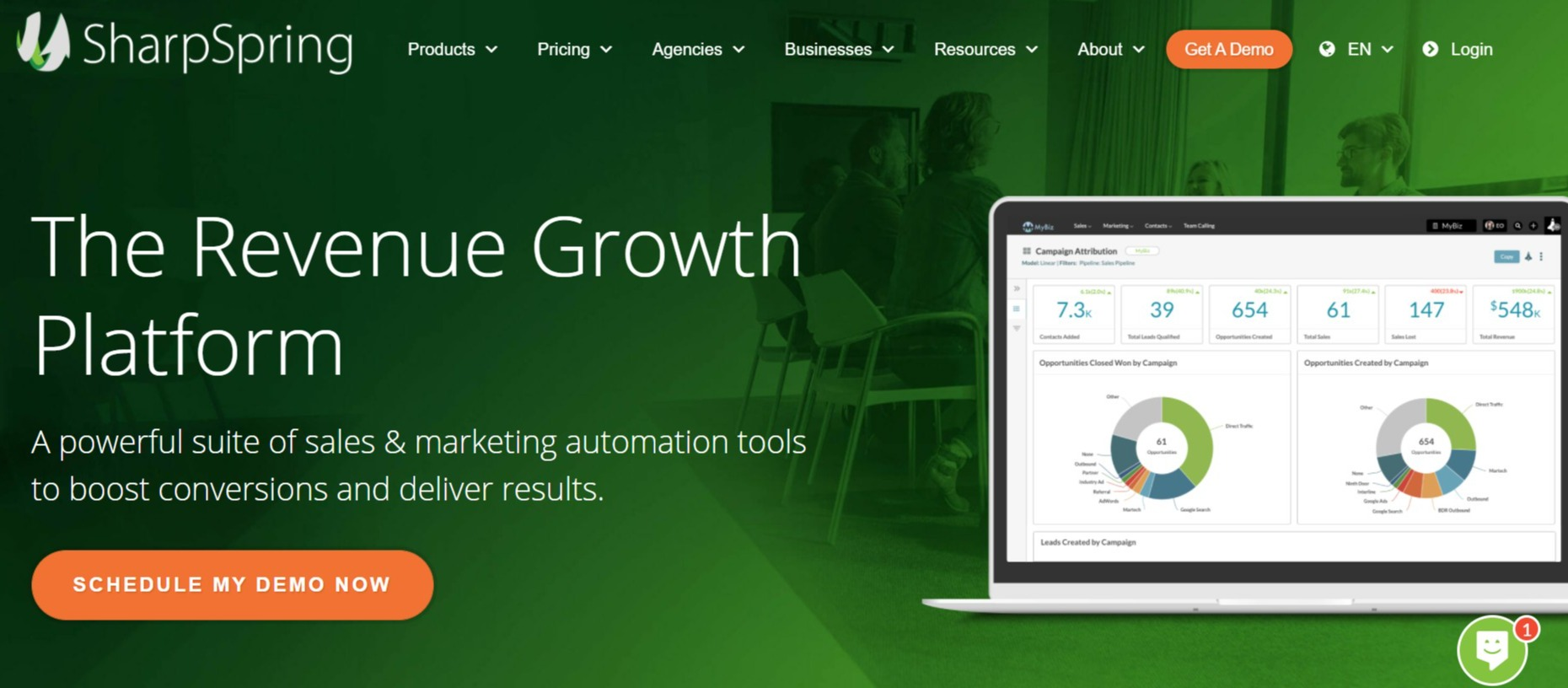 If you're not familiar with it, here's what you need to know. SharpSpring was founded in 1998 (under the name of EMUmail Inc.) It has a suite of marketing automation and CRM tools, and it's a popular platform with both small businesses and marketing agencies.
So, what do they have to offer? Here's a rundown:
Marketing Automation
SharpSpring has a visual workflow builder, which is easy to use. It syncs information from the rest of the platform and allows you to assign leads to different contracts, which means you can send targeted messages. They also offer lead scoring, page tracking, and more.
Smart Email Marketing
You can create attractive, eye-catching emails with SharpSpring, with professional-looking templates that can be easily personalized.
They offer detailed analytics for each message you send, giving your team real-time notifications as people click and open your emails.

Once visitors have clicked through to your website, you can track their page visits, forms, sign-ups, and white paper downloads – giving you a lot of usable information.
Dynamic Form Builder
You can collect leads that integrate into the rest of SharpSpring's software using their dynamic form builder. You can build and customize fields using the drag-and-drop editor and known visitors can take advantage of auto-filling certain fields, saving them time.
VisitorID
VisitorID helps to identify visitors to your site, and it uses behavioral-based tracking to better understand visitor motivation. It helps you to identify new strategies, emailing you the most profitable leads each day.
Landing Page Builder
They also offer an easy-to-use landing page builder, which can be used with the rest of SharpSpring's marketing automation features.
There are templates to choose from, or you can build your own from scratch. You can even build a chain of linked landing pages, to organize your visitors into funnels. You can even use dynamic web content that changes based on the interests of your visitors.
Blog Builder
You can launch a bog, which again, links to the marketing automation system. It's easy to do, even if you don't have any experience in building websites.
You can allow team members to collaborate and publish posts, too, creating profiles for each blogger. You can also use social media widgets to allow readers to share your content.
Social Media Management
You can use SharpSpring Social to manage your social media posts. This is important, because again it links into the rest of the platform, meaning that you can use your social media networks to trigger automated workflows, and you can also score social leads based on their interactions with you.
Reporting
As you can imagine from the rest of the features, the reporting for SharpSpring is pretty extensive. You can gather data from every area of the platform, tracking user behavior and engagement.
You can filter this information based on the metrics that matter the most to you, generating custom reports which can be easily shared with your team or clients.
Introduction to SharpSpring Pricing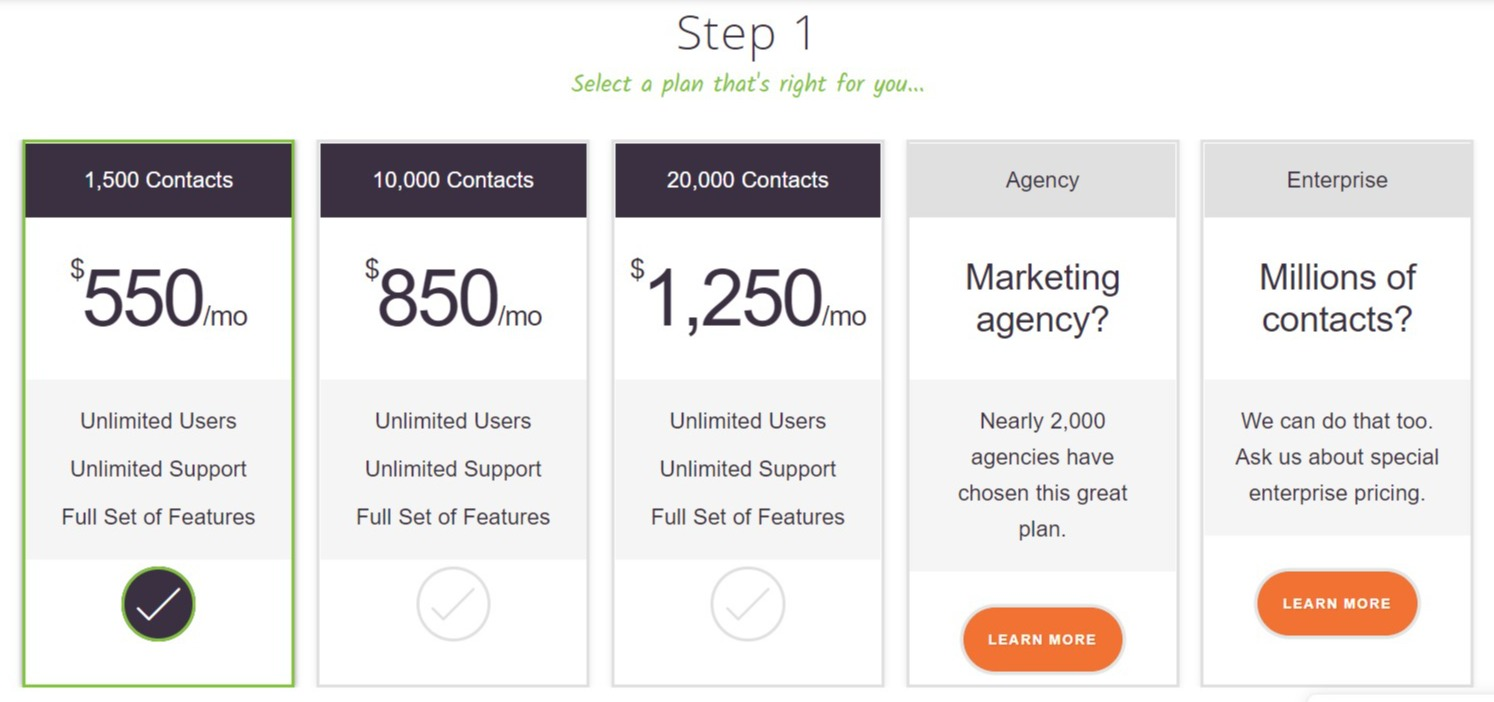 Before we get into the pricing plans, a note on the general cost of SharpSpring.
Almost 8,000 companies are using SharpSpring for their automated campaigns, most of which are based in the marketing and advertising industry. It's mostly popular for mid-sized companies with revenues of around $1 million – $10 million.
Smaller businesses might be daunted by the monthly cost of SharpSpring. However, they do offer several sophisticated tools that can make a real difference to some types of businesses.
SharpSpring's monthly cost is based on their annual subscription – so you'll have to pay for 12 months upfront. However, there is a monthly subscription available – this may cost a little more, and you have to contact them to find out more.
SharpSpring's Pricing Plans – an Overview
Now that we've seen the basic features of SharpSpring, let's take a look at the pricing plans they have to offer. We'll give you a quick overview, before looking at each one in more detail. The first three pricing plans are aimed at small-to-medium-sized businesses and offer very similar features.
1,500 Contacts
$550 per month
Users: Unlimited
Support/Training: Unlimited
Dedicated Account Manager
10,000 Contacts
$850 per month
Users: Unlimited
Support/Training: Unlimited
Dedicated Account Manager
20,000 Contacts
$1,250 per month
Users: Unlimited
Support/Training: Unlimited
Dedicated Account Manager
Agency
For marketing agencies – price on request
Enterprise
For large businesses with millions of contacts – price on request
Small-to-Medium Business Plans
Let's take a look at this option. As you can probably tell, 1,500 contacts will allow you just that – up to 1,500 contacts on your list. So the more contacts you have, the more it costs. With each small-to-medium business plan, you get unlimited users and unlimited support. A dedicated account manager will help you when you need it.
Speaking of this – you can go for an onboarding service, but this costs extra. The cost of this varies depending on how many contacts you have:
1,500 contacts –$3,169
10,000 contacts – $3,589
20,000 contacts – $4,149
This is an extra one-off cost, which will introduce your business to the platform, working with you each step of the way. This gives you access to 60 days of extra support – plenty of time to transition onto the platform and get to grips with how things work.
With each pricing plan, you get:
Full marketing automation
Chatbots
Dynamic form builder
Campaign tracker
Dynamic landing pages
Reporting and analytics
Behavior-based email
CRM and sales automation
Sales Dialer
For small-to-medium-sized businesses, any of these plans work well. They give you access to a huge suite of tools, and you can scale up as your business grows.
That's about it for the SMB pricing plans. What about Agency and Enterprise?
Agency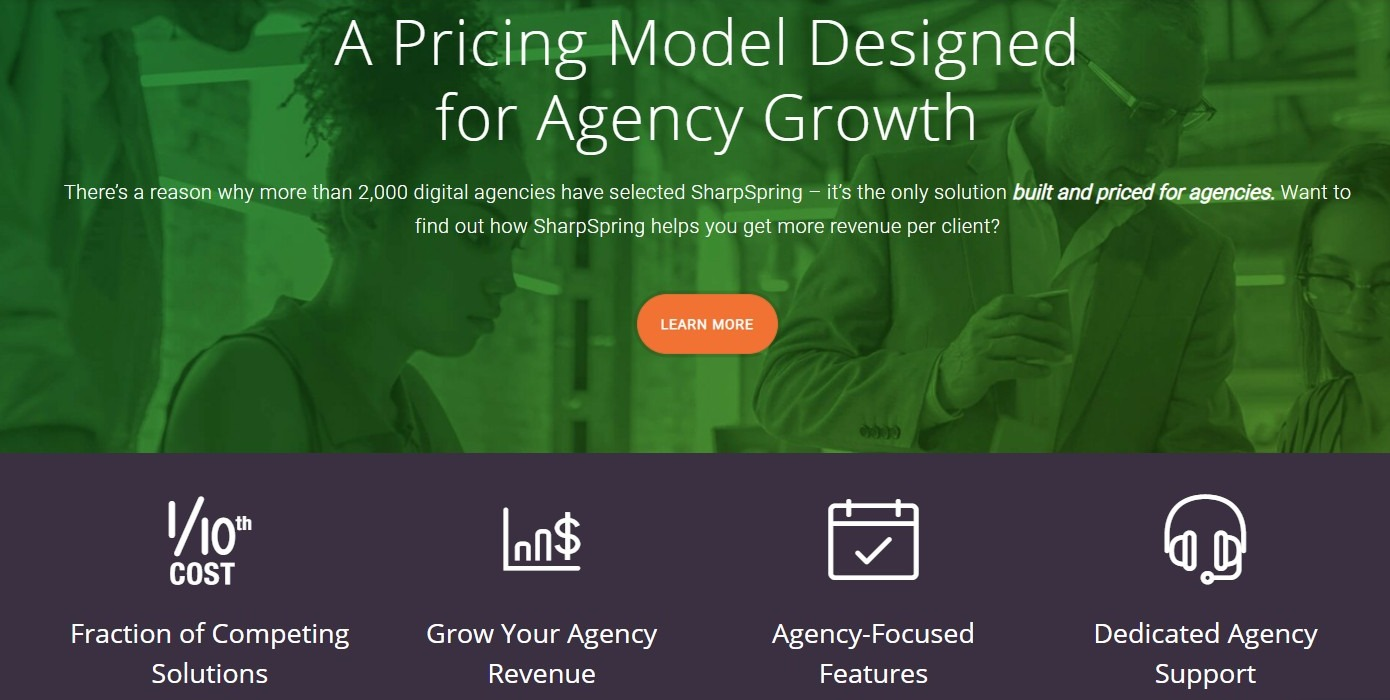 If you're a marketing agency, you may be tempted to go with SharpSpring. While we can't offer a breakdown of pricing, as it's only available on request, we can give you a bit of information about what you'll get from the Agency plan.
Agencies should be able to manage their business systems whilst using SharpSpring's advanced tools. So, you can expect to have access to these tools, hosting your clients whilst still having control of your own framework. You will be able to integrate your clients into your account, setting up personalized access points for them.
Agencies may be able to take advantage of SharpSpring's integrations, of which there are plenty, as well as the flexible API. You will also get unlimited access to SharpSpring's helpful and responsive support team.
Enterprise
Enterprise is designed for large businesses. It doesn't matter how many social accounts you have, how many contacts you have, how many users you have – SharpSpring can accommodate this. Plus, you can rebrand the interface, giving a sense of brand cohesion. You can enjoy onboarding support and a dedicated account manager.
SharpSpring will build a dedicated package that will help you to realize your business goals. This will come at a bigger cost than the SMB packages, of course, and the total cost will depend on what you're looking for.
Alternatives:
FAQs
Question: Who is SharpSpring best for?
Answer: In our opinion, we think SharpSpring is best suited for medium to large-sized businesses or agencies. The cost is quite prohibitive for smaller businesses (although this will depend upon the revenue of each company and how much you have to spend).
Question: Where is SharpSpring based?
Answer: SharpSpring is based in Gainesville, Florida.
Question: What integrations does SharpSpring have?
Answer: SharpSpring has a few notable integrations, including:
– Salesforce
– Shopify
– Zapier
– Sendible
– Pipedrive
To Sum Up – Which SharpSpring Pricing Plan is Best?
Which SharpSpring pricing plan is best will suit your own business needs. We think that very small businesses may find it difficult to absorb the costs, but medium-to-large businesses will find a lot of useful features in the SMB plans. Which one you choose will obviously depend on how many contacts you have, but you can scale up as you grow.
Meanwhile, agencies would do well to go with SharpSpring's Agency plan. It has a lot of features that will enable you to run your own systems whilst introducing clients to the platform by giving them their login information.
Larger businesses will want to go for the Enterprise plan. It's difficult to compare this to other CRM platforms' Enterprise plans, as there isn't a clear price, but SharpSpring's customer service team is very helpful, and you can contact them for further information and a quote.
We hope this has helped you to find the best SharpSpring pricing plan for you!
Further read: