Last Updated on April 22, 2023 by Ewen Finser
Do you want to find a helpful accounting solution? If so, you're in the right place. We're exploring two such options: Bench.co vs Xero, to help you streamline your research. Hopefully, by the end of this review, you'll have a better idea of which, if either platform suits your needs.
We'll run through the basic premise of each service and discuss their features in detail. Then, look at pricing and dive into some user reviews to get a personal insight into the services offered. Lastly, we'll briefly answer some frequently asked questions and then bring everything together in summary.
Does that sound good? Let's get started.
Bottom Line Upfront
Bench.co and Xero are both services that can help fulfill your accounting needs and keep your books in order. Bench.co is a managed service where professional accountants handle your monthly bookkeeping and even your taxes.
In contrast, Xero is a software that focuses on streamlining and automating your accounting by connecting your bank accounts and entering your transactional information. In short, Xero is better suited to smaller businesses that are happy to handle their own accounting. Whereas Bench.co is a life-saver for companies needing to catch up on complex and historic bookkeeping paperwork.
Main Differences Between Bench.co vs Xero & Their Main Similarities
The main differences between Bench.co vs Xero are:
Bench.co vs Xero: Their Key Differences
Bench uses an in-person team to deliver the bulk of its services, whereas Xero provides automated software.

Bench is more expensive, whereas Xero is the cheaper solution.

Xero has a higher number of online customer reviews, whereas Bench has a higher percentage of recommendations from its reviews.

Xero doesn't provide historic bookkeeping abilities. Although you can connect with banks to upload historical statements, it won't help you recover missing documents, whereas Bench.co offers a service where they'll retrieve multiple months or years' worth of bookkeeping docs to get your books back in order.

Xero is available in 180 countries, whereas Bench.co primarily serves a US audience.

Xero is a valuable tool for accountants, whereas Bench.co is an accounting service, so it doesn't present much use to professional accountants or bookkeepers.
The main similarities between Bench.co vs Xero are:
Bench.co vs Xero: Their Key Similarities
Both tools come with an intuitive interface from which you'll receive an overview of your finances.

You can track bills and expenses with both tools and use this to claim money back from your taxes.

Both tools can generate tax-ready financial statements.

Both services integrate with Gusto Payroll.

Both services integrate with significant payment tools like Stripe, PayPal, and Square.
How Is Accounting Software Helpful When It Comes To Managing a Business?
Compared to $578.50 billion spent online in 2019, 2021 saw online spending increase to approximately $870.78 billion. To put it plainly, the increase in online business resulted in greater demand for better productivity and efficiency in all trade areas.
Online accountancy services present one such solution. Namely, because the right provider can help with tons of different business aspects, including:
The allocation of resources at your disposal; staffing, investments, and even time.

Decision making: High-quality accounting software provides simple facts for you to work from so that you can make the right decisions about how to best use your tools to maximize profits and growth.

Accounting software should deal with invoices and payments.

Reporting: All your financial data should be easily accessible from one place
With these considerations in mind, let's take a closer look at Bench and Xeo:
Bench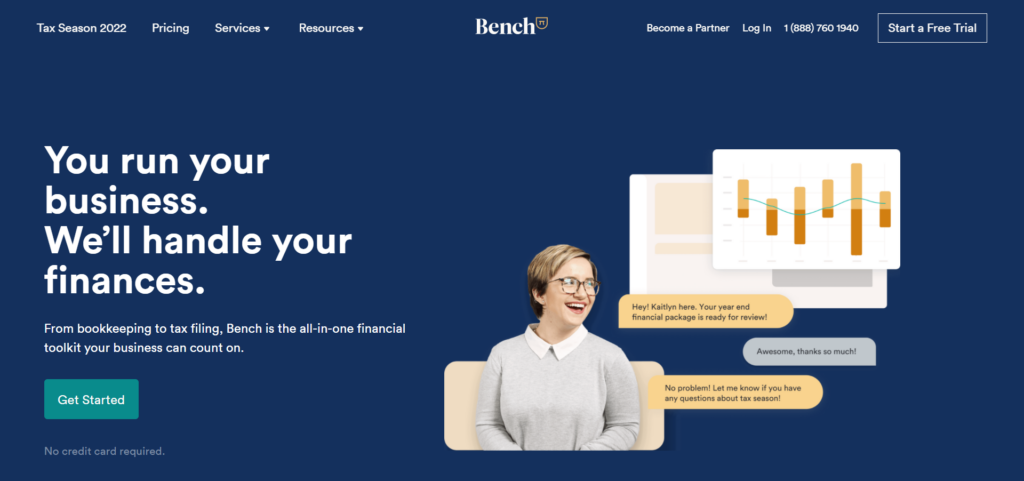 Bench describes itself as a tax resource hub. It focuses on supporting its clients through the tax year by ensuring their information, data, and listed exemptions are easily accessible. They launched in 2013 and now manage over 600 employees, having amassed over $113M in total funding.
Their team of experts offers various services, including tax advice, filing, and monthly bookkeeping. While many businesses can handle their own day-to-day accounting, Bench.co provides a unique solution for companies that may have previously run into finance-related issues.
For instance, they can help businesses with complex finances get their revenue and tax information in order. This is crucial for ensuring compliance. This includes help with digging up historical financial information needed to successfully complete tax forms.
In other words, Bench can be used as an emergency solution if you're buried in paperwork and don't know where to turn. Their services are featured extensively in reputable online publications, including Forbes, The Wall Street Journal, and the Entrepreneur.
Key Features/Services
Bench places expert accountants at your disposal. There are three key services on offer.
The first is Monthly Bookkeeping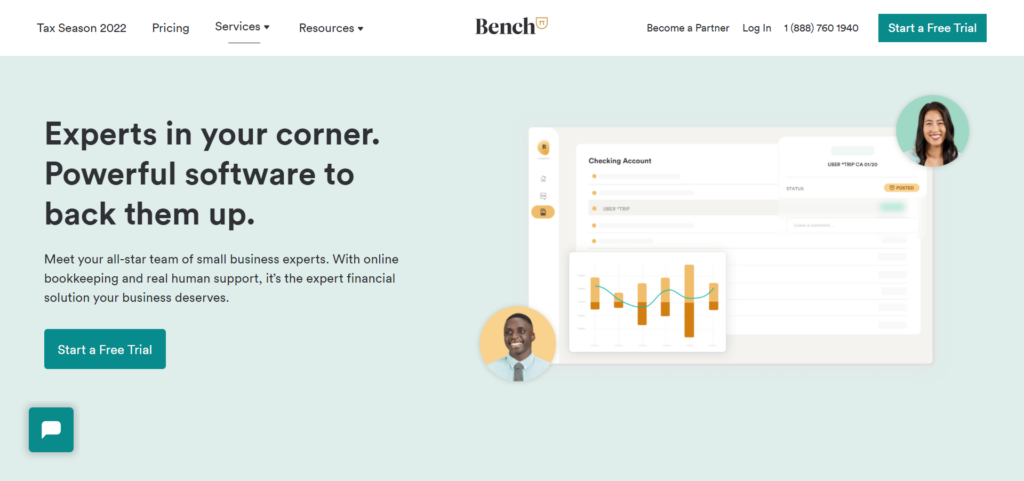 Bench provides powerful online software. This provides an overview of your business's finances, including your transactions, expenses, cash flow, etc. In addition, you can use this solution to easily record receipts and invoices. However, bookkeeping doesn't fall to you. Your dedicated Bench accountant organizes your business transactions and prepares a financial statement each month. They'll get in touch if they need anything from you.
Then at tax time, Bench will send you a package with everything you need to file. Alternatively, you can engage their help to handle all the filing.
Tax Advisory and Filing is the Second Service on Offer. This Consists Of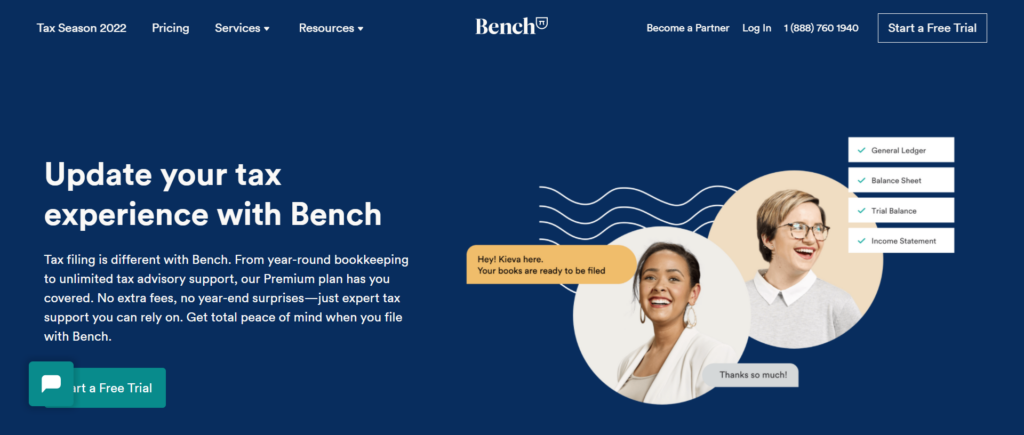 Tax preparation – Bench ensures all tax paperwork is in order and ready for filing by the necessary deadlines. They manually check over your documents and will request additional information from you if it's needed. Bench also offers advice and information about how and when to file your tax returns. You'll also benefit from checklists designed to help you keep on top of tax-related tasks, webinars on how the tax system works, and other written guides.
Tax Deadlines: Bench works to simplify the tax filing process. They maintain your monthly books to ensure that you're good to go when the time comes to submit them to the IRS. In addition, Bench informs you of impending tax deadlines via their dashboard and email notifications so that you never miss a thing.
And Finally, Bench offers Historic Bookkeeping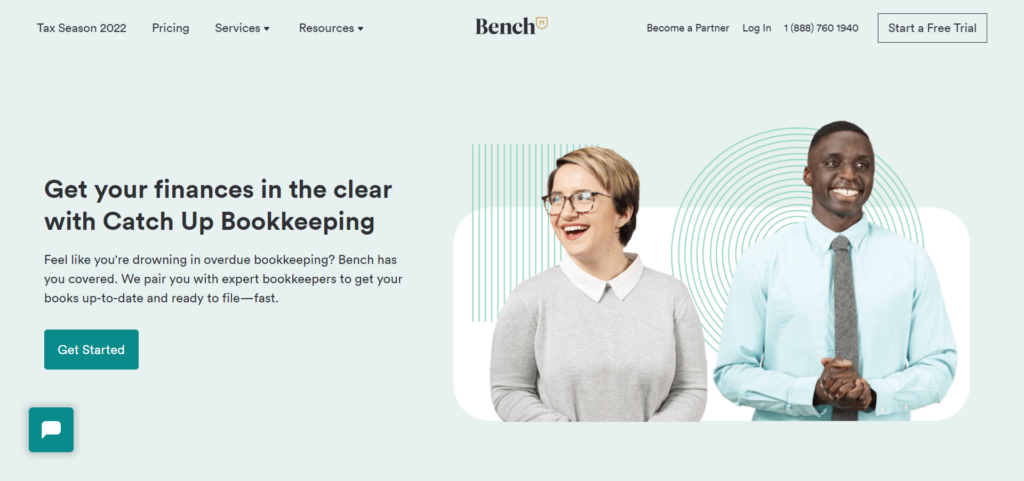 Catch-up bookkeeping is intended for businesses that have fallen behind on their books and face compliance issues when filing their taxes. Bench can tidy up your finances to generate tax-ready files if you're drowning in overdue paperwork.
They offer to complete months or even years of overdue bookkeeping fast. Their team can even recover missing documents and handle messy records. They can also send the supporting documents you need to apply for paycheck protection or an SBA disaster loan.
In short, if your business is on the brink of a financial emergency, Bench might be able to help you recover.
Suppose you're more than two years behind on your bookkeeping. In that case, Bench offers a service called BenchRetro – this is a premium catch-up service that provides you with expert help if you're far behind on your books.
Bench's Pros and Cons
First up, the pros:
Pros
Bench saves businesses tons of time

that would have otherwise been spent on tax-related tasks.

Access to professional accountants –

The professionalism of Bench employees is a huge benefit. As registered accountants, their work equals the same standard as brick-and-mortar accounting services.

You don't pay for bookkeeping errors –

Although Bench provides access to registered accountants, they're still only human. Therefore, every now and then, mistakes will be made. Bench won't charge you for their accountant's time or labor if you're impacted by such an error.

Access to an easy-to-use interface:

All of the information and data you need are displayed from one dashboard, which is clearly labeled, making navigation a breeze.

Get help when you desperately need it:

Bench can assist you in recovering your business from facing sanctions or bankruptcy by cleaning up your records and catching up on long-overdue bookkeeping. They can help you get vital business loans to keep your struggling business afloat.
Cons
It's not always an all-in-one solution –

for larger enterprises, a more comprehensive bookkeeping package is usually necessary, including ERP (Enterprise Resource Planning) or CRM (Customer Relationship Management) features. These aren't features that Bench offers.

It's more expensive –

As you're hiring actual accountants, the monthly pricing reflects the hourly salary of these experts.

Less independence –

If you're hoping to eventually manage your own finances, Bench won't prepare or provide you with the tools to do so.
Pricing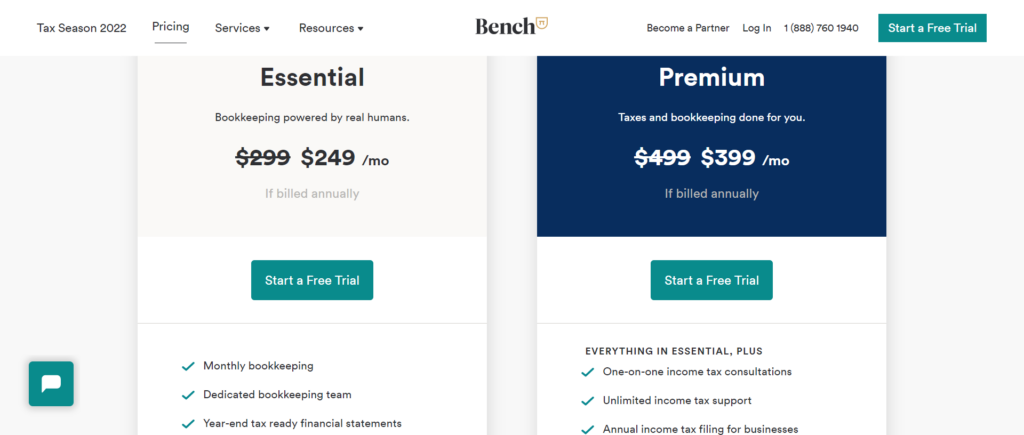 Bench offers a one-month free trial for prospective customers. After that, you can opt for one of the pricing packages below:
The Essential Package
This solution is available at $299 per month (billed monthly) or $249 per month billed annually.
This includes the following features:
Monthly bookkeeping that ensures your paperwork is up to date

Access to a dedicated bookkeeping team

End of year financial statements.

Direct and unlimited communication with accounting experts
The Premium Package
This package combines monthly bookkeeping and tax filing services in one. You get everything in the Essential package, as well as:
One-on-one income tax consultations

Annual income tax filing – your bookkeeping team files everything for you. This applies to both businesses and individuals.

Unlimited income tax support
Add-On Services
You can also add historical bookkeeping to any plan. This comes in handy when catching your books up is a priority. Again, you get access to a specialized team that can get your finances in order. This service starts at $299 per month.
Specialized bookkeeping is also available for businesses with more complex needs. For example, if you need to track accounts receivable, accounts payable, or if you need to segment your bookkeeping at a more granular level. Specialized bookkeeping is available for an additional $100 per month.
Customer Reviews
Before spending money on a new service, looking at the past experiences of previous customers is vital:
So, how does Bench stand up to scrutiny?
Out of 287 user reviews on GetApp, 96% of reviewers approve of the company. Recurring comments are as follows:
The accountants are great to work alongside and obviously love what they do.

The bookkeepers are really flexible and open to comments. If something isn't right, you just need to mention it, and it's rectified quickly.

The interface is super easy to use.
Xero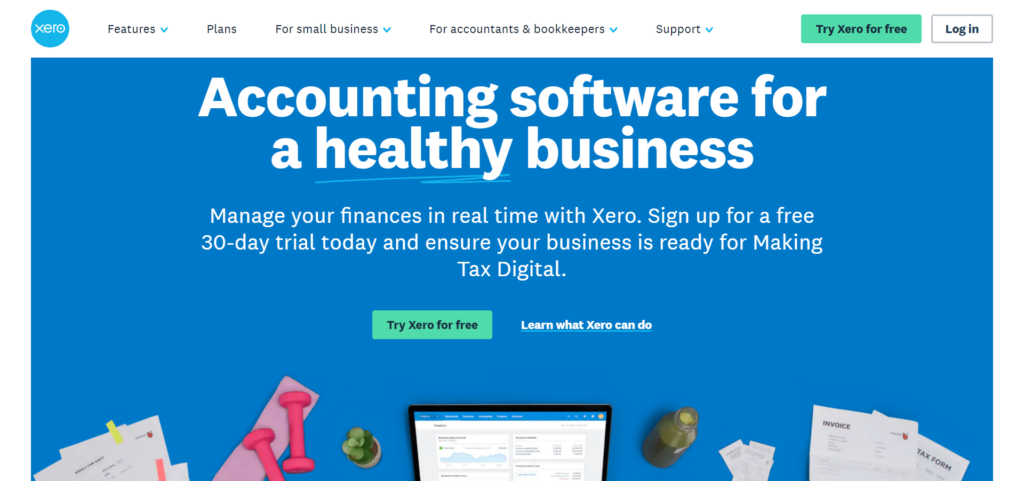 Unlike Bench, Xero puts the power to do your own accounting into your hands with its intuitive accounting software. This tool allows you to pay bills, claim expenses, and connect your bank accounts to track all your finances from one place.
Xero is a helpful accounting tool for sole traders and small businesses with in-house accountants and financial advisors.
You can access Xero anywhere on the go with its mobile app and benefit from an intuitive online interface. Since its founding in 2006, Xero has amassed over three million subscribers across 180 countries. So it's no wonder it's known globally as one of the top accounting tools.
Key Features/Services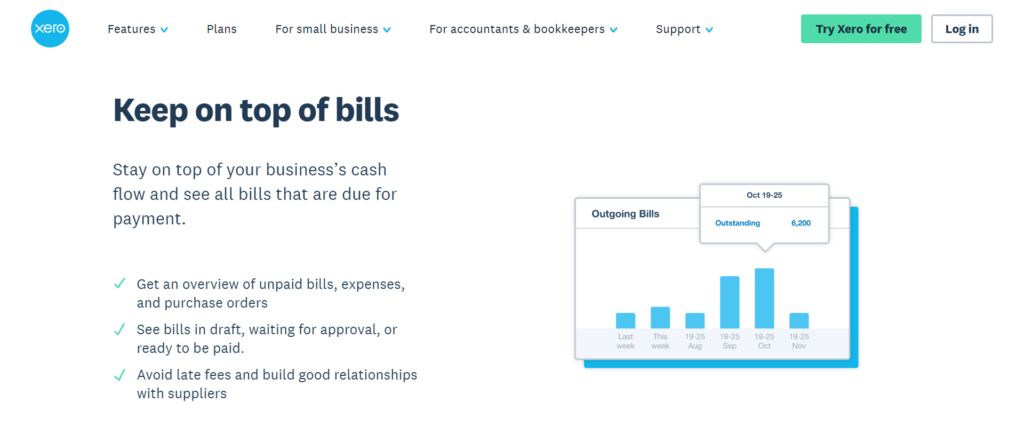 Bills management –

Xero helps you manage your outgoings efficiently with their bill-paying feature. This allows you to easily set up recurring bills that are automatically paid on time. So you'll never fall behind on your payments. Not to mention every bill is tracked, so you'll get a clear insight into your business expenses.

Expense claims –

This is a fantastic feature for sole traders and contractors – users can calculate their expenses to see what they can claim back. For instance, fuel, training, clothing, office costs, and materials.

Accepting payments –

Accepting customer payments is easy and quick using software partners like Stripe and GoCardless.

Bank connections –

US users can connect their Xero accounts with their banks to stay on top of their business transactions. You'll get a summary of the money coming in and going out of these accounts. You can categorize transactions and even import up to 12 months worth of historical data. There's no limit to how many accounts you can link. You can also get direct feeds from Stripe, Wise, and PayPal.

Monitoring projects –

You can keep on top of quotes, invoices, payments, and client notes for each project. This info is easily found on your dashboard.

Payroll –

Xero offers an HMRC-recognized payment system to quickly pay employees and subcontractors and track the associated tax, national insurance, and pension obligations.

Reporting –

Xero collates and reviews your data to generate streamlined reports. An online advisor is also available to walk you through these reports should you have any questions.

Inventory –

This tracks inventory, so that store owners are better positioned to approve customer orders and restock when needed.

Dashboard –

The dashboard is central to Xero's offering. From here, you can access all of Xero's features. Its interface is straightforward to use, allowing you to access most features with a single click.
Xero's Pros and Cons
Again, let's start with the pros:
Pros
When it comes to monitoring your income and outgoings, it's super-efficient.

Navigating the dashboard is a breeze; it's clearly signposted. All the information you need is just a few clicks away.

You can link multiple bank accounts to easily track all your finances from one place.

You can pay bills automatically

Xero offers a flexible range of pricing plans, which are affordable enough for small businesses and even sole traders.

Using Gusto, you can add a payroll service into the mix

Xero comes with a wide range of app integrations, so it should seamlessly complement your tech stack.
Cons
Customer support works using an automated system, which can sometimes be slow.

It could be argued that the pricing is too high for smaller businesses or sole traders to afford.

It's very much a 'what you see is what you get' system, so asking for special considerations is tricky for Xero.
Pricing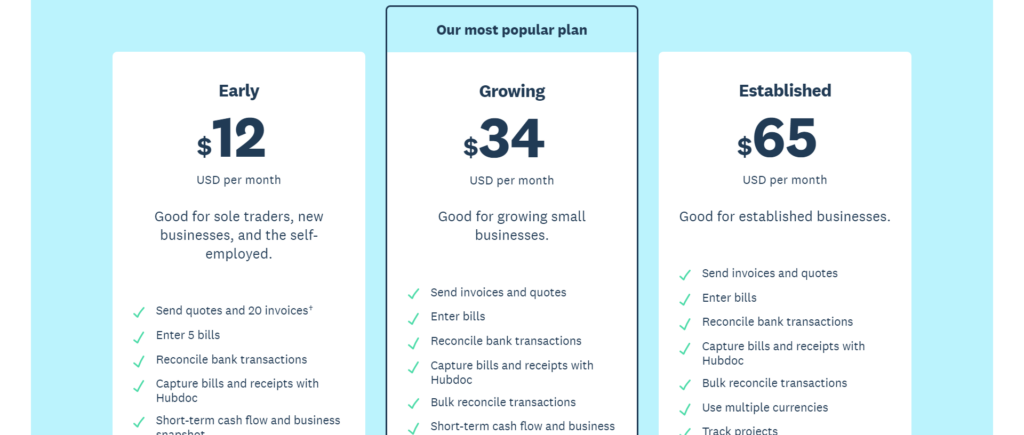 Xero has three pricing packages to choose from. First, however, it's important to note that it offers a one-month free trial.
Early Plan
This is priced at $12 a month and is recommended for sole traders, new businesses, and those who are self-employed. With this package, you can:
Send quotes and

up to 20 invoices per month

Set up five bills to be tracked and paid automatically each month

Reconcile bank transactions (one transaction at a time)

Submit VAT returns to HMRC

Capture and manage bills and receipts with Hubdoc

Automatic CIS calculations and reports
Growing Plan
For $34 per month, this package is recommended for growing businesses. You get everything in the Starter plan (the add-ons are the same, too), plus:
Send unlimited invoices and quotes

Set up unlimited bills

Reconcile transactions in bulk

Short-term cash flow and business snapshots

Multi-currency support
Established Package
For $65 per month, this package is recommended for established businesses of any size. Here you get everything in the previous two packages, plus:
More in-depth analytics

You can track projects

You can claim expenses

Multi-currency support
You can also add Payment with Gusto onto any plan for $39 per month plus $6 per month per person.
Customer Reviews
At the time of writing, on GetApp, 2,055 customers had reviewed Xero. Of these customers, 85% would recommend its use to others.
Recurring praises include;
Good value for money.

The features are extensive and super helpful.

It's effortless to use, and the interface is readily accessible to all users.
However:
Some users complain that customer support could be better and faster.
FAQs
Question: Does Bench work with Quickbooks?
Question: How long is Bench's free trial?
Answer: The Bench free trial includes one month of free bookkeeping and a complete platform tour. Then, once you understand how it all works, you're put forward onto a paid package.
Question: Is Xero suitable for the self-employed?
Answer: Xero is great for self-employed workers. Xero goes out of its way to minimize jargon and technical talk to make its platform understandable and accessible to all.
Question: How Popular is Xero?
Answer: Xero is used by over two million clients worldwide and is considered one of the leading accounting solutions alongside SAGE and Quickbooks.
Bench vs Xero: The Takeaway
So, after all that, where do we stand? In short, Bench is an excellent solution for those needing a more personalized service. The 1-1 accounting team dedicated to your case is fabulous for those looking for something more specialized. The excellent user reviews speak for themselves. However, there are a couple of downsides to consider, like the higher price and the margin for error.
On the other hand, Xero provides an automated, slick, and straightforward service. It's hugely popular, with over 2000 positive reviews from users. They're the cheaper option as almost everything is automated; however, this removes the personal touch some users want.
The real question, however, is, are they right for you? That's a question only you can answer. So tell us your thoughts in the comments box below!