Last Updated on April 22, 2023 by Ewen Finser
There are a large variety of eCommerce solutions, many of which are heavily advertised such as Wix, Weebly, and Squarespace. But what happens when you scale to an enterprise-level and need robust features that mainstream drag and drop online stores can't handle?
Enter AmeriCommerce. The enterprise-ready eCommerce platform offers multi-store management from a single dashboard and admin, multi-vendor marketplaces, and wholesale and B2B support.
When it's time to go all-in, the software you choose is even more important. I'll take you through the features, pros and cons, and even alternatives so you can make an informed choice for your successful eCommerce business.
What is AmeriCommerce?
AmeriCommerce is an all-in-one eCommerce software for multiple storefronts. Whether you have a small online business or sell in high volumes, AmeriCommerce is built to scale with you.
The platform is rich in features including CRM, payment gateways, discounts, abandoned cart, loyalty programs, inventory management, email marketing, and more.
AmeriCommerce History

AmeriCommerce was created in 2005 by 3 eCommerce web developers, Ed Sturrock, Charlie Cooper, and Stefan Barlow. By 2014, the platform was purchased by Capital One under the name Spark Pay.
However, the AmeriCommerce team rallied and it became its own business again by 2017. AmeriCommerce is currently a privately owned company based in Texas. It serves 5,000+ online businesses.
Pros
Multi-store capable on one dashboard
Wholesale and B2B
Marketing tools
Free, modern themes
Headless commerce to sell your products anywhere online
Multi-vendor marketplace
Reward points and reward tiers
Cons
No 24/7 support (only have support during business hours M-F)
No chat support
No in-person training
No mobile app
Traffic cap (overage fees)
Storage cap (overage fees)
Product cap
Transaction fees
Lack of payment gateways
System Requirements
AmeriCommerce is a cloud-based software. You can manage your online store with only an Internet connection and a web browser. With one mouse click, view a detailed dashboard filled with sales, marketing, and inventory reports.
Pricing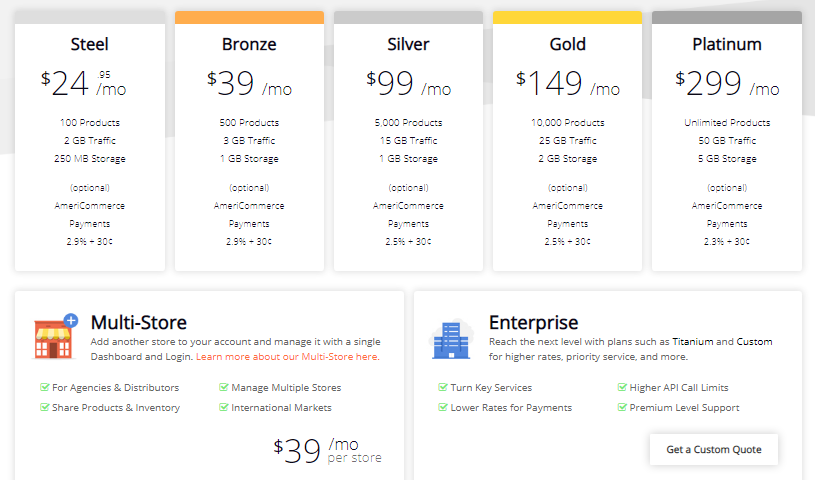 AmeriCommerce has a free 14-day trial available. No credit card is required to start the trial and all features are included so you can get a good understanding of what the software can provide for your online shop. There are currently 5 different tiered plans to choose from.
All plans include unlimited features, unlimited staff accounts, 100+ integrations, no transaction fees, no sales volume penalty, free shared SSL, multi-store options, REST API access, and free templates and themes.
Steel – $24.95 per month ($299.40 per year)
100 Products
2 GB Traffic
250 MB Storage
(optional)
AmeriCommerce Payments
2.9% + 30¢
Bronze – $39 per month ($468 per year)
500 Products
3 GB Traffic
1 GB Storage
(optional)
AmeriCommerce Payments
2.9% + 30¢
Silver – $99 per month ($995 per year)
5,000 Products
15 GB Traffic
1 GB Storage
(optional)
AmeriCommerce Payments
2.5% + 30¢
Gold – $149 per month ($1495 per year)
10,000 Products
25 GB Traffic
2 GB Storage
(optional)
AmeriCommerce Payments
2.5% + 30¢
Platinum – $299 per month ($3000 per year)
Unlimited Products
50 GB Traffic
5 GB Storage
(optional)
AmeriCommerce Payments
2.3% + 30¢
Multi-Store
Add a store for only $39 per month per store. You can manage all of your stores from a single dashboard.
Enterprise
Need a custom plan? Get priority service, lower rates for payments, higher API call limits, and more.
Features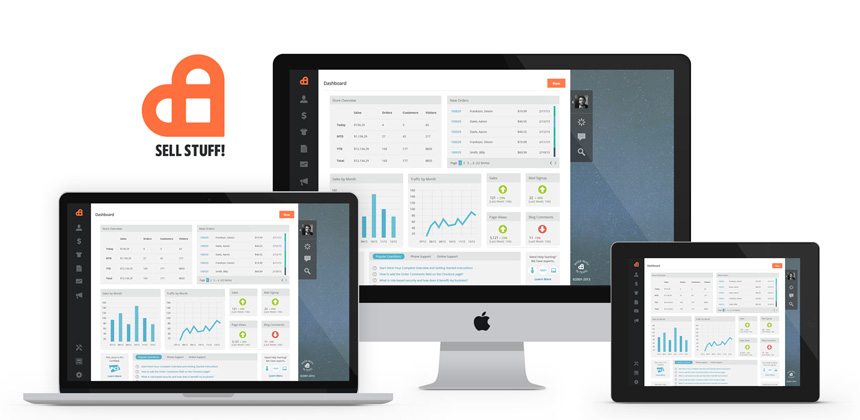 Wholesale and B2B
If you sell both wholesale and retail, AmeriCommerce can help you create custom customer types. When the customer logs in, different pricing models appear depending on whether they are retail or wholesale customers.
Automatic expiry dates for quotes, add discounts for VIPs, and custom and private comments. Expand product offerings by adding products that aren't in your main catalog but that can be purchased through the quote process.
Multi-Store
Run multiple stores all on a single dashboard and admin. Easily manage inventory, content, and customers too. Each store you add is only an additional $39 per month, so it's easy to scale your business one store at a time. Assign users to individual stores and separate or combine brands to create a seamless shopping experience.
Each online store can have its own set of rules including pricing, shipping, emails, discounts, and more. Plus, you can add the same products to multiple stores depending on your selling strategy.
Marketing Tools
Drip series email marketing features a series of emails that engages your customer base, informs them of new product launches, and promotes sales.
Use customer rewards and points to keep your fans coming back for more. They can purchase products with points, and earn points for doing the marketing for you.
Blog tools help you connect with your customer while creating a content calendar that will keep you consistent. Embed products in your blog posts to boost sales.
The abandoned cart feature keeps your customers from forgetting that they haven't completed their purchase. Automatic emails and special offers can increase sales without the heavy lifting.
Headless Commerce
In a world where everyone is on the go, why limit your eCommerce store to a single website? With headless commerce through AmeriCommerce, you can sell your products on your blog, social network, or marketplaces. Just copy and paste dynamic code to make any site, blog, or social media platform an immediate selling tool for your business.
Sync your inventory across multiple marketplaces including eBay, Amazon, Google, Facebook, Bing, Rakuten, and more. You can even sell directly from your WordPress blog.
Multi-Vendor Marketplaces
AmeriCommerce gives you the option to set up a multi-vendor marketplace. You can choose to set up a marketplace in one niche category or a variety of goods. Companies can be invited to your marketplace, have their profile, and online store.
Marketplace stores can be set up to have a unique URL on one domain or have their domain and theme. Each store is fully customizable, making it easy to expand your offerings. You will also enjoy powerful features like segmented product catalogs, custom discounts, unlimited users and vendors, and individual sales reports.
Reward Points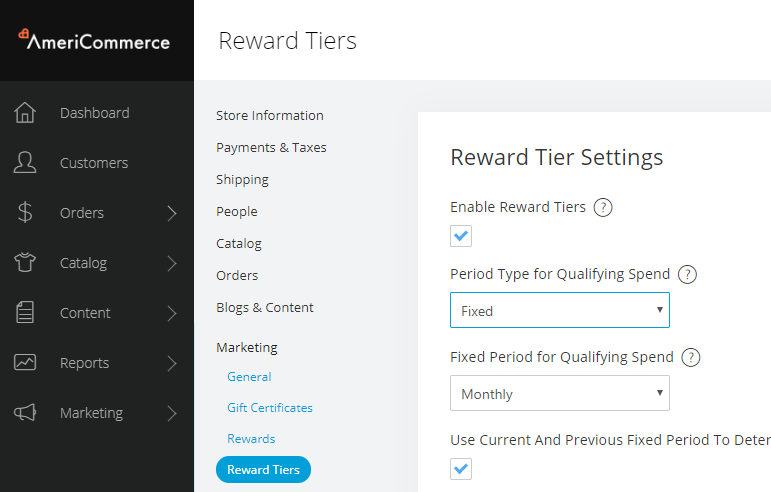 With AmeriCommerce you can provide your frequent purchasers with rewards to keep increasing sales without always seeking out new customers. Unlike simple reward points, the platform's system can create reward tiers to separate reward earners.
You can set up reward tier levels that have to be reached in a certain amount of time. For example, if a customer spends $1,000 in a calendar year they earn bronze level rewards. Reward tiers can be set up as a fixed period and a rolling period.
The software has 4 different types of built-in email triggers. You can send welcome emails, nearing tier emails, nearing disqualification emails, and tier reminder emails.
Services
AmeriCommerce offers the following services to its users. All services may incur additional costs.
Web and graphic design
Custom web development
Data and platform migration
Marketing services
E-commerce consulting
Customer Service
AmeriCommerce offers phone support via its 800 number (800-936-9006) during business hours (Monday through Friday 9 AM – 6 PM CST).
You can also search their extensive knowledge base to answer common questions regarding onboarding, product catalog, payments, taxes, shipping, themes, store operations, marketing tools, and integrations. You can even view status updates, make a feature request, API documentation, and more.
Security
As with any web software, you need to be vigilant about security. AmeriCommerce protects its customer information by 128bit SSL encryption backed by GeoTrust or Verisign. It stores customer information using military-grade AES encryptions. All web servers use enterprise-quality Cisco firewalls. For added protection, customer databases are separated from web servers by an additional Cisco firewall.
Alternatives
Shift4Shop (formerly 3dCart)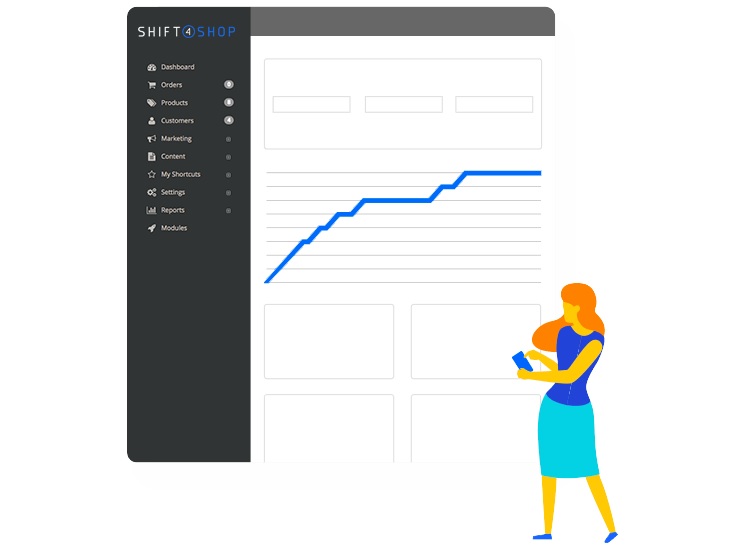 Shift4Shop was created in the late 1990s by Gonzalo Gil. Gonzalo customized shopping carts for eCommerce business owners and aimed to make Shift4Shop an all-in-one eCommerce solution. New features are being added even to this day.
Pros
Unlimited bandwidth
Unlimited storage space
24/7 customer service
Buy button widget
Integrates with Facebook, Amazon, eBay
No transaction fees
Premium free plan
Cons
Paid plans have revenue limits
Payment gateway issues
Pricing
When you choose Shift4Shop, you will have access to a premium $0 per month plan as long as you agree to use their payment processor, Shift4 Payments. Their in-house payment process comes with mixed reviews, so I recommend you do your research before diving in.
If you want to use a different payment processor, there are three plans available (custom plans available upon request). Each plan comes with unlimited products and no additional transaction fees.
End-to-End Ecommerce – $0 per month
Unlimited Staff Users
All the Features
No Limits
Powered by Shift4 Payments
Basic Store – $29 per month
2 Staff Users
No additional transaction fees
Unlimited Products
Plus Store – $79 per month
5 Staff Users
No additional transaction fees
Unlimited Products
Pro Store – $229 per month
15 Staff Users
No additional transaction fees
Unlimited Products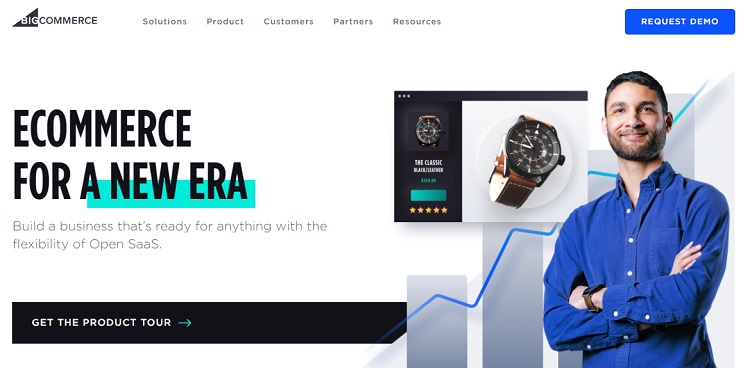 In 2020, BigCommerce won awards for top 20 website builder software and top 20 eCommerce software. The SaaS platform (aka a monthly fee product) provides a hosted eCommerce solution which means it runs on its servers.
This alleviates the need to buy your web hosting or install any software to use. BigCommerce allows you to sell both physical and digital products.
Pros
Cloud, desktop, and mobile options
24/7 customer service
Live chat
Digital product support
Unlimited products
Drag and drop builder
Unlimited staff accounts
Up to 250 product variants
POS
Cons
Limits on annual sales by tier plan
A small selection of free themes
Manual category entry
Pricing
All BigCommerce plans include no additional transaction fees and unlimited products, file storage, bandwidth, and staff accounts.
Standard $29.95 per month, Plus $79.95 per month, Pro $299.95 per month, and Enterprise (contact for pricing).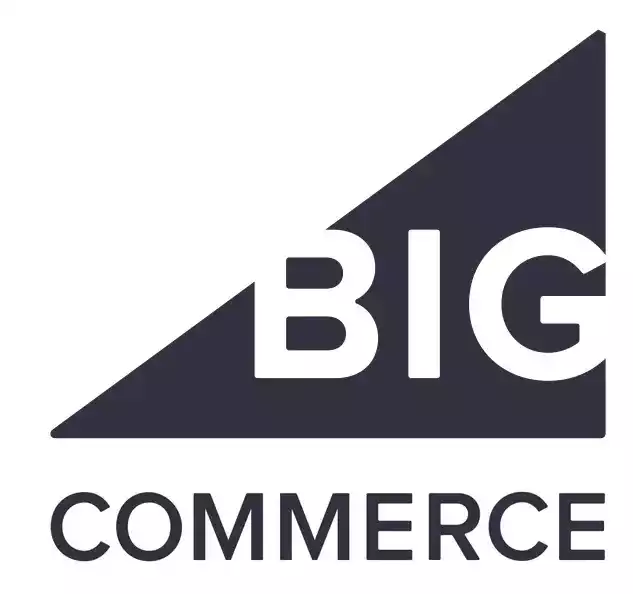 Why do I prefer BigCommerce?
Seamlessly list, optimize, advertise, sell and fulfill products across 100+ channels. All the capabilities of enterprise ecommerce—without the cost or complexity.
Request your Demo
We earn a commission if you click this link and make a purchase at no additional cost to you.
Miva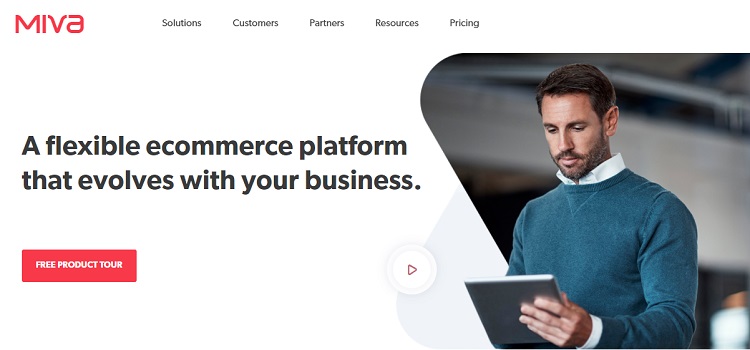 Miva was created in 1997 and since its founding has helped launch over 500,000 online stores. From small businesses to enterprises, Miva offers advanced features, personalization, and attentive customer support.
The platform offers a free 30-day trial, however, credit card information is necessary to start the trial. Sign up for a developer account to see a store demo without the commitment.
Pros
Easy to scale
Advanced features
Physical and digital products
Wish lists for shopping cart
Upsell and cross-sell
Cons
Limited users
Learning curve
Plans are pricey and based on your annual revenue
Bandwidth and storage overages
Pricing
Starter for Merchants with Annual Revenue $0 — $99,999.99
$79.95 per month
2GB online storage
20GB bandwidth
2 Admin seats
1-year free Rapid SSL ($49 after the first year)
1-year free domain
Unlimited products
Business for Merchants with Annual Revenue $100k — $499,999.99
$249.95 per month
5GB online storage
100GB bandwidth
3 Admin seats
1-year free GeoTrustSSL Premium ($149 after the first year)
1-year free domain
Professional for Merchants with Annual Revenue $500k — $999,999.99
$749.95 per month
10GB online storage
250GB bandwidth
5 Admin seats
1-year free GeoTrustSSL TrueBusiness ($199/yr after the first year)
1-year free domain
Custom dedicated environment
VIP tech support
Service Level Agreement
Enterprise for Merchants with Annual Revenue $1 Million+
$1,495 per month
20GB online storage
1,000GB bandwidth
10 Admin seats
GeoTrust TrueBusiness EV SSL ($199/yr after the first year)
1-year free domain
Dedicated environment
VIP tech support
VIP Account Manager
Service Level Agreement
Shopify Plus

Shopify Plus is a fully customizable, automated eCommerce store that can scale to the enterprise level. It is a fully hosted SaaS eCommerce solution. Since it is self-hosted, it is constantly monitored for fraud and downtime and upgraded frequently to maximize the customer experience.
Pros
SEO optimized
Fully customizable
Unlimited bandwidth
Manage up to 10 stores at once
Complex scripts (free shipping, gift, etc.)
Wholesale
1,500 third-party apps
24/7 priority support from a dedicated account manager
Cons
The hosted platform requires you to lock in your store
Content management could be improved
Pricing
The Shopify Plus plan starts at $2,000 a month for standard setups and integrations. If you have complex needs or higher business volume, the platform has a variable fee structure.
Migration to Shopify Plus from another platform is your responsibility and can incur additional fees when an outside source is used. Other costs include premium theme purchases, third-party app, and tax automation software (approximately $250 per month).
FAQs
Question: What is my AmeriCommerce site version?
Question: How much traffic can my AmeriCommerce online store handle?
Answer: AmeriCommerce is extremely versatile. It can handle 100 to 100,000 visitors per day. Depending on your needs, the platform will add dedicated servers to meet the necessary volume.
Question: Why aren't my products showing up?
Answer: If you can't see your products, there are two possible reasons. The product, category, or active catalog could be hidden, or the product could be inactivated by Customer Types.
If you are only missing a couple of products, the product is likely hidden. You can check to see if your product is hidden by clicking on Catalog on the left side of the page, then choose Products.
Edit any product that is not showing up and then make sure "Hide Product" is not checked. You can also check your catalog categories if an entire category is hidden.
For products that are inactivated by customer types, simply go to Catalog > Products > Edit Product > Stores.
Question: Who owns my AmeriCommerce online store and data?
Answer: You own your AmeriCommerce online store and data. This includes web design, product photos, graphics, video, text, and customer data. All software components including stock designs, copy, servers, and technology remain AmeriCommerce's property.
Question: Who owns my AmeriCommerce online store and data?
Answer: You own your AmeriCommerce online store and data. This includes web design, product photos, graphics, video, text, and customer data. All software components including stock designs, copy, servers, and technology remain AmeriCommerce's property.
Question: What payment gateways does AmeriCommerce support?
Answer: AmeriCommerce prefers PayPal as a payment gateway but does accept other integrations. Please note each store is allowed 1 active Payment Gateway; that does not include Paypal Express Checkout and alternative methods such as PO and custom methods.
Question: How do I set up free shipping?
Answer: To give your customers the option of free shipping, you will need to set up a custom shipping method (Settings > Shipping > Custom Shipping Methods). Click New to create a new custom shipping method. You can name the custom shipping method, and give it a description. To use the new method, check Active.
Question: What integrations can I use with AmeriCommerce?
Answer: AmeriCommerce has several integrations including Affirm, Bing Shopping, Shipping Easy, Facebook Apps, Shopzilla, PayPal, ShipStation, TaxCloud, QuickBooks, MailChimp, Zapier, Stripe, and more.
Final Thoughts About AmeriCommerce
Running a large business online can take a variety of software. To decrease costs and frustration, you can minimize the software you need by choosing all-in-one solutions. AmeriCommerce is best suited for enterprises that are interested in multiple modes of selling including multiple stores, wholesale, B2B, and managing marketplaces.
The platform has marketing tools, sufficient themes and integrations, and an inclusive dashboard to run multiple businesses or storefronts with ease.
The downside of AmeriCommerce is its lack of support. Users only receive support during business hours so it is risky when eCommerce businesses need to up and running 24/7.
Plus, the software has traffic, storage, and product caps with overage fees for most of its plans. This is a disadvantage compared to competitors with unlimited traffic and storage capabilities.
I would recommend AmeriCommerce for business owners who appreciate a single dashboard and log-in and are seeking to take their business to the next level using wholesale and building a marketplace for other vendors.