Last Updated on June 1, 2023 by Ewen Finser
Read on for the 7 best alternatives to Animoto. Find the best photo and video slideshows software you can use fast and easy—even if you are new to video editing and slideshow video makers.
Top Animoto Alternatives – TL;DR
My top option here is the versatile, affordable and cloud-based WeVideo platform here. If you need something more advanced, check out Filmora9 here.
Editor's Choice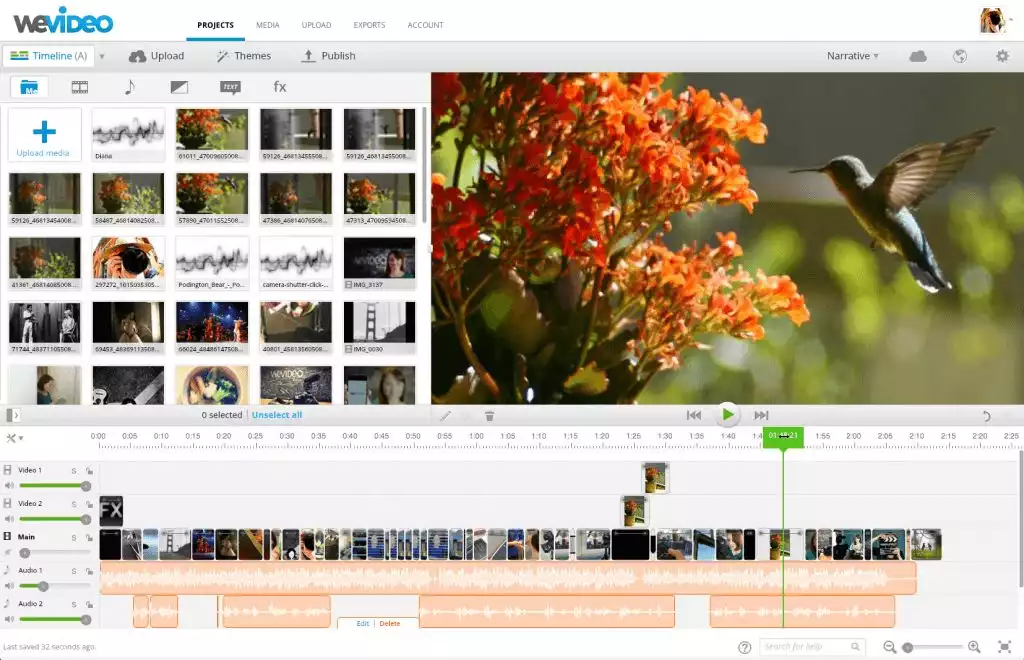 At this juncture in web history, if the content is king then video content is the kingmaker. Creating quality videos that reverberate with spunk can help you increase your engagement level. That applies equally well whether you are an Instagram sensation-to-be or are a small business looking to create marketing videos and video slideshares that rock and drive traffic home.
And that's where the best slideshow video makers, the top-notch Animoto alternatives, come out to play—despite Stupeflix Studio closing down in June 2019 after an 8-year run as a top Animoto alternative. Perhaps you are not looking for a technical video editing tool to trim long-form videos. So, that eliminates the top video editing software suites like Adobe Premiere and Final Cut Pro.
You probably do not need the advanced video slideshow features because you want to create slideshows, clips, and animations that are fun as they are business-friendly for your social media channels.
Still, default Microsoft PowerPoint animations (PowerPoint presentations) leave a lot to be desired. Something in between seems right.
Animoto Video Slideshow Maker has been a great option so far for creating videos. With Animoto, you can create high-quality videos from photos, clips, and everything in-between. It creates fast and faithfully too. Animoto for business has a decent selection of themed backgrounds for a holiday or seasonal events, or promotions (video ad), for example.
You can capture an event in stills and motion graphics, patch them up, inject a dash of text, color, logos, music, and whatever you want to create custom videos that speak your language and engage your audience.
Then you can easily share the short-form videos on social media to drive more engagement and help you blossom your tribe (social media marketing).
But Animoto (both free Aminoto and Animoto Pro) is not perfect. Maybe you are not particularly excited whenever you have to shell out the $8/month fee for what you get—like the missing video clip library. Much as the platform has outdone itself to adapt to changing needs, there are a bunch of slideshow video editors out there bringing the heat.
And here a couple of Animoto alternatives you can count with both hands and count on to create and edit slides and video presentations for your personal, business, and creative pleasure.
You'll find WeVideo ultra-fulfilling if you do not need A.I technology help to decide how your videos should look.
Editor's Choice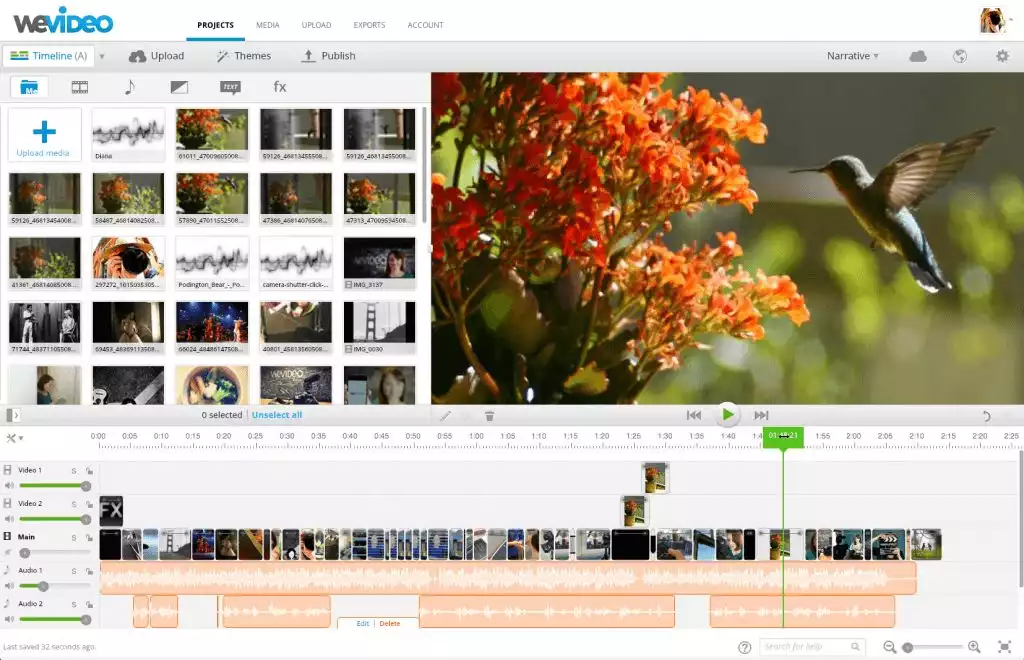 That's because WeVideo packs a slew of features and controls you'll probably know yourself out figuring out—yet once you've cornered the slight learning curve, you'll appreciate the extensive, 600-item strong green screen, music tracks, images, photos, graphics and video formats therein.
There are literally thousands of clips, images and special effects to choose from so you'll no longer be stuck with stock photos again. Plus, you can edit 4K videos using WeVideo—a plus for both amateur and professional video editors looking to create high-quality motion pictures for personal or business uses.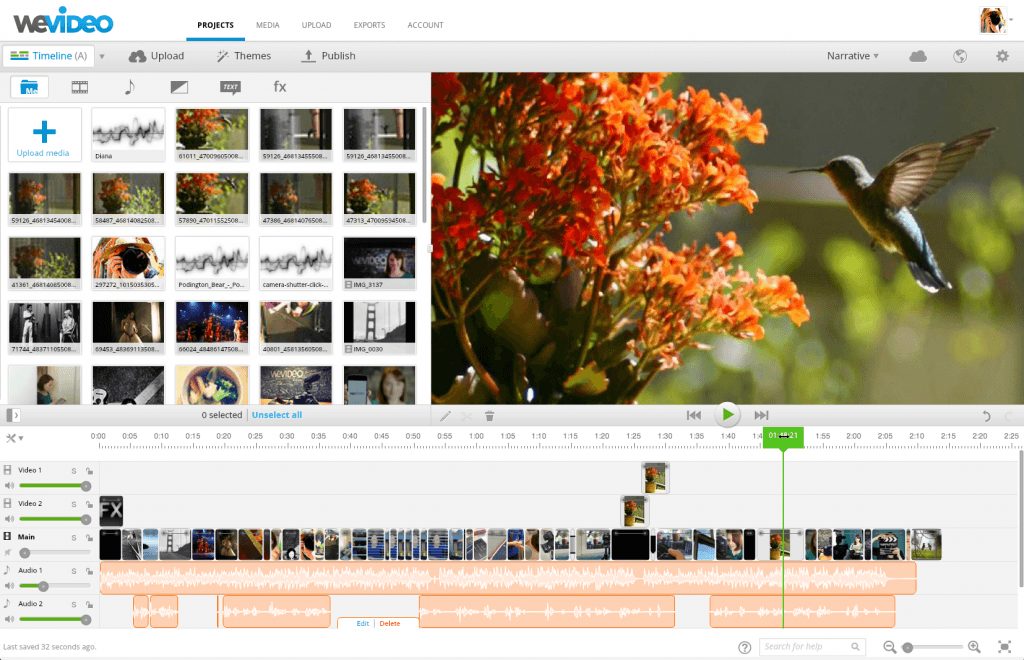 The online video editor lets you edit your videos from anywhere; do it on your Mac, PC, Chromebook, or IOS and Android devices at any time you please.
And you do not have to leave the app to capture, view, and share photos and videos. WeVideo is also a cloud-based platform and you can back up your visuals in the cloud when you choose one of WeVideo's plans.
Check out the Latest WeVideo Pricing and Promos
Further Read: WeVideo vs iMovie Video Editor.
This online video editor is excellent if you want a more advanced online video editing tool and not just a basic alternative to Animoto and its slideshow video editing features.
Wondershare's tool is a modern piece of software you can use to drag and drop motion graphics into your video—with a ton of handy and modern features to perfect your videos for personal and business use.
Unlike Magisto, with Filmora video you can add text to your slideshows and full-on videos. Plus, you can add titles to them. In fact, it avails a good selection of openers and lower thirds to start out your plays in style. Like Animoto, you'll be in charge of deciding which filters and graphics overlays to use to strike just the right balance—if you'd rather not have A.I do it on your behalf.
The Filmora9 Video Editor will help you edit 4K videos and GIFs, as well as add up to 10 music tracks and 5 text layers.
Expect to tinker with camera shake video effects, reverse controls, panning, and zooming, as well as color tuning. You can also remove noise, import social media content photos directly into the application, and preview your square or portrait videos frame by frame.
If you are not green at this, go ahead and use Filmora's premium video editing software features. Those include audio mixing, separation or equalization, screen splitting, video stabilization, screen recording and picture in picture layering.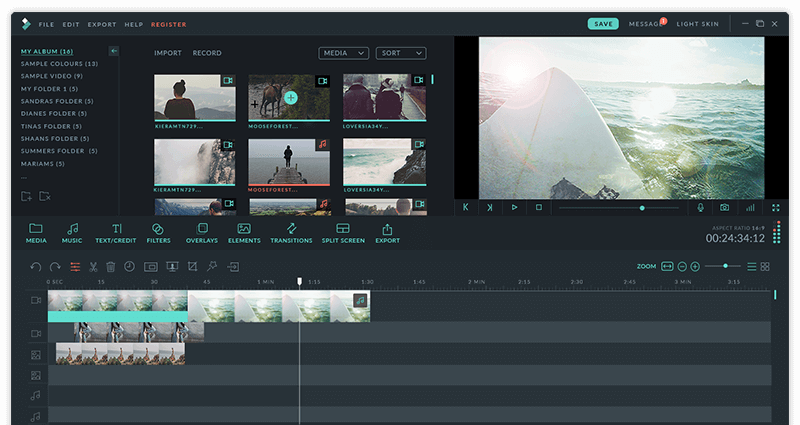 Despite the advanced online video editing tools, the Filmora Video Editor is easy to use—more like intuitive since it feels like editing videos and photos on Instagram (Instagram stories) so it will be familiar for many people in business or not.
If Animoto pricing felt unwarranted, then Filmora9 is a top Animoto alternative for every dime you shell out. But you can download it to your Mac, Windows, Android, or IOS gadget to take advantage of Filmora's free trial.
Further Reading: Best Filmora Alternatives to Try.
Moovly makes it to the table of the best Animoto alternatives for several reasons. Yes, Moovly does more than animate. First, you may use it overlay footage with custom graphics and animation—a unique benefit of video editing in Moovly.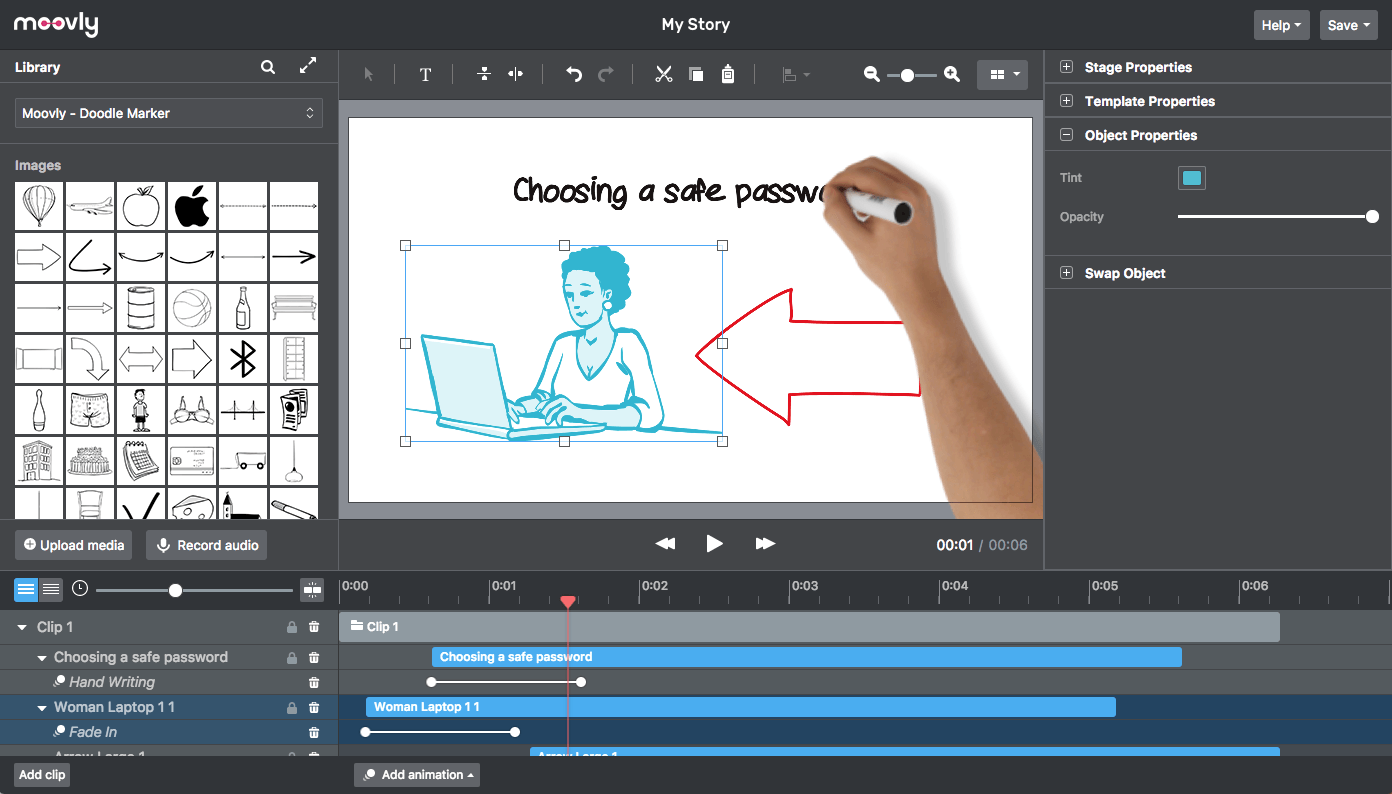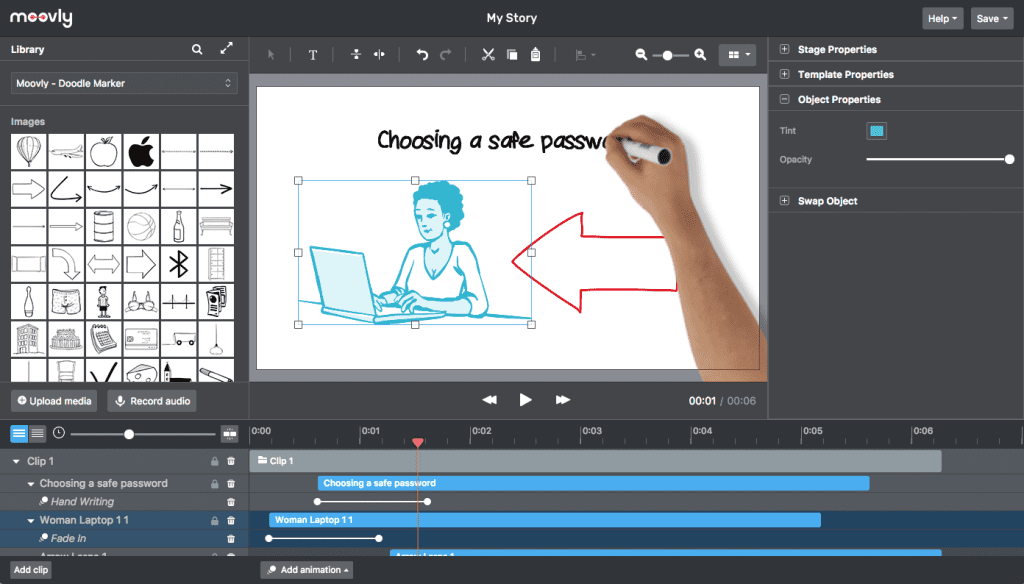 Second, you'll be able to create different videos for different purposes. It may be for business or personal use. Whichever one brings to it, Moovly is likely to handle it since it has the technical framework to work it just fine.
Picture this. You can use Moovly to create YouTube intros, banners, presentations, ads, whiteboard animation, and explainer videos. A popular Moovly feature is its animated video creation capacity and tools. So if you've considered adding video animation to your video marketing, vlogging, and social media posting zing, you'll be futureproofed with Moovly.
To emphasize its modernity, its online video editor supports drag & drop functions. You can also integrate Shutterstock to it to access over 750,000 royalty-free photos, clips, and sounds. That way, you can create original creations you are confident to share on social networks, with clients, colleagues, and anywhere else as well.
Like Animoto, you can choose from a variety of over 175 million video templates or create your own works from scratch. If you need it (and are close to them), Moovly Studio provides on-site training. And like Magisto, you can switch to Moovly Video Automator to let technology do its thing and boost your productivity without lifting a finger.
Sound like the best Animoto alternative out there?
You can find out more by taking up the 30-day trial and test if it is for you
4.

Biteable
This web-based video editing software is similar to Animoto in many ways.
For example, like Animoto, you can use Biteable to create striking explainer, ad, and social media videos for social media platforms. Except for one thing… Biteable is loaded. It provides a huge selection of video categories and editing capabilities.
For example, you can switch to business, intro & outro maker, Instagram, and animated videos. Biteable strikes the balance between automation and full engagement by letting users choose between picking a ready-made scene, video template or create one yourself.

Like Animoto, you can upload original compositions, YouTube verified tracks, grab a fitting tune from their online library to mix suitable audio to your personal movies or business videos. Unlike Animoto, though, you can use the presentation tool in your Biteable creations to add power and zing into your already unique motion graphics.
And once you are done with the online editing session, you can share your creation with the rest of the world via Twitter, Facebook, and YouTube videos. You can relax because the songs you find here will not cause you any embarrassment on YouTube from a ton of video ads like Animoto does.
Biteable is particularly resourceful for meticulous yet busy marketers wanting to engage and entertain as they watch leads culminate in conversions.
However, the tool is a web-only affair. No Biteable mobile apps mean you can't get the video editing done on the road—but you probably don't want to do that…safety first.
Like the other freemium video editing software here, you'll get a free Biteable account which you can use to get a feel of the platform before deciding whether to invest your money in it. The free plan gives you the ability to share videos to YouTube and Facebook, 1 GB of online storage, and HD TV quality videos, as well as lets you create up to 5 video projects per month.
Biteable Premium affords you the creative freedom to upload your own footage, download creations, access to over 85,000 stock footage clips, privacy control, and power to dismount Biteable's watermark on your videos, on top of the other free plan offers.
5. iMovie
There is the iMovie App for IOS devices and then there is iMovie for Mac. As you might have concluded, both are best suited to video editors using Apple products.
But here's why both made it to the top of this Animoto alternatives review as editing software:
iMovie for Mac is particularly beginner-friendly. Yet, it packs a bunch of cool editing tools that can get even veteran video editors animated. You can practically produce cinema-quality movies, trailers, and slideshows.
Want to edit on the move?
You can even shoot 4K quality videos with your iPhone or iPad, start editing on the mobile device, only to get home to finish the work on your Mac. Like Animoto, you can also add effects, favorite music, and text.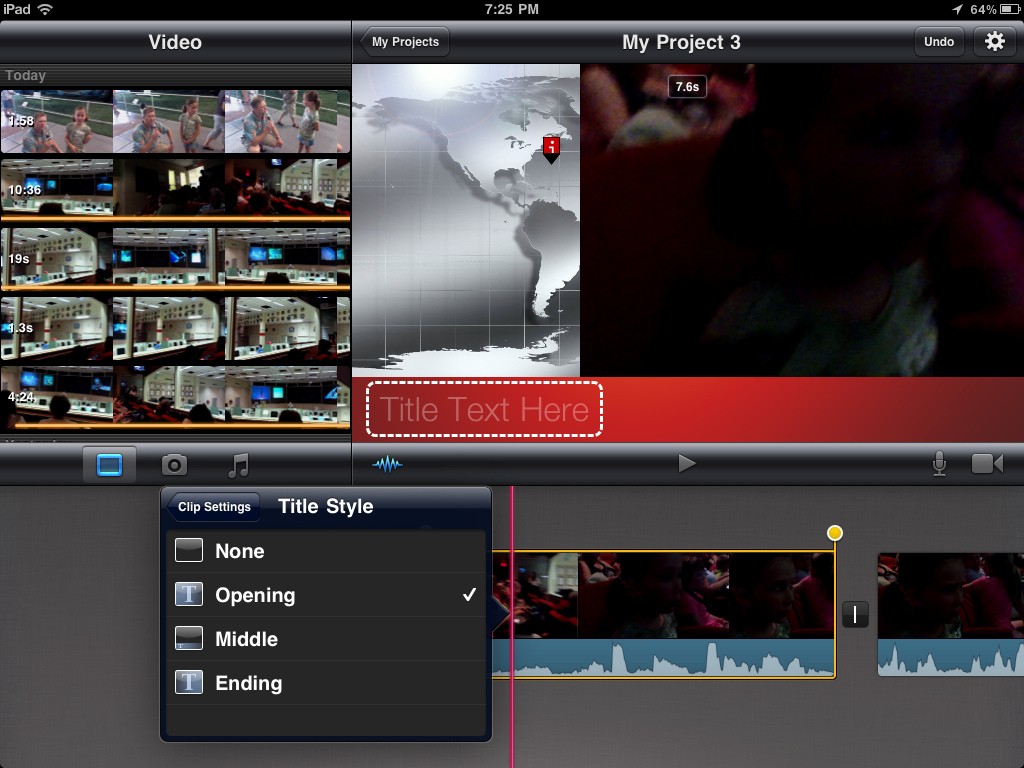 Unlike Animoto and Magisto, though, iMovie for MacOS (OSX 10.10.2) will help you create animated text titles and even credits—for those Hollywood-style results.
You can also spank classic flair or futuristic zing into the videos with up to 10 high-fidelity effects, sound effects and even voice-overs available.
Apple buffs can switch the action from the iPhone to the iPad to MacBook Pro to the Mac's iMovie Theater and on to Apple TV and back—seamlessly and endlessly sexy. All you need do is grab it from the Apple Store.
Magisto video editor is a fully automated video editing app. It uses the power of A.I technology to splice your photos, clips, and music together, inject a dose of effects before letting you show out on social media or another platform.
You get to choose the music you feel best suits the mood of the video and the automated video editor will add the effects without much input from you—so Magisto is a great option if handling the technical bits of video editing is not your most gracious skill.
Magisto allows both business and personal video creators to use its platform.
In either case, creating slideshow videos is as easy as posting on Instagram. Simply take out your phone, fire up the Magisto mobile app (available for both Android, IOS), and shoot away. You can then release your genius directly in the app or upload the captures to the web editor for even better panoramic takes.
Or, you can choose a photo from your camera roll.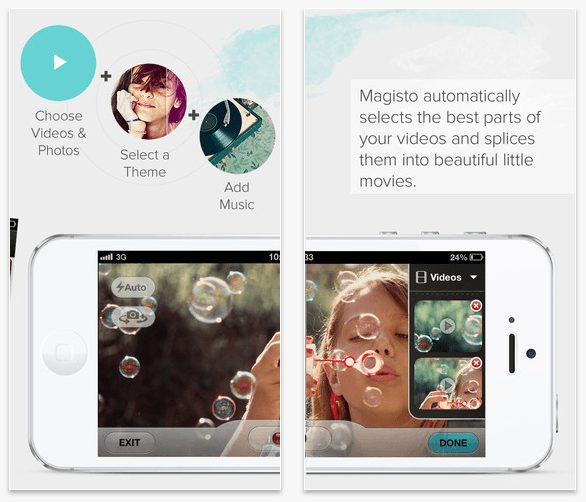 You are free to choose your favorite theme/style within the app's selection. And you can upload your own soundtracks or tap some from the generously stocked Magisto Library of licensed songs.
Magisto users enjoy creating longer videos than Animoto allows. Free plan users can add up to 10 photos and videos to play out to 1 minute and 15 seconds while Animoto limits users to 30 seconds. Magisto Premium users can add up to 30 photos and videos to create longer videos.
However, Magisto will not let you edit text into your video which Animoto allows. But you can share your creations on Facebook, Twitter, Instagram, email, and YouTube. Pay to download and save it on your favorite drive.
Further Reading:
7. Blender
Blender is one large blender of all things graphics. If you prefer more than a stand-alone slideshow video editor, you can use Blender for a slew of editing tasks. Expect modeling, gaming, video animation, simulation, rendering, VFX, and scripting functionalities on top of the video editing tool.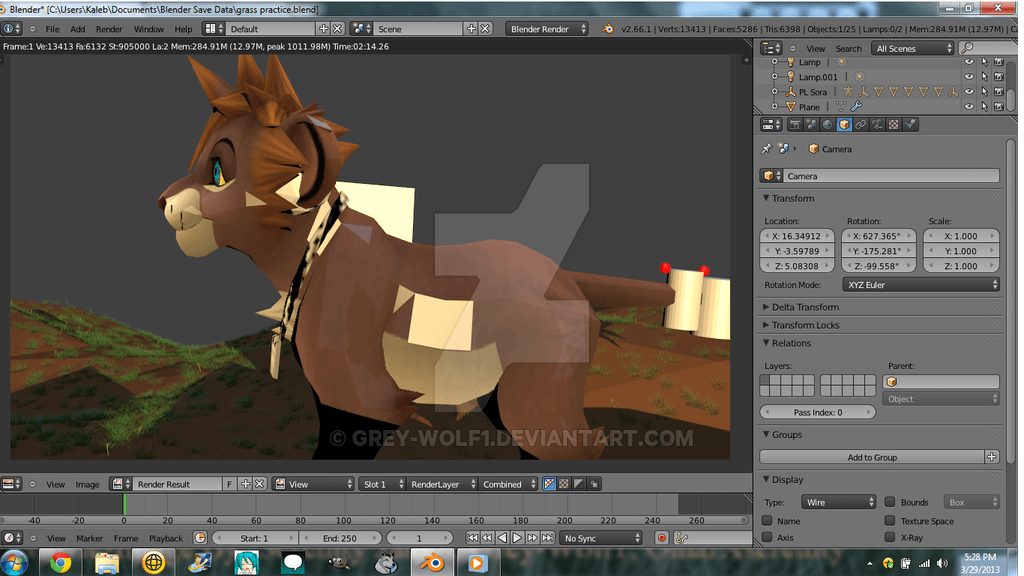 The video editor is built-in.
You can use it to catch previews, make video cuts, and master your splicing skills while you are at it. The tool comes with 32 slots for adding images, scenes, audio, effects, and footage clips. Be sure to incorporate those with the tool's transitions, filters, and effects for even grander results.
To help you do more than the basics, Blender's video editor comes with luma waveform and visualization, histogram displays, keyframes, layer adjustment, and speed control capabilities built-in as well.
You are also free to do audio mixes, scrubbing and synching. And if any of the nuts and bolts makes you feel stuck along the way, you can fire up Blender's tutorials to know what to do next to not only get unstuck but also make videos you like and can use with confidence.
Other Honorable Mentions
Adobe Premier Pro: Higher end, but higher production quality (and steeper learning curve)
Final Cut Pro: Similar to Premier Pro, but best for Mac users.
Screenflow: Best for editing screen recordings (general business applications.
Lumen5: If you like the "AI" smart video creation in Animoto, Lumen5 automates even more of the process (but arguably gives you less control for editing). Ideal for content creation teams to port written blogs (blog posts) to video formats.
What is the best Animoto alternative, then?
Software
Features
Pros
Cons
Price
Filmora Video Editor
•Audio mixing
•Equalization
•Screen splitting
•Video stabilization •Screen recording •Picture in picture layering.
• It is easy to apply filters and effects
• Offers advanced video features
• It is easy to add new effects from the online store
• It trims and edits quickly
• The free version has a watermark
• The timeline can look messy
• 1 Year Plan – $39.99/anually
• Lifetime Plan – $59.99 (one-time fee)
• Unlimited Plan – $99.87/anually
WeVideo
• Cloud based platforms with tons of videos, audios, music, photos, etc to choose from!
• It has advanced editing features with a simple interface
• Easy to use even for first time users
• There is a vast selection of effects and audio assets
• The free version supports only 5 minute videos
• Some features need improvement
• When you add text to the video, it might look low quality
• Power Plan – $4.99/m
• Unlimited Plan – $7.99/m
• Professional Plan – $17.99
• Business Plan – $22.99
iMovie
• Easily add text and background music
• Create animated text titles and credits
• 10 high-fidelity effects, sound effects and even voice-overs available.
• You can use it on several interfaces
• Drag and drop option
• You can work at multiple projects at once
• Exporting the videos can be slow
• Only available for Apple devices
• Lacks advanced video options
• Free
Biteable
• Doesn't have tons of ads like Animoto
• Access to over 85,000 stock footage clips
• Works with already designed templates
• Licensed custom made tracks for every video
• Drag and Drop Function
• Has themes and color schemes
• Free version has a watermark
• You can't change the text style when you choose a template
• Annual Plan is expensive
• Free Plan
• Annual Plan – $276
Moovly
• It offers media library from Shutterstock or Storublocks
• On-site training
• Drag and Drop option
• Free version has great tools
• Available for Apple and Android
• Customer support is not responsive
• Not enough instructions.
• Free Plan – $0
• Pro Yearly Plan – $24.92/m
• Enterprise Plan – custom price
Magisto
• Automatically edits videos by splicing your photos or photos together with music and adding other effects
• Save time with ready to use templates
• You don't need to be a professional to use it
• Limited Free Plan
• It does not allow video editing
• You might not like the automatic order of the photos
• Premium Plan – $4.99/m with annual plan
• Professional Plan – $9.99/m with annual plan
• Business Plan – $34.99/m with annual plan
Blender
• Make pictures, videos and games
• Modeling, gaming, video animation, simulation, rendering, VFX, and scripting functionalities
• Create games without coding
• Creates powerful 3D scenes
• Useful tutorials
• Constantly updated
• Free
• 3D cursor might be too much for some
• There are duplicate buttons on the screen
• It bugs when working on heavy projects
• No support
• Free
Best Alternatives to Animoto: Conclusion
The best slideshare video maker for you is the one that best serves your needs. While some of the online video editing software discussed here are simple to use, practical and affordable, you may find they do not fulfill your editing needs.
On the other hand, some of them are much advanced and could take time to learn for new users. And you may not have that time.
The good thing is there are seven of the best Animoto alternatives around, so you are likely to find a blend of benefits in one of them that catch your breath and your audiences' too.
Editor's Choice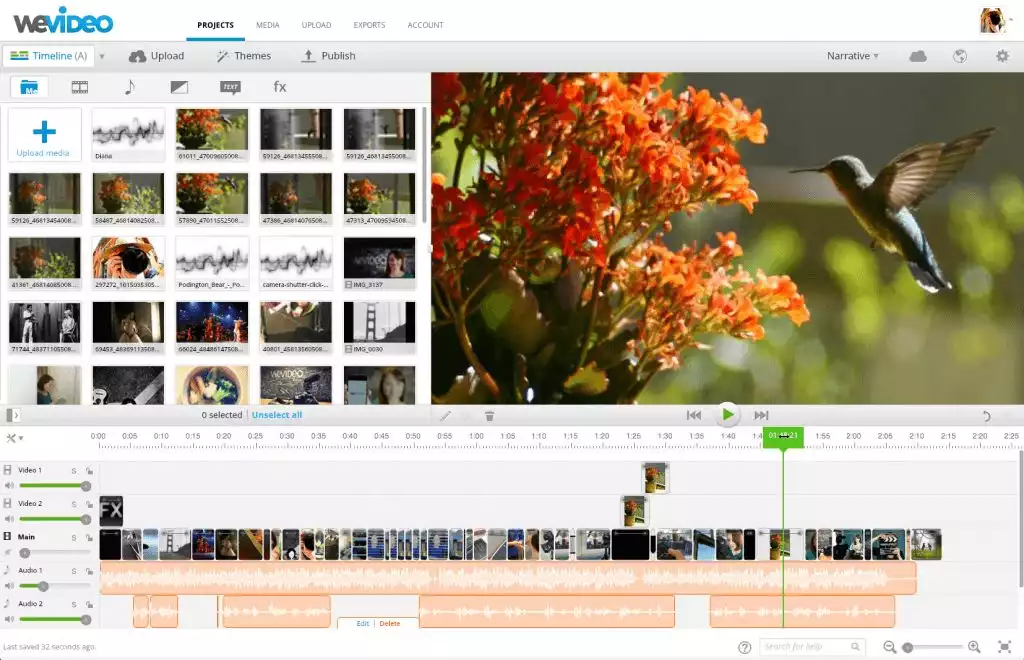 Related Tools