Keywords are at the heart of most digital marketing campaigns. They are important to the point that they can make or break your campaign. Most people who look for products or services online do it through the Search Engines. Keyword research helps your target audience find you on these online platforms and they should stand out, looking at how diverse they are.
Companies looking to run successful digital marketing campaigns need to get their keyword research right. Failure to do this will make them invest in the wrong things that won't have the desired effect. Luckily, you do not have to do this manually as there are various keyword research tools to use.
Since the types of keywords, you pick have a huge impact on the success or lack thereof of your campaign, it is prudent to get the best tool in the market. Today, we are going to review two top keyword research tools; SEMrush and KWfinder to help you determine the best one for your campaign.
Read on;
Our Pick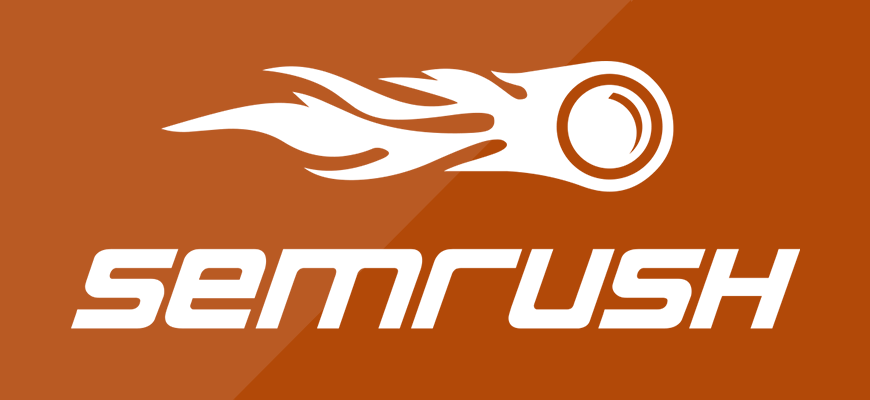 SEMRush is My SEO Swiss Army Knife
I use a LOT of tools. Probably more than I need to. There are a few that are truly indispensable. I have a SEMrush tab open EVERY day as I work. Keyword searches, technical audits, competitor analysis? It does it all. Try it out for free.
Get 14 Days Free
Learn More
We earn a commission if you click this link and make a purchase at no additional cost to you.
Main Differences Between SEMRush vs KWfinder
The main differences between SEMRush vs KWfinder are:
SEMRush is a more all-rounded digital marketing tool whereas, KWfinder is more focused on keyword research
SEMRush is harder to get acquitted to for any beginner whereas, KWfinder is more userfriendly to beginners
SEMRush is a premium service with prices that are higher than average whereas, KWfinder has a lower price point
Overview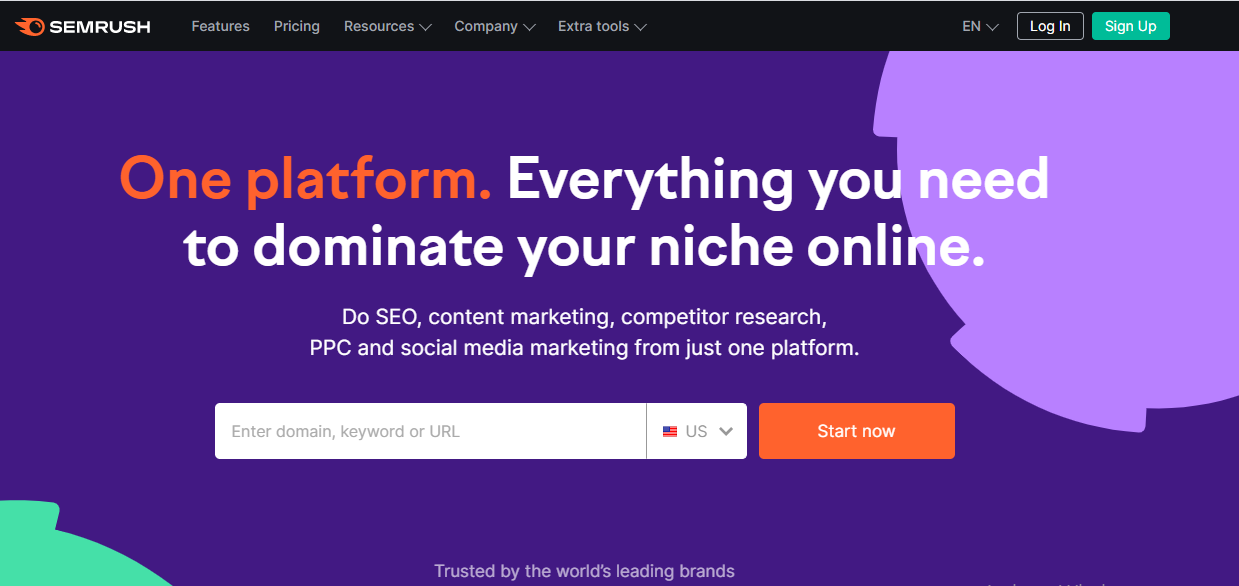 SEMrush is a comprehensive digital marketing tool, focused on search engine optimization and competitor analysis. It has a marketing suite that contains various tools that help in various facets of digital marketing.
It was founded in 2008 by Oleg Shchegolev and Dmitry Melkinov. Today, it has over 5 million users and stands as one of the most popular SEO tools in the market.
SEMrush takes an informational approach in that it gives you a lot of insight you can use to either create new web content, identify link-building opportunities, and change technical aspects of your site to get better rankings.
KWfinder is an all-inclusive keyword and SEO tool. Its value proposition is that it helps businesses find keywords that have low SEO difficulty and high traffic volumes. To simplify this, KWfinder determines how hard it is on a SERP for a particular keyword and finds the cheapest keyword that will deliver the best SERP ranking.
It is owned by Mangools which is a group of online enthusiasts who are skilled in different niches around the marketing and web development space. Their journey started when Peter, the CEO launched the first version of KWfinder in August 2014.
A few other members joined the team and after some improvements, KWfinder 2.0 was born. The Mangools brand was launched in August 2016 after other members joined, and from here, other tools such as SERPWatcher, LinkMiner, and SiteProfiler were born.
Plans and Pricing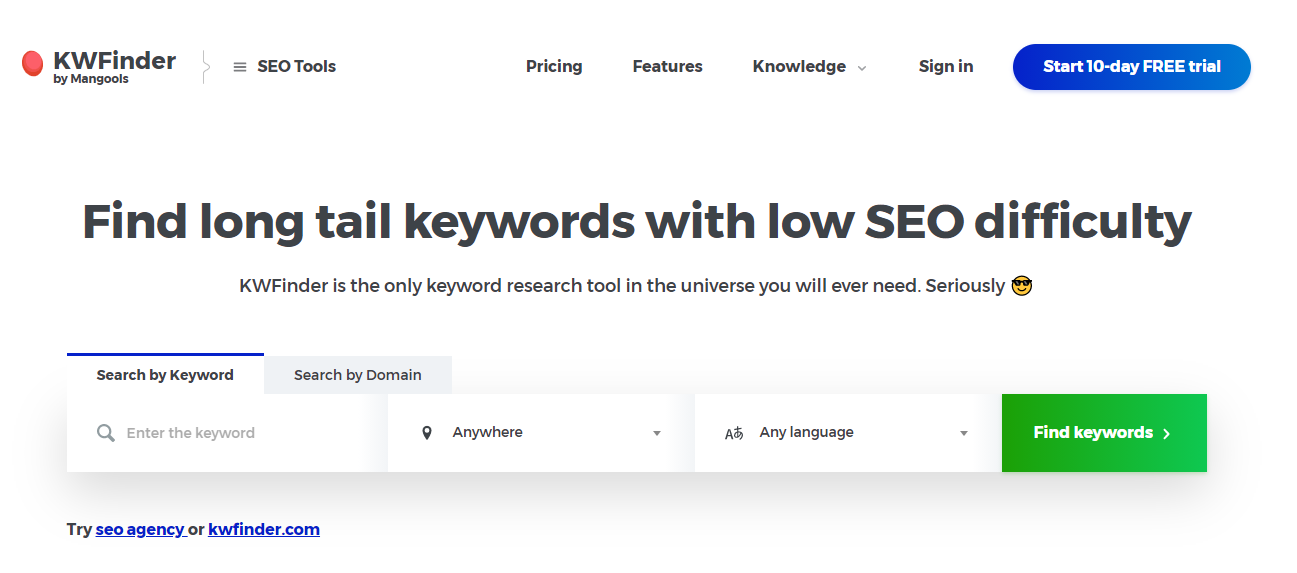 SEMrush is available in three plans, although there is a customizable Enterprise solution available to large businesses.
The first plan is Pro which is available for $99.95 per month billed monthly. It is ideal for freelancers, startups, and marketers operating on a shoestring budget. It allows them to run their SEO, PPC, and SMM projects using over 40 advanced tools. Some of the features include the ability to monitor competition traffic sources, rankings, and social media results among others.
The next plan is Guru which costs $199.95 per month. It is suitable for SMBs and mid-level marketing agencies. It has all the perks of the Pro plan plus historical data, content marketing platform, and extended limits.
The Business plan is the top-most plan and it is designed for agencies, E-commerce projects, and businesses with a strong online presence. It contains all the features in Guru plus API access, extended sharing options, and integration with Google Data Studio.
Note that if you subscribe to the annual plans, you save 16% and the plans will cost you $83.28. $166.62 and $333.28 for the Pro, Guru, and Business plans respectively. A more detailed comparison of the plans is available on the SEMrush page and analyze them before selecting one that meets your needs. A seven-day free trial is available for Pro and Guru plans.
The Enterprise plan has no fixed price point but it is designed for large organizations whose needs might not be well served by the other plans. Here, you will engage a representative from SEMrush and they will customize a plan for you at an appropriate price point.
KWfinder annual plans are 40% cheaper than monthly plans. They are tiered into three categories.
The Mangools Basic plan costs $29.90 per month. This gives you 100 keyword lookups per day, 200 keyword suggestions per search, 25 competitor keywords per search, 100 SERP lookups per day, and 100,000 backlink rows per month.
The Mangools Premium plan costs 39.90 per month and upgrades the limits to some of the perks offered in the Basic Plan. Here, you will get 500 keyword lookups per day, 700 keyword suggestions per search, unlimited competitor keywords per search, 500 SERP lookups per day, and 500,000 backlink rows monthly. Besides, you get three simultaneous logins.
Mangools Agency Plan is the top-most plan priced at $79.90 per month. Here, you will get 1,200 keyword lookups per day, 700 keyword suggestions per search, unlimited competitor keyword searches, 1,200 SERP lookups per day, 1,200,000 backlink rows per month, and 10 simultaneous logins.
All the plans have a free ten-day trial. The prices listed here are the ones discounted when you choose to pay annually.
Features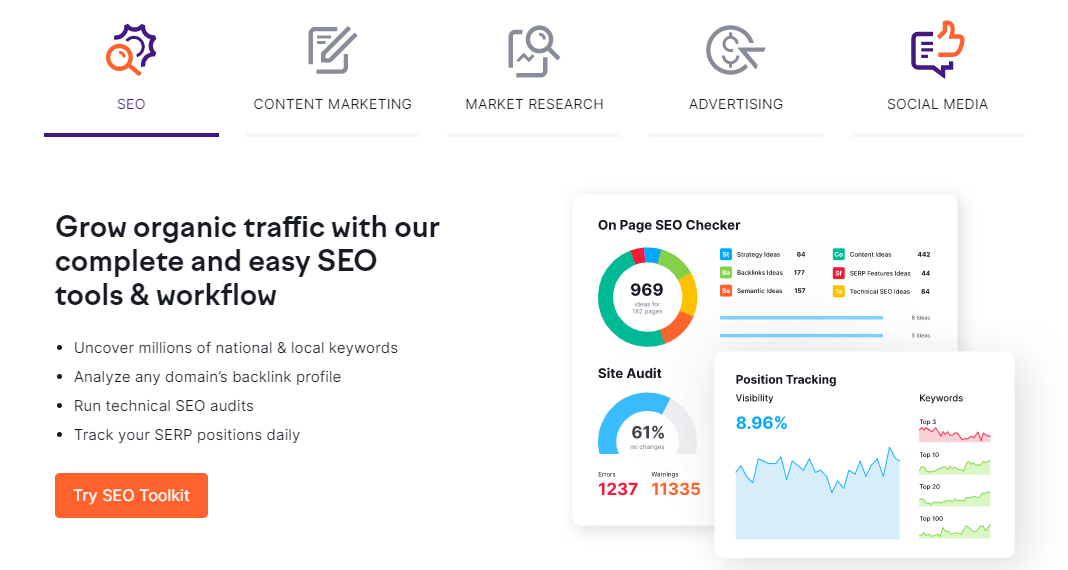 SEMRush has a plethora of SEO related functions and they depend on the plan you buy. However, all plans will let you take a dynamic approach to keywords, backlinks, and more by being on the front foot and getting a clear picture of how you stand in this space. Some of the key features include;
All your campaigns require insights that will inform your decisions and SEMrush has this for you. It offers all the information you need about keywords, what people are using to search, how certain keywords perform, and how to optimize keyword strategies. You can view cost per click, volume, keyword trends, and more for various search terms.
SEMrush has tools that let you conduct dep backlink analysis which is crucial for visibility. You can identify backlinks, anchor text, gauge the authority of linking domains, weigh your backlink status against the competition, and more.
You are not in SEO alone and you need to understand what your competition is doing to help you take them on. SEMrush has robust features for competition insight and gives you the much-needed advantage against the businesses you are up against. You can monitor their keywords, ad strategies, and GDN strategies among others. The SEMRush Organic Competitors report is an exclusive report that shows you all the other domains in Google's top 20 rankings.
Besides the Keyword and SERP abilities, SEMrush does well to complement other digital marketing features. It helps with social and content marketing through its hands-off social media tool that lets you schedule posts, analyze performance, and more. You can take advantage of it to identify engaging topics, manage documents, and even order content directly. This makes SEMrush a more holistic tool that helps you get the most of various digital marketing facets.
KWfinder has a host of features that are biased towards keywords and associated facets of the digital marketing space. Some of them include;
Keyword identification and optimization tools are the main purpose of KWfinder and it is no surprise seeing them as the highlights of this tool. This tool lets you identify low-cost, high-traffic keywords that boost your search ranking improvements per dollar spent. One advantage is that KWfinder gives you exact figures as opposed to ranges seen with most other tools.
A key aspect of keyword identification is competitor analysis and KWfinder has the tools for this. It has over 45 unique SEO metrics that you can use to learn about other high authority websites. This way, you can learn from their tact, mistakes, and make better decisions on how you choose your keywords. Some of them include domain authority, the number of external backlinks, the number of social media shares, visits per month, and citation flow among others.
Holistically, KWfinder can help you improve your rankings. It does this by giving you an idea of your site's potential. You can then benchmark this against your SEO and ranking goals to change your approach and iterate on various best practices to gradually improve your website's performance.
Our Pick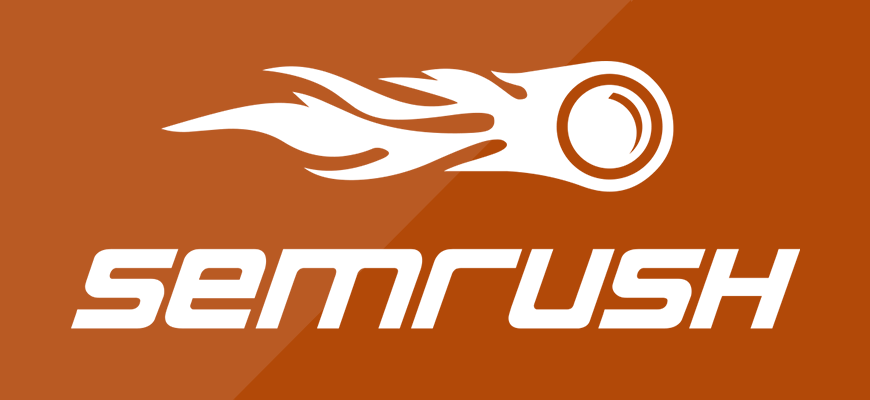 SEMRush is My SEO Swiss Army Knife
I use a LOT of tools. Probably more than I need to. There are a few that are truly indispensable. I have a SEMrush tab open EVERY day as I work. Keyword searches, technical audits, competitor analysis? It does it all. Try it out for free.
Get 14 Days Free
Learn More
We earn a commission if you click this link and make a purchase at no additional cost to you.
User Interface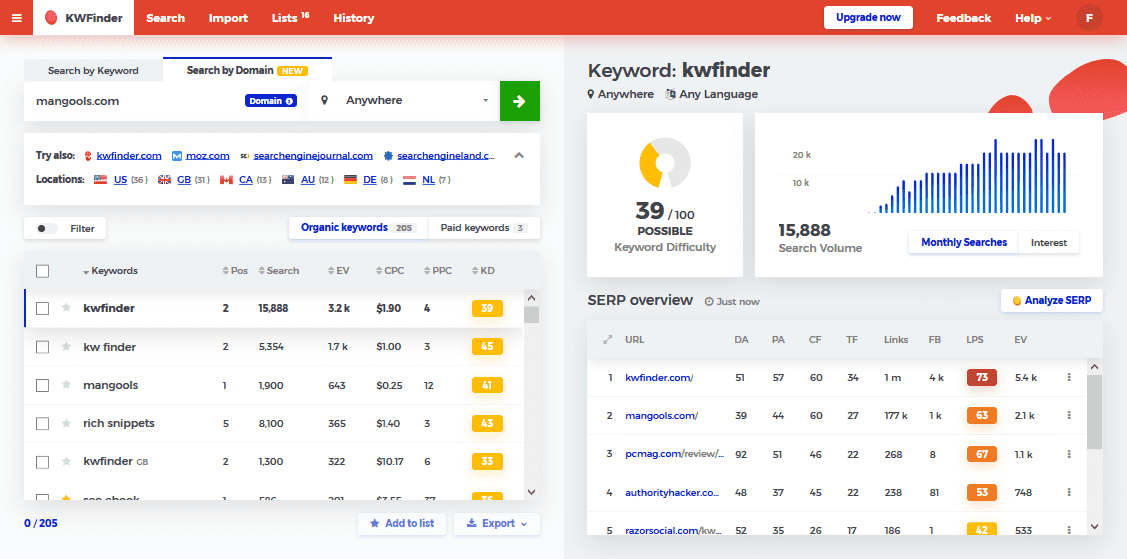 The SEMrush site distinguishes different functions into five different categories namely; domain analytics, keyword analytics, project, lead generation, and reports.
Here, you will find other subcategories and it is easy to locate what you need to be done. There is a mobile app available in the app-stores, but unfortunately, most of the functions are limited to the website.
KWfinder has a plethora of tools but it manages to lay them out in a decent way. They are broken down into categories and you can see most of them from the home page. You can quickly toggle between different services such as domain search, apply filters, distinguish between paid and organic searches through their integrated dashboard.
Support
If you run into trouble using SEMrush and need assistance, you can reach them out through the free phone support. However, this service is only available Monday to Friday from 10 AM until 6 PM EST. Alternatively, you can get in touch with their support team through email, but you will need to wait for them to reply.
They have an extensive knowledge base that has video, manuals, and other guides. Here, you will find most of the information needed to help you get acquitted to SEMrush and how it works.
You can reach the customer service representatives at KWfinder through email or live chat round the clock. Those that prefer to dig information for themselves can look at the technical documentation and FAQ sections. They also have a YouTube page with various how-to videos and tutorials that are thoroughly broken down to help you get past the most basic issues.
For complex issues, contact the team through an online form and the team will get back to you as these issues are handled on a case by case basis.
The Good and Bad

Pros of SEMrush
Simple and effective features designed to boost your marketing strategies
Detailed data breakdowns behind each report
Large, up to date keyword databases
7-day money-back guarantee for select plans
Desktop and mobile search breakdowns
Cons of SEMrush
You need to pay more for white-label reports
Lacks keyword list management
Pros of KWfinder
One of the best user interfaces in the keyword research tool space
Strong data aggregation for keyword analysis
Various unique research options for keywords
Fast and quick support
Cost-effective
Cons of KWfinder
Request limitations can be limiting for heavy users
Keyword results are capped
Not the best competitor research capabilities
FAQs
Question: Is KWfinder accurate?
Answer: This is one of the most accurate keyword research tools you will find in the market. The research is done based on real data backed up from sources you can trust. User reviews have proved that one can get a significant impact from digital marketing campaigns backed up by insights from KWfinder and you have no reason not to trust this tool.
Question: How difficult is keyword check?
Answer: To check keyword difficulty, we need to search for it and look at the number of referring domains the top 10 ranking pages have. The more referring domains across the top pages, the higher the keyword difficulty. Keyword difficulty refers to how hard it is to rank for certain keywords on the SERPs.
Question: Is SEMrush free?
Answer: SEMrush has a free trial where you can check out if the tool is suitable for you. However, this version is limited to only 7 days. Besides, you can view some insights but won't be able to pull the full data and use selected tools.
Verdict
Both SEMrush and KWfinder are impressive keyword research tools that should help you to improve your digital marketing campaign. However, they have a few differences and these are what will guide you when picking the most suitable one for you. Here we are going to break down how each tool fares in various aspects to help you select one.
In terms of ease of use, the two are close but the fewer options make KWfinder the winner. Beginners will get acquitted to KWfinder compared to SEMrush.
Keyword research is the nitty-gritty of this review and here, the two have some distinction. It goes down to what metric is vital to you since keyword research can be interpreted differently. If you are not good at checking keyword competition manually, KWfinder will work for you.
Our Pick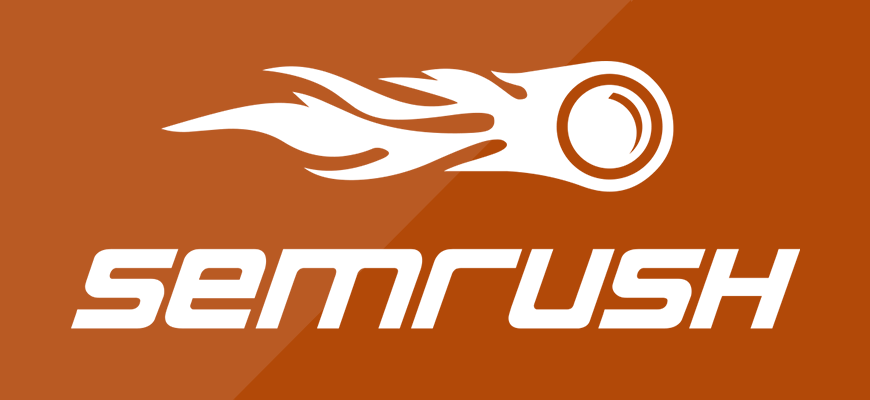 SEMRush is My SEO Swiss Army Knife
I use a LOT of tools. Probably more than I need to. There are a few that are truly indispensable. I have a SEMrush tab open EVERY day as I work. Keyword searches, technical audits, competitor analysis? It does it all. Try it out for free.
Get 14 Days Free
Learn More
We earn a commission if you click this link and make a purchase at no additional cost to you.
On the other side, if you can check manually and are more interested in the search volume metrics, choose SEMrush. However, SEMrush has a few beneficial tools such as Keyword Magic Tool, Keyword Manager, and Keyword AD History to enhance your experience.
When it comes to backlink analysis, SEMrush is not the winner here, but no tool beats it in the market. Besides, it is a more sophisticated tool compared to KWfinder and has a long list of features that help in various aspects of digital marketing. While KWfinder is cheaper, this is justified by the limited set of features on offer.
The winner is SEMrush looking at how it does more than just give keyword research insights.
Further read: