Last Updated on May 19, 2022 by DMEditor
In our Zoom vs GoToMeeting comparison, we're going to show you two effective video conferencing tools that can make remote and everyday working a lot easier.
Before jumping in too deeply, here are the key differences and similarities between the two webinar software platforms:
Main Differences Between Zoom vs GoToMeeting
The main differences between Zoom vs GoToMeeting are:
Zoom offers better screen sharing and collaboration tools, whereas GoToMeeting offers fewer tools
Zoom does not give you unlimited cloud storage, whereas GoToMeeting does
Zoom allows you to have breakout rooms, whereas GoToMeeting does not
Zoom requires you to buy a minimum number of hosts per subscription, whereas GoToMeeting doesn't
Zoom has more advanced host controls, whereas GoToMeeting's host controls are quite basic
Zoom has an easier to navigate UI, whereas GoToMeeting can seem a bit cluttered
Similarities Between Zoom vs GoToMeeting
The key similarities between Zoom vs GoToMeeting are:
Both Zoom and GoToMeeting are cloud based
Neither requires participants to install software to join a meeting if they don't want to
They both have toll free numbers in 50+ countries (for Zoom you need to have a paid subscription)
They both have free and paid options depending on what your needs are
They both offer screen sharing and meeting recording capabilities
They both have host controls to manage meetings and participants
They both generate reports on usage
They have collaboration tools for use during meetings
They both link to external calendars for meeting scheduling
Video conferencing and collaboration software is great for allowing people to join meetings if you can't get everyone into a physical location at the one time or even delivering training remotely. They bring everyone together and effectively allow people to work across several locations.
Zoom and GoToMeeting are two pieces of well known video conferencing software, and you have probably heard of them before. We're going to go in-depth into how they both perform against each other and what differences they have as well as what similarities they both possess.
Finally, we'll tell you which one we think is better and why you should choose it.
What is Zoom?

Zoom is a video conferencing tool that is cloud based and allows for audio and video calls, meetings and webinars. It works across a wide variety of devices, including Windows, Mac, Android, Linux, and iOS, and they offer both free and paid solutions with toll-free multi-national numbers.
This software is used by many major companies and governments across the world, including Dropbox, Logitech, Skyscanner, and Uber, while the UK government has begun using it for cabinet video conferences. It is suited to any type of business, from a small startup to a major international company.
What is GoToMeeting?

GoToMeeting is the creation of SaaS provider, LogMeIn, and offers online meeting and video conferencing functionality. It provides device compatibility with Windows, Mac, Linux, iOS, and Android, and it also provides toll-free multi-national numbers to join meetings too. There are both free and paid versions available.
GoToMeeting is used by a number of well-known organizations across the world, including the Make-A-Wish Foundation, Virgin Holidays, several US government agencies as well as Manchester Business School.
Features of Zoom
1. Video conferencing
The main function of Zoom is to provide video and audio conferencing. They provide HD audio and video with an 'active speaker view' so that the video feed is automatically switched to the person who is talking.
The meetings that you set up come with AES 256 bit encryption and Secure Socket Layer (SSL) encryption for additional security. Zoom also offers features such as waiting zooms for participants, and the meetings sync with various calendars such as Outlook and Google. Meetings can be set up ad hoc, or you can schedule them in advance, and it has a really easy system that allows you to email the link and details out to attendees.
People who are invited to join a meeting can do so without having to download the Zoom software. The meeting can be joined via a browser if you select that option, which is useful if you are inviting people who may not be very comfortable with installing software. You don't get all the same features by joining a meeting via a browser, but to sit in on and participate in basic meetings is a very useful feature.
The meeting host has a variety of different tools available. This includes muting participants, setting up breakout rooms (we'll look at that below) as well as limiting what participants can and can't do. Many of these features can also be set up before the meeting has started and applied to all participants.
Another meeting and the conferencing feature are called Zoom Rooms. This is a combination of video conferencing hardware and software in a physical location that makes setting up a meeting as seamlessly as possible. Features include one click meeting start up and easy screen sharing.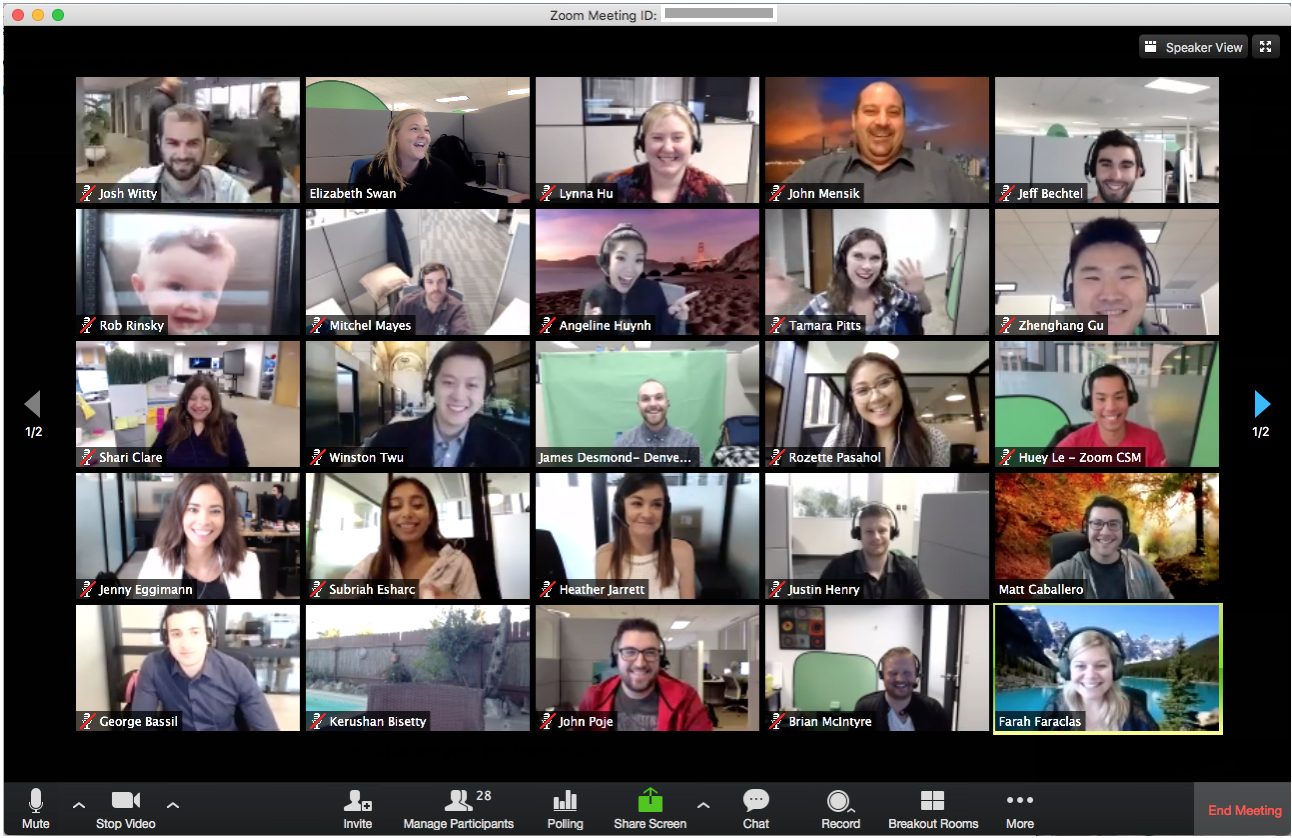 2. Screen sharing
With Zoom, you can share your screen with your meeting participants.
This is a great feature that opens up many possibilities for your meetings and webinars. For example, you can easily share a PowerPoint presentation and talk it over just like you would in a physical setting, or if you are demonstrating a task, you can share your own screen and show everyone in the meeting how it is done.
Zoom makes it very easy to share your screen as there is a very noticeable 'Share Screen' button at the center of the Zoom window. You simply choose which application or window you have open, and it will share it with the rest of the people in the meeting.
3. Collaboration tools
With Zoom, you can use a variety of different collaboration tools, which helps bring meetings to life and provides an interactive edge to using this platform.
There is a whiteboard option that helps you jot down ideas and key points for everyone to see, and participants can also co-annotate on screen shares if you give them permission. For the host, there are a variety of different drawing tools that you can use to highlight certain parts of a screen share.
A really interesting feature is the breakout rooms. With Zoom, you are able to split up participants into up to 50 different private rooms. This allows smaller groups to have their own discussions and then feedback to the wider group, and the host can switch between these breakout rooms as well.
Other collaboration features include multishare where several people can share their screen at once, a chat box as well as document sharing.
4. Recording and transcripts
You are able to record any Zoom meeting and save it as an mp4 file.
This is a very useful feature if you need to record a meeting for someone who is unable to attend or to distribute the recording of a webinar out to participants afterward. It is very easy to record via the Zoom user interface, and it will save the audio and video of the meeting at the end.
You also have the option of saving separate audio files for each participant if you wish.
With Zoom's Business Plan, you have the option of auto-generated cloud transcripts, which will deliver a text transcript of your meeting.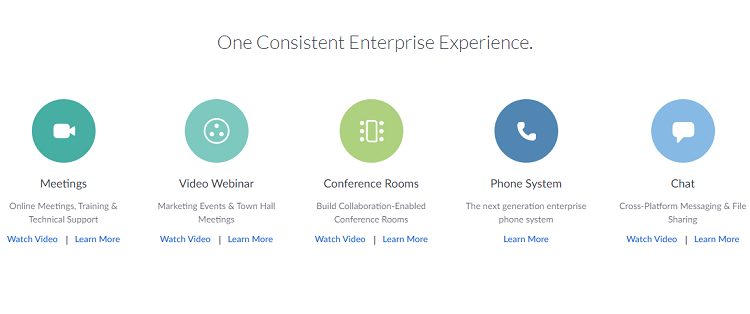 5. Reporting
If your organization needs to gather data and information on your meetings, Zoom has reporting functionality built in.
Zoom makes it easy to run usage reports so you can see important stats such as how many meetings have taken place, on what days they were running, how many people attended as well as other things such as meeting minutes.
You can get reports for the last 12 months in Zoom, and if you are running webinars, you can find out key details such as registrations, names of attendees, performance reports, Q&A, and poll reports as well.
Features of GoToMeeting
1. Video Conferencing
GoToMeeting offers HD video and audio, and, like Zoom, they allow cross platform meetings, which means that someone can host the meeting on a Windows laptop, for example, while other people can join via Android or an iOS device.
A really good feature of using GoToMeeting is that the software detects and automatically adjusts the hardware resources as well as the bandwidth for each user. This helps to create a more seamless experience that is as free from lag or IT problems as possible.
They use AES-128 in CTR mode for security, and it integrates with external calendar tools such as Outlook and Google so you can set up meetings and put them directly into participant's calendars in just a few simple steps.
Like Zoom's Waiting Room feature, with GoToMeeting, you can utilize Meeting Lock, which means participants won't be able to join until the host has logged in.
GoToMeeting also allows you to join a meeting without downloading any additional software as it is cloud based. If you want to allow people to connect to a meeting without having to install anything on their device, they can do this within their browser. Functionality is reduced, and using the program or app delivers the best results, but it is a good option to have for people who have difficulty installing new software.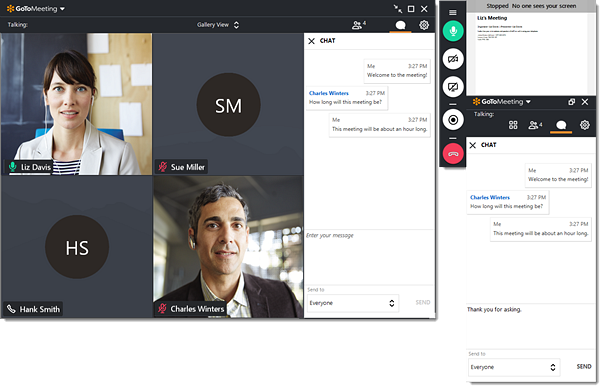 2. Screen sharing
It is straightforward to share your screen with GoToMeeting as the option is right in front of you on the interface.
This option lets you share a screen with everyone in the meeting so you can load up a PowerPoint or take people through a step-by-step process if you want. This also works if someone is joining via a browser, which is a great addition. For those who are using firewalls or security enhanced devices that prevent them from installing software, being able to see a screen share via a browser is really useful.
You can also share what is on your entire monitor, or you can just limit it to one window or application.
3. Collaboration tools
You will find a variety of different collaboration tools available with GoToMeeting.
This includes drawing tools that can highlight parts of a screen share or be used to virtually write down ideas. There is a virtual whiteboard, and you can pass over control of the keyboard and mouse if you want to as well. The platform also integrates document sharing functionality.
There is a chat box function similar to Zoom, which allows participants and the host to communicate via text.
One thing that GoToMeeting doesn't offer as standard is the ability to create breakout rooms. This is present in GoToTraining, which is a separate package but isn't included in GoToMeeting so you won't be able to create small groups and have them talk amongst themselves.
4. Recording
With GoToMeeting, you are able to record the audio and video of your conference calls, meetings, and webinars.
It is very straightforward to record a meeting as you simply click the record button, and you can save these recordings locally or in the cloud. This is one area where GoToMeeting has an advantage of Zoom because they offer unlimited cloud storage with their package. Zoom only gives you 1GB of cloud storage with their Business Plan, and if you need more storage, you'll need to purchase an addon.
With the Smart Meeting Assistant, you can also get your meetings automatically transcribed, which takes the pressure of note-taking.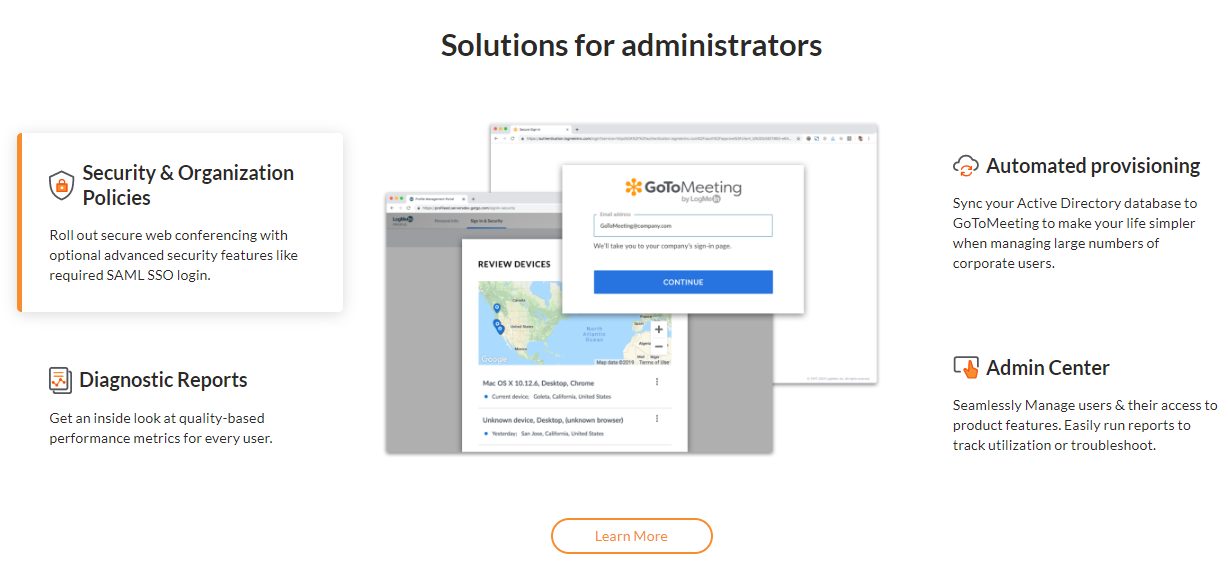 5. Reporting
There is a reporting function in the admin area of GoToMeeting, and data is stored for one calendar year.
With this option, you can see a range of stats, including names and contact details of attendees, how your users are utilizing the platform, information of meeting history, and scheduled meetings as well as a toll free usage report.
The reporting capabilities are fairly simple, but if you just need data on how many meetings have been held, how many people attended, and some other straightforward information, then it certainly provides this.
Zoom v GoToMeeting Pricing
Both of these video conferencing solutions offer free and paid options.
Zoom Pricing Plans
Zoom has four different pricing options, which comes with a wide range of different functionalities.

Zoom Free
This option is completely free and gives you a lot of functionality including HD video and audio, screen sharing, waiting rooms, recording capability as well as collaboration tools. If you want to host a meeting with three or more participants, the meeting is time limited to 40 minutes. For meetings with less than three people, there is no time limit, and the Free license supports up to 100 participants.
Zoom Pro
Zoom Pro is ideal for small teams and businesses and costs $14.99 per month for each host with a limit of 9 hosts per plan. The advantage of a Pro license is that you get 1GB of cloud storage, and there the meeting limit duration is extended to 24 hours. You also get access to reporting and advanced meeting controls.
Zoom Business
Suited for small and medium businesses, this license costs $19.99 per host with a minimum of 10 host accounts. As well as the features you get with the Free and Pro licenses; Zoom Business also allows you to host meetings with up to 300 participants, has dedicated phone support, a vanity URL, company branding, and custom emails.
Zoom Enterprise
This option is better for large businesses and costs $19.99 per month with a minimum of 100 hosts. It has all the above features in addition to up to 1000 participants, unlimited cloud storage, and discounts if you want to add on Zoom Webinar and Zoom Room.

There are three paid options with GoToMeeting alongside a free option that has reduced functionality.
The free plan is similar to Zoom as you can host unlimited meetings for up to 40 minutes for up to three participants; however, you'll need to purchase a paid plan if you want to include any people. Screen sharing, some collaboration tools, and HD video and audio are available too.
Starting at $12 per month per organizer, this plan includes up to 150 participants and removes the meeting time limit. It also offers a personal meeting room with a custom link, meeting lock so participants can't join before the organizer as well as collaboration tools.
The next tier up costs $16 per month per organizer and includes meetings up to 250 participants. With the above functionality included as standard, the Business plan also provides unlimited cloud storage, mobile cloud recording, transcription service, note taking capability, drawing tools and keyboard and mouse sharing.
You will need to contact the support team for an Enterprise price, and it offers up to 3000 participants, in-room link to link it with your existing conference room system, custom training, and a dedicated support manager.
Zoom v GoToMeeting Customer Support
If you encounter any trouble using either Zoom or GoToMeeting, they both offer support options.
Zoom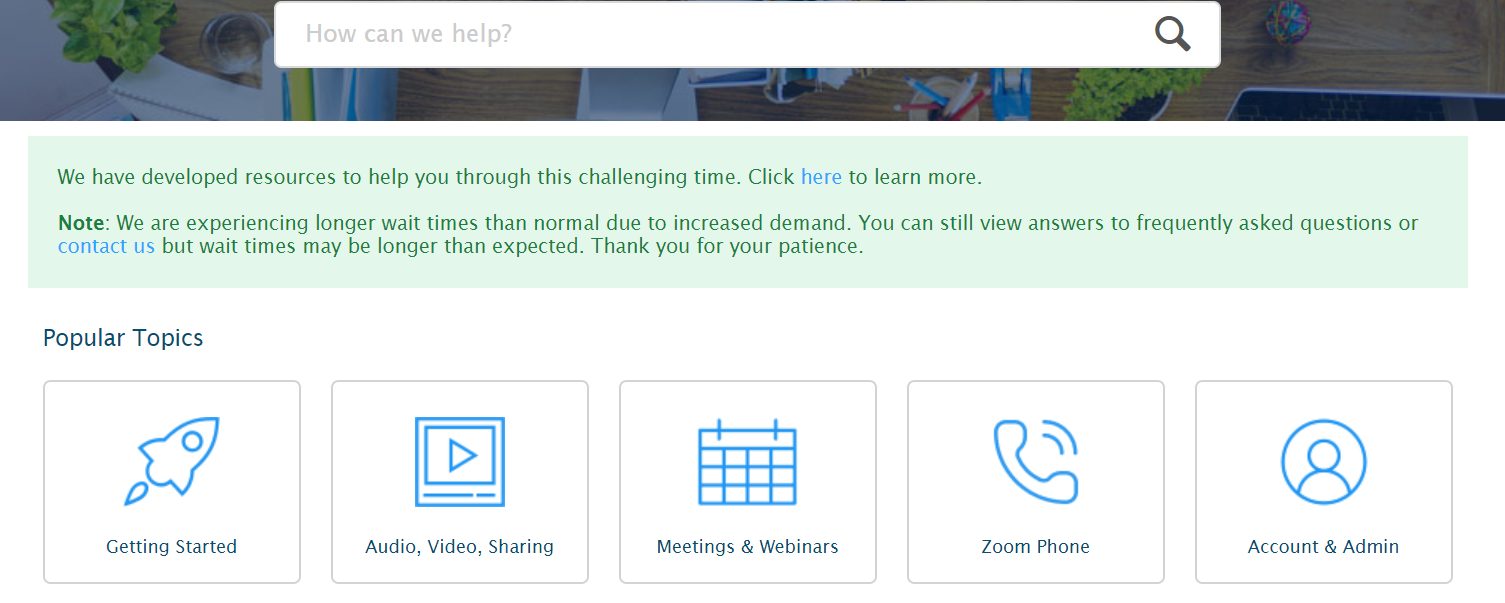 Zoom has a dedicated support center that allows you to search for a specific query or choose a category. It is really easy to find what you are looking for with this knowledge base; however, if you do need additional help, Zoom also offer:
Live chat
Phone support
Support ticket system
Some support options are only available, depending on what plan you currently subscribe to, which will vary depending on if you are using Gotomeeting vs Zoom.
GoToMeeting

GoToMeeting has its own knowledge base where you can search for a support query or search through a number of categories. If you need additional help with GoToMeeting, they can be contacted via:
Live chat
Phone support
Support ticket system
Zoom v GoToMeeting Pros and Cons
Zoom Pros
Very easy to use system which is cloud based
Don't have to install software to join a meeting
Free option and affordable paid subscriptions for more features
Variety of tools such as screen sharing, breakout rooms, and collaboration tools
Can be used on Windows, Mac, Android, Linux, and iOS
Detailed usage reports are available
Zoom Cons
Very limited cloud storage if you need space to save recordings
Business and Enterprise subscriptions require a minimum number of host licenses
GoToMeeting Pros
No minimum number of organizer/host licenses required for paid plans
Offers great cloud storage space
Don't have to install software to join a meeting
Can be used on Windows, Mac, Android, Linux, and iOS
Can generate basic reports on usage and other information
GoToMeeting Cons
No breakout room feature
Organizer/host controls can be a bit limited
Collaboration tools are a bit basic
Are there any alternatives to GoToMeeting vs Zoom?
Microsoft Teams

There has been a big push for organizations to adopt Microsoft Teams as it replaced Skype for Business. It provides a range of collaboration tools, video conferencing, and if you already use Office 365 (Microsoft Office suite), it is essentially another part of that.
The emphasis on teams is on improving international communication, and while it is a powerful tool, it lacks some of the advanced conferencing features like Zoom and GoToMeeting.
Cisco Webex Meetings

Many larger organizations tend to veer towards Cisco Webex Meetings, and it has a good combination of internal and external communication and collaboration tools.
It does have a free plan, which is a bonus, although it comes with a steeper learner curve in some aspects, especially with its advanced tools. There are also some reports around higher lag than usual in video conferencing, but overall it is a solid tool.
Some Other Video Meeting Options
Google Hangouts (Google Meet): Integrates with Google Workspace, native Google Calendar integration.
Adobe Connect for Video Meeting
Zoom vs GoToMeeting Frequently Asked Questions
Can Zoom and GoToMeeting be used on different devices?
Yes, both Zoom and GoToMeeting are compatible with Windows, Mac, Android, Linux, and iOS.
Do Zoom and GoToMeeting offer free versions?
Yes, there is a free version of both Zoom and GoToMeeting with reduced functionality. GoToMeeting caps meeting duration at 40 minutes on their free plan while Zoomno time limit with meetings with under 3 participants, but it is capped at 40 minutes for meetings with three or more participants.
Can you use these tools without installing software?
Yes. If you want to join a meeting, you can do so via your browser if the meeting host/organizer has that option enabled, although you will have reduced functionality.
Can you host webinars with Zoom or GoToMeeting?
Zoom has a Webinar Addon, which starts at $40 per month and can have up to 10,000 participants with many other features. GoToMeeting Enterprise allows for up to 3000 participants, but for a full Webinar experience, you'll need to get GoToWebinar, which is a separate package. There are other options if you have a webinar sales funnel.
Zoom vs GoToMeeting Conclusion – Which is better?
If you want to use video conferencing solutions into your business, should you choose Zoom or GoToMeeting?
Both have their plus points and drawbacks. If I really had to choose between either Zoom or GoToMeeting, I would go for Zoom for the Free Plan to start (or if you have $0 budget), then use GoToMeeting for small to mid sized organizations (3-5+ users) (better pricing, storage). For larger enterprises, there really isn't much of a difference on the highest tiers.
That isn't to say that GoToMeeting is a bad solution for video conferencing, hosting meetings, and webinars because they have several advantages. For one, their cloud storage is better, and they may end up being most cost effective depending on your needs as they don't require you to purchase a minimum number of licenses on their paid plans.
That being said, I think overall, Zoom offers better functionality. It has more host controls and collaboration tools, and the breakout room feature, which isn't in GoToMeeting, is a big bonus if you need that kind of thing. Zoom also puts most of its premium features into its free plan as well, with the drawback being meetings are limited to 40 minutes for three or more participants.
I think both of these tools are very useful and much needed in today's world where remote working and busy schedules mean it can be hard to have meetings in one location. Zoom edges it for me and provides a better all-round experience for your business communications.
Have you used GoToMeeting vs Zoom before? Did they make virtual meetings, training, or webinars easier? Let us know.
Further Reading on Video Conference and Unified Communications for Web Conferencing: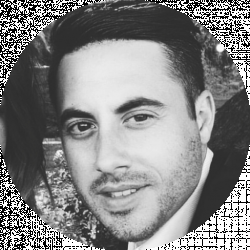 Latest posts by David Borgogni
(see all)
Get 40% OFF for 3 Months