Last Updated on June 1, 2023 by Ewen Finser
In a time where budgets are getting tighter, marketers – especially those with a digital focus – increasingly have to justify their work, and defend their budget.
For the digital people, there are a number of tools available for getting data from your company website, that tells you about your customers and their behavior, to satisfy such queries from senior managers.
Some of us of a certain age will remember the early days of the internet where websites tended to have a visitor counter. We've moved beyond that. Now we can find out how many people, where they were based, their gender and age, their interests, what they're clicking on on our websites and so much more. It can be perceived as ridiculous!
With so many tools available, we'll take a look at two of the popular ones to see if they're right for your business.
Mixpanel has been around since 2009, and is based in San Francisco. There's not an awful lot of information around beyond that.
First impressions show pretty much what you'd expect from a sales-orientated, website data analysis package. I don't see anything that causes excitement or concern, but I'm sure we'll find out more as I go through it.

I don't like highlighting negative things so early in a review: I do like to be thorough, and focus on the product. But 11 minutes after signing up, I had received four emails from them. That seems excessive. I had three more the following day. And two more the day after that. Stop it.
If you're running a WordPress site, Mixpanel don't have an official plugin. They have recommendations, but user reviews for them aren't very strong.
If you've already Googled anything about website data analysis tools, $20 says Google Analytics was top of your search results.
Not necessarily the original website analysis channel, but by far the most popular – it's apparently in use by 55% of the 10,000 most popular websites. That's quite a market share. The free nature of it is most likely one of its big draws.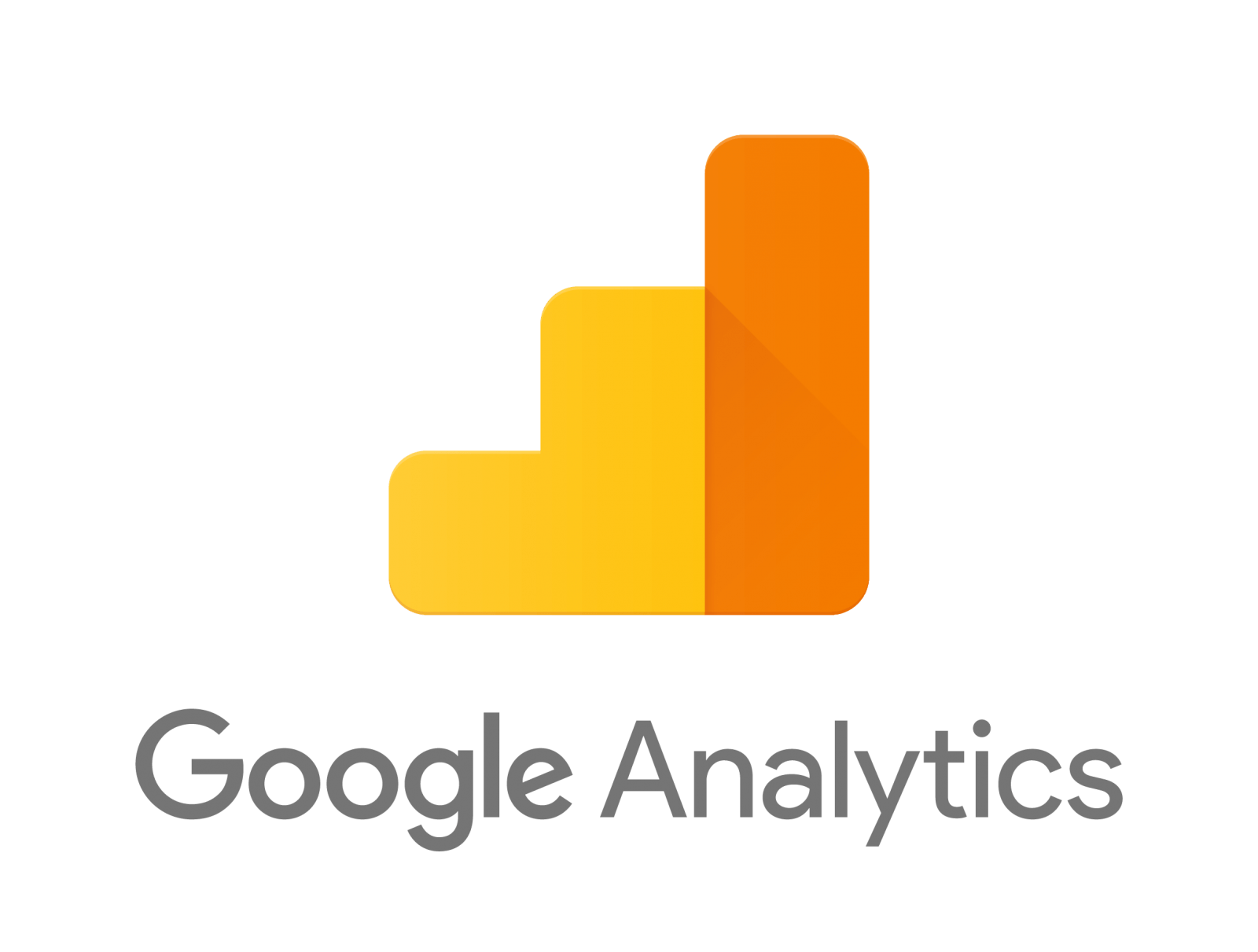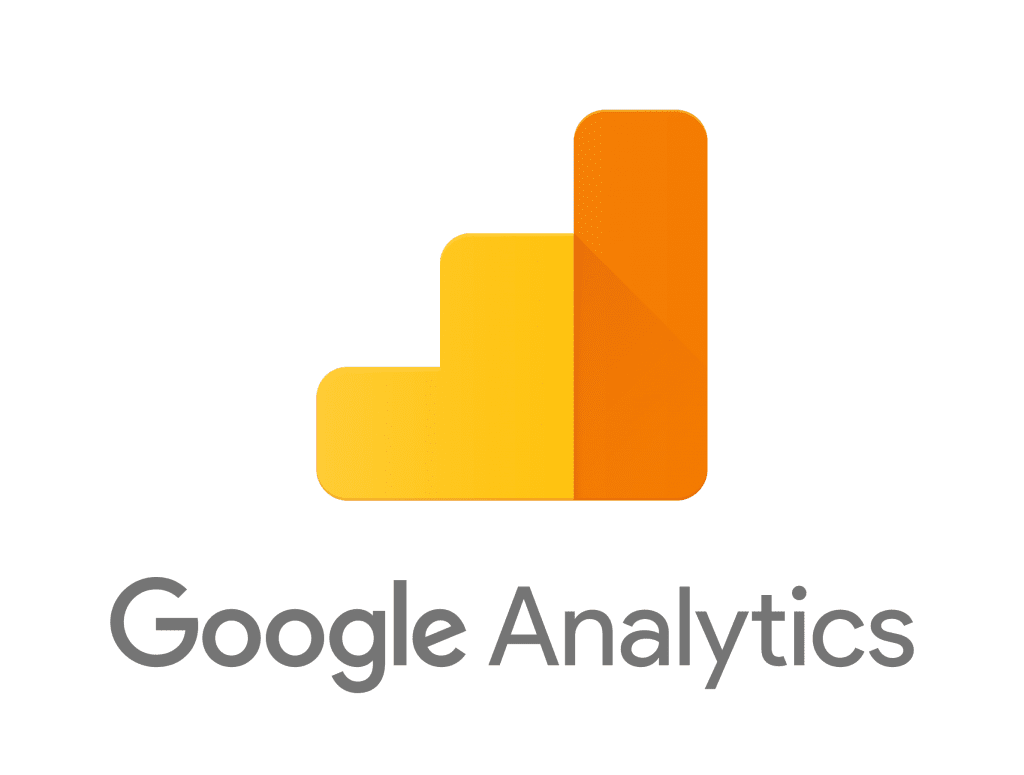 Due to its popularity, there are multiple WordPress plugins available for Google Analytics, some better received than others, but going into details about that would be a whole other review.
Google Analytics gives the impression that it is designed to be able to appeal to a wide range of uses, in that it has top-level perspectives if that's all you need, but with the capability to go further in-depth if needed.
Pricing options
Mixpanel
Mixpanel has two types of plan: an engagement plan and a people plan.
Looking at the engagement plan first, you'll get 60 days of data for free, so that pretty much rules this option out for year-on-year comparisons that you might want to report on. That feels kind of inconvenient. You'll be able to assign three co-workers to help you with your projects.
Probably the best thing about the free version is the inclusion of A/B testing. That's pretty cool. This will allow you to test two different versions of content on your audience, and then apply whichever one is most successful. This feels like the type of feature that's aimed at businesses with sales goals.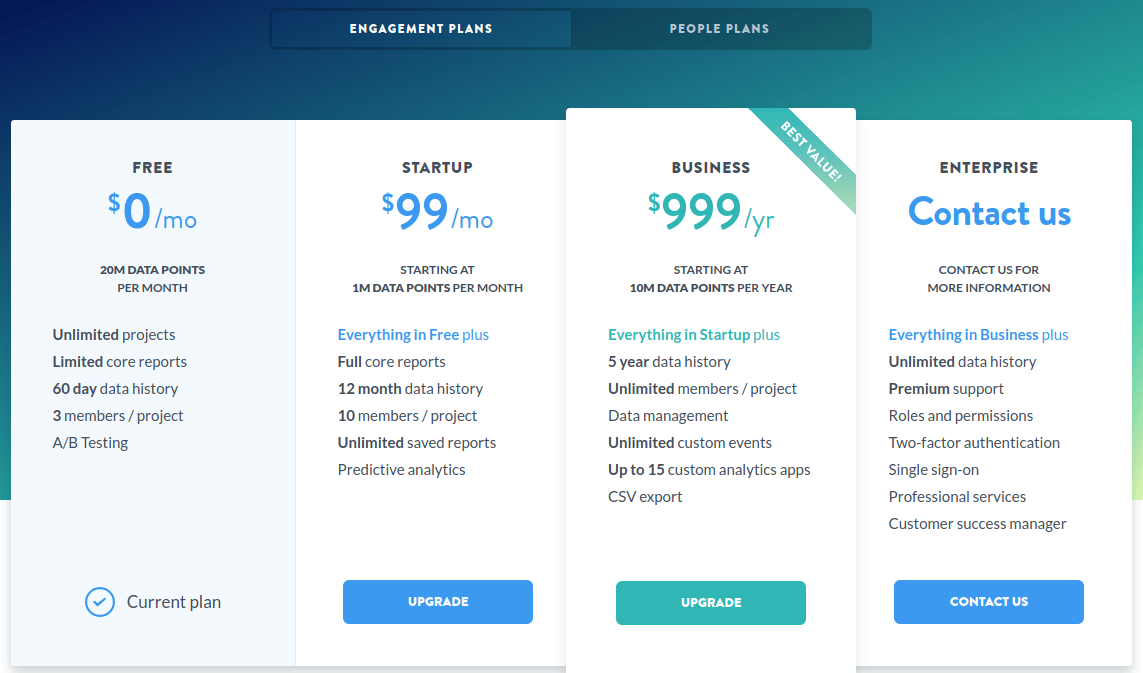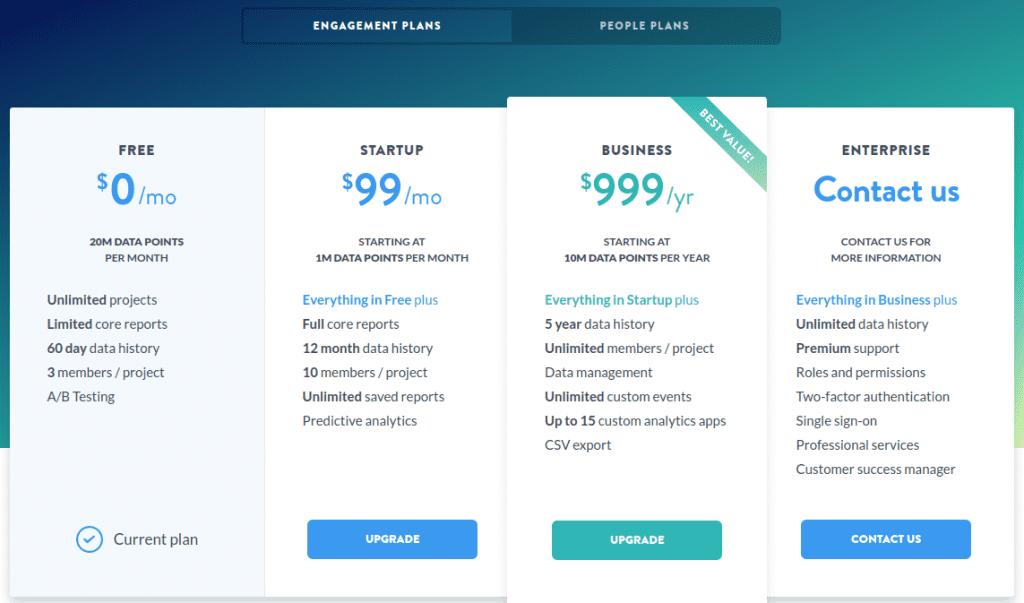 Overall, this tier might be OK for somebody who is self-employed, who knows they should be making an effort with data, but doesn't have the capacity to make it front and centre of what they do.
Taking a look at the next tier up, it's named 'Startup.' Without even looking at the features, I'm going to guess it's named after who they feel should be using this package! For $99 per month you'll get full reports, 12 months' worth of data – still not enough to look at year-on-year stuff – and 10 team members for your projects.
The next tier actually costs less than the Startup package. For $999 for the year, you'll get five years' worth of data – that's what I'm talking about – and a bunch of unlimited features, such as team members and custom events, as well as a CSV export function: useful for transferring data to other tools or programs.
The people plan is an additional cost to the engagement plan, and focuses on the specific people who use you site, essentially profiling them. This is free for up to 1,000 user profiles, and goes up to a monthly cost of $1,800 for one million profiles.
Google Analytics
Google Analytics also utilizes the freemium model. However, they just have two tiers. The free version is by far the most popular, and is pretty much the standard for data analysis for digital marketers.
Most businesses have a Google account anyway, so signing up is unlikely to be a big deal. The free version packs quite a punch as free tiers of anything goes. It will provide regular stuff like the number of visitors and their journey through your website. But it also gives some pretty cool information, such as the time people visit your site and where they are, as well as their gender, age and interests.

Analytics is designed to work with Google's AdWords scheme, whereby AdWords campaigns can be tracked right the way through to purchase.
There's also the ability to create custom URLs for specific campaigns or channels, so you can get specific information about who clicked through. That's both useful, and cool.
The Premium version costs – I hope you're sitting down – $150,000 per year. It's not clear how many companies are using this package. So what does $150,000 to Google get you? Well, you get higher data limits, a Service Level Agreement, and a dedicated support team
You'd need a number of very specific things in place to get it in place.
Firstly, you need to be making a pretty substantial amount of money. Secondly, you need to have a director and board who fully understand the value of data analysis, and support efforts at committing to having that knowledge available.
And finally, you need at least one person in-house who is highly experienced, and highly knowledgeable about website data analysis, and knows Google Analytics inside out.
Features
Mixpanel
The main feature of Mixpanel's engagement plan is that it focuses on designated events that take place on your website. This could mean a purchase or a download or signing up for a newsletter.
The analytics you see are based on the segmentation of this data, and viewing the visitors who undertook this action. It's not a bad approach to analysis. It certainly keeps things relevant, rather than giving you literally every piece of information imaginable!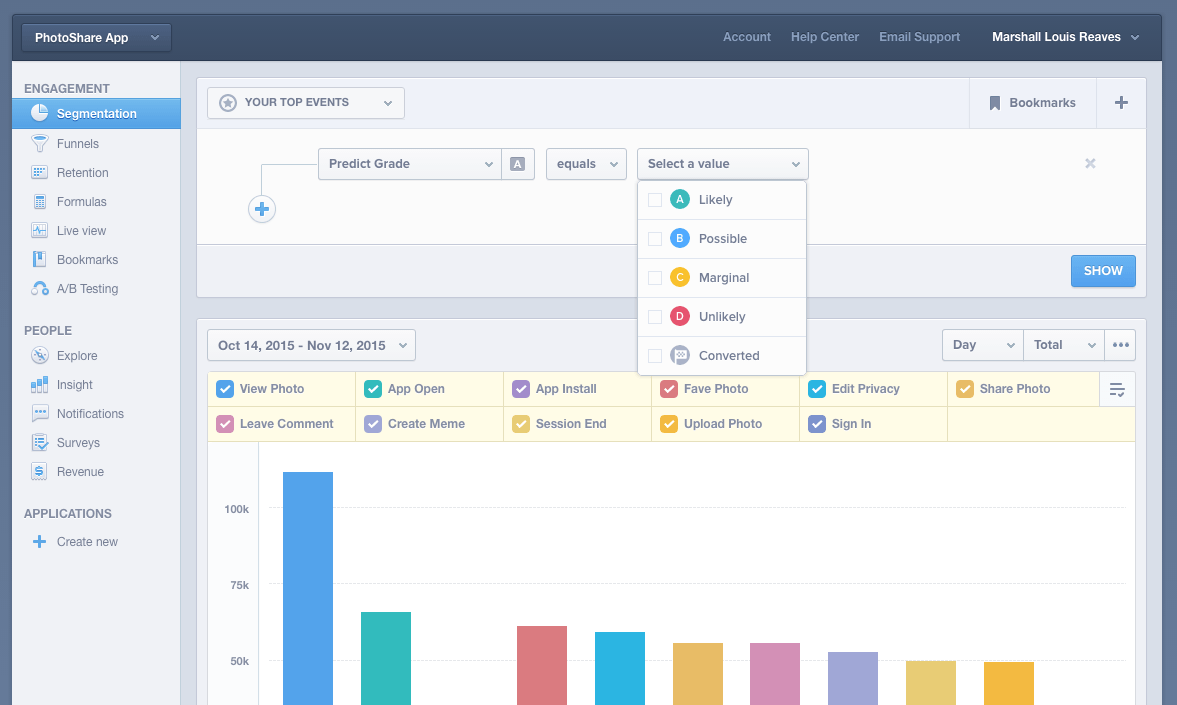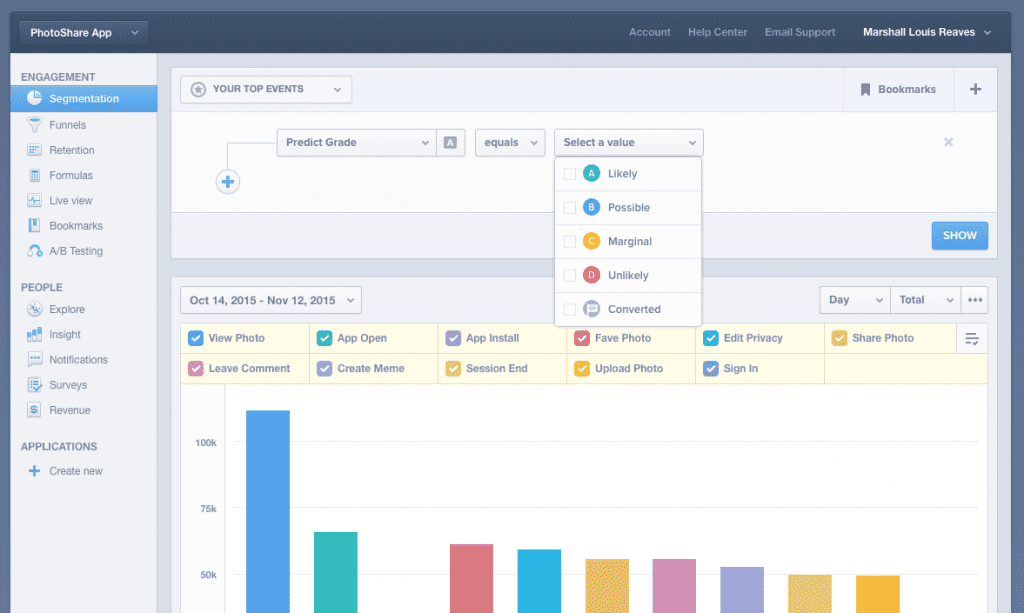 Looking at one of the add-on features from the second tier, predictive analytics, and it is a very cool feature. Say for example that the event you want to track is a conversion to buying a certain product.
Mixpanel will consider previous user journeys that led to that purchase decision, and use it to predict the likelihood of future users completing that purchase on the same journey.
It's incredibly clever stuff, and you'll be provided with a score for it. It's a very explicit way of analyzing the user journey.
When you move up to the Business tier of Mixpanel, you will have the function to export data into a CSV file. This is useful if you want to use it in other programs such as a CRM or email marketing client.
Google Analytics
Let's focus on the free version of Google Analytics.
As mentioned, the circumstances for an organization to get optimum use of the premium version is just too specific, so I don't imagine that it has an awful lot of users. I'd love to see the specific breakdown of free vs premium users.
The default view for Google Analytics is a general audience overview, telling you incredibly top-level information, such as how many visitors your website overall has had, where they have been located and what language they've been using.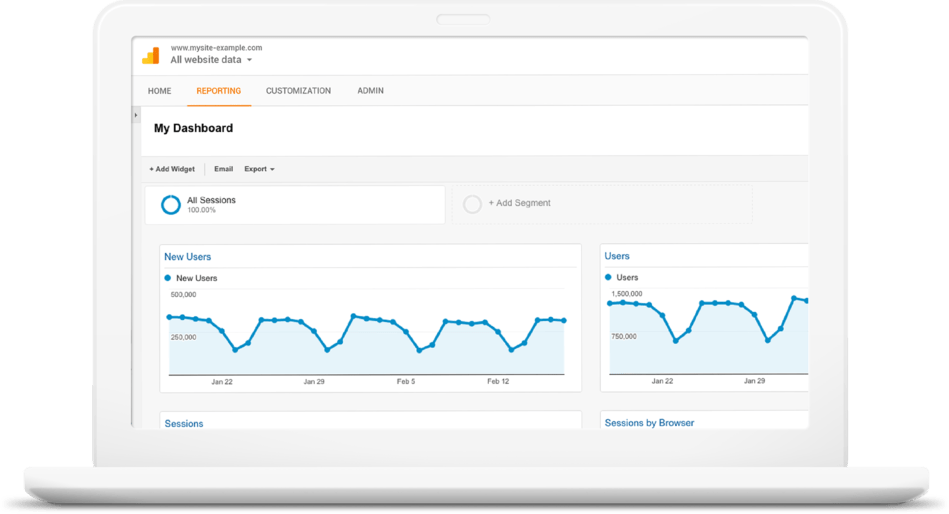 Besides the people-centric stuff, you can look at all kinds of things. You can check which pages on your website have been the most popular. You can get a breakdown of the sources from which people got to your website, so whether it was from an organic search, paid search, or social media.
From social media, you can drill down to the specific networks, so whether it was Facebook or Twitter or whatever.
You can get as detailed as you want with the data. For example, you could see how many people came to your website from Facebook, what time they did so at, their age and gender, and generally what they looked at.
One of the key features is the link to AdWords, so that you can see directly how much money your Google PPC ad spend is generating in conversions. In a time when ROI is a repeated question from management, it's good to be able to see it straight away
People new to analytics might be surprised – or even creeped out – by the depth of the data that can be gathered.
Usability
Mixpanel
Considering Mixpanel's usability, it certainly is very functional, and easy enough to navigate. The items in the left hand navigation bar are pretty much self-explanatory. Each of them comes with a tutorial video to get you started on the right path.
In terms of the interface itself, it can be laborious to set up the various events that you want to trigger for analysis, but it will give you a more refined perspective on you data analysis, rather than providing you with a whole bunch of numbers that you may not want or need.
It's hard to find anything to say that's too exciting about Mixpanel. It just pretty much does what it says. In terms of support from their team, as is common practice, a lot of information is on their blog, which acts as supplementary material to the information they provide in their videos.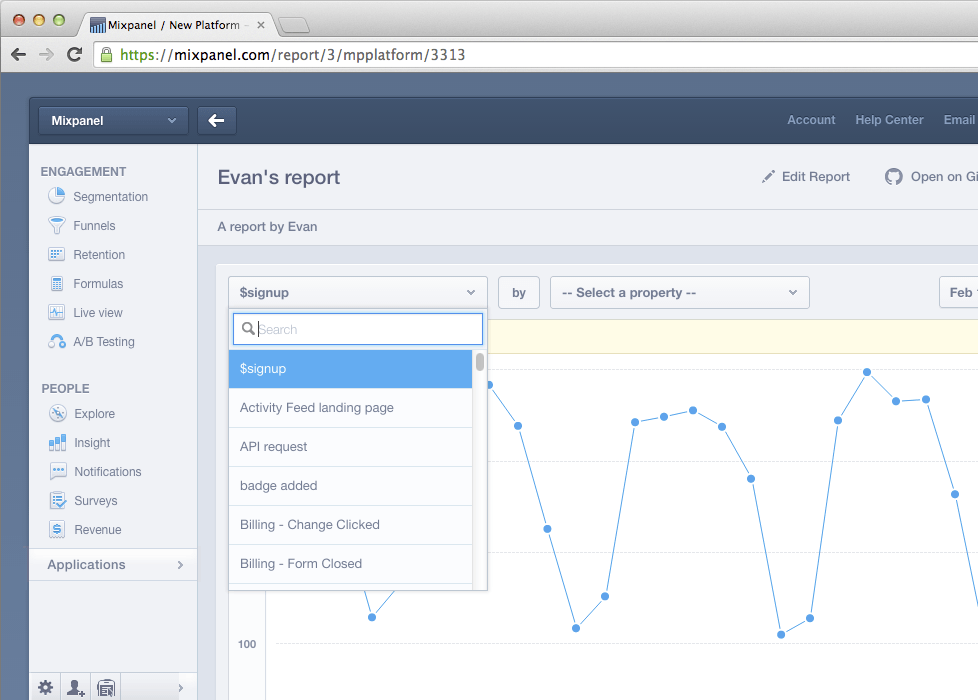 Support is by email or live chat. Email support is available during office hours, so 9am to 5pm. The amount of live chat you can avail of depends on what tier you're paying for, from 30 days for the free package, to unlimited for the top tier.
Whoever is using Mixpanel in your organization will need access to the backend of your website, and be happy and confident in playing with code, as the ability to retrieve data is dependant on copying and pasting Mixpanel's code into your own code.
Overall, Mixpanel feels like a very on-point piece of software. There's never anything wrong with that!
Google Analytics
Google Analytics wouldn't have a such a high market share if its usability wasn't up to scratch.
The layout and navigation makes sense. Google does offer certification in Analytics, which is useful for getting the most out of it.
A lot of it is self-explanatory, and putting some time aside to explore all it can tell you will give you a good feel for it, but the certification will give your knowledge a level of depth that you may not otherwise achieve.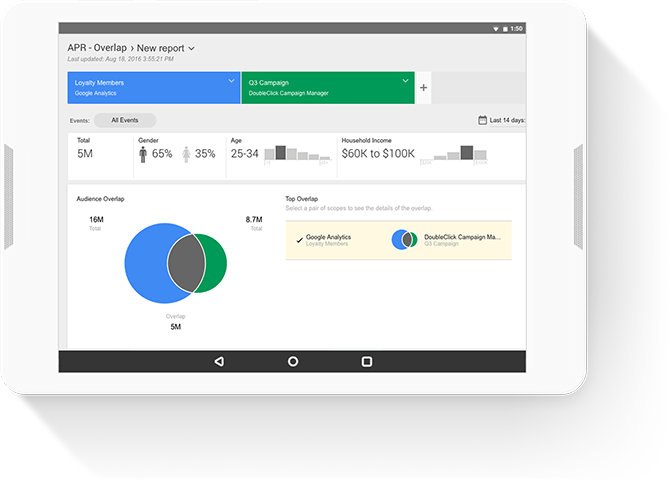 Outside of that, as a free service, support directly from Google is pretty limited. However, with so many users worldwide, if you hit a snag, you can guarantee that somebody else has had the same issue, and the product support forums can turn up helpful answers.
I would highlight the custom URL builder as a particularly useful tool. It runs on a different site to Analytics, but if you're signed into your Google account, and title a campaign in the URL builder, it'll show up automatically in Analytics.
The best use of this is in email marketing. Some bulk email tools can be tight with the amount of data they provide on your campaigns, only telling you how many people opened your send, and maybe how many clicked on a link.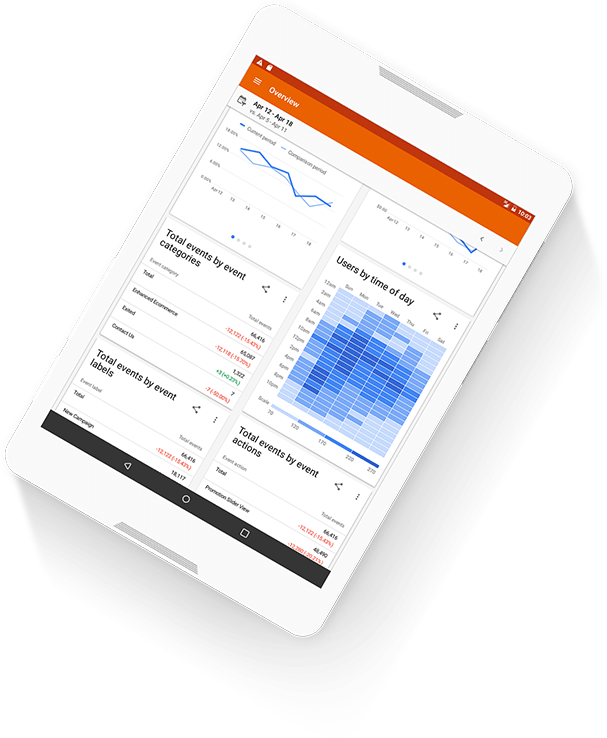 By creating custom URLs and a campaign with Google Analytics, you can get more detailed information about who has been clicking through to your website from your email: where they were, what time they clicked through at, and what they did from there.
Exciting stuff!
The main thing about Google Analytics is that it gives you all the information you need, but how it's used will depend on the confidence of the person using it, and how much time the organization wants to allocate to data analysis.
Conclusion
Mixpanel
Mixpanel is very much about focusing on refining your analysis to what you need to know.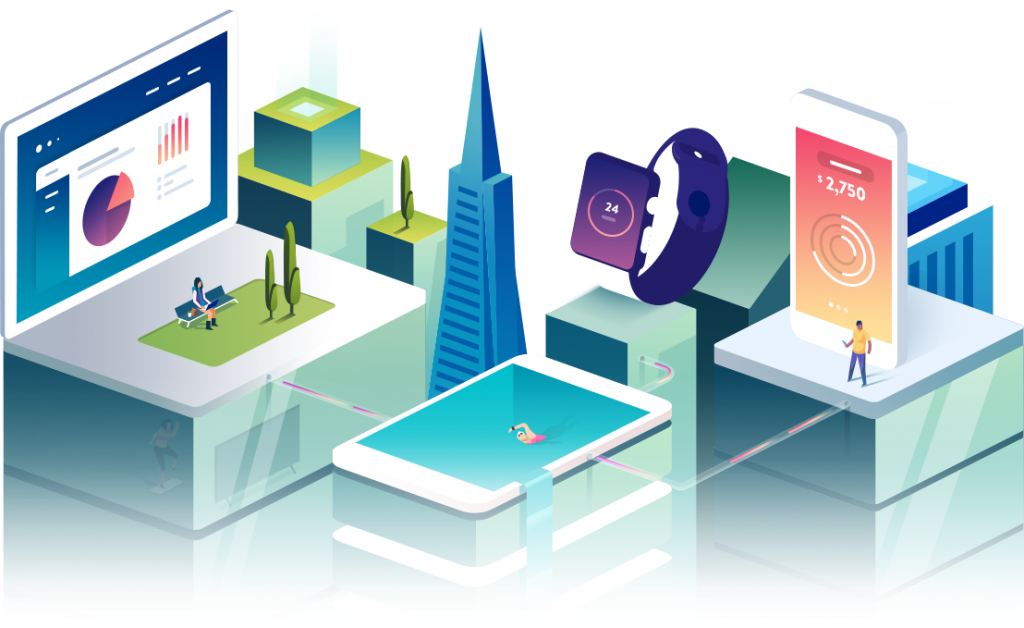 It would be good for any business, but given the costs involved in getting a sufficient timeframe of data for meaningful year-on-year comparison, I'd say it would be best suited to a startup that has great investment, or an established company that can afford the risk.
Again, coming back to cost, it would be better suited to an organization that sells things, and generates an income from its online activities. It's pricey for organizations whose websites are focused on providing information.
Google Analytics
With the onslaught on information that can be retrieved from Google Analytics, it's really just a good all-rounder, which makes its position as the go-to website analysis tool understandable.

As a free product, you won't get any personal support. It does take time to get a feel for the full wealth of information it provides. I'd recommend it for a company who want to start exploring their website data, who want the option for a more refined approach if they need it.
Mixpanel
Google Analytics
Pricing Options
Four tiers, starting with a free version
Four tiers, starting with a free version
Features
– A/B testing
– Predictive analytics
– CSV export
– Support available
– Customer success manager for top tier
– Campaign management
– Detailed information about sources and audience
– Custom URL builder for using on other digital channels
Usability
Laborious to set up, but specific and refined in its results
Lots to use, depending on confidence and requirements of user
Conclusion
Good for sales-orientated digital managers with substantial revenue
Good for all-rounders who want a general analysis, but with the option for depth if required
Final Comparisons
As with many digital tools, the similarities between these two products are great, but it's when you start looking at what they do, that you can determine whether or not they are right for your business.
If your company sells products or services, and has a good enough revenue to hire a dedicated digital marketing analyst, Mixpanel will tell you a great deal about your customer's journey through your website.
If your company does not have the capacity for a dedicated analyst, Google Analytics will provide plenty of information about your audience and their journey. It may not be as on point as Mixpanel, but the information can be retrieved.
I'd even suggest that the information from Google Analytics would complement the Mixpanel data – it wouldn't be weird to use them side by side.
Further read: