Last Updated on October 13, 2022 by DMEditor
Base CRM or Pipedrive? Are you struggling to work out the best fit for your business? If so, never fear, you're not alone!
Choosing the perfect CRM for your organization can be tricky – namely because of the vast range of functionalities, configuration options, integrations, and pricing plans associated with CRM software.
In light of that, we've written an in-depth comparison of Base CRM (now Zendesk Sell) and Pipedrive. So, hopefully, by the end of this review, you'll have a better idea of which (if either) platform best suits you. Does that sound good to you? Great. Let's dive in!
Main Differences Between Pipedrive vs Base CRM
The main differences between Pipedrive vs Base CRM
Pipedrive is better suited for small and mid-sized organizations, whereas Base CRM is designed for companies of all sizes.
Pipedrive supports many languages, whereas Base CRM only supports English.
Pipedrive sales forecasting feature is included in all its plans, whereas with Base CRM you need to purchase one of their most expensive subscriptions to unlock sales forecasting.
Pipedrive offers full customization with APIs and webforms, whereas Base CRM does not have these capabilities.
Our Pick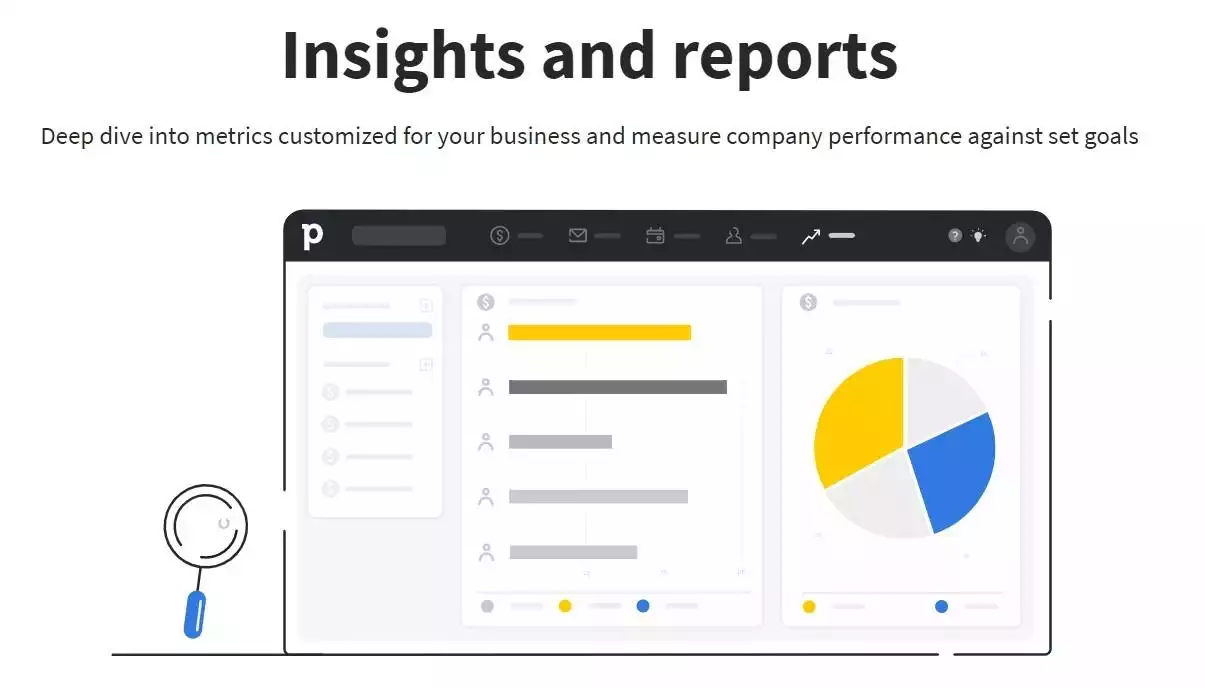 Why I Prefer Pipedrive
Pipedrive has mastered the art of a CLEAN INTERFACE while still having DEEP FUNCTIONALITY. For a pure CRM, I personally went with Pipedrive here.
Try Now
We earn a commission if you click this link and make a purchase at no additional cost to you.
Their Similarities:
Both Base CRM and Pipedrive seamlessly integrate with loads of business and marketing solutions – for instance, MailChimp, Yesware, DropBox, Google, etc.

You can access both Base CRM and Pipedrive using a mobile device (Android and iOS) and desktop (Windows, Mac, and Linux).

Some of Pipedrive and Base CRM's core functionalities overlap. For instance, they both come with activity dashboards, CRM integration, data import/export features, and, most importantly, sales tracking, reporting, analytics, and forecasting.

Both offer a great sales pipeline view that provides users with a detailed overview of their sales.

Base CRM and PipeDrive both offer a clear, simple, and intuitive interface.
Who's Base CRM?
Base CRM, now rebranded as Zendesk Sell, is one of the most successful CRM solutions on the market today. Zendesk acquired Base CRM in 2018 and renamed it 'Sell CRM,' integrating it into Zendesk's core customer service offerings.
This provided new capabilities to new and existing Zendesk customers – for instance, a more unified user experience and a greater variety of integrations. In January this year (2020), Zendesk announced its Marketplace for Sell, an app store featuring over 20 partners.
Moreover, when you consider the sheer breadth of Base CRM's functionalities, there's no denying that this platform offers good value for money. Not to mention, Base CRM comes with loads of native integrations, so rest assured, this platform should seamlessly integrate with your existing tech stack.
You'll also be pleased to hear that Base CRM furnishes you with actionable and quantifiable insights to ensure your business's growth.
You can also collaborate with your teammates inside of Base CRM. You can communicate all the latest activities, feedback, and new opportunities with your colleagues to ensure everyone's on the same page.
The Benefits of Using Base CRM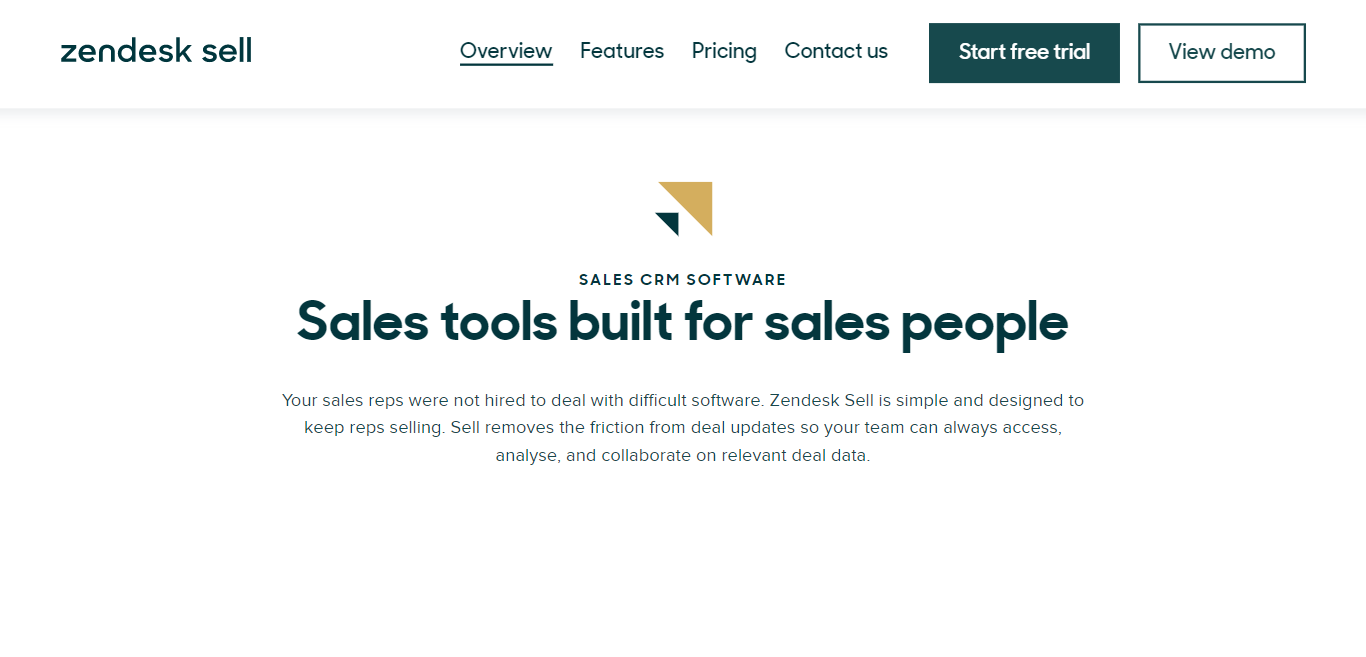 Base CRM centralizes all of your sales, communications, and productivity-related tasks into one unified platform.

Base CRM boosts your sales team's productivity by providing an impressive suite of sales tools, including a sales tracking solution.

Base CRM boasts a simple and intuitive interface. You don't need any tech or programming know-how to make the most out of this platform.

When you combine Base CRM's collaborative nature with the multiple native integrations on offer, you'll enjoy seamless data-flow and secure file sharing.

With Base CRM, you get world-class reporting at your fingertips. The platform offers a suite of visually-arresting reporting templates. This makes studying (what some may consider dull) sales calculations a little easier to swallow.

Base CRM syncs with third-party systems like Gmail and Outlook

Base CRM makes it easy to assign leads to an appropriate sales rep to ensure the consumer gets the best possible customer service.

Base CRM analyzes the strengths and shortcomings of your business workflows. Most notably, via its funnel forecasting, team performance analytics, and task automation functionalities. With this info to hand, you can then work towards enhancing any areas that need improvement.

Base CRM comes with a mobile app so that you can access this software around the clock from any part of the world.

It has a flexible pricing scheme to meet the needs of both established enterprises and startups.

It's easy to navigate due to its user-friendly controls.

Your deals are stored in the Sales Pipeline tab inside your Base CRM dashboard. This makes it easier to filter through your deals according to their status.
The Drawbacks of Using Base CRM
There isn't a bulk deletion option for untracked emails.

Finding something specific (say, a document, contacts, etc.) within Base CRM's database is tricky. You can only use the main keywords to generate search results (which can take a while to familiarize yourself with). Unfortunately, there's no way to add separate pages for contacts and companies; they're all lumped together, which makes finding specific entries challenging…to say the least.

You can't set all emails to 'public' as default so that all team members can see them. Instead, you have to edit each individual user's permissions, which takes a lot of time and effort!

There aren't any marketing features
Base CRM's Core Features
Base CRM's reporting is pretty extensive, including pipeline analysis, sales and goal performance reports, forecasted sales, won deal goals, and sales revenue…To name a few. Not to mention, each report can be filtered in various ways to find the info you need quickly.

There are plenty of easy-to-use social media and email marketing integrations that collect and sync leads with Base CRM.

You can easily set quotas and sales goals for your team and share them with colleagues.

Users can access Base CRM anytime around the clock, irrespective of their location, using their smartphones, tablets, desktops, etc…even if they're offline.

Base CRM monitors and records telephone calls with your customers, which is great for quality control and training purposes.

Base CRM offers cutting-edge, forecasting tools.

Base CRM provides a detailed profile of all the prior interactions you've had with your contacts.

Base CRM scores all your leads automatically to help your sales team focus on your highest value leads and deals.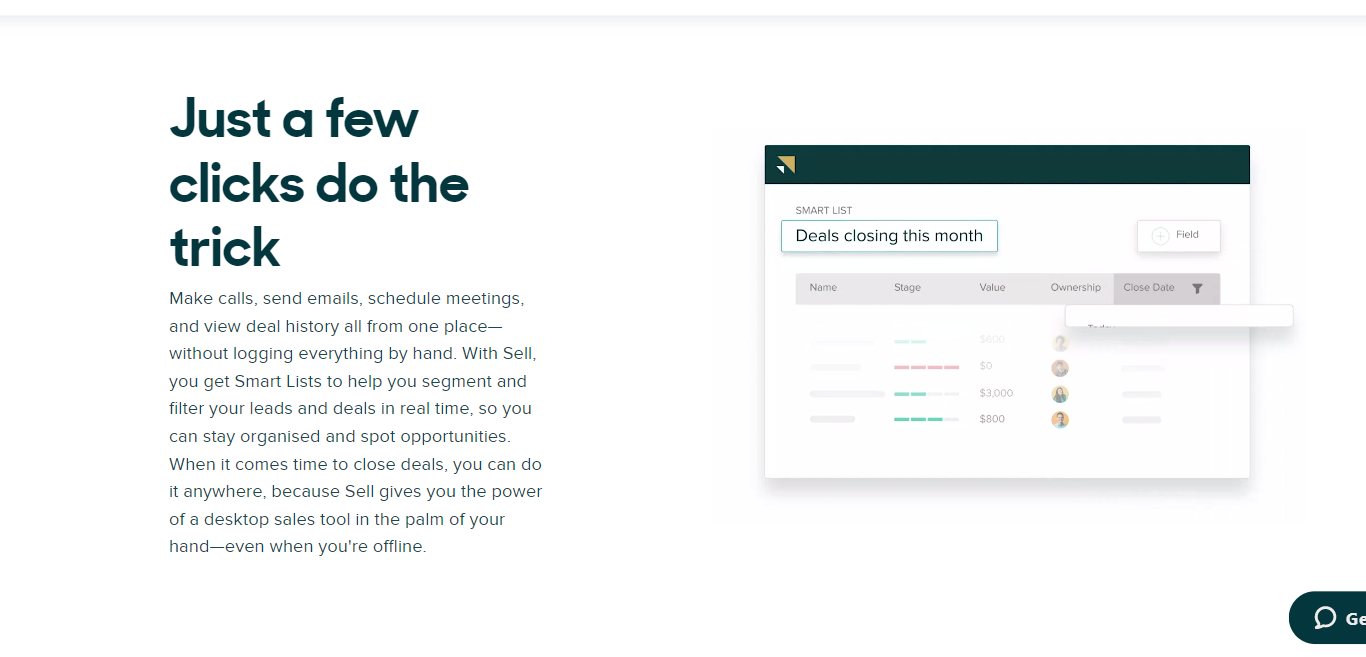 Who's PipeDrive?
Pipedrive is another industry giant in the world of CRM software. In fact, it won the Expert's Choice Award in 2019, which speaks for its popularity.
Built by expert web and app developers and salespeople, Pipedrive is designed to organize your leads. You get a thorough overview of the sales you have in progress, so you (and your team) can focus your time and energy on the deals that need prioritizing.
It's a simple-to-use, albeit robust sales CRM best suited to small and mid-level organizations. The account setup process is easy; it literally only takes a few minutes. Even traditionally, tedious tasks like sales forecasting are now straightforward and quick.
Pipedrive is also fully mobile-optimized, so you and your team can access this software while you're on the run. On top of that, it also integrates seamlessly with Google Contacts, Google Calendar, and other Google apps along with other popular third-party business solutions.
With its efficient reporting tools and chatbot creation for websites, it's safe to say Pipedrive provides near-on everything a small business could need from its CRM.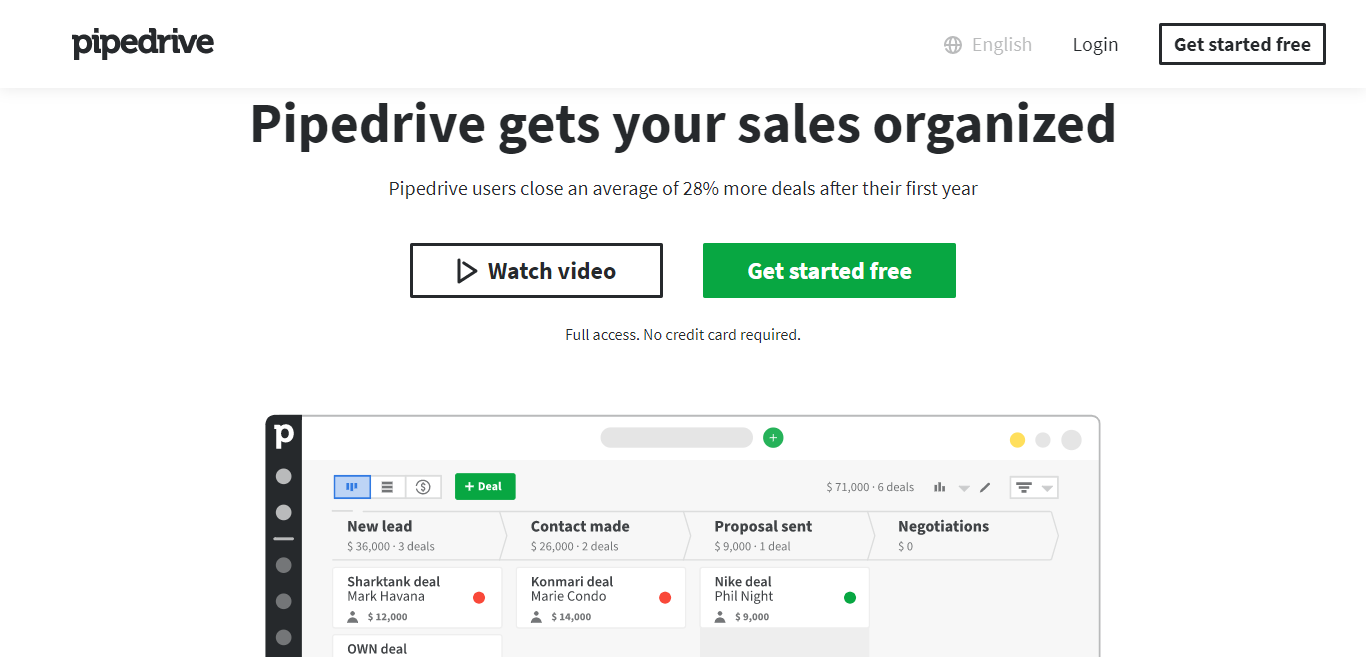 The Benefits of Using Pipedrive
Pipedrive operates as your personal sales manager by helping you choose the right course of action. Through its CRM and visual sales pipeline, you can better focus on your sales deals. You get a clear overview of your sales pipeline, so you can see at a glance what tasks/actions need your attention.

Pipedrive's visual sales pipeline makes it straightforward to add the sales deals you want to track. With just a click, you can add deals you're working on. Then keep an eye on how the deal progresses through each stage of your pipeline until it's either 'won' or 'lost.'

The activity scheduler makes it simple to organize events and meetings in your calendar without risking double-booking yourself.

The minimalist layout and infinite configuration possibilities encourage well-organized lead collection and management.

Anything and everything can be customized with just a click, including modifying your sales pipeline stages.

Pipedrive provides you with a wealth of statistics. Most notably, the individual performance of agents, the value of each separate deal, the history of every lead, etc. These stats can be easily linked to your dashboard so you can keep an eye on them with just a glance.

You can automate all kinds of workflows to reduce the likelihood of human error streamline your sales process – for instance, you could start automating some of the emails you send leads and automate some of your follow-up activity. These are just a couple of examples, but you get the gist!

Pipedrive has a mobile app that syncs in real-time with its desktop version, so it doesn't matter what device you use; you can pick up from where you left off and hit the ground running!
The Drawbacks of Using PipeDrive
For the price you pay, Pipedrive's functionality is somewhat limited. For instance, there aren't any built-in marketing or contract management tools.

When it comes to deal sorting, it isn't as intuitive as Base CRM.

Pipedrive doesn't offer any native integrations with larger-scale companies like Oracle or SAP.
Pipedrive's Core Features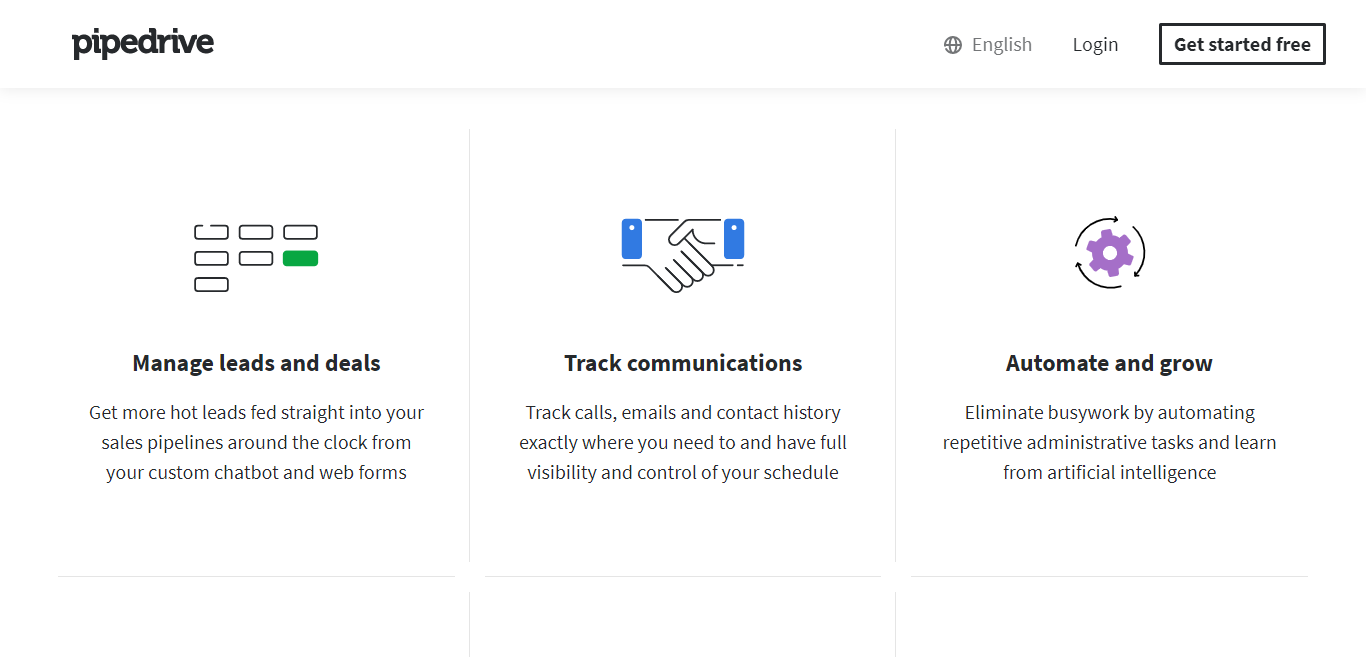 All sales deals are stored and categorized in the Sales Pipeline section of your Pipedrive dashboard. You can customize them, add leads, records, and collaborators at your discretion.

Pipedrive's goal setting and reporting tools enable you to keep track of your targets and get an insight into yours (and your team's) progress.

It also comes with two email integration features – Smart Email BCC and Sales Inbox.

You can monitor email delivery to see whether the recipient has opened your email.

You get access to Google Maps, Google Apps, Google Calendar, and Google Contacts integrations.

It's simple to export the reports you generate.

You can assign your team 'roles' and permit them to access your Pipedrive account as you see fit.

Developers get access to a robust API, so you have full customization over the platform.

You can access the sales and customer contact history for each of your contacts.

Pipedrive comes with a mobile app, enabling you to access the platform via your mobile devices. This also comes with an option to sync your contacts, calendar, and data from over 150+ integrations.

Multi-language and multi-currency support

Access to 24/7 customer support

Sales reporting
Base CRM vs. Pipedrive: Features and Functionality
A high-quality CRM should support your workflows, generate reports, and meet whatever other specific needs your business has. So, here's a quick side-by-side of the features both platforms have to offer:
Base CRM
Contact management tools

Customer service functionality

A customer database

Email marketing tools

An intuitive dashboard where you can keep track of your core metrics

Sales automation

Lead management

Access to data on your smartphone 24/7

Social media integration
Pipedrive
Customer service functionality apps – for example,

LiveChat

,

Zoho

,

Missive

,

Sakari SMS

, etc.

Sales and marketing automation tools – for example,

Zapier

,

automate.io

,

Apiway

,

Zapinfo

, etc.

Google App and Google Maps integrations

You can completely customize this platform via its API and switch off the features you don't use.

Sales reporting

Simple data import and export

A mobile app that is available on iOS and native android

You can easily install a chatbot onto your site to engage your website visitors at any time of the day.

There are plenty of security and privacy features, including a security dashboard, two-factor authentication, and you can set user permissions – to name a few!

You can design a customizable

catalog

of all your company's goods, including costs, information, and more.

Pipedrive pulls contact data from social media platforms like Facebook, Twitter, LinkedIn straight into your CRM.

You can track your client communications history.
Base CRM vs. Pipedrive: Supported Languages
Pipedrive
Pipedrive supports six languages:
English

Korean

Portuguese

Esperanto

French

Italian
Base CRM
Unfortunately, Base CRM only supports one language: English.
Base CRM vs. Pipedrive: The Quality of Their Customer Support
No matter how intuitive a CRM is, there's a good chance you'll need a helping hand at some point. This is where knowing you can rely on a high-quality customer support team is imperative.
Pipedrive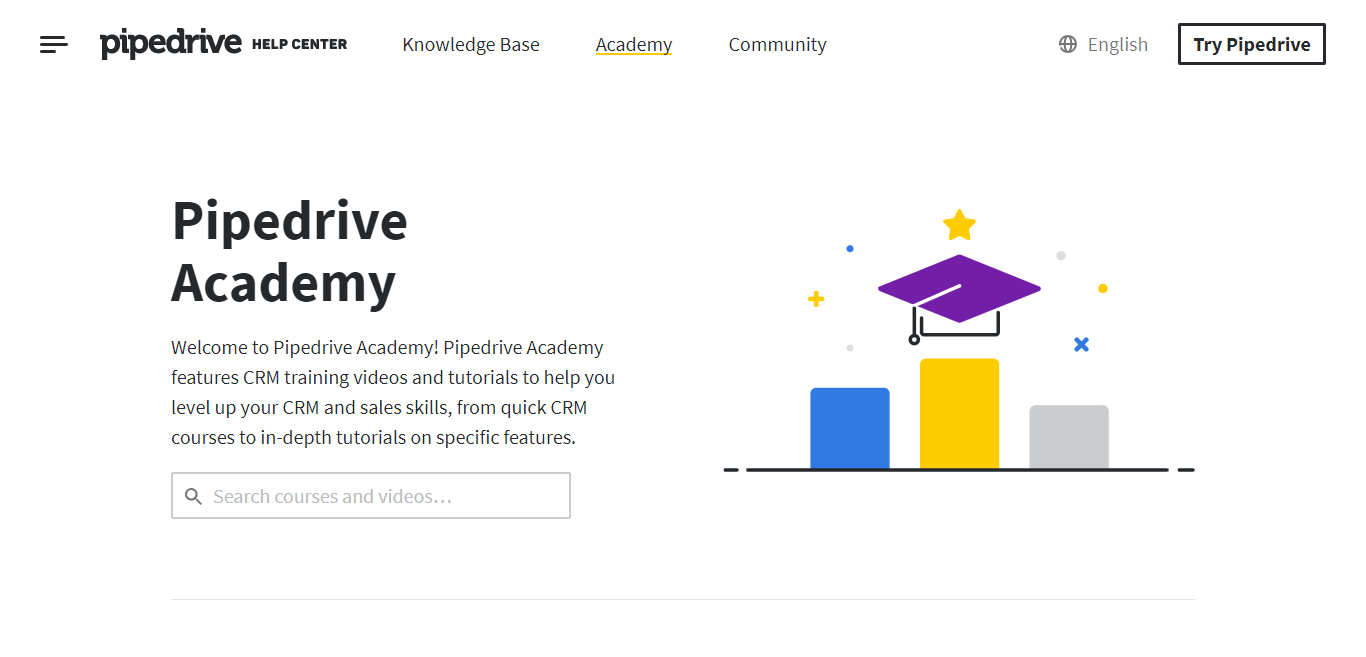 Pipedrive offers real-time customer support over live chat, where you'll enjoy an average response time of less than a minute. Or, if you opt to send an email, you can expect to receive a response within the hour.
Pipedrive has also won the 2020 Excellence in Customer Service Awards, which speaks for Pipedrive's customer support quality.
Or, if you would prefer to go down the self-help route, Pipedrive Academy offers plenty of training videos and tutorials. These range from quick CRM courses to in-depth tutorials driving into specific Pipedrive features.
Base CRM
Base CRM furnishes users with a Help Center where you'll find plenty of self-help articles. However, if you can't find the answer to your query here, you can also contact Base CRM's customer service team via email or over the phone.
Base CRM vs. PipeDrive: How Much Do They Cost?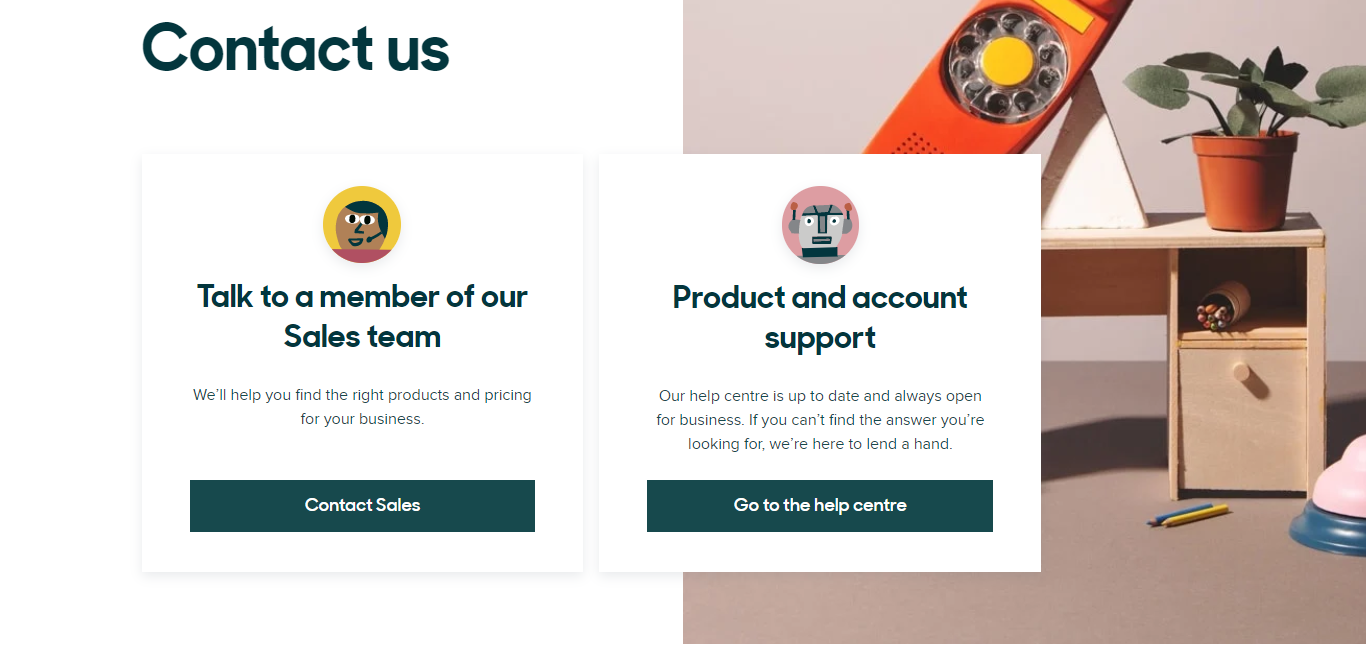 Comparing Base CRM and Pipedrive on price is just as important as looking at their features and functionality. The actual cost of any CRM software depends on several factors. Most notably, subscription fees, software licenses, training costs, required hardware, customization costs, support and maintenance costs, and other associated services.
As such, it's imperative you consider all these expenses to budget your funds better. With all that in mind, here's how Base CRM and Pipedrive compare on price:
Base CRM (AKA Zendesk Sell)
They offer four pricing plans, and as you would expect, the number of features you unlock increases with the expense of the package. Let's take a look.
Please note: all packages come with a 14-day free trial. Also, when Zendesk uses the word 'seat', they're describing a 'user' – so don't let this terminology confuse you.
1. The Team Plan
This costs $19 per seat/month (billed annually) or $25 per seat/month(billed monthly).
This plan offers:
You can register up to three users
2GB worth of document storage per user
Their full-featured CRM on mobile devices
Basic sales reporting
You can create a customized sales pipeline
Email integrations (includes Gmail)
You can set certain fields so that only 'admin' can edit them
You get access to the free apps and integrations
A click to dial feature and call recording
Single sign-on(SSO)
2. The Professional Plan
This costs $49 per seat/month (billed annually) or $59 per seat/month (billed monthly)
This plan offers all the features in the Team plan, plus…
There's no user limit
5GB worth of document storage per user
Access to Zendesk's core API
Sales goals and forecasting features
Personalized bulk emailing functionality
Unlimited email templates
Mailchimp and Zapier integrations
You can create unlimited custom fields
You get access to advanced call analytics
You unlock access to paid-for apps
3. The Enterprise Plan
This will set you back $99 per seat/month (billed annually) or $125 per seat/month(billed monthly).
This package comes with everything in the previous two plans, plus…
You can create up to two sales pipelines
10GB worth of document storage per user
Lead and deal scoring functionality
A Hubspot integration
Task automation
You can create a product catalog
You can send customized notifications
You can generate activity reports
You can set more advanced permissions
Power Dialer & Call Scripts
4. The Elite Plan
Last but not least, the Elite plan costs $199 per seat/month (billed annually) or $249 per seat/month(billed monthly).
Again, you'll get everything in the previous bundles, plus:
You can create unlimited sales pipelines
25GB worth of document storage per user
You get access to a customer support rep performance dashboard
You can generate sales insights reports
You get access to Search, Firehose, and Sync API
Premium CS Support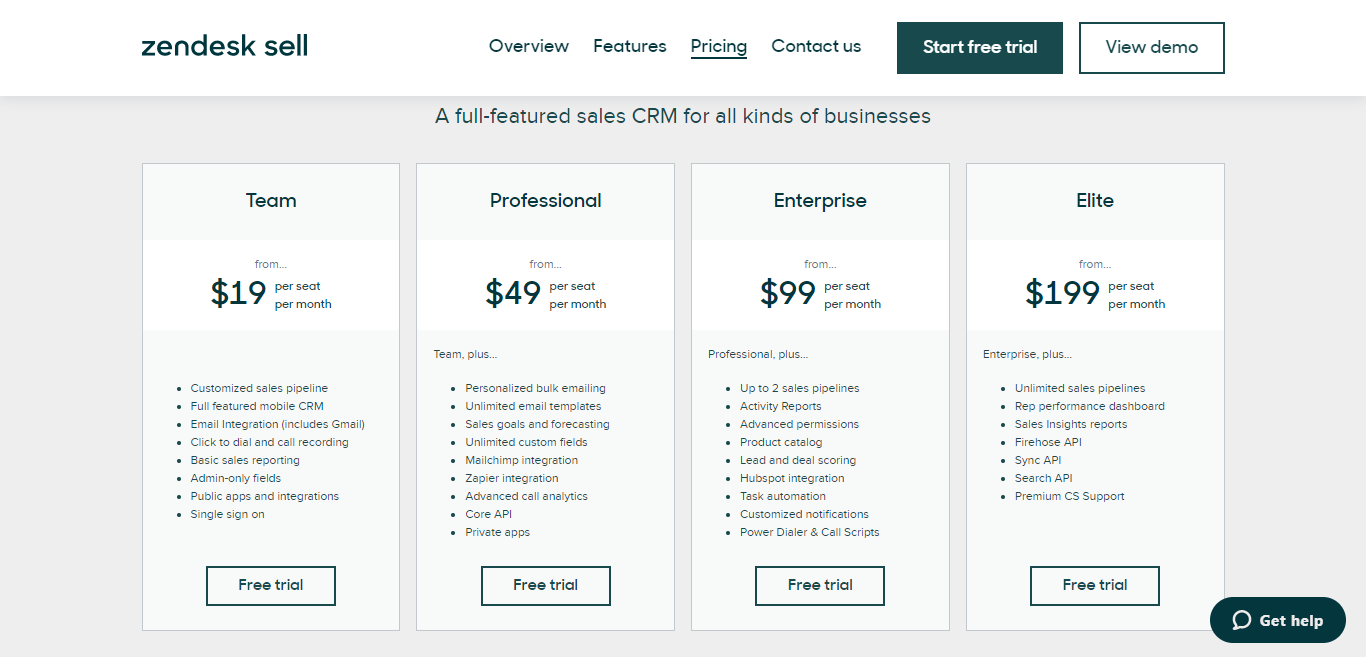 PipeDrive
PipeDrive also offers four plans, but before we explore the specifics of each package, it's worth noting that each program boasts the following features:
GDPR-compliance
150+ apps and integrations for you to download and use as you wish
24/7 support ( via live chat & email)
Date centers across the US & EU
iOS + Android mobile apps
Open API
Now that we've covered the basics, let's see what each of Pipedrive's pricing plans has to offer…
$9.90 per user per month – billed annually (Or $12 per user per month billed monthly).
This plan comes with:
Deal management features – you get a complete view of your pipeline stages, ownership, communications, and history
Customizable pipelines
You can create custom fields
Data import and export features
You can merge duplicate data
Deal rotting – This feature notifies you when a deal has remained idle for longer than your pre-defined 'rotting period'
Contact and organization management features -You can create an unlimited database of contacts and organizations. From here, you'll get a clear view of their history, deals, and communications
An email inbox
You can link your email communications with contacts and deals
You get access to a basic meeting scheduler
You can download and use mobile apps and integrations
Advanced user permission (2 sets)
One visual dashboard – Here you can take important metrics and display them visually using Pipedrive's drag, drop, and resizing tools to create interactive charts.
This will set you back $19.90 per user per month – billed annually (Or $23 per user per month if billed monthly)
This package includes everything in the Essential plan, plus…
You can create a catalog of your company's products and/or services, including costs, notes, etc.
Two-way email sync- This enables you to sync your email to send and receive messages directly from Pipedrive or your favorite email provider.
Customizable email templates
Email open and click tracking
You can set a customizable email signature
You can create 30 workflow automation
Smart contact data – This feature enables you to auto-populate valuable insights about leads with just a click, using web platforms like LinkedIn
You can generate recurring revenue reports
SAML SSO (single sign-on) login
You can make web-to-mobile calls
This costs $39.90 per user per month (Or, $47 per user per month if billed monthly)
The Pro plan includes everything in the previous two bundles, plus…
You can create 60 workflow automation
You can create three sets of advanced user permissions
Unlimited visual dashboards
You can generate lead and revenue forecast reports
Group emailing features
You can create custom fields and reports
Team management features – This empowers you to organize your salespeople into teams to gain more of an insight into their performance
Security alerts and security dashboards
Advanced deal and contact visibility settings
Pipedrive's most expensive plan will set you back $79.00 per user per month – billed annually (no price provided for monthly billing)
You'll get everything listed above, plus:
You can create unlimited advanced user permissions
Unlimited visual dashboards
You can set 100 workflow automation
You get access to 24/7 telephone customer support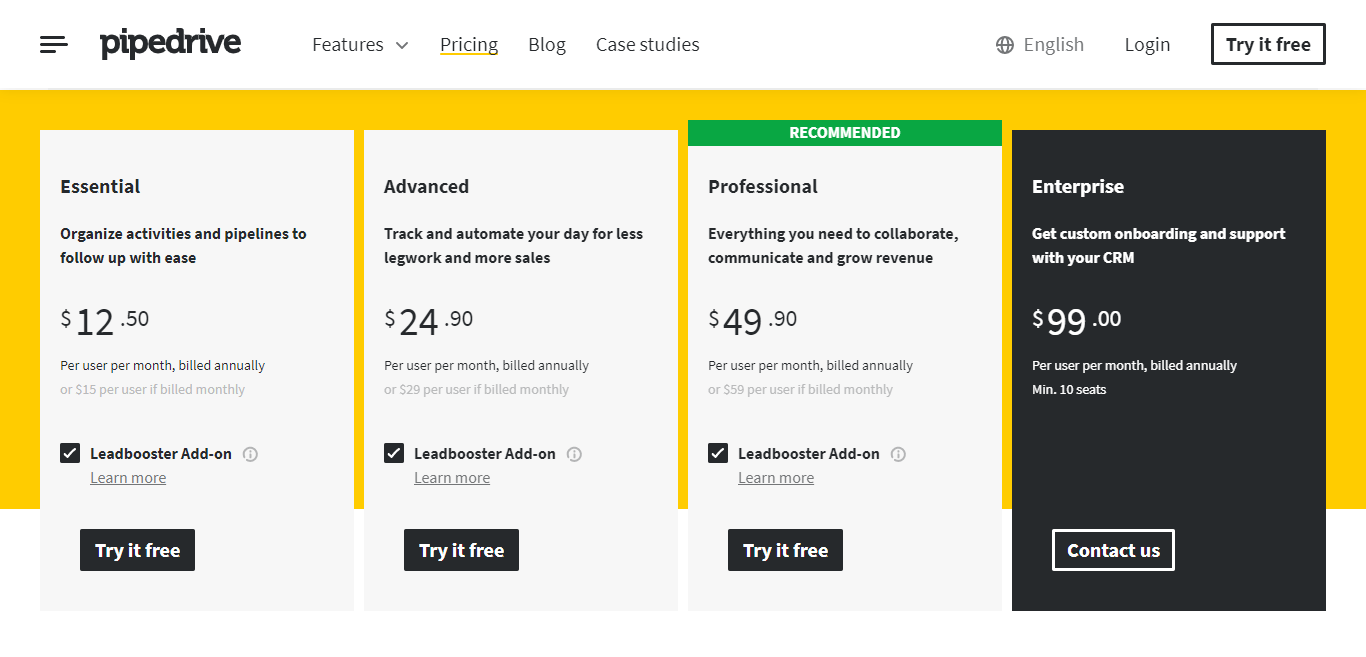 Base CRM vs. Pipedrive: Who Are They Best for?
Base CRM
Base CRM is perfectly suited for companies of all sizes – small, mid, and large-sized organizations.
Pipedrive
Whereas Pipedrive is ideally suited for freelancers, small and midsize businesses.
FAQs
Question: What kinds of devices are supported by Base CRM?
Answer: These are the devices supported by Base CRM:
Windows
Android
Mac
Linux
Web-based
iPhone/iPad
Question: How long is Pipedrive's free trial?
Answer: All of Pipedrive's payment plans come with a 14-day free trial.
Question: How long is Base CRM's free trial?
Answer: It's the same as Pipedrive's – 14 days.
Question: Can I try different plans during my PipeDrive trial?
Answer: Yes, users can easily upgrade and downgrade between plans. This can be done at any time in the billing cycle.
Question: What are some popular Base CRM alternatives (apart from Pipedrive)?
Answer: The most popular Base CRM alternatives are:
Microsoft Dynamics 365
KarmaCRM
Batchbook
CueMonk
Question: What integrations are available for Base CRM?
Answer: Listed below are just some of the services and tools Base CRM integrates with:
Google Drive
Google Chrome
Outlook
MailChimp
Facebook
Dropbox
Xero
Harvest
Yesware
Zapier
Base CRM vs. Pipedrive: Which Will You Opt For?
We hope that having read this review, you're now better positioned to pick the best CRM to meet your business needs. So, which will you opt for? Base CRM or Pipedrive? Whichever you choose, tell us all about it in the comments box below. We look forward to hearing from you soon!
Our Pick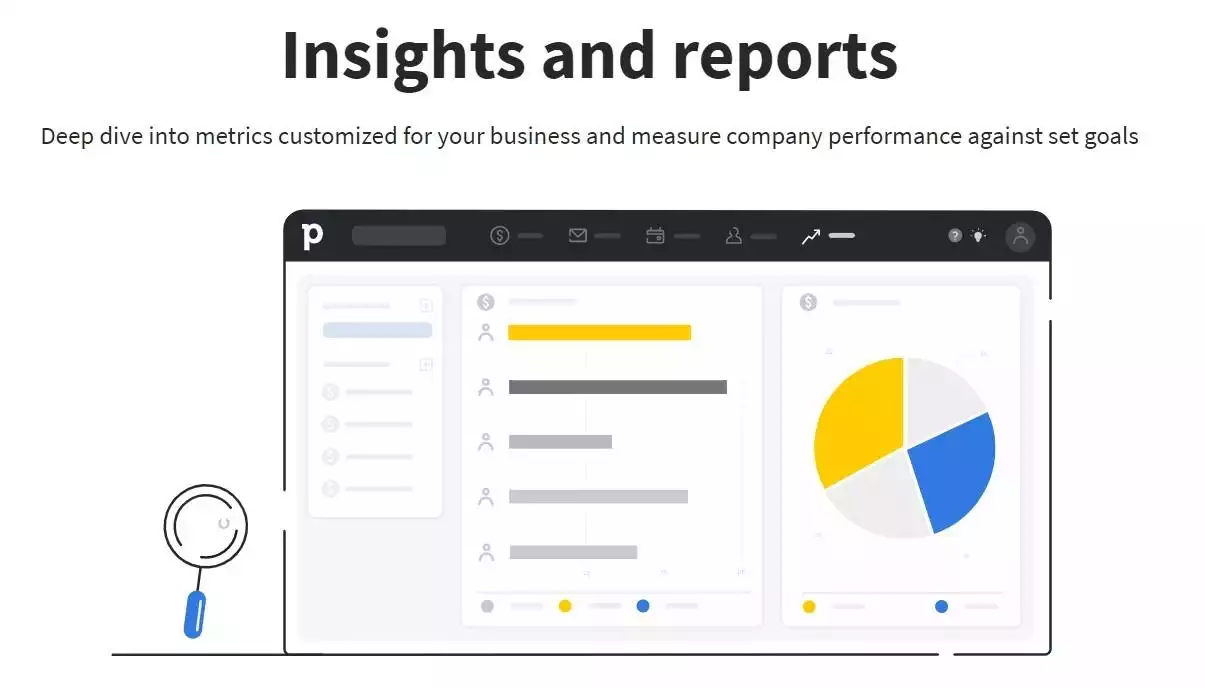 Why I Prefer Pipedrive
Pipedrive has mastered the art of a CLEAN INTERFACE while still having DEEP FUNCTIONALITY. For a pure CRM, I personally went with Pipedrive here.
Try Now
We earn a commission if you click this link and make a purchase at no additional cost to you.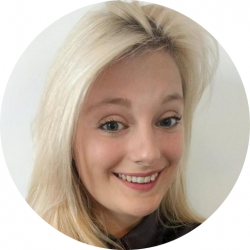 Latest posts by Rosie Greaves
(see all)