Last Updated on August 17, 2022 by DMEditor
With so many avenues into the World of commerce today, be it via blogging, social media or digital marketplace(s), Business has never been more competitive. To get ahead of the pack, many marketers and entrepreneurs have decided to take a systematic approach to Customer Relationship Management (CRM).
Of course, knowing that a CRM can give you an advantage is one thing. But, what does a CRM do?
Well, according to Forbes, CRM systems help businesses build high-quality relationships with their customers. Salesforce goes one step further and describes CRM as a strategy. Salesforce, the market leader in CRM software also details how a CRM system should also nurture relationships with potential customers. In other words, it should do more than manage current customers successfully.

Why Go with Hubspot?
Hubspot can replace EVERYTHING. If you are tired of multiple dashboards for your marketing automation, Hubspot solves this problem brialliantly. Start with the FREE CRM, then scale additional features without learning a new platform.
Try Hubspot FREE
We earn a commission if you click this link and make a purchase at no additional cost to you.
CRMs achieve success by streamlining processes, understanding where a company sits within the sales pipeline, improving communication, streamlining customer service, and providing one integrated system to manage business data.
Long story short, CRM can increase a business's profit. And that fact hasn't gone unnoticed.
It's estimated that 91% of small businesses have begun using a CRM system. While 82% of enterprises are using CRM for insight into sales reporting as well as automating the sales process (see report here). The end result?
CRM is now the most valuable software market today. In 2019 market size was valued at 40.2 billion dollars. In the next decade (2020-2027) that figure is set to expand by a reported CAGR of 14.2%. Meaning that by the year 2027 the CRM software market will be worth $113,460,000,000.
And with so much money on the line, it's fair to say that there's a lot of companies currently offering CRM software. Hence, today this article will be comparing and contrasting Insightly vs Hubspot – two tech companies doing exactly that.
Both CRMs are popular with SMBs and have made their way into the mid-market range in recent times. If you don't feel like reading this entire article, then skip to the end for a clear buying decision. By choosing to read this article you're putting yourself in a great position to purchase the right CRM system for your business. Which, will save you time and money in the future.
Read on!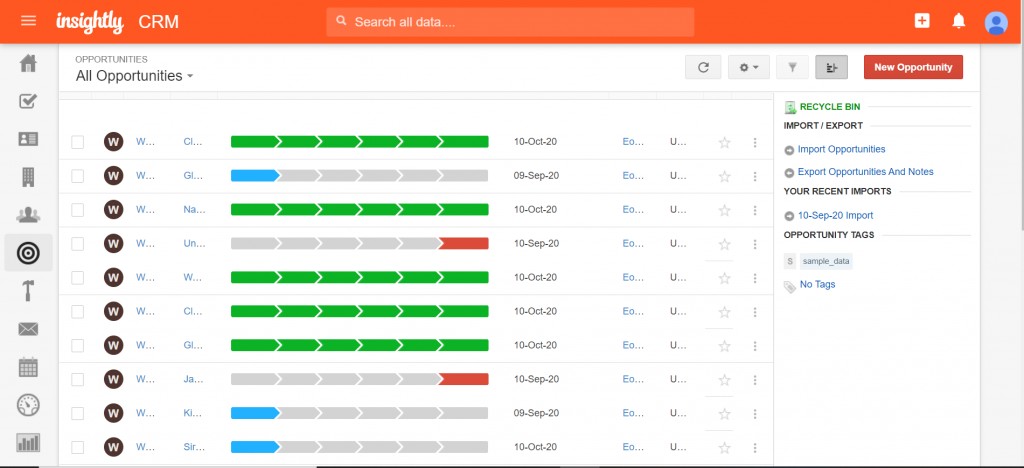 Insightly vs Hubspot | The Main Differences Between
Hubspot doesn't offer a project pipeline chart, whereas Insightly does.
Hubspot offers CMS, Customer Service, Sales, and CRM as well as Marketing, whereas Insightly offers Marketing and CRM systems.
Hubspot provides a Sales bot, whereas Insightly doesn't nor does it provide a live chat.
Hubspot is straightforward and boasts an intuitive UI, whereas Insightly doesn't but has some insightful visualizations.
Hubspot offers a free version of its software, whereas Insightly doesn't offer free versions of its CRM software.
Ease of Use
For the most part, both of these platforms are straightforward. I do think that Hubspot's CRM is slightly more intuitive, whereas Inisghtly's system offers superior visualizations making it easier to read data reports.
The reason being is that I thought the sidebar in combination with the content displayed on-page within Insightly was much prettier than Hubspot's solution. I think when a CRM's interface is aesthetically pleasing I'm much more willing to interact and spend time working out where everything fits.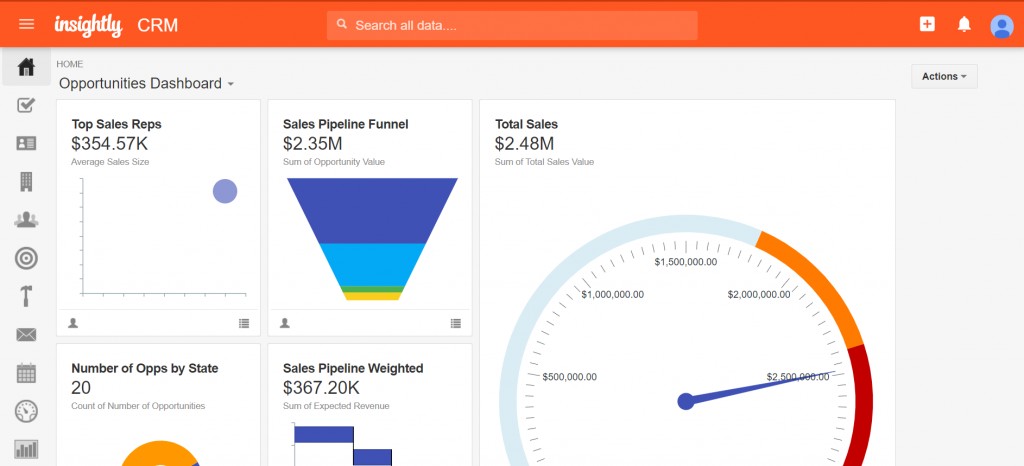 (Which, is important for Insightly because it can be a pain as you'll soon find out!)
There were still some areas I felt Hubspot outperformed Insightly. For instance, I felt Hubspot streamlined the process of assigning tasks to sales reps a bit better. Being able to create tasks within the "contacts" tab made managing employees easier.
I just don't recognize the need to have "Contacts" and "Tasks" in two separate tabs, which is the case with Insightly – it adds clutter. Also, it's possible to perform functions using Hubspot within two clicks. Whereas the same functions with Insightly require hovering over icons and can twice as many clicks at times.
To recap, Insightly provides better data visualizations. But, Hubspot is quicker to navigate.
Apps/Integrations
Being able to access external functionality is an important feature within any marketing system. If you can't do what you want with in-built features, then you need to be able to access those features elsewhere.
So, you should be pleased to know that Hubspot is partnered with tonnes of third-party apps. The Hubspot apps marketplace makes its offering compatible with big names in the eCommerce world. For example, Hubspot's app can be integrated with Shopify – a world-renowned, hugely popular shopping cart. Hubspot "connected" apps also include the likes of Salesforce, Zoom, and Stripe. In total, there are 200+ integrations available to Hubspot license holders and counting.
Insightly also has an impressive number of apps available for integration. The Insightly app store doesn't possess as many CRM integrations as Hubspot, however, it's still integrable with some high-quality apps through Zapier. Some fine examples include Gsuite/Google Apps, Microsoft's Outlook, Xero, Quickbooks, and MailChimp.
Hubspot vs Insightly | Hubspot Wins
I like the fact that Hubspot can be partnered with so many apps, yes, but more specifically I like the number of payment aggregators. There are some reputable brands available, exemplified by PayPal and Stripe.
In terms of tracking your revenue, I think it's important that you can directly integrate with your payment gateway service provider. You can do this with Hubspot, but not with Insightly – so Hubspot wins.
Managing/Marketing | The Sales Process
A CRM should first and foremost help you and your team of sales reps become much more organized. But, it doesn't hurt to look for a CRM platform that also provides solid sales tools. Such tools can help reps close more deals, while also providing more in-depth information regarding their performance within the sales pipeline.
Hubspot's free CRM comes equipped with several basic sales tools. For example, email tracking/notifications, email templates, messenger integration, custom properties, meeting scheduling, and so on. These are all helpful tools when it comes to leaving a blueprint for gauging and analyzing progress during the sales process and generating leads.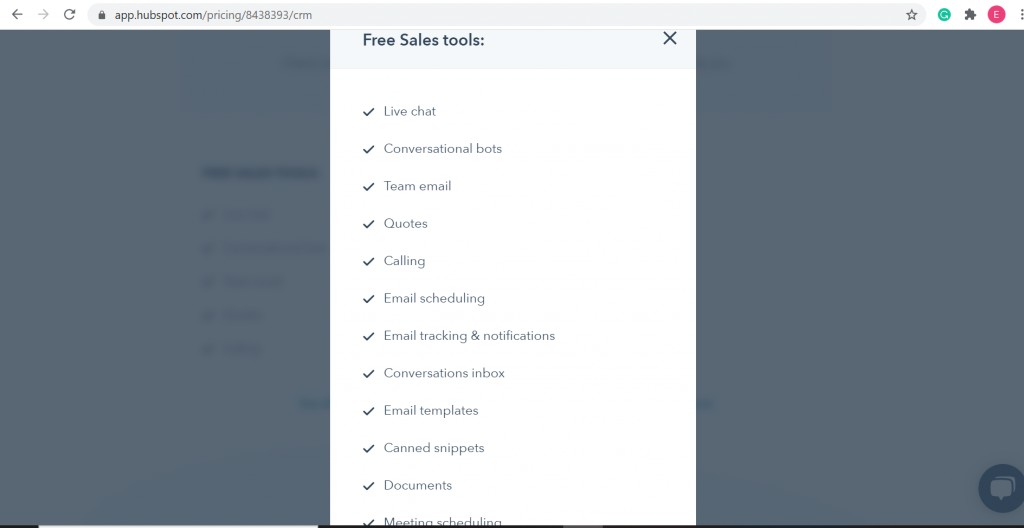 Like Hubspot, Insightly also provides email templates to its users to aid in the lead acquisition and sales process – I liked the ability to track open and reply rates. Email features are also available in a similar vein to Hubspot. It's possible to track emails, send emails to a targeted list of contacts and set up "Schedule Email" automation.
Hubspot vs Insightly | Verdict: Both Platforms Have Their Perks
Overall neither Hubspot nor Insightly will be found wanting when it comes to managing the sales process. What's worth noting here is the way they classify sales and marketing tools. For example, Hubspot includes a host of email functions within its Sales and CRM system.
But, email marketing is only available within its Marketing system. So, to receive the functionality to manage your emails most effectively you'll need to bundle the Marketing and Sales & CRM systems together. Which, will cost much more.
In contrast, I think that Insightly's Marketing system contains much more marketing-specific automation and functionality. While its CRM does a better job at keeping basic sales functions native to its CRM and Sales system. So, you're less likely to feel the need to bundle products together and end up overpaying for a service you shouldn't need if it were not for a single sales tool.
I liked that Hubspot provides a bot to aid in marketing. This bot will help leads find the right rep for a 1:1 discussion making a conversion more likely. Such conversation bots aren't available with Insightly. Overall, I do think that Hubspot has enough small but impactful features like this for it to warrant me saying that its a better inbound marketing software at managing the sales process.
Security
Nowadays, data needs to be protected. Movies like Netflix's "Social Dilemma" have truly frightened people. So, picking a CRM with multiple layers of protection and certain levels of compliance is a must. After all, a CRM system's purpose is to literally manage and analyse customer data. And if people can't trust that you're security protocols aren't going to protect them, then you're fighting a losing battle. So, run marketing campaigns that earn people's trust – starting with a secure CRM.
Insightly isn't HIPAA compliant. However, the platform does have an article detailing its security features. Insightly's marketing solution meets the following standards:
SOC 2 Type 2
EU-US Privacy Shield Framework Compliant
Swiss-US Privacy Shield Compliant
TRUSTed Apps Data Privacy certified for G-Suite
Hubspot is also SOC2 Type 2 compliant as well as being ISO 27001 compatible. So, physical security protection is superior with Hubspot due to it being ISO compliant. There's no advantage in choosing between Hubspot and Insightly at the enterprise level as they're both TRUSTe compliant. Hubspot is also EU-US and Swiss-US privacy shield compliant. Like Insightly, Hubspot isn't HIPAA compliant.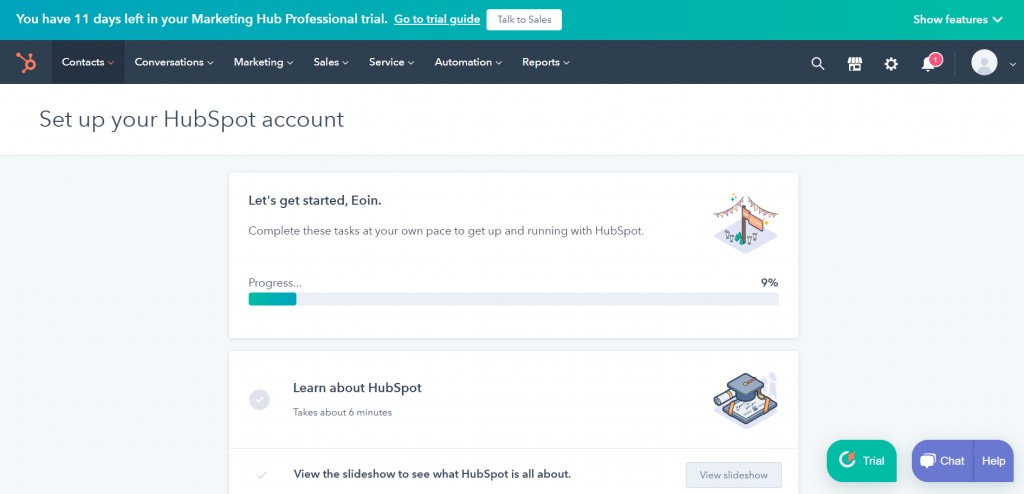 Hubspot vs Insightly | Which is Safer?
Overall, both of these eCommerce marketing aids are secure. From what I understand neither has suffered serious security issues or breaches. But more importantly, both CRM's operate using Transport Layer Encrypted technology when moving data between apps and servers. Hubspot security and risk management are, therefore, no less secure than any other CRM. The same goes for Insightly.
Collecting and Analysing Data
CRM software should provide you with the features and functionality you need to make data-driven decisions. More and more businesses are recognizing the need to drive targeted marketing campaigns – with data scientists and analysts leading the way. Long story short, marketers need access to data reports to analyze, strategize, and implement their goals to achieve Data-Driven Decision Making (DDDM).
Hubspot's reporting and analytics are useful at gauging sales performance, productivity, effectiveness at closing out deals, employee activity, and more. I liked how many options I had to segment and filter data. I thought that ability combined with the use of charts, bar graphs, and percentage gains and losses – made Hubspot feel intuitive.
The Insightly CRM operates in a similar manner to Hubspot. Insightly's database represents information relating to sales, actions and opportunities using strong visualizations. Again, I think this is an extremely useful feature that makes analysing data much easier. Something I found particularly useful regarding Insightly was the ability to create dashboards and add cards. Data can then be entered within these dashboards and represented using pie charts, scatter plots, etc.
Hubspot vs Insightly | Verdict: Hubspot
Overall, I think both platforms have their perks. But, I don't like the way Insightly operates in terms of creating reports. I felt Hubspot makes it much easier to filter by report content using a well-ordered sidebar. In contrast, Insightly requires you to enter tabs and float over functions to find what you're looking for. Hubspot streamlines this process more effectively.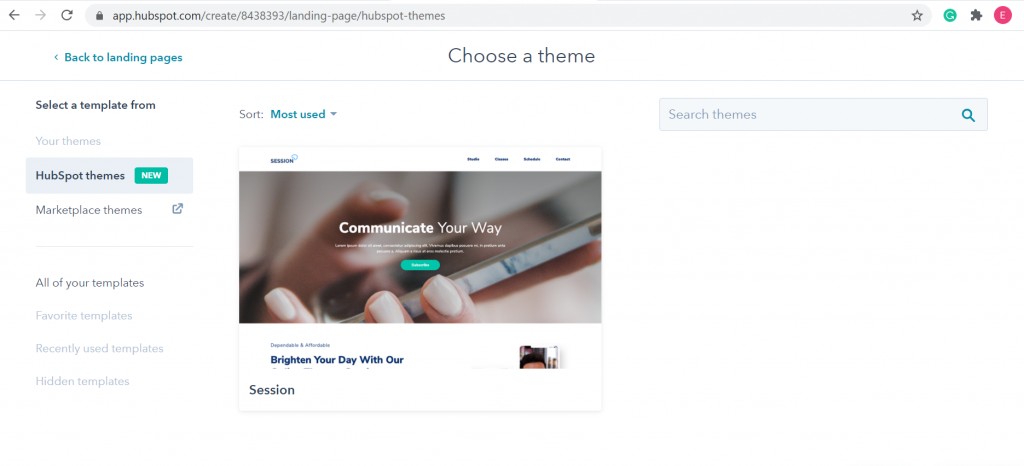 Integrating Your Data Channels
When choosing your CRM you want to be able to easily integrate channel data. Doing so will enable you to run more targeted marketing campaigns and analyze your channels for optimal performance.
You'll be able to check your marketing channels to see where data is coming from primarily. For example, Google, social media, marketplaces, etc.
Doing so will allow you to see the most accurate data to monitor and analyze leads, in turn helping you to set up the most effective marketing funnels as per the cost of creating a lead.
The Insightly pricing plans involving its CRM provides excellent methods for importing data from external channels. A prime example is the ability to capture leads via pages on the web. You can also filter out spam so that no bots are skewing your results. You've got the functionality to analyze web traffic so that you can get a feel for how leads are interacting with your landing pages and website more generally. External form tracking is also available, so you'll be able to accurately trace where a lead originated.
Hubspot aids in data management by allowing you to track leads using certain features, making it easier to understand what channels leads are coming from. For example, you can connect ad networks to your Hubspot account and embed forms into web pages. Website traffic analytics is also available to get an idea of clicks, bounce rates and more. You can also set up action triggers that'll automatically send an email once an action is completed within one of your channels.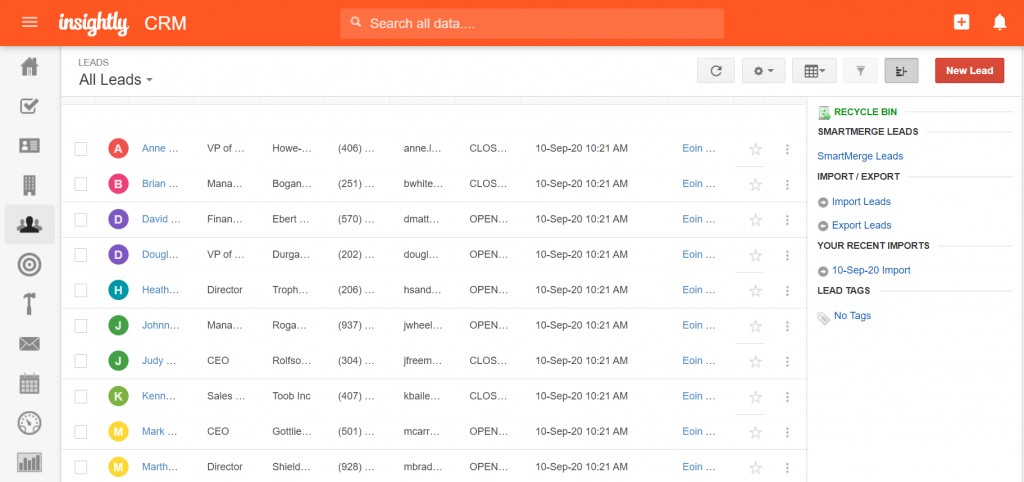 Hubspot vs Insightly | Verdict On Integrating Data Channels
Both platforms provide options that help you identify where leads are coming from using your data channels. That being said, it's difficult to overlook the fact that Hubspot provides much the same basic features Insightly does through its free CRM app. So, Hubspot is providing data marketing tools for free while you'll have to pay for them with Insightly.
The same concept applies to ad management. You can connect your Hubspot account to ad channels and directly import the data for analysis to assess the performance of the marketing channel for free. You can do the same with Insightly, except you must pay for a plan.

Why Go with Hubspot?
Hubspot can replace EVERYTHING. If you are tired of multiple dashboards for your marketing automation, Hubspot solves this problem brialliantly. Start with the FREE CRM, then scale additional features without learning a new platform.
Try Hubspot FREE
We earn a commission if you click this link and make a purchase at no additional cost to you.
Hubspot vs Insightly | Content Management Systems (CMS)
Hubspot boasts a Content Management System (CMS) for marketers and developers to create an amazing visual customer experience. The Hubspot CMS possesses an API that developers can use to customize website themes. Marketers who lack developmental skills can use the drag and drop editor to build aesthetically pleasing web pages.
Hubspot calls its CMS the "CMS Hub". To aid in the onboarding process, Hubspot's "CMS Hub" offers a 14-day free trial. There's also a demo available. Request more time if you feel the 14-day free trial isn't long enough. Never finish onboarding until you're certain a software solution is the right fit.
Hubspot's CMS features are not just for marketers. As previously mentioned they're tailored toward developers and even entire IT teams.
Marketers benefit from SEO advice, website themes, and multi-language content creation. More advanced features include adaptive testing (select page variants and see which one earns the most conversions/generates the most traffic) and contact attribution reporting (which, tells you the source of leads through your marketing channels).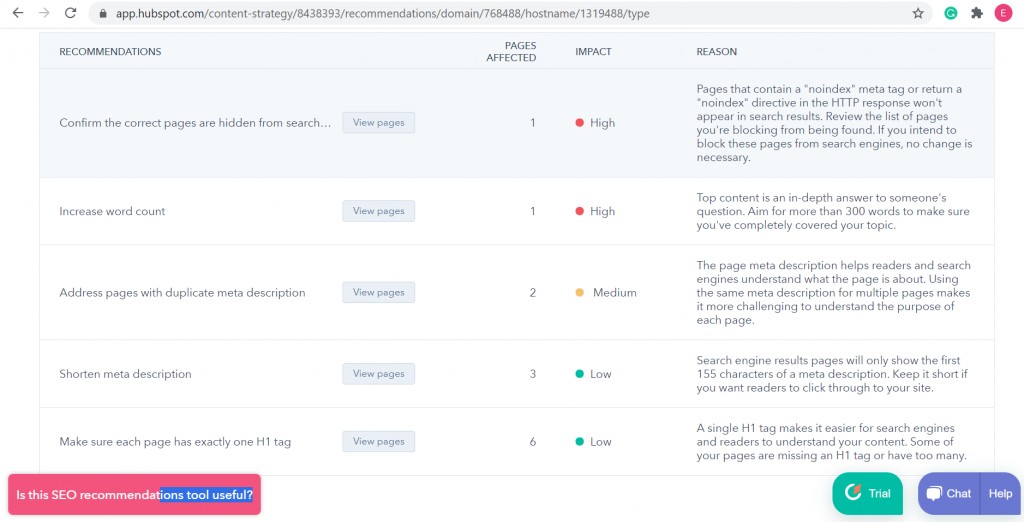 But, developers profit from serverless functions, local website development, and Hubspot's developer forum and knowledgebase. I think, however, that developers benefit most from Hubspot's "Code Alerts" developmental tool. It provides a centralized location for Hubspot developers to read suspected problems with code. So, if there are design bugs, slow page loading speeds, or perhaps problems with the syntax within the coding language itself – code alerts can identify the problem. This is excellent because users can then go about fixing the issue sooner than might have previously been the case.
IT teams enjoy reverse proxy support, a standard SSL sheet, 24/7 security and protection, CDN (custom CDN available with enterprise), ability to monitor and log team activity, and, finally, monitor your site's performance.
One drawback here is the fact that code alerts and custom CDN configurations are only available on the "Enterprise" plan. If you look at the Hubspot CMS pricing you'll notice that it's a whopping 600$ more expensive than the "Professional" solution. Of course, IT teams will need the additional functionality present in the "Enterprise" plan.
Hubspot vs Insightly | Verdict
CMS software lets marketers manage and edit the content on their webpages without advanced developmental knowledge.Crucially, this can all be done through one integrated system using Hubspot's CRM. Insightly offers no CMS solution. So, Hubspot wins.
Hubspot vs Insightly | Project Management (PM)
Insightly is "the only CRM that has project management and delivery built right in". As a result, Insightly's users find it easy to manage contacts, projects, and tasks. So, Insightly is a strong option for PM.
But, it's important to note that Hubspot possesses a "Projects" interface. It's Hubspot's project management tool. "Projects" comes as part of Hubspot's marketing software and aids in planning and strategy.

What I like about PM with Hubspot was the clarity. In the screenshot, you should be able to notice how everything is laid out in a linear manner. One block after another. I particularly liked the ability to add subsections similar to building blocks. Being able to drag and drop parts saved me from having to rewrite tasks if I made an error of judgment order projects.
Insightly's PM dashboard is more cluttered, but it seems to offer more features. For example, recycling bin to revisit binned projects, import and export projects, print projects, and also I could mark as important. From what I could see, such features weren't available with Hubspot.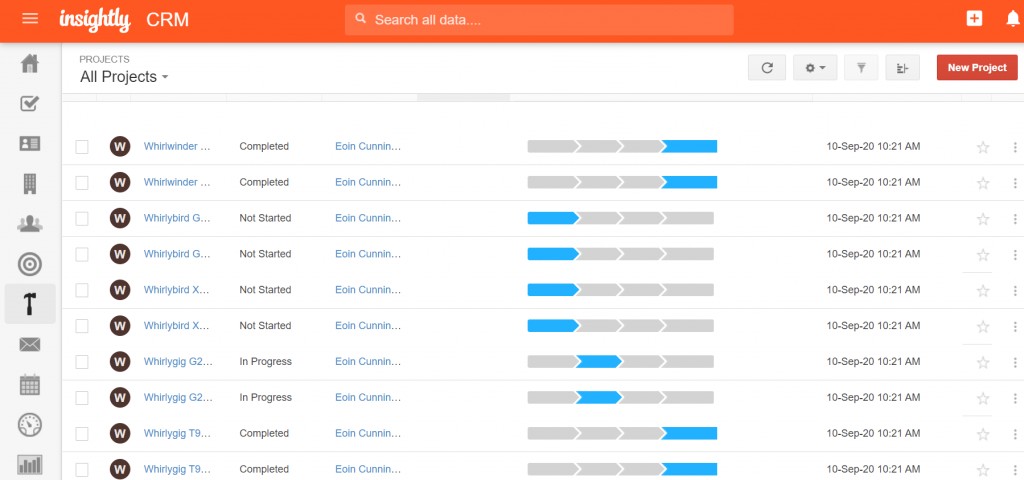 Hubspot vs Insightly | Verdict: I prefer Hubspot for UX, But Insightly Overall for PM
Overall, I preferred Hubspot's PM software in terms of UX. I like the way I could build projects by adding blocks of tasks and subtasks. To add information about each task/sub-task, I enjoyed descriptions, "@ mentioning" other colleagues (unavailable with Inisghtly), adding due dates, assignees and leaving comments via the Discussion tool.
To be balanced, Insightly also lets you perform the above functions (for the most part!) only it's much more drawn out. What takes two clicks with Hubspot, takes five clicks with Insightly. Hubspot doesn't have a task pipeline either, so it's less visual in terms of managing a project's workflow. From what I understand, project management activity can't be tracked with Hubspot's marketing solution unless you purchase an "Enterprise" solution. In contrast, you can track activity with Insightly regardless of your pricing plan.
If you're looking for an easy-to-use solution, then choose Hubspot. But, for the reasons stated above, I think Insightly is more well-rounded.
Insightly vs Hubspot | Customer Service
Customer service is all about providing value through in the shortest time possible. So, customer service software tools are beneficial when integrated with a CRM solution.
Not only will such software make it possible to help customers, but also provide actionable information. Marketers, managers and sales reps can then use this information to run a business more efficiently.
Verdict – Hubspot
Hubspot offers its very own "Services Hub". It provides useful features such as a knowledge base (used to answer FAQs at checkout, for example), ticketing (helps customers receive support quicker as per specific metrics), and much more.
In contrast, Insightly doesn't offer a specialized suite of customer service tools. That gives Hubspot an advantage in terms of Customer service.
Hubspot vs Inisghtly | Frequently Asked Questions
Is Insightly CRM Free?
Yes, Insightly CRM is free. But, this free version of its software offers basic features and functionality and limits you to a maximum of two users. If you're looking for a free version of a CRM, then you're better off choosing Hubspot over Insightly because you're allowed more than two users.
How Does Hubspot Make Money?
Hubspot makes money by charging its license holders a fee in exchange for Hubspot's offering. Depending on the plan you choose you, you'll be charged more or less. Factors that influence this decision include company size, user accounts, the need for bundled systems, more advanced features and functionality, and so on. By taking all of these ingredients into consideration Hubspot can cook up a pricing recipe for its users, which enables them to make money.
How Much Does Insightly Cost?
Insightly costs anywhere from 0$-1,299$ per month. The plan you choose will dictate cost with more advanced plans containing greater functionality as reflected in its pricing. There's also the issue of Insightly marketing pricing being a great deal more expensive than Insightly's CRM pricing. Certain features are also only available at additional cost.
Insightly vs Hubspot | Buying Decision
I think Hubspot is a better option than Insightly. Hubspot is the more well-rounded CRM. Hubspot license holders benefit from CMS as well as Customer Service tools, for instance. Such instruments are absent from Insightly's tool kit. Moreover, Hubspot has diversified its offering to now become an option for midmarket businesses. Finally, Hubspot is the "leader" in inbound marketing solutions. So, it's a great option for attracting traffic, generating leads, and earning conversions. For these reasons, Hubspot is the better option.

Why Go with Hubspot?
Hubspot can replace EVERYTHING. If you are tired of multiple dashboards for your marketing automation, Hubspot solves this problem brialliantly. Start with the FREE CRM, then scale additional features without learning a new platform.
Try Hubspot FREE
We earn a commission if you click this link and make a purchase at no additional cost to you.
That being said, Insightly is still a reasonably priced CRM for SMBs and midmarket companies. Particularly in terms of integrating PM software into the sales process. For anyone looking for a robust, true Enterprise-grade CRM – choose Salesforce. Salesforce is the market leader in CRM software, so it's a safe bet.
Further read: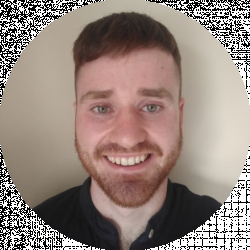 Latest posts by Eoin Cunningham
(see all)