Last Updated on August 17, 2022 by DMEditor
Comparing HubSpot vs Pardot is a lot like putting the U.S ice hockey team against Canada's or Russia's. And if you're the baseball-type, you can equate it to a showdown between the New York Yankees and Boston Red Sox, or maybe the San Francisco Giants vs the Los Angeles Dodgers.
Why?
Well, for starters, I guess it's all too obvious by now that these two are not your average Joes. HubSpot and Pardot are recognized not only as long-time rivals, but also industry leaders in the world of marketing automation.

Why Go with Hubspot?
Hubspot can replace EVERYTHING. If you are tired of multiple dashboards for your marketing automation, Hubspot solves this problem brialliantly. Start with the FREE CRM, then scale additional features without learning a new platform.
Try Hubspot FREE
We earn a commission if you click this link and make a purchase at no additional cost to you.
Main Differences Between HubSpot vs Pardot
The main differences between HubSpot vs Pardot:
HubSpot has a free package that offers beginners basic marketing and CRM functionalities, whereas Pardot doesn't come with a free option. Instead, it starts at $1,250 a month.
HubSpot is capable of hosting up to 80,000 contacts, whereas Pardot only goes as far as 10,000 contacts.
HubSpot's lead management tools focus on generating and nurturing leads through a holistic content marketing system, whereas Pardot, prioritizes automation over content-driven campaigns.
HubSpot is more of an extensive suite of multiple software hubs. whereas Pardot chooses to offer all its tools through one streamlined software system.
HubSpot comes with customizable pre-built CTAs, whereas Pardot focuses on advanced dynamic content.
HubSpot offers helpdesk management functionalities through its Service Hub, whereas Pardot concentrates entirely on marketing automation and CRM.
And you know what? It doesn't even take much to discover why they enjoy such levels of prominence. Take a quick skim through a couple of reputable SaaS user review platforms on the web and see for yourself. An overwhelming majority of HubSpot and Pardot users have rated the software solutions 4-5 stars for their reliability in inbound marketing and customer relationship management.
In essence, both HubSpot and Pardot come with a broad range of email marketing, social media marketing, lead management, campaign automation, analytics, and target marketing tools. Most of these are admirably robust and they continue to serve businesses of all sizes across various industries.
That said, another thing that makes HubSpot and Pardot fierce rivals is the Salesforce factor. Yes, that's right, it turns out Pardot is one of the numerous solutions that are owned and managed by Salesforce. So, in all fairness, you could consider this HubSpot vs Pardot tussle as yet another version of the world-famous HubSpot vs Salesforce battle.
Sounds juicy, I must say, but it's also one of the most controversial debates in the digital marketing and CRM space. Even seasoned experts are having a hard time deciding which one is more superior. Hence, it would be understandable if you ever found yourself torn between HubSpot and Pardot.
Things are about to change though, because luckily for you, this unbiased HubSpot vs Pardot comparison review goes beyond the basics. We took the time to conduct an in-depth analysis of the features on both HubSpot and Pardot to finally settle the debate.
So, join me as we go through everything the team at TheDigitalMerchant uncovered about Pardot vs HubSpot. Some of the weaknesses and strengths you're about to discover will substantially influence your final decision on the matter.
HubSpot vs Pardot – Overview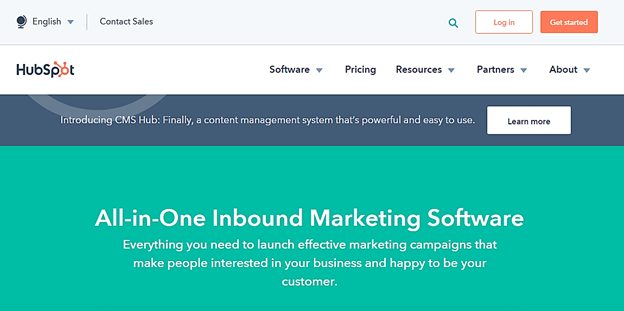 HubSpot began its journey in 2006, when it was launched as a specialized solution for inbound lead generation. Back then, however, it principally relied on social media and blogging. Not for long though, as HubSpot eventually started morphing into an omnichannel marketing suite and hasn't stopped since.
Today, HubSpot is a powerhouse in not only inbound lead generation, but also in marketing automation, customer relationship management, help desk management, and digital content management.
Each of these core functions is facilitated by its own hub of tools, which can be purchased separately from the rest. In other words, HubSpot comes in the form of a CRM Hub, a Marketing Hub, a Sales Hub, a Service Hub, and a Content Management System. They all have their own individual pricing schedules, from which users are expected to select feature plans based on their specific needs.
Therefore, in case you're wondering, it's possible to leverage the hubs separately. You could, for instance, deploy a fully-functional CRM system by purchasing the HubSpot Sales Hub. But if you're seeking marketing automation capabilities, you might want to settle for the HubSpot Marketing Hub.
It's worth noting, however, that strategic businesses make the most out of HubSpot by merging multiple hubs into one holistically-streamlined suite. HubSpot provides this type of framework through its costlier bundled packages, which allow users to build their own custom tool suites.
All in all, you get to capitalize on HubSpot's contact management, lead generation, lead nurturing, ad management, target marketing, email marketing, social media marketing, blogging, conversational bots, marketing automation, CRM workflows, SEO optimization, lead scoring, sales pipeline management, ticket management, etc.
Pardot Overview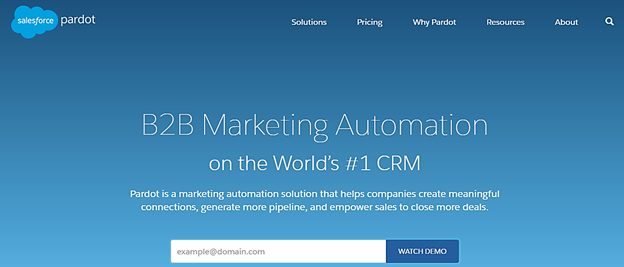 Turns out Pardot started its life in the same year as HubSpot. Yes, you've guessed right- it was also deployed in 2006, but as a marketing automation platform.
Well, its specialization trajectory hasn't changed much since then as Pardot is still distributed as a marketing automation solution. The accompanying set of tools, however, has transformed quite considerably over the years, consequently making Pardot one of the most dominant software solutions for digital marketing automation.
Make no mistake though. We're not talking about the type of marketing automation functionalities we've seen on many other campaign management systems. Rather, Pardot tends to focus entirely on B2B marketing automation.
The type of tools you should expect here are specifically optimized for digital campaigns that target company contacts. And to be specific, Pardot facilitates lead generation, email marketing, social media marketing, lead nurturing, competitor monitoring, contact management, dynamic content marketing, customer relationship management, and prospect tracking.
But, get this. Although you're bound to find a couple of powerful CRM capabilities here, Pardot can only achieve its full customer relationship management potential when you integrate Salesforce CRM.
And speaking of which, it just so happens that Pardot is a Salesforce product. This wasn't always the case though, as Pardot has so far changed its ownership at least twice.
The first shift occurred in 2012 when Pardot was acquired by a company called ExactTarget. Salesforce only came into the scene in 2013 after buying ExactTarget.
That proved to be a major turning point for the software as Salesforce subsequently remodeled Pardot into an advanced B2B automation powerhouse. And going by Salesforce's reputation alone, you can bet that Pardot means business.
Well, that's one thing that many people have confirmed already. The question that remains a mystery, however, is this – does Pardot pack enough power to outdo HubSpot?
Let's find out by exploring their respective ease of use, lead generation, marketing automation, and CRM capabilities.
HubSpot vs Pardot – Main Features
Ease of use
HubSpot Ease of Use
At first, HubSpot might seem like a pretty intimidating piece of software. And to be fair, that would be understandable because multiple tool hubs often translate into a pretty complicated software suite.
Thankfully, however, that's not the case with HubSpot. It manages to integrate numerous features and tools without compromising its overall usability.
The interface itself comes with a neat and minimalistic design, which is further complemented by a straightforward navigation framework. You should have an easy time finding your way around, switching between the various tool hubs, as well as learning how the core functions and options work.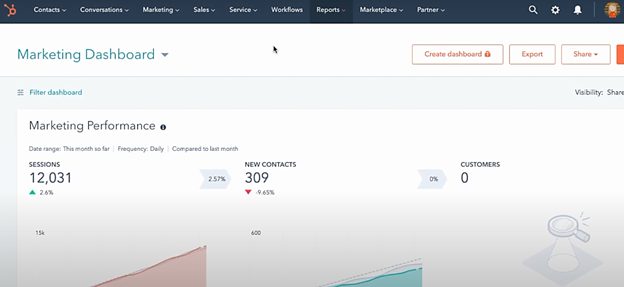 In the end, it only takes a couple of hours or perhaps three or so fully-customized campaigns to get a hang of everything.
The best thing is, you don't need any experience or technical skills to create or tweak your campaigns. You'll find that in addition to a wide range of elegant pre-built campaign templates, HubSpot provides an easy-to-use drag-and-drop editor.
Pardot Ease of Use
Pardot's interface isn't complicated either. It's just as neat as HubSpot's, thanks to its minimalistic design and well-organized options.
The dashboard here is particularly ideal for keeping an eye on your campaigns, as it displays a basic overview of the lead conversion KPIs. You'll also find a marketing calendar, complete with a well-arranged schedule of your campaigns.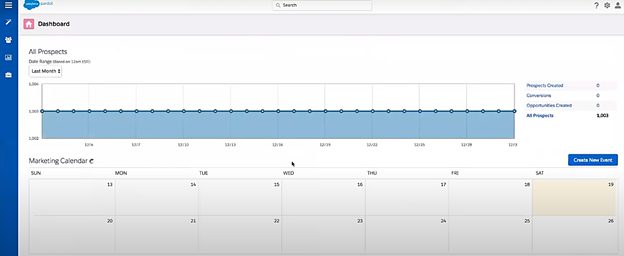 Pardot then tries to maintain the same level of simplicity in all the other areas of its system. The management tools and options here are self-explanatory, and you should be able to navigate smoothly right from the start.
You could also go ahead and install the Pardot mobile app into your smartphone or tablet for additional convenience. After all, it's completely free of charge.
With it, you can comfortably track and manage your contacts remotely while you're on the go. Plus, it allows you to send emails or call your contacts with just a touch on their profiles.
Another great thing about Pardot is its collection of customizable campaign templates. When it comes to email marketing, for instance, you get to pick from more than 40 elegantly-designed templates, which have also been adapted to different scenarios.
As far as customization is concerned, however, Pardot's editor is not as intuitive as HubSpot's. While the basic edits are pretty straightforward on its WYSIWYG interface, the advanced customizations can be a problem for users who are not conversant with HTML.
On the bright side though, the whole thing is quite favorable to guys who know a thing or two about HTML and CSS. Pardot automatically generates the code of each email through an HTML tab.
Verdict- Pardot vs HubSpot Ease of Use (Winner: HubSpot)
There's no denying that HubSpot and Pardot are both easy to use. Their interfaces have been designed with a minimalistic touch, and they both try to accommodate even beginners who may not have technical coding skills.
Nonetheless, when you compare these two systems very closely, it becomes apparent that Pardot doesn't exactly match up to HubSpot's intuitiveness. HubSpot's tools are a bit simpler and more responsive, perhaps because they target B2C users while Pardot is optimized for B2B enterprises.
Lead Generation
HubSpot Lead Generation
Considering HubSpot began its journey as an inbound marketing solution, you can bet it has been perfecting its lead generation game for quite a long time now. About a decade and a half worth of experience, to be precise.
Its prowess is clearly visible as you begin setting up lead generation campaigns. HubSpot will hand you a range of tools for building an omnichannel strategy that not only hunts for leads across multiple channels, but also forms a continuous lead nurturing pipeline.
In other words, you get to attract leads on various contact channels and then nurture them along their buyer's journeys via several integrated engagement channels.
The type of channels I'm talking about here include landing pages, forms, emails, social media messaging, conversational bots, pop-ups, plus blogging.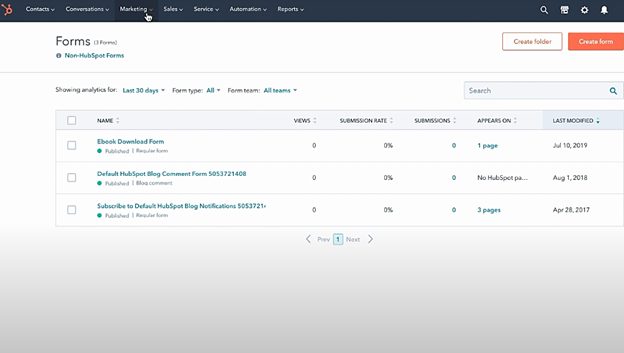 And while you're at it, HubSpot allows you to take advantage of its A/B testing, lead scoring, marketing automation, and message personalization capabilities.
That said, the overall trick that HubSpot seemingly applies when it comes to lead generation is content optimization. All its engagement tools are holistically linked and configured to drive integrated content-centered campaigns.
Hence, you should be able to conveniently publish blog posts, share them through your social channels, as well as automatically alert your subscribers via email.
HubSpot further capitalizes on landing pages, on which you can generate leads using automatically-triggered forms and popups, plus well-personalized smart content.
Pardot Lead Generation
Pardot shares many similarities with HubSpot when it comes to lead generation. It also happens to rely on an omnichannel strategy that leverages email, landing pages, and social media.
The main difference is, Pardot chooses to prioritize automation as opposed to HubSpot's content optimization. Consequently, it provides an extensively automated framework that's capable of tracking prospects across multiple channels, identifying and profiling leads, segmenting and organizing contacts, as well as engaging individuals using personalized messages.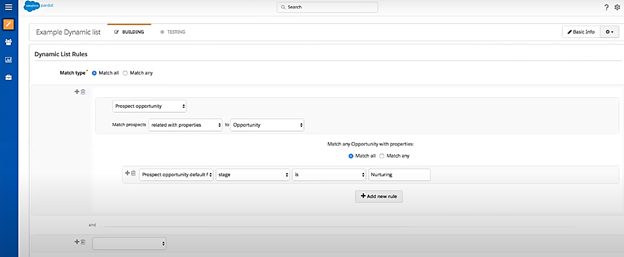 You just need to build a dynamic automation workflow, then tweak the corresponding lead segmentation parameters, and Pardot will proceed to personalize your interactions.
But, that's not all. The system additionally combines all the data you collect on various leads with insights from its intelligent tracking engine, and then uses the findings to grade the leads as well as identify the hottest ones.
Verdict – Pardot vs HubSpot Lead Generation (Draw)
With HubSpot and Pardot leveraging pretty much the same range of channels for lead generation, you could use either for your omnichannel campaigns.
But, while both platforms are great at attracting leads through automatically personalized messages, Pardot happens to provide a more intelligent approach. Its in-depth prospect tracking, social profiling, and lead grading come in handy when you need valuable leads.
HubSpot doesn't take that lying dying though. It gets back at Pardot through holistic content optimization. That means you get to generate many leads by capitalizing on the power of smart content-driven strategies.
So, all in all, we can agree to call it a draw.
Marketing Automation
HubSpot Marketing Automation
Marketing automation is undeniably HubSpot's forte. And more specifically, it focuses on simplified omnichannel automation. That means it tries to drive automated campaigns on multiple integrated channels, while users get to control everything through an intuitive, easy-to-use interface.
The sad bit is, it turns out marketing automation is one of the most exclusive functionalities on HubSpot. You won't find it on the free plan. And neither is it available on the $40 or $50 per month Starter plans.
You can only launch and manage fully-automated omnichannel campaigns on HubSpot's Professional or Enterprise plans. And if you assume upgrading your package won't be a problem, then get this- the lowest amount you could possibly pay for that is $800 a month, which is usually billed annually at $9,600.
Therefore, businesses and digital merchants on a budget can as well forget about automating their marketing campaigns with HubSpot. Marketing automation here is reserved for enterprises that can afford to spend big bucks.
In turn, they get a workflow builder for setting up custom automation sequences and editing templates. You just need to select your target contact segments and define their accompanying engagement rules using "if/then" conditions. Then once you're done, introduce the corresponding "actions" to complete the sequence.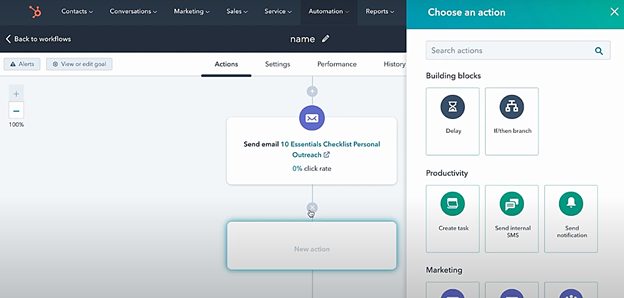 The conditions, in this case, are the specific parameters that leads are expected to meet for HubSpot to proceed with the selected actions. You can think of them as triggers. Then the accompanying actions, on the other hand, spell out the specific tasks that the system will automatically fulfill once a condition has been met.
You could have HubSpot, for instance, qualify the most promising individuals based on their lead scores. That would be a condition. Then for the subsequent action, you could set a rule for sending them personalized offers via email.
Basically, HubSpot allows you to apply automatic actions like sending emails, enrolling leads into specific lists, sending in-app notifications, launching notifications in third-party integrated apps, triggering webhooks, sending SMS messages, etc.
Then for the conditions, HubSpot is flexible enough to filter leads based on their behaviors, activities, lead scoring, form submissions, email response, etc.
In the end, you should have yourself a complete automation workflow made up of several dynamically sequenced triggers and actions. The whole point here is to systematically nurture leads through every stage of the buyer's journey using personalized engagements. Or, in short, you get the system to engage leads at the prime opportunities you identify, and subsequently, use that to form long-term relationships.
Come to think of it, you could even supplement such workflows with relevant pre-built call-to-action elements.
You could check out HubSpot's CTA section for options. The system allows you to freely customize the CTAs, integrate them with your content, as well as analyze their subsequent performance.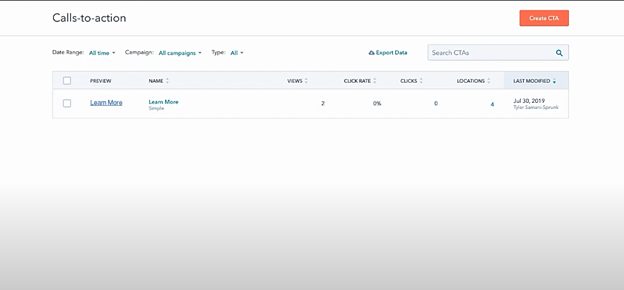 Pardot Marketing Automation
As a solution that Salesforce has specifically configured for B2B marketing automation, you should expect nothing but intelligently automated campaigns on Pardot.
And that's precisely what you get through what is known as the "Engagement Studio". In essence, this is Pardot's principal tool for building and mapping out dynamic, multi-faceted marketing workflows.
It gives you the benefit of harnessing the power of multiple engagement channels at the same time, artificial intelligence, and smart rules. Then, as a result, you get to streamline your lead management, drive lead generation, systematically nurture the hottest leads, and align your company's sales with marketing.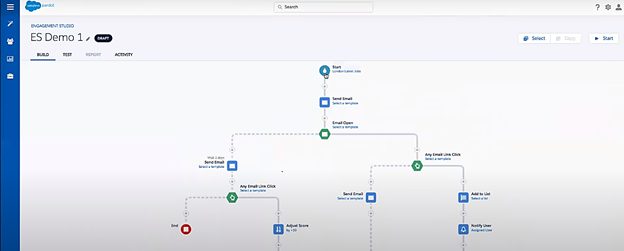 Overall, the most critical element on the platform is an AI engine that's popularly known as the Pardot Einstein. And just as the name suggests, it's intelligent enough to deeply analyze huge volumes of data, and then generate lead insights for smart marketing campaigns.
And what type of lead insights are we referring to?
Well, you could, for instance, automate your marketing campaigns based on Pardot Einstein's lead scoring. It uses machine learning to award scores to leads according to how well they align with your conversion framework.
It doesn't stop there though. Pardot further uses the AI system to conduct what it calls "Behavior Scoring". This goes much deeper than lead scoring to assess leads based on their engagement activities and, ultimately, predict when they're ready to buy.
In a nutshell, therefore, Pardot comes with just the right resources for deploying automation workflows that prioritize the most valuable leads.
And speaking of which, the automation workflows themselves are defined using actions, triggers, as well as rules. You can add any of these to your sequences by simply clicking on the plus sign you'll find on the workflow editor.
Then get this. Pardot is flexible enough to accommodate up to 150 automation rules within its custom workflows. And if you find the whole thing a bit complicated, you can rely on the simple instructions included on the default platform.
Verdict- Pardot vs HubSpot Marketing Automation (Winner: Pardot)
HubSpot comes with an incredibly effective campaign automation system, and so does Pardot. Both of them offer tools for creating powerful custom workflows that combine multiple dynamic rules, actions, triggers, and sequences. Consequently, you can use either Pardot or HubSpot to systematically engage leads through automated omnichannel campaigns.
It's worth noting, however, that Pardot packs more automation features than HubSpot. It's capable of optimizing its complex data-driven sequences with lead insights from the robust Pardot Einstein AI tool.
HubSpot vs Pardot – Pricing
HubSpot Pricing
HubSpot Free CRM: Free of charge and it comes with tools for tasks and activities, deals, companies, contact website activity, and contact management.
HubSpot Marketing Hub: Pricing for The Starter plan starts at $40 a month, the Professional plan costs at least $800 per month, and the Enterprise plan is $3,200 a month and beyond.

The HubSpot Marketing Hub gives you the power to analyze revenue with full control, extend the platform, manage your teams and brands, measure traffic and conversions, optimize conversion rates, automate and personalize your marketing, engage your leads, understand your leads, plus capture and convert leads.
HubSpot Sales Hub: The Starter plan starts at $40 per month, the Professional plan goes for at least $400 a month, while the Enterprise package could potentially cost you more than $1,200 a month.

The HubSpot Sales Hub allows you to manage your growing team, close more deals, faster, keep your data organized, personalize your outreach at scale, automate your sales process, track, iterate and improve, connect with prospects on their terms, plus streamline your outreach.
HubSpot Service Hub: Pricing for the Starter plan starts at $40 a month, the Professional plan goes for at least $320 a month, while the Enterprise package is $1,200 a month and beyond.

You get to capitalize on self-service at scale, deliver exceptional service, consistently, measure and improve customer experience, help customers help themselves, delight customers at scale, measure efficiency, maximize productivity, plus organize and track customer communications.
Pardot Pricing

Growth: The Growth Plan is billed annually at $1,250 per month for up to 10,000 contacts. This grants you access to Pardot's fully customizable URLs, up to 3 tracker domains, powerful app integrations, success specialist team, user management, live, weekly training, on-demand training videos, user forum, 100 MB file hosting, custom fields, SEO keyword monitoring of up 100 terms, competitor monitoring of 10 rivals, ROI reporting, 5 engagement history embedded dashboards, lead scoring and grading, lead deduplication, in-depth prospect tracking, lead nurturing, engagement programs, variable tags, 50 automation rules, tracked social posts, 50 landing pages, 50 forms, and email marketing.
Plus: The Plus Plan takes things a notch higher for a monthly cost of $2,500, which is usually billed on a yearly basis. You then get to supplement all the features on the Growth Plan with B2B marketing analytics, up to 10 tracker domains, 500 MB file hosting, API access with 25,000 calls per day, multi-touch attribution models, SEO keyword monitoring of up 250 terms, competitor monitoring of 25 rivals, advanced email analytics, social profiling and lookups, multiple scoring categories, 10 engagement history embedded dashboards, lead scoring and grading, lead deduplication, in-depth prospect tracking, 100 automation rules, advanced dynamic content, email A/B Testing, integrated marketing calendar, unlimited landing pages, and unlimited forms.
Advanced: Advanced is the most superior package and it goes for $4,000 a month, which is normally billed annually. This will give you all the features on the Plus plan along with 2 business units, a dedicated IP address, up to 20 tracker domains, custom user roles and permissions, 10 GB file hosting, custom object integration, API access with 100,000 calls per day, Einstein Campaign Insights, Einstein Behavior Scoring, Einstein Lead Scoring, SEO keyword monitoring of up 1,000 terms, competitor monitoring of 100 rivals, 20 engagement history embedded dashboards, and 150 automation rules.

Why Go with Hubspot?
Hubspot can replace EVERYTHING. If you are tired of multiple dashboards for your marketing automation, Hubspot solves this problem brialliantly. Start with the FREE CRM, then scale additional features without learning a new platform.
Try Hubspot FREE
We earn a commission if you click this link and make a purchase at no additional cost to you.
HubSpot vs Pardot – The Ultimate Verdict
HubSpot vs Pardot has been a fierce but very close battle. While the two have numerous features in common, each of them boasts of a couple of notable advantages over the other.
Ultimately, therefore, your selection comes down to the precise elements you consider as priorities, based on your company's needs.
If you're running a B2C startup, for instance, you might want to prioritize simplicity, scalability, and cost-effectiveness. And that would lead you straight to HubSpot, since it can serve you diligently for as low as $0 per month.
Then as your business and marketing campaigns expand, you should be able to freely scale the platform. HubSpot gives you the freedom to integrate a host of other relevant campaign tools from its hubs without huge cost implications. Plus, it's capable of accommodating even large enterprises with as many as 1,000 employees.
Pardot, on the other hand, has proven to be the Sensei of intelligent B2B marketing automation. It's particularly ideal for enterprises that are looking to convert their target companies using the power of smart, data-driven campaigns.
Further reading: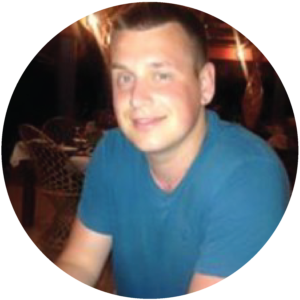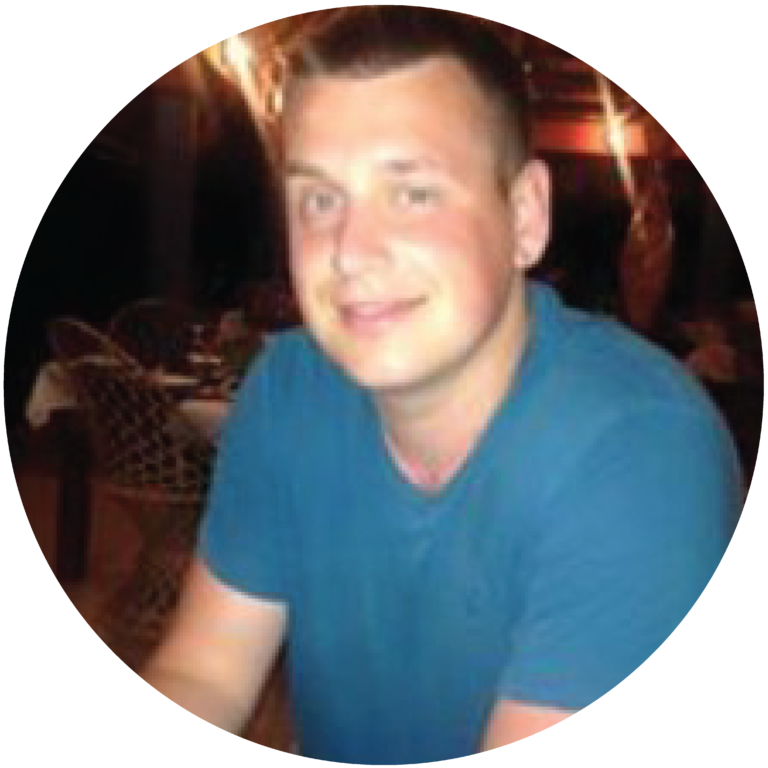 Latest posts by Ewen Finser
(see all)