Last Updated on April 22, 2022 by DMEditor
Regardless of the kind of business you run, you will notice that there are some tasks that are not very hard to do but take up too much valuable time. Things like communicating with clients, setting up meetings, and billing are some such tasks.
Customer relationship management (CRM) systems exist for the sole purpose of automating these mundane tasks. Dubsado and 17hats are two popular CRM platforms. Dubsado and 17hats are geared towards freelancers and small businesses. Both platforms have rave reviews from content creators and companies in industries like real estate.
If you're on the market for a CRM platform, then you might be wondering how Dubsado vs 17hats perform and how they compare. Well, wonder no more! I have done a deep dive into each platform, testing them out using my e-commerce business. Read on to see the features both platforms offer so you can decide which will be a good fit for you.
My Bottom Line Up Front: Dubsado vs 17hats
Dubsado and 17hats are incredibly similar platforms, making picking one over the other almost impossible. I liked the layout of Dubsado, with its interactive dashboard and colorful interface. However, 17hats offers more features at much lower prices. I think it is a good platform for anyone interested in using a CRM platform.
Main Differences Between Dubsado vs 17hats
The main differences between Dubsado vs 17hats are:
Dubsado only has paid plans, whereas 17hats has a free plan.
Dubsado has a range of customization features, whereas 17hats offerings are more limited.
17hats has a mobile app, whereas Dubsado does not.
Dubsado has a dedicated project portal, whereas 17hats only has a client portal.
What is Dubsado?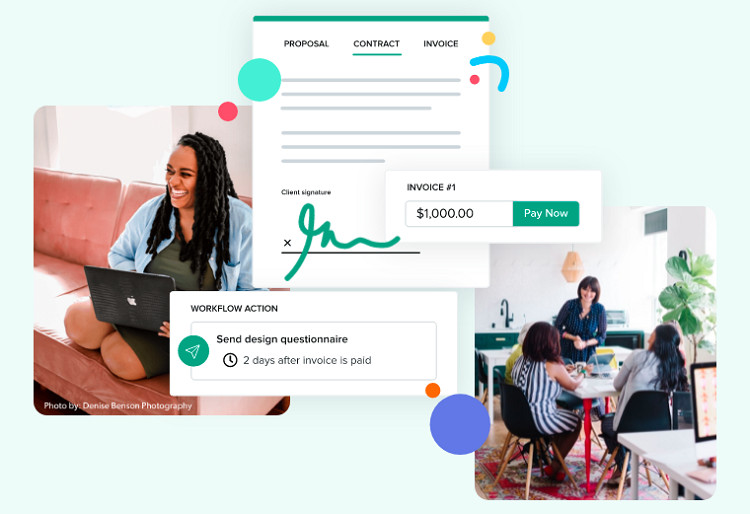 Dubsado is a customer relationship management (CRM) platform designed to help small businesses automate most of the administrative and financial management tasks. The platform is 5 years old, serving businesses all across the United States. Dubsado has numerous features, from lead and client management to financial and project management.
What is 17hats?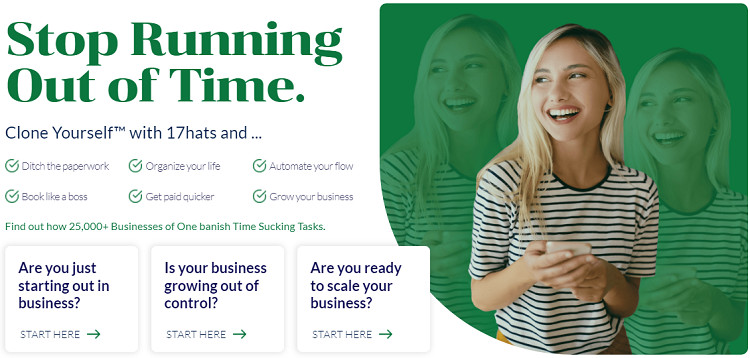 17hats is a business automation feature designed to reduce the time it takes to perform routine business tasks like creating paperwork, managing client schedules, and requesting payments for completed jobs. The platform serves over 25,000 businesses, helping to automate tasks like scheduling, client communication, and financial tasks.
Dubsado – Main Features
Ease of Use
It is easy to sign up for a Dubsado account. The platform asks for basic contact information and does not require credit card information.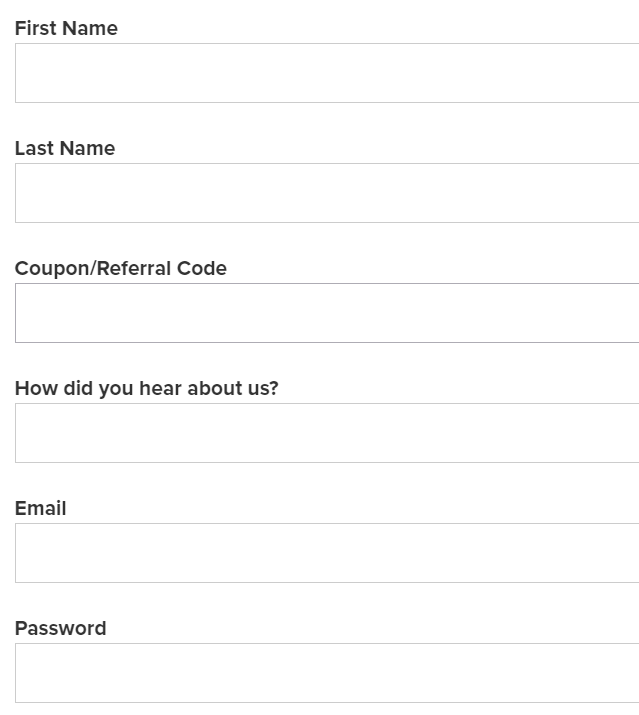 Once I verified my email, I was led to my dashboard. I liked Its intuitive layout. It is easy to add business information and make the platform functional with all the relevant tabs in close reach.

Automation
Dubsado has a range of automation features that are designed to make your administrative tasks more efficient. You can use the platform's automated workflows to enhance communication, bill clients, and complete routine project tasks. The system lets you edit the workflows to include the regular tasks undertaken at your company.
I liked that a workflow can encompass an array of tasks, from interacting with a new contact to sending follow-up emails to leads and clients. You can also create templates for your most regular tasks. The system lets you create reminders for tasks, track project status, set triggers for the activation of a workflow, and even enable the payment of recurring payments, including invoices and subscriptions.
Scheduling
If your workday consists of client meetings, you will love Dubsado's scheduling features. The system gives you access to a calendar that can be accessed by multiple parties. When you want to set up a client meeting, you can edit the calendar to add details on your availability, location, and fees before sharing it. A client can select a meeting date that is convenient for them too.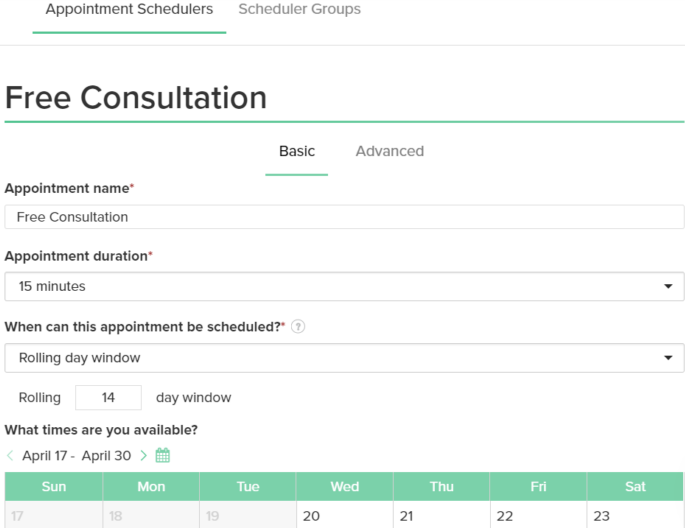 The calendar can be embedded into your website so visitors can book an appointment to discuss your services further. This makes it so much easier to capture leads.
Dubsado's scheduler even lets you create schedule groups so you can offer clients multiple appointment times set over a few weeks or months. I found this feature to be really helpful in managing leads and keeping clients satisfied through consistent communication.
Project Management
Dubsado makes managing projects quite a breeze. The platform has an intuitive project portal where you can easily keep an eye on all project variables.
The project portal lets you maintain all project documentation in one place and keep track of project tasks. You can also see all conversations between you and a client, keep track of all relevant contracts, and ensure you never miss a meeting.
The platform also lets you create workflows and set triggers that automate certain tasks. For example, you can automate the sending of invoices after a task is marked as done.

You can enhance collaboration by setting task boards that team members can access. This lets project team members see how the project is progressing and can act as a motivating factor as task after task is ticked off.
I liked using the time-keeping feature, which lets you keep track of the amount of time it takes to complete each project task. This makes it so much easier to bill clients accurately.
Invoicing
Invoicing can be quite a nightmare if you're dealing with a lot of clients. However, Dubsado's invoicing feature makes it easy for you to keep track of payment requests and maintain your books. The platform has invoicing templates that you can quickly customize. You can create variable payment plans for clients, including installments and tips.
The system allows you to set email reminders that will be sent to clients so they can pay before the due date expires. You can integrate a payment processor into the platform to make it easier for clients to pay you. Then, depending on your client base, the system can process different currencies, so you can operate from anywhere in the world.
Client Management
Dubsado has a range of features designed to help you improve how you interact with clients. The first is the lead capture feature to embed on your website. You can create questionnaires and forms that interested visitors can fill out so you can quickly follow up.
The platform also has a proposal feature. You can use the pre-built templates, editing them to add your products or services, rates, and terms. The proposals can also be embedded to your site for easy access and even emailed to potential clients to whet their interest.
Another useful client management feature is online contracts. You can create contracts featuring the terms you and a client have agreed on.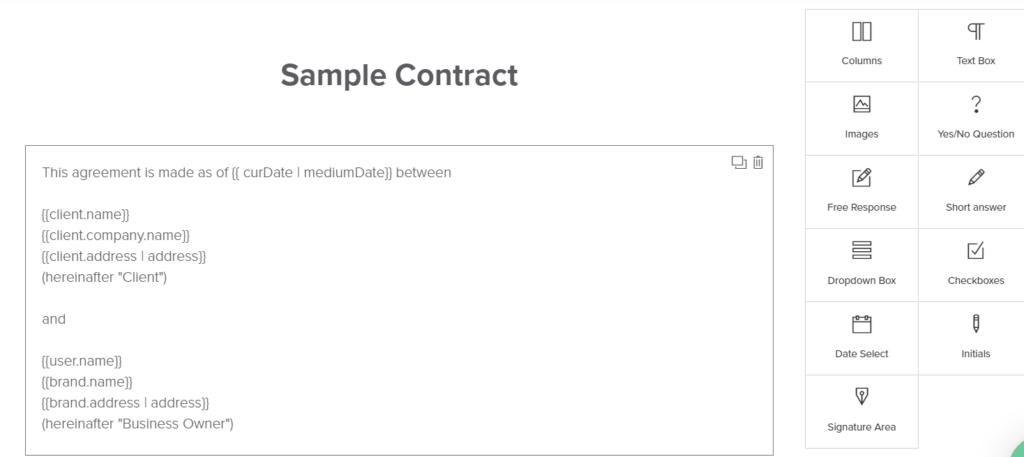 Dubsado immediately sends completed contracts to clients, who can access them from any device. Once the contracts are signed, the platform saves the originals, generates copies, and sends them to clients. I liked the fact that Dubsado offers you a lot of customizable templates for proposals, questionnaires, contracts, and invoices. You can add images and your logo so clients get a professional feel for your services from the get-go.
17hats – Main Features
Ease of Use
Setting up an account on 17hats is a straightforward process. The platform asks for basic information, after which you'll receive a verification email.
The 17hats dashboard is also very intuitive, placing all the important elements upfront. I liked that there is a 'Get Started' guide that takes you through the process of setting up an account.

Financial Management
17hats has numerous financial features designed to make it easy for you to keep an eye on your business expenses. The platform has invoicing features that let you create great invoices within a minute. You can also add sales tax to an invoice based on the products and services you're billing for. The platform also calculates and adds discounts and tips to the total, so clients see everything upfront.
A 17hats account can be connected to a variety of online payment processors. You can decide on payment schedules and terms, set reminders for invoice due dates, and even set up recurring invoices, so you don't have to repeat the task.
Regardless of the payment processor you use, clients can securely add credit card information, and it will be stored using the highest privacy protocols, making it easier for them to set up recurring payments.
Branding
17hats lets you infuse your business brand into each feature, so you can always put your most professional foot forward when interacting with clients. Each invoice generated will be highly professional, carrying your company's logo and design. This gives you a lot of confidence if you're interacting with a client for the first time.
And even if you use the platform's templates to create quotes, contracts, and invoices, you can edit each element to include your company colors, fonts, and logo to create uniformity across all your documents. The platform also has a subdomain feature that lets you create custom URLs for contracts and invoices.
Communication
17hats has a comprehensive email system that makes communication between you and your clients much easier. The platform provides a variety of customizable email templates that you can edit. If you find them inadequate for your needs, you can create and save your own templates based on the types of emails you frequently send.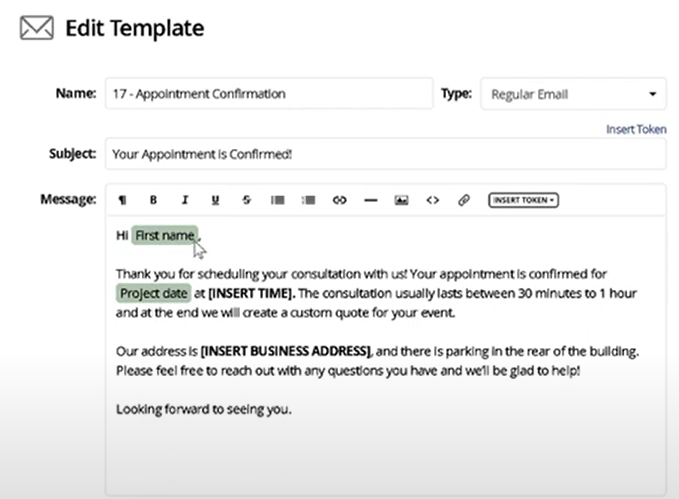 17hats allows emailing integrations that help you automate email communications. Once integrated, you can use the platform to add contacts, filter them, and schedule emails so they can go out even when you're away from work.
I liked the read receipts feature built into 7hat's email system. This lets you see clients have seen your message, and if they don't respond, strategize for further communications.
Time Management
I enjoyed trying out the various time management and scheduling features built onto the 17hats platform. With them, it is easy to make each minute count. The platform has an online calendar that can be shared with clients. This way, both new contacts and even seasoned clients can make appointments at a time convenient for both them and you.
The Advanced Online Scheduling feature uses triggers to set workflows into motion, whether it is generating meeting links or completing payments. You can create and manage To-Do lists on the system, ensuring that no project tasks are missed. You can even create workflows from the To-Do lists, making it easier to complete tasks.
Client Management
17hats' client portal contains useful client management features that simplify the way you communicate and collaborate with clients. Clients can access the portal to upload contracts and other documents relevant to the work you're doing for them. This feature vastly reduces the time you would otherwise use to do this on their behalf.
The client management system also makes it easy for you to generate leads and move them down the sales funnel.
You can use the questionnaire features to create a Lead Capture Form. Interested parties can add their contact information and the services they want from your business even before you interact. This beats cold-contacting every time.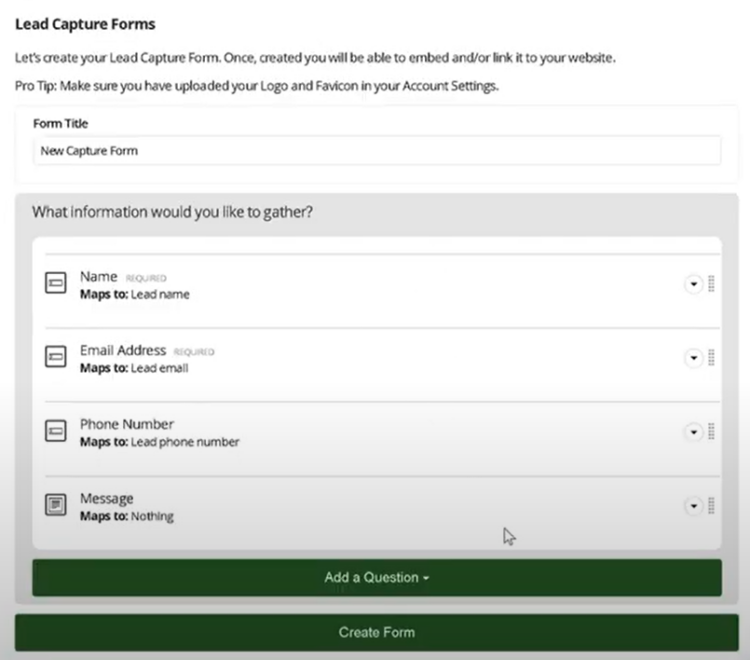 The platform even has a lead dashboard where you can see where exactly in the funnel your leads are. You can use the auto-responder feature with custom tokens to schedule communications and reduce the chances of a lead slipping through the cracks.
Document Management
Client relationships generate a ton of paperwork which can be easily lost if care is not taken. 17hats has a document management feature to keep track of all client-related documents. The platform creates cloud storage for proposals, quotes, invoices, and receipts. In addition, you can create and send questionnaires and forms to clients and set reminders so clients can complete and send them back to you on time.
I liked the online contract feature availed by 17hats. Clients can read and sign them from anywhere in the world, and the platform will generate copies for both you and the client.
You can set an automatic 'Thank You' message to be sent back to the client with a copy of the completed contracts.
Dubsado vs 17hats – Analytics
Dubsado
You can access reports from your Dubsado dashboard. In addition, the platform generates project sources and project breakdown reports so you can keep an eye on the jobs you've done for clients as well as any earnings. The platform also creates reports for all your business transactions. You can easily view your income for a certain period, expenses, and taxes. The reports can be exported so you can send them out to various stakeholders.
17hats
17hats generates a variety of reports that let you see how your business is doing with just a glance. The platform automatically generates sales tax reports so you can arrange to pay the amount of tax you owe.
The platform also generates a Product Sales Report so you can see which of your products or services are popular. The Client Sales Report lets you see your most valuable clients, and the Profit/Loss report shows you the financial health of your business.
Dubsado vs 17hats – Integrations
Dubsado
Dubsado allows integration with multiple third-party platforms. For example, you can connect bookkeeping platforms like QuickBooks and Xero. The platform also integrates with Google Meets, Microsoft Teams, and Zooms for easy online meetings with clients.
Here are a few guides for integrating platforms like Zapier with Dubsado to enhance functionality.
17hats
17hats has numerous integration capabilities so you can fill up the gaps that your plan doesn't offer. You can connect banks to 17hats, with access to over 20,000 financial institutions across the U.S. The platform can also be integrated with Apple Calendars and Google Calendars to make scheduling more efficient.
17hats also has native integrations with QuickBooks, Stripe, and Zoom. You can see a full list of the platform's integrations here.
Dubsado vs 17hats – Customer Support
Dubsado
The easiest way to get customer support on Dubsado is via Live Chat and email. Chat support is available from 1 AM to 9 PM on weekdays, and 9 AM to 5 PM on weekends. There is also a Help Center where you can get articles and videos to help you troubleshoot common problems by yourself.
17hats
17hats fastest mode of customer support seems to be through the Help Center. It contains articles, webinars, and video tutorials that can guide you through account setup and show you how best to use the platform to automate your business.
The platform does not have phone support, but you can access an agent through the Live Chat feature once you log into your account. You can also email customer support and expect a reply from Monday to Friday during working hours.
Dubsado vs 17hats – Pricing
Dubsado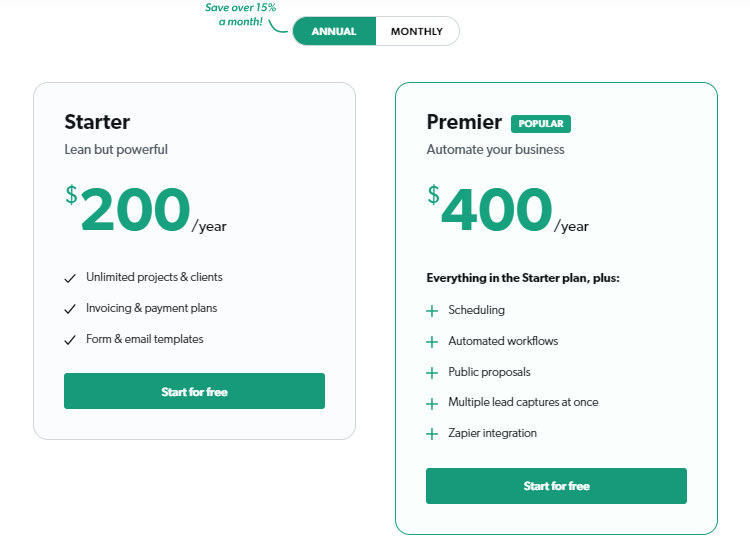 Dubsado offers two pricing packages, billed either monthly or annually. In addition, both plans have a free trial duration.
Starter Plan
The Starter plan costs $20 per month and $200 if billed annually. It offers these benefits:
Unlimited projects
Unlimited clients
Email templates
Invoicing features
Email, bookkeeping, and payment integrations
Client portals
Online calendar
1 Lead Capture form
Premier Plan
This plan costs $40 if billed monthly and $400 if billed annually. It has all the features from the Starter plan and these added benefits:
Unlimited Lead capture forms
Online scheduling
Automated workflows
Public proposals
Zapier integrations
17hats

17hats has multiple pricing plans, called levels, each with free trial durations. The platform also has a free plan.
Free CRM Plan
This plan is designed for new business owners who want to create professional invoices and easily manage contacts.
The plan has unlimited CRM features, including:
Unlimited contacts
Email templates
Unlimited projects
One invoice per month
Sales tax reports
Level One Plan
This plan offers a lot more benefits than the free plan, including help with lead generation and conversion.
The Level One plan costs $13 a month paid annually, and $15 if paid monthly. If you sign up for the annual plan, you can pay $150 for the full year.
Level One has these features:
Free life-time CRM
20 documents per month
1 Lead Capture form
1 online schedule
Level Two Plan
This plan gives you access to basic automation features together with other CRM benefits.
Level 2 costs $25 per month if paid annually and $30 if billed monthly. It has these features:
Free life-time CRM
35 documents per month
3 Lead Capture forms
Level Three Plan
This plan gives you access to an array of integrated features that make the automation of regular business functions much easier.
Level 3 costs $50 per month if billed annually and $60 if billed monthly.
It features these benefits:
Free life-time CRM
Unlimited documents
20 Lead Capture forms
Advanced automation
Dubsado vs 17hats – Alternatives
Honeybook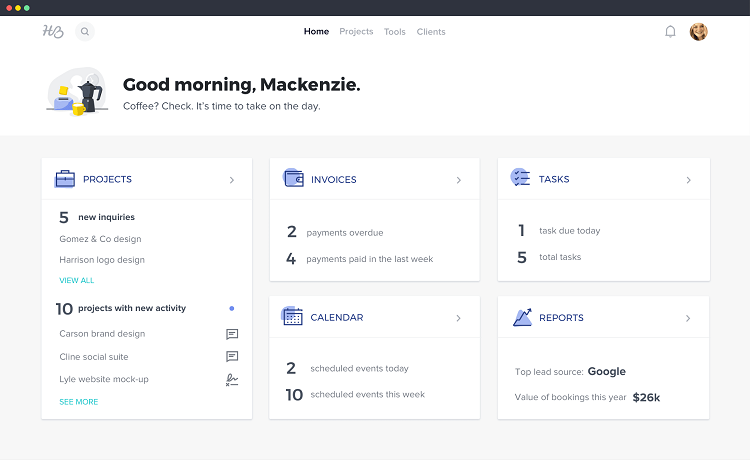 Honeybook is a CRM platform designed to help small businesses automate tasks like generating estimates, invoicing, and client management. We pitted the platform against Dubsado in this Honeybook vs Dubsado comparison.
Read More:
Bloom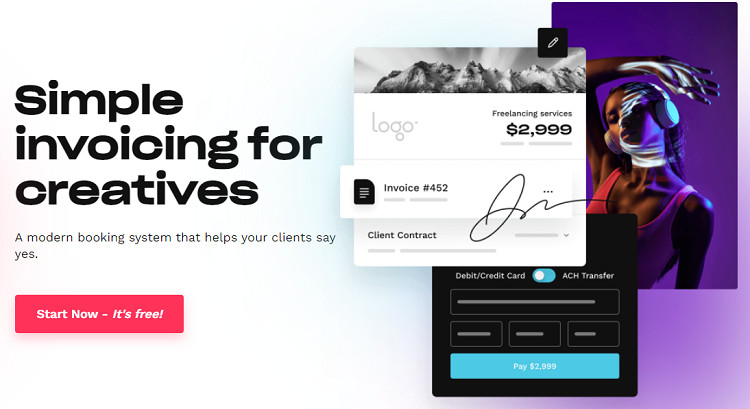 Bloom is a CRM system designed for freelancers and entrepreneurs. It is one of the Honeybook Alternatives and Competitors that content creators and similar business people can use to generate leads and communicate with clients.
Freshbooks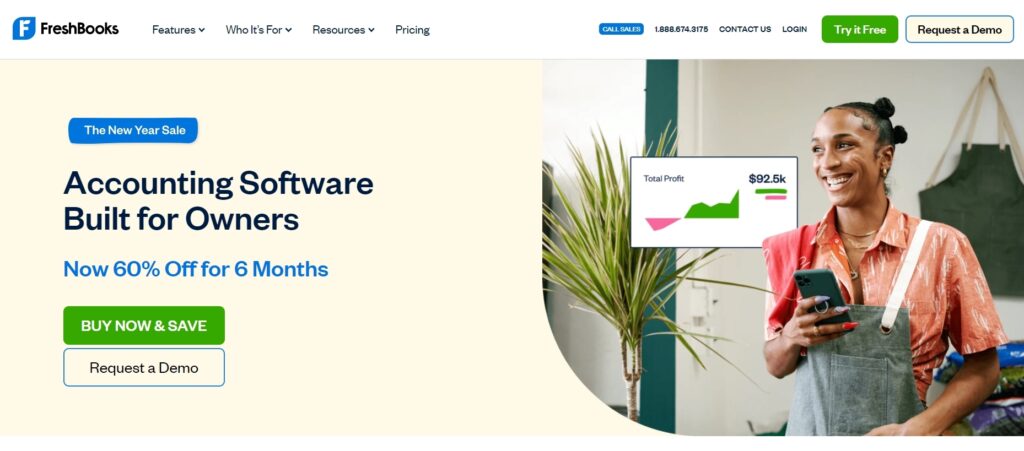 Freshbooks is an accounting platform designed to make financial management a breeze for businesses. In addition, it is a good platform for e-commerce businesses, as you can see in this 17hats vs Freshbooks comparison.
Verdict: Dubsado vs 17hats
Dubsado and 17hats are some of the best CRMs for startups. The platforms are incredibly similar, including falling short in customer service in almost identical ways. 17hats has a lot of useful features and friendly pricing plans, including a free one. If that doesn't interest you, then the Android and the iOS mobile app might be of interest to you.
I found using Dubsado to be extremely fun. However, the platform lags behind in areas like mobile access, which does put a damper on things.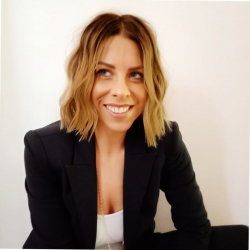 Latest posts by Maddy Chiffey
(see all)
Get 40% OFF for 3 Months