Last Updated on January 11, 2023 by DMEditor
Screen recording software can be used for a number of goals. You can create video tutorials that teach other people how to use software or clearly explain a computer problem you're dealing with in order to get help. For these purposes, and many others, screen recording software is a major help.
If you like ScreenFlow but want more functionality, you'll want to seek out screen recording software that offers several recording options (whole or partial computer screens; mobile devices; webcams; audio-only) in addition to more advanced editing options.
Bottom Line Up Front: The best overall mix of features and value is definitely AceThinker Screen Grabber here. However, for more advanced video editing software and effects, Camtasia is the best in class option here.
Or, you may need just screen recording or screen capture with only basic editing features, just like ScreenFlow has, but at a lower price point. It's also possible that you're using a PC instead of a Mac and need compatible software. There are several types of screen recording tools out there, from the advanced and pricey to the simple and free.
In this article, we're going to start by explaining what ScreenFlow is, what it's best used for and what its drawbacks are. We'll then jump right into our top choices for other screen recording tools, comparing them to ScreenFlow where appropriate.
When talking about each tool, we make sure to cover their availability (Mac user vs. PC), screen recording and an editing feature and capabilities, self-service options (like video tutorials), and pricing. To end, we have an Honorable Mention and last thoughts about finding the right screen recording software for you.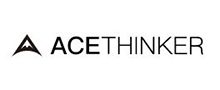 Runner up
Dynamic screen recording functionality
Webcam overlay option
Pencil functionality—which allow users to scribble and draw
Multiple options to edit videos

Best High End
Robust screen recorder with a full-featured editor that's available for Mac and Windows
It offers a set of capture and editing tools nearly unmatched by similar applications
Produces the highest quality videos among the programs we reviewed
Camtasia is better for people with advanced screen capture for video creation needs, like video bloggers
A Note About Export Options
We've opted to not list the export options for each recording and editing tool. There are several export options for each tool listed and we feel that most of these tools will have the export option you need. Unless there's something noteworthy – like a distinct lack of export options or a specialty export option that makes a tool stand out (such as exporting as a GIF) – we don't mention exporting.
While exporting and formats are important, we don't feel like they're among the top determiners when it comes to the software you choose. Also, since we have links to each tool mentioned, it's easy to click over to the website and find out what the tool's exporting options are.
What is ScreenFlow?

ScreenFlow is considered all-in-one software for video creation, including recording and editing video, and also editing already-existing video from your computer. It's available on Mac only (no ScrennFlow for Windows). ScreenFlow has a number of self-service options, including documentation for current and past versions, a knowledge base and a community forum.
Screen Recording with ScreenFlow
Here's everything you can record with ScreenFlow:
The entire screen or just a section of it
A single screen or from multiple monitors that are working simultaneously with the same computer
Audio playing through a computer
The screen of a mobile device if it's connected to your computer
Audio capture or video capture from a webcam
Editing with ScreenFlow
ScreenFlow has a built-in editor and you have the ability to import external audio and footage for editing. Your recorded media will be saved to a timeline where you can then take it from raw footage to high quality video clip. Editing options include:
Annotations
Callouts
Cut footage
Footage scaling
Object placement
Record voiceover audio
Titles
Video motions
Some users find the editing tools advanced for their needs, while others feel that editing is where ScreenFlow falls short.
The callouts are especially helpful if you're recording a mobile device's screen because you can demonstrate gestures and touches. Being able to screen record your mobile phone or iPad is one of ScreenFlow's best qualities. If that's where you're going to do a majority of your recording, you may want to stick with ScreenFlow over the other options.
ScreenFlow Pricing
ScreenFlow starts at $129. There are two higher priced paid options, too: ScreenFlow with Super Pak is $175 and includes the Stock Media Library, and you can add on Premium Support for a total of $209. With the higher priced options, some of the cost will be charged annually. Find out more about pricing here.

For a lot of people, the cost of ScreenFlow is simply too high for the features it has. You have to ask yourself if this is a fair price for the software itself as well as for your needs. The answer greatly depends on how many of ScreenFlow's advanced features you're going to take advantage of.
Where ScreenFlow is Lacking
While ScreenFlow does have video editing capabilities, it's best when used mainly for screen recording. If you need to record from several sources and you only need to make minor changes in post-production, ScreenFlow may be fine for you.
When it comes to editing, though, the functionality is pretty basic and limited. There are helpful tools for arranging your footage, but it comes up short with things like color correction and adding effects. It may be good enough to create a video clip for your family, but if you have a professional presentation to put together or you want a quality YouTube channel (YouTube vidoes), it's not going to cut it.
Screen Recording Alternatives to ScreenFlow
In this section, we're going to list a collection of our favorite ScreenFlow alternatives. We didn't want to include each and every screen recording option out there – there are lots of lists that already do that. Instead, we chose a selection of high quality tools that offer something different from ScreenFlow – that may be the same features but at a better price point; more editing tools for professional videos; or basic screen recording options for on-the-fly videos.
AceThinker Screen Grabber Pro lets you record in just three steps. This software is available for both Mac (iOS) and Windows. Their Guide section walks you through how to record and edit videos, and there's also a tutorial video you can watch.
Screen Recording Features
Game, screen and video recording.
Record the whole screen or a specific area; record webcam; or capture just audio.
As you record, you'll see a toolbar where you can choose to annotate or use highlighting features on-the-fly.
Editing Features
Built-in editor to annotate the recording in real-time.
Add sounds, voice or webcam.
Pricing
AceThinker Screen Grabber Pro is affordable at just $29.99 for a one year personal license or $39.95 for a lifetime personal license. There's also a lifetime family plan for $79.90. Find out more about pricing here.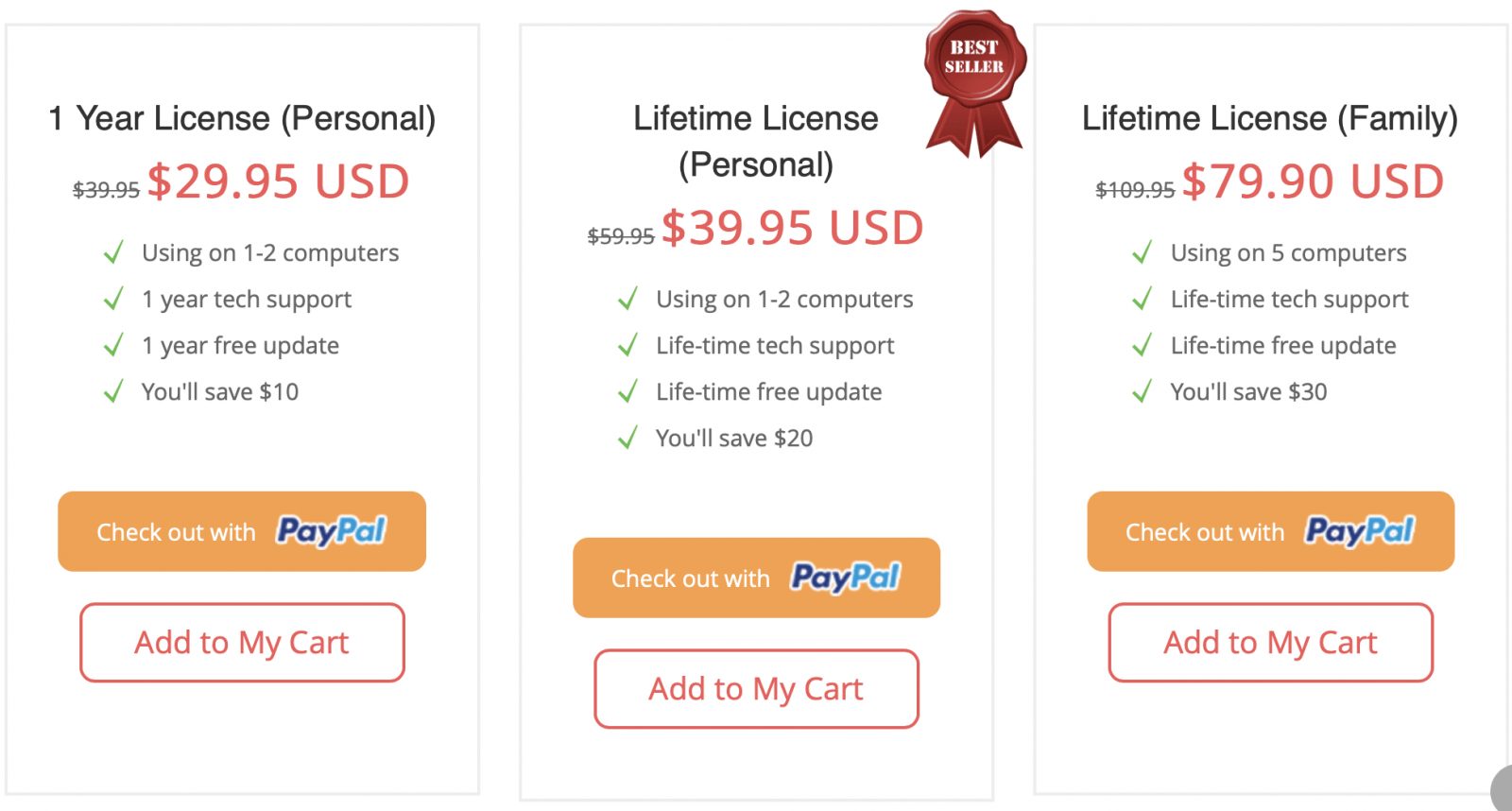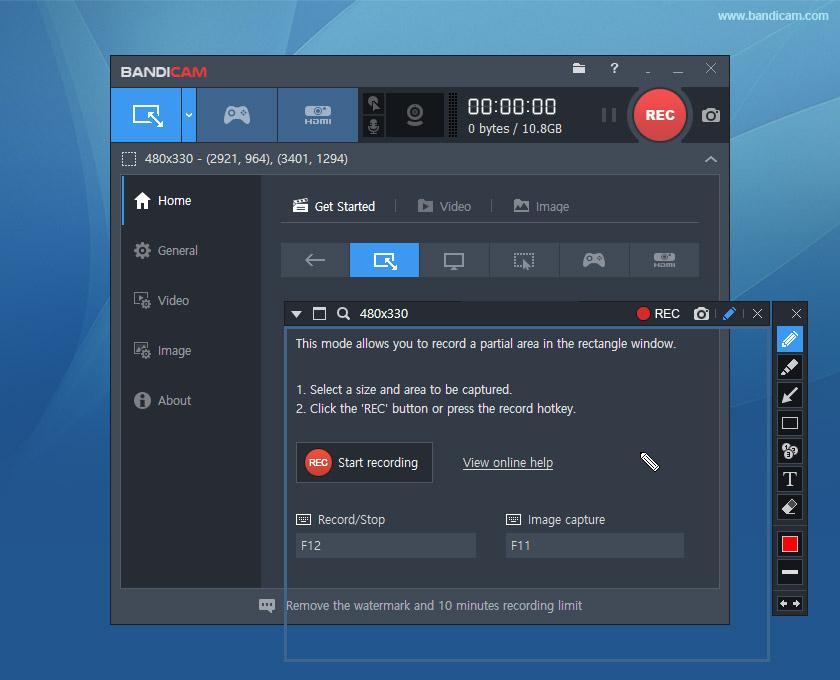 Bandicam is a screen recorder with minimal editing features, allowing you to record your PC screen or a connected device. Bandicam is available for Windows, but not compatible with Mac. They have video tutorials for how to use Bandicam in a number of ways, plus a FAQ section.
Screen Recording Features
Record gameplay or video tutorials.
Record full screen or a rectangular area; the area just around the mouse; or drag and adjust to capture exactly what you want.
Record external devices, like smartphone or webcam.
Editing Features
Annotate while recording and add lines, numbers and text.
Edit videos by adding your watermark, cutting, or trimming.
Trim the start and end of the video.
Pricing
Bandicam is $39 for the license to use with one PC and $59 for the license to use it with two PCs. Learn more about pricing and bundle packages here.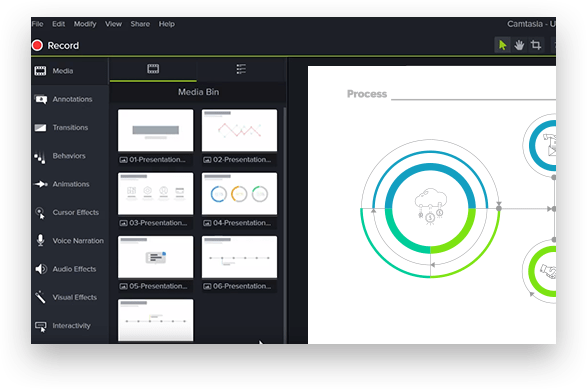 Camtasia is a robust screen recorder with a full-featured editor that's available for Mac and Windows. Camtasia Studio is created by the TechSmith company, which has several other products, but you can find lots of helpful information on their blog or in their TechSmith Academy section. We compared Camtasia to Snagit, too – see that article here.
Screen Recording Features
Capture any activity on the computer, including gameplay, tutorials and live video.
Record from multiple sources. Note that recording from your mobile device isn't as smooth as with ScreenFlow.
Customize capture settings, including changing the recording area and choosing the audio to record.
Record from the mic or the native system.
Editing Features
Drag-and-drop editor that's easy to use.
Edit using the timeline and add animations, effects and shapes.
Options for annotations, callouts, transitions and visual effects.
Add clicks, keystrokes, spotlights and zooms to enhance the video.
Edit audio and video separately.
Pricing
A single-user license for Camtasia is $249. If you have a previous version of Camtasia, you can upgrade it to the current version for $99.50. Learn more about pricing here.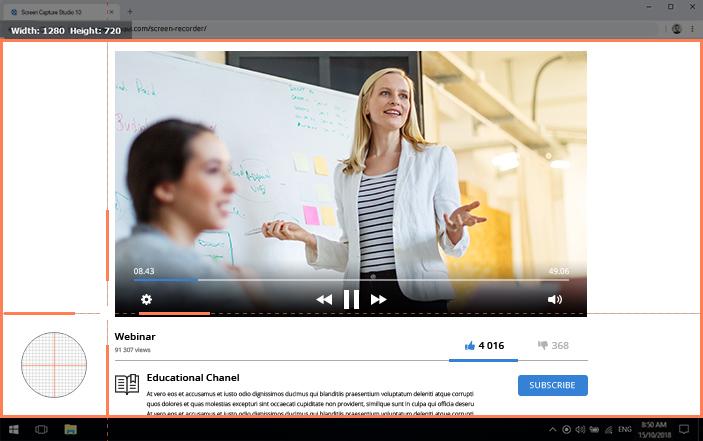 The Movavi Screen Recorder Studio is screen recording software with an easy-to-use interface and a full suite of editing tools for both amateur and professional users. Additionally, Movavi has a store with effects and transitions you can purchase. This software is only available for Windows. They have a section with articles and how-to guides and another section with video editing tips and tutorials.
Screen Recording Features
Record streaming audio and video.
Record screen and webcam video simultaneously.
Adjust the capture area.
Use screenshots and video clips to enhance your videos.
Editing Features
When you're done recording, you can quickly make edits before saving or sharing to YouTube, and if you need to make more edits, you can open the recording in the robust video editor. The Movavi video editor is a timeline with several editing tools:
Add background music, captions, filters, stickers, titles, transitions and voice-over.
Chroma key for use with a green screen.
Easy mode to create a montage fast.
Special effects are available, including picture-in-picture and slow motion.
Split the video into parts and add smooth transitions.
Pricing
The Movavi Screen Recorder Studio costs $59.95. Learn more about pricing here.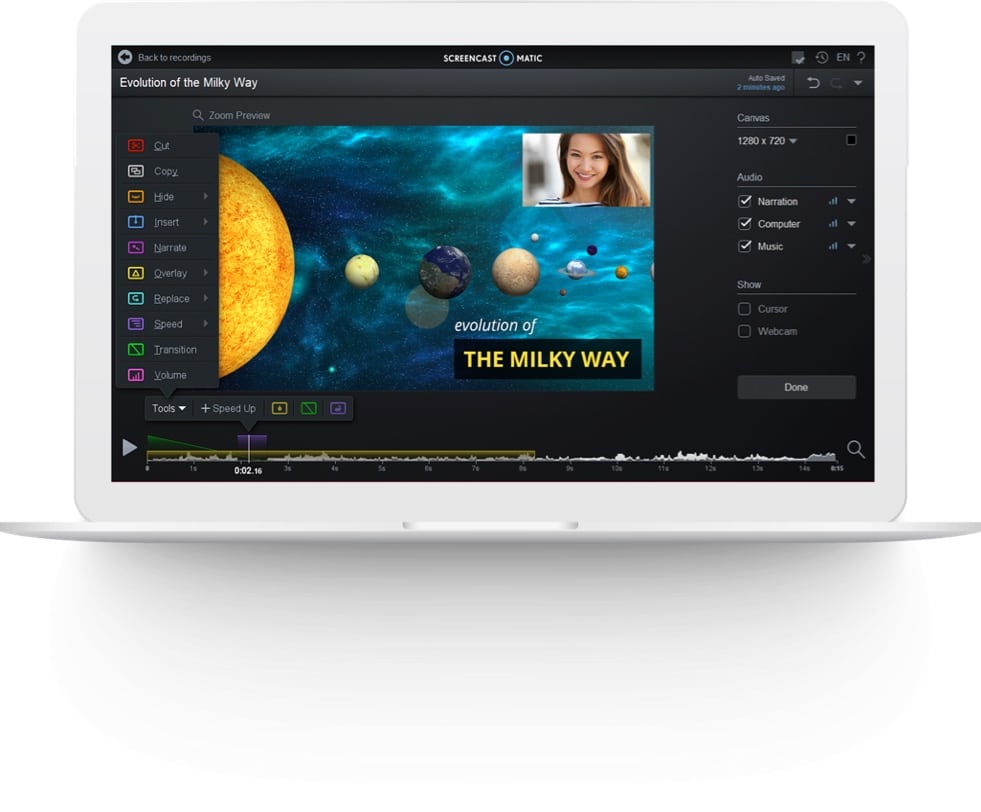 Screencast-O-Matic is one of the only free screen recording tools out there, but its functionality is limited if you don't upgrade. Screencast-O-Matic is available for Chromebook, Mac and Windows. They have a number of screencasting software tutorials to help you get started or to create better videos once you have the hang of it.
Screen Recording Features
Screencast-O-Matic's screen recording features are basic, but they seem to cover what a lot of people are going to need. You can capture any area of the screen; capture videos or webcam; and record voice. By upgrading, you can access features like importing video and making longer recordings.
Editing Features
Add narration and audio.
Trim the beginning and end of the video.
Unique features like green screen filter.
Use tools to add images, text and zoom, and to automate captioning.
Pricing
While there's a free version, it has its limits – for example, you can't record the full screen unless you upgrade to a paid plan. Paid plans include both Solo Plans and Team Plans. Solo Plans start at $1.50 per month and are billed annually. Find out more about pricing here.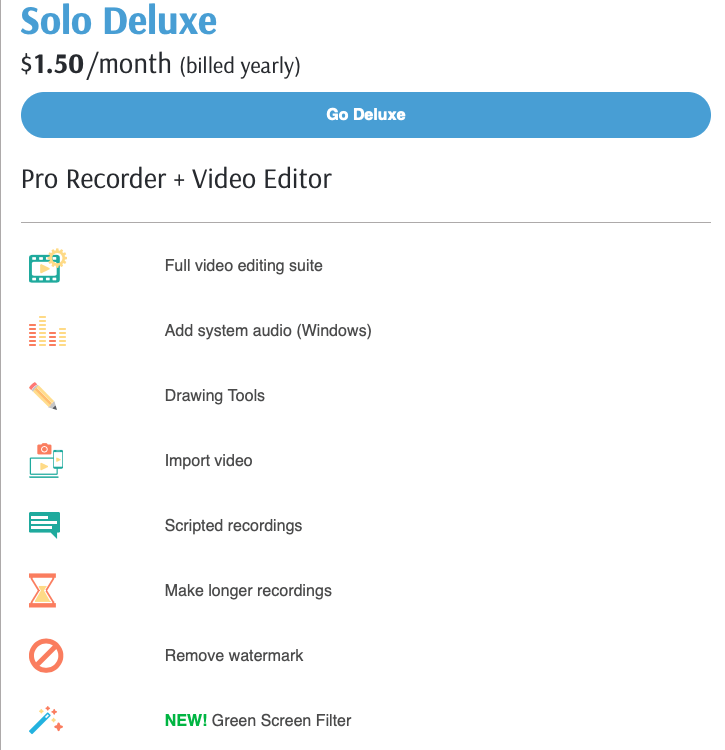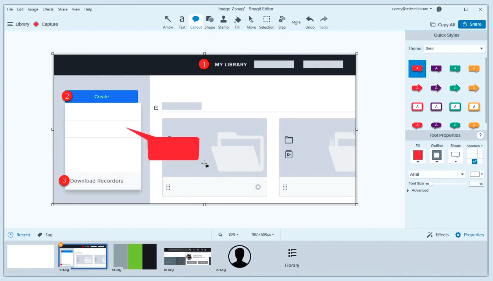 Snagit comes from TechSmith, just like Camtasia, and it's a great solution if you're going to make simple videos with a short shelf life and you don't need an advanced video editor. These would be disposable, good-but-not-great videos, like ones you may post to Instagram Stories for a limited amount of time.
They can be made on-the-fly and don't usually require a ton of editing. Snagit can be used on Mac or Windows. Find helpful information on their blog or in their TechSmith Academy.
Screen Recording Features
While you can record from screens and webcam, you can't overlay the videos and have to toggle between the one that's recording. You can also record audio or screenshots, and tag and view your past recordings.
Editing Features
Use the image editor, which has a library of options for annotating your images. There's also one-click export to save the video as a GIF.
Pricing
Snagit costs $49.95 and can be installed on two machines per user. To upgrade to the current version of Snagit, the cost is $24.95. Learn more about Snagit pricing here.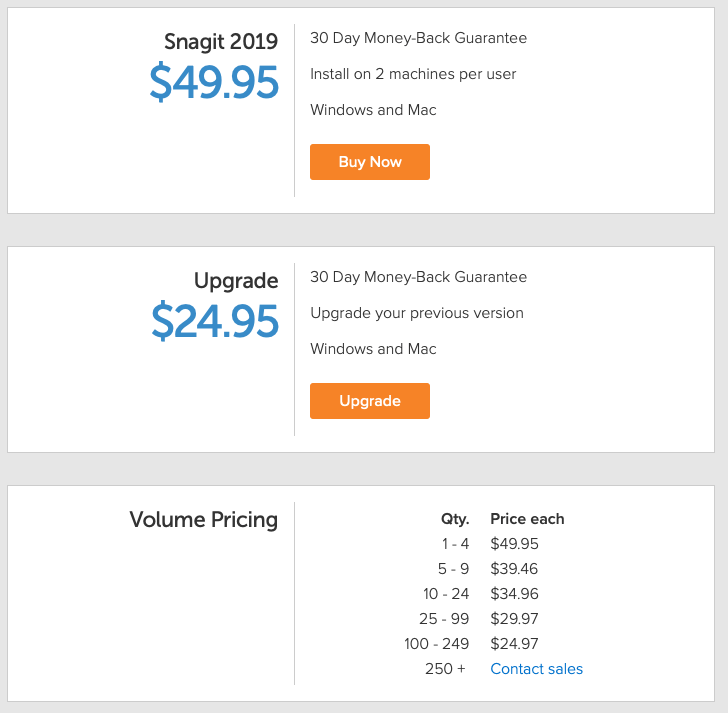 Honorable Mention: QuickTime
If you don't have complex screen recording or editing needs, consider using QuickTime player. While you won't be able to access advanced editing, annotations or filters, it's free and comes standard with Mac OS. QuickTime is great for recording your screen in a hurry or making any recordings that require zero (or very minor) editing. Simply open QuickTime and go to File, then New Screen Recording (or New Audio Recording).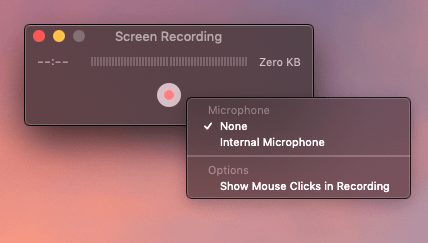 There are limited editing tools, but you can rotate, split and trim your videos, and you can also add clips to the end of a recording if you want to combine the screen recording with another reference. Note that you can only export in MOV format; otherwise, you'll need a video converter.
Last Thoughts: Best Alternatives to Screenflow
Easiest to Use Screen Recording: AceThinker Screen Grabber Pro software is a simple, easy-to-use screen recorder and video editor, and it comes in at way below ScreenFlow prices at just $29.95 per year. The Bandicam Screen Recorder is in the same boat – a simple recorder and editor at a similar price point to the AceThinker app.
More Advanced Video Editing: The Movavi Screen Recorder Studio software app is slightly higher in price, and while it's still on the simpler side (compared to, say, Camtasia), it does have some unique features like the chroma key if you're using a green screen. Screencast-O-Matic has some interesting features, too, and their price point is dirt cheap.
Most Advanced Editing Screen Recording: For a more robust experience, consider Camtasia. While it's pricier than the ScreenFlow software, it also has advanced recording and editing features to help you create more professional videos.
Very Basic Screen Grabs: To create super simple videos on-the-fly, particularly those that don't need to look like they were made by a pro, consider either Snagit or QuickTime screen recording tool. The Snagit app will give you some more editing features, but it's a little pricey at $49.95 for something that's so simplistic.
Most of these options have a free trial available and we always suggest trying out the software before upgrading to a paid account. Since some of these tools are so similar, the choice will come down to usability and your personal experience with them.
Here are some other articles you may be interested in: Snagit vs Camtasia Compared or Camtasia vs Movavi Compared (Camtasia alternative options).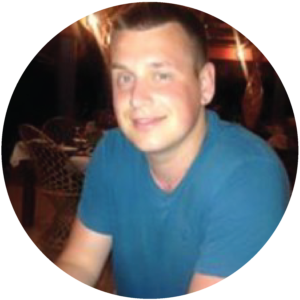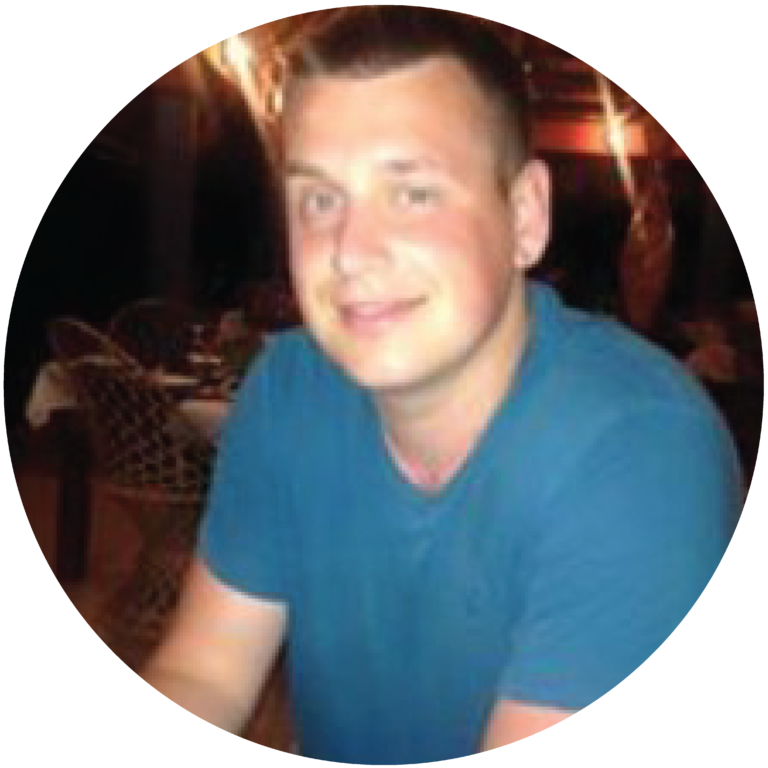 Latest posts by Ewen Finser
(see all)