Last Updated on May 6, 2022 by DMEditor
To content marketers who sing its praises, Sniply is a handy content marketing tool for several reasons. One of the reasons is so unique, finding a precise Sniply alternative can be a bit of work—but not impossible.
Fundamentally, Sniply is a snappy URL shortener service based in Vancouver.
But what really sets it apart from several other URL shortener tools is how it empowers content marketers to curate content, attract targeted traffic, and help turn browsers into customers.
The best of Sniply is it allows users to use iFrame to embed "snips" or calls-to-action props like buttons, forms, links, and banners on another webmaster's piece of content. Simply discover valuable content online, add the URL to Sniply, and share the customized link to your network.
Whenever your network clicks through your shared link, they'll land on the original article. More importantly, though, they'll get to see your snip overlaid on that article, complete with your call-to-action.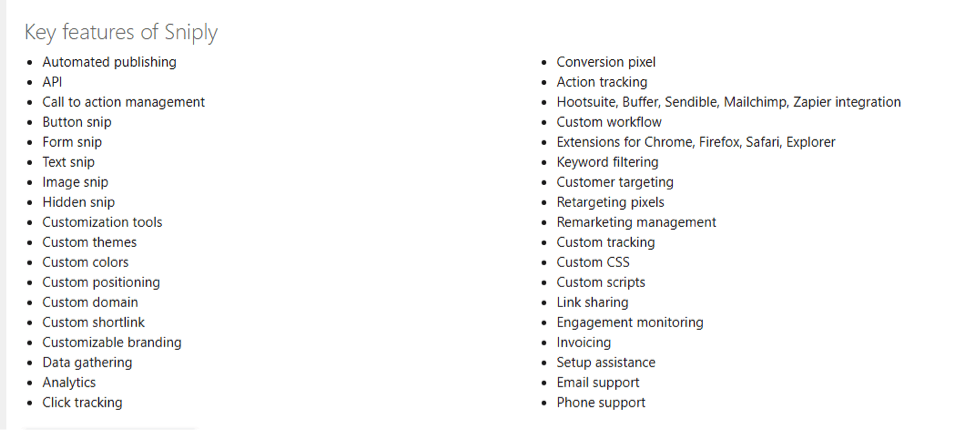 Sniply features by GetApp
Note: You can read my FULL Sniply Review for the full picture.
But Sniply is not perfect…
Regarding URL shortener services, many content marketers have relied on Google's Goo.ge for that. But the search giant already halted support for goo.gl console since April 13, 2018, and will pull the plugs on the service on March 30, 2019.
Yet, something else might be motivating you to find the best Sniply alternatives other than use Sniply.Case in point:
A major issue with Sniply is a chunk of webmasters thinks what Sniply does is unethical and tantamount to plagiarism. And that might be a reason for you to want to seek out effective and affordable Sniply alternatives out there.
After all, tools such as Dustin Stout's FrameBuster tool for blocking Sniply could hurt your Sniply ROI prospects in future.
This post will help you find a content curation, URL shortener or a combination of both as a trusty replacement for Sniply that doesn't feel intrusive or unethical.
These Are the Best Sniply Alternative Tools
How ClickMeter works as a URL shortener…there's more
This one's also fundamentally a URL shortener. But ClickMeter takes URL shortening services up a notch—likely higher with a bunch of link management and collaboration features.
It also empowers its users to dabble in data gathering, link management, content targeting, analytics, sharing, and tracking.
You can use the tool to monitor broken links, discover click frauds and blacklists, as well as target content on platforms that deliver the best conversion rates (and conversion tracking).
Yet, you can also support team collaboration within ClickMeter's dashboard, so you can brainstorm how to act on the analytics you get to better your visitors' experiences and boost conversions.
Affiliate marketers will appreciate how you can create a tracking link for an affiliate product, embed it into a shortened link, use it in ads, and then watch performance reports of the targeted ads in real-time. That way you can manage all links and commissions.
Marketing agencies can also share the real-time reports with clients.
Everyone gets to share information/reports via email. Integrations are available, including Chrome and Firefox extensions. Reports can be accessed via Reports Shortcut and exported to Excel (CSV). And much more…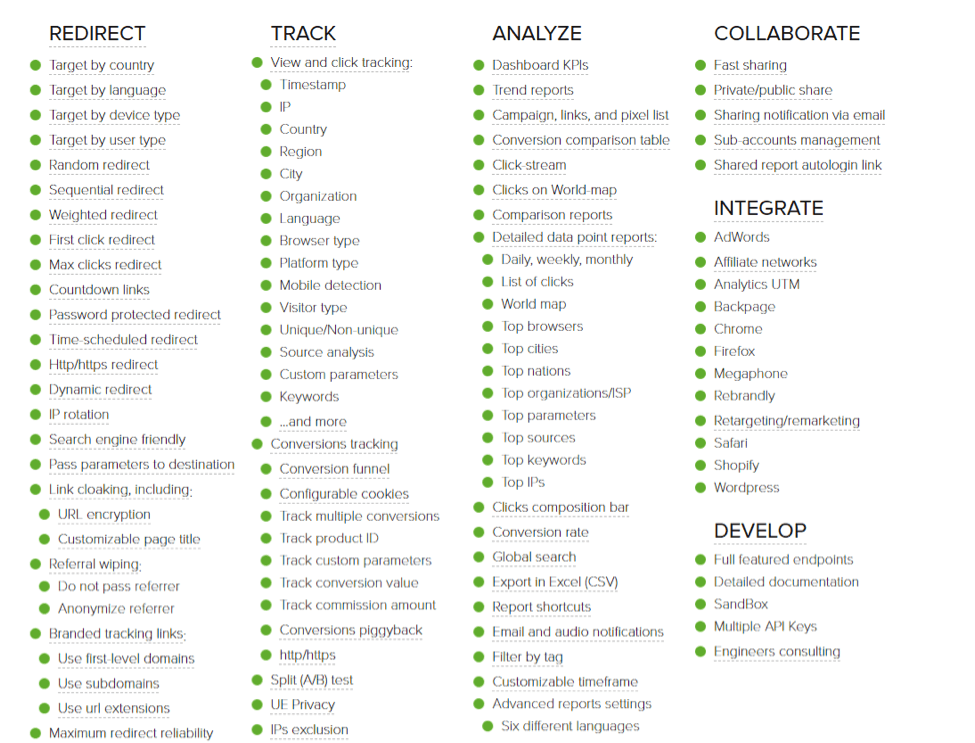 ClickMeter features
See Exactly How Clickmeter Works Here
With Back.ly, the spotlight is on returning more traffic on the links you share than on URL shortening — an excellent Sniply alternative as far as content curation goes. You are pretty much piggybacking on content and overlaying a call-to-action on a third-party site.

Also, you get to add personalized messages to inject originality into your links and boost trust as well as customer loyalty. Compared to Sniply, you can use Backly to craft highly targeted messages using more characters than you would with the former.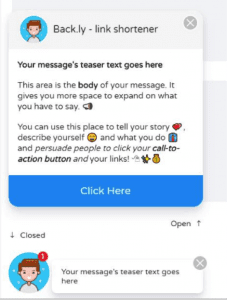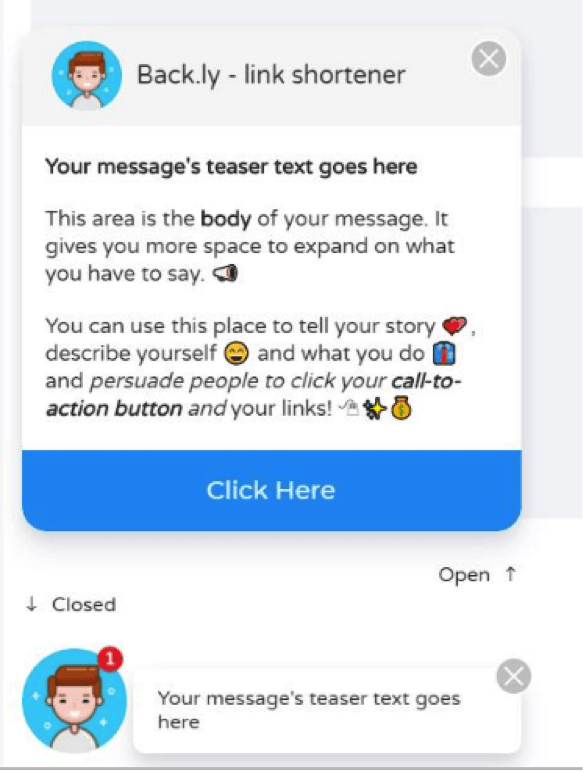 Backly personalized messaging board and Messaging Styles Pt. 1
That is excellent if you need to do a bit of qualifying of persuasion to boost conversions. And you have the option to add custom remarketing pixels along with each message you link out. But you can decide not to include messages and still use your custom pixels to retarget readers later.
Still, you can create multiple calls-to-action for different landing pages, product pages, and sales pages. If you use affiliate products you can link out to it (affiliate links), too. And if you want to retarget traffic to a specific page on your blog, you can do that as well.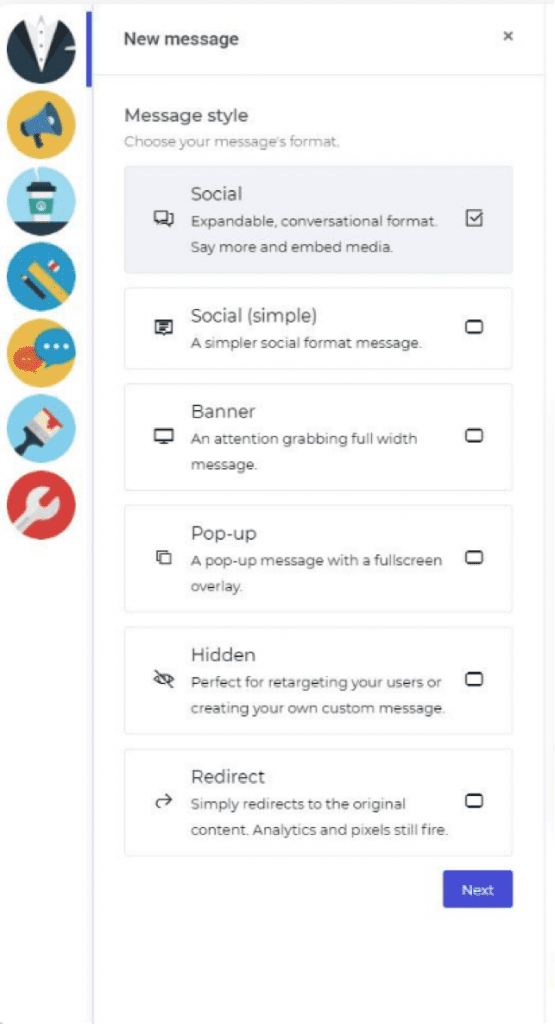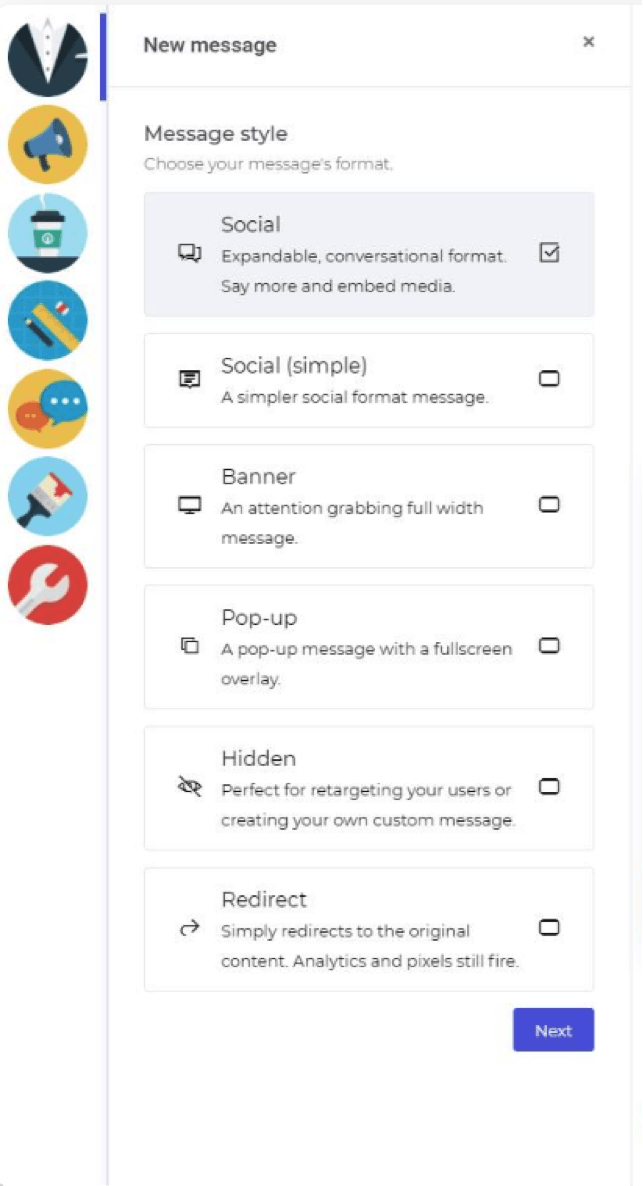 Backly personalized messaging board and Messaging Styles Pt. 2
The thing about Backly, though, is it is designed to curate social content (social media marketing), not as much as articles and such.
You'll get multiple integration options when you sign up. The supported integrations make it possible and easy to curate content from almost any social media platform that many people use.
Bitly is a popular URL shortening service among content marketers for its resourcefulness and basic feature set. It is more of a link management provider than a mere link shortening platform for marketers et al.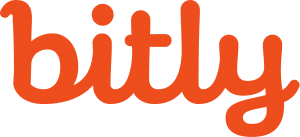 With Bit.ly, you can create a branded link, short domains that speak your brand's language, in your colors and with your target audience. Even better, you can replace the "Bitly" bit in a creation with your brand's name to ensure your audience knows it is you.
Still, Bitly allows users to fetch a ton of relevant analytics. The data is available in one place, OneView. From there, you can track your links to gather insights into your visitors' experiences on each channel and link.

Differences between Bitly and Sniply (more like a jab)
Like Sniply, the goal is to help content marketers deliver resourceful content to their audiences, but Bitly goes further and lets you track customer experiences and so on.
And still, on customer experiences, the short domain service provides a tool to help you re-route your visitors to the best viewing experience possible depending on the device they visit you on.
Marketers and developers can also take advantage of the Bitly API and integrations like Buffer, HootSuite, Salesforce, and Sprinklr to accomplish tasks such as customizing short domains and social sharing.
Here's another Snip.ly and Bitly alternative for those more interested in a URL shortening service.
Like the Sniply alternatives in this post, Ow.ly does more than shorten long links. Not only can you do that right away, but you can also share videos, images, and files in all kinds of different formats using Ow.ly.

Here's the biggie with Ow.ly, though:
HootSuite owns Ow.ly. And HootSuite is a leading social media scheduling, content curation and analytics platform to many online marketers already.
What that means is you can leverage the power of HootSuite when using Ow.ly. In fact, the parent company has Ow.ly integrated into its dashboard, so users can take advantage of it from the dash—easily and conspicuously.
Ow.ly also comes free with a free HootSuite account (free version), although if you need more features and benefits you'll want to purchase a HootSuite plan that fits your needs. However, the tool is best for HootSuite users because Ow.ly is a whole lot ingrained into HootSuite's content curation tool.
But if you have no problem with that, you'll also have the Hootlet extension for finding, scheduling and posting content as you or your team members surf the web.
With Ow.ly integrations and API, you can customize how your audience accesses and views your curations as well as allowing you to connect to your cloud service to save or retrieve curated content for publishing.
Sniply and RetargetLinks feature similarities abound—other than both operating out of Vancouver.
For example:
Both allow users to shorten long links.
Not only that, but you can use the shortened domain names to share content through email, social media, affiliate marketing programs, and search.
Both have freemium models that make easy for prospective users to "test-drive" them. Yet, with a paid subscription, you are able to display targeted ads to people that click on the shortened links.
But, the two also differ in several key ways.
While Sniply allows you to add a call-to-action right on top of the shared piece of content, RetargetLinks offers a total of 15 ad banners that are real, displaying them for a 2-3-week period depending on the browsing habits of the person that interacted with a particular link.
To pull the 3-week task, RetargetLinks uses a unique technology they call link retargeting (which it patented). It is basically about cookies "following" people that click on your shortened links.
RetargetLinks does display content and ads over other sites' content. But, unlike Sniply, they pay the publishers. That means you may not have to worry about your ads/CTAs getting blocked as in Sniply pop-ups.

Source: RetargetLinks
Besides, while Sniply pricing offers a monthly subscription model, RetargetLinks offers a CPM based fee of $8 per 1,000 impressions.
A Rebrandly vs Sniply comparison will bring out a couple of similarities — tools you might need if you are looking for a close Sniply alternative minus the call-to-action pop-ups.

Rebrandly will let you create, share and track short links. Also, you are able to brand the short links. Still, you can easily add your custom domain name to the short links—pretty much like you would with Sniply to boost brand awareness, consistency, and trust among your target audience—your sharers.
To further help boost your click-through-rate, Rebrandly links are search engine optimization friendly. But how does Rebrandly help personalize URLs?
It does that four-ways as shown in this image: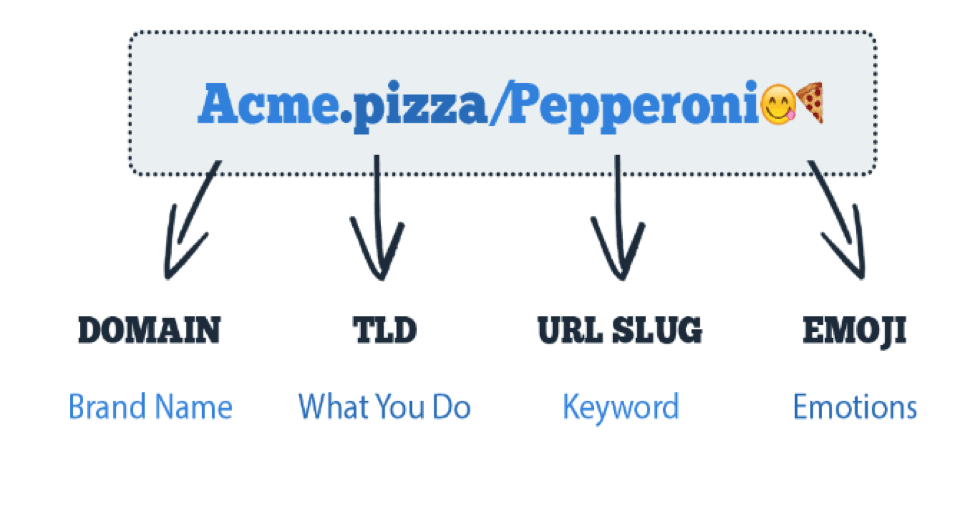 How Rebrandly customizes short URLs
So, while Rebrandly won't let you display call-to-actions on a third-party article, you can use its branded short domain names platform to drive traffic to your landing pages and boost conversions.
You'll get to organize, measure and manage all important aspects of your link management needs from one dashboard. Rebrandly is hosted on Amazon AWS in multiple countries, offering 99% uptimes across multiple devices/platforms.
Still, you can get the Rebrandly API to develop further custom features and benefits to your audience. Plus, the platform supports over 50 integrations to support most marketing campaign tools, including Gmail, Buffer, HubSpot, Google Chrome, Twitter, Facebook, and LinkedIn.
The tool feature set is much more of a content curation tool than it is an URL shortener.


Here's how Scoop.it works:
After signing up for the service, you'll want to download its browser extension, which is available for both Chrome and Firefox.
When you find the content you want to curate, you'll then click on the toolbar icon. A dashboard will appear to the right of your browser window—with several options. And this is important.
The pop-up dashboard will allow you to change the content's title, intro-copy, image, as well as choose which social media channels to share the content to. You can "scoop" a PDF file using WordPress, scoop PDFs into Scoop.it, and more.
Is that plagiarizing someone else's content to help boost engagement amongst your target audience?
Scoop.it has a copyright policy where a webmaster can report any instances of plagiarism they feel goes against them.
Like Sniply, PixelMe software has its basics rooted in URL shortening. However, it makes one of the best Sniply alternatives around because you can do more with it than shorten long links (short link).

First, you can use the link shortening tool with retargeting pixels from Google Ads, LinkedIn ads, Facebook and Twitter.
Second, the tool allows you to convert links you share into targeted ads.
And then you can measure and analyze all retargeting pixels in one place.
PixelMe will allow you to view the number of unique clicks against total clicks. Still, you can view those in order by country, browser, device, pixel and operating system.
There are a bunch of integrations to work with as well. So you can integrate with marketing platforms, email automation and more like Buffer and Missinglettr.
With a Chrome extension, for example, you can shorten links right out of a browser.
With its 7-day trial, marketers can get a feel of PixelMe before subscribing to a paid package—although Sniply offers a longer, 14-day trial run.
Final Snip: Top Alternatives to Sniply
Sniply is a handy URL shortener, remarketing, and content curation tool. However, for your own reasons, you may have decided to look out for the best Sniply replacements to power your content marketing campaigns.
The 8 best Sniply alternatives discussed here offer unique features that aim to benefit marketers looking for Sniply functionality and then some elsewhere in other URL shortening services.