Last Updated on June 27, 2023 by Ewen Finser
When you need legal help, it can be confusing knowing where to start. Sometimes, even the most basic personal matter, like changing your name, can feel insurmountable if you've never done it before.
And if you're facing something more serious, figuring out the legal steps to take can feel all the more daunting.
There are a lot of online legal services out there to help you navigate these unfamiliar areas.
Companies like Rocket Lawyer offer affordable ways to access legal forms and expert information without having to hire a lawyer — at least, not until you absolutely need to and are ready for one.
As someone who has needed a lawyer in the past, I know that having one at the ready is invaluable.
In this article, I'll discuss Rocket Lawyer as well as some of the best Rocket Lawyer alternatives.
I'll also explain what to look for when searching for online legal help and legal assistance. Let's get into it!
My Top Rocket Lawyer Alternatives at a Glance
US Legal: My top overall alternative, with over 85K legal documents to choose from, all self-serve and available when you need them. There's even an option for support for more complex legal issues available.
Assembly Neos: Best for lawyers. Generate tons of legal documents in bulk.
BetterLegal: Great for new business owners who want to quickly set up an LLC.
BizCounsel: Perfect for additional support with real-life attorney access and consults.
ClauseBase: Best for professionals and consultants who need document processing, and client management.
FormSwift: Top pick for small business owners, who just need the basics.
LawDepot: Great for single document processing, no membership needed!
LegalShield: Best overall legal support. Set up an appointment with a lawyer in one business day.
LegalTemplates: Simple, straightforward solution for those who don't want to pay extra for additional features.
What is Rocket Lawyer?
Rocket Lawyer offers legal documents that can be customized to your specific needs.
On top of that, the company also lets users communicate with real lawyers through chat, email, or phone to have their legal question answered. Users can also get discounts on legal services should they need to hire an attorney.
Rocket Lawyer is often a go-to choice for anyone who is starting a business and needs business and legal help.
And since you can use some of Rocket Lawyer's features for free during the one-week trial, you can see if the service is a good match for you before spending money on it.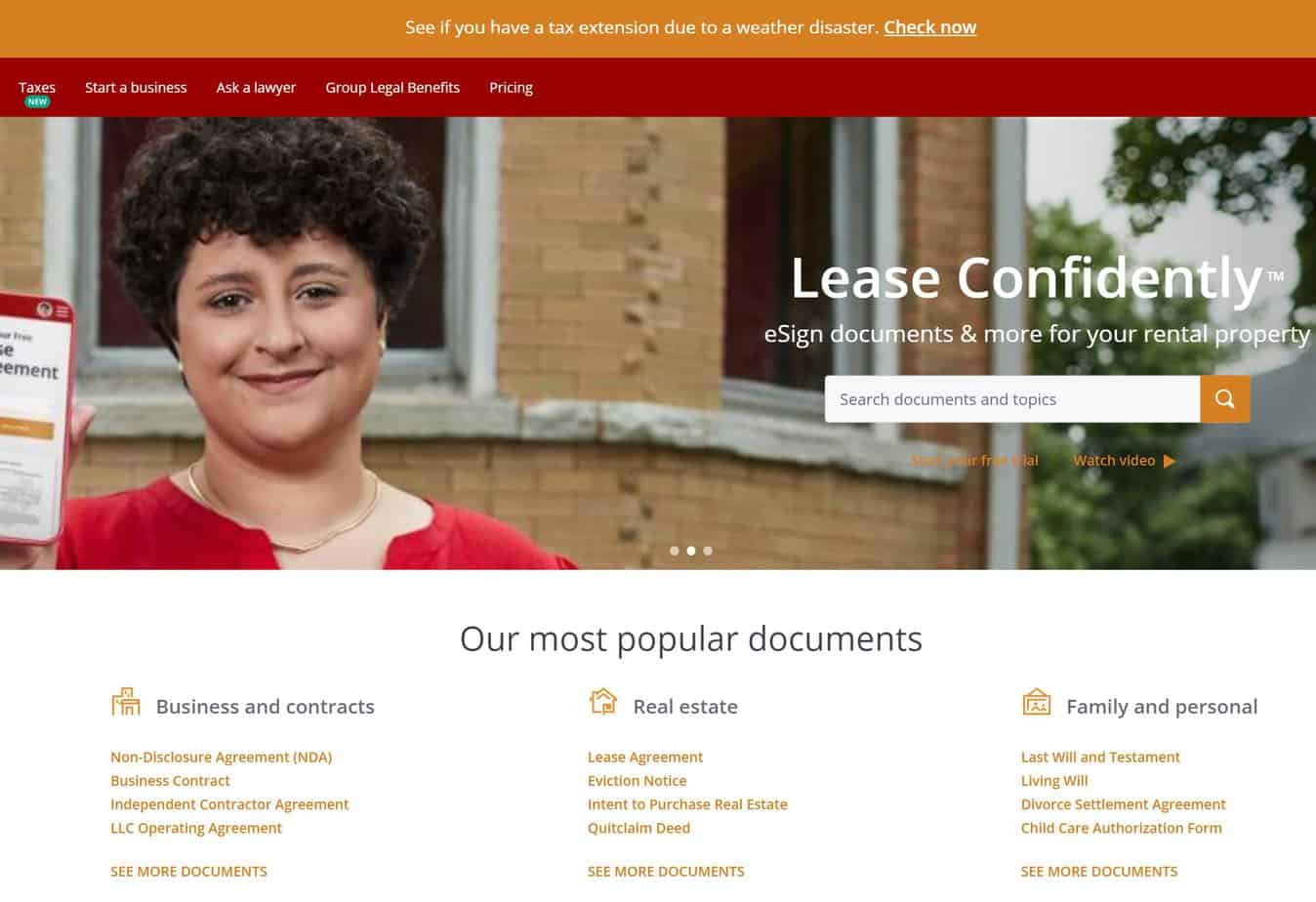 I've needed a lawyer in the past to help sort our small business matters, and knowing where to start is half the battle. Online legal services like Rocket Lawyer and its alternatives aim to clearly lay out everything you may need so you can get started instead of feeling paralyzed by indecision.
Unfortunately, Rocket Lawyer has a few downsides, too. It can cost a lot to pay for individual documents, so you may need a membership after the trial period ends to make the cost worthwhile.
Also, while Rocket Lawyer lets you set up an LLC free for no additional cost, you do need a paid membership to access that feature.
For situations where you need more legal guidance than forms alone can offer, Rocket Lawyer is an excellent option. However, are there any Rocket Lawyer competitors out there that may be a better choice for you? And what if you don't need one-on-one contact with a lawyer or help setting up a business?
Let's talk about 10 Rocket Lawyer alternatives that may have features that better suit your needs.
How do I Choose a Rocket Lawyer Alternative?
When deciding on the right Rocket Lawyer alternative for your needs, consider the following:
Ease of Use
You want to choose a provider with a website that's easy to use. Many of the Rocket Lawyer alternatives on this list let you browse their database before signing up for an account or paying for a membership.
Knowing that you can get around the website is an important part of choosing an online service. While I spend most of my work life on different websites, coming across one that's not user-friendly can be a huge barrier.
Other ease-of-use considerations include storage and customer service. Make sure to find out where documents are stored.
For example, is there cloud storage? Are there storage limits? Also, find out if customer support is available during hours and on days that are convenient for you.
Features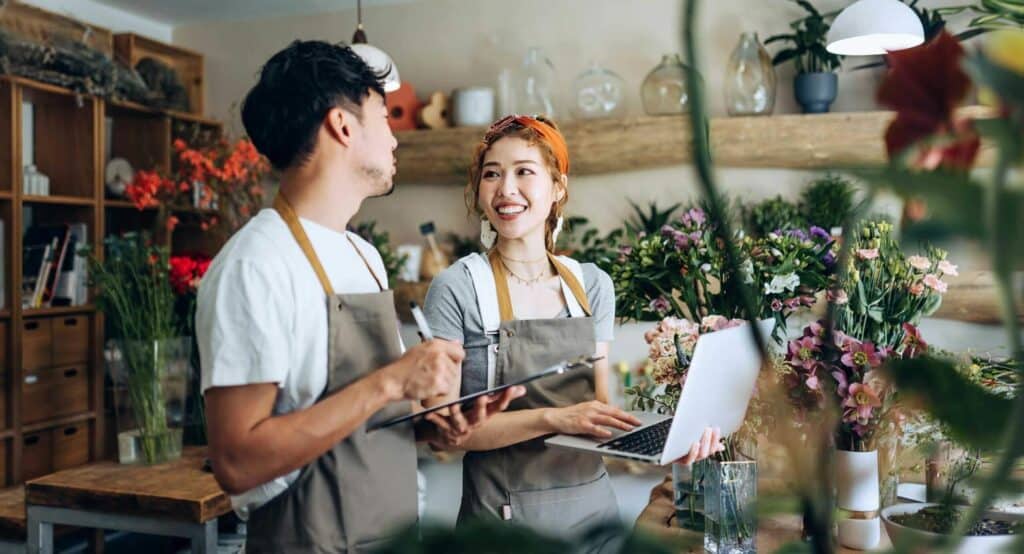 Most Rocket Lawyer alternatives will share the same base feature: access to customizable legal documents. However, what about the other features Rocket Lawyer offers or those that you need and don't get from Rocket Lawyer?
Make a list of the services you need from your legal documents provider. That may include consultations with a live attorney, help setting up a small business, templates for business documents, etc.
Knowing what you need (and what you don't) will help you weed out the Rocket Lawyer alternatives who aren't a good match early on.
Price
Figure out how much you're willing and able to spend, whether a one-time payment, a monthly membership, or a yearly one.
Then, look at the service's base pricing. If it's affordable, check into any upsells or add-ons that you may be asked to pay for.
If features you need are behind an additional paywall, you'll want to consider those costs upfront. I hate paying for a service and then finding out that I have to pay even more to access the features I need.
Lastly, find out if the service has a free trial period. You may be able to get everything you need during that free trial period without having to pay for anything at all. At the very least, it'll give you time to test the product to see if you like using it and if it has all the features you need.
10 Rocket Lawyer Alternatives
There are a lot of Rocket Lawyer alternatives to explore, and the one that will be right for you depends on your specific needs. Whether you need something that's simpler than Rocket Lawyer or you're looking for more advanced software, there are legal providers out there to help.
I also like to sometimes mix and match online services. You may need features from more than one of these providers. In that case, decide what makes the most sense for you, what you can afford, and how long you need each service. Then, customize your online legal plan and team!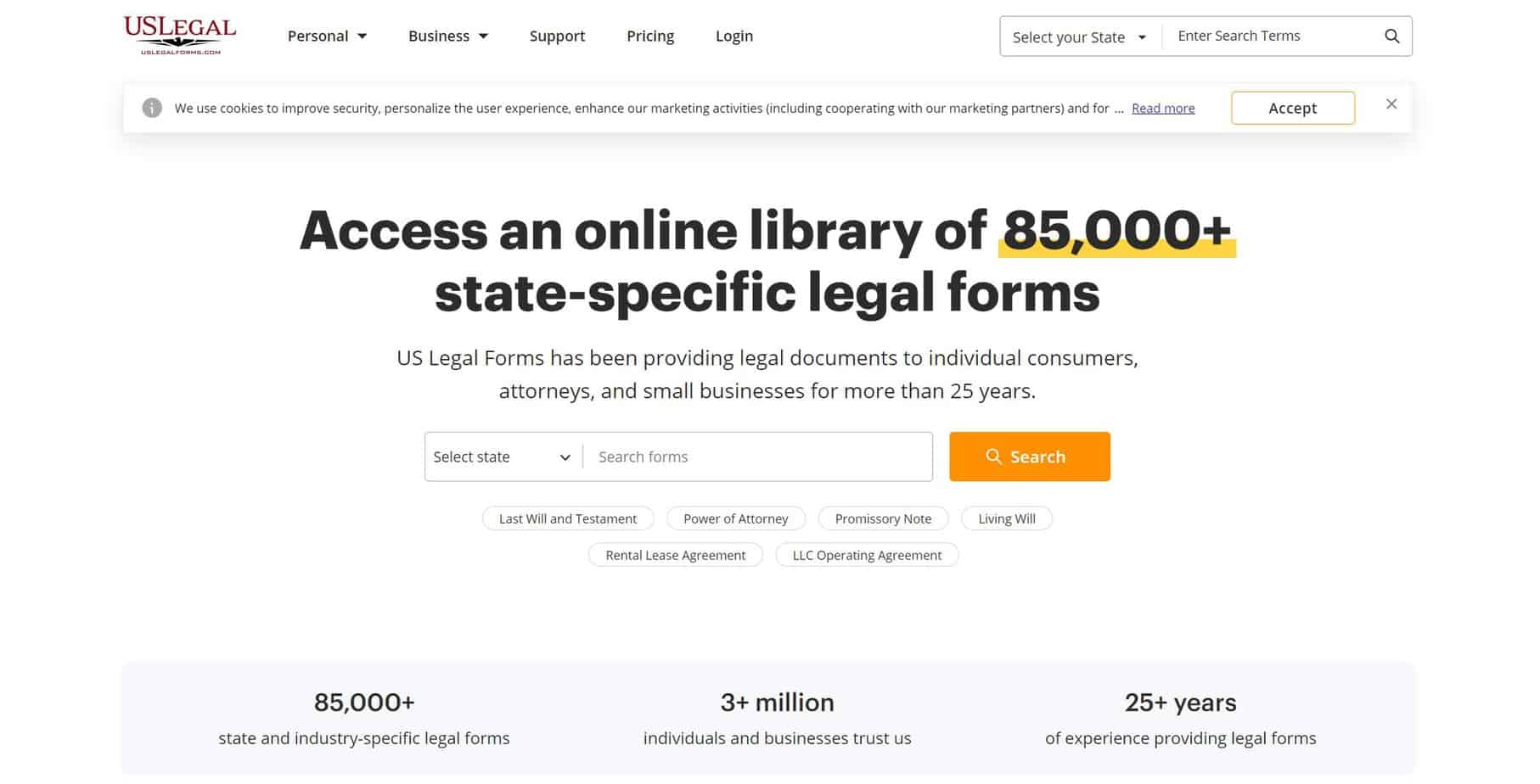 US Legal's online library has more than 85K national and state-specific legal documents that are customizable for your purposes.
You can download the forms and save them to your computer or print them out, and you can also store them all in your US Legal account.
That way, you don't have to take up space on your own device. I know that I always jump at the chance to save documents off my devices so they don't get bogged down with bloat.
Additionally, you can find form packages for legal situations that require more than a single form. You won't have to search around to gather each and every form you'll need.
And for certain complex legal issues, US Legal has an option to fill out a questionnaire and then have legal experts complete the forms for you.
There are also 24-hour notary services available through US Legal. In the past, I've had to get to a notary fast, and being able to do it from the comfort of your home, whenever you need to, is a service I wish I knew about then.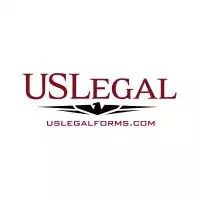 Why Go with US Legal?
Access an online library of 85,000+ state-specific legal forms. US Legal Forms has been providing legal documents to individual consumers, attorneys, and small businesses for more than 25 years. I use US Legal as an affordable midpoint between hiring an attorney or service and "DIY".
Save on Legal Here
We earn a commission if you click this link and make a purchase at no additional cost to you.
Pros
Nearly 100K legal documents to customize
Option to have legal experts complete some documents for you
In-account storage to save space on your device
Cons
No option to purchase a single form
Small number of forms that can be filled out on your behalf
The service won't help you find a lawyer
Assembly Neos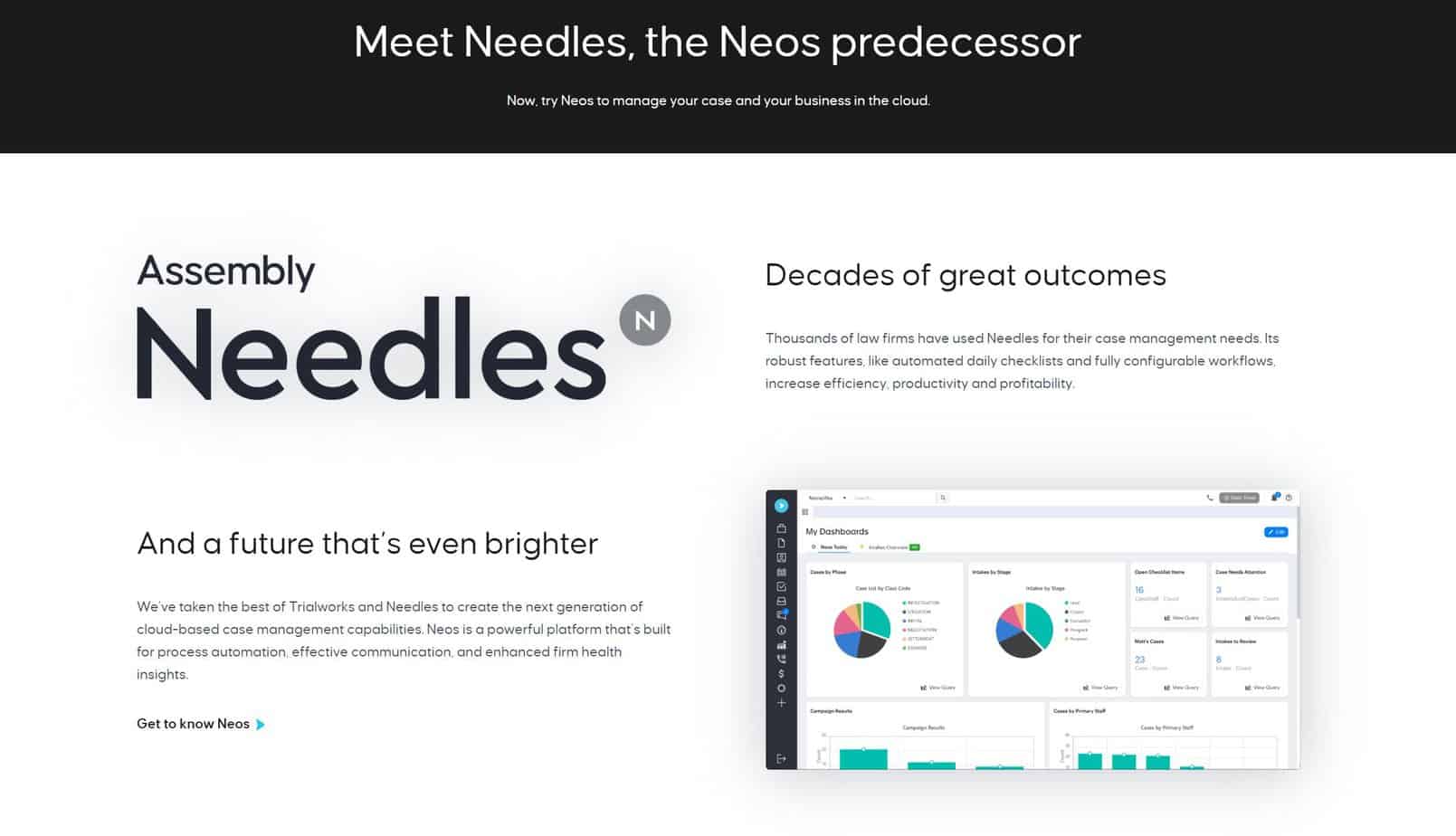 If you need more powerful document management than Rocket Lawyer can offer, you may want to check out Assembly Neos. This is aimed at the legal professional instead of the personal user, and its comprehensive document management software is specifically for attorneys.
You can quickly generate and file legal documents in bulk, and advanced search functionality makes it easy to find what you want. There's also detailed tagging to help you keep your documents as organized as possible.
Pros
Specifically for legal professionals instead of casual users
Option to process documents in bulk instead of singularly
Tagging allows for enhanced document organization
Cons
Dashboard can appear too small, making it difficult to see all the features
No mobile app option
The program can sometimes be buggy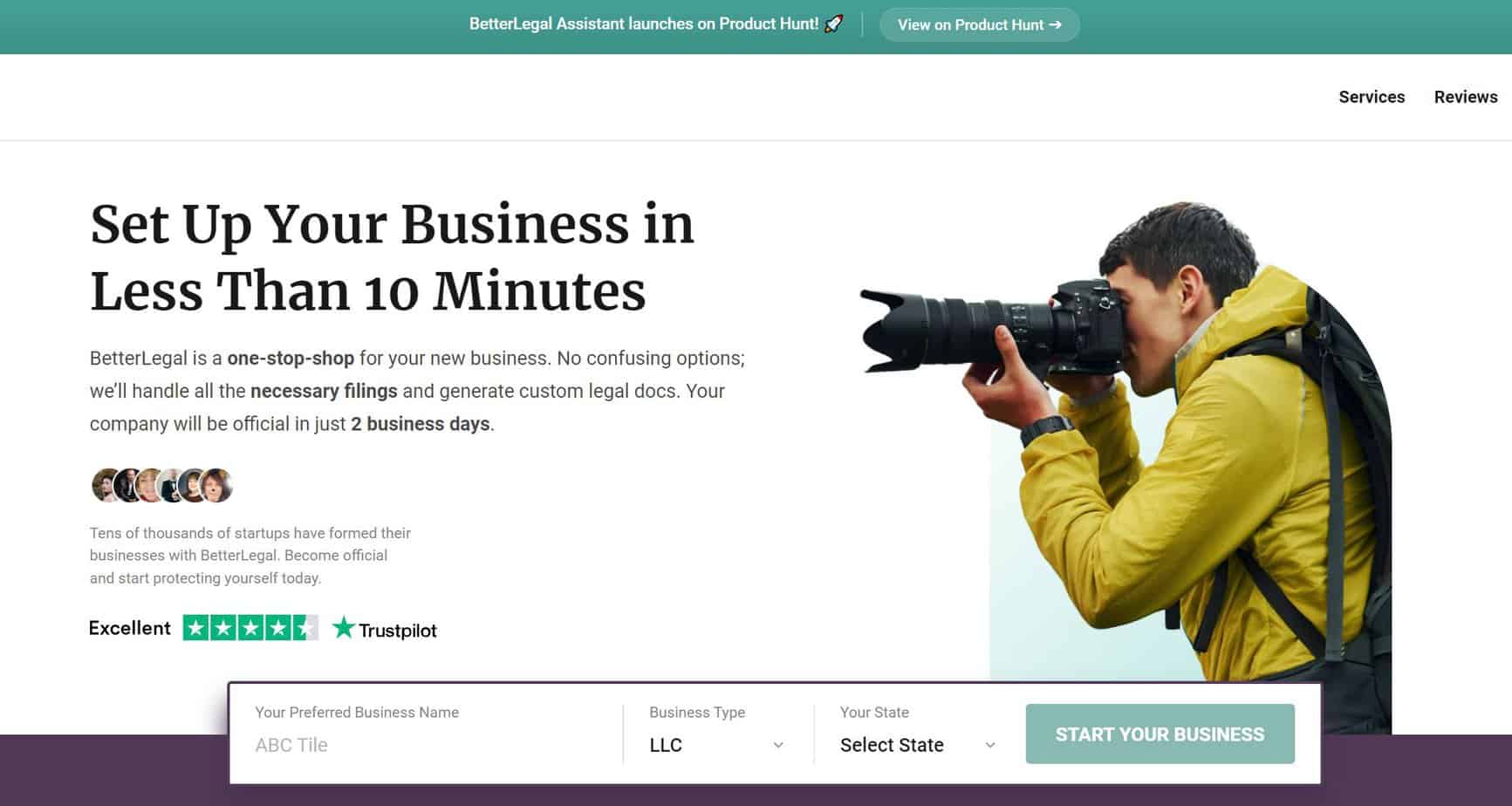 If you're looking for an online provider to help with business formation (including registered agent services), consider BetterLegal.
For most situations, filling out the paperwork and filing your documents is super fast.
The service claims that it can help you set up an LLC in as little as two days. When you have a business idea that you're ready to move forward with, you don't want to wait!
While BetterLegal doesn't have nearly as many features as Rocket Lawyer, particularly when it comes to legal features, it may be a good alternative if what you need most is small business support.
Their professionals will even handle a lot of the work on your behalf. BetterLegal has also teamed up with partner companies to offer accounting, banking, and insurance services.
Personally, I like when online providers stick with what they do best and recommend other professionals for services they don't specialize in.
Pros
Set up an LLC over the weekend (quick LLC filing and incorporation)
Professionals can handle a lot of the paperwork for you
Referrals to other services for continued business support
Dedicated registered agent service
Cons
Limited features when compared with similar tools
Doesn't offer as much legal support as business support
Some users have had trouble getting an EIN for their business setup
BizCounsel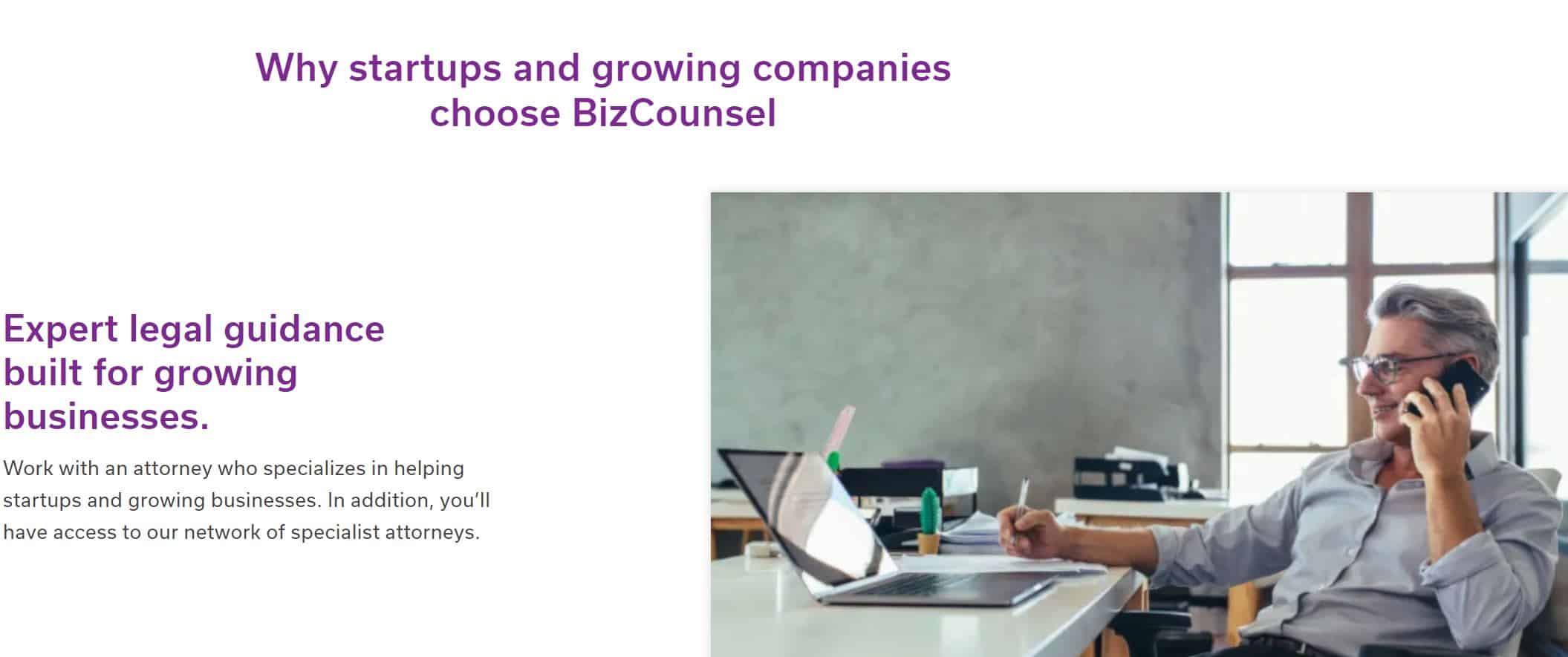 BizCounsel offers many of the same legal forms as Rocket Lawyer, such as cease and desist letters, contractor agreements, and NDAs. However, BizCounsel's pricing is higher than Rocket Lawyer's prices because its plans include attorney access.
BizCounsel's packages include an attorney review of your contracts and documents. Moreover, the attorney assigned to your documents will be familiar with your industry.
How deeply the attorney is involved with your documentation depends on the pricing package you choose. However, all BizCounsel memberships include attorney consultations.
If you need the same type of SMB and legal support offered by Rocket Lawyer but want contact with an attorney, BizCounsel is a strong competitor.
Pros
Plans include access to an attorney who will review your documents
You won't be charged hourly when speaking to an attorney
User-friendly portal for uploading your documents
Cons
Scheduling an appointment with an attorney can take a long time
Not all businesses qualify for a membership
Website navigation isn't user-friendly
ClauseBase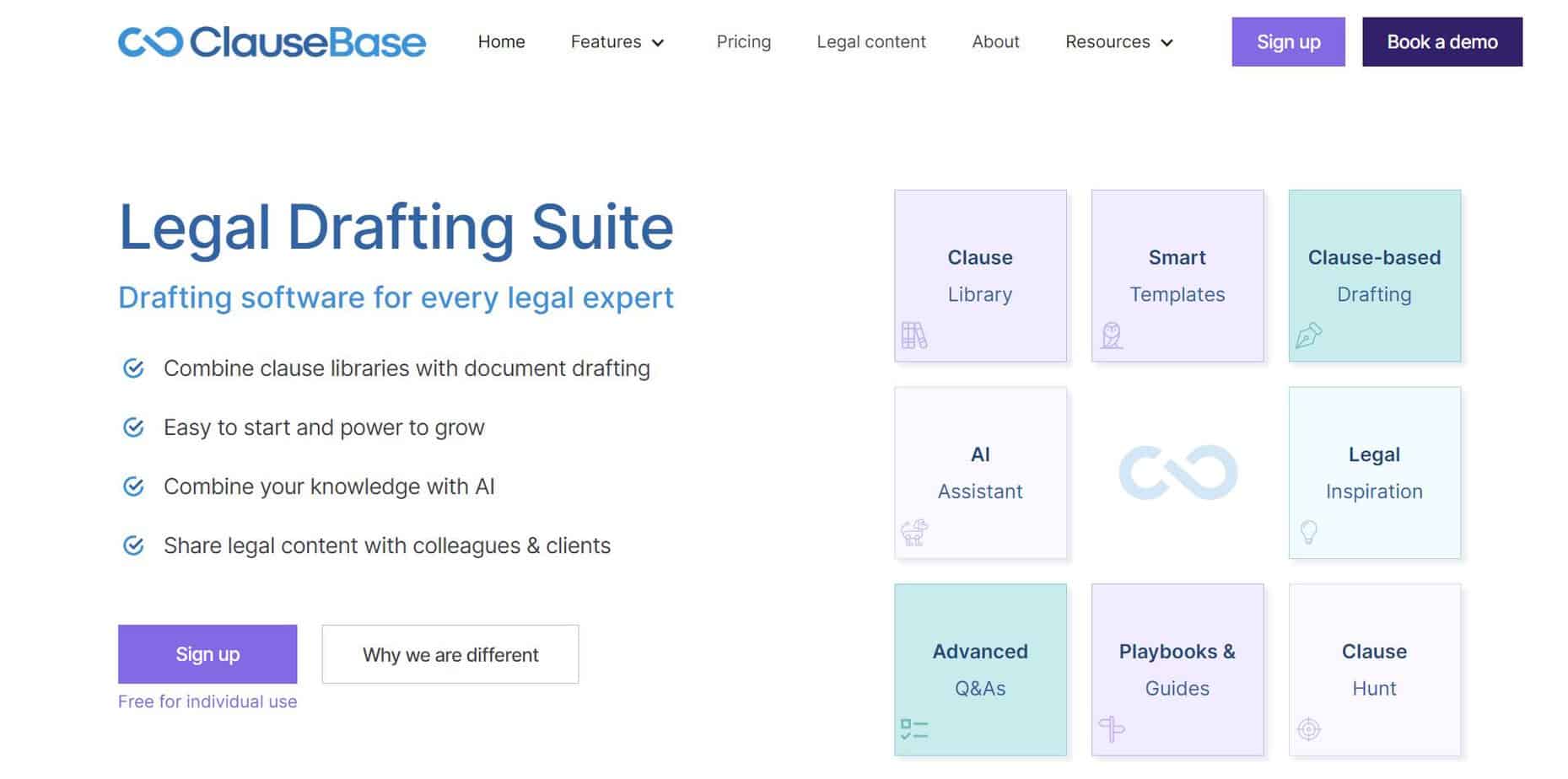 ClauseBase is an advanced legal drafting suite for legal professionals.
You can access templates for all sorts of legal needs, like with Rocket Lawyer, but it also allows you to collaborate with clients and colleagues.
There are a lot of advanced features with ClauseBase, too, like Clause9, which is document automation software.
You can do things like create multilingual documents and ensure that styling is the same across all of your legal documents.
There's also the ability to e-sign the documentation for quicker processing. As someone who sends contracts to clients, I know that having the ability to do it all online can make a major difference in workflow.
Pros
Drafting forms and contracts is fast
Includes collaboration features
Automation features make legal document creation easier
Cons
Limited language support
No compliance tracking
Support is only available via chat
FormSwift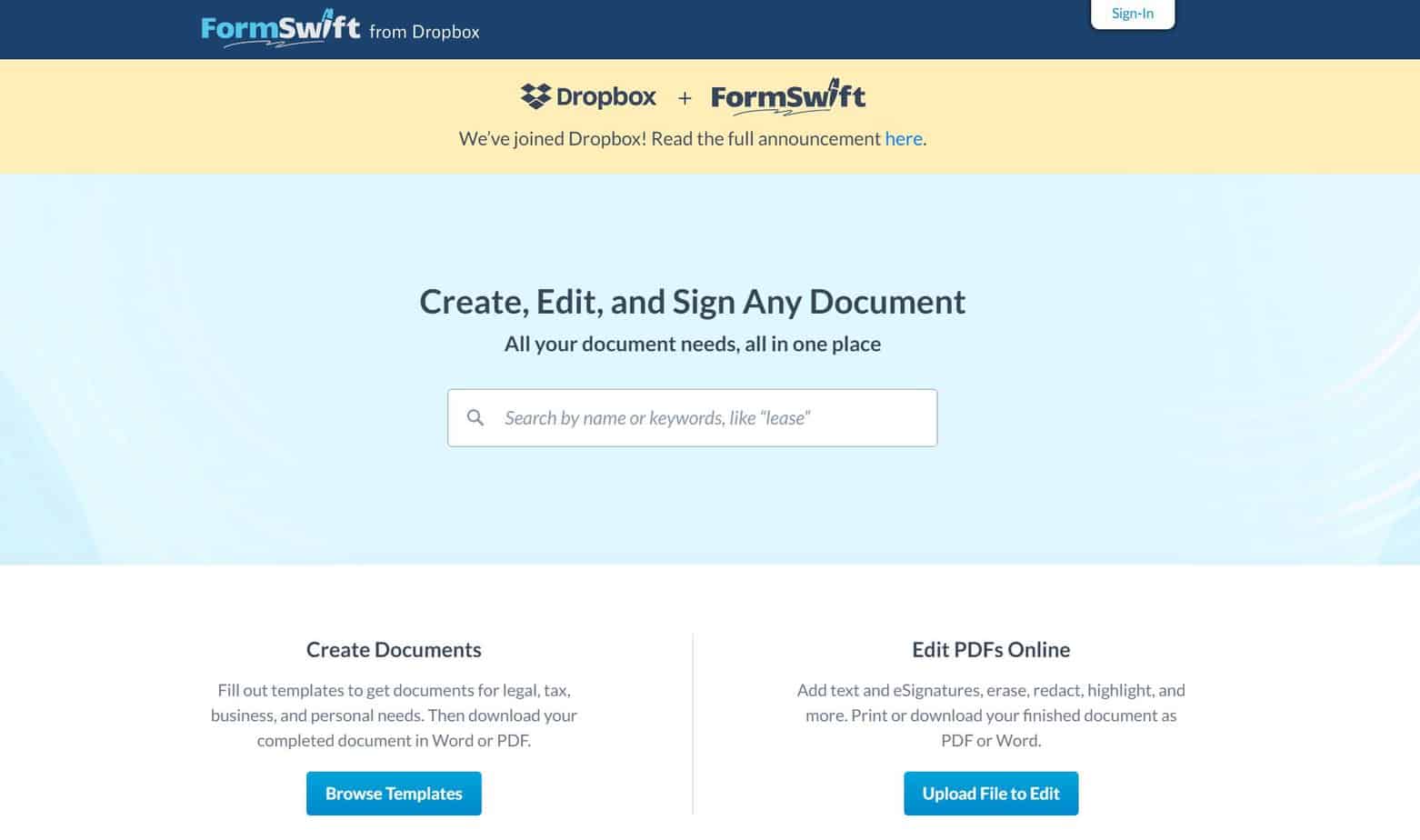 FormSwift is geared specifically toward a small business audience. The service offers both business and legal forms for SMBs, as well as advice on topics like creating a business plan and handling taxes as a freelancer. Forms can be downloaded, customized, and e-signed with FormSwift.
Additionally, you can use FormSwift to edit all types of PDFs. For example, you can add text to an existing PDF, highlight different areas or erase sections. Moreover, the service also lets you upload images and Word documents to annotate or make changes to.
This is helpful if you're sending forms to others to fill out and want to provide some guidance.
Pros
Advanced help for small businesses
Edit all sorts of PDFs, regardless of their purpose
Includes e-signature functionality
Cons
There have been complaints about the quality of customer service
No collaboration features
Can only handle PDF file format
LawDepot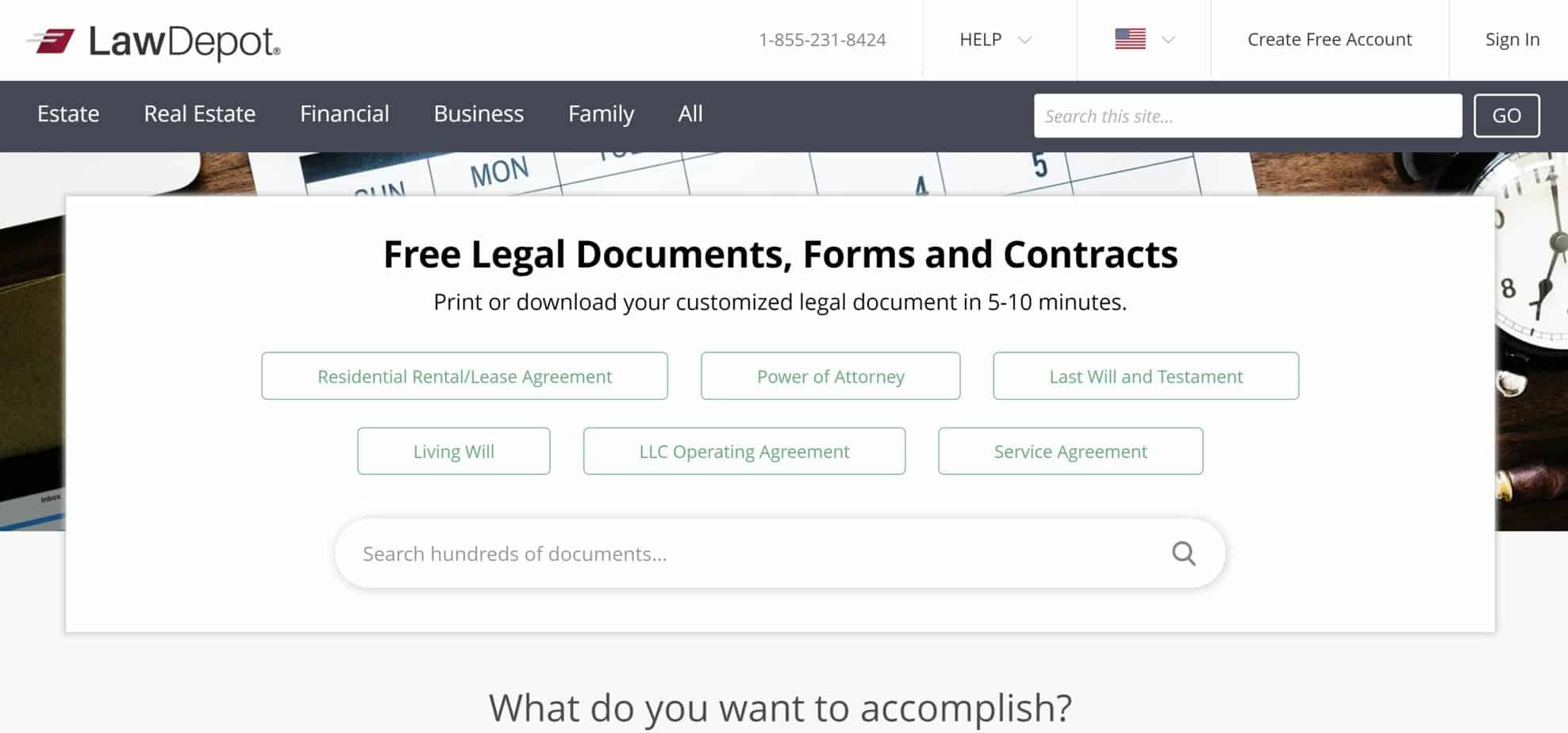 LawDepot's legal documents are aimed at a small business audience. One important feature that LawDepot offers that many other online services don't is the ability to pay for one document instead of requiring that you sign up for a recurring membership.
With LawDepot, you can pick a form, answer a questionnaire and then have the document filled in based on your answers. You can then customize it further if any other updates are necessary.
Available documents are easy to find. You can either enter terms into a search bar or browse all of the documents they offer alphabetically.
Pros
Purchase a single document instead of paying for membership
Documents will be filled in for you
Modern and intuitive interface
Cons
State-specific forms may not be specific enough for your needs
Lacks training on how to use the website
There have been complaints about customer service
LegalShield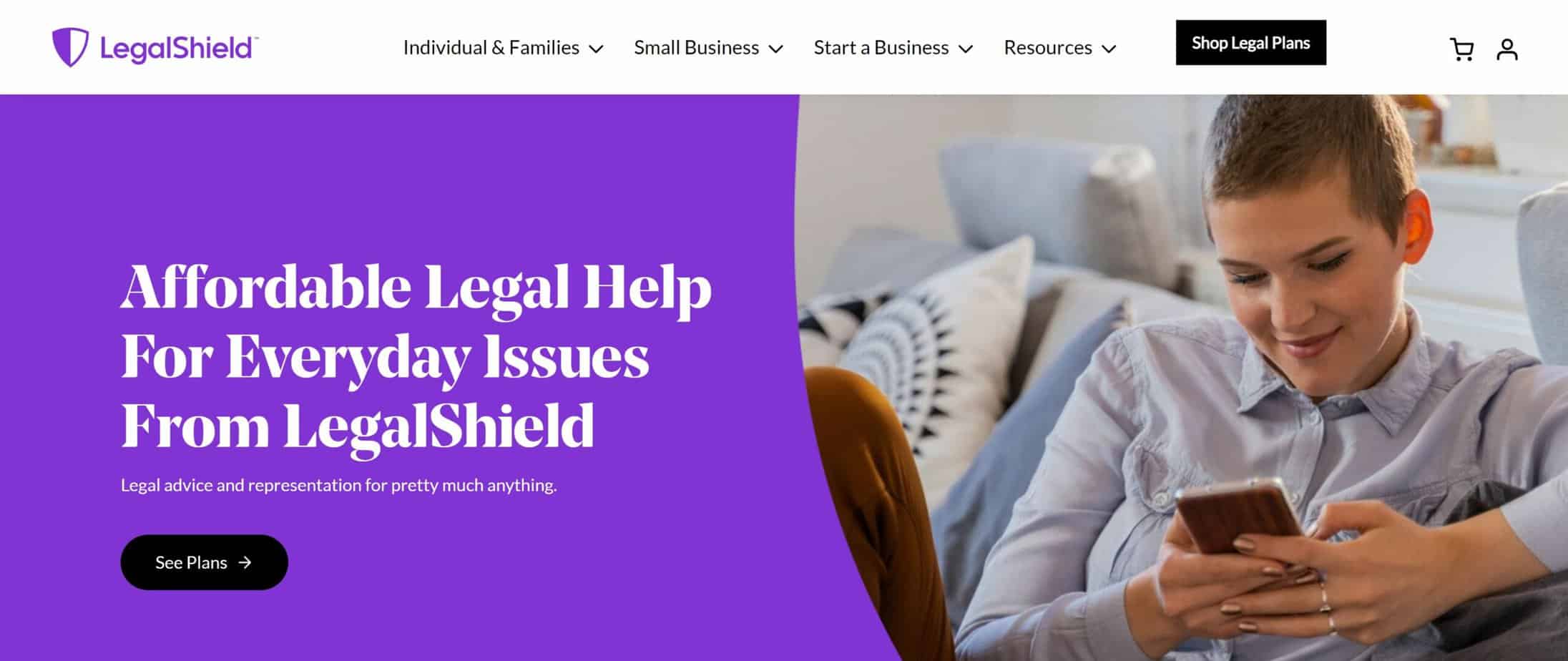 LegalShield is a subscription service that gives you access to bonafide legal advice for a fraction of what it would cost to hire a lawyer.
You'll pick an area of law so that you can be matched with a professional, and then you'll be able to talk to a local lawyer with that type of expertise within one business day.
A common way that customers use LegalShield is by paying for the service monthly and connecting with a lawyer whenever the need arises. Having a lawyer always available to you — even if you never or rarely need their services — can offer a lot of peace of mind.
Pros
Connect with a lawyer in the niche you need
Set up an appointment fast
Issues are often resolved in a short period of time
Cons
There have been complaints about not being assigned a local lawyer
Customer service may not act fast enough in an emergency situation
Poor communication with the user in some scenarios

For a simpler alternative to Rocket Lawyer, consider LegalTemplates.
This is a great option for people who don't need access to an attorney and would rather not pay for a membership that includes features they won't use.
I often prefer to stick with a simpler solution that doesn't have bells and whistles I'll never use.
LegalTemplates has a very straightforward and easy-to-use interface. You'll search for the legal form you need; then you'll fill in a handful of questions.
The legal form will be customized for you. You can then download your form, and it's also printable in case you need to sign it by hand.
Pros
Slimline service that only offers the features users need
Interface is very user-friendly
Legal forms are customized for you
Cons
Credit card is required for the free trial
There have been complaints about customer service when canceling a membership
Billing isn't transparent enough
LegalZoom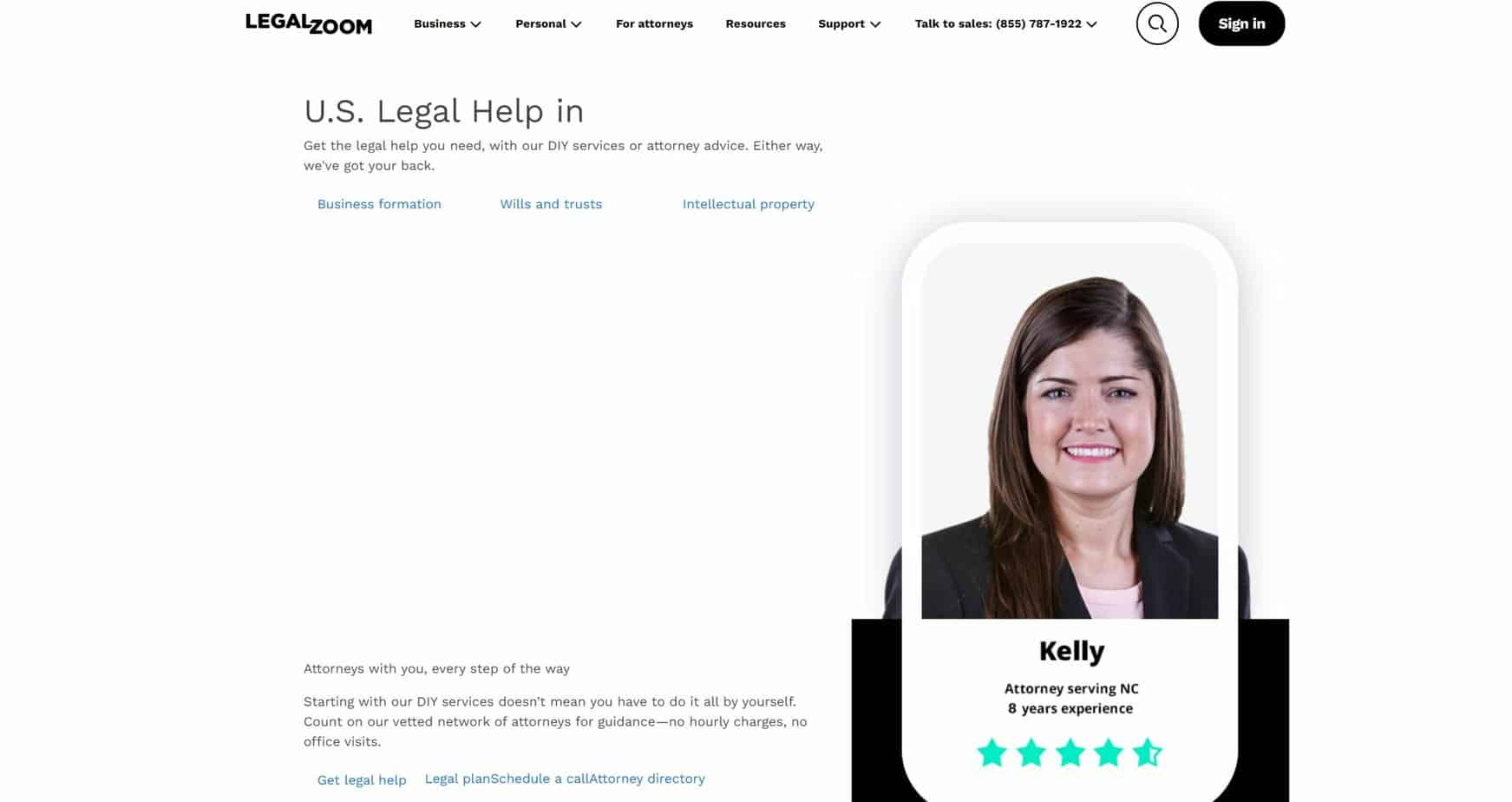 LegalZoom offers official business documents as well as trademarking services, features that are similar to LawDepot.
However, the main difference between the two services is that LegalZoom also offers attorney support for users.
If you need an attorney to draft and file a document on your behalf, you can set that up through Legal Zoom.
Additionally, you only have to pay for the features you want instead of paying a high membership fee and not using most of the services that come with it.
LegalZoom also offers registered agent services. I've used them in the past, but highlight in this article some Legalzoom alternative options I've since switched to.
Pros
Broad range of legal services to use
An attorney can process documents for you
60-day refund policy if you're not completely satisfied
Cons
Cost can be high compared to a more DIY approach
Price can increase even more with add-ons
Turn-around time isn't always the same
FAQs
Question: Should I sign up for an online legal documents company?
Answer: Whether or not you should sign up for an online legal documents company depends on your needs.
Individuals with personal legal matters or small business owners who are getting everything up and running may find online legal services useful. It can be more cost-effective and faster to use an online legal provider than to hire an attorney.
Question: What is the best online legal service?
Answer: The best online legal service for you depends on your needs. For example, US Legal is an excellent resource for finding all sorts of national and state-specific legal forms.
But if you need advice from a legal professional, you may want to consider Avvo. And if you're looking to hire a lawyer, FindLaw may be the best resource for you.
Question: How long does Rocket Lawyer take to answer?
Answer: Rocket Lawyer takes approximately one business day to answer Ask a Lawyer queries. One of the perks of using Rocket Lawyer is its access to attorneys for getting your legal questions answered. You can expect a response within one business day from when you make your first contact.
Best Rocket Lawyer Alternatives: Final Thoughts
Rocket Lawyer is a leading company when it comes to offering legal documents and advice.
One of its standout features is the ability to chat with an attorney and have your questions answered. It's undeniably a leader in its field.
However, there are some users who have simpler needs than what Rocket Lawyer offers. For example, if you want to access a vast database of documents but don't need contact with a lawyer, US Legal may be the smarter option.
On the other hand, if you're running a law firm, you may need more advanced software for managing clients, organizing documents, etc.
Whatever your reasons for looking for a Rocket Lawyer alternative, there are a host of options to choose from.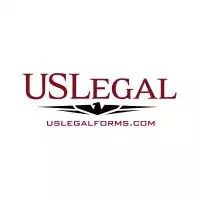 Why Go with US Legal?
Access an online library of 85,000+ state-specific legal forms. US Legal Forms has been providing legal documents to individual consumers, attorneys, and small businesses for more than 25 years. I use US Legal as an affordable midpoint between hiring an attorney or service and "DIY".
Save on Legal Here
We earn a commission if you click this link and make a purchase at no additional cost to you.