Last Updated on April 22, 2023 by Ewen Finser
In the United States, businesses have to meet various legal requirements. Business owners often find it hard to stay on top of all these requirements since they involve a lot of legal jargon, and this might not be their piece of cake. Failing to meet these requirements will lead to various sanctions on your firm, some of which could derail your growth plan.
The best way to get around these legal bottlenecks is by seeking the services of a trusted agency that will take care of all this stuff and allow you to get on with the primary business tasks you need to handle. You will come across various agencies, but as it is widely known, you cannot trust all of them. Due diligence dictates that you dig into the services they offer and customer reviews to determine the most suitable one for your business.
In this piece, we will review two notable entities that will help you get around your legal hurdles; Legalzoom and Harbor Compliance.
The Main Differences Between Harbor Compliance vs Legalzoom
The Main Differences Between Harbor Compliance vs Legalzoom are:
Legalzoom is a comprehensive business and personal online legal service provider, whereas Harbor Compliance is a compliance solutions provider for all types of businesses
Legalzoom provides individual formation and compliance services, whereas Harbor Compliance couples all the services required by a business into two main packages-compliance and formation
Legalzoom offers customer service assistance on a need-basis, whereas Harbor Compliance provides a dedicated expert to handle everything from the word go.
Overview
Legalzoom is an online legal service meant to be a one-stop-shop for all your business' legal needs. It was established in 2001 and has helped over 4 million customers handle their legal matters.
The LegalZoom story started in 1999 when the founders noticed that the web is an ideal tool to provide legal help to Americans. After everything was put together, the company was born in 2001 with an inaugural ten web-based products intent on estate planning, business formation, and intellectual property protection.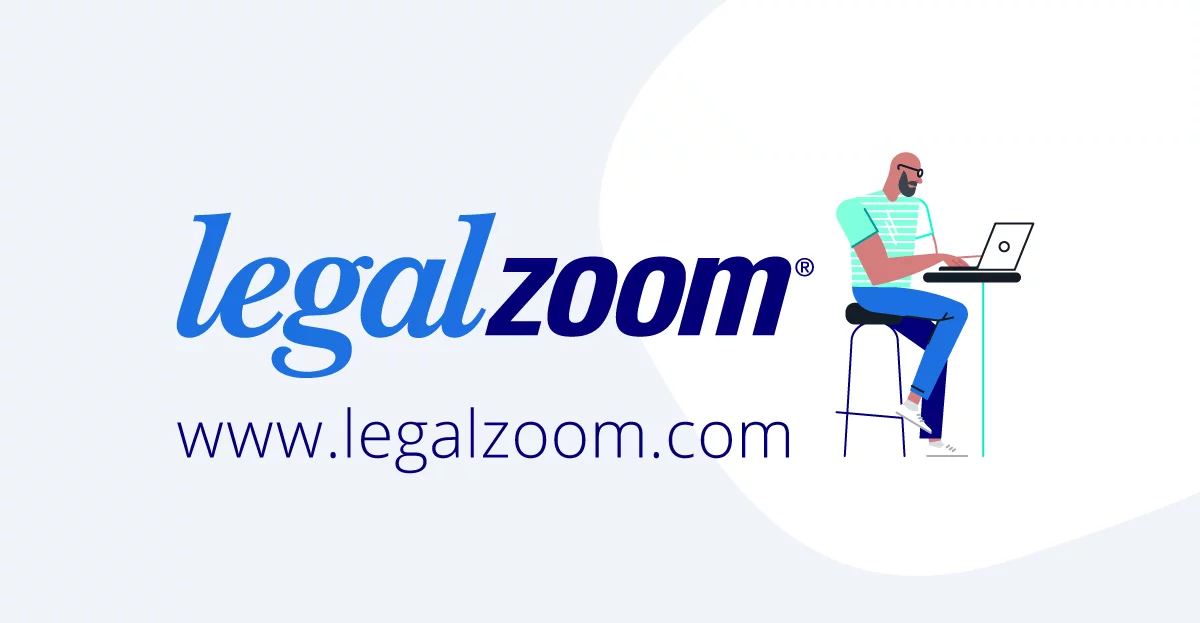 Fast forward to 2010, Legalzoom introduced the independent attorney network designed for those who need personalized legal advice to help them get over their needs. All this time, people are becoming conscious of Legalzoom's services, as highlighted by the 3.6 million customers mark attained in 2015. A year later, Legalzoom extends its services to the United Kingdom, where it can operate as a bespoke law firm. To date, Legalzoom prides in being one of the most reputable online legal services company and continues to receive positive reviews to attest to this.
Harbor Compliance is a leading provider of compliance solutions for all types of companies. It was established in 2012 by a team of government licensing specialists and technology gurus, and since then, it has helped more than 25,000 clients with their licensing solutions across all industries.
Harbor Compliance takes pride in being an industry changer, owing to how it delivers its services. It relies on a robust compliance software that lets business owners track and act on their compliance needs efficiently, plus top-notch customer service that sets them apart from the competition.
Products and Services Offered
The products available at Legalzoom and Harbor Compliance overlap in some way. This is because some are similar, while others are different. Here, we will compare the services that are similar to give you a clear picture of the superior ones before highlighting the ones that differ.
Business Services
Legalzoom
Legalzoom offers a plethora of business services ranging from formation to compliance and licensing.
Formation Services
This is an easy and quick option for many small business owners seeking to protect their personal assets from their business. The service costs $79 plus government filing fees.
These services let you start a business as a corporation. You have two options, namely S Corporation and C corporation. S corporation is taxed once when the shareholders pay taxes on profits, limited to 100 shareholders, and owners can get common stocks coupled with voting rights.
C corporations get taxed twice as the business pays taxes, and the shareholders are also taxed. There is no limit to the number of shareholders, and owners can get preferred stocks that do not have voting rights but get top priority when sharing dividends.
The cost of setting up incorporation is $149 plus government fees.
These are entities that serve the public and are not designed to make any profits. They get tax breaks and allows you to get a 501 c3 status that gives tax deductions to contributions to specific nonprofits.
The cost of opening one is $99 government filing fees.
These two companies are similar only for one difference. Limited Partnership allows you to set up a company and bring in limited partners who are shielded from personal liabilities. For a Limited Liability Partnership, you can bring in partners but get protected from their liabilities.
Formation costs start at $149 plus government fees.
A sole proprietorship is easy to start, but you should structure it well since you are personally liable for the business' liabilities.
An expert at Legalzoom will help you format it correctly to avoid any hurdles trying to scale it up.
It is worth pointing out that the prices quoted by Legalzoom are only starting costs, and they can quickly rise depending on the circumstances. Some of the products contain different packages, and the starting prices are for the basic ones that might not cater to all your needs. This way, you can only know the cost of the services you require by signing up to see what they have to offer and how they can help you form the business you want.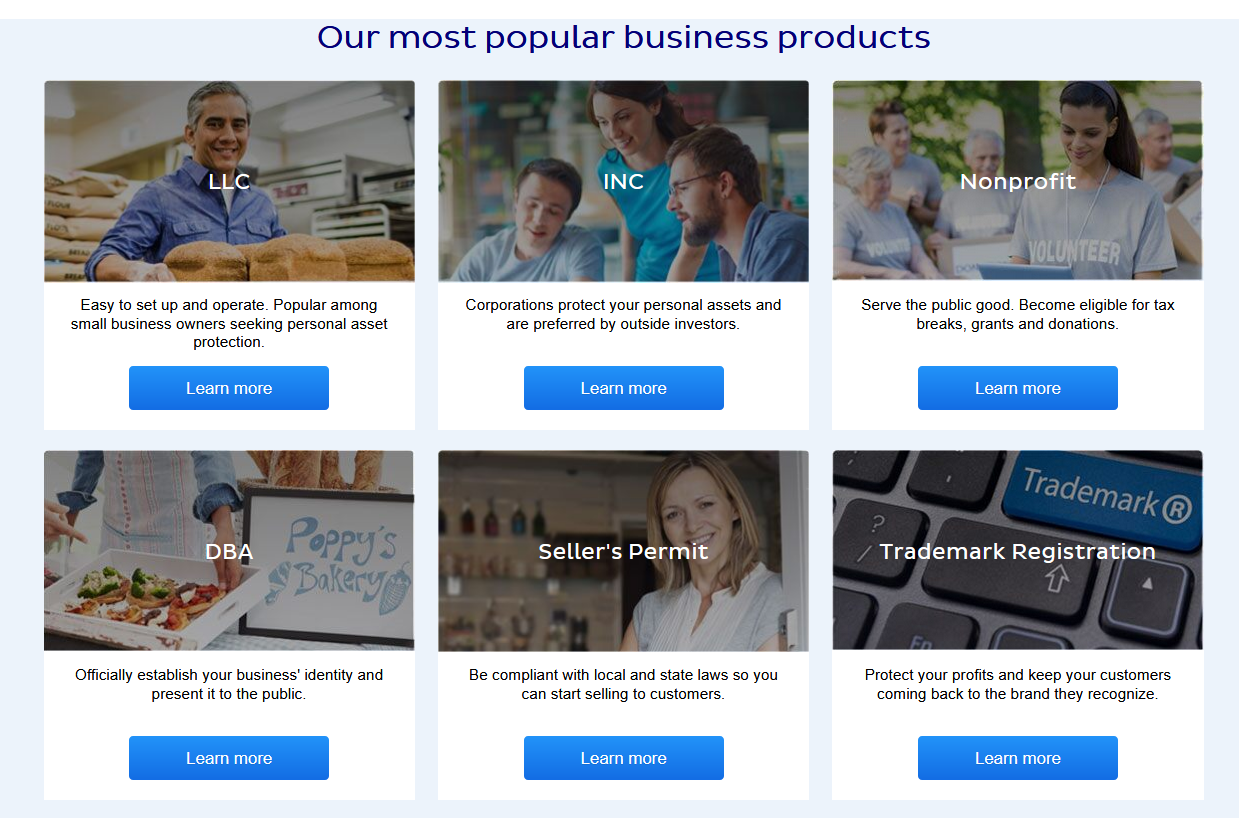 Business Naming Services
Some of the specific services here include;
Doing Business As: Note that a DBA is a legal requirement if you are doing business under an entity with a different name from your official one. You will need it to open a bank account, and it helps to distinguish your business from others. The cost of a DBA starts at $99.
Entity Name Availability Check: This service lets you see if the name you want to call your business is available. It is free.
Entity Name Reservation: Once you find a suitable name for your business, you can reserve it here for a minimum of $49 plus government fees.
Trademark Search: This service allows you to check if there is an existing trademark for your intellectual property. The pricing starts at $149
Trademark a Business Name: Once you find no trademark for your business name, LegalZoom will help you protect it and your logo from competitors. Pricing starts at $399 if you wish to do it on your own and $599 if you need the help of a Legalzoom attorney.
Taxes, Licenses, and Permits
Supplementary Business Services
Registered Agent: Here, you subscribe to Legalzoom's services and let them receive all the essential legal documentation addressed to your business. The package starts at a flat fee of $299 for the first year.
Business Compliance: Services offered here include annual reports, initial reports, corporate minutes, compliance calendar, operating agreement, and bylaws and resolutions.
Trademarks: Some individual services provided are trademark registration, trademark monitoring, trademark statement of use, office action response PRO and other trademark filings.
From the individual products and services offered, it is clear that Legalzoom has it all for businesses looking to handle their legal matters.
Harbor Compliance
Harbor compliance structures its offerings into two packages; formation and compliance.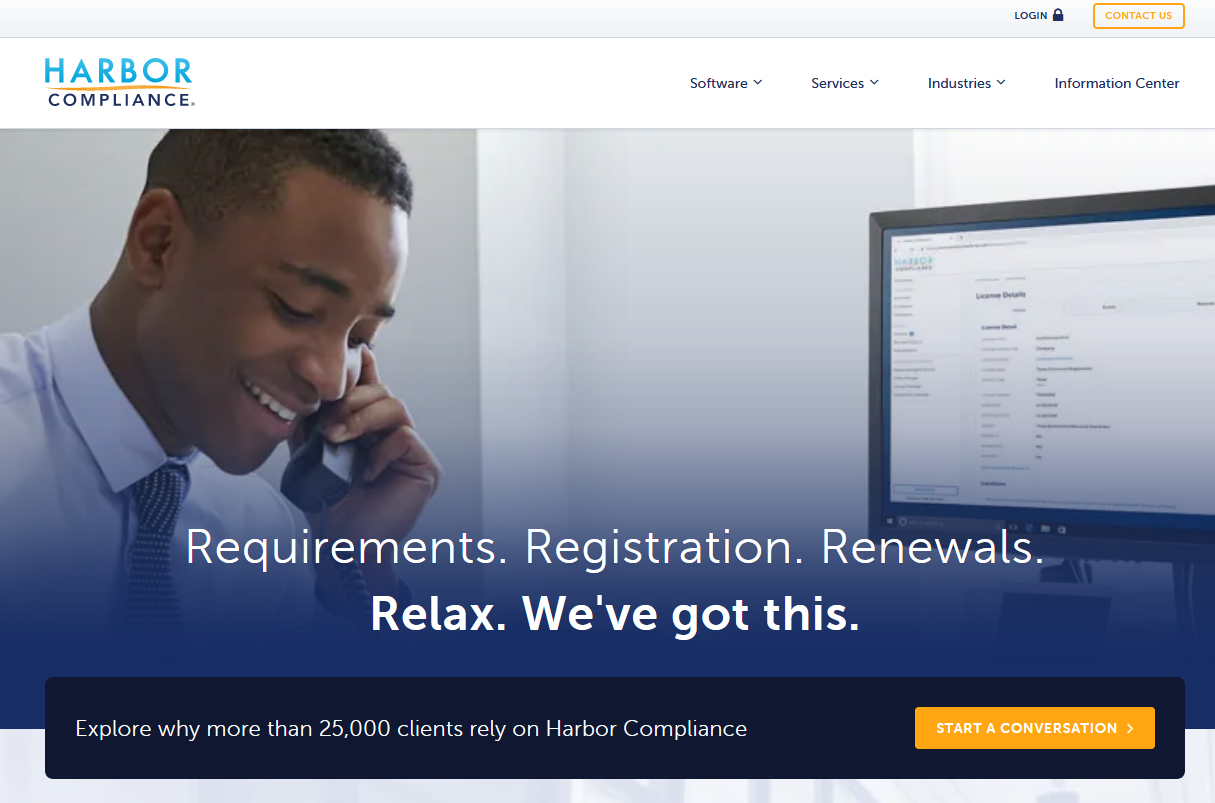 Formation Package
As the name suggests, this package covers everything required when opening up a new business. They include;
Preparation and filing the articles of organization
Company name search and reservation
Annual registered agent services for a year, after which you will have to renew it at $99/ year
Acquisition of a federal tax ID number
A sample operating agreement that you can edit to meet your business operations.
The formation package goes for $599 plus government fees.
Compliance Package
This is an upgrade to the formation package. It handles all the legal requirements needed to form a company plus those required to make it compliant with the laws. It contains everything in the formation package plus a few things, namely;
Managed annual report service
Initial report
Publishing for states that require new companies to publish evidence of their formation
Company kit and seal
Corporation tax election, i.e., whether you want the company to be an S Corp or C corp
Full customer support
The compliance package goes for $799 plus state fees.
Supplementary Business Services
Besides the two packages, Harbor Compliance offers nonprofit services and compliance software to help users manage their business legal needs.
Nonprofit Services
Nonprofits are unique businesses that qualify for tax exemptions and several other benefits. Harbor compliance helps with the formation and compliance of these entities to ensure that they are well set up and meet all the legal requirements expected of them. Some of the services offered under this category include;
Formation of a 501(c) nonprofit with guaranteed approval and record processing times
Tax registration and exemptions for all the 29 recognized 501 (c) organizations recognized under the IRS code
Charitable solicitation compliance services
Nonprofit corporate filing
Industry licensing for nonprofits in all types of industries
Harbor Compliance Software
This compliance software replaces legacy systems and allows businesses to keep track of all their compliance issues on an easy to use interface. The main modules include;
Entity manager: Connects to the secretary of state databases and lets you monitor where all entities are registered
License manager: Helps you maintain current licenses and acquire new ones easily
Tax manager: Streamlines tax events under federal, state, and local governments
Records manager: Gives firms an easy way to store corporate records, view ownership and maintain board meetings
Registered agent: This is the traditional registered agent service migrated to the internet for easier access to the documents
Customer Service
Both Legalzoom and Harbor Compliance have impressive customer service, but the latter carries the day in this regard. One of the main reasons why Harbor Compliance has emerged to be a top compliance solutions provider is through their customer service.
Let us not take credit away from Legalzoom since the customer care reps will help you with anything you need. However, their email support is lacking in some way, as reported by the customer reviews.
Harbor Compliance prides itself on offering exceptional customer support from the word go. The company will help you every step of the way through a personalized customer support agent assigned to you from the minute you sign up for those services. This is beneficial since the agent understands your business structure from the word go and can help you better as opposed to having to explain your business structure to a random customer care specialist all the time.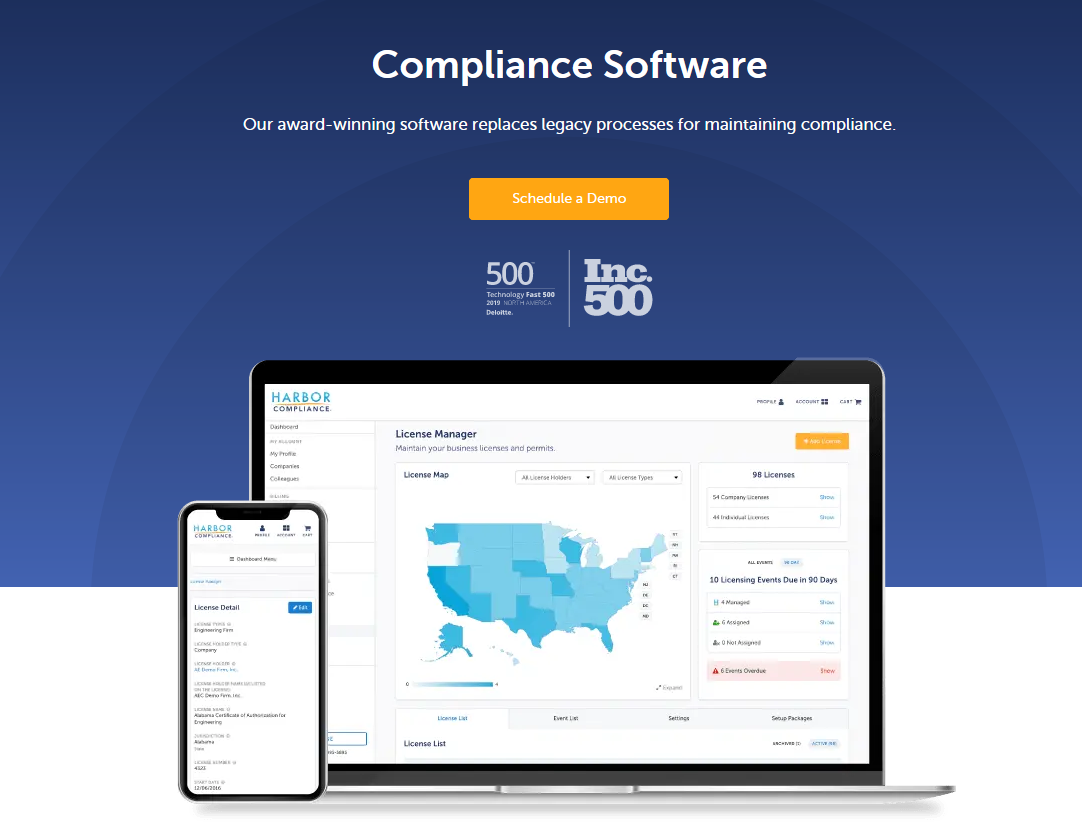 The Good and Bad
Pros of Legalzoom
A one-stop-shop for all legal business requirements
Lengthy track record from its establishment in 2001
Good customer support
Offers additional services such as will packages and contract drafting
Money-back guarantee
Cons of Legalzoom
It is hard to know the exact price for each service
Turnaround times tied to the package you buy
Pros of Harbor Compliance
Exemplary customer service
Wide variety of compliance solutions for all companies
Turnaround times linked to the state you require services from
They handle every step of the formation and compliance process including publishing service which is rarely offered by other companies
Cons of Harbor Compliance
Limited track record
Cost of services are higher than industry averages
Frequently Asked Questions
What is the cheapest state to form an LLC?
From the services listed above, it is evident that all of them are exclusive of government filing fees and state fees. This way, the state you form an LLC in determines how much you will pay for the services. The states with the lowest corporation formation fees are Arkansas, Colorado, Hawaii, Iowa, Oklahoma, and Mississippi at $50.
Why shouldn't you use Legalzoom?
Legalzoom is an all-inclusive business legal service, but it admits to its limitations in helping you. While it can help you get around some of the legal nuances of business formation and compliance, these services are limited to an extent. It cannot provide legal advice and can only offer self-help services at your direction. It is not licensed and permitted to practice law.
How do I make sure my business name is not taken?
You will have to seek the business name search services at either Legalzoom or Harbor Compliance. Here, you will see if the business name exists or not. If the name is available, you can pay to reserve it and ensure that another entity does not take it.
Bottomline-Which is the best service for me?
To help you decide the best service for you, we will break Legalzoom and Harbor Compliance based on a few aspects.
In terms of pricing, Harbor Compliance seems to charge high fees for their services from the surface. However, it is not that simple as Harbor Compliance could offer you the best value, depending on what you are looking for. The Harbor Compliance price plan is transparent, and you know what you are paying for from the word go. The formation and compliance packages apply to all types of entities you might be opening. Things such as processing times, perks, and additional features are all laid out, and the only difference is the state you open the entity in.
Legalzoom has a lot of grey on its prices, and it is hard to know what you are going to pay for what you need from the outside. They only list the starting price points, but if you dive deep into the features offered, you might find yourself paying much more than anticipated.
In matters of cost, Harbor Compliance has the upper hand due to their transparency and value for money.
Looking at the features, Harbor Compliance does well to justify its high cost. Legalzoom offers individual features that could add up to a lot of money if you are not keen. However, Harbor Compliance clearly states the packages available for all types of businesses and lets you choose the most suitable one. It does not have numerous packages like Legalzoom that can easily overwhelm you and make it hard to know how much you pay for the said services.
This way, if you are looking for a comprehensive compliance solutions company that will take care of all your needs with the help of a qualified expert, Harbor Compliance is the best service for you. On the other hand, if you need someone to offer individual services on need, Legalzoom might be your best bet.
Further read: