In our post, we are reviewing 5 of the best TubeBuddy alternatives. While features and pricing may vary, each platform can help you increase your channel awareness and improve your rank.
Video marketing for both businesses and individual creators is not only becoming a requirement for brand awareness but can also generate real passive income.
YouTube is the world's second-largest search engine and since it's owned by Google (the world's largest search engine), you must learn both algorithms. It's one thing to make YouTube videos, it's a whole other ballgame to get people to watch them.
If you are looking to grow your YouTube channel fast, you will need to invest time and money into SEO. TubeBuddy is a great place to start, but what if you are interested in alternatives or even adding a platform to complement your TubeBuddy account?
The best TubeBuddy alternatives are:
Best TubeBuddy Alternatives
1. VidIQ
VidIQ helps you get more views and higher rankings on YouTube by automating marketing tasks. The platform has a Basic free version and paid versions (Pro, Boost, and Boost+).
VidIQ claims on average that you will notice a 2x increase in views within the first 7 days a video is uploaded. Although results may vary, it is a worthy competitor to TubeBuddy.

Best TubeBuddy Alternatives Features
YouTube Keyword Tool
Search for any keyword and instantly see the number of views, subscribers, and competitor channels.
Keyword Inspector
An in-depth look at keyword analytics over a longer period.
Keyword Templates
If you have a defined niche, you can create keyword templates that can be used in future videos.
Keyword Translator
Translate your YouTube video titles, descriptions, and tags into supported languages to increase your reach.
Inline Keywords
See the tags your competitors are using.
Best TubeBuddy Alternatives: Other feature highlights
Video-specific analytics
User behavior data
Link tracking
Pros
The basic plan is free
Baseline analytics (Basic plan)
Stats for the live channel (Basic plan)
Tracking for three competitors (Basic plan)
Help you analyze the best time of day to post (Pro plan)
Top tweet reports on uploads (Pro plan)
Video archive (Boost plan)
Bulk optimization (Boost plan)
Use of all tools (Enterprise plan)
Unlimited competitor tracking (Enterprise plan)
Unlimited accounts and users (Enterprise plan)
Cons
The free plan lacks the majority of key features
Only one account is supported in the free plan
Limited SEO features (Basic and Pro plan)
The interface has a learning curve
Best TubeBuddy Alternatives Prices
|   | Basic (free) | Pro ($7.50+ per month) | Boost ($39+ per month) | Boost+ ($415 per month) |
| --- | --- | --- | --- | --- |
| Number of Users | 1 | 1 | 1 | 1 |
| Number of Channels | 1 | 1 | 1,3, or 5 | Up to 5 |
| Competitor Tracking | 3 | 6 | 20 | 20 |
| Trend Alerts | 1 (limited options) | 1 | 5, 10, 15 | 15 |
| Support | Basic Email | Email & Chat | Email & Chat | Priority Email & Chat |
| Academy | Yes | Yes | Yes | Yes |
| Video Scorecard | Yes | Yes | Yes | Yes |
| Live Stats Bar | Yes | Yes | Yes | YEs |
| Compare Views | Your channel average Last video watched | Your channel average Last video watched Any video Any playlist | Your channel average Last video watched Any video Any playlist Any channel This channel average Competitors average | Your channel average Last video watched Any video Any playlist Any channel This channel average Competitors average |
| Basic Video Analytics | Yes | Yes | Yes | Yes |
Additional Features for paid plans include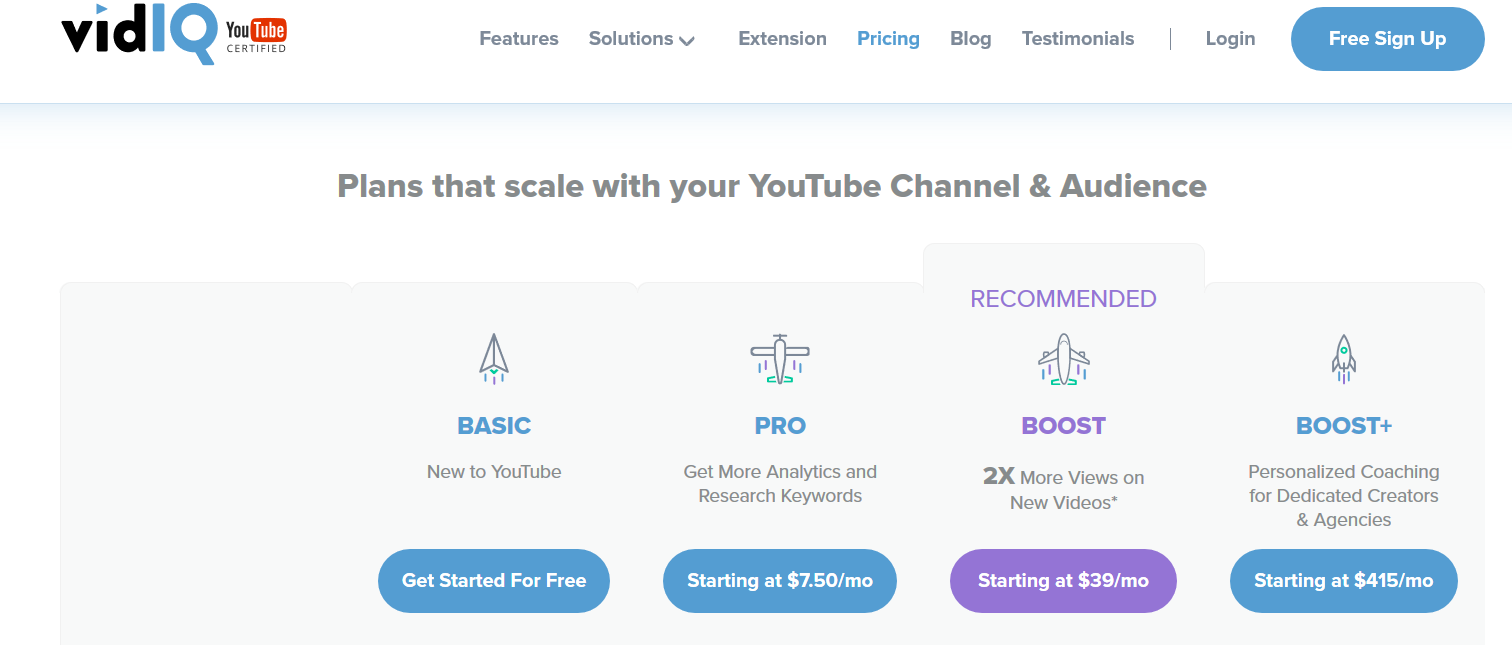 Pro:
YouTube Description Campaigns
Keyword Research Tool
Historical Analysis
Top Tweets for Videos
Top Trending Videos
Boost:
Pro features plus
SEO Title & Description Recommendations
Inline Tag Recommendations
Video Archival
Bulk SEO Optimizations
Dedicated SEO Analytics
Channel Wide Tags
Boost+:
Boost features plus
Monthly Coaching Call
Analytics Deep Dive
Personalized Tips and Tricks
2. Vidooly
Vidooly was created to help individual video creators, advertisers, and media agencies to increase their reach through in-depth digital video insights. It is trusted by over 25 million content creators.

Features
Brand Impact
Vidooly can measure the impact a specific campaign has on your brand. And it can analyze whether your videos are targeting the right customer.
Ad Insights
Get detailed stats before and after you run an ad campaign. Vidooly provides in-depth information regarding how consumers purchase across platforms including specific information in certain categories such as demographics and location.
Hybrid Market Research
Vidooly uses traditional methods along with AI to provide you with competitor data, demographics, current market trends, and a complete consumer study. Current industries supported include media and entertainment, auto and vehicles, health and fitness, beauty and lifestyle, food and beverage, travel and tourism, telecom, banking, financial services and insurance (BFSI), Fast-moving consumer goods (FMCG), and kids.
Other feature highlights
Custom branding
Social sharing
Lead capture
Customizable call to action (CTA)
Pros
Powerful insights by segment, such as interest, location, gender, and age
Affordable (starting at $9 per month)
4 million video analysis on multiple platforms
Free tools (without signup) include Top YouTube channels, Most trending YouTube videos, and Top Facebook videos
Cons
No free plan
Limited features, may need additional software for full features
Features are not transparent in pricing tiers, the monthly payment could vary greatly depending on your needs

Prices
Vidooly has three main monthly plans starting at $9 per month.
Creator Dashboard
$9+ per month
YouTube & Facebook Analysis
Audience Insights
Market Intelligence
Leaderboard
$499+ per month
Benchmark the growth of online video publishers across social platforms, categories, geography & duration
Brand Intelligence
$999+ per month
Audience Insights
Content Strategy
Media Planning & Measurement
Vidooly also offers 5 custom plans in which you need to contact them directly for specific pricing. The custom plan options include:
eSports Analytics & Measurement
Multiple Platforms
Actionable insights
Measure ROI
MCN Management Software
CMS-Level Management
Automated Reporting & Payment
Digital Rights Management
Brand Safety
Protect your brand
Advertise safer video content
Reach out to the right audience
Brand Lift Study
Develop an intelligent content strategy
Measure your brand awareness
Measure consumer-brand interaction
Custom Insights
Vidooly's custom made insights power a select offering of best-in-class Analytics and Data on the online space serving various industries.
3. Tubics
Tubics is a YouTube keyword tool that provides keyword suggestions based on your video metadata. The keyword suggestions are an aggregate of data from YouTube, Google, and Bing. Tubics also provides keyword ranking to track performance and SERP visibility.

Features
Best Video Tags
Tubics helps you find the best video tags by utilizing monthly search volumes, tag analysis, and optimization advice.
Built-in YouTube keyword ranking tool
Tubics provides recommendations on how to optimize your videos' metadata to improve rank for specific keywords.
SEO Focused
Optimize titles and descriptions of your videos using the selected keyword using proven step-by-step SEO tips. Boost traffic by learning how to use YouTube SEO best practices.
Other feature highlights
Unlimited keyword suggestions
Search engine preview
Manage multiple accounts
Pros
Competitor Analysis
Increases organic YouTube traffic up to 25x
SEO focus
Cons
No A/B testing
Tag features could be improved

Prices
A free full-featured 14-day trial is available for new users.
Creator Program / $7.90 per month (or $76 per year)
YouTube tag generator
YouTube SEO tool
YouTube keyword tool (30 languages)
YouTube keyword tracking (25 keywords)
Weekly YouTube Tips
For Brands
Basic / $190 per month
1 channel / 1 user
YouTube keyword tracking (100 kws)
Competition tracking
Tag suggestions (30 languages)
Business / $390 per month
All basic features
Monthly performance reports
Thumbnail A/B testing
Multi-channel management: 2 channels
User management: 2 users / channel
YouTube keyword tracking: 200 kws/channel
Priority chat support
Enterprise/call for a quote
All business features
Data-driven video ideas (5/mth)
Unlimited channels
Unlimited users per channel
YouTube keyword tracking: unlimited
Monthly performance reports
Monthly performance meetings
Branded thumbnail overlays
YouTube Certified account manager for support
4. Social Blade
Social Blade provides an overall as well as daily analytics for YouTube, Instagram, Twitter, and Facebook. The platform works well for individual creators or marketers who need to know detailed stats for influencers.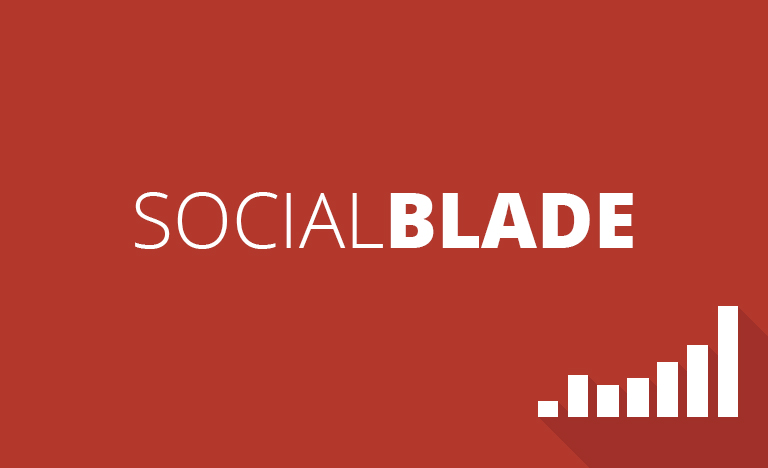 Features
Analytics
Get analytics for your YouTube channel or anyone you follow. It includes subscribers, page views, and even estimated earnings.
Consulting
Take advantage of YouTube certified professionals by using their step-by-step approach to growing your channel.
Top Lists
Easily find out which YouTube channels are trending. Use those stats to generate a stronger YouTube channel and longevity in your subscribers.
Discord server and community
The Discord server houses thousands of users that help each other out by answering common questions or sharing similar experiences. It is also a great place to learn how to use all of the features of Social Blade without having to wait on a support ticket.
Other feature highlights
Earnings Calculator
Partner Program
Live Sub Counts
Pros
Affordable
Active user community
Top trending channel lists
Cons
Statistics are slow to update
No tagging focus

Prices
Receive a 15%+ discount when paying annually. Social Blade also offers a free two-month trial to its bronze membership.
Bronze / $3.99 per month
15 favorite slots per platform
1 YT Report Card/mo
Silver / $9.99 per month
25 favorite slots per platform
60-day table data
Premium Data Charts
10 YT Report Card/mo
Save 5% on Custom Reports
Gold / $39.99 per month
100 favorite slots per platform
120-day table data
Premium Data Charts
50 YT Report Card/mo
Save 10% on Custom Reports
Get 1 month free!
Add / Remove Tags
Platinum / $99.99 per month
500 favorite slots per platform
365-day table data
Premium Data Charts
100 YT Report Card/mo
Save 15% on Custom Reports
Get 1 month free!
Add / Remove Tags
5. Morningfame
Morning fame a.k.a. MORNINGFA·ME helps you grow your YouTube channel by helping you decipher what is working with your videos and what needs improvement. It also includes a keyword tool to rank relevancy once you have entered important metadata for your video including title, description, and keywords.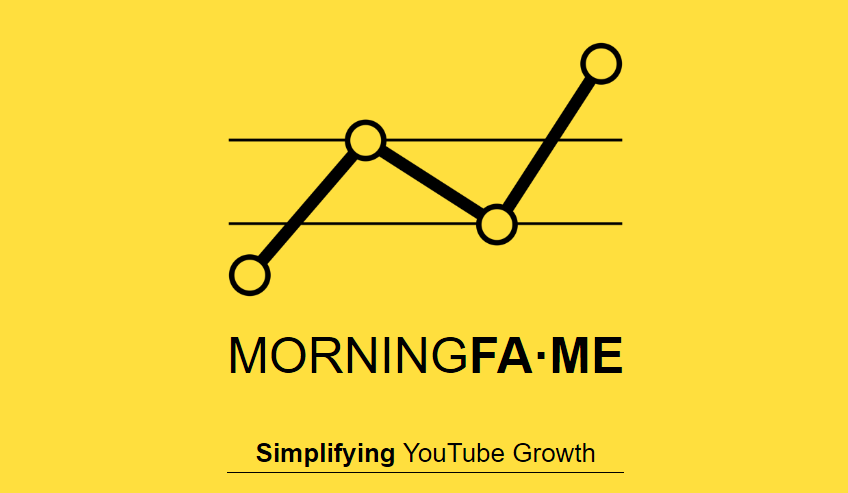 Features
Channel Comparison
Morningfame compares your channel statistics with other channels of similar size. You can easily see where you need to improve. Morningfame will even show you how to improve your stats.
Search Optimization
To grow your channel, you need to rank in YouTube Search. Morningfame teaches you the process of proper optimization from experts such as Brian G. Johnson. This process works for both small and well-established channels.
Other feature highlights
Pros
Educates the user on how to improve stats and optimize their channel
Can improve views, watch time, engagement, and subscribers
If you plan, the basic plan is adequate and affordable
Cons
Not an all-in-one solution, works best alongside other platforms
Not much room for growth
Prices
Morningfame is by invitation only, but you can easily find an invite by searching for "morningfame review 2020″ on YouTube.
The Basic Plan
$4.90 per month or $3.90 per month if paid annually
Rich channel analytics
Keyword research tool (limited, you will receive full-featured access for 24 hours up to every 12 days)
The Plus Plan
$12.90 per month or $9.90 per month if paid annually
Rich channel analytics
Keyword research tool
Background About TubeBuddy
TubeBuddy is an essential tool for growing your YouTube channel. It provides SEO, analytics, and automated tools. Plus, it's a certified YouTube SEO tool so it integrates with your YouTube account and your browser with an easy to download chrome extension.
Features
SEO tools
TubeBuddy can take your SEO to the next level. It can suggest tags, find keywords, split tests, and even help you determine the best time to publish your videos.
Powerful Analytics
With changing algorithms it can be difficult to know what is working best when you are beginning your channel or you are in a creative rut. TubeBuddy provides rank tracking, competitor analysis, social monitor, and more.

Advanced Tools
Automate routine tasks so you can focus more on the content of your videos. The platform can automatically publish your video to Facebook, apply bulk metadata, and generate a thumbnail. You can even plan your video topics.
Other feature highlights
Upload Suite
Keyword explorer
Suggested tags
Split testing
Bulk processing
Comment moderation
Pros
YouTube certified
Easy to use platform
Over 65 features
Stats and graphs for comprehensive SEO
Cons
Only one license per channel
Prices
A free browser extension is available to test out the platform. While the tools under the free version are helpful, you will want to upgrade to a paid plan if you are serious about growing your channel.
Pricing starts at $4.50 per month (if you have under 1,000 subscribers) and goes up to over $49 for Enterprise clients who manage over 20 channels.
If you manage a 501(c)(3) Non-profit channel, you can get 25% off any tier package.
| | | |
| --- | --- | --- |
| Pro | Star | Legend |
| $9 per month / $7.20 per month if paid annually | $19 per month / $15.20 per month if paid annually | $49 per month / $39.20 per month if paid annually |
| Productivity Tools Thumbnail Generator Tags & Keyword Research | All-Pro Tools Bulk Processing Monetization Tools Advanced Scheduling Card/Endscreen Templates | All-Pro Tools All-Star Tools Video A/B Testing Retention Analyzer Competitor Analysis |
Best TubeBuddy Alternatives Frequently Asked Questions
Is it safe to use TubeBuddy?

Yes. TubeBuddy is safe to use to grow your YouTube channel. A team of experts is available to prevent security issues, update the platform, and add additional services.
How can I use TubeBuddy for free?

A browser extension (Chrome, Firefox, and Safari) is available with limited tools. Simply log-in to the TubeBuddy site with your YouTube log-in information. If you are interested in growing your channel quickly, consider upgrading to a paid plan to gain access to beneficial advanced features.
Which is better: VidIQ or TubeBuddy?
TubeBuddy is a more comprehensive platform than VidIQ. TubeBuddy is not only compatible with your Chrome browser but also Firefox and Safari. TubeBuddy also provides a larger variety of stats compared to VidIQ.
What's the Best TubeBuddy Alternative?
After looking at comparable options, VidIQ is the closest in features to TubeBuddy. Both platforms offer an all-in-one SEO solution that is affordable (both have special pricing for channels with under 1,000 subscribers).
Plus VidIQ has a free YouTube tool for SEO and is better at competitive analysis than TubeBuddy. If you have the budget, try using TubeBuddy and VidIQ together to give your channel a competitive edge.
Other alternatives have their specialties, Vidooly (customer behavior), Tubics (unlimited keywords), Social Blade (daily top trending), and Morningfame (expert optimization), but don't quite compare to the comprehensive features and even free benefits of VidIQ.
Further reading: