Last Updated on May 2, 2023 by DMEditor
A 2018 study by SCORE reveals that 77% of U.S.-based small businesses rely on social media when performing crucial business activities. This finding is hardly surprising, as social media provides a quick, easy, and relatively inexpensive way to reach potential customers.
The need to have a social media management tool to help businesses effectively manage their social media accounts is clear. However, with the vast number of social media management tools on the market, it can be challenging to decide which one is the best fit for your business.
SocialBee vs Hootsuite stand out as two of the most popular tools. They boast numerous features, varied pricing options, and integrations that make them attractive. Despite the similarities, some crucial differences exist. This article will compare SocialBee and Hootsuite to help you decide which tool is the best fit for your business.
Bottom Line Up Front
The main difference between SocialBee and Hootsuite is that Hootsuite has more integration that increases the tool's functionality, whereas SocialBee focuses more on the quality of its social media posts and scheduling.
Both platforms have comprehensive features, but Hootsuite has more features that cater to a broader range of users.
Main Differences Between SocialBee vs Hootsuite
The main differences between SocialBee vs Hootsuite are:
SocialBee offers extra concierge services such as article writing and guide creation, whereas Hootsuite does provide any such services.

Hootsuite allows developers to design apps that can integrate with the Hootsuite platform, which gives it an advantage in customization and flexibility, whereas SocialBee has fixed integrations and only allows for extra integrations through Zapier.

SocialBee pricing is more complicated, with a wider range of prices and options, whereas Hootsuite has four simple pricing plans.

Hootsuite offers more detailed analytics and reporting, which can be valuable for larger businesses, whereas SocialBee offers simplified but still effective analytics.

SocialBee pricing plans last 14 days each, whereas Hootsuite pricing lasts 30 days for each plan.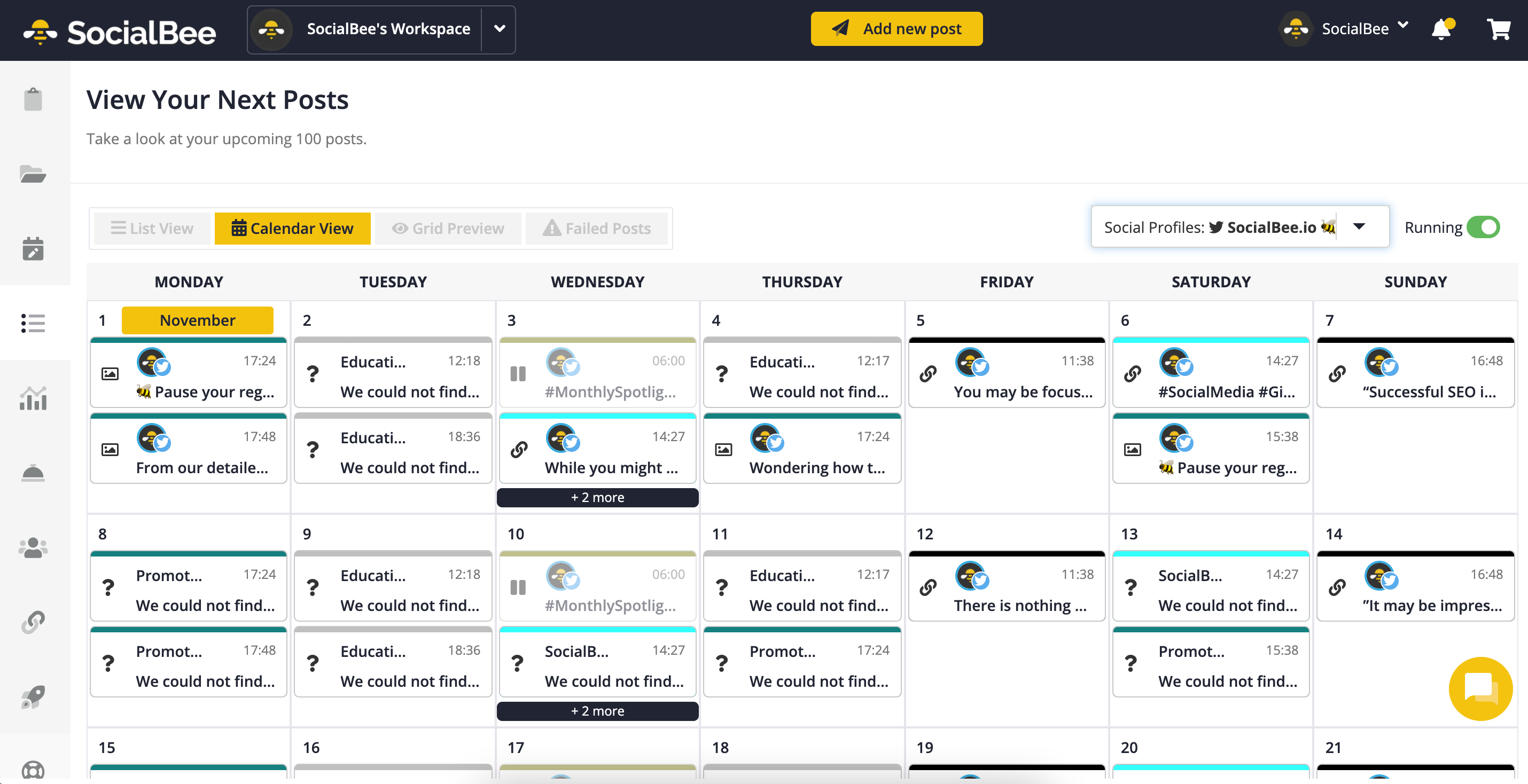 SocialBee is a social media management tool designed for service providers, small businesses, entrepreneurs, and anybody who needs to manage social media accounts. It stands out for its focus on content curation and scheduling more than other tools.
One of SocialBee's main selling points is its ability to help businesses quickly create or repurpose content. Scheduling is also made simple with a drag-and-drop interface that allows you to create a content calendar easily. If you design graphics with Canva, you'll find the built-in Canva-SocialBee integration very useful.
Measuring the performance of your social media campaigns is also simple with SocialBee. Using the social media analytics dashboard, you can track the number of clicks, likes, shares, and comments your content receives. Team collaboration and management are also possible with SocialBee.
SocialBee Features
Below are features that make SocialBee a robust social media management tool:
Category-based scheduling

: Marketers can schedule posts for different categories (such as "blogging," "products," or "promotions"). The dashboard gives them a calendar-like view of all the scheduled posts across all social media accounts.

Content curation and recycling:

SocialBee has a content library that users can repurpose for their social media accounts. Marketers can source content from RSS feeds, Twitter, and LinkedIn.

Import and editing feature

: Marketers can import multiple media files, links, and text into SocialBee and edit them before publishing. The CSV upload and RSS import capabilities make it easy to import bulk content.

Collaboration features:

The distribution of workspaces and team roles helps businesses manage their social media accounts more effectively. Admins can invite people to join their workspace and set permissions accordingly.

Tracking and custom URL feature:

SocialBee features a built-in URL shortening tool and UTM tracking. Marketers can track their social media campaigns' success using the provided UTM and Ref parameters.

Performance and analytics

: SocialBee gives users a better overview of performance with tailor-made insights for different social media networks. The insights show, for example, how many clicks a post received, top-performing posts, and the audience status.
SocialBee Pros
Easy to use platform

Impressive content curation capabilities

Scheduling content is a breeze

Great for collaborative work

Good analytics reporting

Automation of a lot of tasks

category based scheduling

Affordable pricing plans
SocialBee Cons
Limited features on the mobile app

The content calendar isn't as intuitive
Hootsuite Overview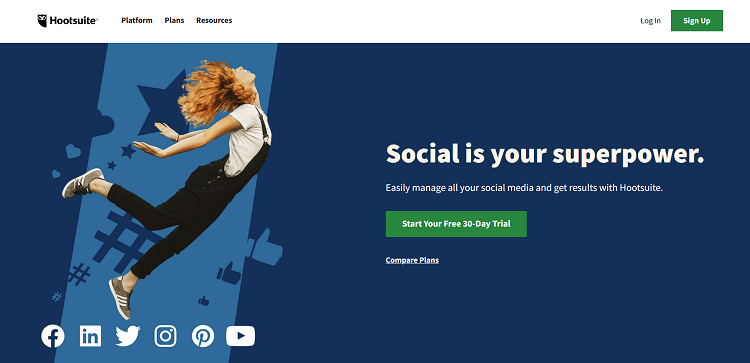 Hootsuite is one of the most popular social media management tools. Its long-standing experience in the social media management space and impressive feature set make it a top choice for businesses of all sizes.
Hootsuite's top features include managing multiple social media accounts, scheduling posts, and measuring campaign results. It also has a robust built-in analytics tool that measures social media reach, engagement, and traffic.
Marketers can do more than basic social media management with Hootsuite. It includes social advertising in both organic and paid search capabilities. The multi-channel functionality seamlessly helps manage ads on all social networks.
The Hootsuite App Directory offers integrations with e-commerce platforms, social engagement tools, and other essential marketing applications. Users can also apply for developer access to create custom apps and integrations.
Hootsuite Features
Scheduling and publishing

: Marketers can plan and schedule posts and map out campaigns using the social media calendar. Marketers can use the composer to create high-performing posts with photos, videos, and animated GIFs.

Engagement and trend monitoring

: Hootsuite users can directly view the social engagement of their posts right on the dashboard. They can stay on top of trends and measure the success of their campaigns using built-in analytics.

Social advertising and Ad management

: The multi-channel advertising capabilities help businesses run ads on all social networks from one place. They can also measure the success of their advertising campaigns using integrated analytics.

Amplify

: Your employees can share curated content from Hootsuite with one click, helping to extend your reach on social media. It's possible to create preapproved content for your employees, so the content they share is safe.

Insights and analytics

: Hootsuite users can calculate their ROI using the Hootsuite Impact tool. The analytics dashboard gives a 360-degree view of a company's social media performance.

Team collaboration

: Hootsuite offers a variety of team roles to help businesses manage their social media accounts more effectively. Admins can see the author's name, edit and create drafts, and assign tasks.
Hootsuite Pros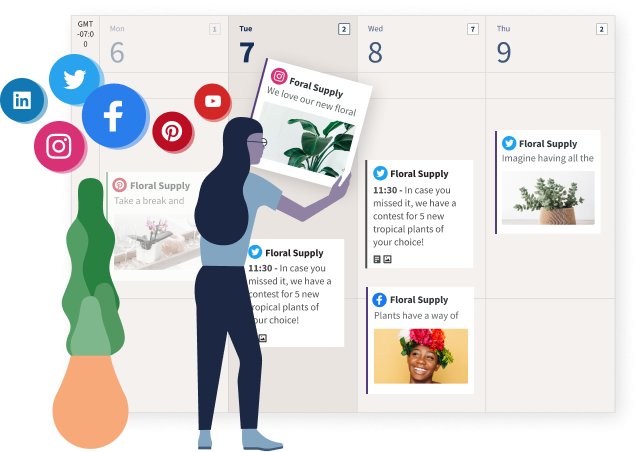 Extensive feature set

Robust analytics

Multi-channel advertising capabilities

App Directory with integrations

RSS integrations

30-day free plan
Hootsuite Cons
Not as easy to use as SocialBee

Pricing can be expensive for smaller businesses

Add-ons can be expensive
SocialBee Vs HootSuite: Comparison Criteria
When comparing SocialBee and Hootsuite, it's important to consider the features that matter most to your business. The following criteria will act as a framework for comparison:
Features

Ease of use

Pricing/Value for money

Integrations

Customer support
SocialBee Vs HootSuite Compared
Below is how SocialBee and HootSuite compare based on the above criteria.
Features
Features determine how a tool can help you meet your social media goals. SocialBee and Hootsuite offer extensive feature sets, but some notable differences exist.
Both platforms have content creation, curation, and scheduling capabilities. The difference is that SocialBee has a stronger focus on content curation, while Hootsuite has more features for managing paid social media campaigns. If ad management is a crucial concern, Hootsuite is the better choice.
SocialBee's built-in Canva integration is also a strong point. It allows you to create visuals for your social media posts quickly. Hootsuite integrates with multiple graphic editing tools and comes with a built-in composer that marketers can use to create visuals.
When it comes to measuring social media performance, Hootsuite has a strong lead. It offers detailed insights into social media reach, engagement, and traffic.
The Hootsuite impact tool measures your campaign ROI and tracks metrics beyond social media, such as website visits and generated leads. SocialBee's analytics are more limited in scope but can still provide valuable information about your social media campaigns.
Verdict: Hootsuite is the winner as it offers more comprehensive features.
Ease of Use
Social media management tools can be complex, but the best ones are easy to use. Both SocialBee and Hootsuite are designed with simplicity in mind.
Hootsuite has been around for longer, and its user interface reflects that. The platform continues to advance in features and usability, which can be overwhelming for first-time users. SocialBee's interface is more streamlined and intuitive, making it a good choice for beginners.
The learning curve for SocialBee is also gentler than for Hootsuite. You can get up and running quickly without spending too much time on tutorials. However, both platforms come with learning resources, documentation, and customer support whenever you need it.
Verdict: SocialBee is the winner for its ease of use.
Pricing/Value for Money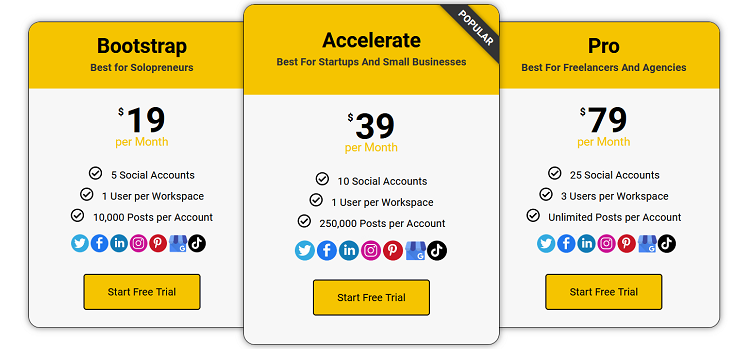 When choosing a social media management tool, consider the cost and how it reflects the value you get. The most expensive tools aren't always the best, and the cheapest ones may not offer everything you need.
SocialBee and Hootsuite offer varied plans that fit a range of needs. SocialBee has a 14-day free trial for each plan, while Hootsuite's free trial lasts 30 days.
SocialBee has Standard and Agency plans.
SocialBee Standard Plans
Bootstrap

: $19/month

Accelerate:

$39/month

Pro:

$79/month
The Bootstrap plan is for solopreneurs. It comes with five social accounts, one workspace, and allows up to 10,000 posts for each account. The Accelerate plan is the best fit for startups and small businesses. It comes with ten social accounts, one workspace and allows up to 250,000 posts on each account.
The pro plan is more dynamic, with features that best suit marketing agencies. The plan supports up to 25 social accounts and allows three users for each workspace. It also supports an unlimited number of posts.
SocialBee Agency Plans
Pro25:

$79/month

Pro50

: $149/month

Pro100

: $279/month

Pro150

: $379/month
The naming convention for SocialBee's Agency plans represents the number of social profiles each plan supports. However, the workspaces for each plan are 5, 10, 20, and 30, respectively. It allows unlimited RSS feeds and content categories with 5,000 posts in each category.
Hootsuite Pricing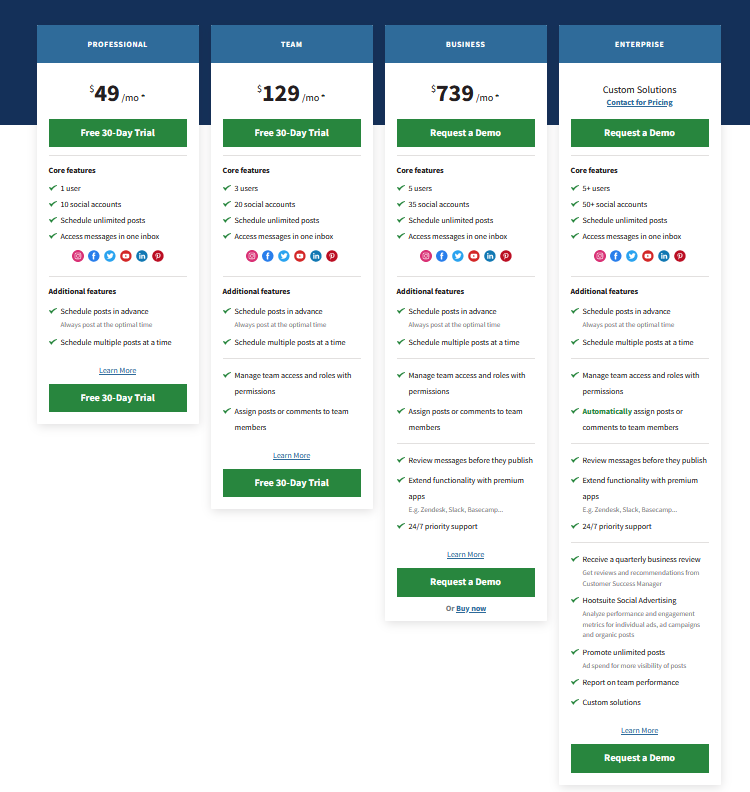 HootSuite has four pricing plans
Professional

: $49/month

Team

: $129/month

Business

: $739/month

Enterprise

: (Contact sales team)
The professional plan supports one user with ten social accounts. The team plan supports three users and 20 social accounts, while the business plan supports five users and 35 social accounts. The enterprise plan offers more features and support for an unlimited number of users and social media accounts.
Verdict: SocialBee is the winner because it's cheaper and tailors the pricing plans to suit businesses of different sizes.
Integrations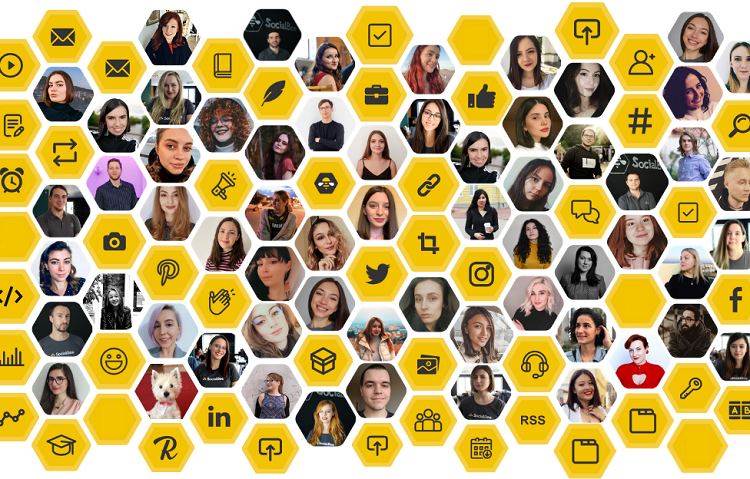 Integrations play a critical role in social media management. The best tools connect with other platforms to help you get more out of your marketing efforts.
SocialBee and Hootsuite both have a wide range of integrations. SocialBee integrates with Facebook, Twitter, LinkedIn, Google My Business, Instagram, and TikTok. It also integrates with Zapier, which allows you to connect with over 1,000 other applications.
SocialBee's integration with link shortening tools such as Replug, Bitly, PixelMe, and BLINK makes it easier to track your links and performance. The platform works with Pocket to make sure your content curation needs are top-notch.
Hootsuite integrates with more than 20 social networks. The integrations are made possible with Hootsuite's App Directory. It works well with CRMs such as monday.com and e-commerce platforms like Shopify.
Hootsuite also has preferred developer apps that help you get the most out of your social media management. If you want to develop your app and integrate it within the Hootsuite ecosystem, you can apply for developer access. The best thing about Hootsuite integrations is that they're not limited to social media platforms. You can also integrate with other business tools such as Google Analytics, Sprout Social, and Adobe.
Verdict: Hootsuite edges out SocialBee because of its more comprehensive integrations with other business tools.
Customer Support
SocialBee and Hootsuite both have customer support channels. SocialBee customer support is available through email, chat, and call. G2 user reviews show that the support team is very communicative. The team understands customers' needs and is always willing to help. However, some reported delayed responses.
Hootsuite offers several options for support. You can access help through the Hoot community, Forums, support center, or contact the support team. The support team is available 24/7 and offers a wide range of support options, from email to social media. The tool is also available in German, Spanish, French, and Italian.
Verdict: Hootsuite's customer support is better than SocialBee's. It offers more options for help and is available 24/7.
SocialBee and Hootsuite Alternatives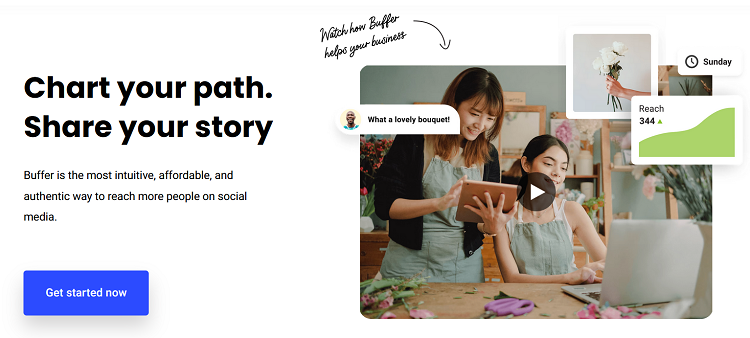 Below are some SocialBee and Hootsuite alternatives.
Buffer

Social pilot

eClincher

Sendible

Zoho Social

CoSchedule

SocialBakers

CintentStudio

Loomly

POSTOPLAN
SocialBee Vs Hootsuite Compared (FAQs)
Question: What are the Cons of Hootsuite?
Answer: The disadvantages of using Hootsuite include — being costly, a complex interface, and a steep learning curve for beginners. Some link shortening tools provided by the platform aren't free. The tool also doesn't offer a lot of features for team collaboration.
Question: Is Hootsuite Good for Small Businesses?
Answer: Hootsuite is a good option for small businesses because it offers many features and integrations. The tool is relatively affordable and has a simple interface. The numerous integrations make it possible to connect with other business tools. However, the steep learning curve may be a challenge for some people.
Question: Does SocialBee Work with Instagram?
Answer: The SocialBee Instagram integration allows you to manage your account and post new content. It also helps you track your performance and insights. The integration is available for all paid plans.
Conclusion
SocialBee and Hootsuite are both great social media management tools. They offer a wide range of features and integrations. However, Hootsuite edges out SocialBee because of its extensive feature set and better customer support.
If you are looking for a social media management tool, I recommend Hootsuite. SocialBee isn't bad either. However, it doesn't have the integrations that Hootsuite has.