Última actualización en abril 22, 2023 por DMEditor
If you need to hire a market (of any sort), it can take forever to do it on your own. Many companies have positions open right now and that is costing them money. Without the proper marketer in these important roles, you aren't able to get the word out about your product and services.
After working in digital marketing for many years, I know it can be anything but fun trying to find top talent for the work you need to be completed. But what do you do? What's the solution? MarkerterHire believes they're the solution, but is that the case? Let's dive in and see.
Lo esencial por adelantado
If the thought of trying to hire a full-time marketer or trying to find a freelance marketer on an online work platform makes you want to pull your hair out, then MarketerHire is a good choice for you. They make the process quick and painless.
You can avoid spending so much time trying to find the marketing talent you need as well as loads of cash in termination fees if you have to let them go. The freelance marketers set their own prices, so you will have to look through the available options and see how things line up, but MarketerHire is a great way to save time and money.
What Is MarketerHire and How Does It Work?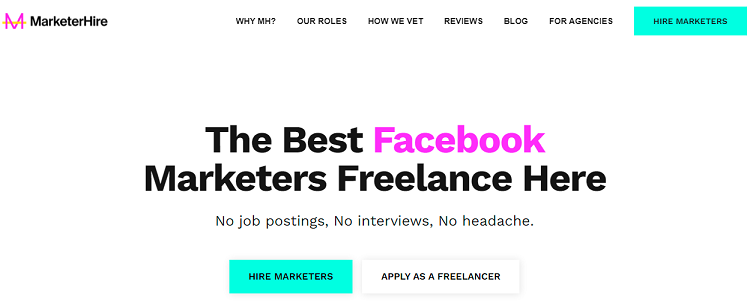 For those of you at the end of your rope, sick of trying to find the right talent, this may be a last-ditch effort before you try to put the marketing hat on yourself and see how it goes. Many small business owners already wear the marketing hat but no matter the size of your business, it doesn't pay to wear all the hats and run yourself ragged. The ball will drop somewhere.
What MarketerHire Is
If this is you, MarketerHire is the answer to your wildest dreams. MarketerHire is a marketing matchmaker. They match you with the marketer you need for the job in front of you. You don't have to hire the person full-time but you get the job you need to be done completed with no fuss.
Key Features of MarketerHire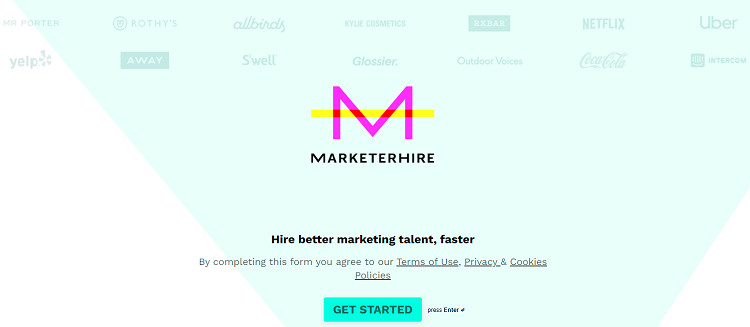 Hire "real" talented marketers
Let MarketerHire match make you with the perfect marketer for your project
Avoid posting job ads and doing interviews
Keep recruiting fees, termination fees, and agency fees out of the equation
How MarketerHire Works
When you decide you want to work with MarketerHire, the first thing you do is map out your project and needs. The clearer you can be about what your project is and what you want to achieve, the better MarketerHire can do with their marketing matchmaker process.
Once MarketerHire knows what your needs are, they match you with the best marketer for that project and also let you know how long you should use them to complete the project. One of the things they pride themselves on is being able to match someone with a marketer that works for them in as little as 48 hours.
One of the things that immediately comes to my mind when I hear "in as little as 48 hours" is—how? How could you possibly find the perfect marketer for my project in such a short time frame? And—are you sure they're going to be qualified for the work and do a good job?
I guess MarketerHire knew people would be a little warry about their big promises, so they set about to put everyone's mind at ease. Their process is actually pretty genius and did calm me down quite a bit.
Vetting Talent
The trick or the not-so-secret sauce to their process is that they already vet these marketers before you need them for your project. Having a pre-vetted marketer available makes all the difference. The MarketerHire team is always on the lookout for top marketing talent, so when you do need a marketing expert, they're already on their platform.
If a marketer freelancer thought it would be a walk in the park to get on the platform, they need to think again. It's a lot of work to get on the platform, but it's worth it for both parties because MarketerHire is so good at matchmaking.
The people that run the company are marketers so they know what to look for and they know how to hire recruiters that know what to look for so they can bring on the best talent to their platform.
In fact, they said that hundreds of marketers apply to work with MarketerHire every single month but less than 5% of the applicants make it through the process.
Recruiting – They scan all the normal spots like LinkedIn, forums, and Facebook, put out their own ads to find marketers, and ask for referrals.
Review of Skills – People can say they have certain skills but MarketerHire makes sure they are proficient in the skills they say they have.
Video Interview – MarketerHire actually gets on video and interviews the more promising candidates for their platform and only after passing the video interview do they get to join the platform.
Test Projects – The vetting process isn't over after the interview process though. Some candidates have to go through more testing with test projects. This usually takes one to three weeks.
Perfect Track Record – MarketerHire checks in with clients every two weeks to make sure the marketer is providing a quality service. They won't keep people on their platform if they aren't doing excellent work.
Can you imagine having to do all of this yourself? Maybe you have done it and that's why you're looking into MarketerHire.
Roles They Have Available for Hire

When you get into the site and see how many roles are available on MarketerHire, it's pretty exciting. No matter your project, you can find a marketer that is the perfect fit for your project.
Here are the marketing roles that are ready for hire:
Paid social expert
Marketing analyst
Amazon expert
Brand marketer
PPC expert
Email marketer
Fractional CMO
Social media manager
SEO marketer
Content marketer
Growth marketer
Even if you come to MarketerHire and you don't know exactly what you're looking for, they can help you. Just give them the information about your project and they'll give you advice and guidance about how to get it done and who to hire to get it done.
In fact, MarketerHire says that 75% of clients hire their first MarketerHire match. That means less stress and fuss for you and the ability to get the job done quickly.
Who Uses MarketerHire?
You might wonder if legitimate companies use MarketerHire and the kind of company you'd keep. There are plenty of big brands that use MarketerHire for some projects they might not have specialists in. Some of the brands that stood out to me are:
PUMA
Logitech
Netflix
Chanel
eBay
BuzzFeed
Lumi
FeelsGoods
Beachbody
There are some good testimonials from clients as well that say MarketerHire is a lifesaver.
MarketerHire Pricing – Cost to Use MarketerHire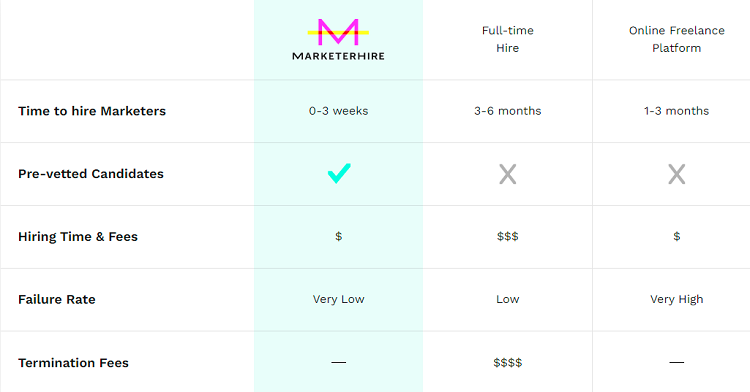 You might be asking, "How much does it cost to use MarketerHire?" The service already sounds too good to be true, so it must cost a pretty penny, right?
Let's look into the pricing a little closer. When we get into the pricing for MarketerHire, they say that they have transparent pricing. There are no long-term contracts and you can use hourly, part-time, or full-time talent.
I looked high and low on their website for pricing, but since each case is different, that means there is no basic pricing for talent. Depending on the type of contract you get and the rate of the freelancer, your cost could be very different.
To give you an idea though, hourly rates start between $80 and $160 an hour. Part-time rates are $1,200 to $2,400 per week and full-time rates are $2,400 to $4,800 per week. There is also what is known as a soft commitment fee that is $1,500 per month. This protects the freelancer and lets them know the client is a serious client.
MarketerHire for Freelancers
Now, if you're a freelancer, MarketingHire is also a good deal for you. Once approved, you get consistent work with top brands, no need to send multiple applications, sit through interviews and hash out who you are and why you're the right person for the job, have the ability to set your own rates, and choose to work the way that works for you.
Keep in mind that less than 5% of marketers that apply to MarketerHire make it through to their platform. Make sure to bring your A-game if you want to make it on the platform. It is a little bit of work to get listed on there, but the ability to work with top brands and have a great stream of clients coming makes it worth the time and effort to be on the platform.
How MarketerHire Stacks Up Against the Competition
If you're trying to hire talent, you might go on websites like Upwork. This is a popular platform people go to find marketing talent, but I find it isn't as good of a platform as it used to be. There are still some golden opportunities to hire people, but you have to put in all of the leg work.
You have to find the people, see if you want to interview them, interview them, test them out, and all of that tedious work. When you use MarketerHire, they're the one that makes sure the marketer is right for the job and is of high quality.
I honestly haven't seen another website that is exactly like MarketerHire. The fact that they are so specific and that the company is run by marketers makes me feel confident that they know what they're doing and how to help me. I don't think there is any true competition for what MarketerHire offers, however, there are some alternatives if you want to hire your own marketers instead of using MarketerHire.
MarketerHire Alternatives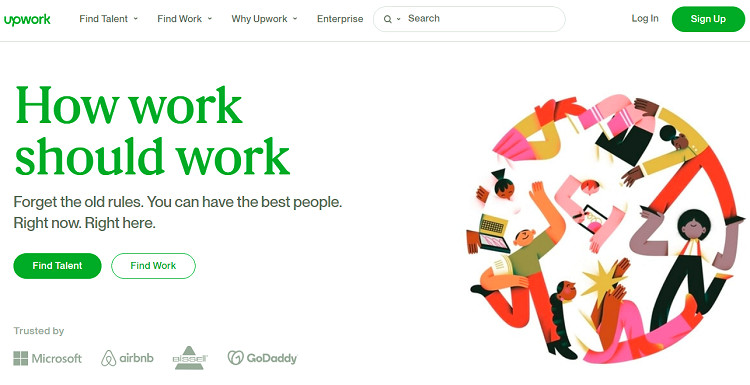 If you don't want to use MarketerHire, there are some other websites to consider but I don't think they are near as good of a fit if you're looking for marketers.
Upwork – I talked about Upwork earlier. It is a valid platform to consider when looking for marketers. I feel like many marketers are tired of sifting through the jobs there so make sure you're specific when you post so people actually want to apply.
LinkedIn – You can use LinkedIn, specifically LinkedIn ads, to find marketers that you can interview and see if they're a fit for you. Again, it's a lot of work but this is definitely a great option if you're willing to put in the work.
Fiverr – Some people even find good talent on Fiverr now. Keep in mind that the best talent does not cost $5 so be willing to pay quite a bit more than that.
Preguntas frecuentes
Question: Does it Cost more to Use MarketerHire than to Hire Freelancers on My Own?
Answer: There are many different factors that go into hiring a marketer on your own. It's likely you'll end up paying more doing it yourself since you have to spend so much time and effort finding the ideal marketer for your job.
Question: What is the Average Cost to Hire a Marketer Online?
Answer: Most marketers charge $60 per hour or more depending on their level of experience.
Question: Is MarketerHire a Dependable Company?
Answer: Yes. Some of the biggest brands use MarketerHire to get the job done when they need to scale their team or bring in a new set of eyes to help them see a new angle on a project.
MarketHire Review: Conclusion
Now that you know more about MarketerHire, you'll be able to see if it is a good fit for you. In my opinion, if you don't feel like trying to do your own staffing and you want professionals to take care of business for you, this is the best option for you.
The pricing is reasonable and since they are transparent and upfront about it, you can choose to pay it or not once you know the costs.