Last Updated on April 28, 2022 by DMEditor
Bloggers and online businesses often have one goal: To increase more visitors and subscribers on-site. The goal is achievable if you employ the use of conversion tools to convert visitors into customers even keep them on-site for longer. Hello Bar is one such tool.
A conversion rate optimization (CRO) software, Hello Bar makes designing attractive messages and notification toolbars a breeze hence prompting visitors and subscribers to take an action. Thanks to its efficiency, Hello Bar is popular. But small businesses and new bloggers claim Hello Bar's prices are steep.
The pricing model – starts at $4.95/month for 100 clicks – is prohibitive to many users. Even more off-putting, $49.95/month affords you 7500 clicks (Pro Plan). Users argue the click numbers are inadequate for their campaigns. Also, Hello Bar's set-up process takes too much time to install.
Hello Bar's capability as a conversion tool is undeniable though. It helps create catchy announcements, attract visitors to subscribe to mailing lists, highlights user's social media presence on-site, offers lead magnets, and more. It has lots of advantages, obviously. But there are CRO alternatives in the market today that outdo Hello Bar in terms of pricing and features among other things.
This post centers on 5 top conversion tools and why new bloggers and small businesses consider them outstanding alternatives to Hello Bar.
Ready? Let's get started.
1. Freshmarketer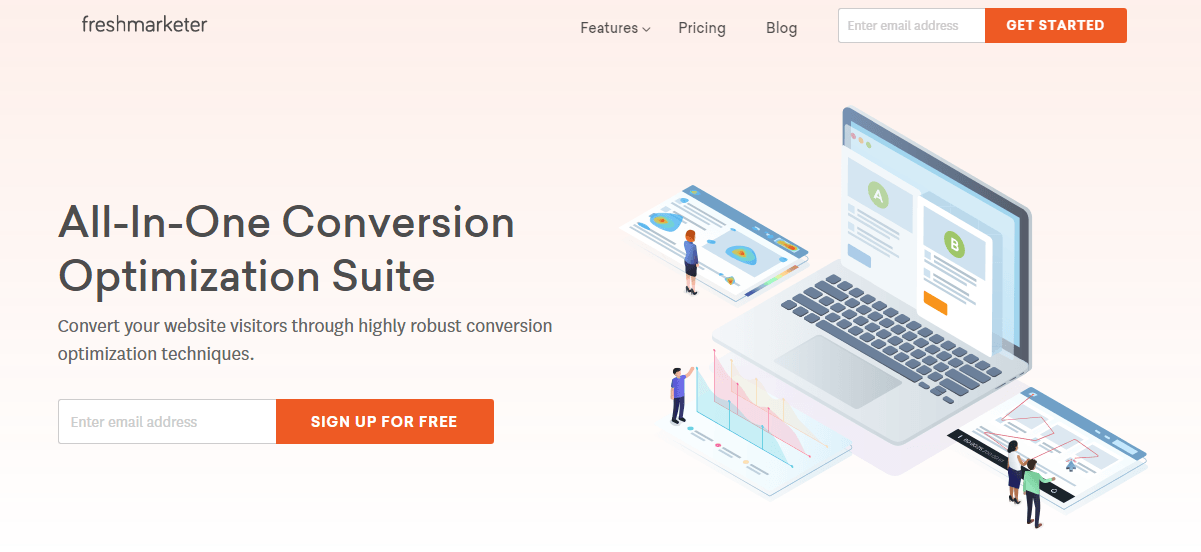 Freshmarketer is a conversion optimization suite with robust marketing functionalities. Its features enhance users' online presence, boost lead conversions, and drive engagements.
Want to improve productivity on your website? Through a set of effective tools, Freshmarketer helps lead visitors and customers to your campaigns.
Freshmarketer top features include heatmaps, A/B testing, split URL testing, personalization, form analytics, and more. As a new blogger or small business, obtaining detailed customer behaviors is key particularly if you have a product or service advertised and need sales.
These top three features – A/B testing, heatmaps solution, session replay – have ability to convey your customer's needs, what they are looking for and even monitor their buying patterns on-site. These features help pinpoint the exact location of a visitor, and where they come from.
Aided by these features, the number of times a visitor visited your website and for how long is revealed. Put simply, Freshmarketer collects vital data on visitors browsing behaviors that help in marketing products and services. As a CRO, Freshmarketer exceeds user's expectations.
Benefits of using Freshmarketer?
Tracks activity of visitors or customers on-site.
Provides custom pools and reports of customer's actions in real-time.
Collects important data that improve marketing campaigns.
Provides targeted customer experiences.
Provides integrated analytic options.
On its free package (Sprout Plan), Freshmarketer offers 10,000 monthly visitors with approximately 70,000 page views. For more advanced features, subscribe to premium plan (Garden Plan). Billed at $99/month, the packages offer users up to 500,000 visitors and approximately 350,000 page views.
To unlock heatmaps, A/B testing, split URL testing, personalization, and session replay features, make sure to subscribe to Garden Plan. Freshmarketer CRO tool is a worthy alternative to Hello Bar. Its pricing model allows monthly payments and annual subscription. This tool also supports Windows and Mac.
2. OptinMonster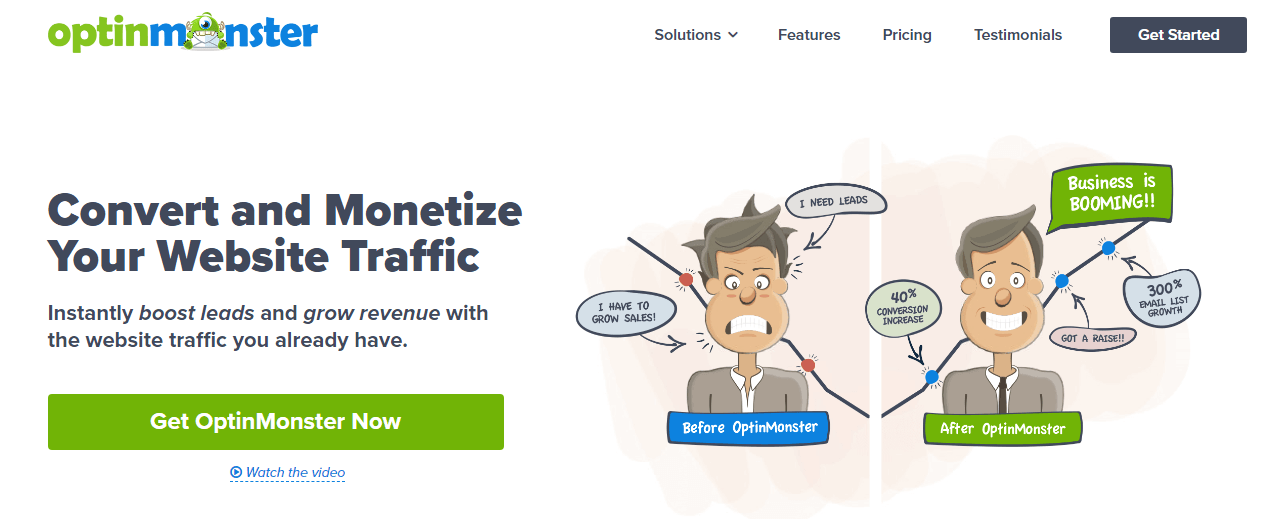 Want a suitable lead generation software for marketing your small business online? Then OptinMonster is your ideal go-to CRO software. It's unique in the industry and with powerful system functionalities.
It is best designed for a lead generation thanks to it well-timed popups and custom capture forms that help convert visitors into customers fast. The primary focus of this CRO software is to attract mobile traffic to your site and convert visitors into customers.
OptinMonster connects to third-party software such as G-suite, Mailchimp, Hubspot, and more. And performs well across mobile platforms (Android and iOS), and desktop (Windows and Mac).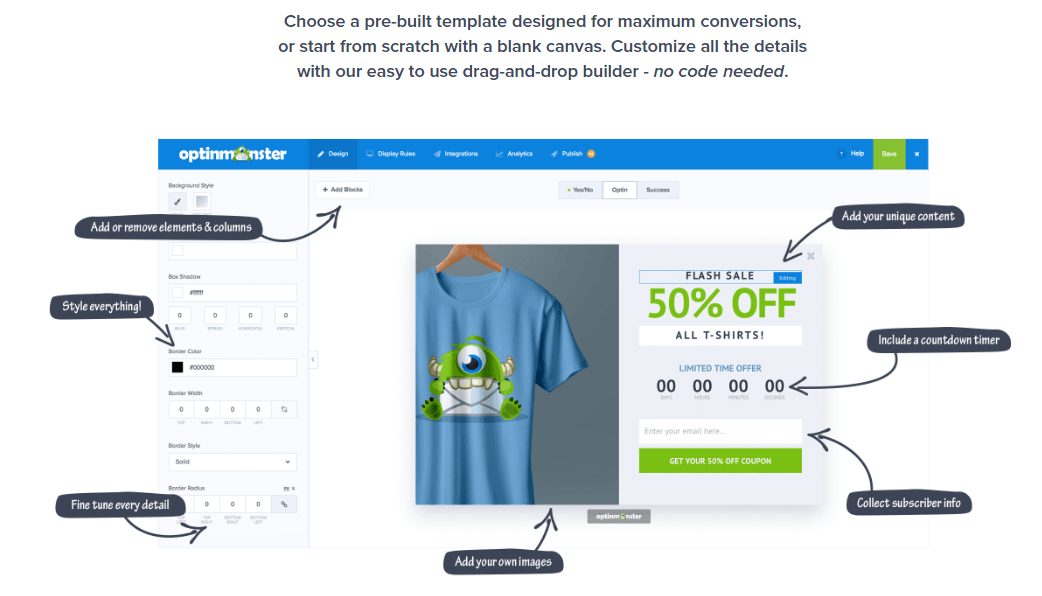 Here's what makes OptinMonster beneficial:
Creates converting forms in minutes.
Improves visitors and customers experience on-site as it allows placing floating bars, lightbox pop-ups to entice sign-ups to your email list.
Attracts audience to content thanks to features that help create catchy engagement forms.
Monitors visitor's behaviors on-site through analytics that help pinpoint their exact location and specific interests online.
Detect visitors abandoning content, and converts them into customers before they leave.
Monitor your visitor's scrolls, clicks, etc., and turn them into customers through OptinMonster's personalization analytics, conversion technology, pop-ups, on-site hello bars, capture forms, etc.
OptinMonster pricing model is categorized into four groups. The most popular pricing plan being Pro – starts at $29/month and provides users with everything they require to get huge results, fast including 100,000 page views, 5+ sites, behavior automation, unlimited sub-accounts, etc.
You can get started on the Basic plan at $9/month which guarantees essential tools that will get more leads from your existing traffic including 5,000 page views, simple reporting, basic targeting, etc. There's no better way to convert and monetize your site's traffic than to employ the use of OptinMonster.
3. Zoho Page Sense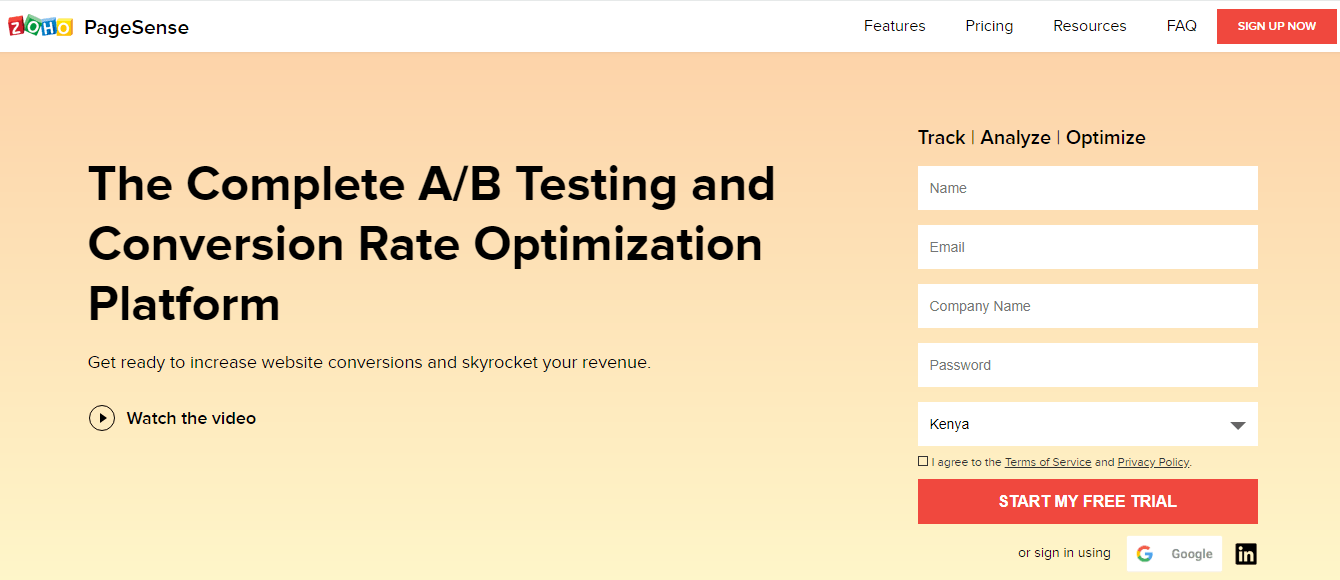 If your goal is to improve conversions and optimize your website then Zoho Page Sense is your ideal conversion rate optimization platform. It fully supports heatmaps, funnel analysis, A/B testing, and more. Zoho Page Sense is simply a complete website testing and optimization app.
Zoho is solution-oriented. Its powerful systems help businesses and bloggers understand how visitors interact with their content, and materials they click and scroll through. This important data helps you track and understand a customer's activity on-site.
What Zoho does is collect visitor's data on-site to let users understand what needs improvement, what to do to enhance performance, and what elements on-site need changing due to poor performances.
Through it A/B testing features, you're able to understand what changes on your website can increase conversions fast. To positively affect conversions on your site, use Zoho page sense as a CRO software.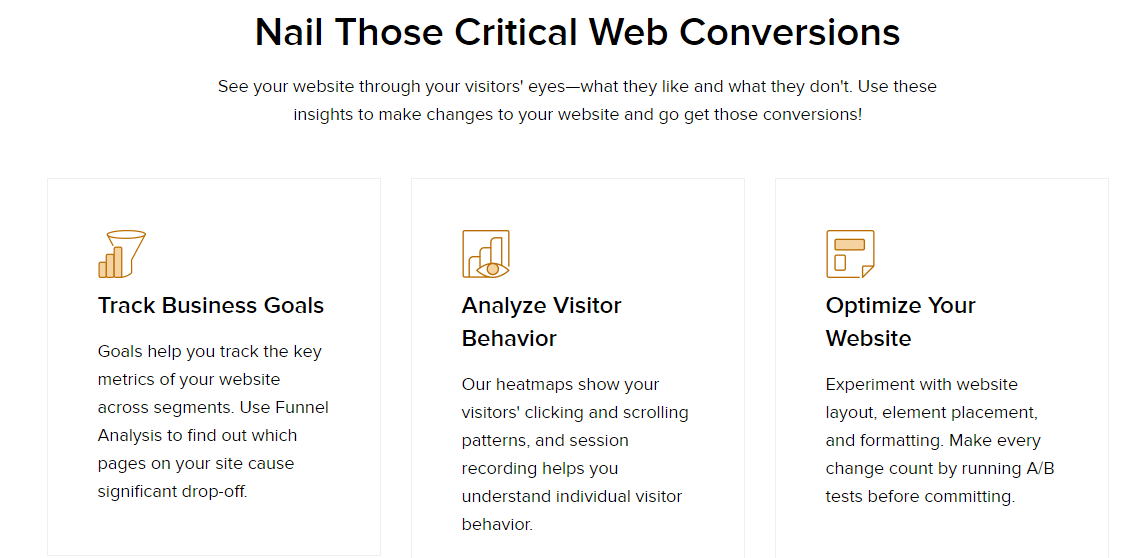 This software boasts beneficial features as well as functionalities that help improve business and ensure you're getting conversions. Zoho Page Sense can do more for your business than what Hello Bar can.
Key features include but not limited to final analysis, heat maps as well as A/B testing support. What do these features do?
Give users a view of web-pages with the most page views.
Understanding visitor's behaviors. For instance, what they're scrolling? What's their clicking patterns? Etc. Such information can be used more as a call to action on relevant content that visitors are known to stay longer.
If you want to know how visitors are interacting with your website, Zoho page sense is the ideal tool. Its pricing model allows for an annual subscription and it supports both Windows and Mac platforms. It is designed with small and large enterprises in mind. Best way to evaluate your visitor's behaviors and monitor what needs changing on your website in order to convert more visitors into customers easily.
4. Mixpanel

Compared to the above three conversion rate optimization platforms, Mixpanel is designed for small and large companies and organizations that need to analyze and monitor visitor's behaviors on-site. According to Telegraph, Mixpanel is a huge success and is now aggressively selling its software to technology start-ups across areas in London and beyond.
Initially, Mixpanel features were only accessible by large and heavily funded organizations, but in recent years technology has changed. Conversion rate optimization tools such as Mixpanel are now accessed by both large and small companies and organizations as well.
Benefits of using Mixpanel? It guarantees customer behavior analytics which is reliable, easy to digest and comprehensive. You can view all these actions through your mobile device – anyplace, anywhere!
Another thing that tips the scales in its favor, is that it is straightforward with a simple user interface that helps you capture visitor's behavior within your app and helps you improve your product or service easily because it provides clear and simple insights on what visitors are doing on your website.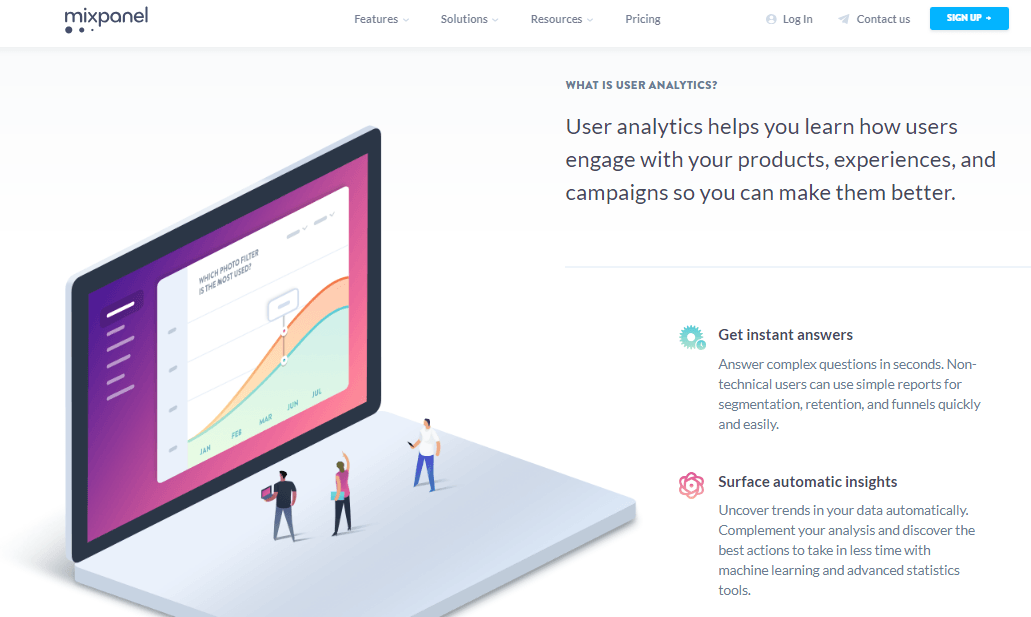 Organizations as well as small businesses who are looking for a conversion rate optimization tool that provides clear and simple insight on page views and recordings, Mixpanel is for you. It is easy to spot trends, make sales finance as well as track events when you use Mixpanel.
Gathering information on your visitor's actions on your website has never been simple. Mixpanel has a great design, pinpoints users based on their needs, and tracks of how many people visit your website.
Mixpanel pricing model is divided into Engagement Plans and People Plans. The former gives you access to all features that analyze actions people take on your app/site. The latter pricing plan provides access to analytics that helps analyze specific users and later lets you re-engage them. In other words, you pay for features that help engage and understand users.
Choose a pricing plan that works to fit your business as it grows. The pricing model is based on monthly payment and on a quote-based basis. It supports devices across all platforms including Windows and Mac, Android and iOS.
5. Convertize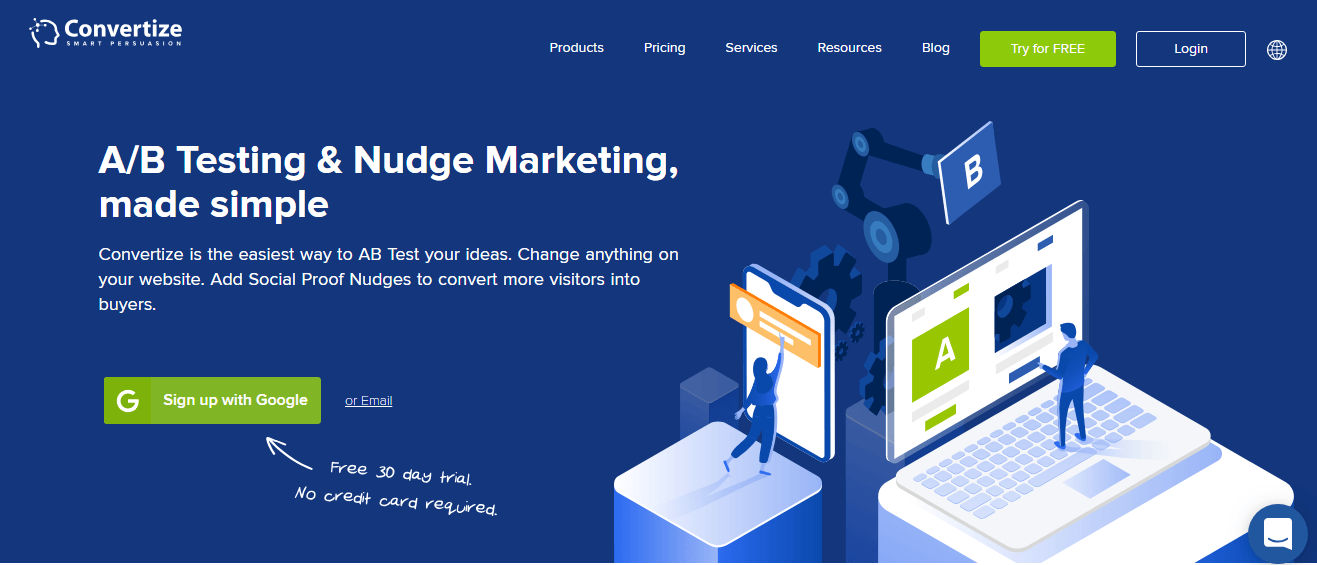 Want to convert more visitors into buyers real fast? Convertize is the real deal. Using A/B testing and nudge marketing, it can persuade any visitor to perform a particular desired action that easily converts them into real customers. You don't need coding or statistical knowledge to use Convertize.
Convertize understands visitors behaviors and also consumer psychology that enables you to implement strategies and actions to easily persuade visitors to turn into customers easily.
In other words, it helps you analyze your visitor's mouse clicks, scrolls, behaviors, and tendencies when on your site. The use of nudge marketing, optimization tactics, and A/B testing features makes this conversion rate optimization tool create effective customer experiences on-site and small businesses.
This tool makes it easier to create conversions, engagements, and trust with visitors. And that's a plus for bloggers and small businesses online.
Benefits of using Convertize?
Through consumer psychology, it helps create unique experiences and engagements that attract more visitors and converts them.
Increases customer engagement by promoting a sense of urgency to a certain product or service on your website. This features helps courts your visitor's attention, gently nudging them to perform a desired action like signing up for an eBook, subscribe to a service, or making a sale.
Convertize uses geolocation features to display relevant messages and ads to visitors. This increases engagement on products and services which helps create a compelling consumer experience like making a sale when the opportunity calls for it.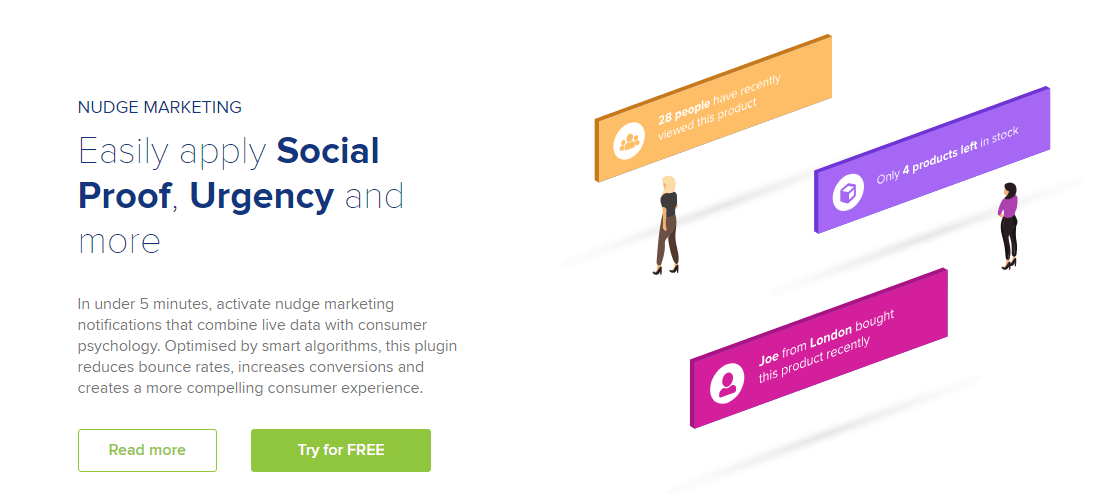 If your goal is to enhance modern performance marketing on your website, Convertize is a must-have tool. It literally increases conversions and reduces bounce rates that lower revenue on-site.
Convertize pricing model allows monthly payment as well as an annual subscription. For as little as $49/month, you'll have access to 250+ persuasion tactics, AI-powered persuasive notifications, A/B testing with Autopilot, and other handy features. You are guaranteed of up to 30,000 visitors a month.
If you are worried about lower conversions on your landing page, lower conversion rates on the home page, or low conversion rate on your product page for e-commerce, then Convertize is the magic bullet. It is the ideal conversion tool to increase your visitors on-site
Conclusion
These conversion rate optimization tools alternatives provide insights on what they can do for your business and the benefits you stand to gain as a new blogger or small business.
Before you make a decision on the best tool to use, assess what that fits your budget and meets your needs in a timely fashion. An ideal conversion tool increases visitors and subscribers on-site as well as meet your goals and objectives. So make an informed decision based on that.
Most of these tools – Freshmarketer, OptinMonster, Zoho Page Sense, Mixpanel, or Convertize – if not all, have flexible and scalable pricing models. So make sure to start off with a plan that is right for your organization, business or website.
If you do this, you will have a conversion tool that not only helps convert visitors into customers but also ensures to leave a lasting impression on visitors on your website.
Here are some other articles you may be interested in: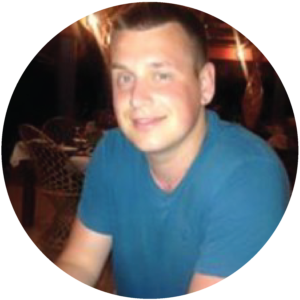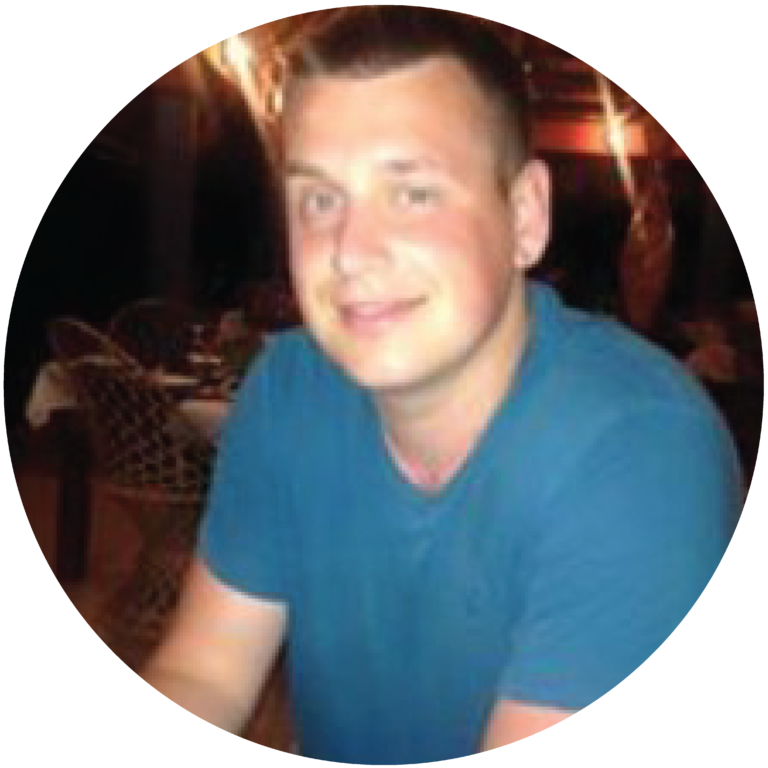 Latest posts by Ewen Finser
(see all)
Get 40% OFF for 3 Months