Last Updated on juni 2, 2023 by DMEditor
Legal issues, whether positive or negative (marriage versus divorce, for example), typically require at least one official form. When handling a legal situation alone, knowing where to start regarding paperwork is burdensome.
And even if you're a legal expert, having one place to search for and download the forms you may need is useful. Enter US Legal, a one-stop shop for personal and business-related legal forms, letters, and information.
What is US Legal?
US Legal is an online service that lets users access a digital library of over 85K national and state-specific legal forms. Those forms can be edited, downloaded and saved, printed, emailed to other parties for an e-signature, and even stored in your US Legal account.
Storing the forms within US Legal is a nice feature that can go overlooked. Instead of occupying your device's space or requiring your own cloud storage option, you can keep everything within the US Legal platform. Then, whenever you need a form, you can download it to your device to access it.
US Legal also provides legal guidance in their in-depth FAQ and articles sections. Additionally, if you need a document notarized or help filling out your legal forms, US Legal may have the solution you're looking for.
Who Uses US Legal?
US Legal caters to legal experts as well as non-experts. Attorneys, consumers, and small businesses all use US Legal. Here's more about who US Legal is used by:
Attorneys and Lawyers: US Legal helps attorneys and lawyers comply with federal regulations. Form examples include those for civil actions, court samples, and litigation.
Consumers and Individuals: Non-experts can solve legal issues without paying for an attorney. Form examples include marriage and divorce documents, last wills, and rental forms.
Small Business: US Legal has forms for SMB owners to start and grow their businesses, like business agreements, contracts for buying and selling goods, and documents for hiring employees.
This is an encouraging spread of target audiences. As a personal user, I like knowing that even professionals may turn to US Legal to find the necessary forms and information. That makes me feel better prepared as a layman when dealing with a legal issue on my own.
It can be tricky to find a suitable form for the matter at hand, especially when you're not a legal professional. And if you're trying to start your own business, you're probably keeping your budget as low as possible where you can.
Hiring an attorney to hunt down the correct forms for your new business may feel like an unnecessary expense when there are services like US Legal available.
Moreover, even legal experts may love having a place they can go to search for, access and customize the forms they use regularly. Since US Legal lets you store your forms on its site, you won't have to use up precious computer space to keep documentation accessible and organized.
Benefits of US Legal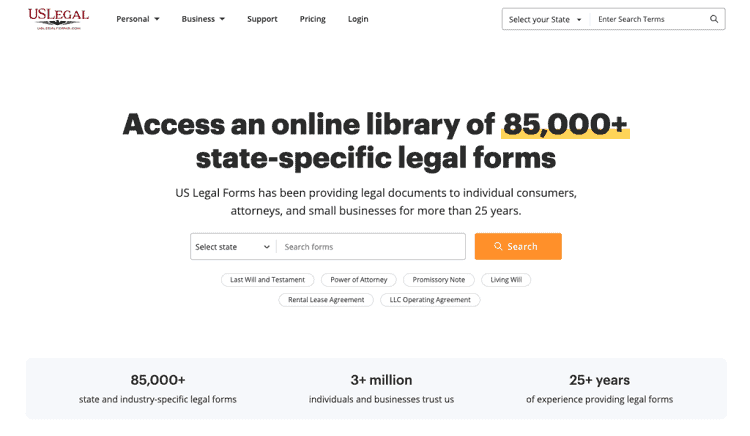 US Legal makes finding forms and legal letters simpler than ever. Benefits include:
Ability to fill out, edit, and e-sign forms
Immediate access to forms
Reusable form templates
Real-life examples
Forms are printable
No software or installation needed
Store forms in your US Legal account
I personally think the ability to create your reusable templates is one of the best features of US Legal.
If you have a situation where you have to regularly send the same form — like if you're a landlord and often send out lease agreements — you can customize it once and then reuse it as often as you need to. This saves a lot of time and energy.
Now let's get into how US Legal works.
How US Legal Works: The Main Features of US Legal
There are a few different ways to navigate US Legal to find the needed forms. We'll go over the different options here. Additionally, we'll talk about the other features that US Legal offers.
Search for Forms by Category or State
There are two ways to browse the different forms available: by category or by state. First, let's talk about the option to browse forms by category.

Choose this option if you know the form you're looking for or the category of the form you want. When you choose a form, you'll then be asked to select your state so that the form options narrow for you.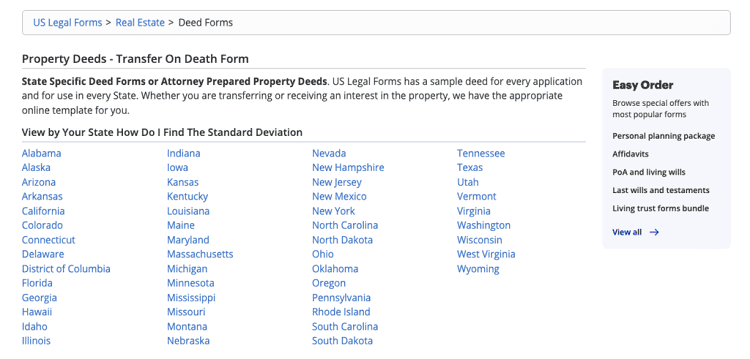 Categories include:
Business
Consent
Employment
Estate planning
Family law
Onroerend goed
Those are just some of the categories that US Legal has. The most common categories are listed on the home page, and you can see a full list of the available form categories hier.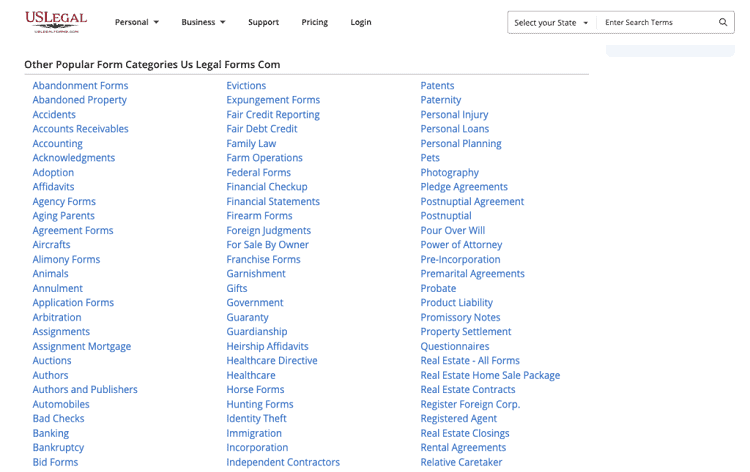 You also have the option to browse by state. Partway down the home page, you'll see a map with a Browse by State header next to it. Select your state from the dropdown menu, then click the Browse by State button in orange.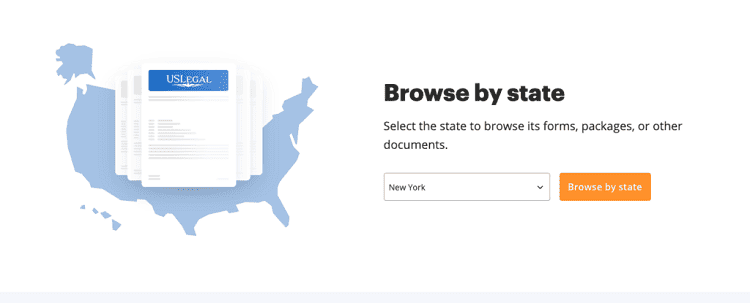 You'll be brought to a page with that state's legal forms.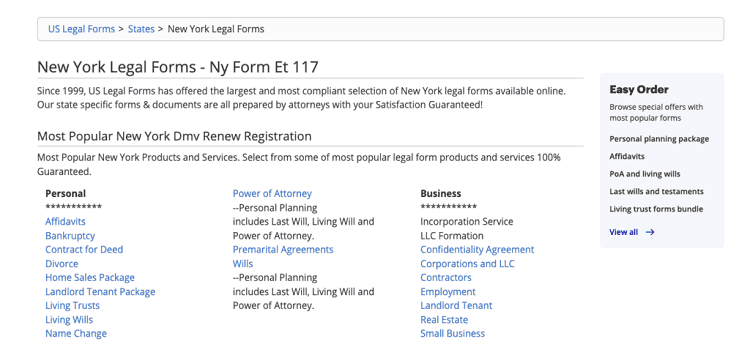 A little later, we'll show you how to use the forms you find on US Legal. But for now, it's helpful to know how to find them. I like having both options — browsing by category or by state.
Sometimes, you know you need a state-specific form, but other times, you may not know if a form is national or state-specific, so searching by category is the more sensical option.
Form Packages and Easy Order
If you're not exactly sure what you need, it may be easier to look into US Legal's form packages or Easy Order service. There are legal form packages for all sorts of situations, including:
Bankruptcy
Landlord and tenant
Name change
Power of attorney
Small business
This is super helpful because you don't have to go around trying to find every form you may need for a legal issue. Also, you won't risk possibly skipping an important form and ending up with an incomplete set.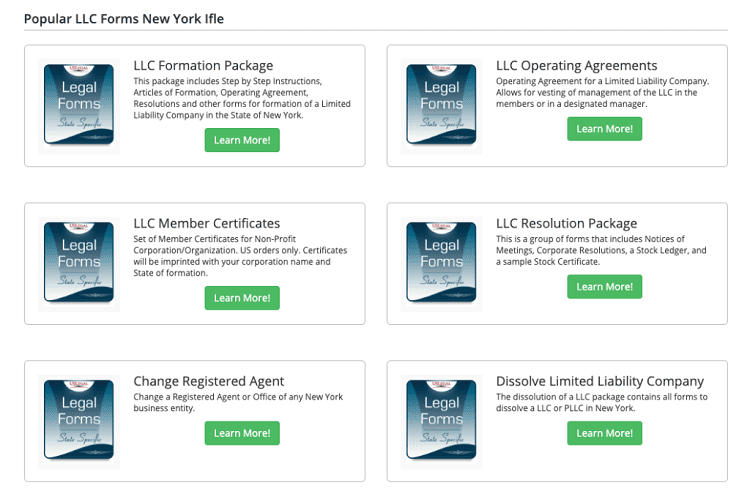 Met de Easy Order option, you can get state-specific forms and packages tailored to your business or personal requirements. You'll complete a brief questionnaire to get the documents you need most.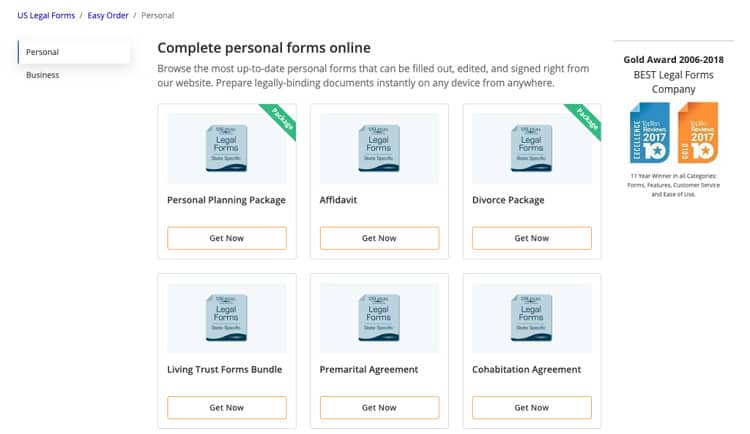 More Features of US Legal
The main reason a user signs up for US Legal is to have access to a variety of legal forms. However, once you have a US Legal account, you may be interested in the other features, like official letter templates and notary services.
Letter Templates
Sometimes, you don't need a legal form — instead, you need to write a legal letter, but you're not sure what to say or how to say it. US Legal has both legal and non-legal letter templates to help you with that. Those include templates like:
Demand letters
Financial institution letters
Letters of explanation
Letters of intent
Proposal letters
Most importantly, business and legal letters should be neutral emotions-wise, but it's hard to strike that balance when you're invested in a situation. Letter templates let you get across what needs to be said without getting caught up in the emotional side of whatever's going on.
This isn't a feature that's going to make or break whether or not you sign up for US Legal. But it is a nice add-on if you opt into a US Legal membership because you want access to legal forms.
Notary Services
On top of US Legal's standard services, you can also use it to notarize documents in just minutes. According to US Legal, "Documents notarized online carry the same legal standing as documents notarized in person."
Instead of looking for a notary to visit in person, you just need your camera and an internet connection. Plus, notary services from US Legal are available 24/7.
You'll upload a PDF and edit it using an online PDF editor. Then, a digital notary will take care of everything else. Once notarized, you can download and share the document with whoever needs it.
This is an excellent feature of US Legal. I've had to have documents notarized, and legal proceedings get held up until that can happen. Having the option to get a document notarized around the clock, every day of the year, without leaving home can be worth the price of membership alone in certain situations.
Legal Resources
Sometimes, having legal forms at your fingertips isn't enough to understand the legal process. US Legal offers a handful of legal resources to help you make sense of your situation, including:
Answers to FAQs
Articles on legal topics
Definitions of legal terms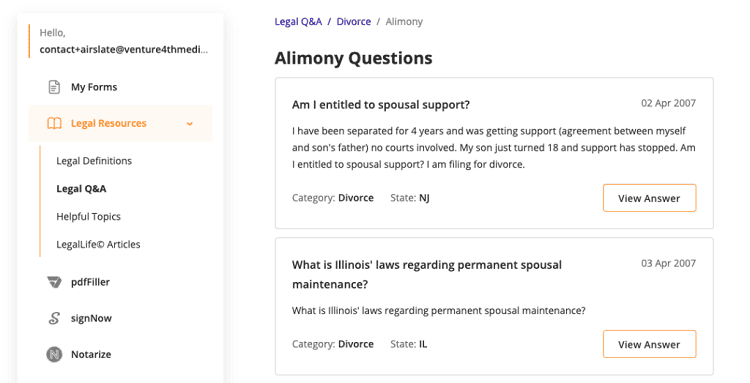 How to Use US Legal
Now that you know what you can do with US Legal, let's talk about how to start using it. We're going to cover signing up for an account and getting a personal or business form since that's the main feature users will be interested in.
Signing Up for a US Legal Account
To get started with US Legal, head to the home page and select the Prijzen link in the top navigation bar. Alternatively, you can go directly to this page.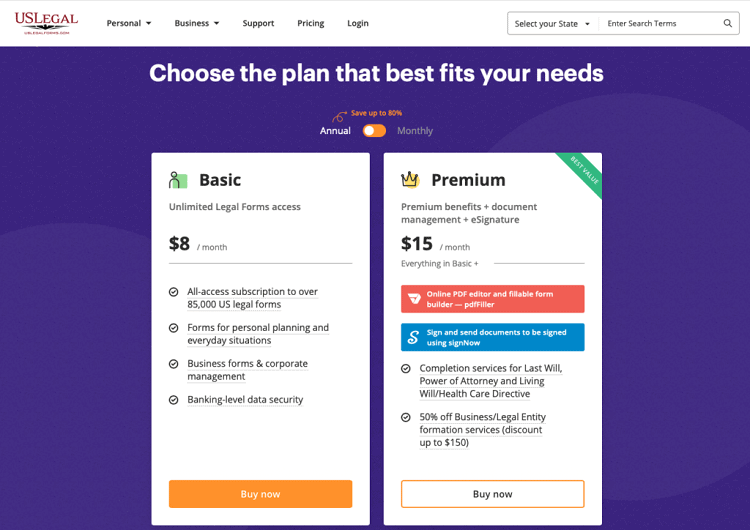 Select the plan that works best with your needs. We will go over US Legal plans and pricing a bit later, but here are the fundamental differences:
Basis: The Basic plan gives you access to all forms.
Premie: The Premium plan gives you access to all forms plus a PDF editor (to fill out your forms online) and e-signatures.
After clicking the Nu kopen button under the US Legal plan you choose, you'll be prompted to create an account.
Creating a Form
Once you've created an account, you can look for the form you need, which we went over in the previous section.
Let's go through the process of getting a legal form for a personal matter. The first thing to do is hover over the Persoonlijk of Business link, which are both on the far left of the top navigation bar.
Note that if the form you need is a common one, it'll be easy to find in the dropdown menu or in the boxes a little way down the home page.
However, if you need something not shown in one of these areas, you'll have to do a little more digging. Luckily, there are a lot of categories on US Legal, so it hopefully won't be too difficult to narrow down your options and find what you're looking for.

This will make a dropdown menu appear with a variety of personal forms to choose from. For our example, I selected the Name Change form.
The Name Change form page covers essential information you'll need to know about your form. For example, it advises the user that forms must be printed on bond paper. It also has an overview section, plus FAQ and related topics.

There's a state list that you'll select your state from, as name change forms may differ based on the U.S. state. I selected New York, which brought me to the New York name change form page.
Next, there were several options based on the type of form I needed:
Name change form for a minor
Name change form for an adult
Name change form for a family
Name change packages for marriage or divorce
New York City-specific name change forms
I selected the New York Name Change Instructions and Forms Package for an Adult, which brought me to a page with more information and the option to download the form. Included on the page were the following: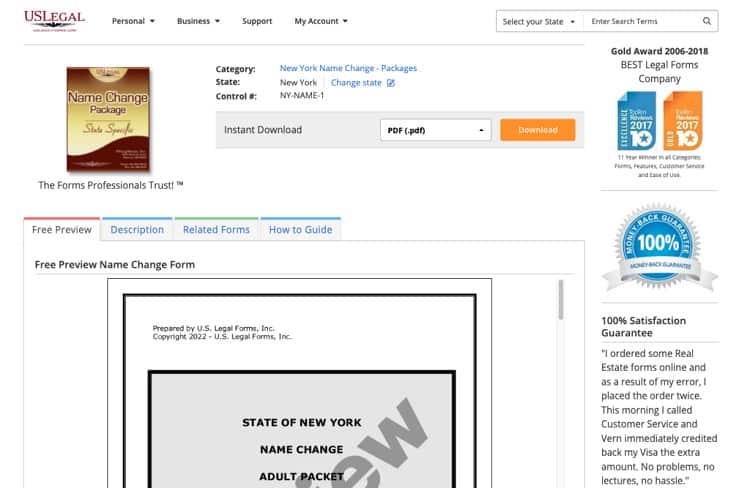 Preview of the form
Description of what's included in the download
Related forms I might need
A how-to guide for filling out the form
FAQ's
There were two download options: Rich Text and Word. After selecting the format I wanted and clicking the Download button, the form was saved to my computer. (Sometimes, there will be a PDF option, too.)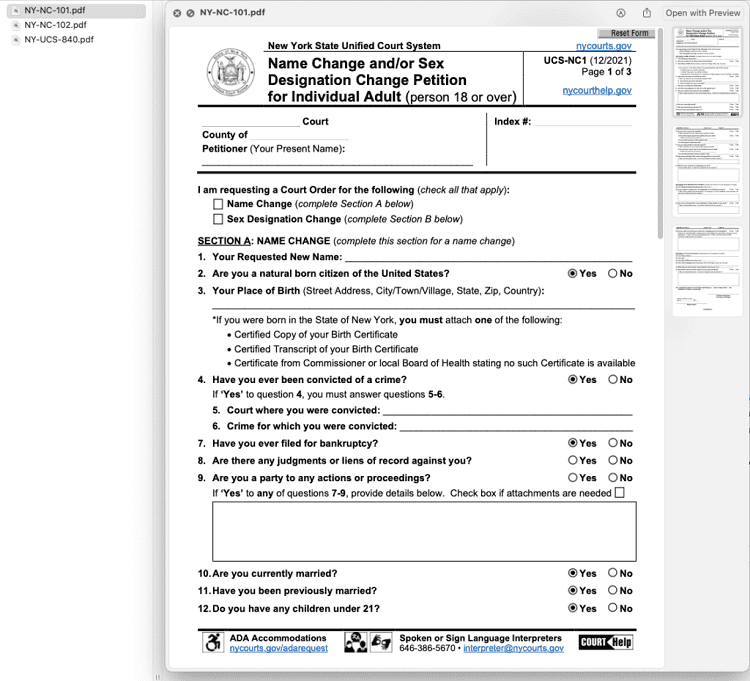 The download included the forms as well as instructions for filling them out, a list of the forms included in the download and a link back to the associated US Legal page in case I need information from there again.
What Does US Legal Cost?
US Legal has two plans to choose from: Basic and Premium. There is no option to purchase a single form for a one-time payment. If you only need one form, your best option is to select the monthly plan and cancel after downloading your form.
US Legal Basic Plan
The Basic plan costs $39 per month if you pay monthly. Switching to an annual subscription brings the monthly cost down to $8 for a total of $96 per year.
With the Basic plan, you get:
Complete access to all US Legal forms
Banking-level data security
What's missing from the Basic plan are two important features: fillable forms and e-signatures. If either of those features is important to you, consider the Premium plan.
Personally, I don't like this pricing structure. The monthly plan is so much higher than the per-month cost with the annual plan. It can feel like a trick. If you're going to use US Legal for at least three months, the annual cost is worth it. However, I wish they had a lower monthly cost since a lot of people aren't going to need this service for an entire year.
US Legal Premium Plan
The Premium plan costs $59 per month if you pay monthly. Switching to an annual subscription brings the monthly cost down to $15 for a total of $180 per year.
With the Premium plan, you get:
Complete access to all US Legal forms
Online PDF editor
Ability to add e-signatures
Completion services for certain form types
50% off business registration services
Banking-level data security
Learn more about US Legal plans and pricing hier.
Best Alternatives to US Legal
If you're looking for legal forms, US Legal isn't the only service that provides them. Three of US Legal's top competitors are FormSwift, LawDepot and Rocket Lawyer. Let's talk a bit about each one.
FormSwift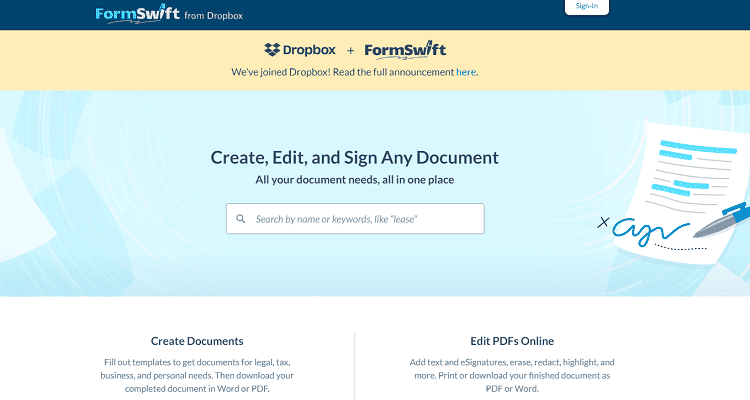 If you need personal legal forms and business forms, consider using FormSwift instead of US Legal. In addition to an assortment of legal forms that you can download, customize and add e-signatures to, there are also a lot of features for small businesses. You can see sample business plans, get a guide to 1099 forms, learn about taxes for freelancers, and more.
I like FormSwift as an alternative to US Legal if you're more interested in business PDFs than forms for other types of legal issues.
LawDepot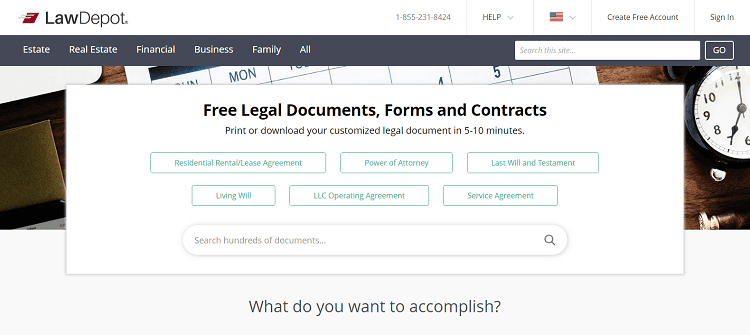 LawDepot has been around since 2001, and the service has hundreds of legal documents that users can download and customize. While LawDepot doesn't have as many documents to choose from as US Legal, if you're looking for just one document or a select few, it may work out better price-wise to use LawDepot.
There's a one-week free trial during which you'll have access to all LawDepot documents. After the trial, the cost is $35 per month or a bit less than $110 per year for an annual subscription.
However, if you want to buy a single document outside of the free trial period without paying for a subscription, you can. Document pricing ranges from $7.50 to $119, depending on what you need.
My favorite benefit of using LawDepot instead of US Legal is that you can pay for a single document. While the cost of some will be so high that a US Legal subscription would cost less money, having this option is great for anyone who's sick of paying monthly charges for services they rarely use.
Raketadvocaat
If you need more than what US Legal offers, particularly legal advice from real lawyers, consider Raketadvocaat. The service has several legal form templates, just like US Legal, and it also has the ability to ask a lawyer questions via chat, email or phone.
If your situation requires more expert knowledge, Rocket Lawyer may be the better choice than US Legal.
If I needed one-on-one contact with an attorney, I would opt for Rocket Lawyer instead of US Legal. However, if I only needed forms or wanted to look at law-related articles, Rocket Lawyer would be too in-depth a tool for my simpler needs.
FAQ's
Question: Is US Legal Forms Legit?
Answer: US Legal Forms is a legitimate website. It's one of the United States' largest legal forms libraries, and it's been operating since its launch in 1997.
Question: How does US Legal Forms Work?
Answer: US Legal lets you browse thousands of national and state legal forms and download individual forms or form packets. They also offer notary services, a legal resources section and help from legal experts if you're unsure of how to fill out specific forms yourself.
Question: How Secure are the Documents I Store on the US Legal Website?
Answer: Data in your US Legal account is stored in a United States-based Amazon S3 data center. The data centers have military-grade security. Additionally, the data you send with US Legal is protected by a 256-bit encryption algorithm.