Last Updated on april 22, 2023 by DMEditor
Below, you'll find a detailed comparison of two expense management systems: Bill.com and Expensify.
After reading this article, you will know:
de belangrijkste verschillen;

an in-depth look at both services;

key competitors;

a verdict on the best solution for your specific situation.
Main Differences Between Bill.com vs Expensify
The main differences between Bill.com vs Expensify are:
Bill.com has a to-do list feature, whereas Expensify has timed reminders.

Bill.com has an Auto Bill Entry feature that automatically registers incoming email bills, whereas Expensify has a credit card statements import feature.

Bill.com has pre-accounting templates that are easy to export, whereas Expensify has none.

Bill.com has instant money transfer options, whereas Expensify simply has the option to pay bills and request payments.
How To Choose The Best Expense Management System
Gegevensinvoer
Writing numbers endlessly, while avoiding even the tiniest typo, is a real headache. Thankfully, full manual data entry is now a thing of the past. Nowadays, most softwares propose ways to make data entry easier. Some tools make it more convenient than others, and you want to find what works best for you.
Functies voor vorderingen
You'll want to keep track of all incoming money and some tools make it super-convenient. It's better to have an overview of who owes you what at a glance. You'll also want to simplify the process of billing your partners, so you generally want to look for software that lets you send invoices in bulk.
Betalingsfuncties
It's important that you can keep track of your expenses, but also to deal with the logical next step: paying your bills. Different softwares have different ways to deal with your accounts payables and you want to find the most convenient system for your situation.
Integraties
If you're dealing with many bills, you most likely have one or two other accounting tools. So, you want to pay attention to how easy it is to transfer data between your expense management system and other accounting tools.
Prijzen en vergoedingen
Since we're dealing with money transfers, you will pay for the service in itself, but also for the possible transfer fees. The latter should not be forgotten as transactional fees can quickly add up. It's important to figure out exactly how much each software will charge you, both for the initial subscription but also for miscellaneous and hidden fees.
Klantenservice
Sometimes, your tool can be a bit confusing to use. Some services propose tutorials and how-tos to help you make the most out of the tool. In case of a more troublesome problem, you also want to make sure the customer service is easy to get in touch with.
Belangrijkste kenmerken van Bill.com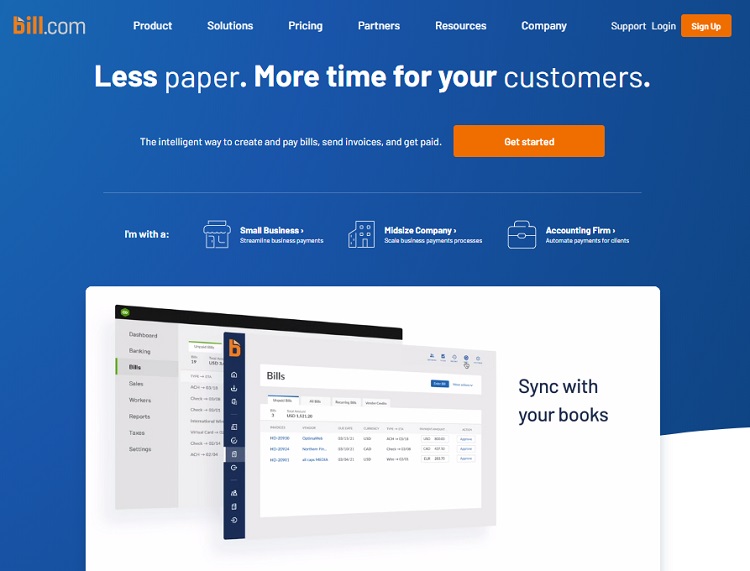 If you have vendor information scattered all over the place, it might be tough to keep up with everything. You most likely want to spend less time organizing and dealing with all those bills. Bill.com helps you do that, centralizing everything in one place so that you can pay and be paid as smoothly as possible.
Gegevensinvoer
Bill.com integrates well with other services that focus on data entry, as well as other accounting softwares. You can snap a picture of your bills with the phone app and the AI will help you import that data. If you happen to receive digital bills that you have to manually register yourself, the service will not let you down either.
With the Auto Bill Entry feature, when a document hits your Bill.com inbox, the tool will extract the pertinent bill information (amount, vendor, etc.) and convert it into a bill.
For most digital bills, it just means dragging it and dropping it into the Bill.com software. From there, it's ready for authorized individuals in your company to edit, review, approve, and pay.
Functies voor vorderingen
With Bill.com you can easily centralize what you bill to your partners. You can quickly create digital invoices, add personal notes and set billing automations if needed.
You can also send automatic reminders and follow in real-time where your money is once you're getting paid. Your customers can pay online with their credit card or bank account, erasing the need for awkward manual follow-up calls and emails.
Betalingsfuncties
With Bill.com you will have access to a dashboard that centralizes all of your bills and invoices that need paying. You will also be able to send payments within a few clicks and set up automations for recurring payments.
Integraties
Bill.com's integrations cover a wide range of other tools. The service proposes a two-way cloud sync for all of its integrations so that your data stays up to date at all times, no matter whether you're uploading data to Bill.com or to one of the integrated accounting softwares.
It integrates well with the most prominent accounting tools (Quickbooks, Xero, Oracle, Sage, Microsoft). If you don't find your desired integration with Bill.com, it proposes high-compatibility templates that can be used to easily transfer data to other accounting softwares.
Bill.com also integrates well with services that make data entry easier. It integrates well with Expensify for example, but also with other services you might include in your fintech stack such as Hubdoc, Tallie, Earth Class Mail and Tax1099.com.
Prijzen en vergoedingen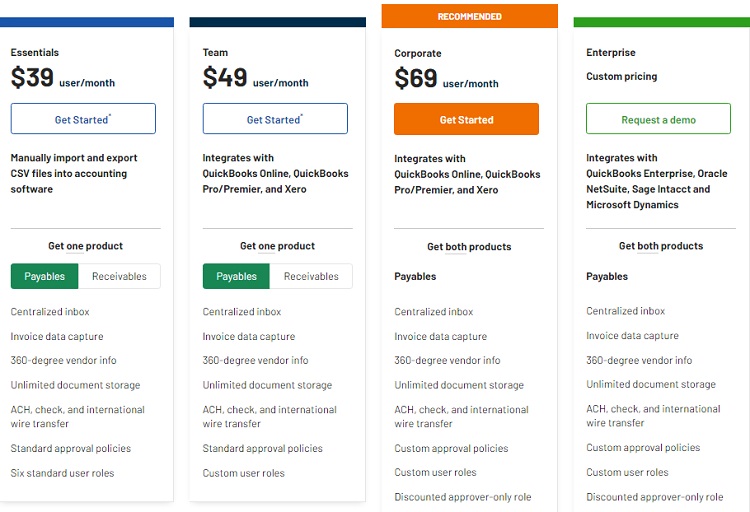 Bill.com comes with a choice of three paid plans. It also offers the possibility to request a free demo version that will encompass most of the software's features.
The starter plan is the Essentials plan, at $39 per user per month. Like the name says, you will find all the essential features needed to centralize all of your business' expenses. At that price, you will be able to go for either the payables or the receivables features.
Among the payables features, you will have access to a centralized inbox, invoice data capture, 360-degree vendor info, unlimited document storage, ACH, check & international wire transfer, the standard approval policies and up to six user roles.
But you could also centralize all of your receivables with customized invoice templates, automatic invoicing, payment status tracking, automated email reminders, ACH and credit card payments and auto-charge/auto-pay features. You will also be able to easily import and export your .csv data with the accounting software of your choice.
De Team plan is available at $49 per user per month. On top of the Essentials plan, it integrates with QuickBooks Online, QuickBooks Pro/Premier, and Xero, and allows more than six user roles. It's still available only for either the payables or receivables.
De Corporate plan is available at $69 per month per user and includes both the payables and receivables features of the Team plan.
It's important to note that there are fees attached to the transactional services provided by Bill.com. Here is a quick list of those fees below.
ePayment/ACH verwerkingskosten : $0.49/verzenden & ontvangen

Physical mailing of checks or invoices : $1.69/check payment or invoice

Getting paid via credit card payment : Level 3 merchant fees processing rates (1.90% + $0.10).

International wire transfer fee : $0/payment for local currencies, $9.99/payment if USD to overseas.

Vendor Direct virtual card payment : $0/payment.

Faster pay by ACH :same or next day $9.99.

Sneller betalen per cheque: overnight $19,99, twee dagen $14,99, drie dagen $9,99.
Klantenservice
Bill.com proposes a full catalogue of video tutorials and webinar recordings. They are designed to help and teach how to deal with the base features of the tool. In case of a problem, you can also contact Bill.com through live chat during business hours, or through email, directly from your Bill.com dashboard.
Voor- en nadelen
Voors
Centralize everything that is bill-related;

Includes a to-do list to stay on track;

Easy data entry;

Highly compatible with most accounting tools.
Nadelen
A bit overkill for small businesses or individuals.
Expensify Key Features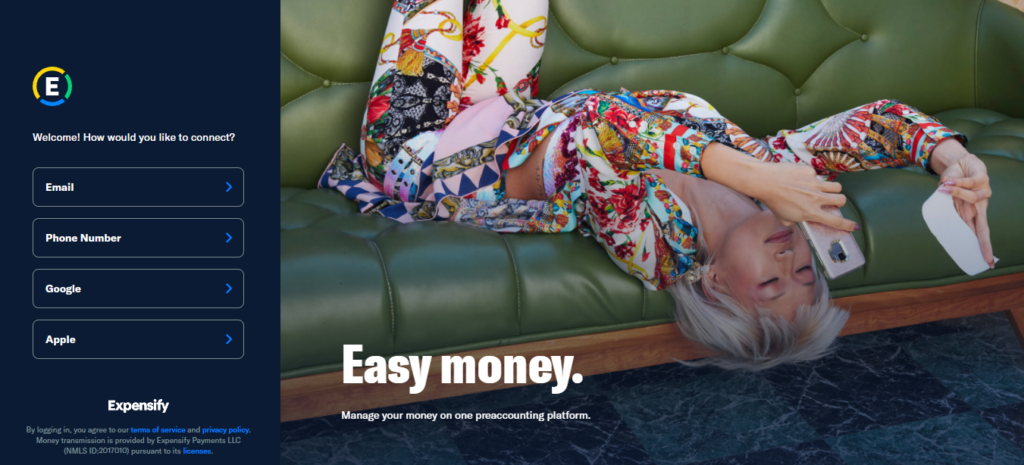 Expensify is designed to simplify keeping track of your business (or personal) expenses while on the go. It quickly emerged as a very performant app for those looking to stay on top of their financial records.
Gegevensinvoer
The main appeal of Expensify is the ability to easily register your everyday expenses. You can either scan your receipts through the phone app or directly import your credit card statements. You can also manually add expenses.
Functies voor vorderingen
Expensify makes it easy for others to pay you. The main feature is the ability to have a real-time review of your accounts receivables (and payables) and to send mass invoices at once.
When your customers receive a bill from you, Expensify also lets them use quick and easy payment solutions with Paypal, ACH or debit/credit card payments. Both you and your customer can also interact directly and comment on bills through the Expensify platform.
Betalingsfuncties
You'll find all the basic features that you'd expect out of a pre-accounting tool. You can set up manual and automatic payments, keep track of what's paid, what's due, and what's late, all in one place. The software also comes with additional features that you might find useful such as splitting bills.
Integraties
Expensify integrates well with a wide range of other tools. You will find integrations with the domains of accounting and finances (Quickbooks, Oracle, Xero, Sage, Microsoft Dynamics, etc.), human resources (Gusto, Greenhouse, etc.), practice management (Star, Thomson Reuters, etc.), taxes (Taxback, etc.), travel (Tripcatcher, Locomote, Kayak business, Egencia, etc.).
There are more integrations, mainly for registering receipts faster, with companies like Uber, Grab, Roomex, Sanebox, etc. It's important to note as well that Expensify integrates completely with Bill.com, so it's possible to use both services together.
Prijzen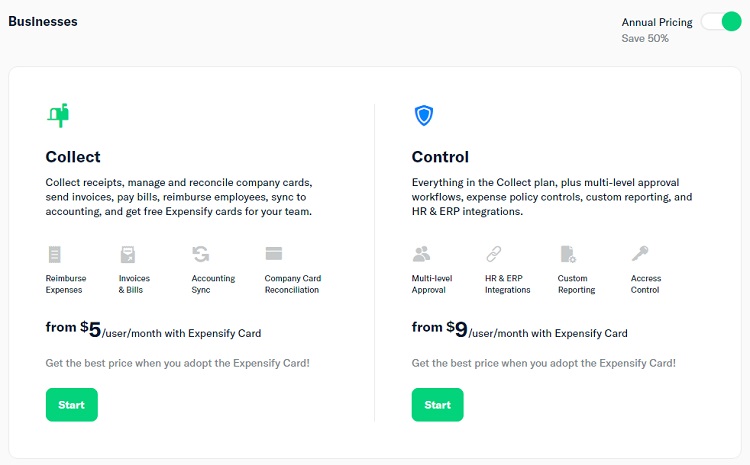 Expensify comes with two categories of plans: personal and business plans.
The personal plans give you a free taste of what the software can do on a smaller, personal scale. With the Track personal plan you can send money to friends, submit expenses to anyone, send invoices, track mileage, and more. With the Submit personal plan you can send receipts to managers or accountants, send invoices, and collect payments.
The two paid plans offer extra convenient features.
The Collect plan starts at $5 per month. It lets you collect receipts, manage and reconcile company cards, send invoices, deal with oversee bills, reimburse employees, sync to accounting, and receive free Expensify cards for your team. The Control plan starts at $9 per month and contains everything in the Collect plan, plus multi-level approval workflows, expense policy controls, custom reporting, and HR & ERP integrations.
Important note : Prices are twice as expensive if you're using Expensify to deal with less than 50% of your company's expenses, and are doubled again if you prefer to pay monthly over paying annually. It's therefore possible to pay up to 4 times the starting price for the same service if you're not selecting your options carefully.
Klantenservice
Expensify proposes guides, FAQs and webinars to help you get started with the tool. The customer support service is available through live chat and email.
Voor- en nadelen
Voors
Business card;

Reasonable pricing;

User-friendly.
Nadelen
4 times more expensive if not using the Expensify card and paying monthly;

Some of the features are a little basic.
Price Comparison: Bill.com vs Expensify
While you can get all of the Expensify features for as little as $9 per month, the entry plan with Bill.com that only includes either accounts payables or receivables is available at $39 per month.
The price difference could arguably be justified by the scope of both tools. Bill.com has sharper features and is generally more suited for companies that have to deal with a lot of back office accounting and many bills to pay and send.
Recommended Alternatives To Bill.com and Expensify
Tipalti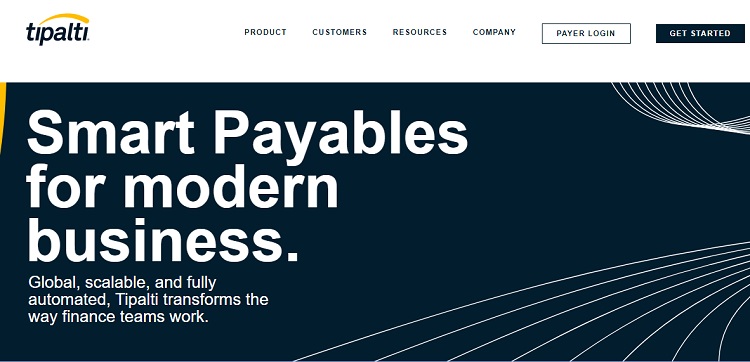 If you're looking for an accounts payable solution only, Tipalti might be for you. It is deemed to reduce work time spent on paying bills by up to 80%. It will give you a quick overview of all that you have to pay and will help you send payments to all of your partners at once, from one single place.
Streep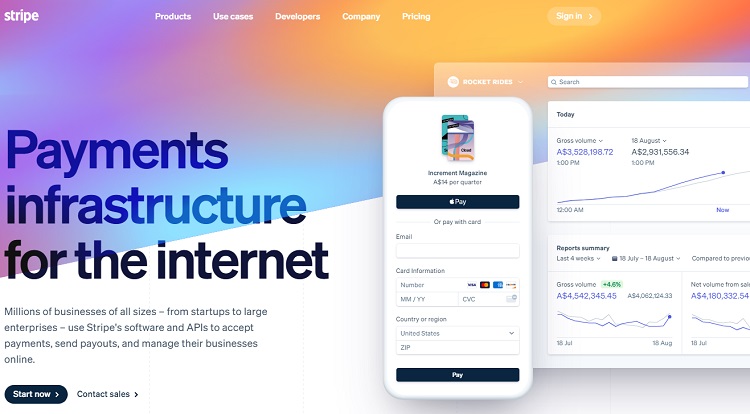 If you're looking to get paid only instead, you can look towards Stripe. Originally supposed to be an alternative to Paypal, Stripe makes it easy for you to send invoices and have your clients pay you, especially as a new or small business.
Billtrust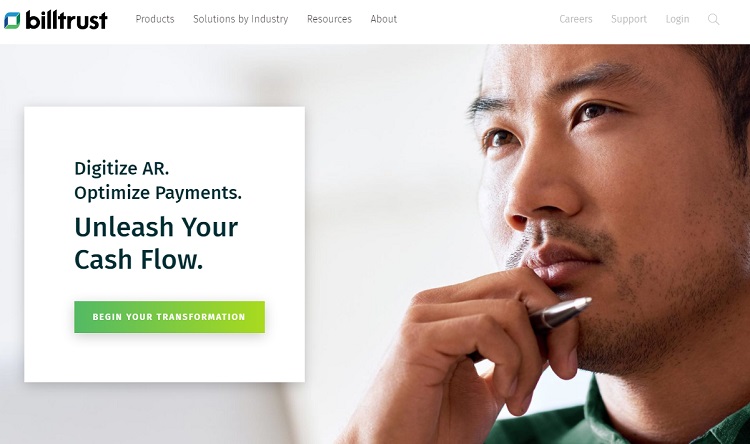 Very similar to Bill.com in many regards, Billtrust helps businesses deal with their AR through the digitalization of invoices and automation of pre-accounting tasks. The service has received a lot of positive reviews online.
FAQ's
Question: How Does Expensify Work With Bill.com?
Answer: Once your Expensify account is created, you can connect it to Bill.com. Once done, it will show in the Expensify app as "connected". You will then be able to set up Expensify and start submitting expense reports to Bill.com for seamless reimbursements.
Question: Is Bill.com Legit?
Answer: Founded in 2006, Bill.com has received many positive reviews online. People often praise how convenient it is to process bills, be it to pay or to receive money.
Question: Is Bill.com Better Than Paypal?
Yes, if you're a big company. Bill.com allies the convenience of Paypal with the power and scale a large business needs. Paypal is great to send and receive money at low fees, but small fees quickly add up if you're conducting a lot of business. Bill.com will generally be less expensive and more convenient on a larger scale.
Bill (dot) Com vs Expensify: The Bottom Line
Expensify will focus more on helping you save time while you're on the go, going about your dynamic day-to-day business life. It makes it seamless to stay in touch with customers and to send invoices in bulk all at once.
Bill.com is more geared towards bigger companies that really need to streamline the pre-accounting process. It has more powerful large-scale tools and more classic accounting integrations.
If you like both services, Expensify integrates very well with Bill.com.
Samengevat:
If you're a large company and/or you're dealing with a lot of financial operations outside of data entry, Bill.com will serve you well.
If you're an individual or a smaller business that's dealing with a lot of smaller expenses, you may not need as many automations and deep features as what Bill.com proposes. Expensify will therefore be more relevant to you, especially with its smaller price.
Als u deze recensie leuk vond, kunt u overwegen deze te delen met iemand van wie u denkt dat die er iets aan heeft.