Dernière mise à jour le 15 janvier 2023 par DMEditor
On ne peut pas nier que Oberlo vs Dropified is one of the most controversial debates in the dropshipping SaaS space.
So controversial that, interestingly, both Dropified and Oberlo have sections on their respective websites that compare Oberlo vs Dropified.
Bottom Line Up Front Summary : If the limit of your ambition is to scale a basic Shopify dropship store, then Oberlo will do just fine. However, as soon as you aim a little higher for deep product sourcing and/or other ecommerce platform channels, Dropified is the CLEAR choice here. It's certainly the BEST Oberlo alternative I've found.
Main Differences Between Oberlo vs Dropified
The main differences between Oberlo vs Dropified are:
Oberlo offers a permanently free package to starters, whereas Dropified offers a 14-day free trial on two of its three pricing plans
Oberlo seemingly focuses on simplicity by providing only the standard features, whereas Dropified tries to stretch for comprehensiveness through its supplementary advanced tools
Oberlo's customer support team is available 24/7, whereas Dropified only provides customer support during the standard business hours
Oberlo's Chrome extension only supports AliExpress, whereas Dropified's Chrome extension works with more than 60 different marketplaces
Dropified allows dropshippers to engage their customers through phone calls thanks to its CallFlex tool, whereas Oberlo, on the other hand, is limited to the standard messaging channels
From these writeups, you'll notice that each of these tools claims to be the best dropshippers can get. Dropified highlights several exclusive features it offers, while Oberlo tends to focus on its sustainability, track record, and customer support.
But, that's not all. Quite a lot has been said about these two in the past couple of years. And as it turns out, they now have a lot in common. Although Oberlo and Dropified seemingly enjoy tearing each other apart, they happen to have more similarities than differences between them.
Consider, for instance, their core features. A quick scan through their respective provisions reveals that Oberlo and Dropified offer pretty much the same fundamental functionalities.
Apart from helping dropshippers discover profitable products from various suppliers across the globe, they usually facilitate product importing, automated order fulfilment, sales and shipment tracking, plus inventory management.
Oberlo and Dropified are both capable of integrating with your ecommerce store, from where they proceed to enhance your dropship business by automating the principal activities, as well as connecting you with solid product suppliers and manufacturers.
In a nutshell, therefore, it seems like Dropified and Oberlo dropshipping apps are targeting more or less the same range of users. That explains the huge rivalry between them and the increasingly polarizing Oberlo vs Dropified debate.
So, with that said, let's now cut to the chase. Which of the two offers better features?
Well, you've come to the right place. My team and I have done extensive research on the two platforms. Plus, we've also had the chance to try out their tools.
Consequently, one thing I can tell you for certain is, Oberlo vs Dropified is rather a subjective matter. What you end up picking as the best may turn out to be the worst option for other dropshippers.
You see, Oberlo and Dropified also happen to come with their own distinctive capabilities, which are more suited to specific types of businesses and dropshippers. A feature you might desperately want in your software suite could possibly, in contrast, prove to be inconsequential to another user and vice versa.
Hence, the question here should instead be- which of the two provides better features for your dropshipping business?
Now that's precisely what this unbiased Oberlo vs Dropified review investigates. It settles the Dropified vs Oberlo debate once and for all through an in-depth comparison of their pricing, main features, user interfaces, dropshipping tools, product research features, automation capabilities, and much more. By the end of it all, you should have uncovered their individual weaknesses and strengths, from which you can determine the best option for your specific ecommerce business.
Now, to start us off, here's a brief breakdown of all the principal differences between Oberlo and Dropified…
Oberlo vs Dropified – Overview
Oberlo Overview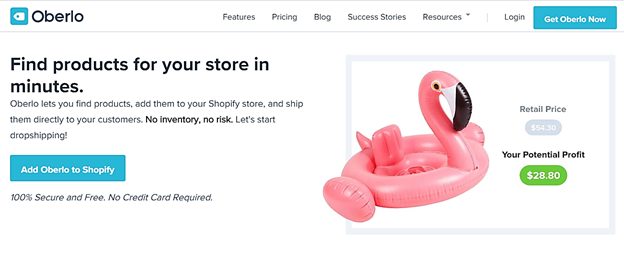 Launched in 2015, Oberlo was one of the premier SaaS solutions for dropshippers (dropshipping products for e commerce store). It's now based in Lithuania, from where it continues to set a benchmark for other dropshipping tools in the market.
In fact, Oberlo is currently creating ripples in not only the dropshipping space but also the eCommerce industry at large. It has so far facilitated the sale of over 85 million items on various online platforms across the world.
Now, the trick to Oberlo's success is its ability to effectively streamline the dropshipping pipeline. It essentially links dropshippers to reputable suppliers through a holistically-automated system, which consequently maintains a flow of items between suppliers and shoppers.
Thanks to this system, online merchants can now use Oberlo to discover profitable items from all types of suppliers across the globe. It's built to make it easy for you to quickly scan through various product categories, and subsequently identify the best products to sell to your customers.
The sales process, however, doesn't occur directly on the Oberlo platform. At least not directly. Instead, Oberlo relies heavily on the Shopify e commerce platform.
You're required to integrate its Shopify app with your Shopify-based store, from where you should be able to import the items you've discovered into your dropshipping website. So, technically, the sales process is ultimately facilitated by Shopify.
In the meantime, Oberlo allows you to customize your imported products, as well as set their corresponding prices using its Global Pricing Rules feature.
It doesn't stop there though. You see, Oberlo further grants you tools for automating your correspondence with customers, fulfilling orders, updating your inventory, plus tracking your customer's packages from the moment they are shipped by suppliers.
Therefore, all things considered, Oberlo is more like an all-inclusive tool suite for dropshippers. You can use it to build your dropship business, manage the inventory, import products, automate the entire order fulfillment process, and keep tabs on all your product shipments.
Dropified Overview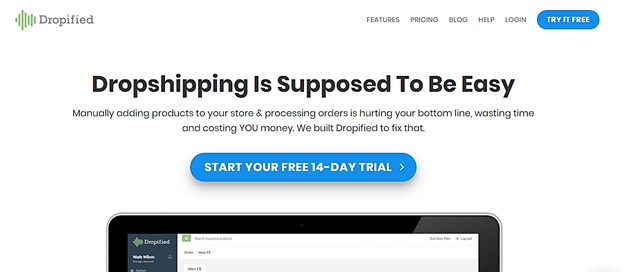 At first, Dropified might feel like a second version of Oberlo. Then as you start digging deeper, you get to discover the real nitty-gritty that sets them apart.
And what exactly am I talking about here?
Well, at the top, Dropified does pretty much the same stuff as Oberlo. It helps you research extensively until you discover the perfect products for your ecommerce business. And amidst all that, it also links you up with various suppliers from all over the globe.
But, when it comes to selling, Dropified takes a different approach from Oberlo.
The first thing you're bound to notice about Dropified, for example, is that it supports four e-commerce platforms. While Oberlo exclusively works with Shopify, Dropified goes beyond that to integrate with WooCommerce, gearbubblePRO, and CommerceHQ too. That means you'll be free to leverage Dropified while running an ecommerce store on any of these four platforms.
Now, guess what? Dropified happens to be much more flexible even when you cross over to product marketplaces.
It doesn't stop at AliExpress like Oberlo. As an online merchant, you can capitalize on it to discover products across more than 60 marketplaces and platforms. Dropified gives you the power to scout not just AliExpress, but also Amazon, Etsy, eBay, and much more. That's a heck of a lot of options.
What's more, Dropified manages to maintain the same level of sophistication after you import the products into your store. It basically provides a range of dropshipping tools for enhancing your conversion and automation capabilities.
You'll find, for instance, a tool called Tube Hunt, which is meant to help you with your marketing by identifying relevant videos on YouTube. Then the Call Flex tool, on the other hand, powers phone engagements with your customers.
Other notable features you might be interested in include; Google Product Feeds integration, multi-store selling, order auditing, order risk levels, etc.
And to sum it all up, Dropified can be said to be handy for product discovery, product importing, multi-store selling, inventory management, automated order fulfilment, shipment tracking, and driving customer engagement.
Make no mistake though. Although these capabilities place Dropified ahead of Oberlo when you compare their cumulative amount of features, it would be unwise to draw a conclusion at this point.
You still have to go into the core dropshipping processes to get a good idea of how each solution operates. Only then will you be able to make an informed decision on the best option for your dropshipping business.
So, without further ado, let's dig a little deeper…
Oberlo vs Dropified – Main Features
Facilité d'utilisation
Oberlo Ease of Use
While Oberlo is renowned for many things, the one asset that ultimately makes it a real darling to beginners is its free starter package.
Yes, that's right. Oberlo is generous enough to start you off on a permanently free package, which even comes with the corresponding Oberlo Chrome extension.
Some of the features you should expect here include inventory syncing, product research, product importing, sales analytics, inventory updates, automated product pricing, and an unlimited number of monthly orders.
Now that's a fairly decent package for a typical beginner. But, if you want to hit the ground running, the premium packages will cost you at least $29.90 per month.
Whichever you eventually settle for, you won't have any trouble integrating the Oberlo platform with your Shopify site. Simply search dropshipping apps on the Shopify App Store, click on the Install app button and voila! That's all it takes.
However, the sad bit is, Oberlo is quite a rigid system when it comes to third-party integrations. Shopify is the only e-commerce platform that supports Oberlo. So, if your ecommerce store is built on a different shopping cart, you either migrate to Shopify or forget about selling your stuff via Oberlo.
Now, for Shopify users who choose to join the Oberlo bandwagon, the platform comes in the form of an elegant web-based dashboard. Oberlo's developers seemingly took their sweet time to come up with a neat and user-friendly interface, which you'll find to be easy on the eye.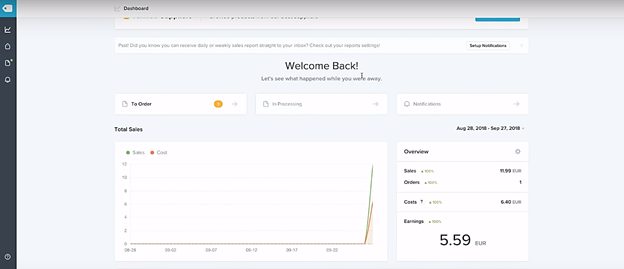 The functionalities and menu options are also fairly straightforward, and you should have an easy time connecting Oberlo with your online store. Then to supplement that, you might also want to get yourself the Oberlo Chrome Extension, which is quite handy for product and market research.
Once everything is up and running, you'll notice that the Oberlo panel provides convenient access to sales insights, as well as the tools for order management, inventory management, and tracking. This served as the main vantage point, from where you get to track, control and coordinate your products.
And speaking of which, one of the first things you'll probably do here is searching for products. I'd advise you to focus mostly on Oberlo's own product supply since it grants you access to various suppliers who've been adequately reviewed by the platform.
Then as you start getting used to how everything runs here, you can go ahead and import the most promising products into your Shopify App store. Thankfully, this entire process is seamlessly automated for increased convenience.
Oberlo further allows you to personalize your items by making changes to the original dropshipping supplier details that the products come with. And more specifically, you get to customize the product titles, product images, plus the accompanying product descriptions.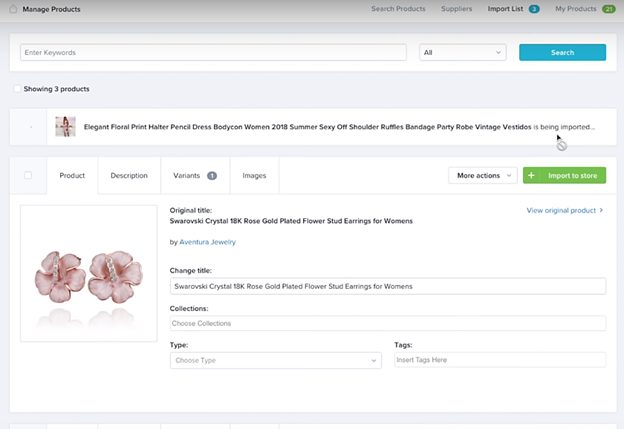 In the end, all the imported items are tracked on either Oberlo or Shopify. The catalogue is well-arranged on Shopify's dashboard, from where you can comfortably coordinate the sales processes.
Dropified Ease of Use
Unlike Oberlo, Dropified doesn't offer anything like a free plan. The best you could hope for here is a free trial, which, unfortunately, lasts for only two weeks. Then once the time lapses, Dropified will charge you at least $39 per month to continue leveraging its tools.
That said, the best thing about Dropified is its inclusivity. In addition to a native Shopify app, the platform is available in the form of add-ons for WooCommerce, CommerceHQ, and gearbubblePRO.
Although that doesn't even come close to the range of options you'd expect from a globally-renowned dropshipping solutions, it's still a better deal than what you get from Oberlo. And as you've probably guessed already, you'll find the different Dropified app versions on their respective platform marketplaces
The Dropified Shopify app, for instance, is available via the Shopify App Store. Hence, installation should be as easy as searching for the app, and subsequently hitting Install. All in all, it barely takes a minute or two to connect Dropified to your online store.
And once you do, you can't help but notice that the interface here is almost identical to Oberlo's in many different ways.
The overall layout design, for instance, strikingly resembles Oberlo's dashboard- from the arrangement of menus and bars to the placement of tools and tabs. Even their colour schemes are surprisingly similar.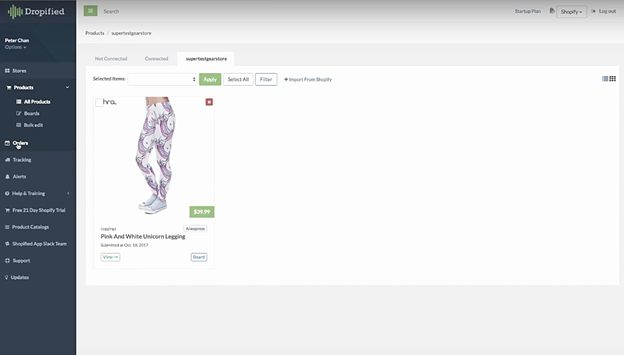 It's worth noting, however, that Dropified might take you longer to learn the ropes because it comes with many tools bundled into one software.
Another notable thing is, the process of adding products is not as straightforward as Oberlo's. Dropified doesn't automatically display them on its dashboard. You can only discover products after switching to the Dropified Extension, which is fairly inconvenient.
Verdict – Dropified vs Oberlo Ease of Use (Winner: Oberlo)
While both of these systems are elegantly-designed, Oberlo happens to be easier to use than Dropified.
It focuses on all-round simplicity, while Dropified's advanced features can be confusing at first. Additionally, Oberlo's dashboard displays all the available product options, while Dropified forces you to refer to its supplementary Chrome extension.
Extension Chrome
Oberlo Chrome Extension
Oberlo is easy to use all right, but, it gets better- thanks to its simple Chrome extension.
In essence, the Oberlo Chrome Extension is a basic tool built to provide additional convenience as you search for products on the AliExpress marketplace.
It works hand in hand with the main Oberlo platform to help you easily identify the best products and suppliers as you scroll through the marketplace. That means you don't have to jump to a different browser window or log into the main Oberlo dashboard.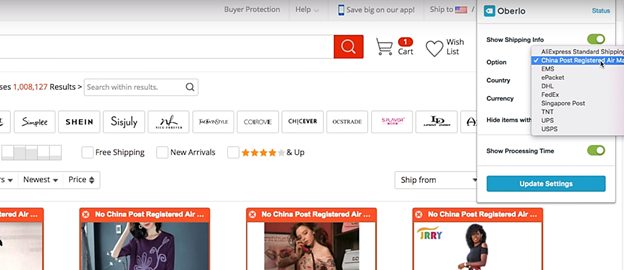 Ok, fair enough. But how do you even get the tool?
Well, the great thing is, the Oberlo Chrome Extension is completely free. So, forget about paying even a single cent above the standard price of your plan.
That said, you should be able to get it directly from Google Chrome's extension store. Simply search for Oberlo and then install the tool. That's it.
Now, when you log in and start exploring various options on the AliExpress website (Aliexpress Integration), the Oberlo Chrome Extension provides a range of relevant filters.
It allows you to sort through the items based on parameters like country of origin, shipping service (shipping method), and category. You also get to view details on the amount each product will cost to ship to your country.
Eventually, you can go ahead and pick your selected items, then subsequently send them to your product import list. Other than that, the Oberlo Chrome Extension gives you the privilege of placing and fulfilling AliExpress orders.
Unfortunately, however, it doesn't go beyond AliExpress. It only works with one marketplace.
Dropified Chrome Extension
Just like Oberlo's extension, the Dropified Chrome Extension comes in handy when you need to effortlessly find products in a third-party marketplace, after which you can import them straight to your online store. It saves you the trouble of coordinating stuff from the main Dropified dashboard.
However, that's not all that Dropified copies from Oberlo. It turns out its Chrome Extension is also available on Google's Extension store. Hence, you just need to search for it, install, and then sign in with your account credentials.
Now, this is where the differences between the two start becoming apparent. You'll notice, for instance, that Dropified's Chrome Extension doesn't provide as many solid product filters as Oberlo.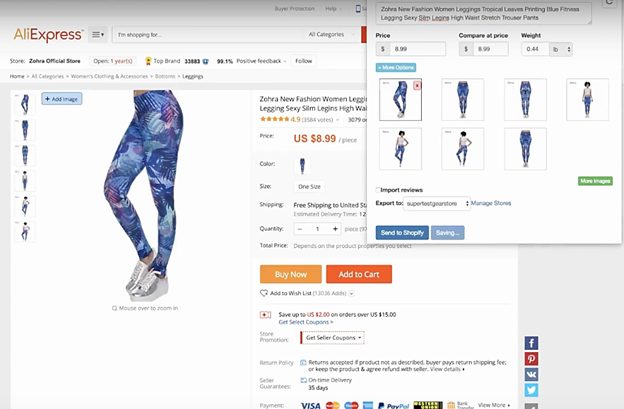 But, don't get me wrong. It's pretty effective at crawling through the marketplace options to generate a solid list of suitable products. Plus, the Dropified Chrome Extension is capable of issuing alerts in the event of a change in the product price or availability.
Nonetheless, the primary advantage the Oberlo Chrome Extension has over Oberlo's is marketplace flexibility. While the latter is only functional on AliExpress, Dropified seamlessly integrates with AliExpress, Amazon, Walmart, eBay, Etsy, and many more.
That makes it a perfect tool for dynamic dropshipping businesses that seek to work with all kinds of suppliers.
Verdict – Dropified vs Oberlo Chrome Extension Verdict (Winner: Dropified)
Both Oberlo and Dropified offer very helpful Chrome extensions, which makes things much easier for dropshippers. You could use either to find products of interest from relevant suppliers across the globe and then import the items to your online store.
Oberlo's Chrome Extension particularly shines when it comes to sorting through the product options. However, that's nothing compared to Dropified's multi-platform support. You can count on it to run smoothly on a range of popular online marketplaces, while Oberlo is only limited to AliExpress.
If you want more product options, therefore, you basically use the Dropified Chrome Extension.
Dropified and Oberlo Order Processing
Oberlo Order Processing
One area where Oberlo sets itself apart from most of the other dropshipping apps is order fulfillment. It does a great job of supplementing the traditional product discovery function with automated fulfillment of orders
And how exactly does it handle the whole process?
Well, it basically saves you the trouble of following up on each individual product at every stage along the fulfillment pipeline. The process itself starts from your Shopify App store as soon as you receive a customer order.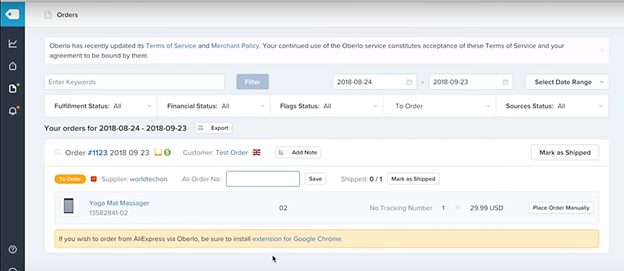 At that point, you just need to click on Oberlo's "Order Product" button and the system will immediately swing into action. Hence, you can rest easy while Oberlo proceeds to reach out to your suppliers and coordinate the customer deliveries on your behalf.
It doesn't stop there though. Oberlo additionally auto-updates your inventory, plus it tracks every single shipment to give you accurate real-time info.
Dropified Order Processing
Dropified is no joke either when it comes to the order fulfillment process. It carries a host of tools, which facilitate automation on multiple levels to give you unmatched dropshipping convenience and efficiency.
In the event you receive an order, for instance, you can rely on Dropified's auto-fulfillment engine to handle everything for you. Just a single click on each order is enough to set the ball rolling.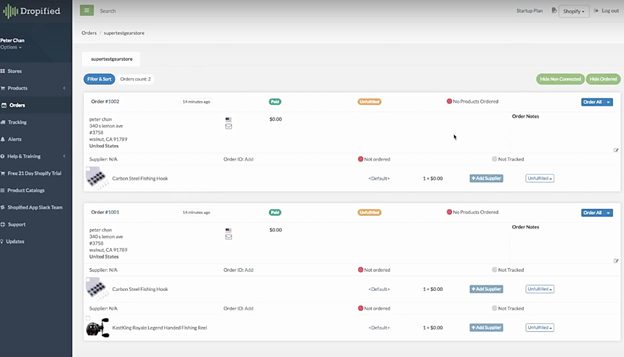 Then get this. Dropified even leverages an intelligent Captcha Solver that goes ahead and answers all the captcha challenges that product marketplaces display during order placement. Consequently, the entire order fulfillment process should proceed seamlessly in the background.
Now, in case multiple orders come in at once, Dropified allows you to select all of them and place everything in a queue. This is a feature you won't find on Oberlo.
Then guess what? Dropified further outshines Oberlo in fulfilling bundled products. While the latter will force you to manually follow up on each product in your order bundle, Dropified simplifies everything through automated bundle fulfillment.
Hence, you can easily process orders that contain bundles of products from various suppliers spread out across different locations.
In addition to that, other exclusive features you get to capitalize on as you process your customers' orders include; the CallFlex tool, ePacket ID for multiple countries, order risk level enabling, custom notes to sellers, auto addition of order tags, etc.
Verdict – Dropified vs Oberlo Order Processing (Winner: Dropified)
It's quite commendable that Oberlo and Dropified take their order processing functions very seriously. Each of them packs enough power to automate the entire order fulfillment process, from the moment you select the pending customer orders all the way to package delivery.
However, the main difference is, Oberlo offers just the basic tools for order processing, while Dropified comes with a much wider variety of automation options. This makes it a dynamically flexible solution for automating order fulfillment on behalf of growing dropshipping businesses.
Oberlo vs Dropified – Pricing
Oberlo Pricing

Starter : The Starter package provides dropshipping basics for free. They include; order numbers syncing, sales reports, and import list, inventory updates, product statistics, automated product pricing, the Oberlo Chrome extension, unlimited monthly orders, plus up to 500 products.
De base : The Basic package costs $29.90 a month. This will give you the captcha solver, orders fulfilment monitoring, affiliate program, real-time orders tracking, bulk orders, variant mapping, order numbers syncing, sales reports, and import list, inventory updates, products statistics, automated product pricing, the Oberlo Chrome extension, unlimited monthly orders, plus up to 10,000 products.
Pro : The pro package is the highest level plan here and it costs $79.90 a month. Some of the features you should expect from Oberlo include; multiple staff accounts, a captcha solver, orders fulfilment monitoring, affiliate program, real-time orders tracking, bulk orders, variant mapping, order numbers syncing, sales reports, and import list, inventory updates, products statistics, automated product pricing, the Oberlo Chrome extension, unlimited monthly orders, plus up to 30,000 products.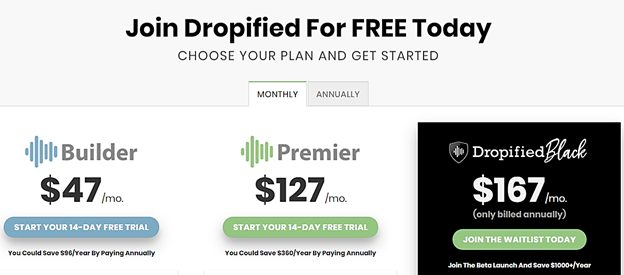 Builder: Le site

Builder package costs $47 per month

when billed monthly or $39 per month when billed yearly. It supports in-app photo editing, AliExpress Captcha Solver, order fulfillment monitoring, 1-click auto fulfillment, bulk editing product option, import product reviews from Vendor, 1-click save for later, save original product information, product customization, product and inventory sync, filter orders, filter products with ePacket, dynamic Facebook feeds, product availability updates, price change auto-updates, 5 user accounts, unlimited orders per month, 50 product boards, 15,000 products, and 1 store.
Premier: Le site

Premier package costs $127 per month

when billed monthly or $97 per month when billed annually. It combines all the features on the Builder plan with TubeHunt, CallFlex, unlimited high-speed captcha solver, advanced profit dashboard, 25 user accounts, unlimited orders per month, 250 product boards, 50,000 products, and 5 stores.
Dropified Black: Dropified black is billed annually at $167 per month. This supplements all the features in the Premier plan with quarterly Dropified black magazine, Dropified marketplace – 1st access, Dropified fulfillment – 1st access, group volume pricing for high-quality products, GrooveKart platform: 3-month pass, regular sample kits sent out, plus a masterclass membership.
Oberlo vs Dropified – The Ultimate Verdict
Oberlo is great, and so is Dropified. But, as we've seen from all the features we've covered so far, they are not exactly identical. Oberlo is the simple version while Dropified's advanced capabilities place it at a slightly higher level.
Qu'est-ce que cela signifie pour vous ?
Well, to tell you the truth, you'd be better off with Oberlo if you're just getting into the world of dropshipping, or you happen to run a small business as a solo merchant
Pourquoi ?
Ok, for starters Oberlo has a pleasant, easy-to-use interface, especially compared to alternatives like Aliexpress dropshipping. And most importantly, it packs all the standard tools that a typical drop shipper might need, with each of them optimized for simplicity plus increased convenience.
So, in a nutshell, Oberlo should help you get your Shopify drop shipping business up and running, with most of its suppliers being sourced from AliExpress. That said, now that Shopify owns Oberlo, it doesn't feel like a top priority….
And as for Dropified, I'd say it's reserved for growing dropshipping businesses. And who doesn't want to grow? Objectively, Dropified is the better solution.
I'm talking about the merchants who run multiple stores on either Shopify, WooCommerce CommerceHQ, or gearbubblePRO. The Dropified platform provides just what they need for automated handling of bundled products and orders across different online marketplaces.
Conclusion : If the limit of your ambition is to scale a basic Shopify dropship store, then Oberlo will do just fine. However, as soon as you aim a little higher for deep product sourcing and/or other ecommerce platform channels, Dropified is the CLEAR choice here. It's certainly the BEST Oberlo alternative I've found.
Frequently Asked Questions About Dropified vs Oberlo
Ok, over to you know. Which of these two would you pick and why?
Further Reading on Dropshipping Plugin and Dropshipper Supplier Options: