Last Updated on July 25, 2022 by DMEditor
With over 330,000 web hosting providers in the world, how do you choose? You want to have a reliable host with security you can trust. If your website is down, it can't help you get the word out about your business, and you can't bring in more revenue. There are many confusing terms and jargon you might see online when looking for the best hosting, but we're here to help.
In this article, we will go over Kinsta vs Bluehost to see which of these popular hosting companies gives you the most bang for your buck.
Kinsta vs Bluehost – Main Differences
The main differences between Kinsta vs Bluehost include:
Kinsta is faster to adopt new technology, whereas Bluehost is a little slower to jump onboard
Kinsta has a very fast response time, whereas Bluehost is good—but not as good as Kinsta
Kinsta uses hardware firewalls and other important in-house security measures, whereas Bluehost relies on outside security
Kinsta has a very knowledgeable support team, whereas Bluehost's team didn't seem knowledgeable despite their speedy response
Kinsta vs Bluehost: Kinsta Review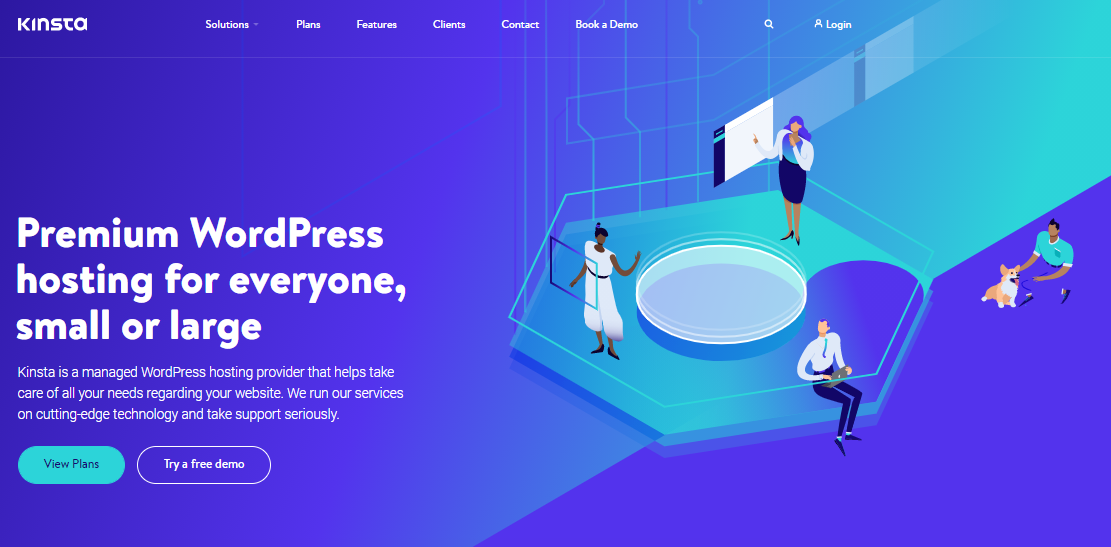 In 2013, Mark Gavalda founded Kinsta. Kinsta is a managed WordPress hosting company out of Los Angeles and is powered by Google Cloud Platform.
Kinsta proclaims that its promise is to provide the best WordPress hosting in the world. That's a tall order, but they're doing their best to back it up and to offer great results for their clients. Being on the premium tier of the Google Cloud Platform makes it much easier for them to deliver on their promises.
The people that run Kinsta understand that speed is key, and now that the Google algorithm admits to using speed as a ranking factor, it's even more important.
Kinsta has 28 data centers around the world and is more than happy to help you migrate your existing sites to their servers for absolutely free—unlike Bluehost, who will charge you a whopping $149.99 or more to bring your website to their servers.
If you value security, you'll love that Kinsta provides security free of charge within their plan. You also get a performance monitoring tool when you come onboard with Kinsta, which many people value more than the price of the monthly subscription fee.
Pros
Only focuses on WordPress hosting
Fast servers
Knowledgeable customer service
Cons
More expensive than some other hosting providers
Kinsta vs Bluehost: Bluehost Overview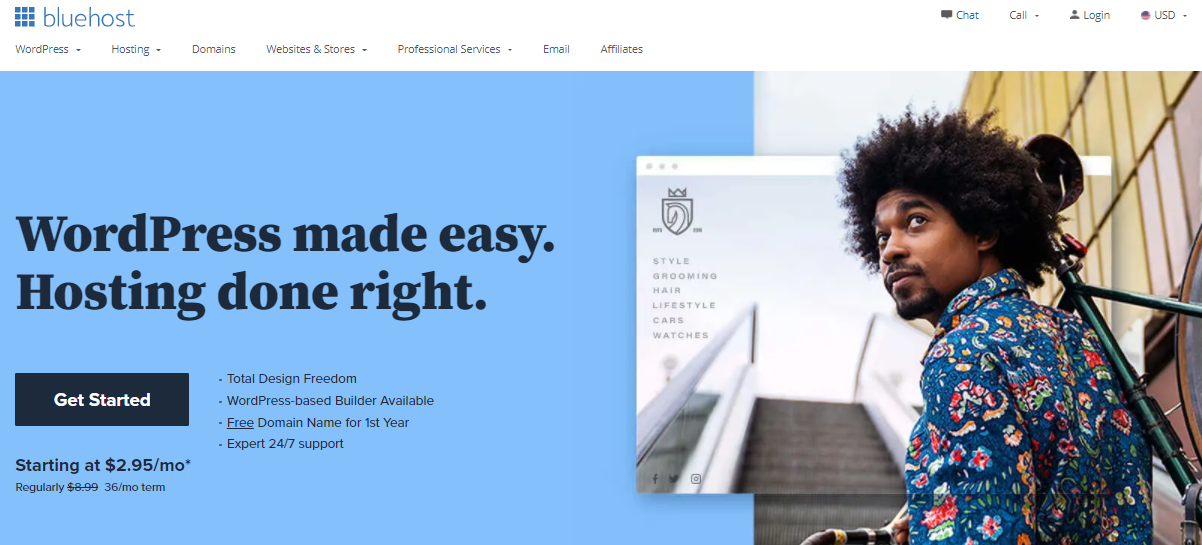 In 2003, Matt Heaton and Danny Ashworth founded Bluehost in Provo, Utah. They have quite a jumpstart on Kinsta, so they are definitely hosting many more websites than the newer web hosting company.
Bluehost is one of the most well-known and popular hosting companies due to its price and the amount of time it's been around.
The almost 20-year-old web hosting company is proud to say it hosts over 2 million websites and supports thousands of those members each day.
Bluehost says they are committed to WordPress and are proud of their 10-year partnership with the popular content management system. They have in-house experts that specialize in WordPress, so if that's your platform of choice, they can help you out.
Pros
Budget-friendly
A long track record
Quick customer service
Cons
Only offers annual—or longer—hosting plans when you start out
Charges to migrate your website
Starter Pick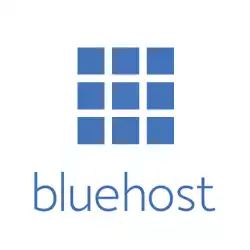 Why I Chose Bluehost?
It's a very affordable hosting solution, Bluehost allows you to build a site with WordPress which gives you complete control and flexibility over your website.
View Bluehost Promos & Discounts
We earn a commission if you click this link and make a purchase at no additional cost to you.
Kinsta vs Bluehost: Which One Is Easier to Use?
If you're not a tech wizard, you might not want all of the widgets, gadgets, and fancy bells and whistles a developer would want. Your goal might be to find the easiest-to-use hosting provider that will allow you to get your website online.
Most people are familiar with cPanel hosting if you've ever had a website before. It's a very friendly interface that is self-explanatory most of the time. Bluehost uses cPanel, and Kinsta does not use cPanel. Kinsta actually uses their own dashboard—which they are pretty proud of.
The good news is that the Kinsta dashboard is very user-friendly, and it offers a lot of great features you can use to make sure your website is operating at its best.
Both cPanel and Kinsta's dashboards are easy to use. If you've never used either dashboard before, it won't matter if Kinsta has its own way of doing things because you won't have to unlearn cPanel.
Either way, don't let the lack of cPanel keep you from choosing Kinsta because their customer service is amazing and can walk you through each step of the way.
Kinsta vs Bluehost: Which One Can Make Your Website the Fastest?
Since the average human's attention span is around 8 seconds, your website needs to be blazing fast. If they have to look at a blank screen while your website is loading—they won't look at it for very long—and you'll have lost a potential customer.
Kinsta is set up to help you serve your website the fastest way possible using their extensive knowledge and focus on WordPress. They jump on all updates and upgrades quickly so they can keep your site humming along as quickly as possible.
With Kinsta, you get SFTP and SSH as well as server-based caching, and their DNS is faster than Bluehost's DNS.
Pricing for Kinsta vs Bluehost
If you're a bargain hunter, then you might feel drawn to Bluehost like a magnet. Yes, their hosting is one of the lowest per month when you get started, but keep in mind that it will renew after the year at the normal rate. Let's look at the ways both companies price their hosting.
Kinsta Pricing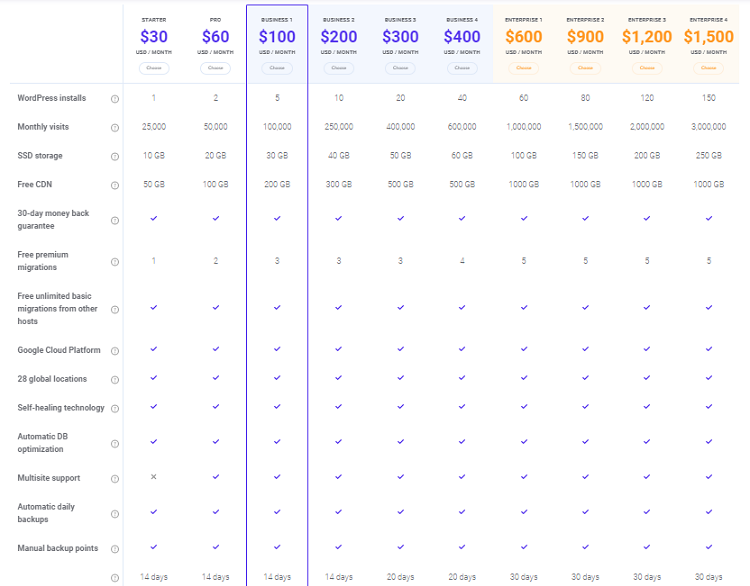 You have many pricing options with Kinsta, so if you're just starting out, you don't have to fork out a lot of money right away. As you grow, you can continue to upgrade your package as necessary. Here are the prices, and unlike Bluehost, you can choose to start off paying your hosting plan on a monthly basis.
Starter – $30 per month gives you 1 WordPress install, 25,000 visits, and 10 GB of disk space
Pro – $60 per month gives you 2 WordPress installs, 50,000 visits, and 20 GB of disk space
Business – $100 per month gives you 5 WordPress installs, 100,000 visits, and 30 GB of disk space
Business 2 – $200 per month gives you 10 WordPress installs, 250,000 visits, and 40 GB of disk space
Business 3 – $300 per month gives you 20 WordPress installs, 400,000 visits, and 50 GB of disk space
Business 4 – $400 per month gives you 40 WordPress installs, 600,000 visits, and 60 GB of disk space
Enterprise – $600 per month gives you 60 WordPress installs, 1,000,000 visits, and 100 GB of disk space
Enterprise 2 – $900 per month gives you 80 WordPress installs, 1,500,000 visits, and 150 GB of disk space
Enterprise 3 – $1,200 per month gives you 120 WordPress installs, 2,000,000 visits, and 200 GB of disk space
Enterprise 4 – $1,500 per month gives you 150 WordPress installs, 3,000,000 visits, and 250 GB of disk space
Custom – If you really need more, you can contact support to find out more about other options
If you pay annually, they do give a discount, but they don't outline it clearly.
Basic – $3.95 per month on a 36-month term – normally $8.99, 1 website, standard performance, 5 email accounts, 50 GB website space
Plus – $5.95 per month on a 36-month term – normally $11.99, Unlimited websites, standard performance, unlimited email accounts, unmetered website space
Choice Plus – $6.95 per month on a 36-month term – normally $16.99, Unlimited websites, standard performance, unlimited email accounts, unmetered website space
Pro – $13.95 per month on a 36-month term – normally $26.99, Unlimited websites, high performance, unlimited email accounts, unmetered website space
Obviously, you can spend some pretty serious money with Kinsta if you have a bunch of websites. On the other hand, you can have unlimited websites with Bluehost and still keep your budget in check. Even so, keep in mind that the level of quality is very different from Kinsta to Bluehost, with Kinsta coming out on the high-quality side of things.
Is Kinsta or Bluehost Better for Hosting Your Website?
The main thing you want to know is whether Kinsta or Bluehost will host your website the best. You want to have it all from security, speed, and ease of use. Kinsta continues to come out on top with their features and everything they bundle with their monthly price.
If you simply can't afford to start with Kinsta, Bluehost will allow you to get started with your blog, and you can always switch over to Kinsta whenever you have more money in your budget.
Other Popular Hosting Companies
If you can't make a decision between Kinsta vs Bluehost, you might even choose to go with one of the other popular hosting companies. Here are some of the top companies that many people true to host their websites.
Hostgator
GoDaddy
SiteGround
DreamHost
FAQs
Question: What is Web Hosting?
Answer: Web hosting basically holds your website on their computer and allows people to access it by going to your website domain.
Question: What is the Difference Between Hosting and a Domain?
Answer: Think of hosting as where your website lives and the domain is the address.
Question: Is it Important to Have Fast Web Hosting?
Answer: Yes. Since Google announced it uses website speed in its search ranking algorithm, it's extra important to have a fast website.
Kinsta vs Bluehost: Which Hosting Company Comes Out on Top?
Now that you know more about Kinsta vs Bluehost, you may be leaning toward one or the other. In my opinion, if I was just starting out, I might go with Bluehost just to keep costs low. However, if I had enough cash to splurge and go with Kinsta, I would do my best to get set up with Kinsta so I could have the best hosting available for my WordPress website.
Kinsta is the clear winner, but Bluehost is a safe bet for the budget-conscious. If you need more help, check out our article on how to find the best hosting for your website.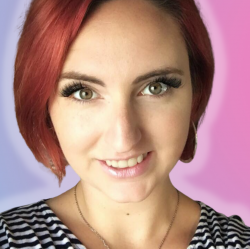 Latest posts by Jessica Lauren Vine
(see all)
Get 40% OFF for 3 Months