Last Updated on February 20, 2022 by DMEditor
Do you experience challenges with managing your business tasks and are looking for an efficient way to achieve your organization's goals? Business success is tied to your ability to manage your projects well and avoid any costly errors. According to a survey by the Project Management Institute(PMI), organizations waste about two trillion dollars every year due to poor project management practices. Using project management tools like Notion vs Trello is one way to ensure that you complete your projects within the budget and on time.
This article will compare Notion vs Trello to see what sets these tools apart. We will look at their features, prices, differences, and more to help you pick the best one for your business.
Bottomline Upfront – Notion is my preferred choice since it is a more complete project management tool, with outstanding features to help you manage projects better. It has a free trial that allows you to test its functionality before committing to the paid version.
Main Differences Between Notion vs Trello
The Main Differences Between Notion vs Trello are:
Trello is a Kanban-based platform solely focused on project management, whereas, Notion is a comprehensive and dynamic content platform.

Notion relies on templates to get started, whereas Trello uses Kanban to move tasks through a pipeline as the project progresses.

Notion can work on various operating systems, such as Windows OS, Mac OS, Android, and Web, whereas Trello works well on Windows OS, Android 5.1+, and Web.

Notion is primarily a file management tool that includes note-taking abilities, whereas Trello is a list-making app that assists with team collaboration, productivity software, and task/project management.
Trello offers 250 MB of file storage with the standard account, whereas Notion offers unlimited file uploads after paying a specific price.
What is Notion?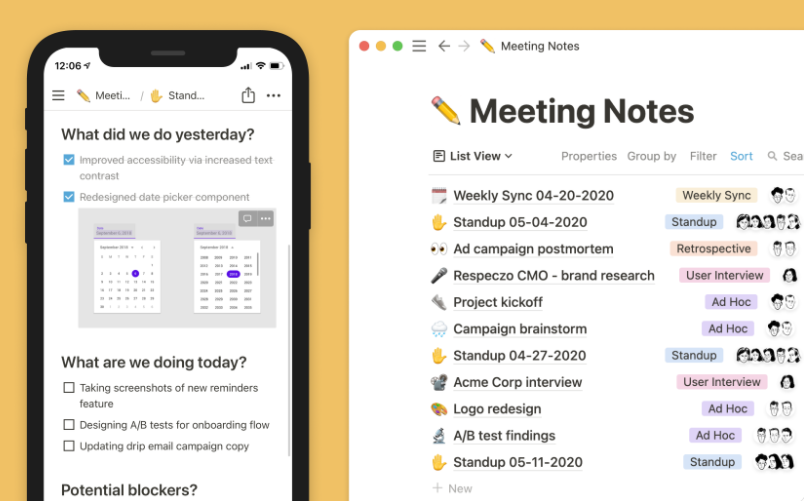 Notion is a single workspace where you can plan, write, collaborate and get organized. The app allows you to take notes, add tasks, and manage projects.
It has an integrated calendar, making it easy to stay on top of your schedule. At the same time, a customizable sidebar enables you to organize your content into specific areas of focus. It works across all platforms, such as Android, iOS, Mac, Windows, and Web.
Pros of Notion
Navigating through the Notion interface is fast and easy

Notion offers a free trial so that you can decide whether the app is right for you

You can access your Notion account from any device such as mobile, desktop, or the internet

Notion is full of outstanding and essential features that help you keep track of your projects

The app allows you to have everything in one place. You no longer have to switch between windows and tabs — instead, you can get all the information you need by simply clicking on a single notepad
Cons of Notion
The free version has limited features

It is a bit complicated and takes time to set up

The notifications feature does not work if you do not use it frequently

It has a steep learning curve making it an unfavorable option for immediate use
What is Trello?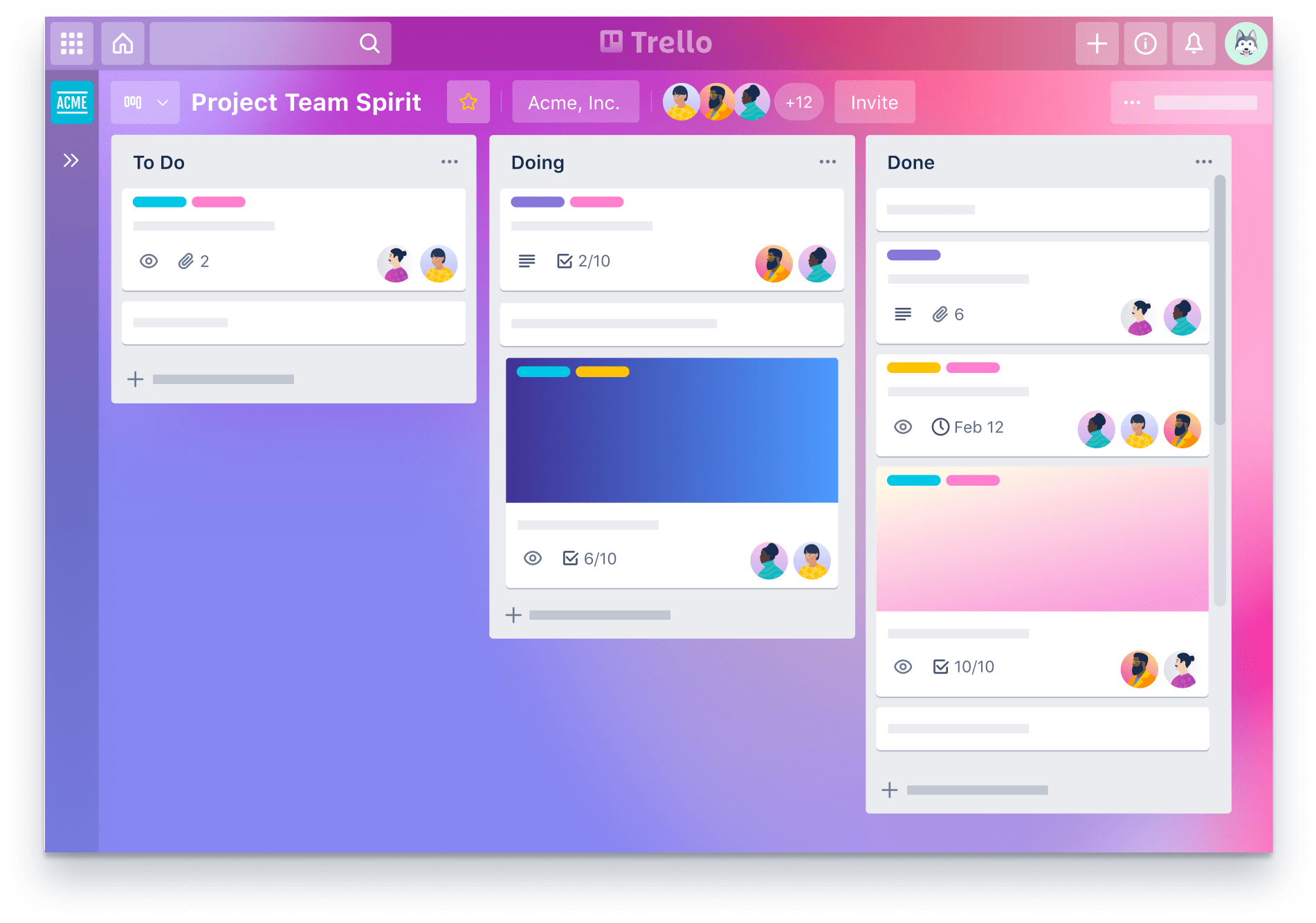 Trello is a top project management tool that organizes information into cards, lists, and boards. Each card represents an action item or a piece of information you need to remember.
Trello is an online project management tool for individuals and small teams, which allows you to collaborate on tasks from anywhere using its practical and straightforward approach. It offers a superb, user-friendly interface that will enable you to manage everything online without downloading or installing any software.
Pros of Trello
Trello sends you instant notifications about any task updates or comments

The tool works in real-time, allowing team members to work on one project simultaneously

It uses the

Kanban system

, allowing you to break a project into smaller tasks for easier management

Trello has an excellent web design which enables it to work on any device no matter the screen size

It is easy to add new team members to the site
Cons of Trello
You cannot work on the platform without internet access

It has limited storage for its free users allowing only 10MBs of uploads

It is not suitable for large projects

Trello does not give you the option to make edits on the comments you make on the cards
Notion vs Trello – How Do They Compare?
Customization
In Trello, you can customize tasks and processes specific to the project at hand. This ensures that you work on your assignments while keeping your workflow organized in a way that will suit your team.
When using Notion, you can adapt it to the look and feel of your business. You can create a workspace to match your brand's visual style or let your team's personality shine through with a custom theme.
Automation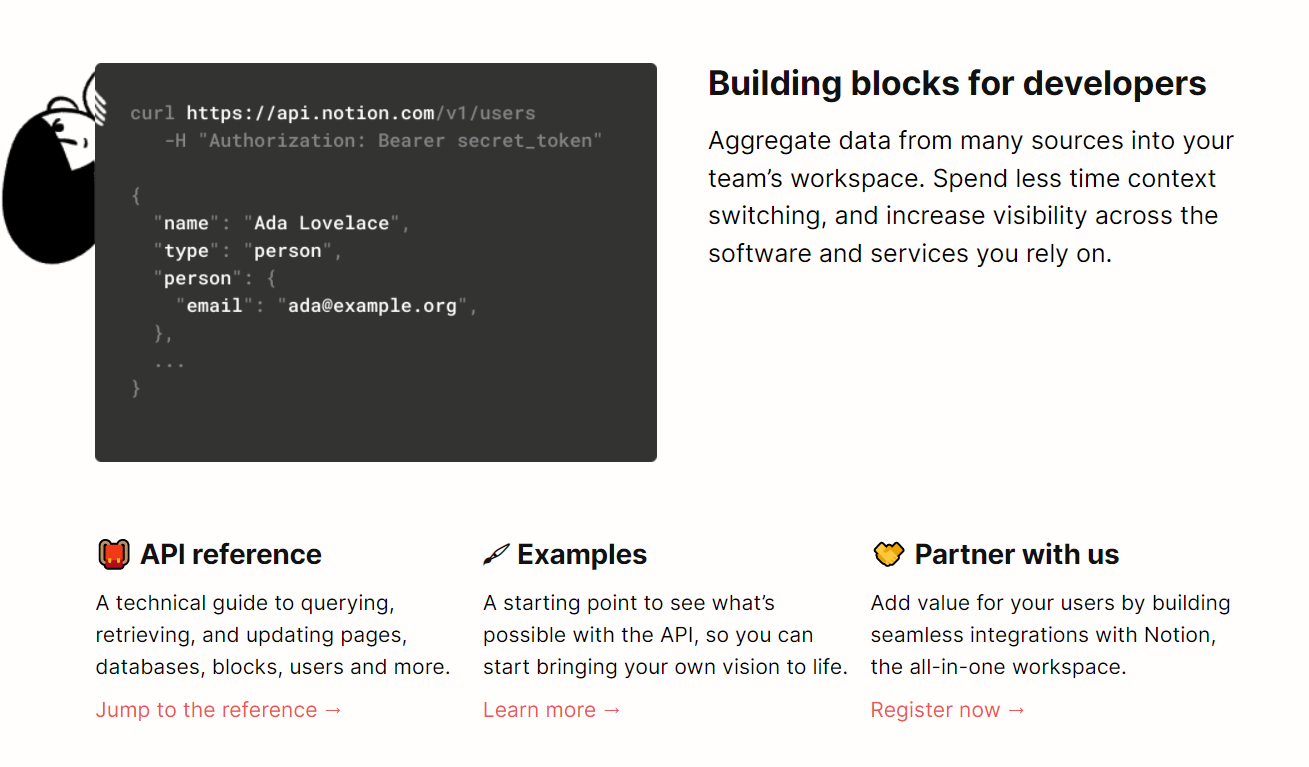 With the Notion API, you can keep your workflow automated and always have your information in one place. It allows you to connect Notion to Google Calendar for fast scheduling and Todoist for quick capture or send emails to Notion from any of your favorite apps.
Trello's built-in automation system can be a powerful way to plan and manage your workflow. By using Trello's Butler app, you can automate almost any action on the platform, from commands to automatic rules, to streamline the way your team works.
Integrations
Notion integrates with tons of tools to simplify your daily workflow. For example, it easily connects with web and email tools like Gmail and Google Drive. You can also connect Notion to services like Typeform and Twitter for your form building, online surveys, and social media interactions.
Trello integrates seamlessly with your team's favorite apps such as Slack, Dropbox, Outlook, Gmail, Salesforce, InVision, and Jira. For example, you can use Slack to collaborate with your coworkers and integrate Dropbox with Trello to share files.
Trello also lets you create bespoke workflows for your business needs by adding Power-Ups to your boards. Power-Ups can turn your Trello boards into anything from customer support ticketing systems to social media calendars and more.
Ease of Use
Notion makes finding and managing all kinds of information simple. It combines documents and other types of content — photos, lists, contact info, or memos – in a single place. Notion lets you drag and drop these elements to arrange them in a particular order. Its nesting pages feature ensures that you can easily access any information you need quickly.
Trello is an excellent tool for teams looking for a simple, intuitive platform to manage projects and tasks. It does not matter if you are starting a new project, onboarding a new team member, or working on a new job. Everything is simple and easy and only takes a few clicks.
Team Collaboration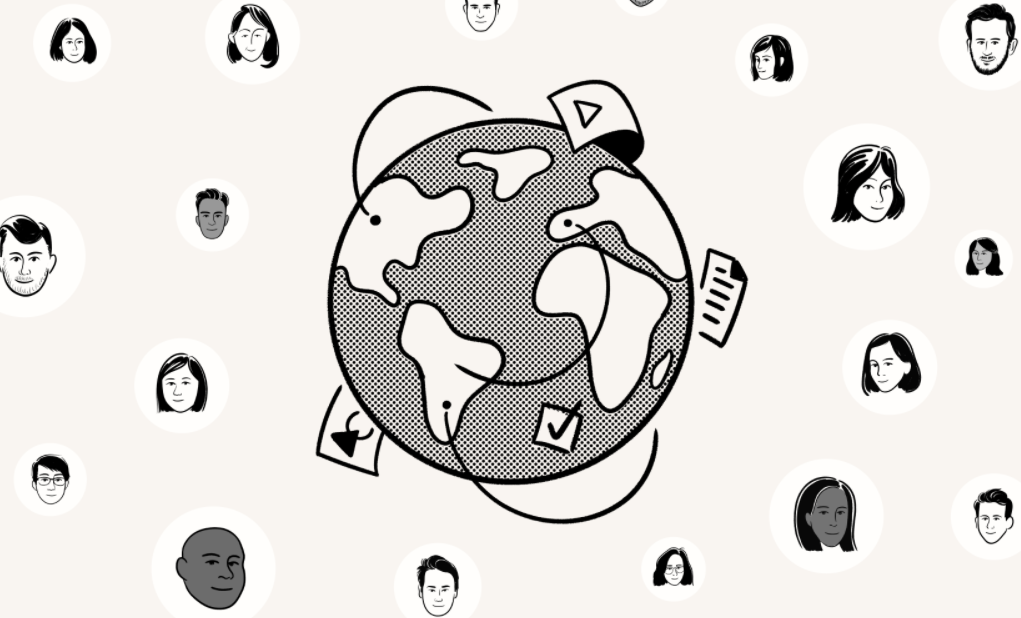 Notion allows you to work on a particular project, share ideas, and work together with your colleagues in the same place. You can use Notion as a personal note-taking tool and group collaboration software. The notion has intelligent synchronization, which saves all changes made immediately across all devices.
Trello includes a wide range of collaboration tools to help employees work faster and more efficiently. Managers can assign team members to specific tasks, so users always know their schedules. Users can also comment on jobs, tag fellow teammates, and keep tasks centralized to each project.
Mobile App
Notion mobile apps help you review and change your projects without any hassles. The features within the Notion applications enable you to stay organized even when you are not in front of your computer. Notion is available for both Android and iOS devices.
With the mobile app version of Trello, you can do just about everything you can do with the desktop version. The mobile app is more efficient than the desktop version because it is easily accessible no matter where you are. Trello's mobile app keeps you in touch with the team at all times.
Customer Support
Notion provides several ways to contact its customer support team. In addition to email and live chat, you can also ask questions on the help page or via online chat.
With its excellent tutorials, guides, and webinars, Trello is highly effective for beginners and more advanced users alike. It even adds interactive tutorials at startup to help users get started. To get in touch with customer service, you can use the contact form on the support page.
Multiple Views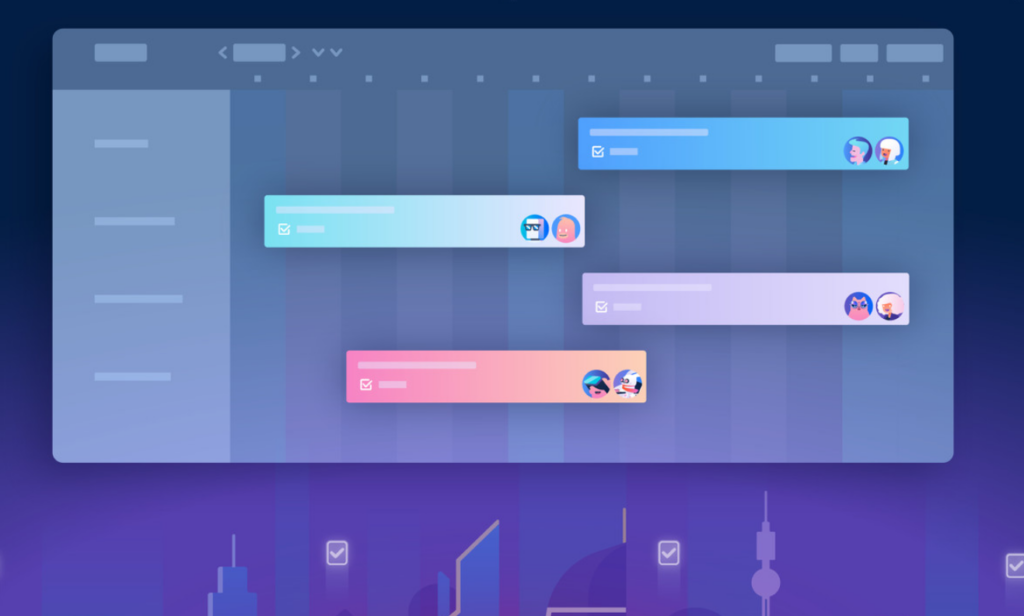 With Notion, you can easily switch between views such as Calendar view, Kanban view, Gantt view, Chart view, and so on. You can also customize any of these views further based on the information you want to show.
Trello enables you to see your projects from every angle. You can get an overview of all tasks and sub-tasks with the Board view, zoom in on specific tasks with the Table view, or track your progress by viewing them through a Calendar view.
Time and Task Management
Notion allows you to see all the activities in your projects across all team members. Tasks are color-coded according to their status, making it easy to distinguish between jobs that are still in progress and those completed. There are three color statuses for clarity: Green means the task is complete. Yellow means uncompleted or ongoing job; Red means that the task is overdue or needs follow-up.
Trello makes it easy to assign tasks and monitor time spent on each task. It also allows you to attach notes and files to tasks, which can be very useful when working with clients or teams in different locations.
Pricing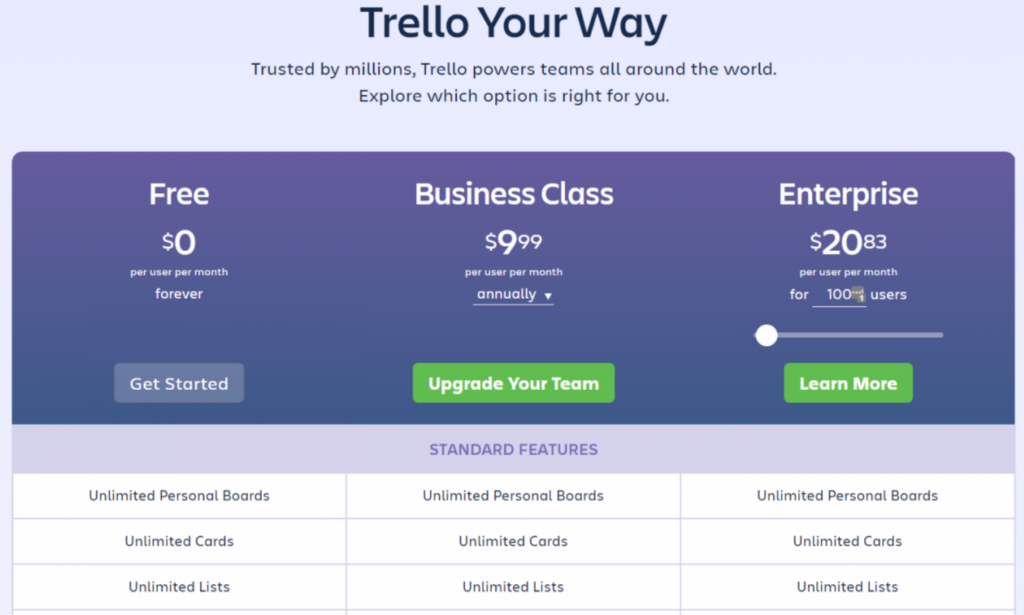 Trello offers a free plan and three different paid plans, as shown below.
Free plan

– This plan lets you have unlimited lists, cards, members, and attachments with 10MB storage space per file.

Standard plan

– $5 per user per month (billed annually) – the standard package offers everything in the free plan plus unlimited boards, advanced checklists, and custom fields. You also get unlimited storage of up to 250MB per file.

Premium plan

– $10 per user per month (billed annually) – this plan includes everything in the standard plan plus multiple views, unlimited workspace, command runs, higher admin and security features, and so on. It also offers a free trial.

Enterprise plan

– $17.50 per user per month (billed annually) –includes everything in the premium plan plus unlimited workspaces, organization-wide permissions, and so on. The $17.50 price is for a minimum of 25 users. This price decreases when you add more users up to a limit of five thousand users.
Notion offers one free and three paid pricing plans, as shown below.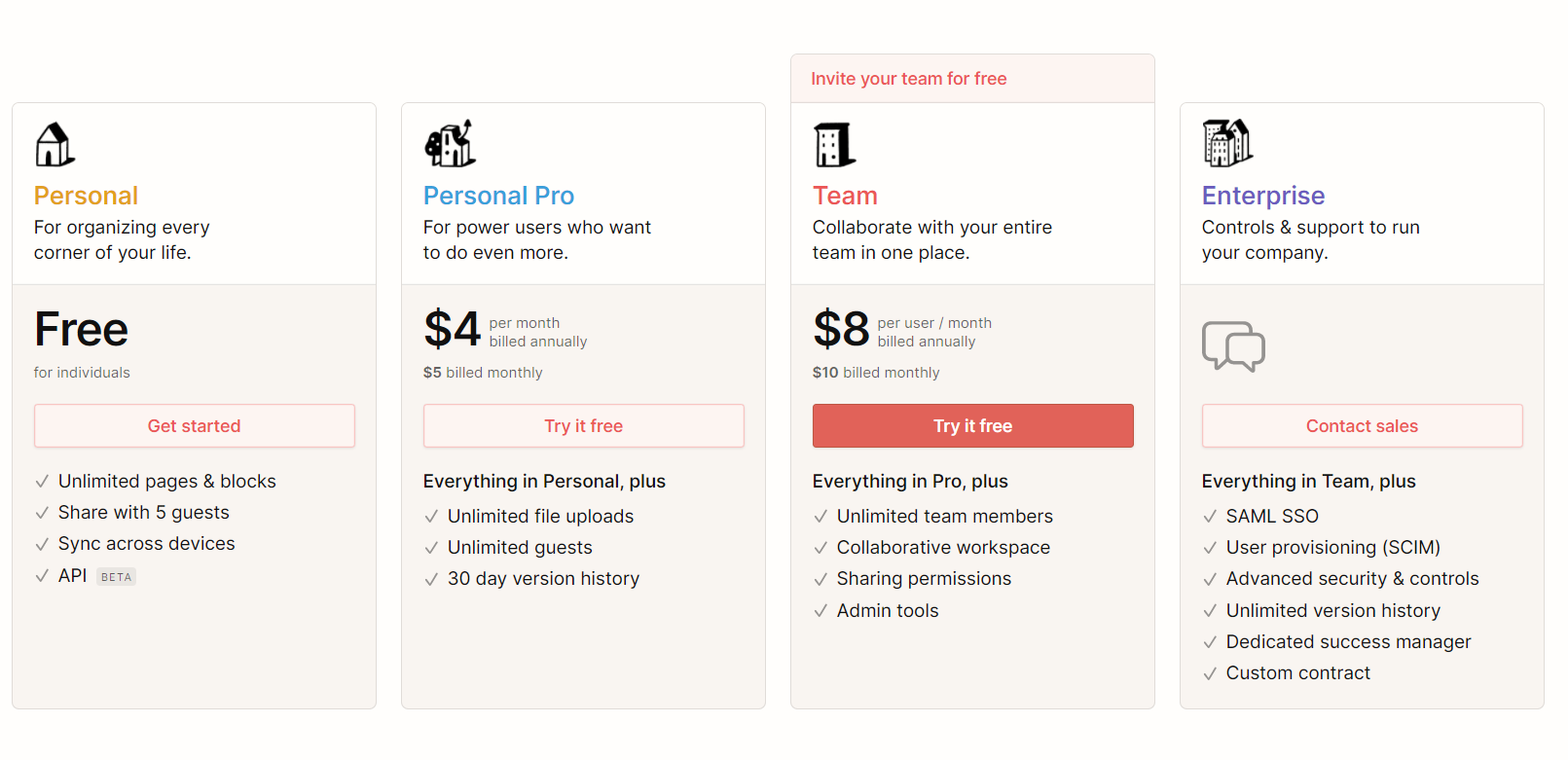 Personal plan

– free and comes with unlimited pages and sync across multiple devices. It also allows you to share with up to five guests.

Personal pro plan

– $4 per month – It includes all the features in the personal package plus unlimited guests and file downloads. You can also access a 30-day version history.

Team plan

– $8 per user per month – Lets you invite team members and collaborate with them in one place. Its features include everything in the personal pro plan, sharing permission, and several admin tools.

Enterprise plan

– This plan provides you with support and the control to run your business. It includes everything in the team plan, advanced security controls, unlimited version history, dedicated success manager, etc. To get this plan, you need to contact the sales team for customized pricing.
Frequently Asked Questions About Notion and Trello
Question: Does Notion provide both monthly and yearly billing options?
Answer: Yes. Notion offers two billing plans: monthly or yearly. Most plans cost significantly less if you pay for them yearly instead of monthly. For example, the Team plan costs $10 per member per month when paid monthly but only costs $8 per member per month when paid yearly.
Question: Are third-party apps that integrate with Trello covered by its privacy policy?
Answer: No. Trello does not control third-party apps and services, so its privacy policy does not cover them. To learn more about how third-party apps use your information, you need to review their policies.
Question: Is Trello a good project management tool for my business?
Answer: Yes. Trello is a Kanban-based project management software that makes collaboration and task management simple. The software is excellent for all kinds of projects and teams, whether you are a small business owner or a large corporation. It has an extensive list of features, but its real strength lies in the convenience put into its design.
Question: Does Notion guarantee the security of my data?
Answer: Yes. Notion encrypts your data at all times and stores your credentials and information safely. It uses industry-tested standards and accepted protocols like TLS 1.2 to encrypt communication between users' browsers and the Notion platform. It also encrypts your database connection credentials and your data at rest using the AES 256-bit encryption.
Conclusion
Notion and Trello are excellent project management tools with a lot in common. Both have free versions, are cloud-based, and are available on all major platforms. Notion is a bit more flexible regarding the media you can use to organize your tasks – you can manage them a bit more freely. Trello offers more pre-defined card types that are pretty good for everything.
Overall, my choice is Notion, a more complete project management app that does not just focus on Kanban like Trello. You can also get cheaper pricing options for teams using Notion. In addition, Notion includes the power of Kanban project management, with the convenience and value of a digital platform.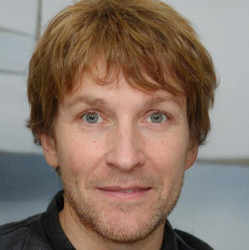 Latest posts by John Hughes
(see all)
Get 40% OFF for 3 Months