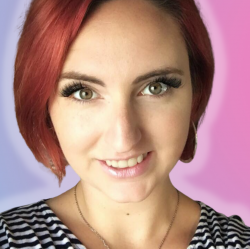 Latest posts by Jessica Lauren Vine
(see all)
Last Updated on January 21, 2022 by DMEditor
There are a lot of uses for Clickup vs Notion. I personally use Notion to keep track of ideas, write out morning brain dumps, and as my "second brain." It's hard to remember everything and Notion makes it easy. However, there are many people that use Notion and Clickup with their teams, so I am going to go through their details, pros, and cons, and more so you can see how they can help you whether you want to use them solo or with your team.
Bottomline Upfront
I think that Notion is a great tool for individuals and teams. I didn't see anything with Clickup that would make me want to switch to them over Notion.
Main Differences Between ClickUp vs Notion
The main differences between ClickUp vs Notion are:
ClickUp has 90+ features, whereas Notion has 40+ features
ClickUp supports 53 integrations, whereas Notion supports 15 integrations
ClickUp has a client portal, whereas Notion does not
ClickUp has cost-to-completion tracking, whereas Notion does not
Notion Overview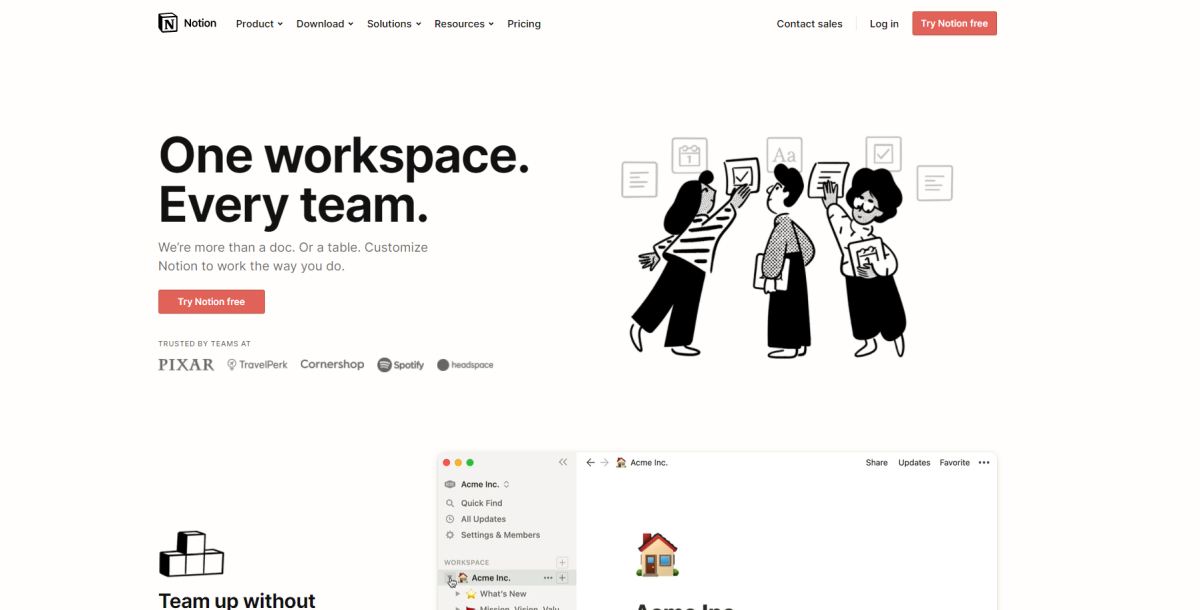 Notion was founded in 2013 by Chris Prucha, Ivan Zhao, Jessica Lam, and Simon Last. The company is based out of San Francisco. It all started because they had the vision to bring simplicity back into the workplace by using ideas from years gone by. They wanted to help users blend their workflow all into one place. Even though the company started in 2013, they say they need more early adopters to help them get off the ground even more.
Notion has started to be rather trendy lately. It almost seems like Notion is becoming the iPhone of productivity tools.
However they've started to have their growth, I'm glad I found the company and I know I haven't even scratched the surface as far as the features and ways I can use the platform to help me stay more organized and get more done. When you go through more than one Notion review, you'll quickly see there are a lot of options with this project manager software.
Notion Pros
Easy to use out of the box
Nicely displayed information
Great organization
Free personal pro plan
Notion Cons
No way to group rows in a table
A bit of a learning curve for all of the features
Notion Pricing Plans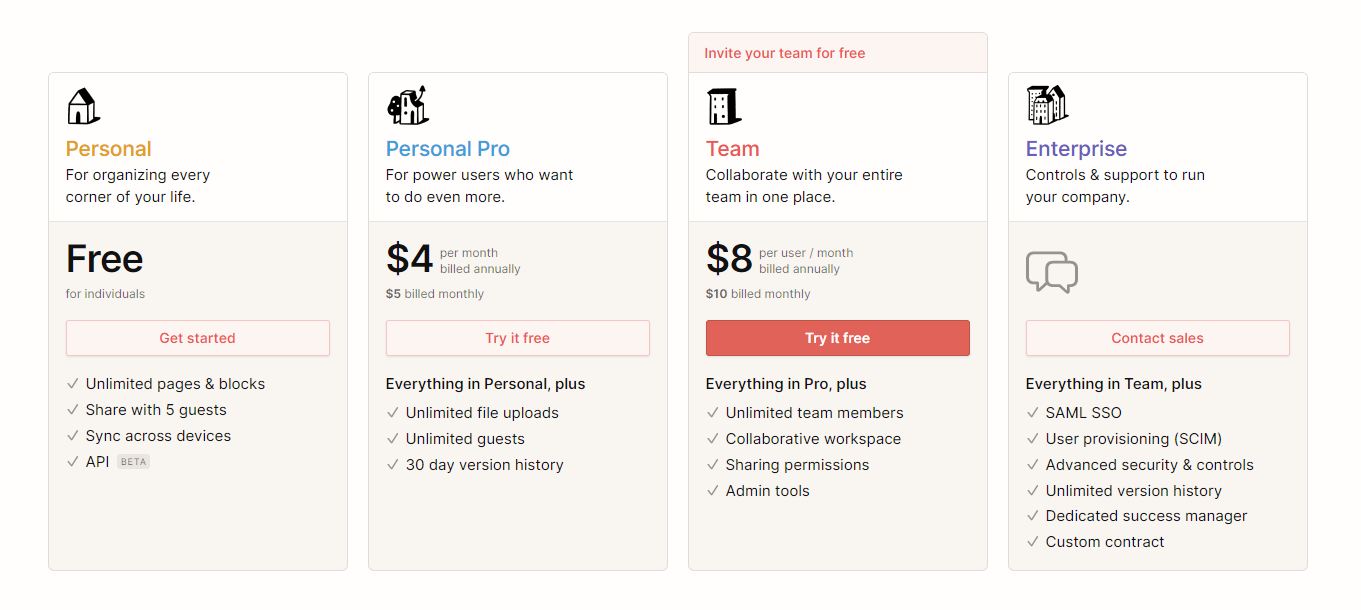 If you only want to use Notion as a personal organization tool, you can actually use it for free. However, if you need to upload more than 5MB of files, want more than five guests, or want 30-day version history, that's when it starts to charge depending on the plan that you need.
Notion Personal Pricing Plan: Free with unlimited pages and blocks, the ability to share with up to five guests, syncing across devices, API
Notion Personal Pro Pricing Plan: $5 per month with everything in Personal plus unlimited file uploads, unlimited guests, and 30-day version history: $4 per month if billed annually
Notion Team Pricing Plan: $8 per month with everything in Personal Pro plus unlimited team members, collaborative workspace, sharing permissions, admin tools – $8 per month if billed annually
ClickUp Overview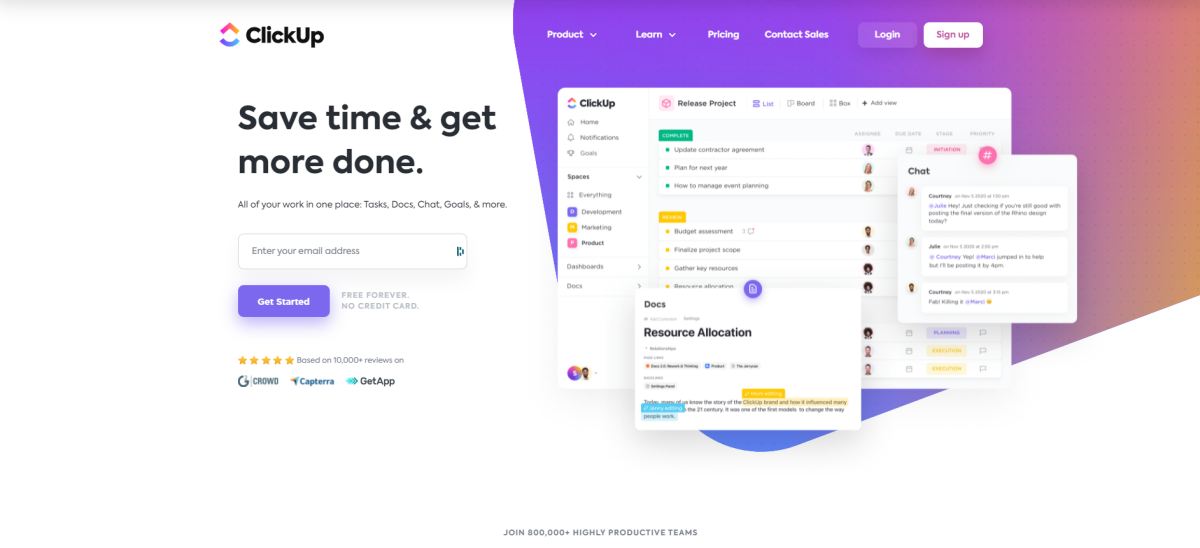 Clickup entered the scene in 2016 and is a for-profit company out of sunny San Diego, California. Founded by Alex Yurkowski and Zeb Evans. They say they love productivity software but they think that productivity is broken. It's too complicated and there are too many tools that make it difficult for people to actually get things done without getting lost in the sauce.
Much like Notion, their goal is to create an all-in-one workplace. They want all of your work to live in ClickUp. They've done very well so far at getting people to see their vision and join them. There are over 800,000 teams that use ClickUp as their project management software. If you read any Clickup review, you'll see that it's a highly popular option that works wonders for teams.
Clickup Pros
Different spaces for different sections of your business
Levels of tasks are all customizable
Easy to schedule things
Easy integration with many other tools
Great customer support
Clickup Cons
New projects appear at the bottom vs the top
Clickup Pricing Plans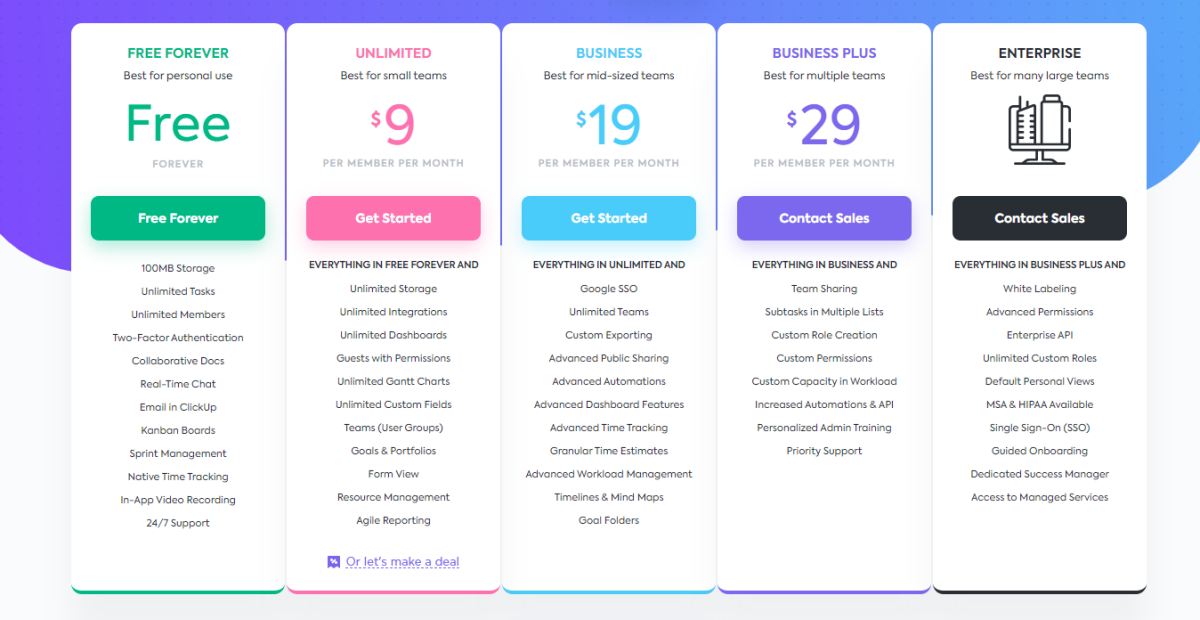 Just like Notion, ClickUp also has a free option for those of us that want to use it for personal use. You get a lot of goodies without having to pay a dime.
ClickUp Free Forever pricing plan: Free and gives you 100MB of storage, unlimited tasks, unlimited users, collaborative docs, real-time chat, email in ClickUp, kanban board options, Sprint management, native time tracking, in-app video recording, 24/7 support
ClickUp Unlimited pricing plan: $9 per member per month and gives you everything in Free Forever as well as unlimited storage, unlimited integrations, unlimited dashboards, guests with permissions, unlimited Gantt charts, unlimited custom fields, teams, goals and portfolios, form view, resource management, and agile reporting
ClickUp Business pricing plan: $19 per member per month and gives you everything in ClickUp Unlimited pricing plan as well as Google SSO, unlimited teams, custom exporting, advanced public sharing, advanced automation, advanced dashboard features, advanced time tracking, granular time estimates, advanced workload management, timelines and mind maps, and goal folders
ClickUp Business Plus pricing plan: $29 per month per member and gives you everything in ClickUp Business as well as team sharing, subtasks in multiple lists, customer role creation, custom permissions, custom capacity in workload, increased automation and API, personalization admin training, and priority support
ClickUp Enterprise pricing plan: You have to call for pricing but it gives you everything in ClickUp Business Plus as well as advanced permissions, enterprise API, unlimited custom roles, default personal views, MSA & HIPPAA is available if necessary, SSO, guided onboarding, a dedicated success manager, and you have access to managed services
There are discounts if you want to purchase on an annual basis.
Is ClickUp or Notion Better for Individuals or Companies?
I like Notion much better for individuals but I see how it can also work great for businesses. However, ClickUp is definitely an impressive project management software. Keep in mind that it can get pretty pricey because it charges you per user.
Alternatives to ClickUp & Notion
You might not have found what you want in ClickUp or in Notion, but there are some amazing alternatives. Keep in mind that some of these won't work if you have different desires for outcomes and different ways you want to do things, but I'll let you know why I included them in the Clickup alternatives and Notion alternatives section.
Evernote
I used to use Evernote and it's still a great place to store all your notes, photos, and other important things. I like that they have a free personal account and everything is easily searchable. I don't find the user interface very attractive and I feel like the organization could be a little better which is one of the reasons I decided to go with Notion instead. I also decided to go with notion because one of my favorite YouTubers, Ali Abdaal, also uses and likes Notion.
Microsoft OneNote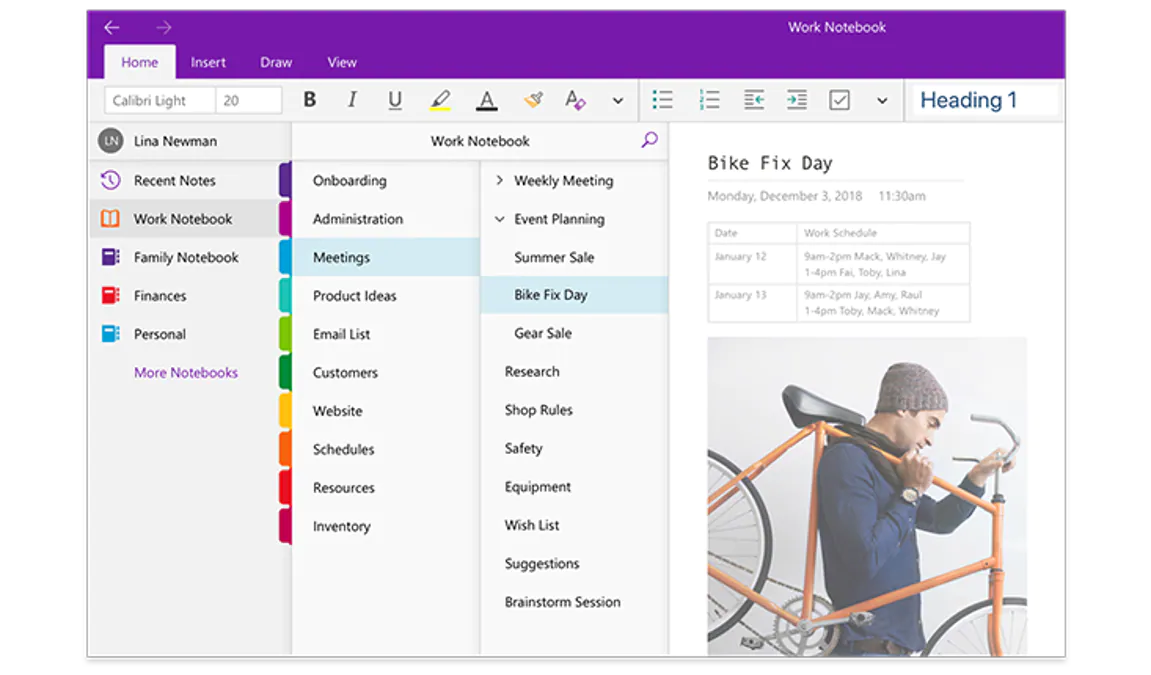 I really like Microsoft products, but they still couldn't get me to go with OneNote vs. Notion. They do have great page templates which can save you a lot of time if you need those. However, I keep things really simple right now so I don't need them and that isn't a pro for me. The custom tags are pretty cool so you can find things you want later. The basic plan is also free.
nTask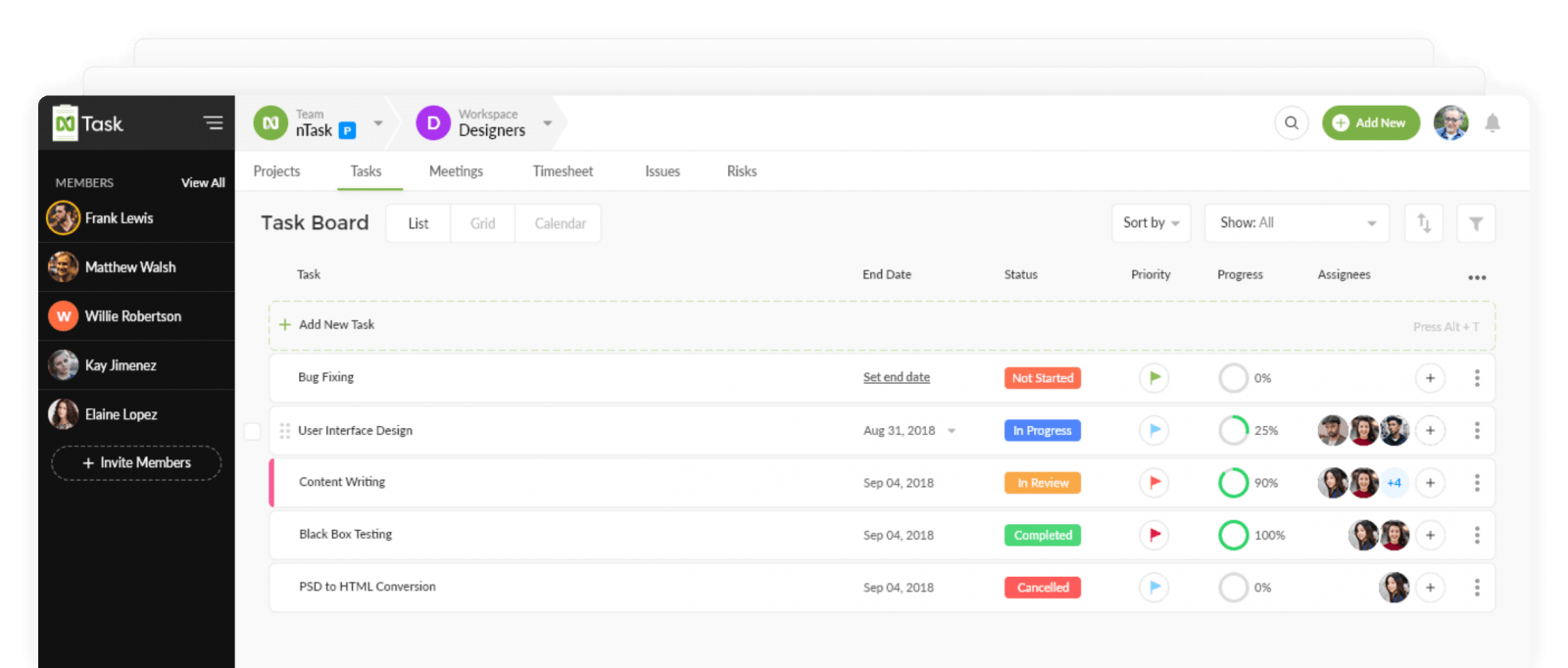 nTask is one of the project management software tools I'd look into a little deeper if I didn't like Notion so much. The task color codes make me happy and being able to clone projects takes some of the repetitive task load off your hands. The basic plan is also free and they have a free 14-day trial if you want to see how things go with the paid version.
FAQs
Question: Does Notion work offline?
Answer: Notion doesn't truly work offline. If you haven't visited a page online before, you won't be able to see it.
Question: Can Clickup replace Notion?
Answer: Yes. If you prefer the way Clickup functions over Notion, it has the features necessary to replace it.
Question: Can Clickup replace Slack?
Answer: Yes. You could replace Slack by using Clickup but it wouldn't work as well as having Slack. Slack is such a specialty team communication tool that you'd notice some shortcomings without it
Conclusion
As you can see, there are a lot of great features that ClickUp has that Notion doesn't and it is no doubt the best project management tool for many businesses. They also have more features and integrations than Notion does. However, for what I need, Notion does a great job and I love the ability to customize and make the space my own. You can add photos like a Facebook banner to give your space some personality and I like that a lot. It might seem simple, but it makes me happy.
I haven't played around with templates as much as I'd like to but so many people love the ability to create such in-depth templates.
While you're here, make sure to check out some of these other great articles that can really help you out.
Our Recommendation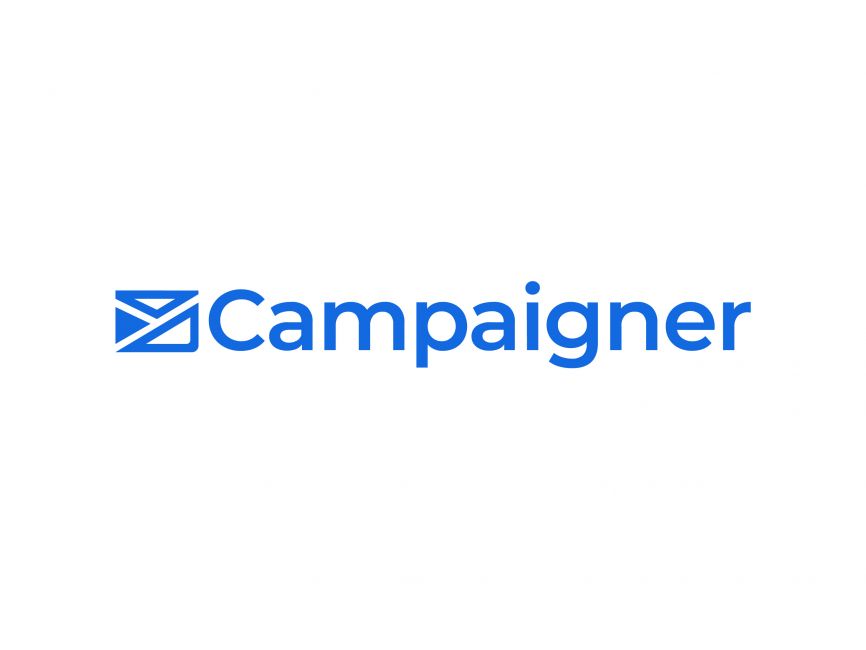 Have Your Heard of Campaigner?
Drive sales and revenue using advanced marketing automation, intuitive reporting and powerful personalization through email and SMS. Try Campaigner for free!
Start Your FREE Trial
We earn a commission if you click this link and make a purchase at no additional cost to you.