Last Updated on September 29, 2022 by DMEditor
It can be challenging to manage a project. Whether that's a small collaborative project by a group of creators or a more complex task for larger businesses, there are a lot of elements to consider. Our ClickUp vs Jira comparison will help you to find the best project management platform for you.
I know from experience, as both a team member and leader, how frustrating it is to try to navigate a complicated project using a cluttered, difficult platform. However, I think that both ClickUp vs Jira have a lot to offer. I'll let you know my thoughts about which one I prefer before going into each one in more detail!
The Bottom Line Up Front
If I had to pick one, I'd go for ClickUp: I prefer the interface, and it's generally a little easier to navigate. I also like the creative aspect of the platform, which personally suits me and the projects I've worked on a little better.
However, I do think Jira is a great platform for larger, more complex organizations.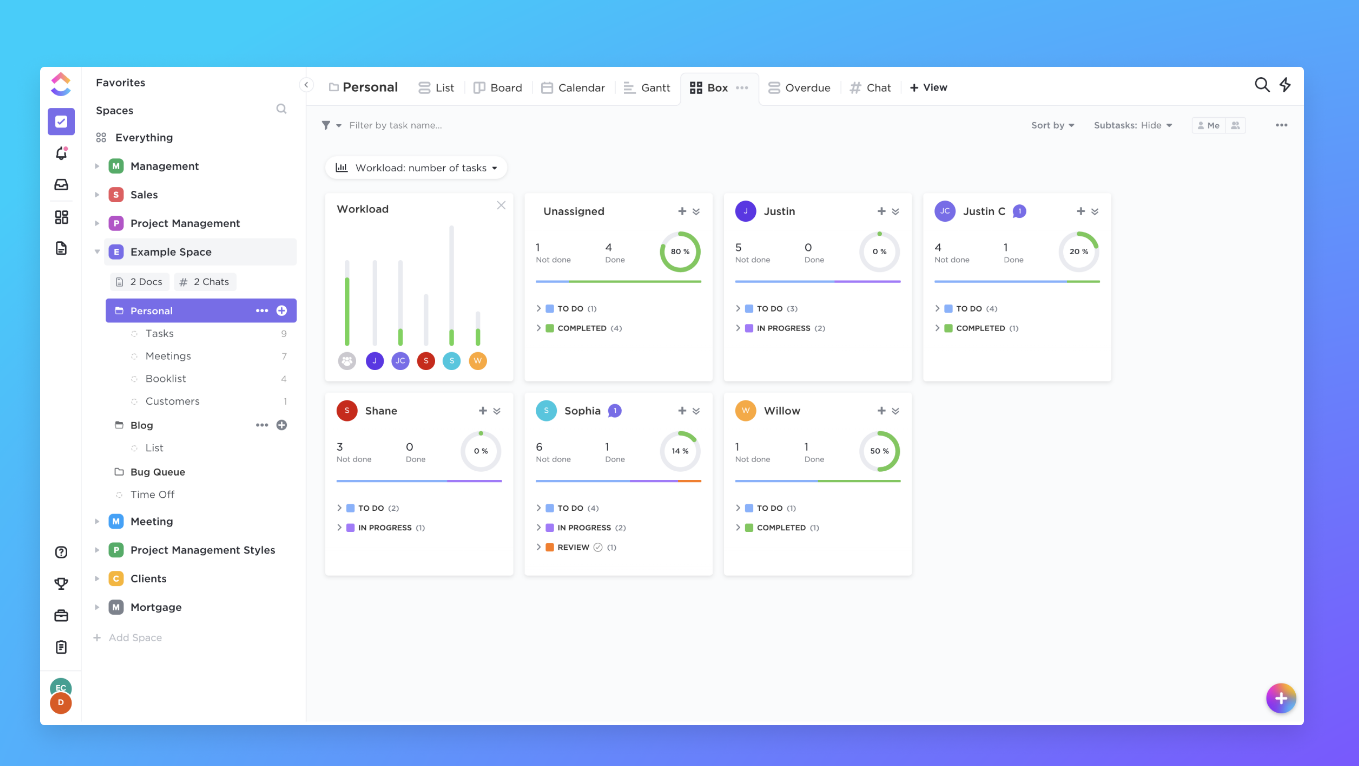 Main Differences Between ClickUp vs Jira
The main differences between ClickUp vs Jira are:
ClickUp's interface is a bit easier to navigate, whereas Jira's is more complex.
ClickUp has a Whiteboard feature to allow for creative collaboration, whereas Jira's Roadmap feature is a little more straightforward.
ClickUp allows you to create documents on the platform, whereas Jira's Project Pages are technically under a different platform.
ClickUp may be better suited for smaller teams, whereas Jira may be better for larger organizations.
What Is ClickUp?
ClickUp is a project management tool. It's designed to integrate other apps, including Google Drive, Zoom, and Slack, to make collaboration with teammates much easier. It allows users to track tasks, watch their team's progress, and communicate more easily.
I'd recommend ClickUp for any sized team, and it has a free plan, so you can try it out before you commit to a paid plan for your whole team. I would say that it particularly suits smaller or more creative teams.
What Is Jira?
Jira is a project management tool that allows you to create boards, create roadmaps, and run reports, all while integrating with other tools, including Slack, Teams, Google Sheets, Excel, Gmail, and Excel.
Jira suits any sized team, but I feel it would work best for larger organizations.
ClickUp – The Main Features
Here's what I think about the main features of ClickUp.
UX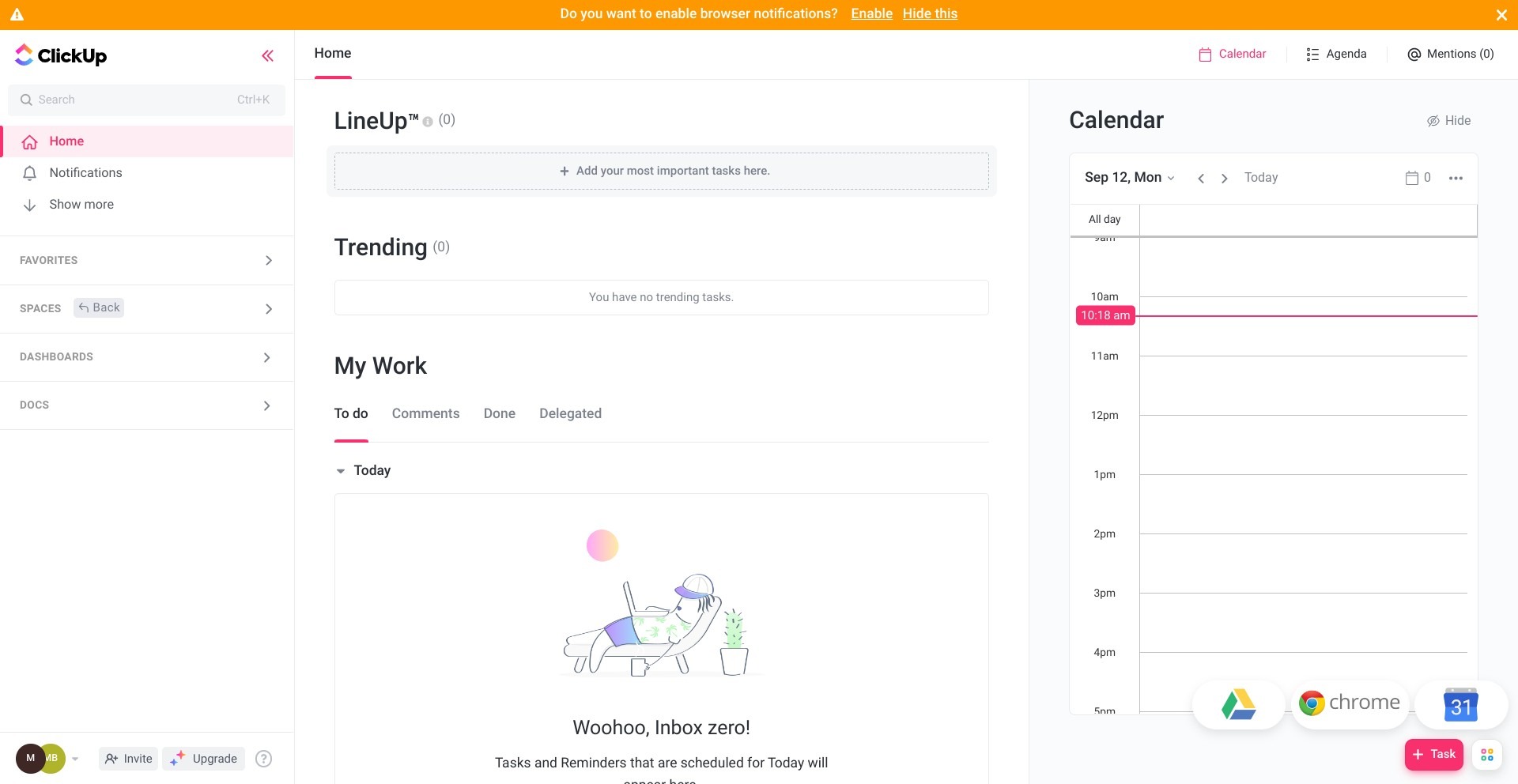 I like the interface of ClickUp. It's not cluttered, it's easy to find everything you're looking for, and it's clean without being too dull to look at. Everything you need, including Google Drive, Google Calendar, and Google Chrome, is right there on the Home page. In addition, you can view your task list, and quickly see if any other users have mentioned you in a comment.
I also like that you can pin sections to your dashboard, making it easier to get to the features you need quickly.
Task Management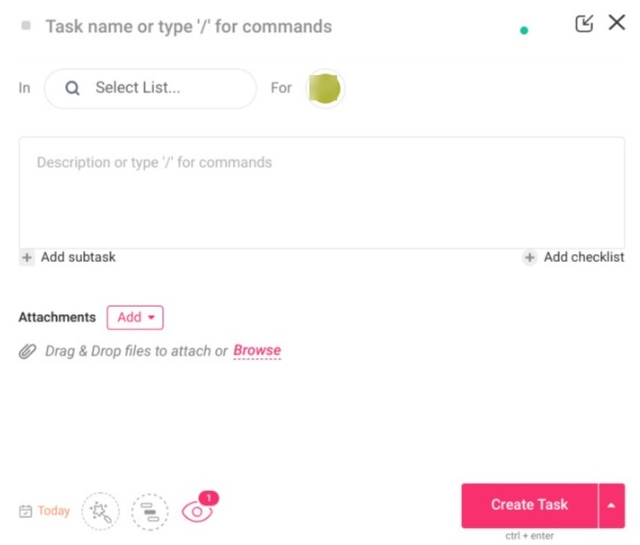 You can easily add new tasks on ClickUp, including setting a location, assigning it to a colleague (or yourself), typing up a description, adding checklists and subtasks, and setting a due date. You can also add Dependencies, which is a neat feature.
This allows you to assign tasks that must be completed before the overall task can be completed, which is good for more complex, multi-stage tasks.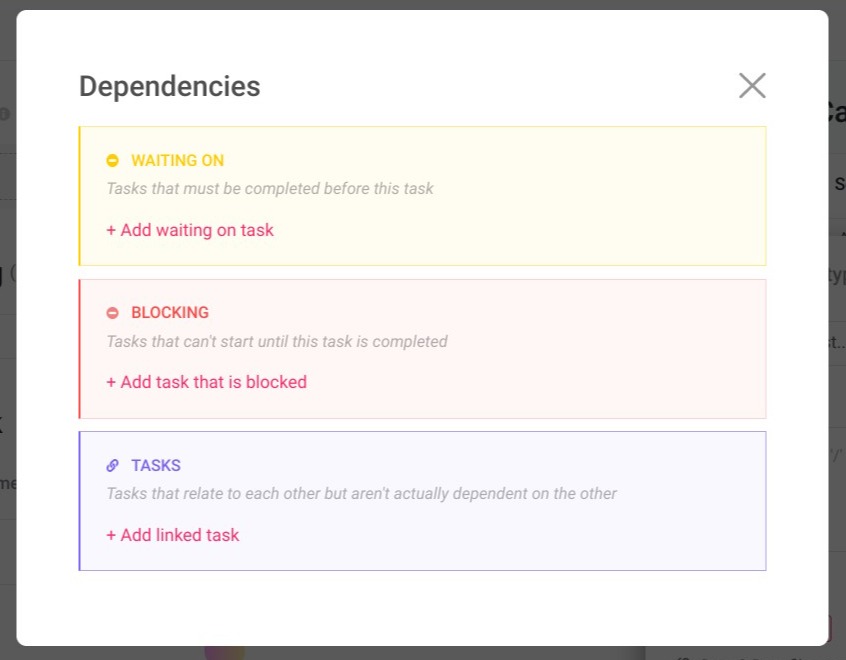 You can set watchers, too, which means some tasks will pop up on their dashboards. This allows managers to keep an eye on tasks more easily. You can add tags to tasks, too, which makes it easier to track and group them.
Calendar
You can access your calendar at any time from the Dashboard. This allows you to see upcoming deadlines and appointments. Of course, the Agenda will bring up urgent tasks, too.
You can set recurring tasks, saving time and hassle from having to set up the same task again and again.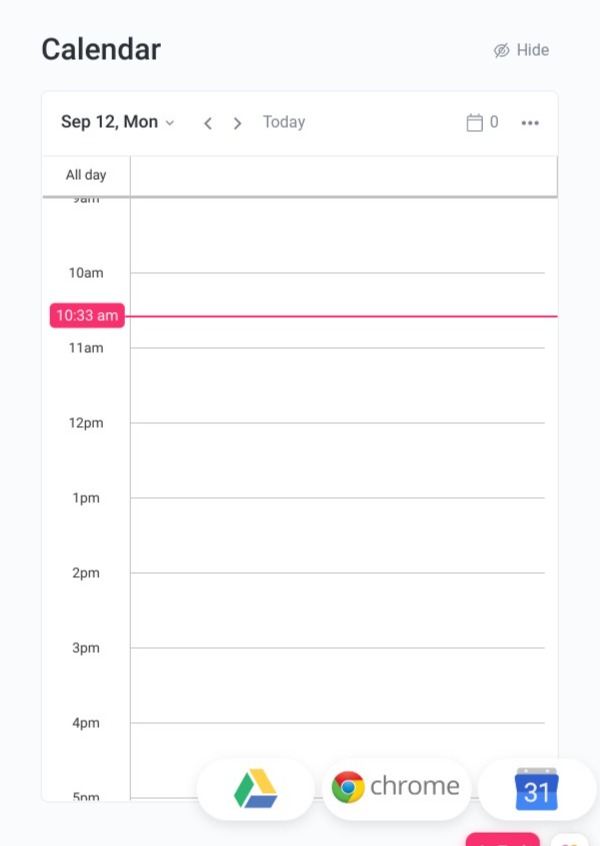 Communication and Collaboration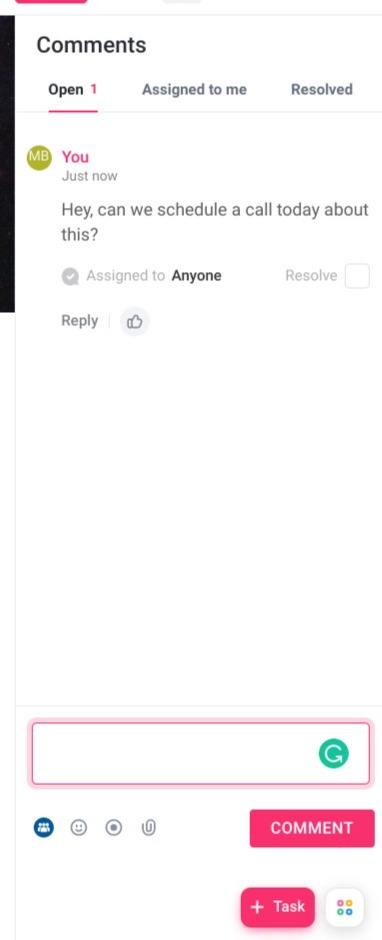 You can quickly open up a chat with team members in ClickUp and can add comments to tasks, tag people to get their attention, and share documents, links, and chats with groups of people. You can also record voice clips to send to people if you have a longer message to send.
I like the Whiteboard feature in ClickUp. It's an engaging, helpful way to map out the completion of a task.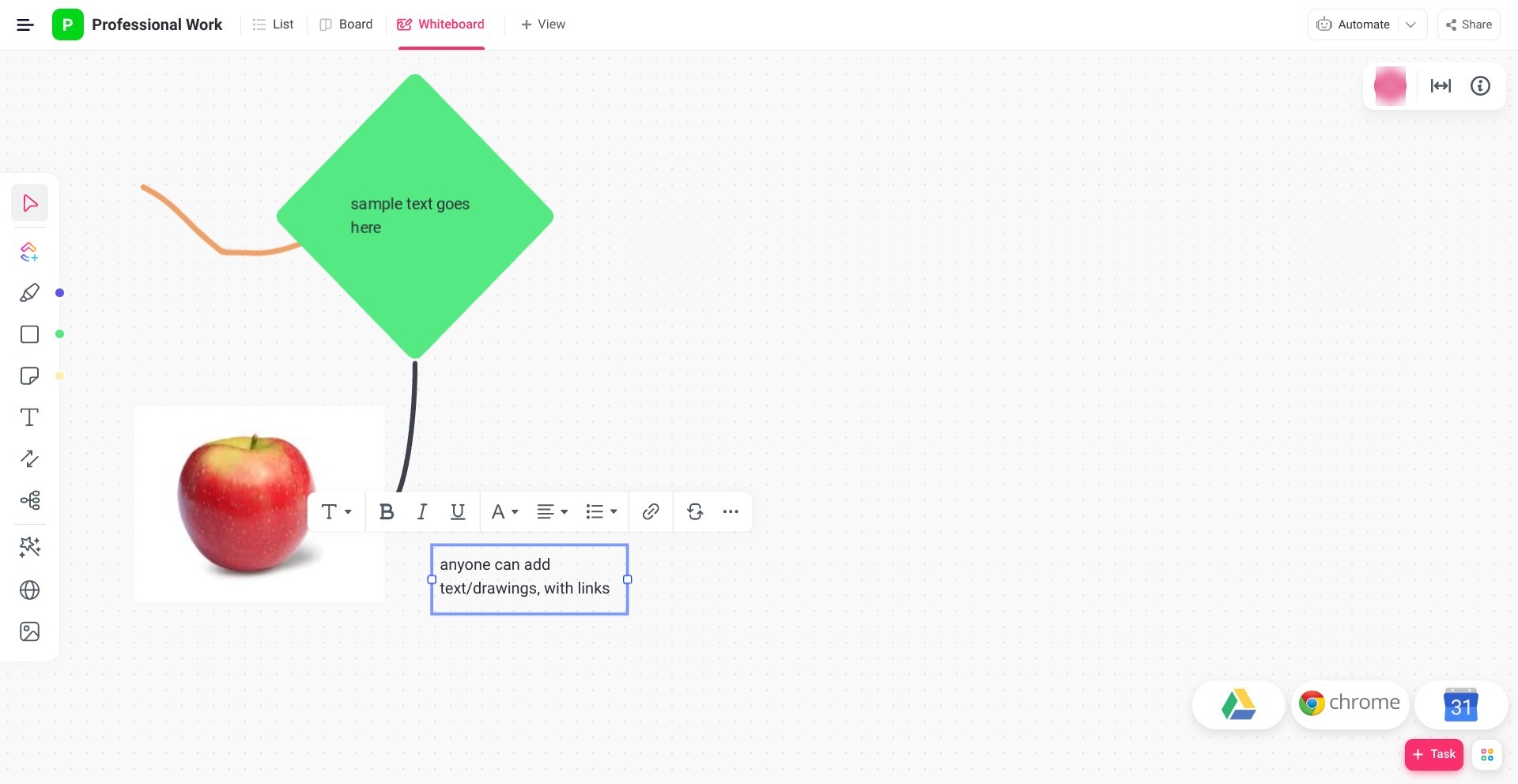 Anyone you wish can edit Whiteboards. It's pretty easy to use (although some features, like drawing arrows, are a bit buggy). You can add links, drawings, text, images, and tasks, tagging team members to draw their attention to specific areas.
Goals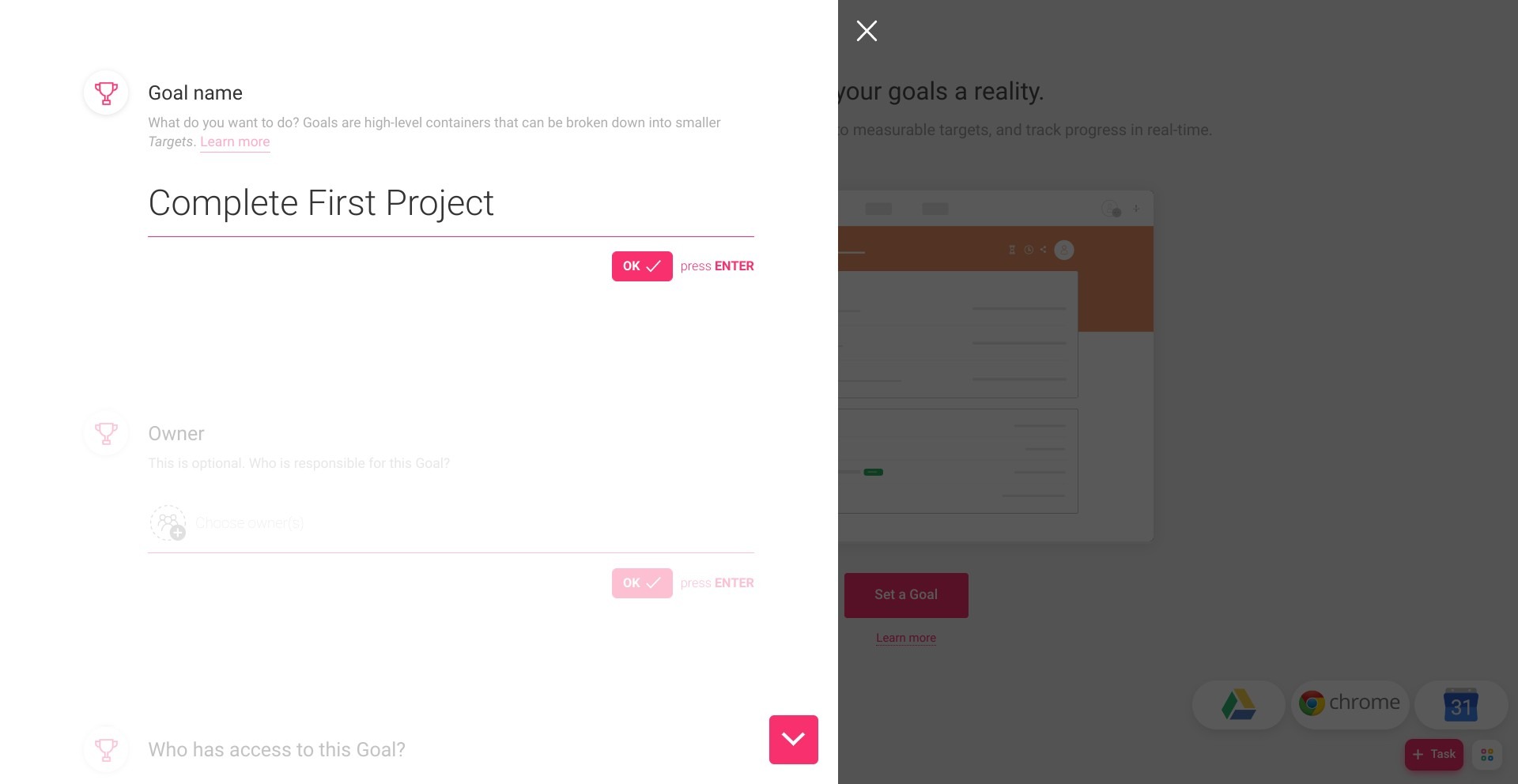 Goals are easy to set and track using ClickUp, which is motivating. You can set task targets, number targets, or monetary targets, which can be shared with the wider team. You can track these from your dashboard, which makes it easier to see your progress, and keeps everyone on track.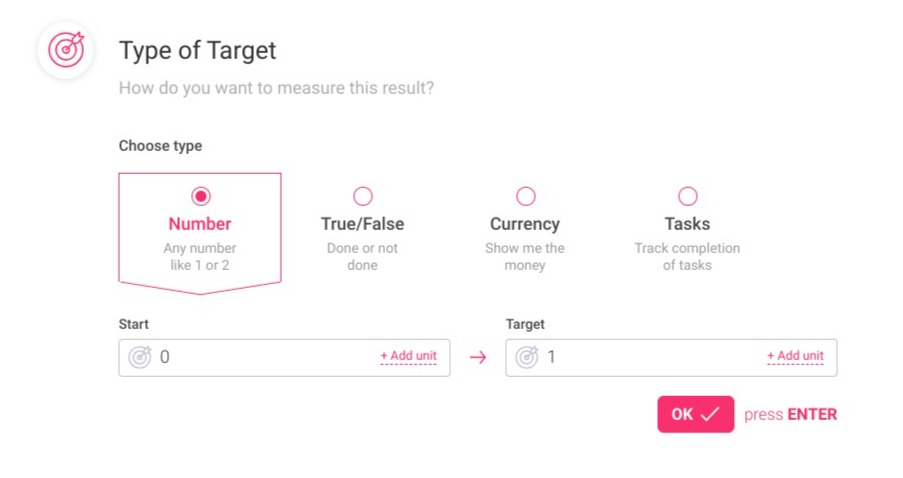 Notes and Documents
ClickUp has a built-in word processor, which is easy to use: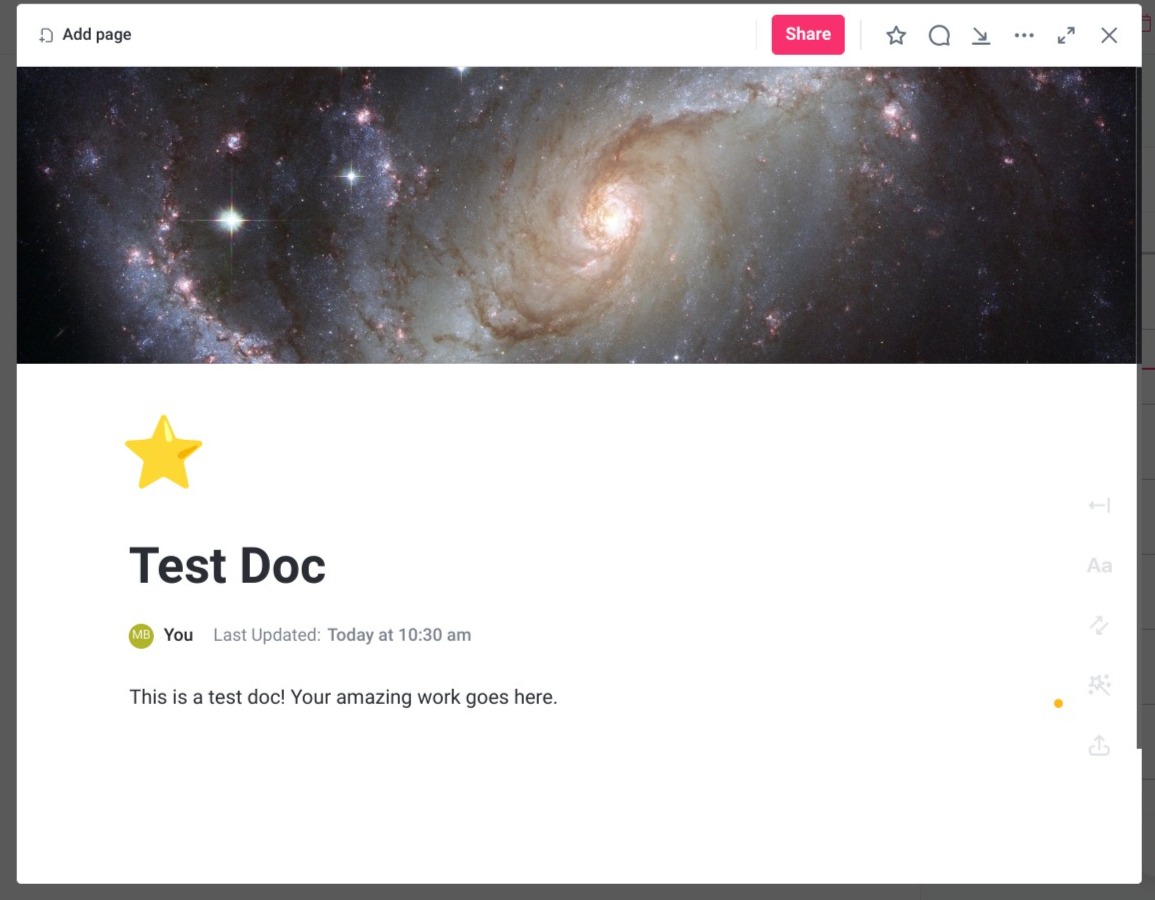 These documents can be shared with anyone and can be edited to a certain extent (changing fonts, page width, adding cover images and logos, etc.).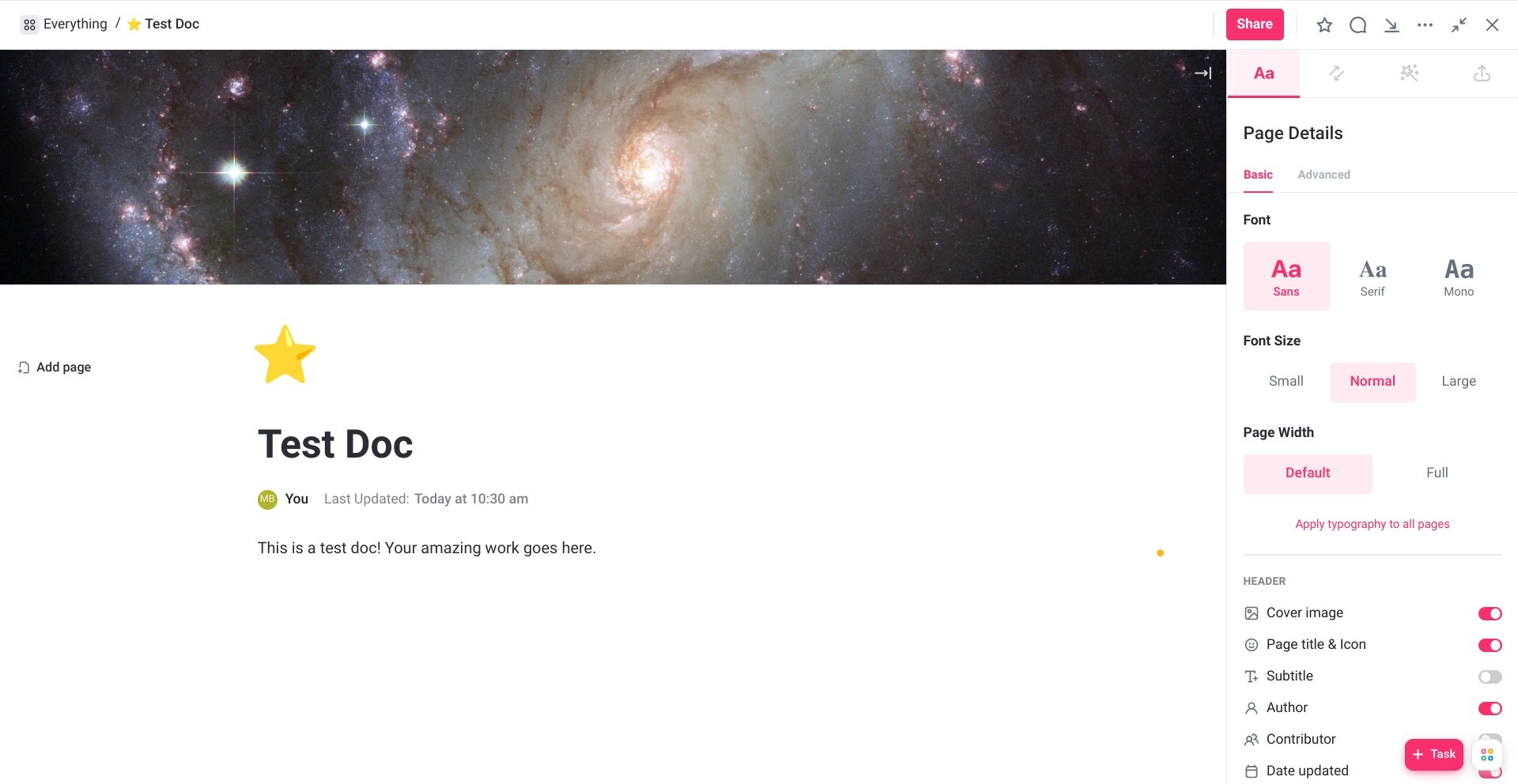 Jira – The Main Features
Let's check out the features of Jira!
UX
I like how easy it is to get started in Jira. The Quickstart area on the right is excellent for beginners, and the dashboard is pretty minimal, without being boring.
However, I do think Jira lacks the intuitive aspect that ClickUp has. It's just a little more challenging to navigate.
Task Management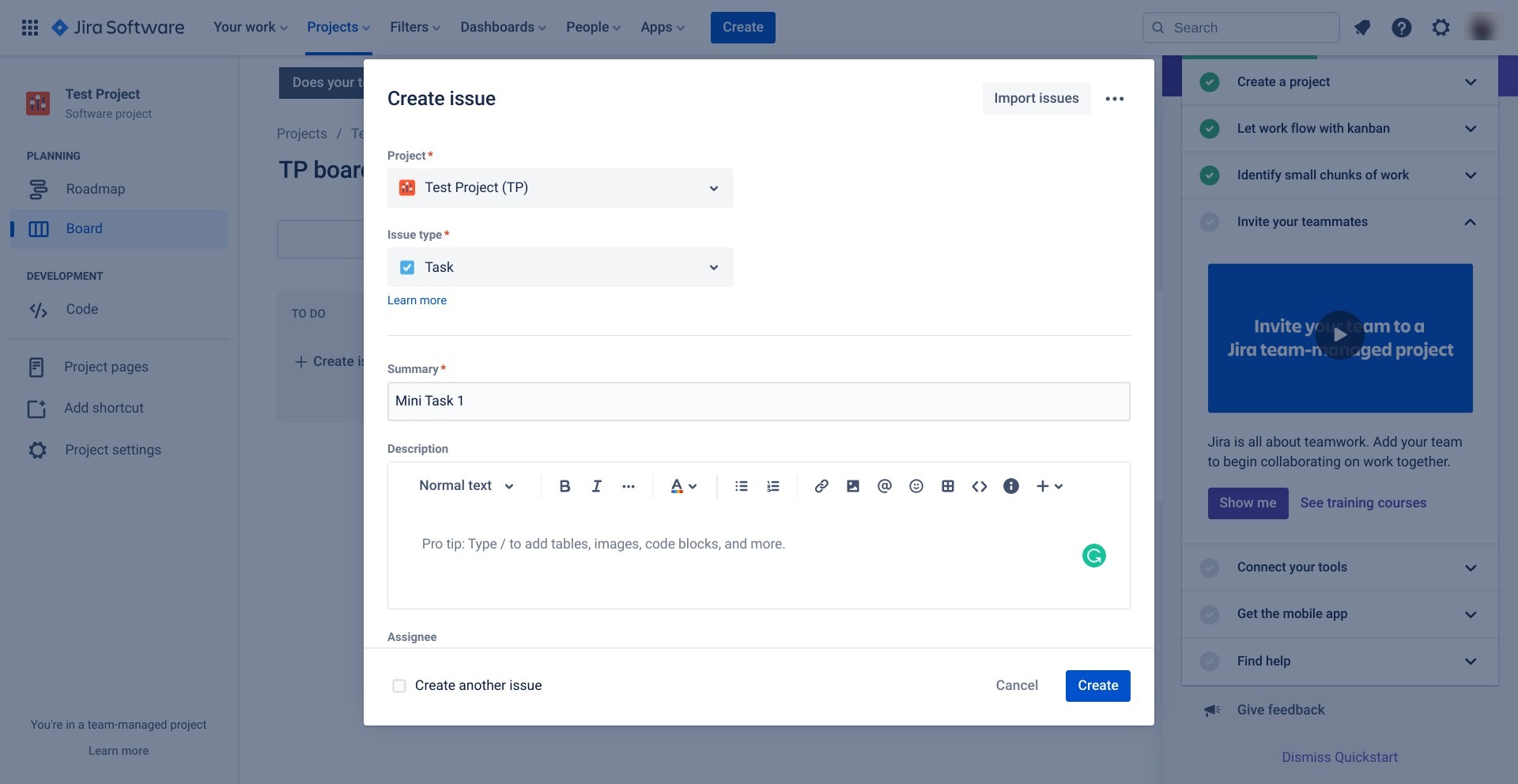 It's easy to create tasks within projects (or 'Issues'), which are customizable. You can add headings, images, links, and tags. These new tasks will pop up on your dashboard or the dashboard of the assignee.
Project Pages
You can also create Project Pages. This is a great way to give the whole team a clear idea of what the project will look like and their role within it.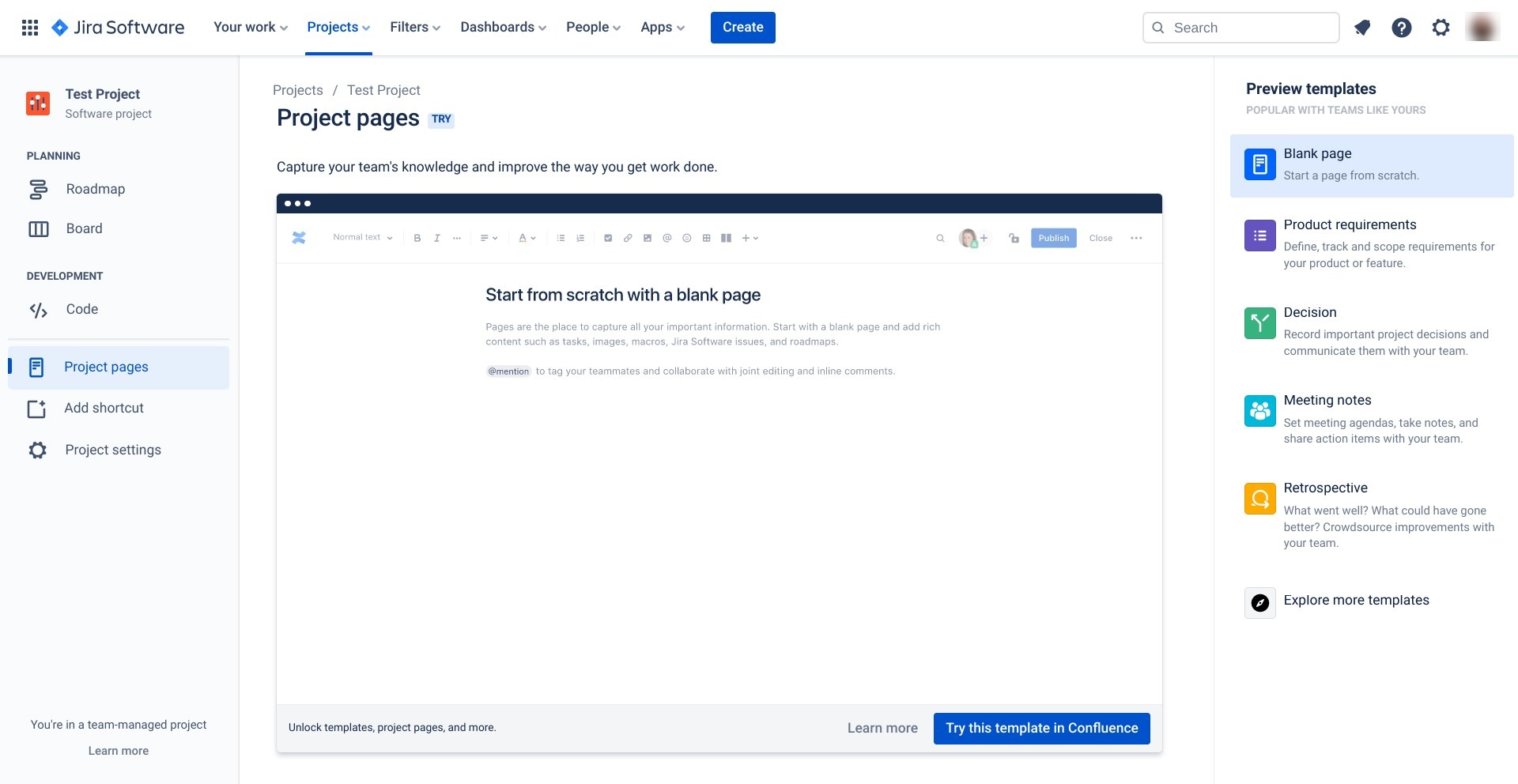 Project pages can be used for all sorts of reasons, including product requirements, project decisions, meeting notes, and retrospectives, which is a good practice to get into. Retrospectives enable you to reflect on what happened in previous projects: what went well, what could have gone better, etc.
However, you can't use these templates without Jira's sister app, Confluence. Confluence also offers a free plan to try out, but it does require signing up and learning how to use it, which is annoying. It would be easier if you didn't have to connect the two platforms, and it does make it more complex than it needs to be.
Road Maps
I like the Roadmap section of Jira, which uses the Scrum method of project management: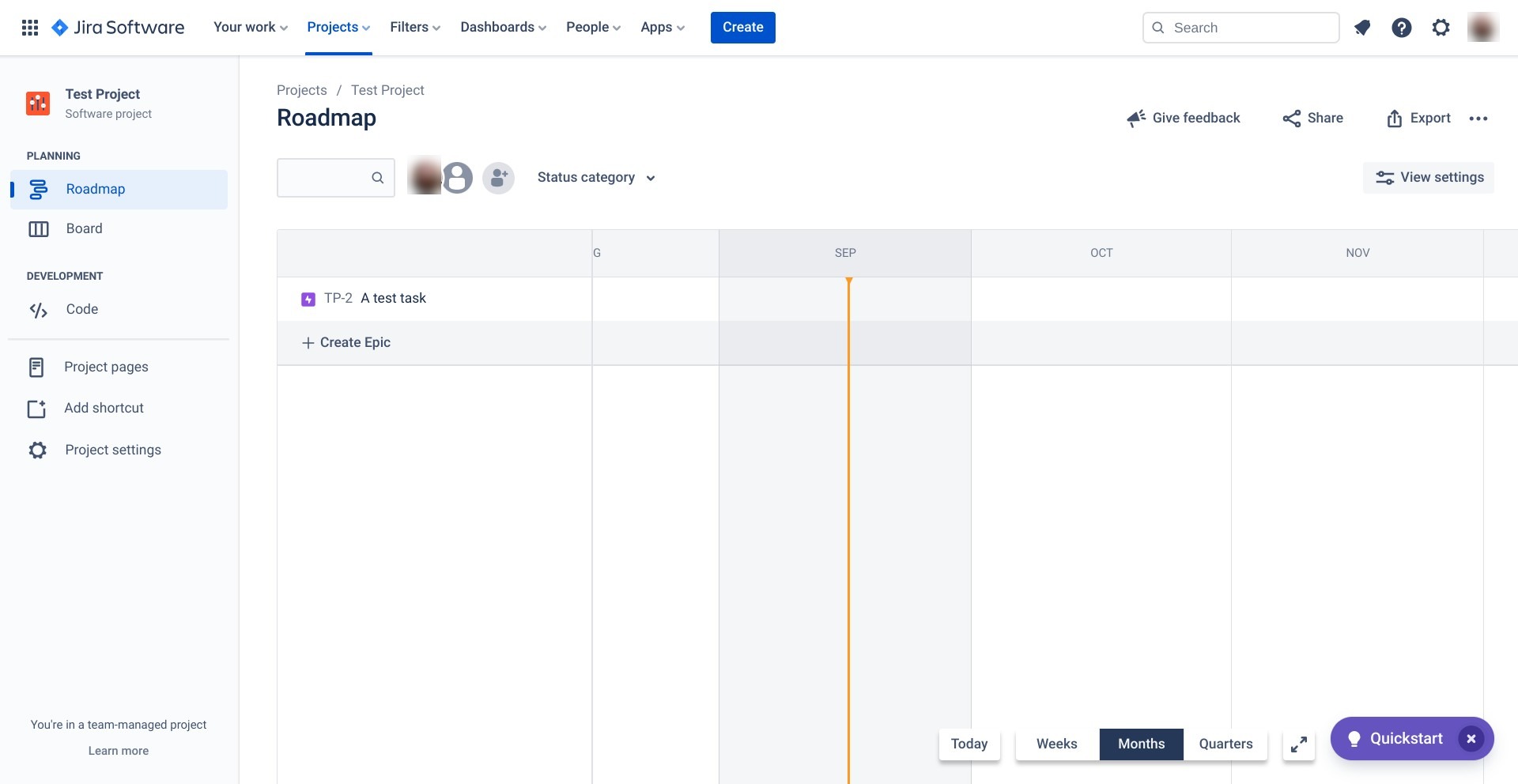 It's hard to visualize it here without a full slate of tasks, but this is a great way for the whole team to see how a project will get to completion, including timings.
I like that it's easy to see by dates, so everyone knows exactly when certain milestones need to be reached. You can set up Sprints, too. Sprints are key to Scrum teams, and they essentially help to break down complex tasks into short chunks.
This is also a good way to communicate with other team members, as you can easily see who is working on which sprint and quickly send them a message if you need to.
ClickUp vs. Jira – Integrations
Integrations are essential for both platforms, so let's check out how they compare.
ClickUp
ClickUp has some good integrations, including:
Slack
Google Drive
Dropbox
Outlook
Google Calendar
YouTube
Vimeo
Zoom
Google Chrome
Zendesk
Zapier
Jira
There are some good integrations in Jira, too, including:
AdobeXD for Jira
Slack
Trello
Teams
Excel
Gmail
ClickUp vs Jira – Customer Support
Sometimes, things don't go to plan, which is when you need a good customer support team! Here's what ClickUp and Jira have to offer.
ClickUp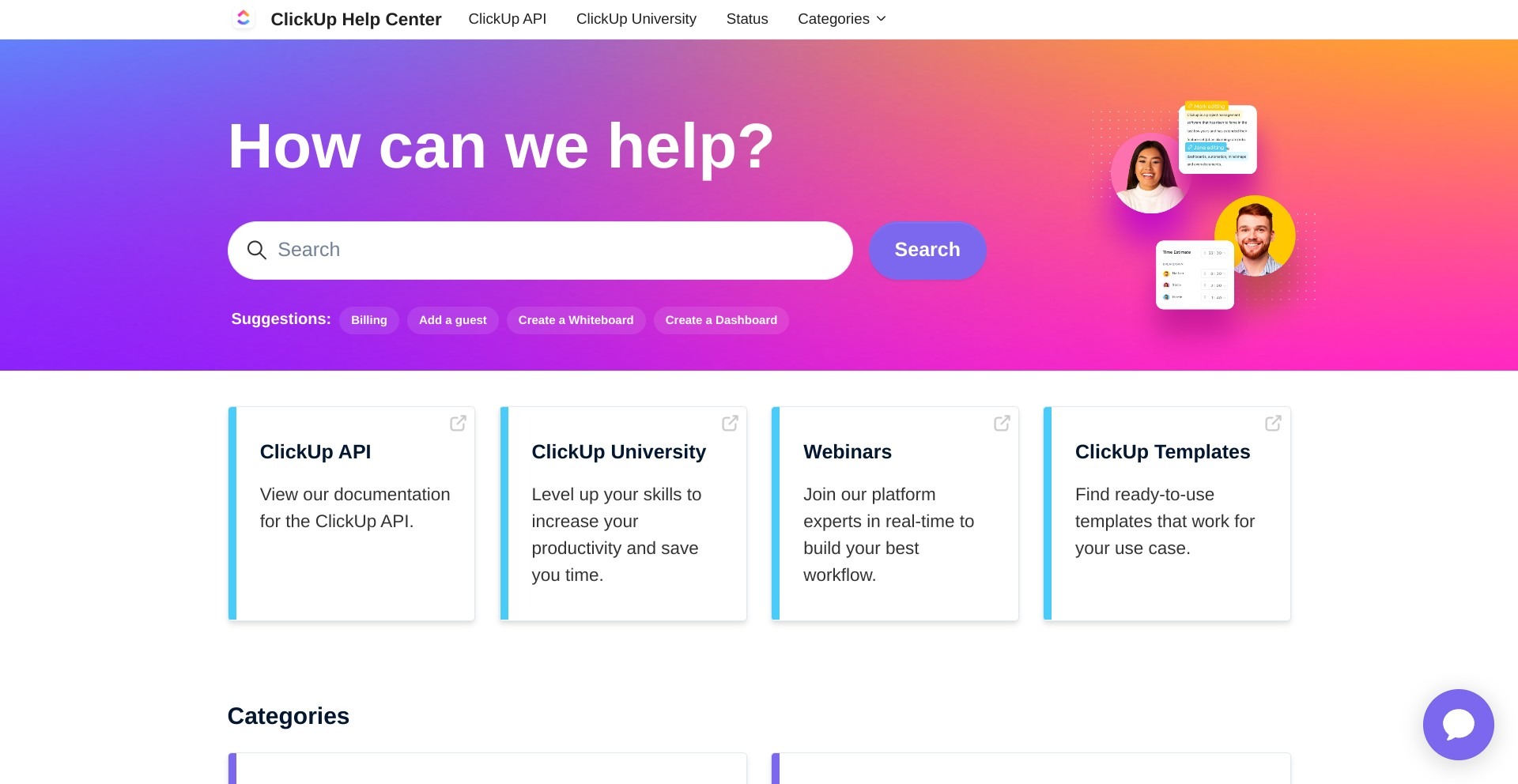 ClickUp is good in terms of customer support. You can find the help center, including video tutorials and the ClickUp community of users, at any time via the question mark on your dashboard. The support itself is done using web chat, and they're pretty responsive, which is great.
Jira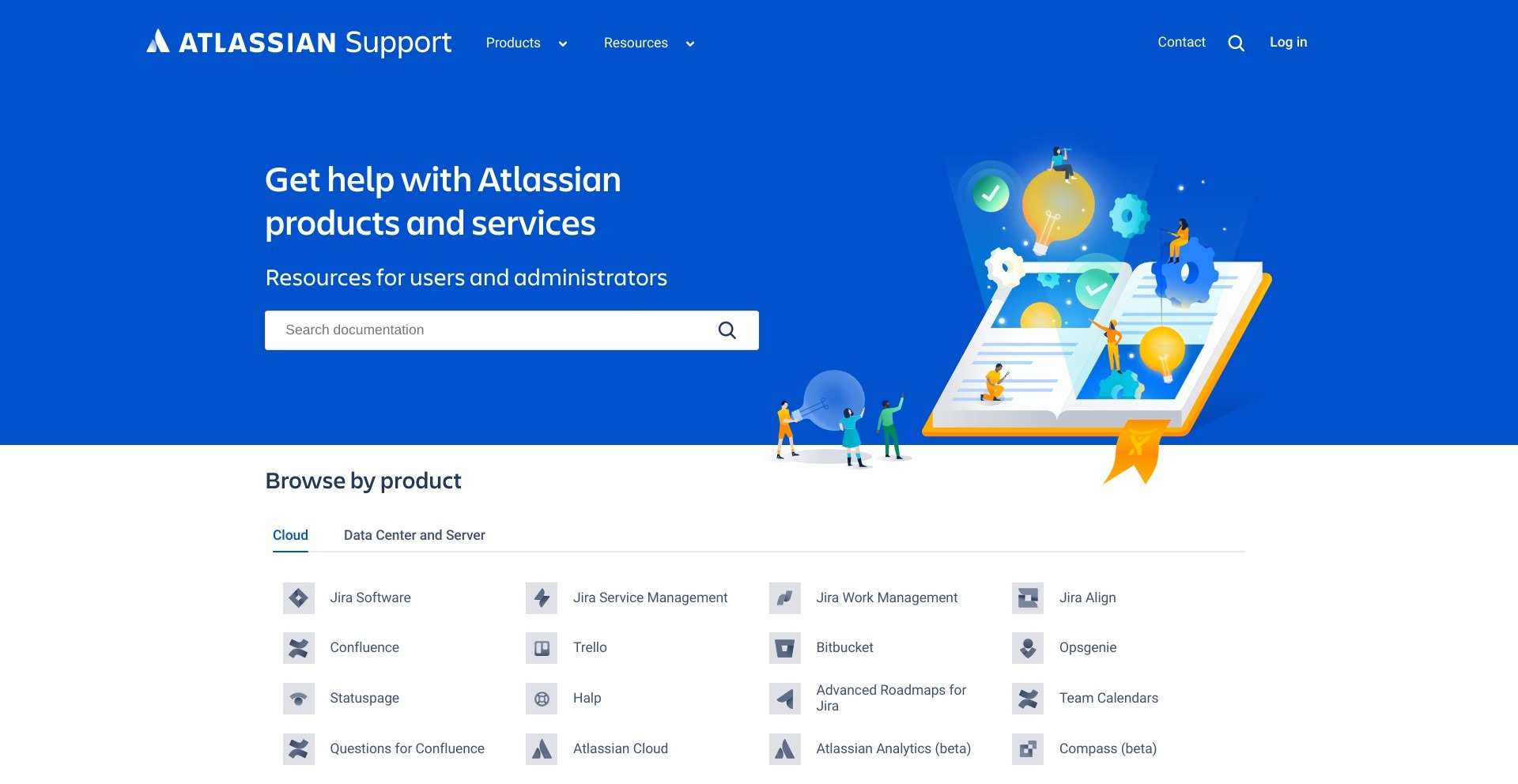 Jira's knowledge base is pretty good, offering articles and tutorials on different aspects of the platform. You can access help via a ticketing system, and they're pretty responsive, which is great.
ClickUp vs. Jira – Pricing
So how do they compare in terms of pricing?
ClickUp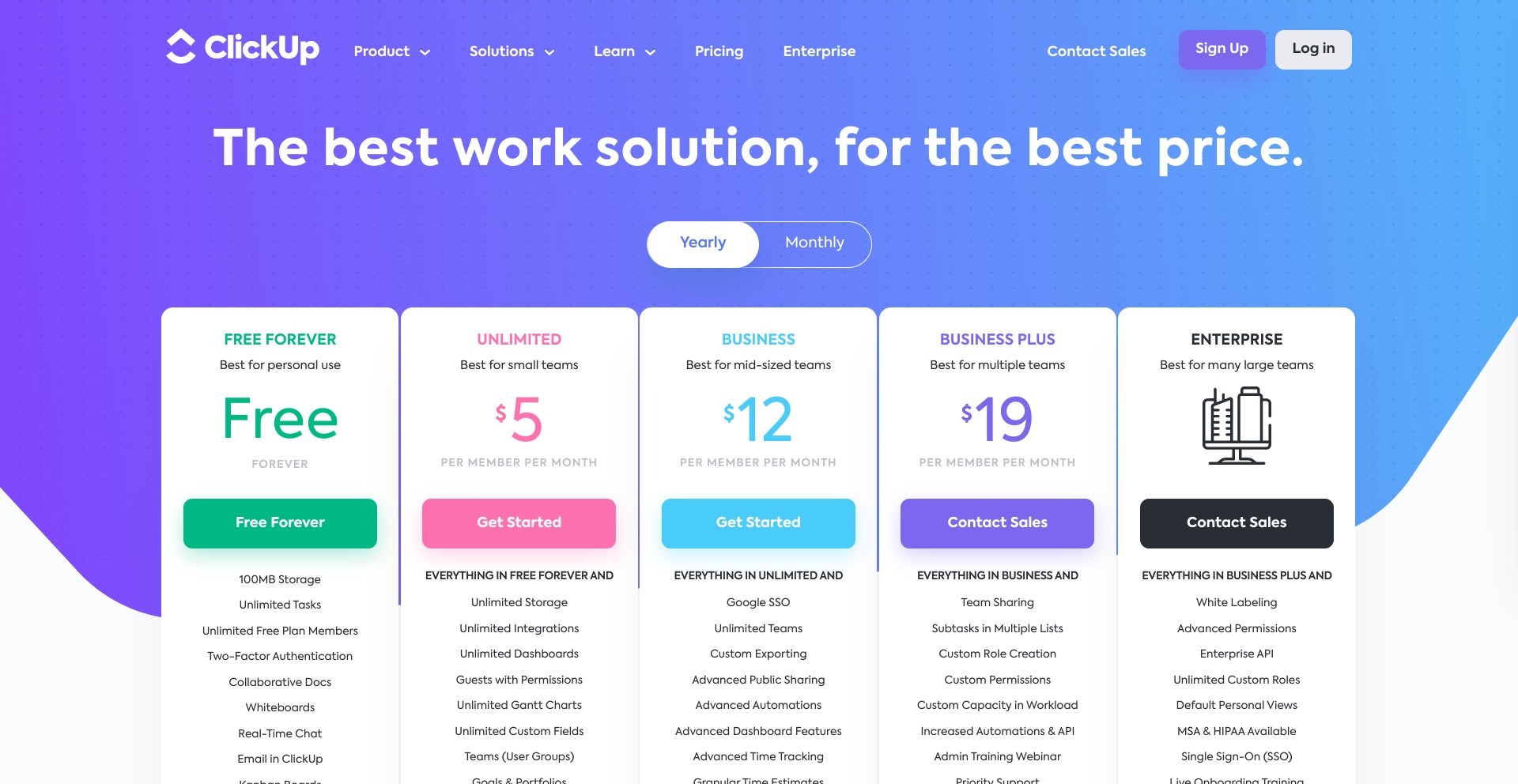 There are five plans to choose from on ClickUp:
Free – $0 per month per member
100MB Storage
Unlimited Free Plan Members
Two-Factor Authentication
Collaborative Docs
Whiteboards
Real-Time Chat
Email in ClickUp
Kanban Boards
Sprint Management
Native Time Tracking
In-App Video Recording
Unlimited – $5 per month per member
Everything in Free
Unlimited Storage
Unlimited Integrations
Unlimited Dashboards
Guests with Permissions
Unlimited Gannt Charts
Unlimited Custom Fields
Teams (User Groups)
Goals & Portfolios
Form View
Resource Management
Agile Reporting
Business – $12 per month per member
Everything in Unlimited
Google SSO
Unlimited Teams
Custom Exporting
Advanced Public Sharing
Advanced Automations
Advanced Dashboard Features
Advanced Time Tracking
Granular Time Estimates
Workload Management
Timelines & Mind Maps
Goal Folders
Business Plan – Price on Request per month per member
Everything in Business
Team Sharing
Custom Role Creation
Custom Permissions
Custom Capacity in Workload
Increased Automation & API
Admin Training Webinar
Priority Support
Enterprise – Price on Request per month per member
Everything in Business Plus
White Labeling
Advanced Permissions
Enterprise API
Unlimited Custom Roles
MSA & HIPAA Available
Single Sign-On (SSO)
Live Onboarding Training
Dedicated Success Manager
Access to Managed Services
It's nice having a Free plan, but I do have to mention the lack of storage. It only offers 100MB, which, especially if you're a larger team, is not going to go very far. Once you start sharing images, videos, or audio, you're going to burn through that storage limit pretty quickly.
The next price tier is pretty reasonable, however, at $5 per month per member. You can find out more on their pricing page.
Jira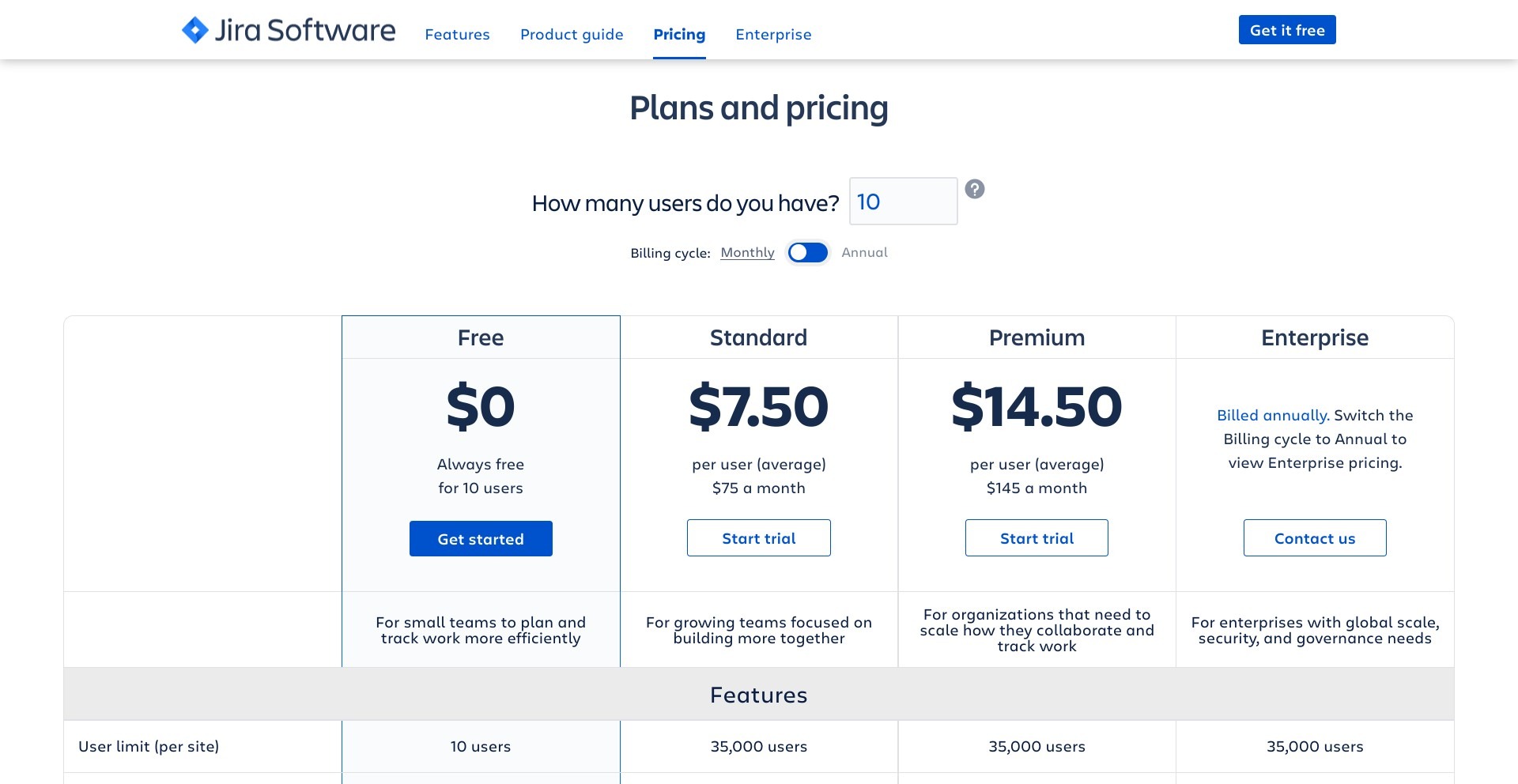 There are four pricing plans to choose from:
Free – $0 per month
For 10 users, this includes:
One site
Scrum and Kanban boards
Backlog
Agile reporting
Customizable workflows
Apps and integrations
Single project automation
Roadmaps
Dependency management
2GB file support
Standard – $7.50 per user per month
Everything on the Free plan
35,000 users
250GB file support
Premium – $14.50 per user per month
Everything on the Standard plan
Global and multi-project automation
Advanced roadmaps
Advanced dependency management
Unlimited storage
24/7 premium support
Enterprise – price on request
Everything on the Premium plan
Unlimited sites
For global businesses
The pricing plan is pretty good, fairly similar to ClickUp's pricing. They also offer more generous file storage on the Free plan, at 2GB. You can check out more on their pricing page.
ClickUp vs. Jira – Alternatives to Try
If you want to keep looking, here are some alternative platforms that may work well:
Notion– this is a simple platform, which can be used by individuals to keep track of their work, studies, or creative projects. It can also be used to manage larger projects, too. You can find out more about it in our ClickUp vs Notion comparison.
Monday.com – this is good for project management, I'd recommend Monday.com for any sized team, and it works particularly well for software development. You can read our thoughts in more detail in our Monday.com review.
Evernote – Evernote is another platform that works well for individuals as well as businesses. You can use it to keep track of projects and schedule tasks. Find out more in our Notion vs Evernote comparison.
FAQs
Question: Can I cancel ClickUp and Jira easily?
Answer: Yes, you can easily cancel ClickUp and Jira if you don't need them anymore by going to your 'account' page. It's very simple to do.
Question: Can I run a project using ClickUp or Jira's free plans
Answer: Technically you can, but you would lack some of the features that would make it easier to manage a team. Very small teams could use the free plans and then upgrade as the project grows.
Just be aware that if you're using ClickUp, you won't have much space on the free plan, so that may become a problem if you're using many images and videos.
Question: Does ClickUp or Jira have a mobile app?
Answer: Yes, both platforms have a mobile app available for Android and iOS, allowing you to check the progress of tasks and projects on the go.
My Final Thoughts
I prefer ClickUp. It's an easier platform to navigate, which from a team member's perspective, is very important. I like the creativity of the Whiteboard feature, and it feels like an open, collaborative platform. However, Jira has its strengths, too. It would suit larger, more complex organizations, so it's one to look at if you manage a large team.
Both platforms have a free plan, so I'd recommend checking them out before committing to a paid plan!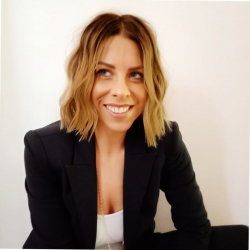 Latest posts by Maddy Chiffey
(see all)
Get 40% OFF for 3 Months