Last Updated on mei 2, 2023 by DMEditor
Canva is my go-to for any designs I need to create; however, I wondered about Photoshop and how it stacks up. Unfortunately, I've found that comparing Canva vs Photoshop is like comparing an apple with a monster truck. Still, these two software options do have some similarities.
Both can be used to create various types of designs. Of course, you can edit photos using Canva or Photoshop too (just too different extents).
Let's see how Canva vs Photoshop stack up against each other so you can decide which one will meet your design needs.
Main Differences Between Canva vs Photoshop
The main differences between Canva vs Photoshop are:
You need at least a mid-range computer or device to successfully run Photoshop, whereas for Canva, you just need a capable web browser and an internet connection.

You have access to 600,000+ templates on Canva, whereas you need to start your designs from scratch in Photoshop.

Canva provides you with ready-made graphics and a library of photos you can use in your designs. You can also upload photos and images, whereas in Photoshop, you need to upload all your photos and images.

You have basic photo editing features in Canva, whereas you can do a lot more with your photos in Photoshop.

Canva is beginner-friendly and uses a drag-and-drop interface, whereas Photoshop has a steep learning curve.

You can draw on Photoshop with the brushes and Pen tools, whereas you can't draw on Canva.
Let's dive into an overview of each platform and look at whether Canva or Photoshop is easier to use. This will make it easier for you to decide which design software option is best for your needs.
Canva vs Photoshop: Canva Overview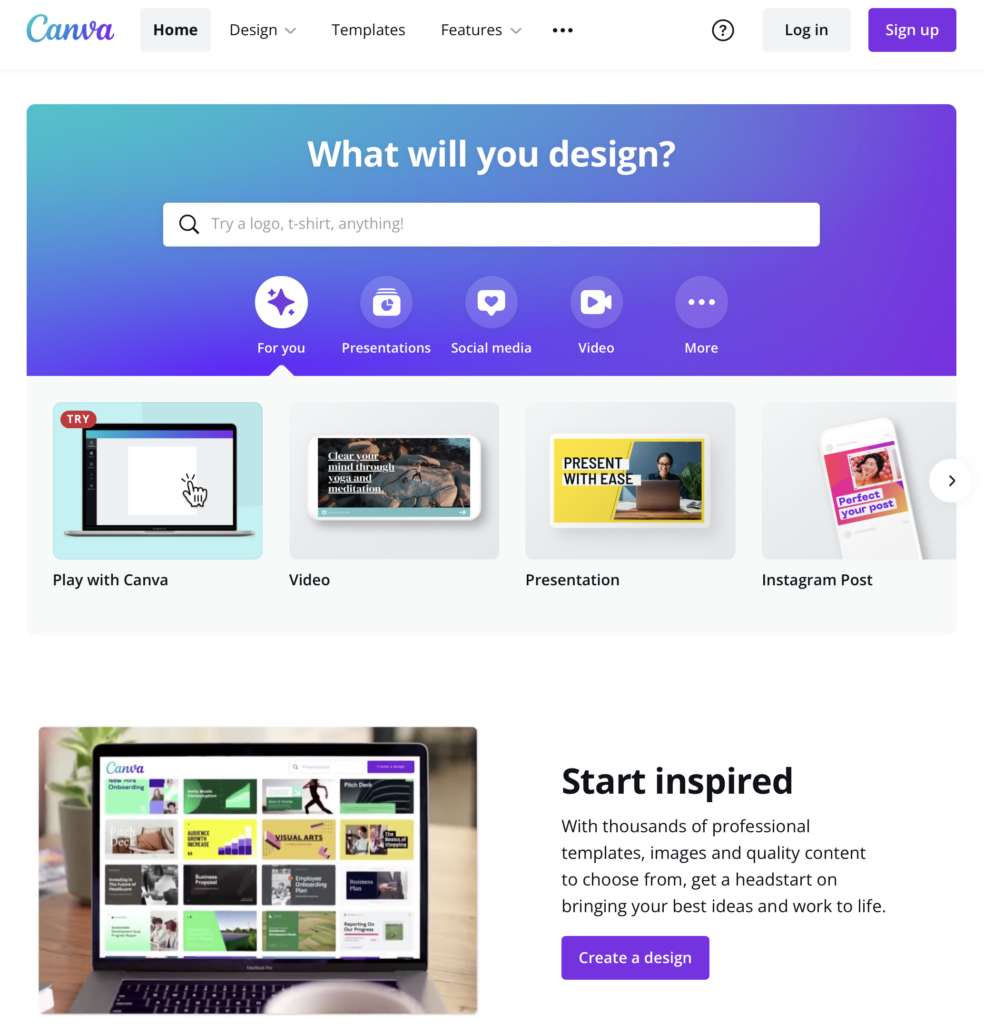 Canva was founded in 2013. It is an online design and publishing tool to make design easy and accessible for anyone, even if you don't have a degree in design.
More than 55 million active users in more than 190 countries use Canva. This is a popular design platform for individuals, freelancers, and companies with 10-50 employees.
With Canva, you can create a range of designs:
Graphics for your social media platforms

eBook covers

Restaurant menus

Invitations

Blog headers

Business cards

Presentations

Flyers

T-shirt designs

Posters

Brochures

Kalenders

Infographics

Canvas prints

And a lot more
Voors
Beginner-friendly and aimed at non-designers

Easy to sign up and start using Canva

Free plan available

Hundreds of thousands of templates

Library with photos, backgrounds, and other graphic elements you can use in your designs
Nadelen
Can only use Canva online, even though you can download your designs

Only basic photo editing capabilities
Photoshop vs Canva: Photoshop Overview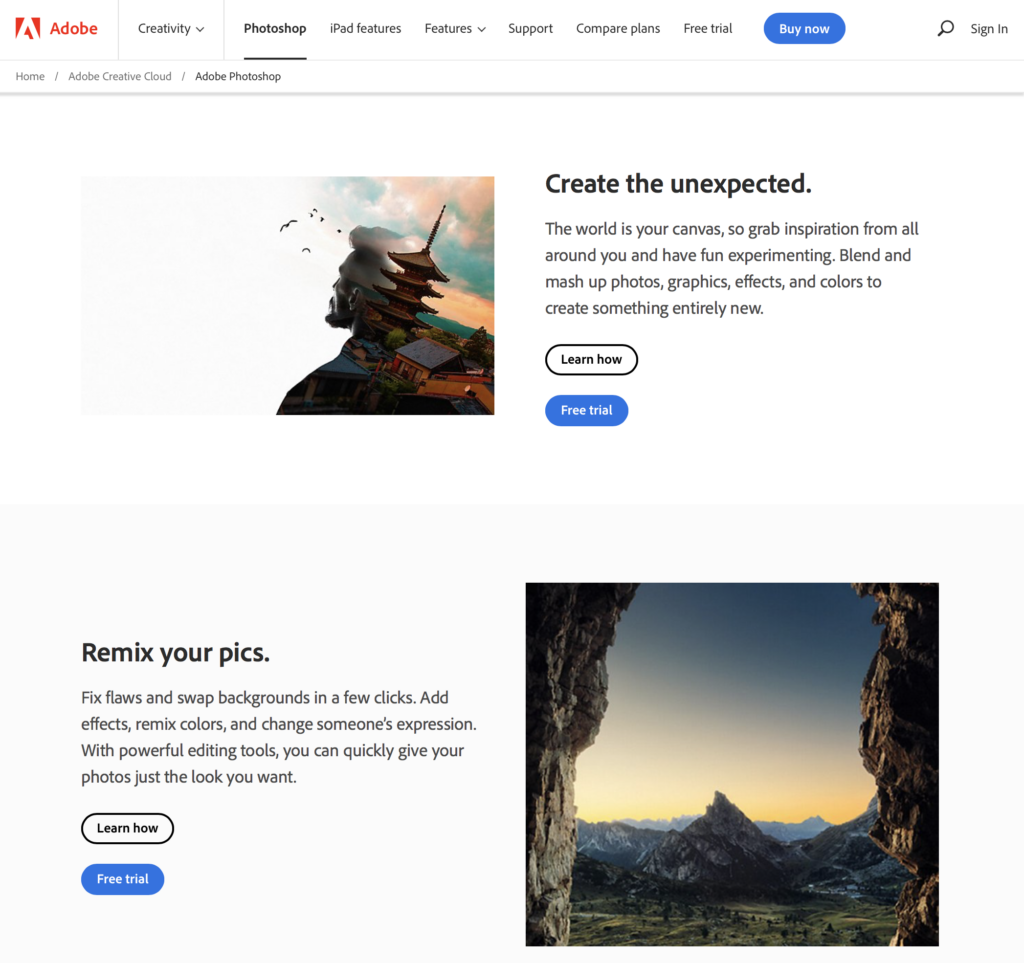 Photoshop is part of Adobe. It was initially released in February 1990, even though its creation goes back to 1988.
Adobe Photoshop is recognized as the industry standard for graphics editing and even digital art. According to Adobe, 90% of all the world's professional creatives use Photoshop. At the end of 2020, the Creative Cloud, including Photoshop, had 22 million paid subscribers.
With Photoshop, you can create what you can with Canva and so much more. Create mockups, display and banner ads, infographics, style guides, postcards, and newsletters. You can also create logos in vector format and edit photos. In Photoshop, you can do the following (not available on Canva):
Selection

Basic layer adjustment

Blending modes

Batch processing

Masking

Layer styles

En meer
Voors
Can be used offline as it's a full-fledged downloadable software program

All your designs are saved on your PC

Can edit your photos in detail
Nadelen
Steile leercurve

Need at least a mid-range PC to run Photoshop on

No templates; need to design from scratch
Is Canva or Photoshop Easier to Use?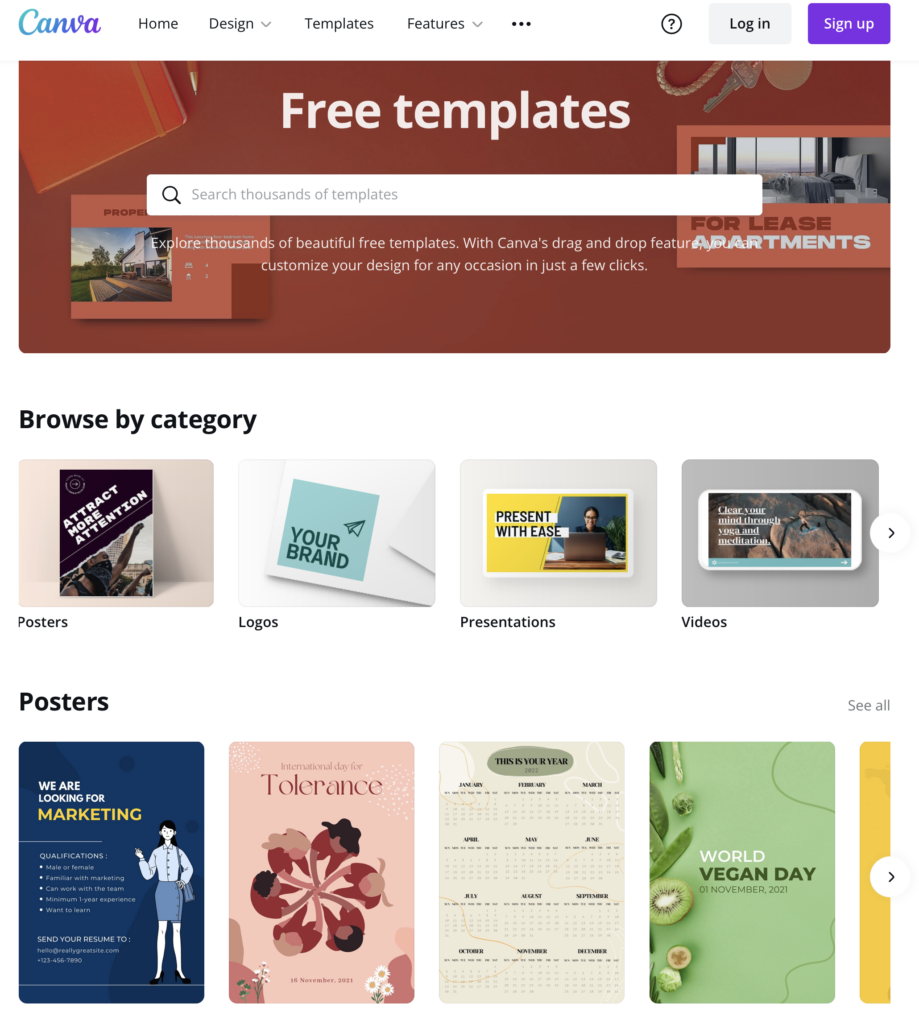 Canva is much easier to use than Photoshop because the software has a much less steep learning curve. In addition, Canva is aimed at non-designers.
Its purpose is to make design accessible to everyone. As such, Canva features a drag-and-drop interface and tons of templates you can use as-is or customize to create the design you are looking for. With no overwhelming set of menus, anyone can master Canva.
On the left of the screen, there are menu options with templates, photos, elements, text, background, uploads, folders, and more, with various options in each of these categories.
On the other hand, Photoshop has quite a steep learning curve. It takes you hours to days to just get used to the interface and years to fully master it. The interface is also a lot more complex than Canva, with tools on the left, more panels and options on the right, and controls at the top. But then, there are even more options to customize your design.
I admit, I once signed up for the Photoshop free trial for a university project for my Journalism Photography class, and I couldn't click exit fast enough. All the controls were simply too overwhelming, and I had a project to finish, so there simply wasn't time to explore and become familiar with Photoshop.
Years later, I had to create infographics and other design elements for a client I was writing for, and I simply fell in love with Canva. It reminded me of Wix with the drag-and-drop interface, and using the platform just seemed so intuitive.
Canva vs Photoshop: Other Notable Differences

There are other notable differences and similarities between Canva and Photoshop that I'd like to highlight:
Performance and Requirements
Canva is essentially a website you use, and you can use it on nearly any device. You simply need a web browser that is capable of loading Canva. These days, you can also download the app for Mac, Windows, iOS, and Android. With Photoshop, you buy the program, but your device needs specific specs. See below what you need to run Photoshop on Windows and macOS.
From these specs, you'll need a mid-range device to successfully run Photoshop. For example, I had issues running Photoshop on my 4 GB RAM laptop. It downloaded and installed well, but it's frustrating to work on Photoshop.
Kenmerken
You can create any size design in both Canva and Photoshop.
In Canva, you start with either a blank design or choose a template. From here, customize the template by using the options you see on the left (Photos, Elements, Text, Background, Uploads, and more). In each of these categories, there is a range of options you can play with.
Canva isn't a drawing tool, so there are no brushes or pen tools.
Photoshop is created for designers. As such, it has many advanced features you need when editing, drawing, and creating. Some of the advanced features in Photoshop are Smart Objects, a layers panel, a pen tool to create vector shapes, brushes, and an advanced color profile.
The winner here depends on what you want to use the design software for. If you aren't a designer and aren't looking for a drawing tool, then Canva can meet your needs.
Photo Editing Capabilities
Sometimes when designing something, you want to use photos. As such, design software should offer photo editing capabilities. Canva allows you to edit your photos. However, you only have access to basic editing features like adjustments (to adjust the saturation, contrast, etc.), filters, cropping, and effects.
In Photoshop, you can edit your photos to a fuller capacity. Some of the photo editing features in Photoshop include photo alignment and stacking, levels and curves, noise reductions, masked editing, and the ability to process RAW files.
If you need to do more extensive photo editing, Photoshop is ideal.
Extensions and Plugins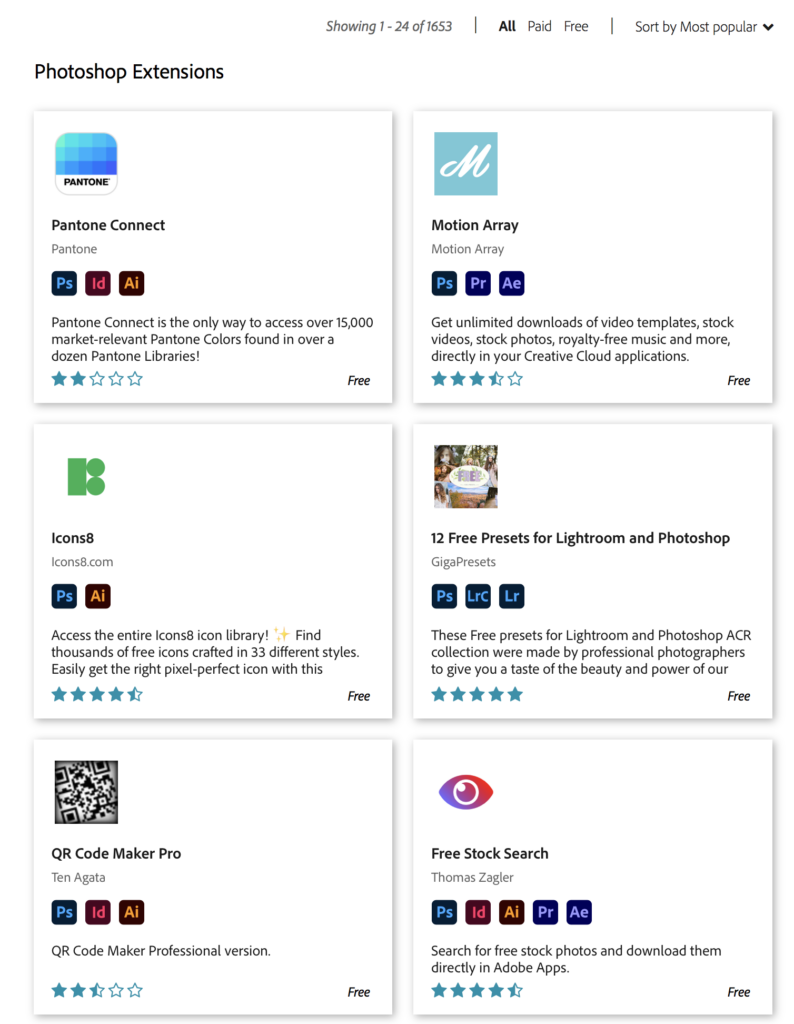 Why just use what you get with Photoshop and Canva when you can have more, right?
If you are a developer, you can create extensions for Photoshop. For us "normal" people, Photoshop offers a few third-party plugins. A great option includes Aurora HDR, which lets you process HDR images. You can also get more brushes when you draw and design from Brusheezy. There are more than 1,600 extensions you can add to Photoshop.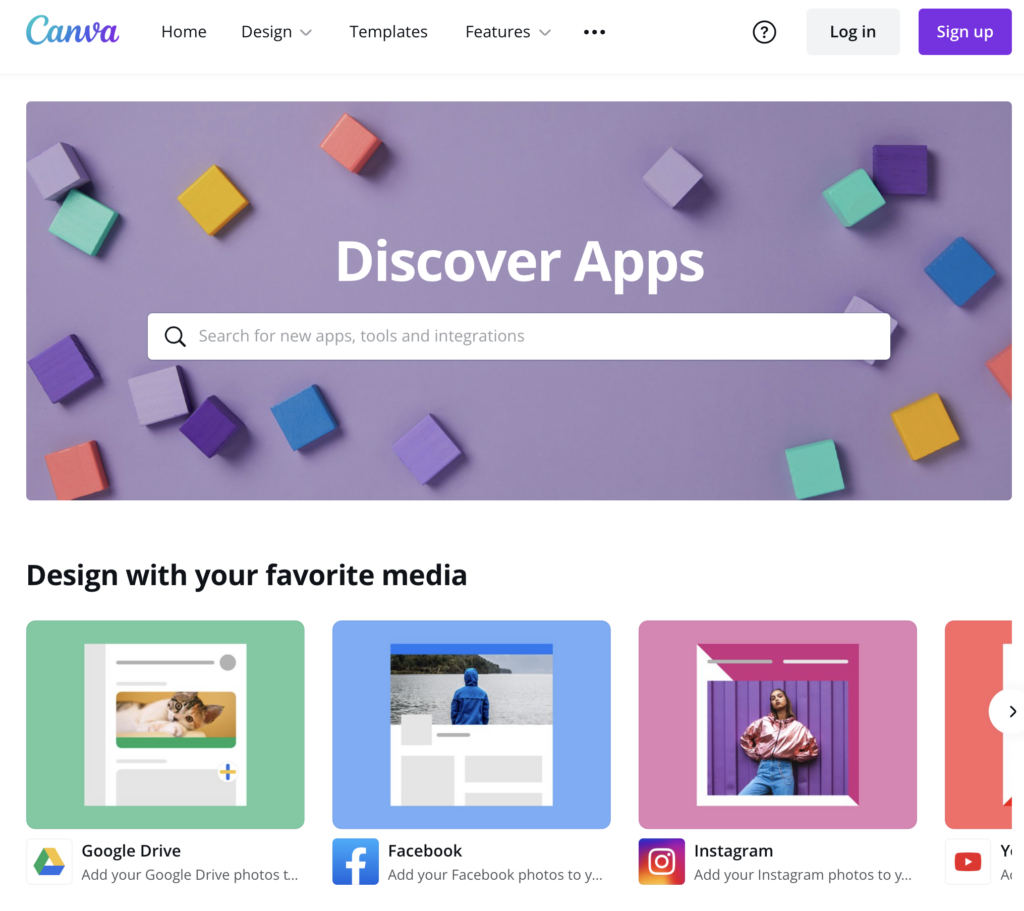 Canva has a lot of apps you can add and use within the platform. Some favorites are Google Maps, Dropbox, Emoji, Instagram, YouTube, Facebook, Duotone, Shadows, Smartmockups, Frames, Trippy, OneDrive, Pinterest, LinkedIn, Slack, and more. You can also build an app for Canva by using their developer platform.
Pricing for Photoshop vs Canva
There is quite a difference in how Canva and Photoshop are priced. So let's look at the pricing for Canva vs Photoshop and see which platform offers you the best value for money.
Canva Pricing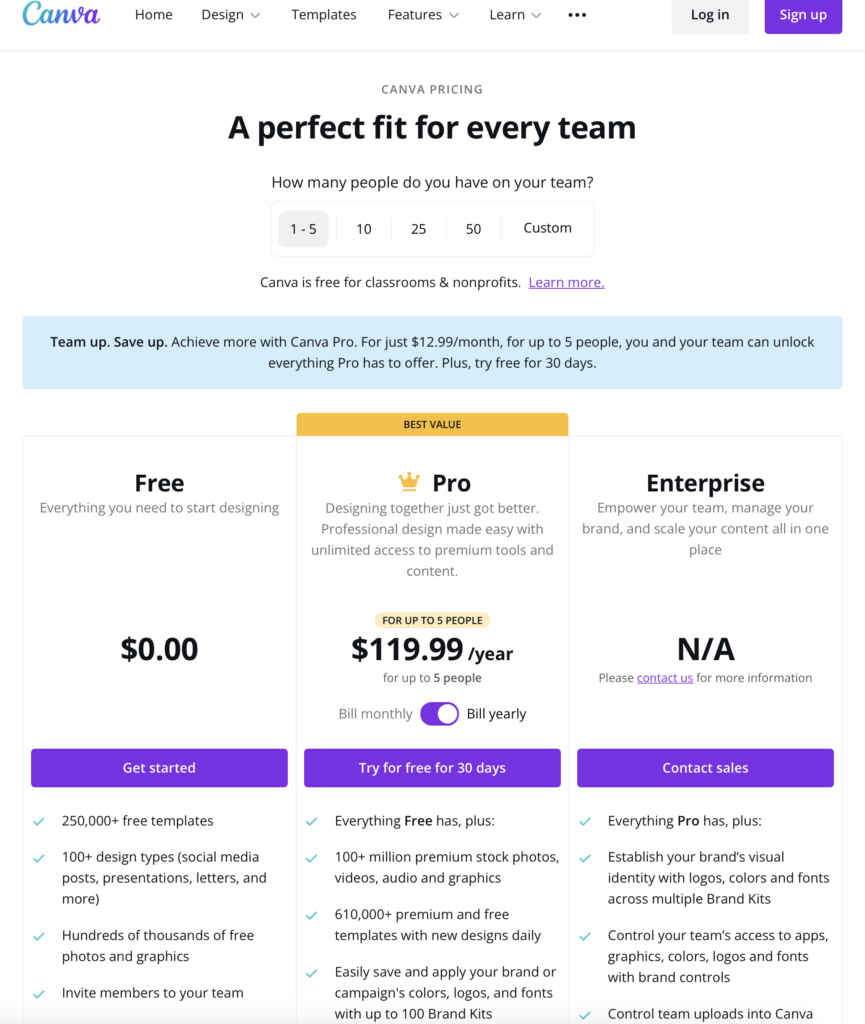 Canva offers various subscription plans that are also tailored for how many team members you work with.
Here's information about Canva's plans. They have set prices for 1-5 people on your team or 10, 25, and 50 team members. You can, however, also tailor the plan according to a custom team member number (e.g., 3, 20, 80, or 120 people).
Gratis

Pro

Onderneming

Prijs

$119.99/year for up to 5 people (if billed yearly)

$419.99/year for 10 people (if billed yearly)

$1319.99/year for 25 people

$750/month for 25 people

$1,500/month for 50 people

Ideal for

If you need access to Canva's premium content and tools

To manage your brand, scale your content, and empower your team

Belangrijkste kenmerken

250,000+ templates, 100+ design types, many photos and graphics, 5 GB of cloud storage

Everything in Free + 100+ million stock photos, 610,000+ templates, brand kits, background remover, magic resize, save templates, 100 GB of cloud storage, and schedule social media content for up to 8 platforms

Everything in Pro + team member control and uploads, built-in workflows, template locking, unlimited storage, single-sign-on for enhanced security, and 24/7 support
You can try the Pro plan, Canva's most popular subscription plan, for free for 14 days.
If you opt to pay yearly for the Pro plan for 1-5 members, you save almost $36, which is three months' worth of monthly subscriptions. (You pay $12.99 per month for 1-5 team members, totaling $155.88 per year. But if you opt to pay yearly, you only pay $119.99 for the year.)
Photoshop Pricing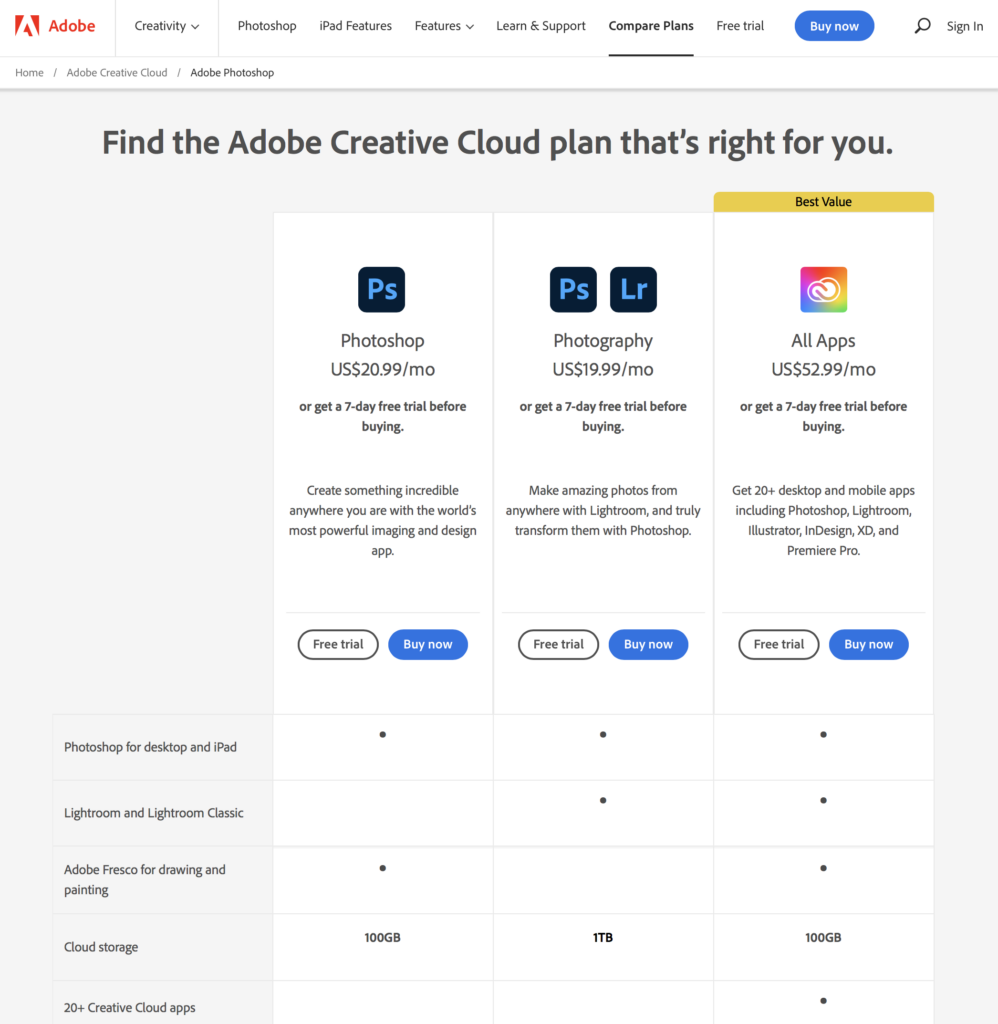 With Photoshop, you don't have as many options to find the right plan for you. And these plans start at nearly double that of Canva. Since Photoshop is part of the Adobe suite, you have an option to get access to all their design apps if you opt for the All Apps plan.
You can also sign up for a 7-day free trial of any of the three plans so you can "test before you buy."
Here's how the pricing for Photoshop works:
| | | | |
| --- | --- | --- | --- |
| | Photoshop | Photography | All Apps |
| Prijs | | | |
| Ideal for | | Making your photos amazing and magical with Photoshop | Access to all design apps for true design power |
| Belangrijkste kenmerken | Can use Photoshop on iPad and desktop, Adobe Fresco for painting and drawing, 100 GB cloud storage | Photoshop for desktop and iPad, Lightroom and Lightroom Classic, Adobe Fresco, 1 TB cloud storage | Everything in Photoshop and Photography + 100 GB of cloud storage and access to 20+ desktop and mobile apps, like InDesign, Premiere Pro, Illustrator, and more |
Other Popular Graphic Design Platforms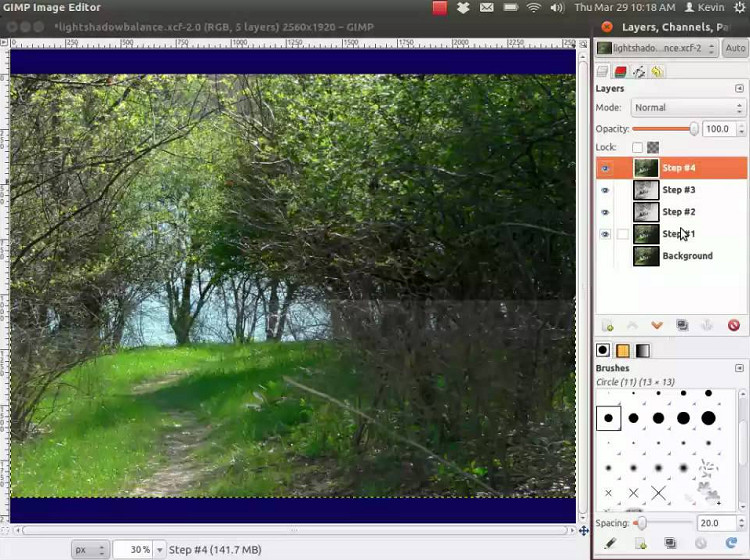 If you aren't sure whether Canva or Photoshop meets your design needs, consider:
GIMP:

A free editing platform, GIMP is easy to use. With it, you can mask layers and make color adjustments, just like in Photoshop. There are also a variety of plugins you can add for improved functionality.

Design Wizard:

A paid-for option for your design needs, Design Wizard allows you to create templates. It features an Image and Video editor.

PicMonkey:

An online photo editor that's accessible via a web browser or app, PicMonkey offers templates, but it is recommended to create your designs from scratch.
The Final Verdict: Should You Choose Canva or Photoshop for Your Design and Photo-Editing Needs?
Both Canva and Photoshop are great tools to have if you need to design something for your website, social media platform, etc.
However, Canva wins this round because it is user and beginner-friendly, so you can sign up and have a design or two ready in an hour or so. With all the templates on offer from Canva, it could be difficult choosing the right template for your needs. But each template is customizable, so pick one and make it work.
So use Canva if you are not a professional designer and don't have the time or effort to learn something more complex like Photoshop. If you are a designer and want more features when creating designs and photo editing, Photoshop is the best software for you.