Last Updated on juni 1, 2023 by DMEditor
These days, everyone strives to gain popularity online. The best way to make your mark in the digital space is by creating videos.
More people are gravitating toward videos and consuming online video content. Video platform giant YouTube has over two billion monthly active users. If you plan on making videos, you're sure to have an audience.
While you can film videos on your smartphone, you'll have to find a way to edit them. If you can't afford a video editor or a professional video platform, there are free and cheap video editing alternatives that are easy enough for a beginner.
Two of the most popular platforms are iMovie en WeVideo. But which one should you choose?
Bottom Line Up Front Summary: iMovie is fine for very basic editing, but if you are doing ANY sort of more advanced editing, the more functional (and easy to use) option is definitely WeVideo available here.
Dingen om in gedachten te houden
Before you try either video editing platform, here's some important information to know.
Every video editing platform has its own capabilities. Have a good idea of the video editing features you need for your videos and see if either platform offers them.
Don't be surprised if you'll need more professional software in the future. These two programs are great starting places, especially if you're new to video editing.
If you want to use WeVideo, you need a good internet connection because the platform is based online.
You can only use iMovie if you have a Mac PC
Both platforms have mobile apps, but iMovie only has an editing app for iOS.
The Main Differences Between iMovie vs WeVideo
The main differences between iMovie vs WeVideo include:
iMovie is for free, whereas WeVideo is a paid subscription. Pricing starts at $4.99/month.
iMovie is a desktop platform for Mac users, whereas WeVideo is an internet platform
iMovie offers support tickets, whereas WeVideo does not.
iMovie is available in a slew of different languages, whereas WeVideo is only available in English
Editor's Choice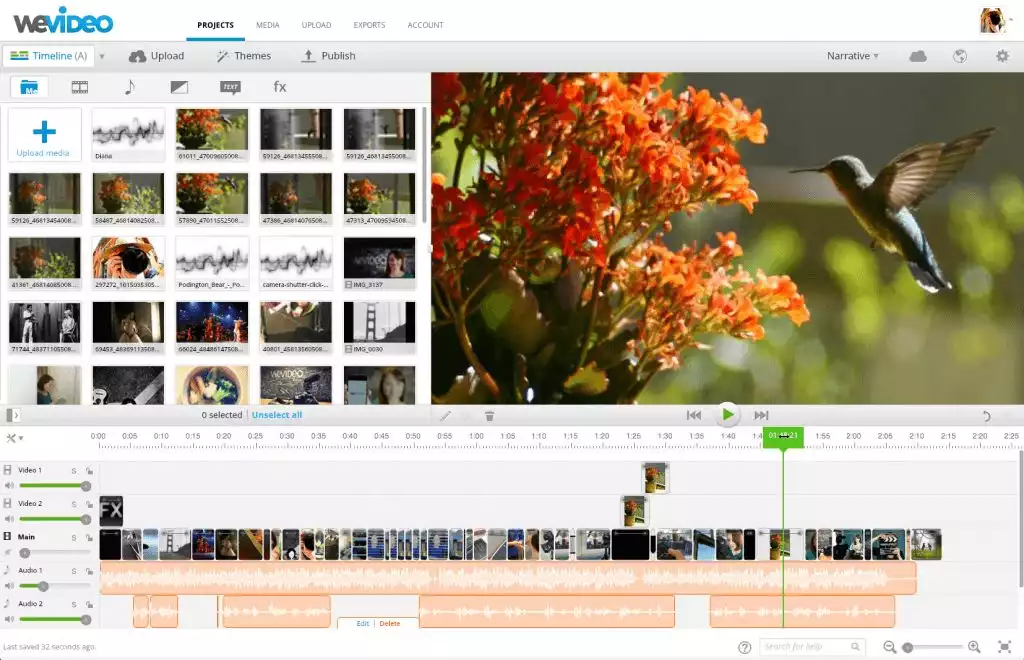 Do you WeVideo?
We do! Versatile, easy-to-use and 100% cloud based, WeVideo is our TOP PICK here, and for just a fraction of the cost of other video editing tools.
Try Wevideo First
Wij verdienen een commissie als u op deze link klikt en een aankoop doet zonder extra kosten voor u.
Kenmerken
While these video platforms aren't as extensive as competitors such as Final Cut Pro and Adobe Premiere Pro, they both offer powerful features. Not only that, but both platforms offer the same or similar capabilities.
Here are some featured included in both iMovie and WeVideo:
Title editor
Trim and slice
Video effects
Keyframes
Audio waveform
However, both include different features from the other program.
For example, iMovie lets you implement different video speed and time effects. WeVideo offers slow motion, but no speed up edits.
That doesn't mean WeVideo lacks on features. With WeVideo, you can edit a screencast (screencasting), use green screen editing, add voiceovers, and it includes many built-in graphics. WeVideo also supports different integrations.
One of the big advantages of WeVideo is the ability to select your video's dimensions easily. After you upload your video clip footage, you can select a horizontal, vertical, or square video. This takes out the complex process of resizing your video during export to get finished video.
In addition to these features, both platforms offer a data backup for your videos and clips. You can easily access your clips on both desktop and mobile video editing app (for your mobile device). WeVideo offers a cloud platform and iMovie autosaves all of your projects in a folder.
There is one main advantage that iMovie has over WeVideo — iMovie supports HD and 4K video editing, whereas WeVideo only supports 720p video resolution unless you upgrade to one of their advanced plans.
iMovie Features
iMovie includes some professional-grade features. These include:
HD and 4K video editing
Automated video editing
Video effects and transitions
Crop and rotate
Photo and music import
Clip browser
Audio and music editing
Real-time titling
Stabilization
Video color settings
Tijdlijn
Video speed change
Open multiple projects simultaneously
Pre-built themes and backdrops
Even though iMovie is a free program, it offers just about everything you need for video editing.
WeVideo
WeVideo is a powerful platform but doesn't offer as many features as iMovie.
Here's a breakdown of the features:
Screencasting
720p Screen Resolution
Slow-motion
Cloud opslag
Green screen
Built-in graphics
Motion titles
File and media manager
Music library
WeVideo Jumpstart
Customizable environment
Voiceover
Multi-track editing and storyboard
Advanced text editing
While both platforms come jam-packed with features, iMovie definitely has decent features. Though WeVideo is a better iMovie alternative for those who need specific features, such as screencasting and voiceovers.
Pricing Feature Comparison
Even though iMovie is only available for Mac users (free video editing software), Apple fans can rejoice — iMovie is a totally free video editor! It should come pre-installed with every Mac and iOS users can download the iMovie video editor app for free.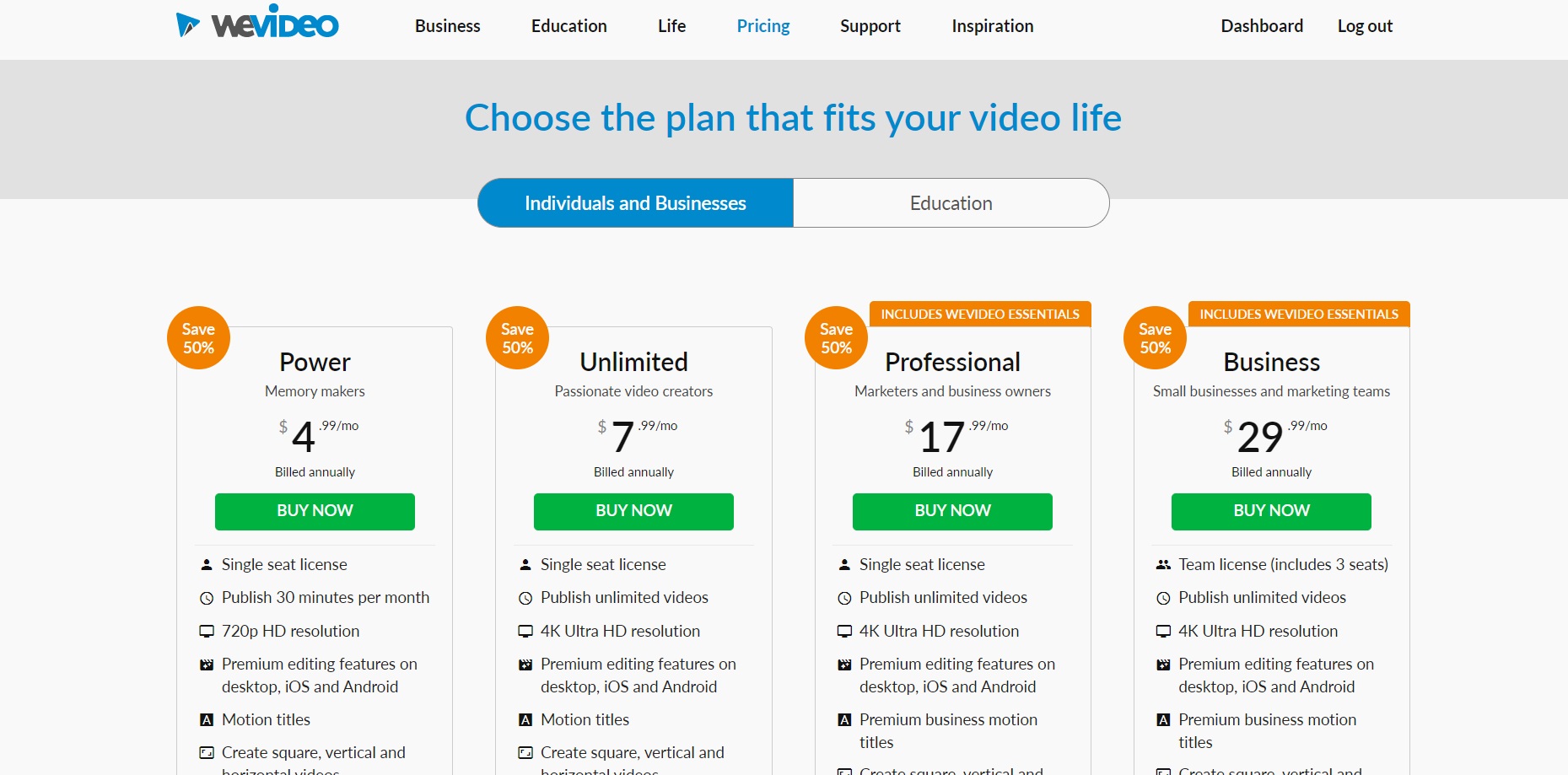 While WeVideo includes a free trial, it is a paid platform. Here are the prijsniveaus for individuals and businesses, billed annually: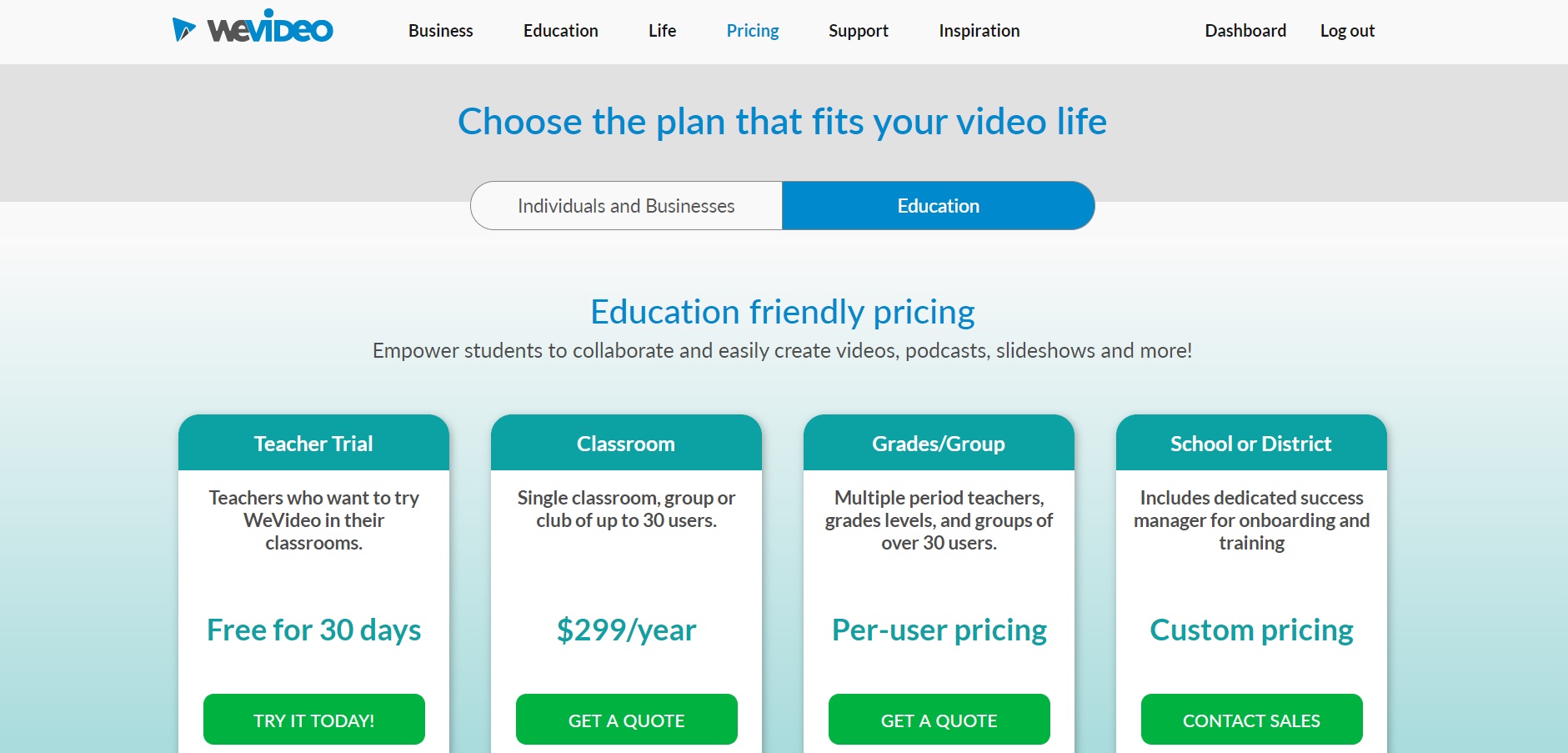 WeVideo also offers prices for educational purposes. Teachers receive a 30-day free trial while a classroom package is $299/year. For entire grades and groups, you must get a quote per user. There's custom pricing for schools and districts.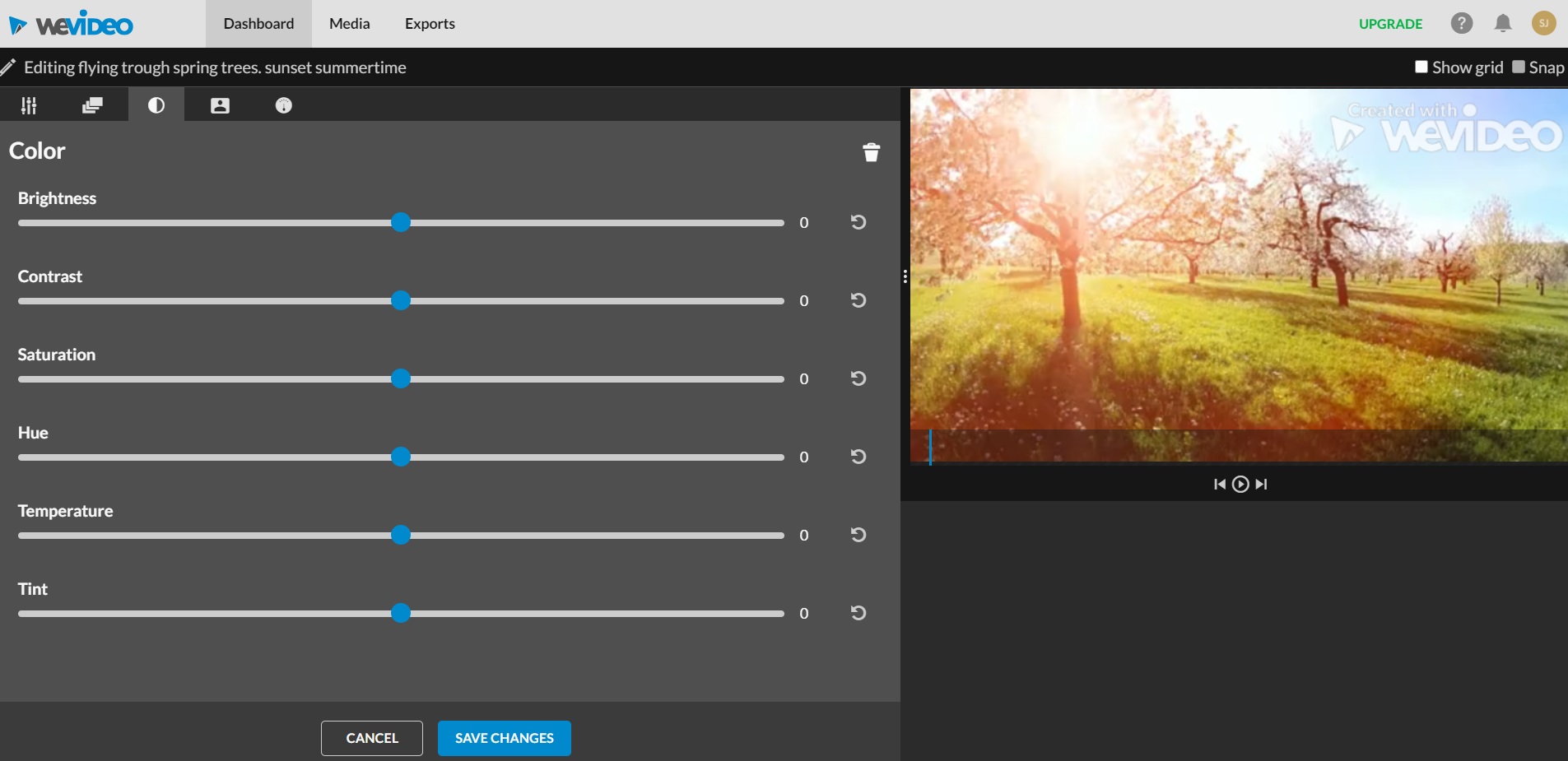 WeVideo's free trial offers plenty of powerful video editing features. This includes cutting and splicing, color, and different effects.
But there are plenty of limitations. First, your video can't be longer than five minutes. Essential video editing features, such as text, aren't included in the free trial. You also can't export your video without paying for a plan.
Even if you were to upgrade to an advanced plan, the prices aren't far off from their competitors.
An annual Adobe Premiere Pro plan costs $20.99/month, which is cheaper than WeVideo's Business plan. While the Business plan states it includes premium video editing features, Premiere Pro is renowned as a high-level video editing software for professionals and businesses.
Even if you decide iMovie doesn't have enough capabilities for you, Final Cut Pro X only charges a one-time price of $299.99, which is cheaper than what you would pay for a full year with WeVideo Business.
In addition, Final Cut's features are similar to Premiere Pro's, so you receive professional-level editing for a reduced price — compared to what you would pay with WeVideo Business.
Since iMovie is free, this program wins this round — even though it's only available for Mac. WeVideo is a convenient option for PC users who only make minor video edits, but the lower-tiered plans don't offer the extensive features as the higher-tiered plans. If you do need extensive video editing, users should look into Premiere Pro or Final Cut as opposed to WeVideo.
Gebruiksgemak
One of the downsides of professional video editing software is it can be difficult to learn and use the system. How do iMovie and WeVideo compare? Fortunately, both platforms are very user-friendly and easy to set up.
Using iMovie
iMovie is designed to be the beginner's video editing platform; therefore, Apple made iMovie with user ease in mind.
The whole user interface is easy to follow with clear directions on how to upload your clips and start editing. While your clip is in the timeline, you can easily cut and splice the clips using your mouse arrow.
iMovie also optimizes keyboard shortcuts; for example, you press the space bar to play the clip on your timeline.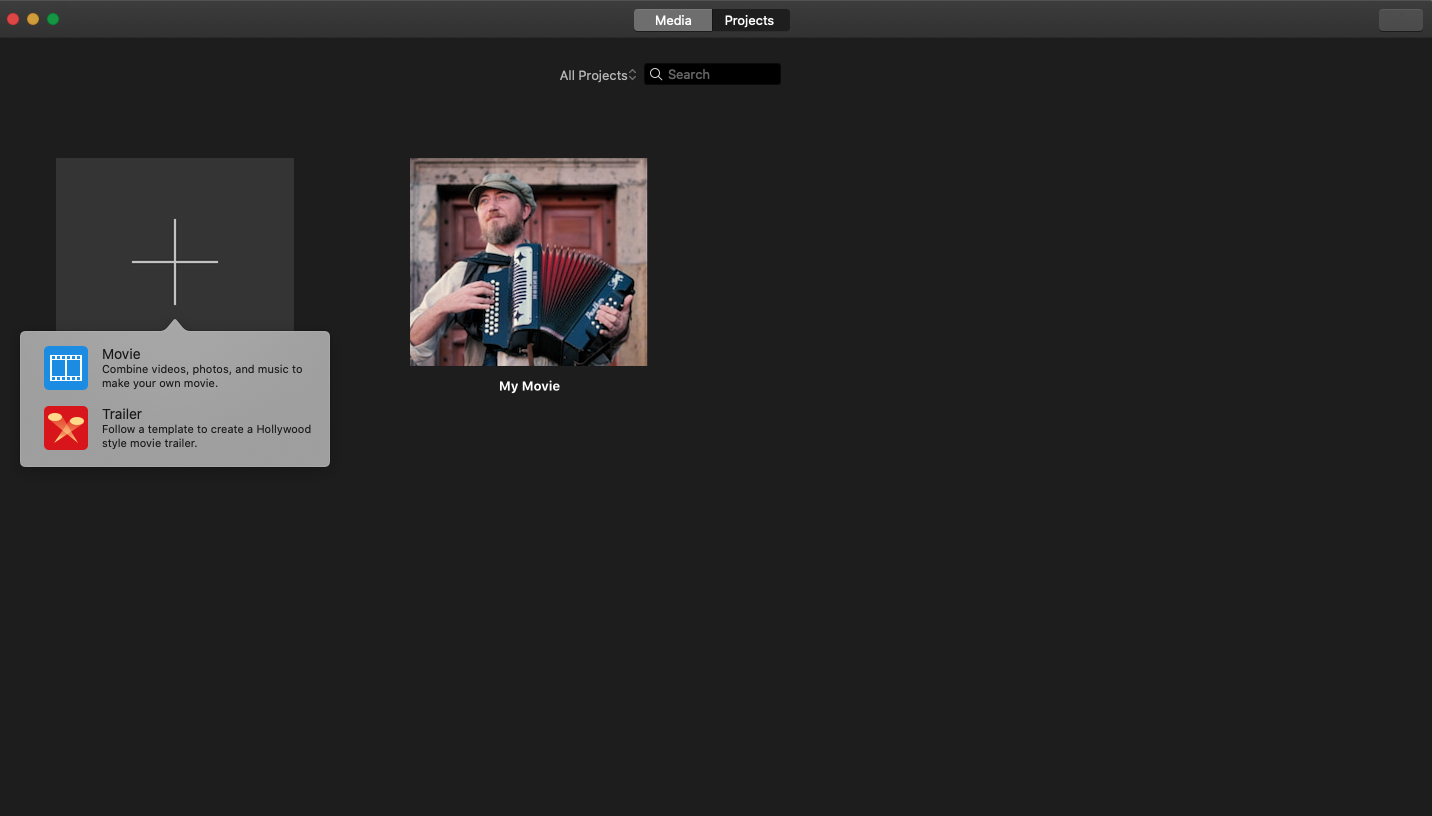 When you first open iMovie, you click the plus icon and choose your clip.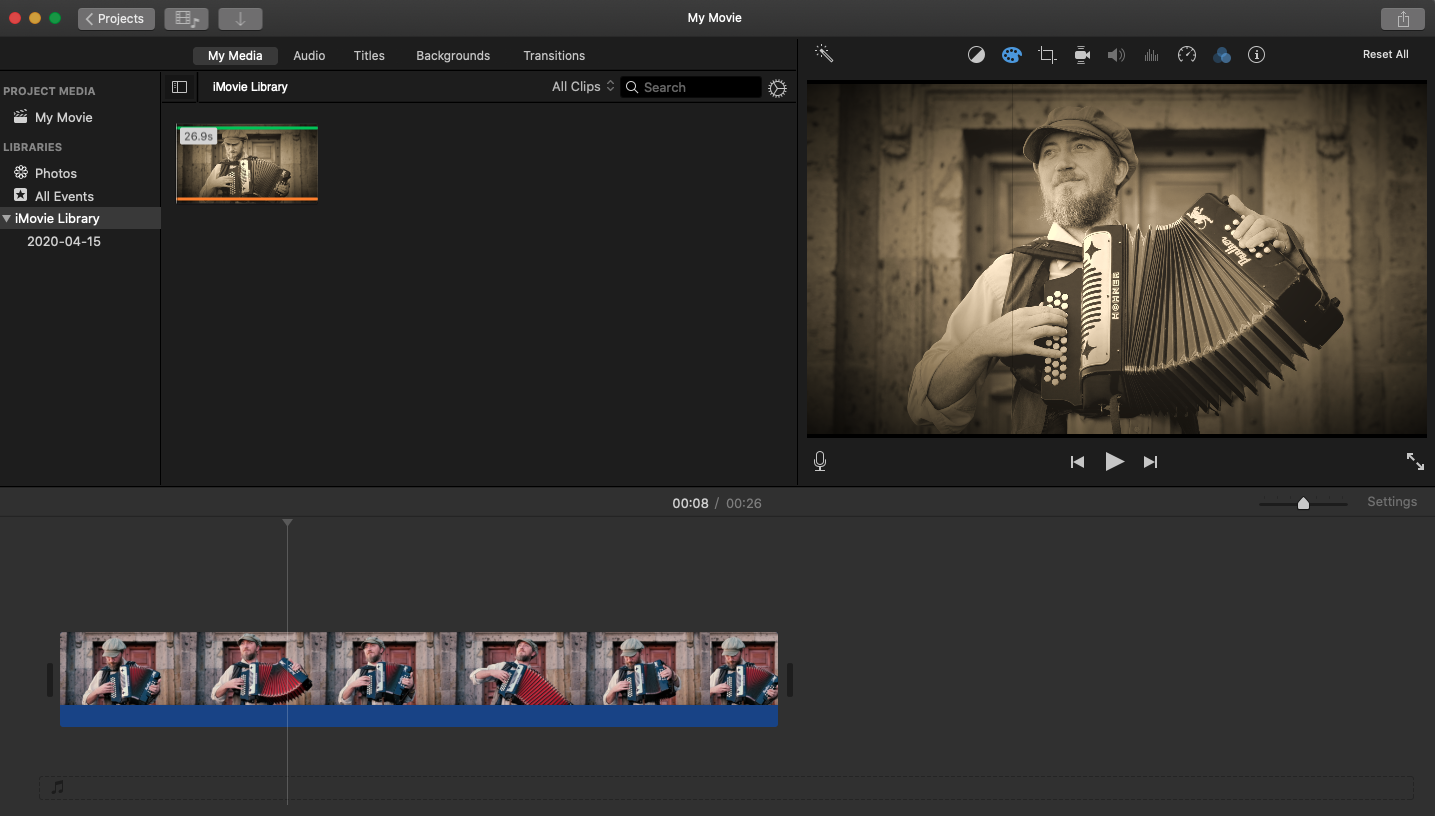 When your clip is uploaded, a timeline will appear underneath. The clip preview will be at your top right. To the top left, you can see your clip thumbnail and can add any additional clips.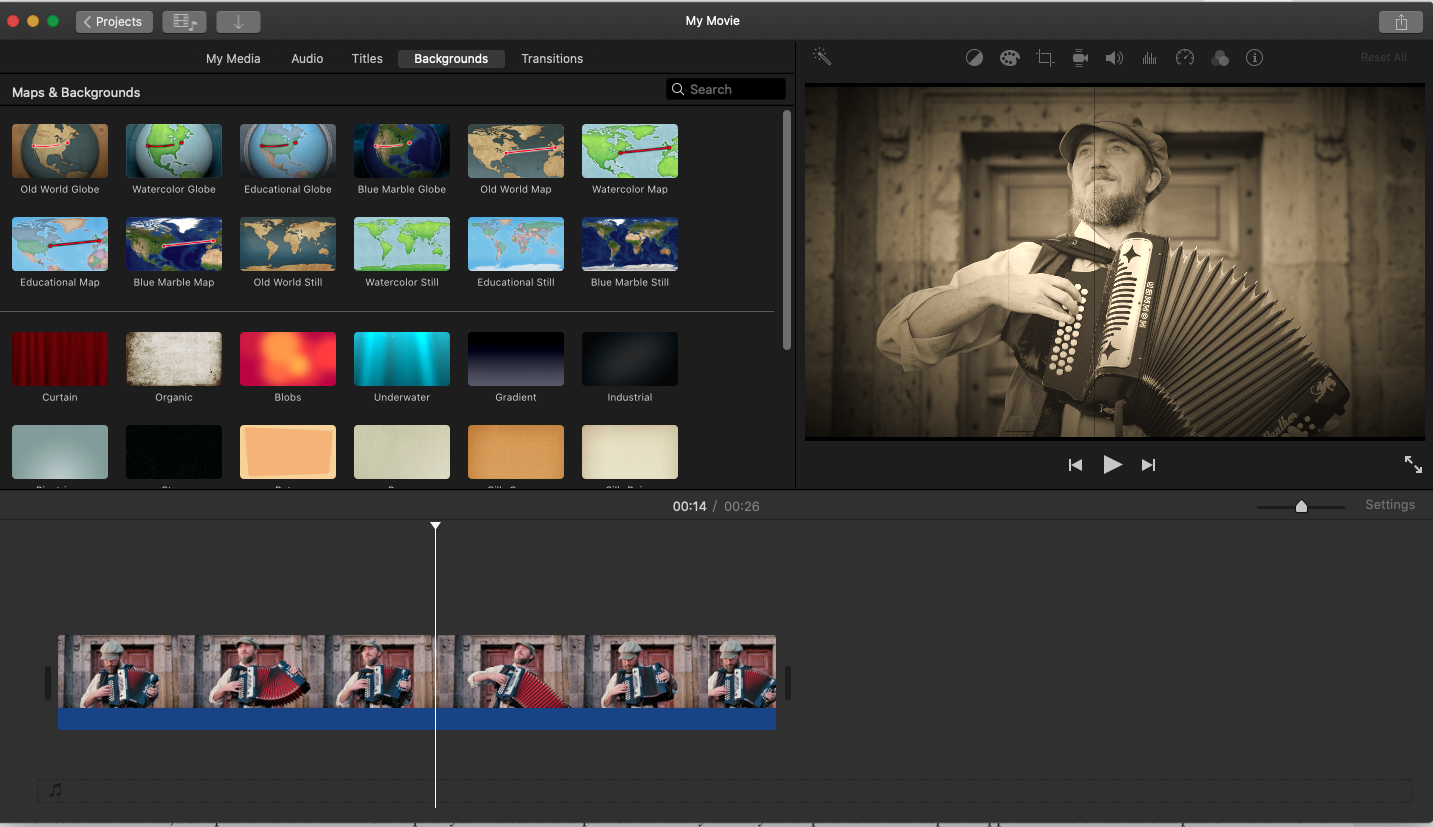 One of iMovie's most powerful features is the many creative options you can use. Access the top menu bar and click "backgrounds." From here, you can choose many unique backgrounds and colors to add to your clip.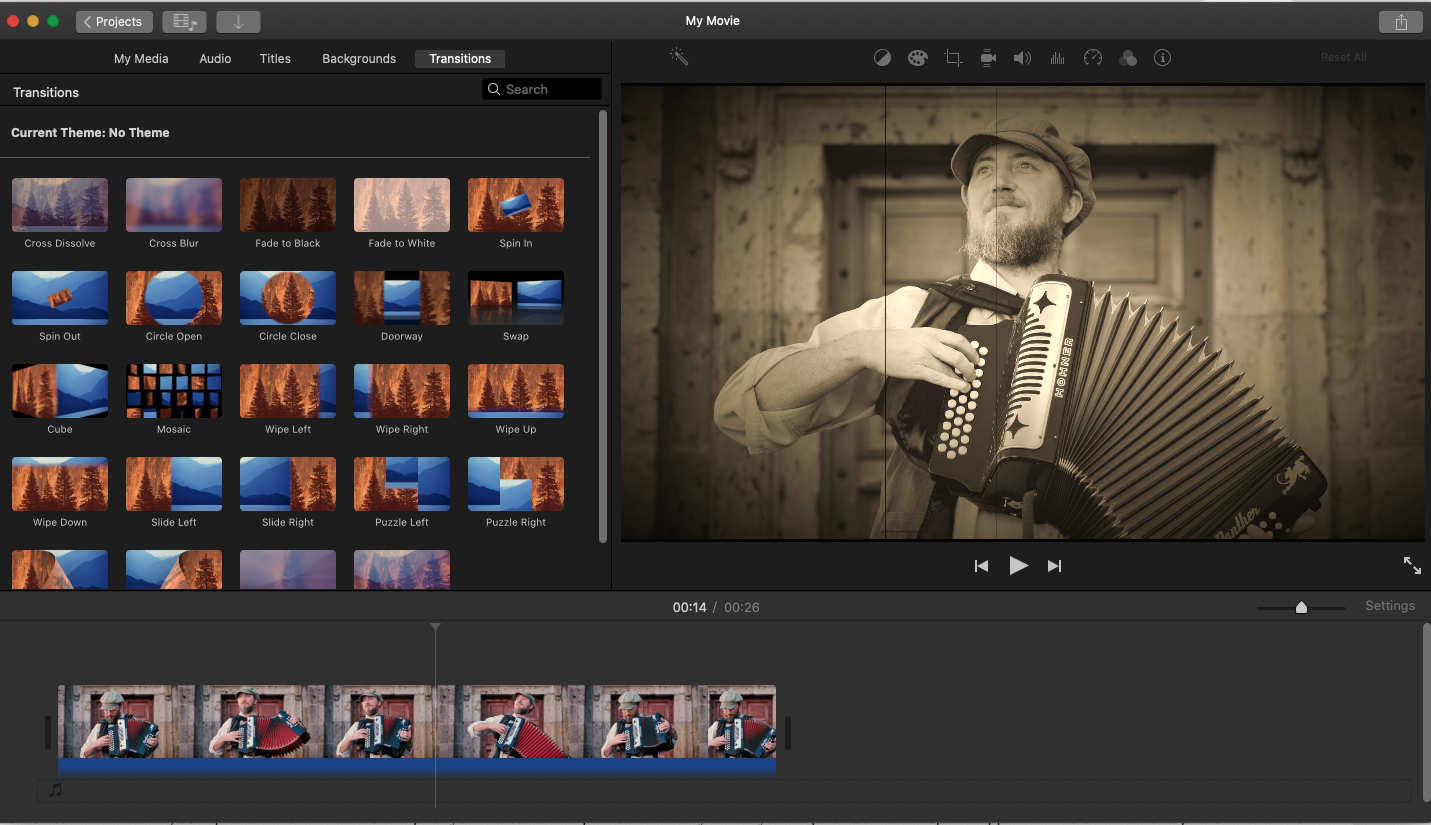 If your film has multiple clips, adding a transition between clips will better blend these two clips. Some common transitions used are cross-dissolve and fade to black, but there are more creative transitions you can use for a truly mind-blowing video. All you have to do is click "transitions" on the top menu bar and drag your ideal transition to the timeline.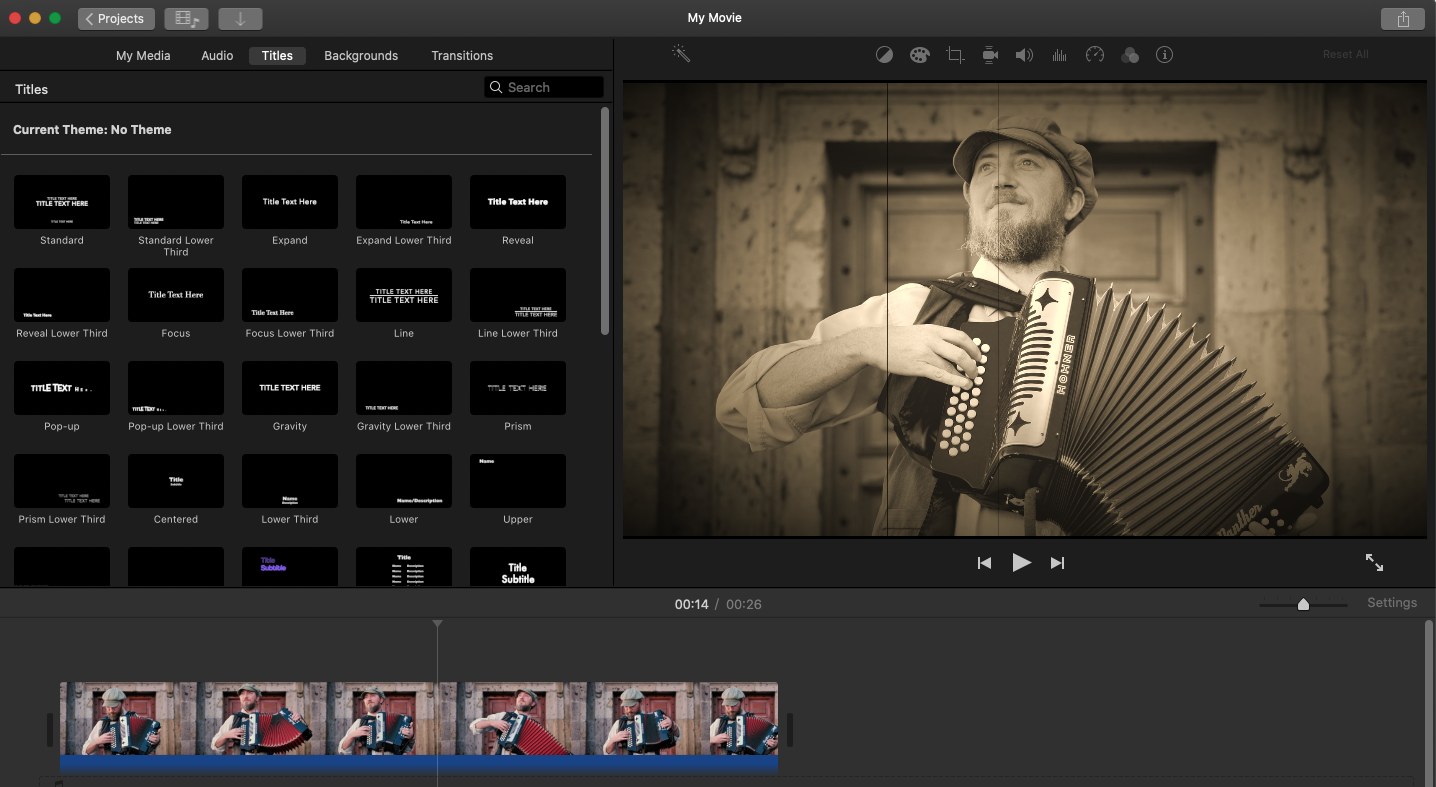 You may want to add text to your video, such as in the "end credits" section. Click the "Titles" section from the top menu bar and choose your text. Add your text and drag the text to an existing clip — or create a new clip with the text.
Using WeVideo
Is WeVideo easy to use? WeVideo uses a similar format — they have clear directions and storyboard-style editing format.
When you open the homepage, you have the option to create one of the following:
Video
GIF
Recording
Podcast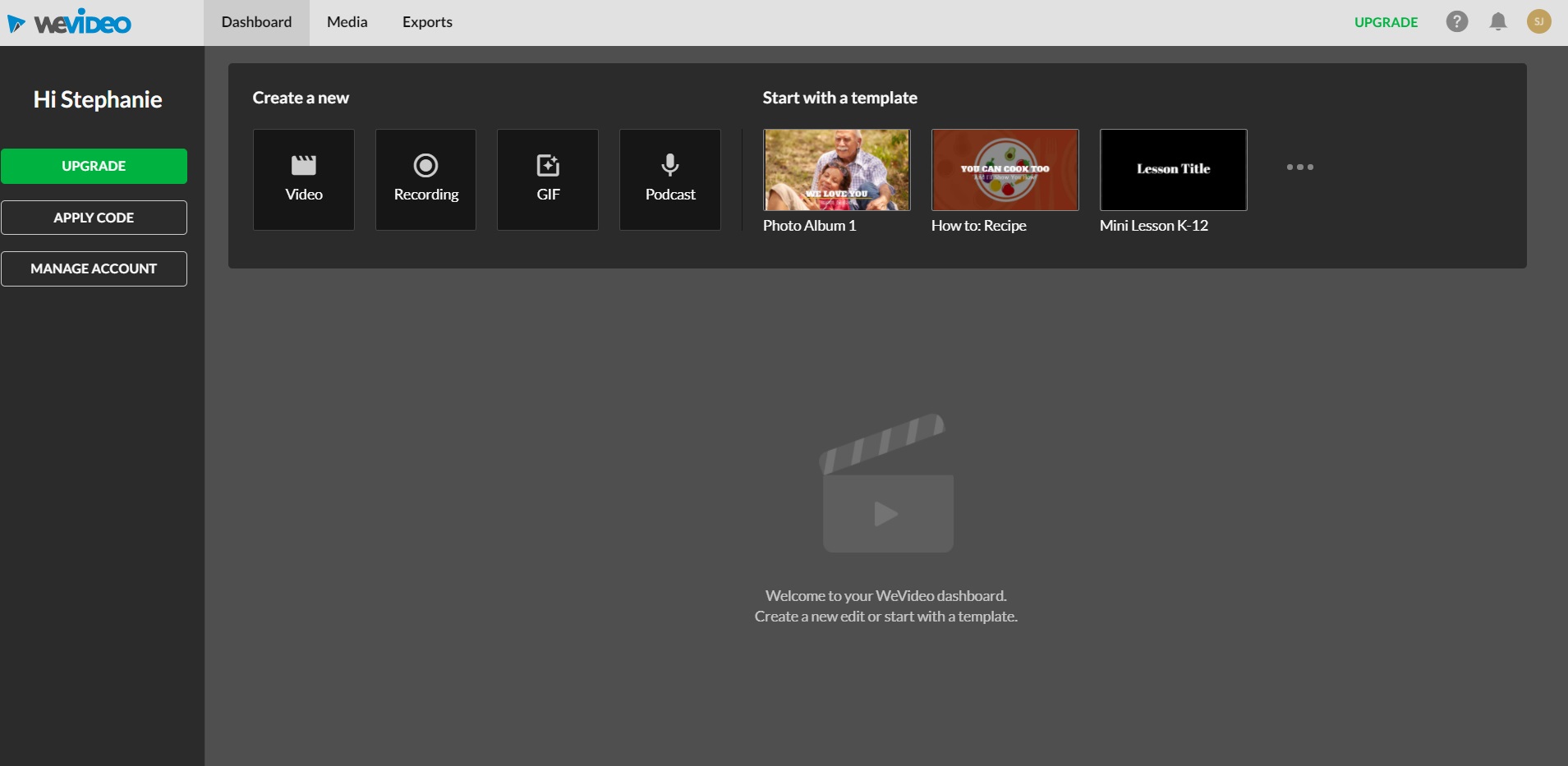 I selected video. After you select the video option, you have the option to create a horizontal, vertical, or square video. I chose horizontal.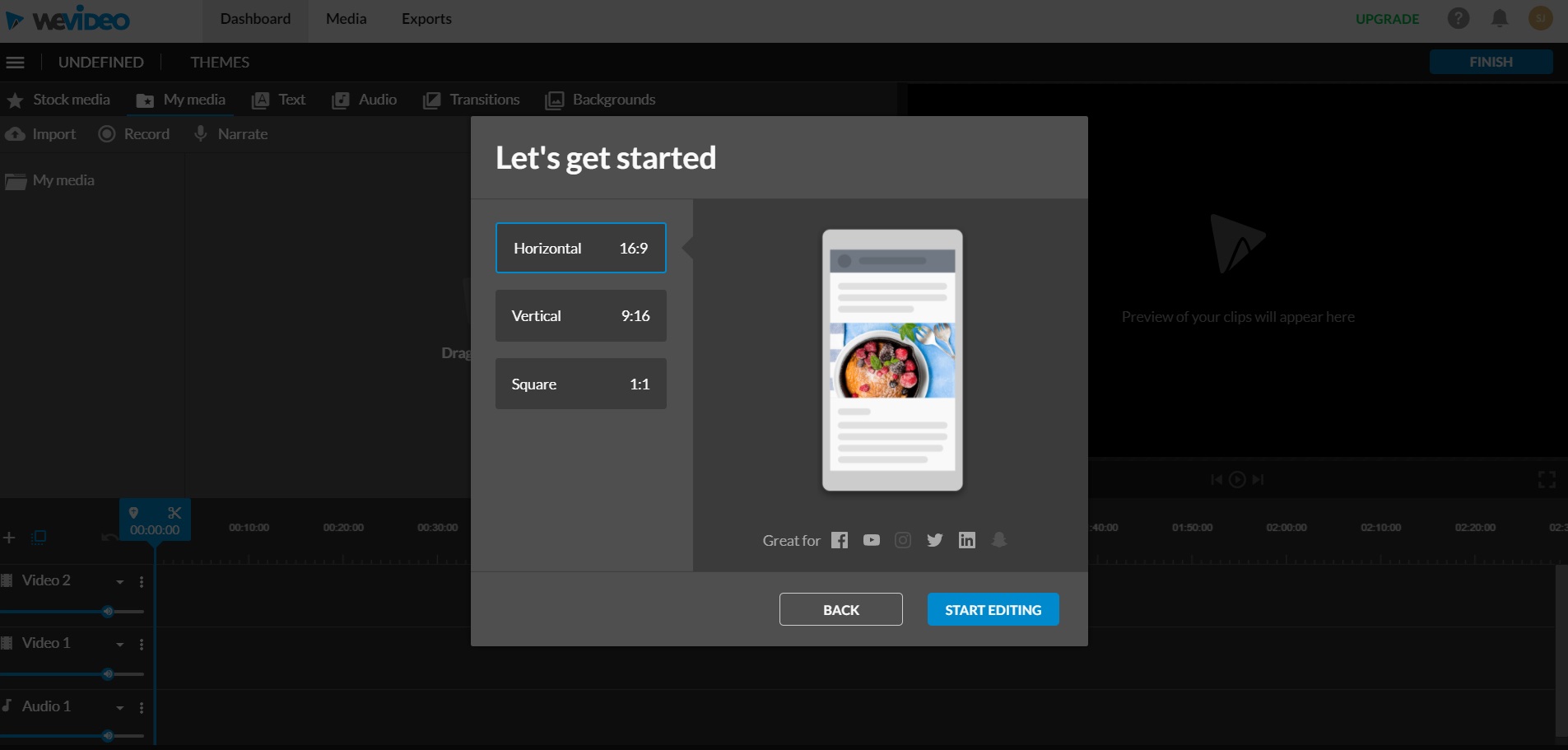 From here, you upload your clips (or use their library of images and sound effects) and you can add other fun elements, such as graphics. You can access these options in the menu at the top left.
You can also access text, transitions, and audio from this menu.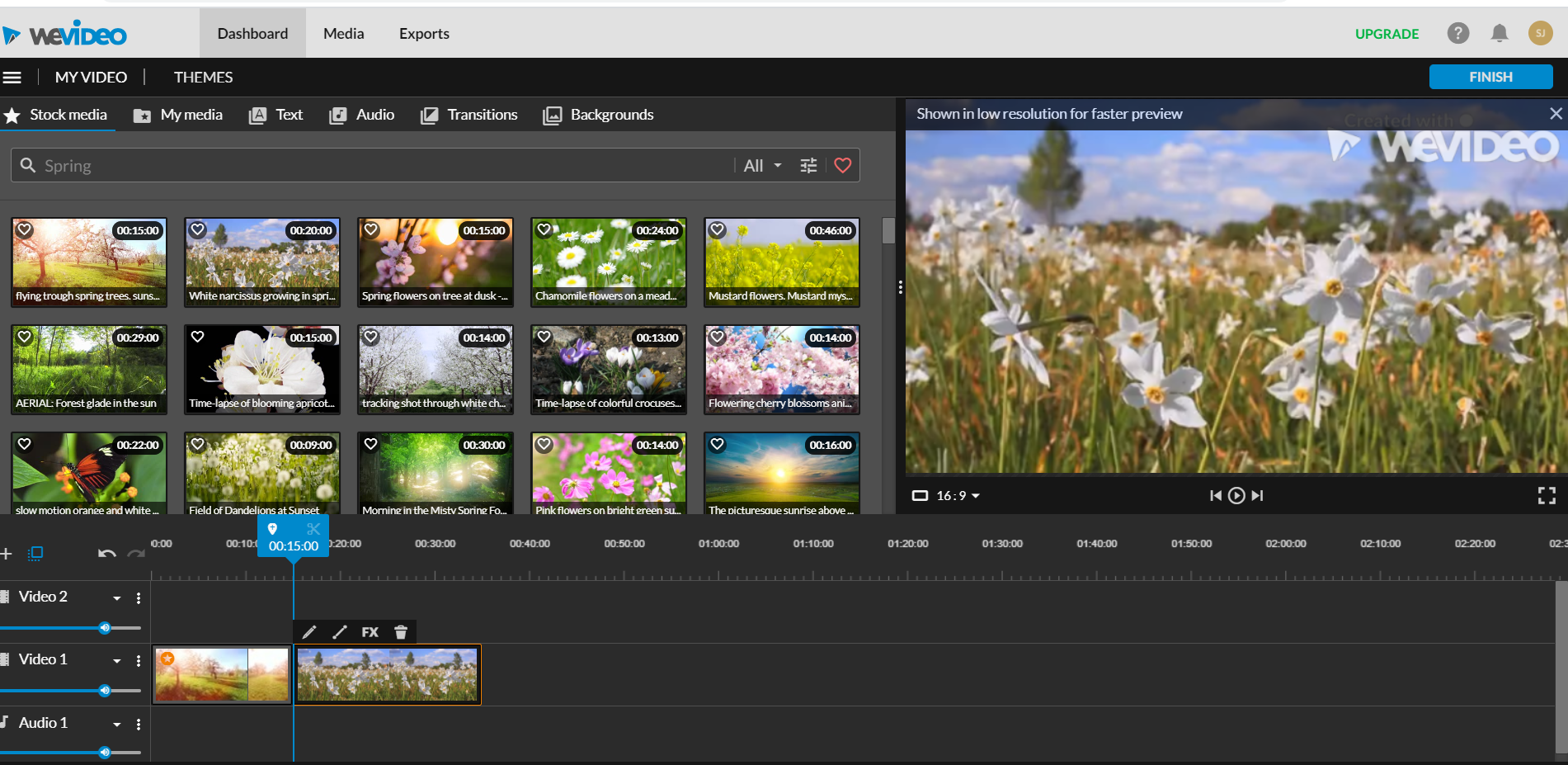 To cut and splice a clip, click on the clip and choose the scissor icon.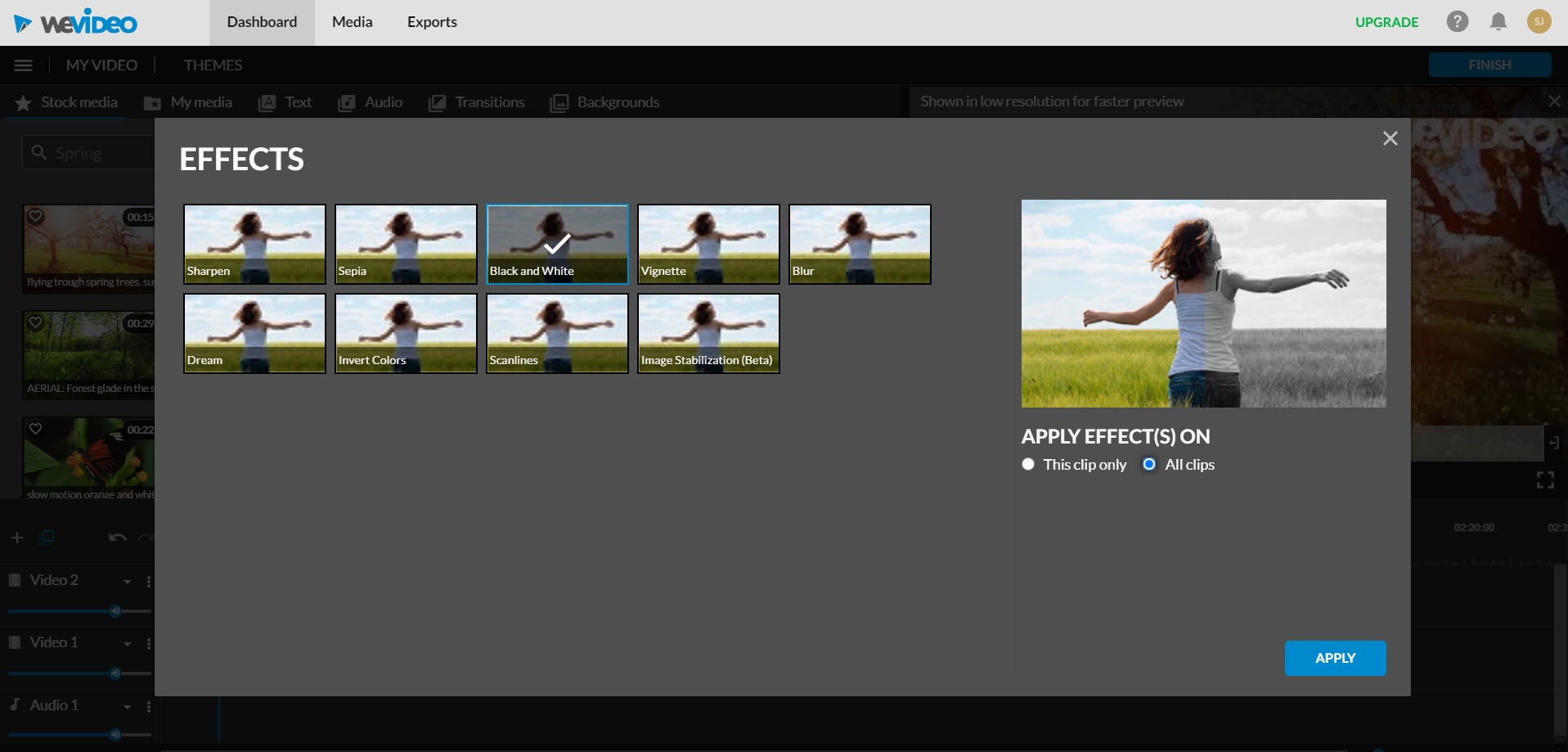 You access the effects in the same menu (the icon is the letters FX).
Both iMovie and WeVideo are easy to use and they have similar layouts and processes. Both platforms also provide clear directions and user-friendliness. These platforms are both tied in this category.
Klantenservice
What if you're confused about something? Is the platform experiencing tech issues? If so, you'll want to make sure both platforms have great customer support.
Both iMovie and WeVideo offer customer service via email. iMovie also gives you the option to submit a support ticket.
In addition, Apple offers an informational resource filled with tutorials and answers to common questions. WeVideo also offers a comprehensive resource for customers.
We couldn't find any information about iMovie's customer support; however, WeVideo's customer service has received bad reviews.
iMovie wins this round. Even though we couldn't find customer service reviews, they offer more resources, such as support tickets, and WeVideo's customer service has received poor reviews.
FAQ's
Do you have any questions about these platforms or about video editing? Here are a few common questions that users ask.
Do These Platforms Have Good Editing Options and Capabilities?
While iMovie isn't as advanced as Final Cut, it does include impressive features. If you're new to video editing or are only a hobbyist, iMovie is likely all you need to create great videos.
WeMovie also has great editing capabilities, but it depends on the plan you have.
If you only need basic cut and splice editing, the first or second tier is all you need. They're affordable and include all necessary video editing features. But if you need advanced editing capabilities, you might as well invest in a professional-grade program such as Adobe Premiere Pro.
Are There Any Other Alternatives?
Some other video editing program alternatives include:
Magisto
Promo.com
Clips
AndroVid Video Editors (Android Device)
Filmora
DaVinci Resolve
Is iMovie Available for Windows?
Unfortunately, it's not. Apple hasn't stated announced anything about iMovie being available for PC. However, PC users can use Windows Movie Maker as a free video editing platform.
Does WeVideo Have a Watermark?
As long as you're using a paid account, there won't be a WeVideo watermark.
What Kind of Video Can You Make on WeVideo's Free Trial?
Your video can have these specifications:
5 minutes length
One GB in size
720p resolution
Keep in mind, the free trial does come with significant restrictions.
iMovie vs WeVideo: Overall Recommendation
iMovie is the program we recommend. If you have a PC, WeVideo is a good option if you need basic video editing. But if you need advanced and complex video edits, we suggest you look into a professional video editing platform such as Adobe Premiere Pro.
Samenvatting: iMovie is fine for very basic editing, but if you are doing ANY sort of more advanced editing, the more functional (and easy to use) option is definitely WeVideo available here.
Are you still on the hunt for video creation and marketing tools? Take a look at what we recommend!
Editor's Choice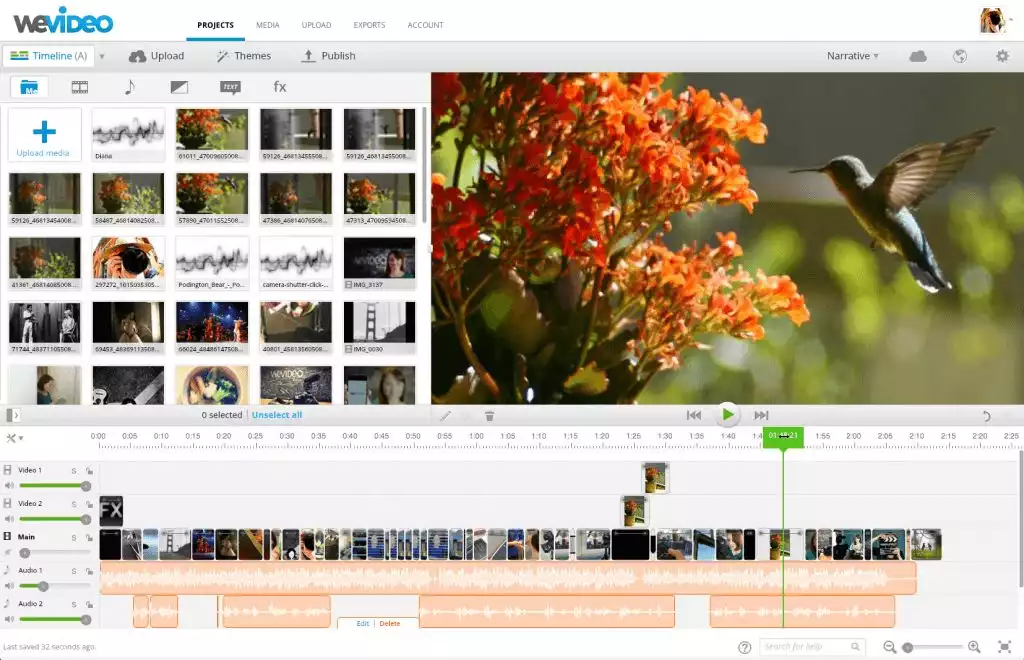 Do you WeVideo?
We do! Versatile, easy-to-use and 100% cloud based, WeVideo is our TOP PICK here, and for just a fraction of the cost of other video editing tools.
Try Wevideo First
Wij verdienen een commissie als u op deze link klikt en een aankoop doet zonder extra kosten voor u.
Further Reading on Video Editing Software and Editing Tool Options: