Last Updated on april 22, 2023 by DMEditor
In deze Sellbrite vs Ecomdash comparison, we'll be exploring the different features of two major multi-channel inventaris management software platforms to help you decide which one might be best for your business.
Check out our article on the best multi-channel inventory management software for a more detailed overview of multi-channel inventory management software.
It can be complicated to manage an online retail business over multiple sales channels. Keeping track of your inventory and your orders is a big task. These platforms provide the management tools to take the headache out of your inventory.
So, which one is better?
The Bottom Line Up Front is: Wij denken dat Ecomdash is the better Multi-channel inventaris management software. Whilst Sellbrite has a more intuitive and user-friendly interface and is more affordable for new businesses, Ecomdash has more features, more integrations, and better customer service. Just starting out? Small Business? Go with Sellbrite first, then graduate to Ecomdash.
In this comparison, we'll be exploring the main features of both Sellbrite and Ecomdash, comparing their customer support, interface and ease of use, prices, and pros and cons.
In addition, we'll have a look at some key questions and whether there are any Ecomdash or Sellbrite alternatives available. In the end, we'll sum up and explain why we think Ecomdash is the better solution.
Main Differences between Sellbrite and Ecomdash
The main differences between Sellbrite vs Ecomdash are:
Sellbrite offers a couple of integrations with other apps, whereas Ecomdash offers integrations with every app you could possibly link with your business.
Sellbrite is a more affordable option for a smaller business, whereas Ecomdash is more scalable for larger enterprises.
Sellbrite requires extra payment for FBA, whereas Ecomdash includes all the main features of the software in all their packages.
Sellbrite offers a 30-day free trial, whereas Ecomdash offers 15 days.
Of course, it's not all about differences and there are lots of ways in which these two platforms are the same. They both integrate well with all the major sales platforms and shipping companies, allowing you to manage both your products and inventory and your sales in one place.
To find out more about how to source products to sell, check out these product research tools.
Laten we deze twee producten eens in detail bekijken.
What is Sellbrite?
Founded in 2011 and now under the GoDaddy umbrella, Sellbrite is a platform that enables retailers (or larger brands) to list their products across a range of channels from one place (multichannel management). You have a centralized inventory serving all your different channels.
With some excellent reviews, Sellbrite proudly states that its customers on average see 300% growth in their business after using the platform for a year.
What is Ecomdash?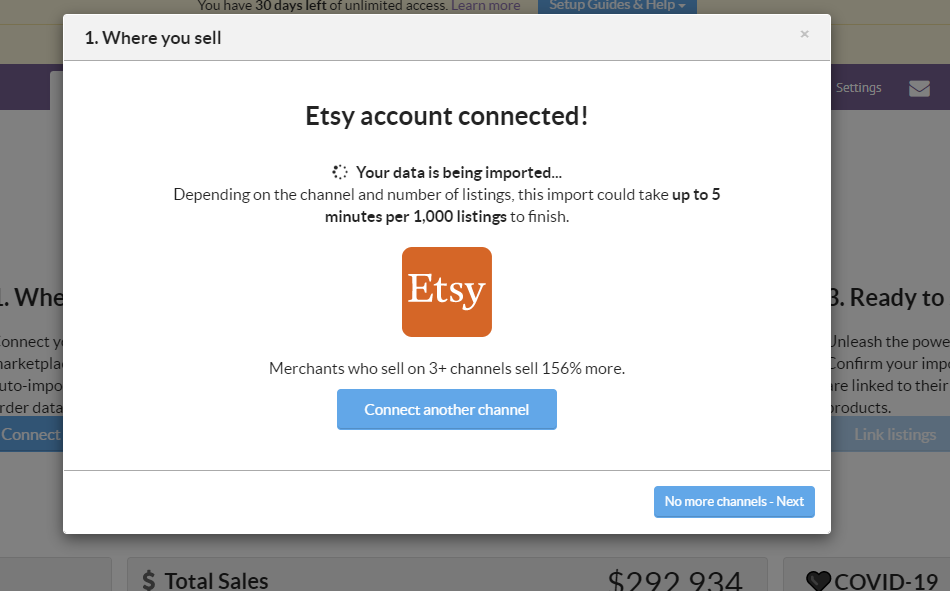 Established in 2014 Ecomdash also helps you manage your products and inventories across a number of platforms. Inventory management extends to restocking, warehouse coordination and distribution as well as order management. Part of the Constant Contact family of businesses, they feel they are part of a network built to support small businesses.
Ecomdash connects you with more than 50 online selling platforms including the big ones – Walmart, Magento, Amazon, Google Shopping, BigCommerce en Shopify for inventory management.
Features of Sellbrite
Catalog and channel management (multichannel)
Data synchronization
Voorraadbeheer
Marketplace integration
Order and returns management
SEO support and management
Interface en dashboard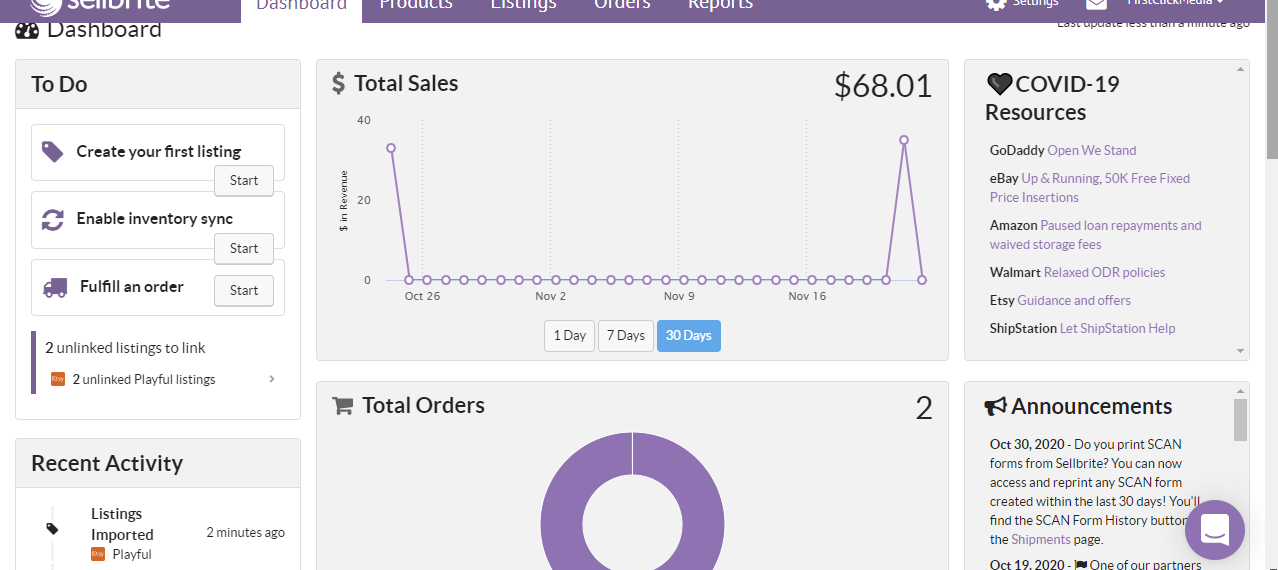 The site is easy to use even for people who aren't technical. It does everything it's supposed to form one sleek and intuitive interface. When you first sign up you are guided through the process of linking your multichannel sales, which is a very straightforward process.
Your dashboard then gives a clear overview of sales across multiple channels and allows you to list products and manage inventory.
The menu along the top gives access to the main functions of the software:
We particularly like the "To Do" list: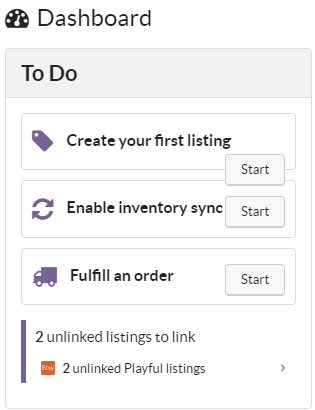 Voorraadbeheer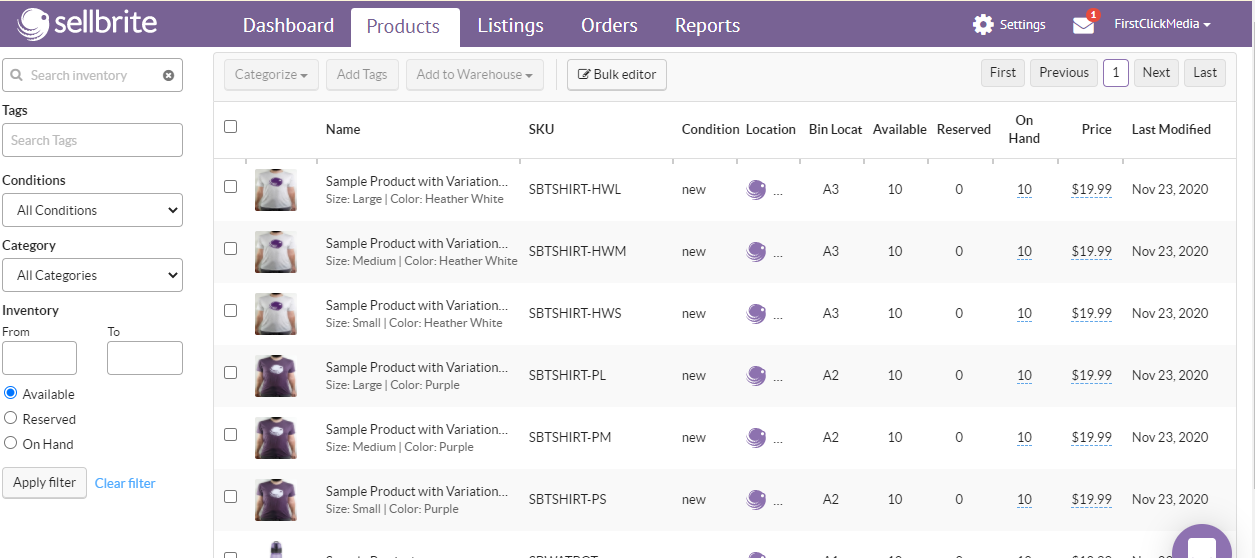 There are three key parts of Sellbrite's inventory management.
First, the centralizing dashboard which allows you to manage your inventory across your sales platforms. At a glance you can see your stock, warehousing, and what is being purchased.
You can also list in bulk across different platforms using simple templates to optimize the appearance of your listings for each sales channel. It lists all your items in a central catalog, so you just need to make a change there to update all your listings.
Second, Fulfillment by Amazon (FBA). As soon as Amazon receives your merchandise it automatically syncs to keep your stock levels (inventory levels) accurate. There's also a great Product Locator interface, allowing you to see what stock you have and where it is.
Managing Sales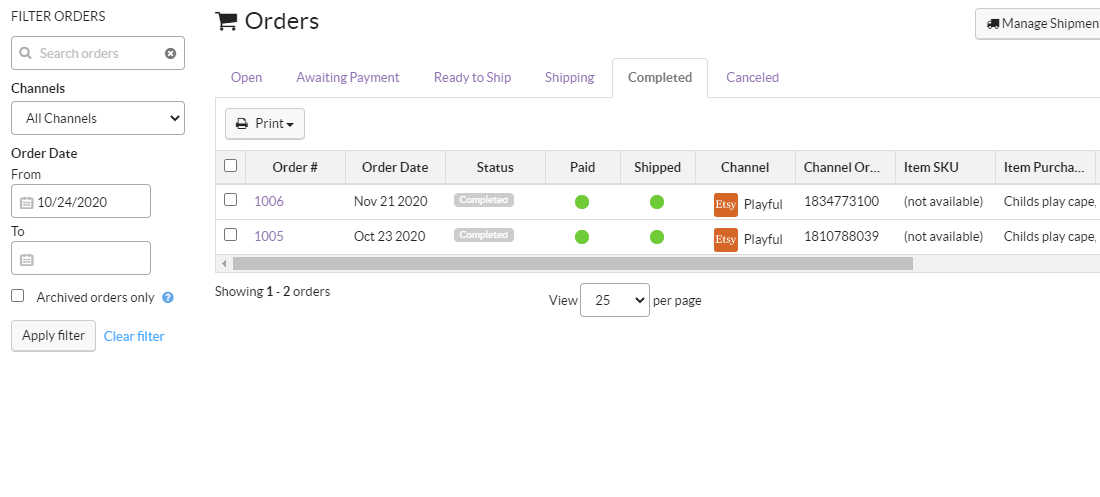 In one single user interface, you will be able to manage multiple orders on all your different channels. Then you can use their discounted shipping labels and go through just the one interface to ship them all, or automatically route them to FBA. This means that you don't need a separate shipping account, as Sellbrite already has the discounted USPS rates available.
Your sales channel will be automatically updated with the tracking number for the shipment.
Integraties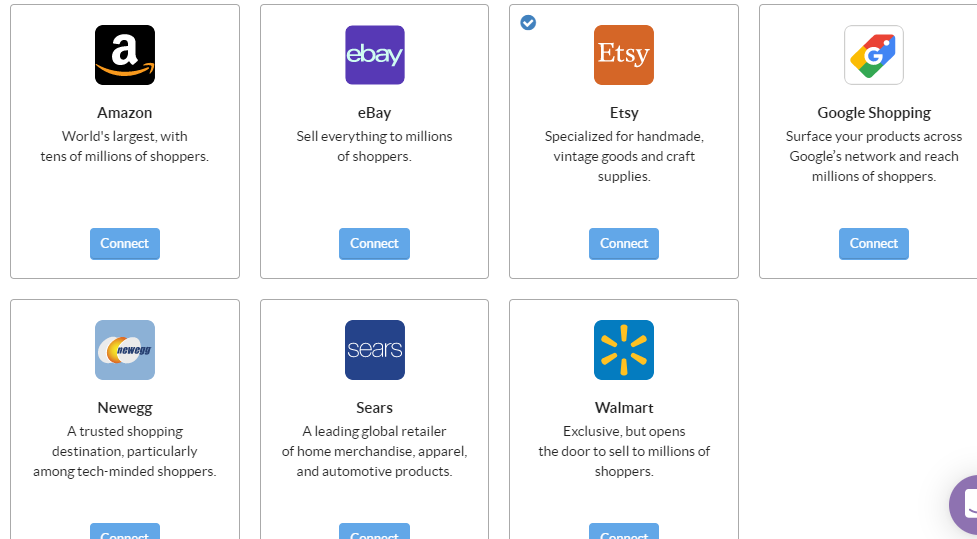 Sellbrite offers a great range of integrations, including the big names like Amazon, eBay, Google, WooCommerce, ShipStation, and many more.
Features of Ecomdash
Ecomdash has the following features:
Catalog and channel management
Data synchronization
E-mail marketing
Voorraadbeheer
Marketplace integration
Beheer van bestellingen
Winkelwagen
Interface en dashboard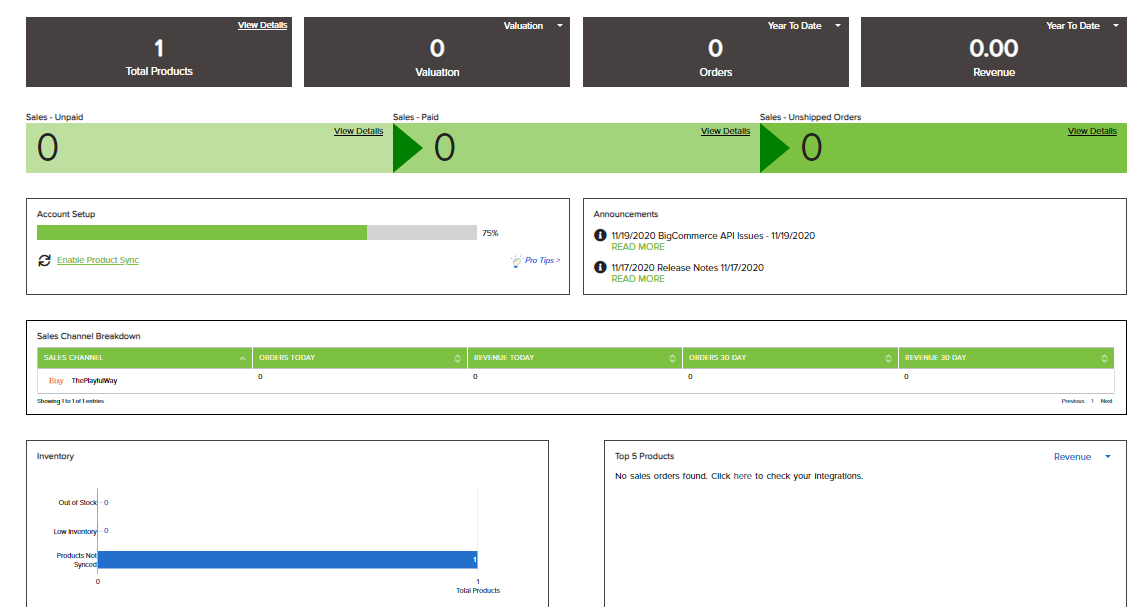 With a simple and easy to use (if a little outdated) layout, it's very easy to see what to do at each stage. There's a handy history of downloads, imports, and exports.
Right from the beginning, you are walked through the process of integrating your sales channels, though you also have the option to schedule a call with a customer service rep who can help with this.
Along the top of the dashboard are your basic functions. Simply hover over each one for more information. We really like the blue box at the top of each sub-dashboard which explains what you need to do on that page.
Voorraadbeheer

Operating a "near real-time" management system, Ecomdash will be continuously refreshing and updating your product quantities so you can be sure that the figures are up to date. In addition, you can set it to alert you when stock is getting low.
A handy "low inventory" list can help you keep track of which items need to be restocked.
It's easy to add products to one channel or to all of them with a basic template. You can either create a draft product listing using an existing product or add more to your catalog.
Managing Sales
A sales dashboard brings all your sales channels to one place, where you can print off your shipping labels and coordinate your dropshipping or third-party order fulfillment. You can see Unpaid, On Hold, and Paid orders.
Once you've done this, you are able to manage your transport within your shipping menu.
Integraties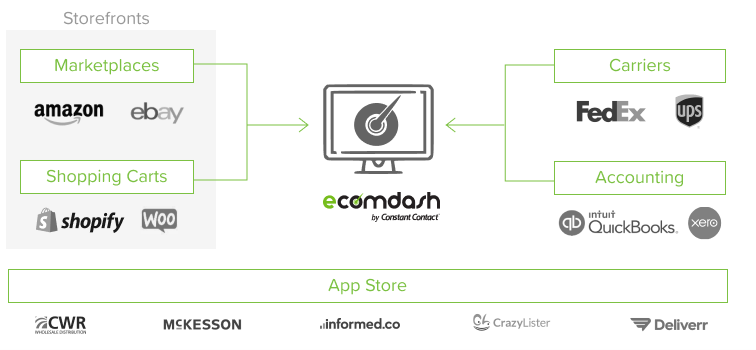 There are A LOT of integrations in Ecomdash, many more than are on offer on Sellbrite. In fact, you can probably get a plugin for pretty much anything you want your ecommerce platform to do. All the integrations are included in the upfront price that you pay. Categories for integrations include:
Apps
Listings
Marketplaces
Miscellaneous
Point of sale
Shipping and
Suppliers
Sellbrite vs Ecomdash – Support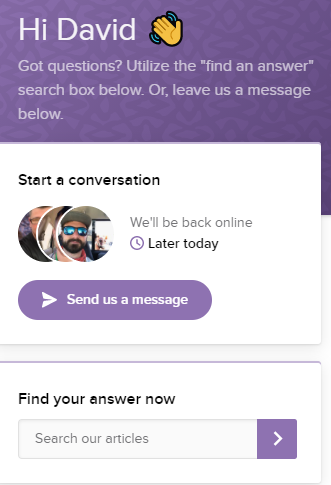 Sellbrite customer support is reported to be outstanding. Feedback suggests that staff are friendly, helpful and knowledgeable and that problems are resolved quickly, and everything explained fully.
One reviewer suggested that you get the impression it's one of the few companies where the support staff and development staff actually communicate.
There is an extensive knowledge base with FAQs, articles, troubleshooting, etc. though if you do need to contact customer support, this is done by email rather than by phone or instant chat.
Ecomdash customer support is sometimes hard to reach, but feedback suggests that they do sort out any problems effectively. Reviewers really like the option to schedule a service call with an actual rep at any time. They are also available online and by phone during business working hours and offer an extensive knowledge base and video tutorials.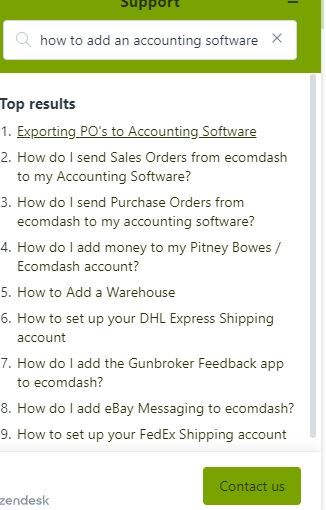 Online support includes a blog, eBooks, a FAQ section. Support hours are 8am – 6pm ET.
Sellbrite vs. Ecomdash – Pros and Cons
Sellbrite
Voors
Easy to use and intuitive
Affordable costs to get you started
30 dagen gratis uitproberen
Free option for the smallest businesses
Goede klantenondersteuning
Multi-channel functionality.
Nadelen
Moving up through the plans can lead to a significant jump in price for little perceivable benefit.
FBA add-ons cost extra
Not as many integrations as competitors
Ecomdash
Voors
Schedule a customer service call
Helpful and supportive service team on email and phone
Multiple integrations
Fees are based on sales
All the features in every plan
Innovative and adding new features
Free 15-day trial
Nadelen
There have been times when there are significant lags in the software, reducing productivity and getting frustrating
Desktop interface is a bit ugly
Can take a while to set up
Quite an expensive option for a smaller business
Sellbrite vs Ecomdash – Pricing
There are two main plans available – Sellbrite and Sellbrite for Shopify, which does not offer a significant set of features.
In the main Sellbrite plan, the pricing is tiered as follows:
A significant reduction in fees occurs if you choose to pay annually rather than monthly. There are also High Volume Plans available on a sliding scale for sales between 10,000 and 100,000 orders per month.
A free 30-day trial is available. Find more information about the pricing and the free trial here.
Ecomdash
Starts at $60 per month and has a free trial available.
Your pricing structure is based on the number of sales you make and there are seven categories (all with a free 15-day trial).
1-100 sales per month – $60 per month or $576 per year
101 – 500 sales per month – $90 per month or $864 per year
501 – 1,000 sales per month – $135 per month or $1296 per year.
1,001 – 3,000 sales per month – $190 per month or $1824 per year.
3,001 – 6,000 sales per month – $250 per month or $2400 per year.
6,001 – 10,000 sales per month – $350 per month or $3360 per year.
10,000 + sales per month – bespoke plan, contact Ecomdash for details.
To explore more about what's available in the different price plans and to sign up for the free version – klik hier.
Are there any Alternatives to Sellbrite or Ecomdash?
In addition to Sellbrite and Ecomdash you will find a range of other inventory management software platforms on the market, some of which also offer some comprehensive warehouse and shipping functions. Here are some you might wish to look at:
Veeqo

Some big business names make use of Veeqo, suggesting that it is a trustworthy operator. You can integrate your inventory across a wide range of stores, warehouses, and marketplaces. A key feature of Veeqo is that it comes with a smartphone app to manage your inventory on the move.
With warehouse management and international shipping functions not available from all the other options, this is a great choice for global sellers.
Sellware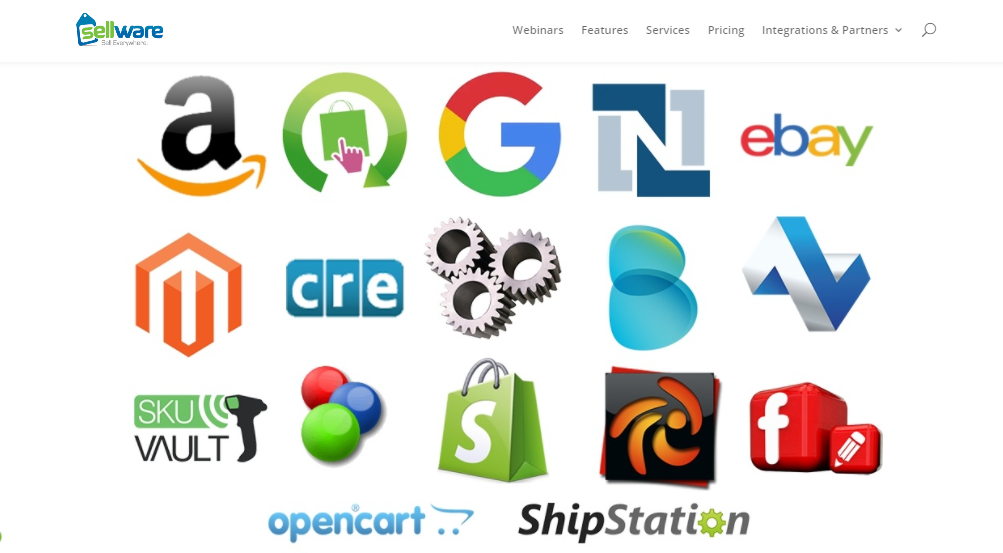 Sellware offers great centralized order and inventory management to integrate your sales channels. It is marketed as being developer-friendly and stress-free. It is quite an expensive option and relies heavily on external systems for some of its features.
Expandly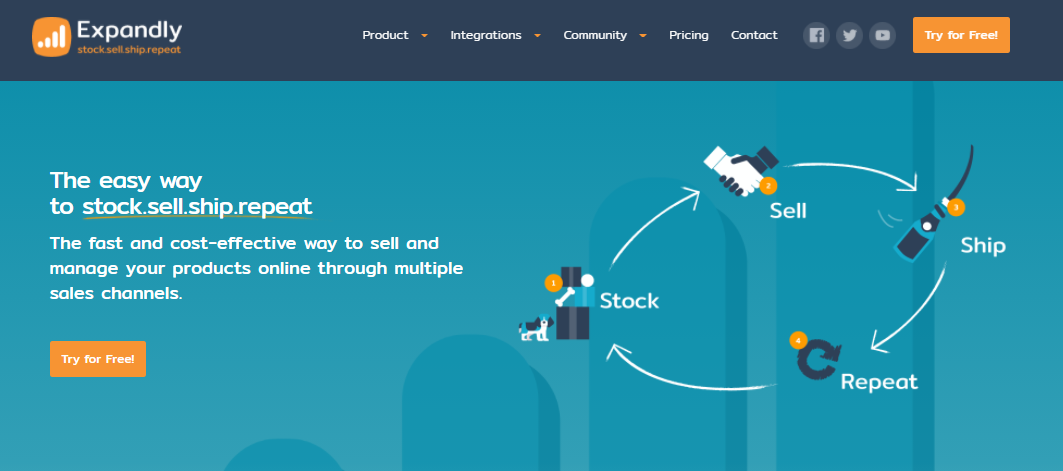 Expandly focuses on small businesses, offering them an affordable way to reach the global ecommerce market by managing products and sales across different channels. One of the key features of Expandly is their excellent reporting capability, to help support you as you develop and expand your business.
Price plans are based on annual turnover rather than a set number of orders and each price plan unlocks increased features.
FAQs About Sellbrite and Ecomdash
Question: How often do I have to update the software?
Answer: Both Ecomdash and Sellbrite are based on the web, with no software downloads to your local space. There are many advantages to this, not least that you don't need to update anything. In addition, you can access your inventory from any computer.
Question: What is multi-channel selling?
Answer: If you sell your products on multiple platforms, for example on Etsy, on eBay, on your own website, and on Amazon, that's multi-channel selling. It can get quite tricky to manage your inventory and avoid overselling. That's where this software comes in and keeps things in order for you.
Question: Do Sellbrite and Ecomdash work on mobile phones?
Answer: Not at the moment.
Question: What is the difference between inventory management software and warehouse management systems?
Answer: Warehouse management systems are about the movement of materials within and between your warehouses. However, Inventory Management allows you to keep your stock levels updated over several selling channels so that you don't inadvertently oversell and run out.
Rather than spending time listing a product several times on different channels, you can also upload your catalog across your sales platforms.
Our Verdict: Sellbrite vs Ecomdash
To sum up, we think that Ecomdash is the better option, simply for its incredible range of integrations and the fact that it is so easy to scale right up to become a really big enterprise. We think that they are brilliant for medium-sized businesses to allow you to track items right from the manufacture, serialize the inventory, and bundle items. In short, it's a fantastic inventory management tool.
That's not to suggest that there's anything wrong with Sellbrite. This was a tricky one to call today.
Sellbrite is a great tool for small to midsize ecommerce businesses who need to expand their online offering and manage their inventories. It offers good affordability and is easily scalable.
Whichever of these two you choose, you will end up with a much more streamlined and easy to manage business where you can sell across several platforms with all your inventory and shipping streamlined in one location.
Lees verder: