Last Updated on april 22, 2023 by DMEditor
In today's FOMO Social proof App review, you're going to learn why you need this very efficient app.
Als een web marketer, you probably know that people's attention span is extremely limited online and that you need to stand out to increase sales. With the FOMO Social Proof app, you will play on this Fear Of Missing Out but also work on building trust and act on this emotional leverage to gently nudge interested prospects into becoming new or returning buyers.
But exactly how well does the FOMO Social Proof App increase your conversion rate?
In this review, you will discover:
what to look for in a conversion tool for your digital store;

a close look at how FOMO Social Proof App gets the job done;

interesting alternatives worth considering;

frequently asked questions about FOMO Social Proof App;

a clear answer as to whether this app is the right fit for you;

en meer...
De kern van de zaak
FOMO Social Proof makes it super simple to manage social proof for your digital store. Few apps do it better. In this day and age, it's, therefore, an essential tool to assist your digital marketing efforts.
How To Choose The Best Conversion App For Your Store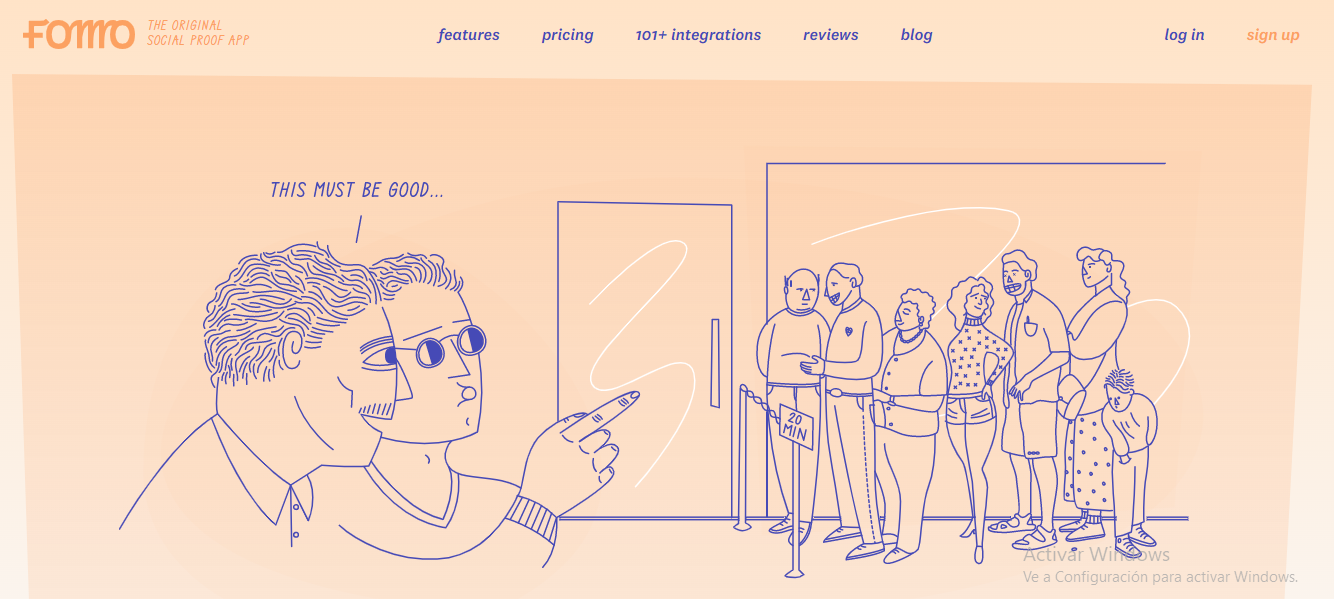 There's a variety of things you want to take into account when going for a conversion app over another. On top of that, you can very well use a few different conversion apps to maximize sales. It all comes down to your niche and the specifics you're looking for.
Here's a detailed list of what you should be looking for in a conversion app :
Main feature
Are you looking to keep returning customers? Are you looking to deal with abandoned carts? Or maybe you need a solution to handle your customer's objections or to gather their email for future marketing. You could even be looking for a pop-up window that will display as soon as your potential buyers try to exit your website for one last nudge.
Most apps can be grouped in the following categories: page features, pop-ups, sociaal proof apps, landing page builders, CRM and email marketing, and customer loyalty. The main point here is: to figure out what your store needs exactly and find the relevant app to solve issues.
Doeltreffendheid
In the oversaturated e-commerce market, you want to make sure that the app you're going for actually delivers well, not only in itself but compared to its competition. It's always a great idea to compare a few options and see which does the job best.
Prijs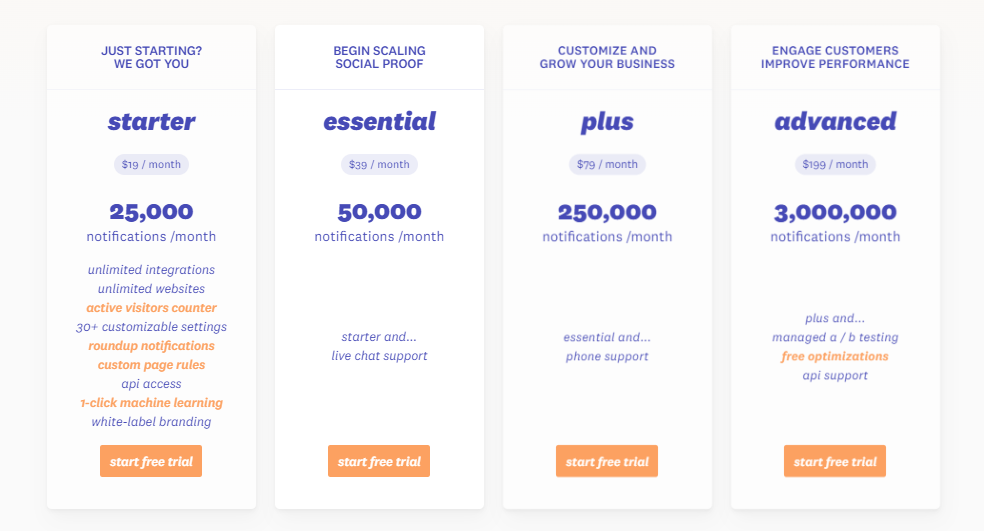 Some apps are free, some are paid. Some come with a monthly subscription, some have flat fees. Some even have hidden fees or fees that are not paid upfront but a per sale that you make. Make sure that the way the app is priced works within your budget.
Interface
If you have to choose between two conversion apps that do the same thing, you will have to consider your own user experience. An app with a clearer user interface is always welcome, especially for entrepreneurs who have little time and a lot of things to deal with at once. Look for something easy to use
Integratie
Als u een Shopify store you will find more than enough apps for your every need on the Shopify app store. On the other hand, if you are looking to use an app that is not on the Shopify store, or if your digital store does not run with Shopify at all, you want to make sure that your app of choice integrates well with your store.
Analytics
Eventually, you will need to scale your business and this is when analytics become relevant. After all, we're about to increase the conversion rate here, and you need to know if this objective is being achieved or not. The best apps will fetch the most relevant metrics for you, and display them in a way that is clear and easy to understand, so you know whether your efforts are yielding returns or not.
Klantenservice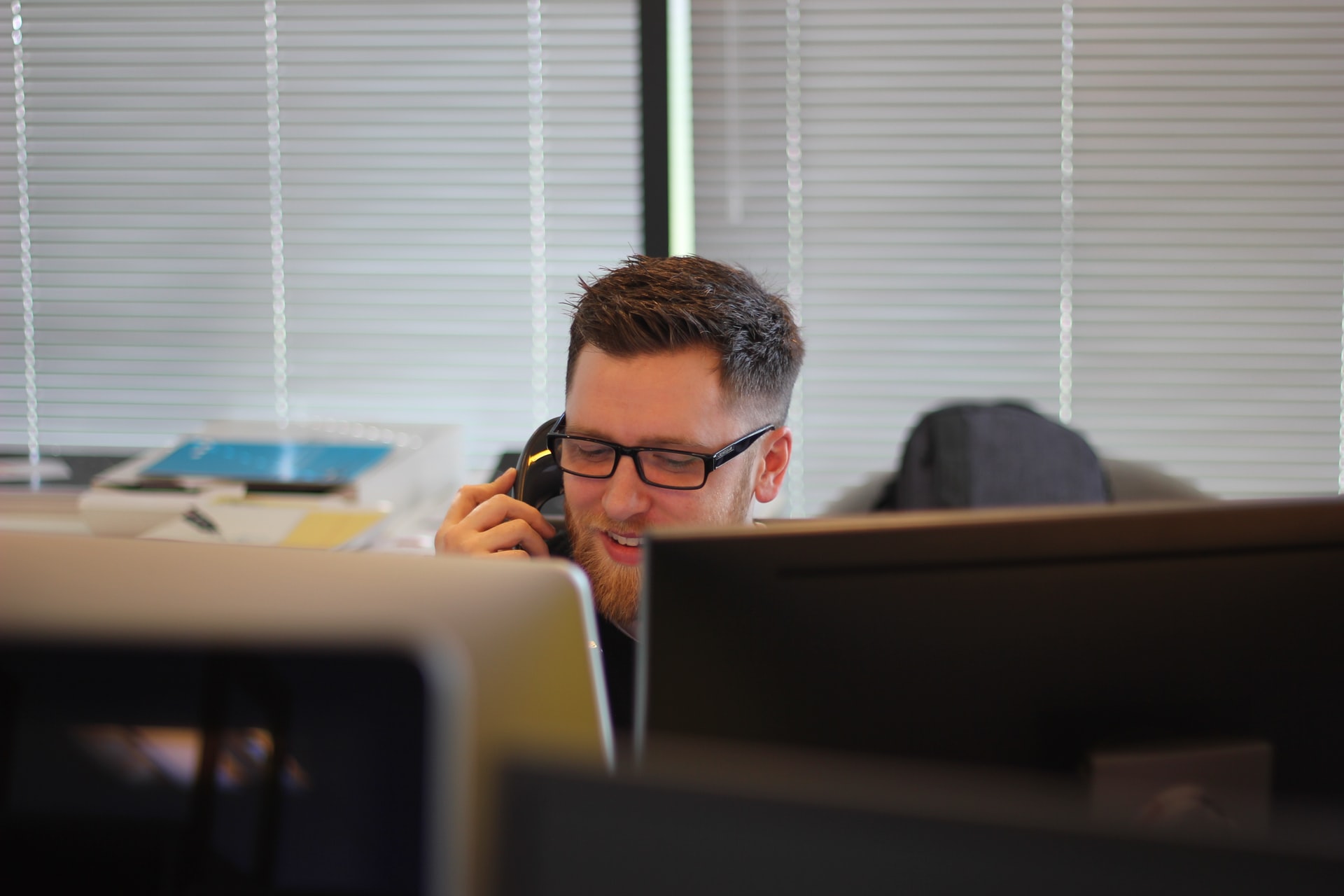 As usual with any product you go for, you need to know whether the company can assist you in case of a problem. If you make an app a core part of your business, you need dynamic problem-solving solutions, so customer support matters. Make sure the app you go for has responsive customer service.
FOMO Social Proof App Key Features
Let's have a closer look at what FOMO Social Proof App does.
FOMO Social Proof is Highly Customizable
Every detail of every single piece of social proof your customers receive is customizable. Thanks to FOMO's patent-pending architecture, you're allowed unlimited message permutations. It's all done through variables that you can set and personalize to a very high degree.
There are filters and templates that you can also customize further, and you can set page rules to determine precisely what customer sees what on whichever page of your choice. You can also set reminders and notifications for you and/or your customers.
It is difficult to analyze any specific thing that FOMO does in detail since pretty much everything is up to you to decide.
Do you want to let customers know that there are only three of your most popular items in stock? You can do that.
Do you want customers to know how many pieces of your product #3 were sold today? You can do that.
Do you want to share special deals, info, or metrics with returning customers only, on the first Friday of every other month only? You can set that up as well.
Simply put, the FOMO Social Proof app lets you display anything you want to any customer you choose, on any page you wish. And if you're looking for more, you can even add customized code and connect to the FOMO API.
FOMO Social Proof has a Beautiful Interface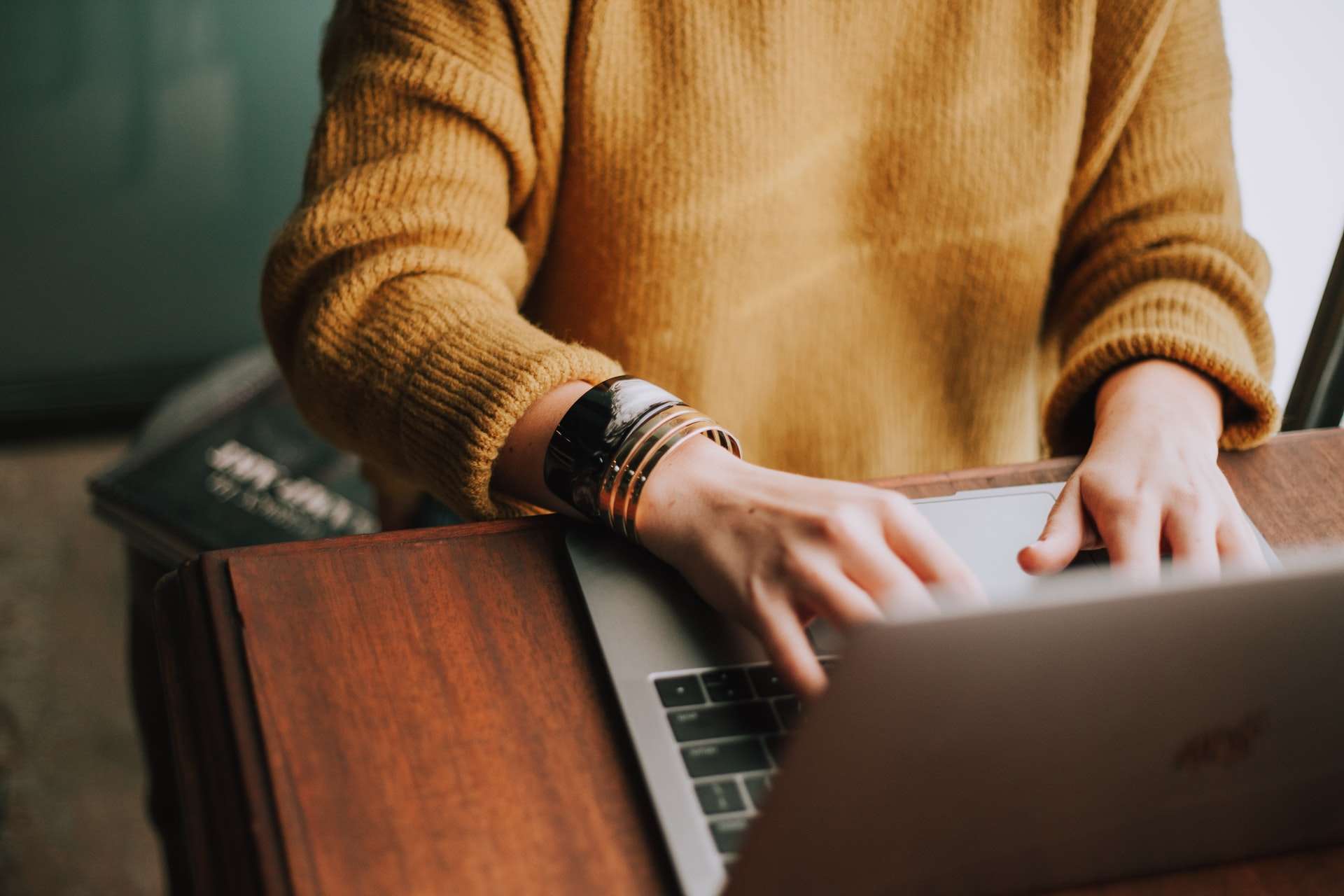 The tool comes with a theme builder that works very well through a simple point and click system. If you wish, you can edit those by adding CSS code. The service lets you create efficient and professional-looking forms for your website with Fomo Instant, so you can personalize to the max your relationship with your customers. You can also add various actions to turn clicks, hovers, and a lot more into events with Fomo Actions.
FOMO Social Proof is Intelligent
The tool uses machine learning to predict your customer's behavior and increase conversions to the max (but still lets you manually adjust everything if you wish to). The app's AI compares worldwide data to your local data to make sure you stay up to date with the best conversion-inducing practices. The app also connects to Google Analytics or Scorecard to give you relevant analytics and info about click-through conversions.
FOMO Social Proof is Highly Integrable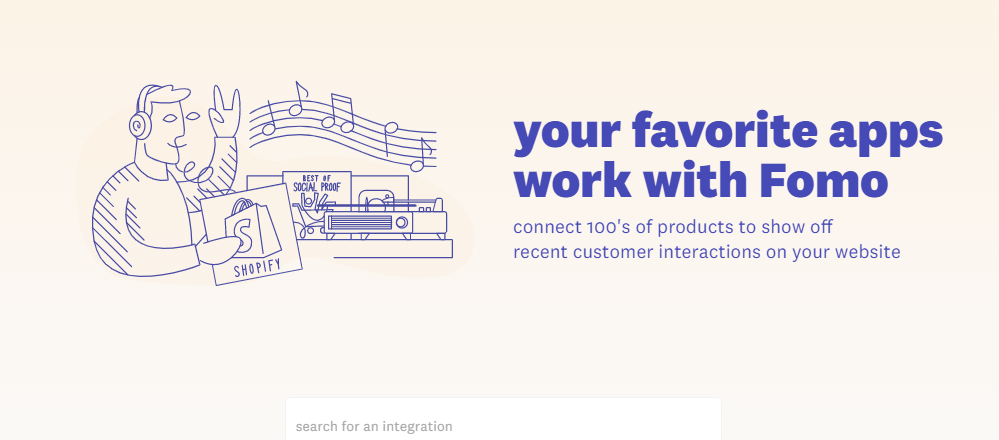 Outside of being available in over 29 languages, the FOMO Social Proof app integrates very well with over 101 websites, apps, and services such as Shopify of course, but also MailChimp, Google Maps, Etsy, Facebook, WooCommerce, Instagram, Streep, and many more.
When it comes to social media especially, FOMO shines through its ability to set up social media marketing automation, so that posting on Facebook doesn't become so time-sensitive anymore.
FOMO Social Proof has a Monthly Price Structure
FOMO Social Proof brings tons of value, but this has a cost. The service is paid monthly and tiered depending on how many notifications you wish to send. There are four plans, each coming with a free 14-day trial period.
The Starter plan is available at $19 per month and gives access to 25,000 notifications a month.

The Essential plan is available at $39 per month and gives access to 50,000 notifications a month.

The Plus plan is available at $79 per month and gives access to 250,000 notifications a month.

The Advanced plan is available at $199 per month and gives access to 300,000 notifications a month.
FOMO Social Proof has a Great Reputation Online
Most of the app's reviews are positive. The Customer Support team enjoys a good reputation as well. Customer service can be reached on Twitter or through emails. FOMO Social Proof also made available a few how-tos and guides on its website to set up and use the tool properly. Plus, there is an ongoing blog that discusses tweaks and features regarding the app.
FOMO Social Proof Pros and Cons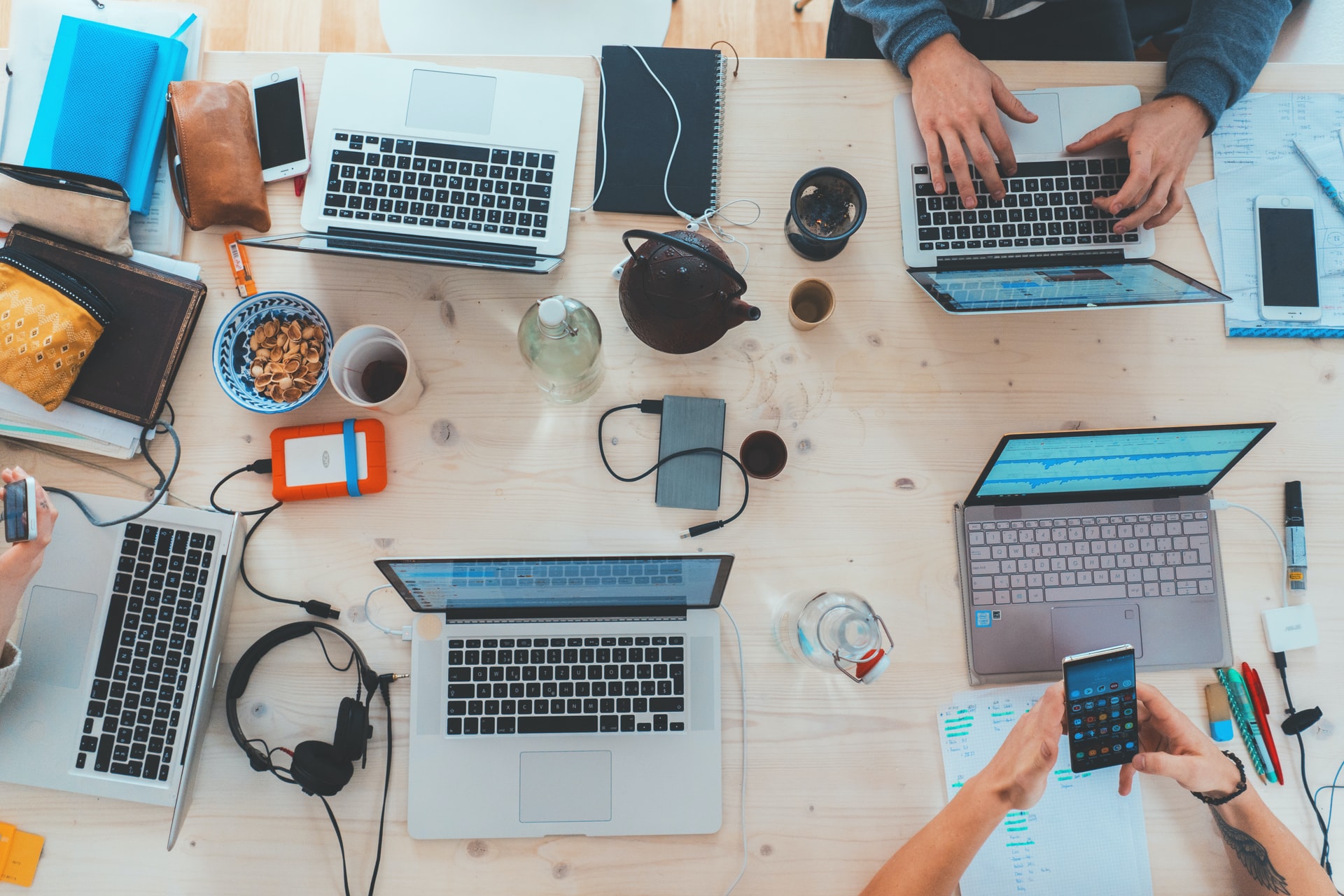 Here's a list of the pros and cons regarding the FOMO Social Proof app.
Voors
Easy social proof;

Mooie interface;

Great customer service;

Social media automation;

Interesting cost for value;

No coding required;

29+ languages, 101+ integrations.
Nadelen
Admin interface is a bit confusing;

No option to let customers turn off notifications (which can be annoying).
Alternatieven die we aanbevelen
Here are some worthy alternatives to the FOMO Social Proof app that help in increasing conversions through social proof.
Nudgify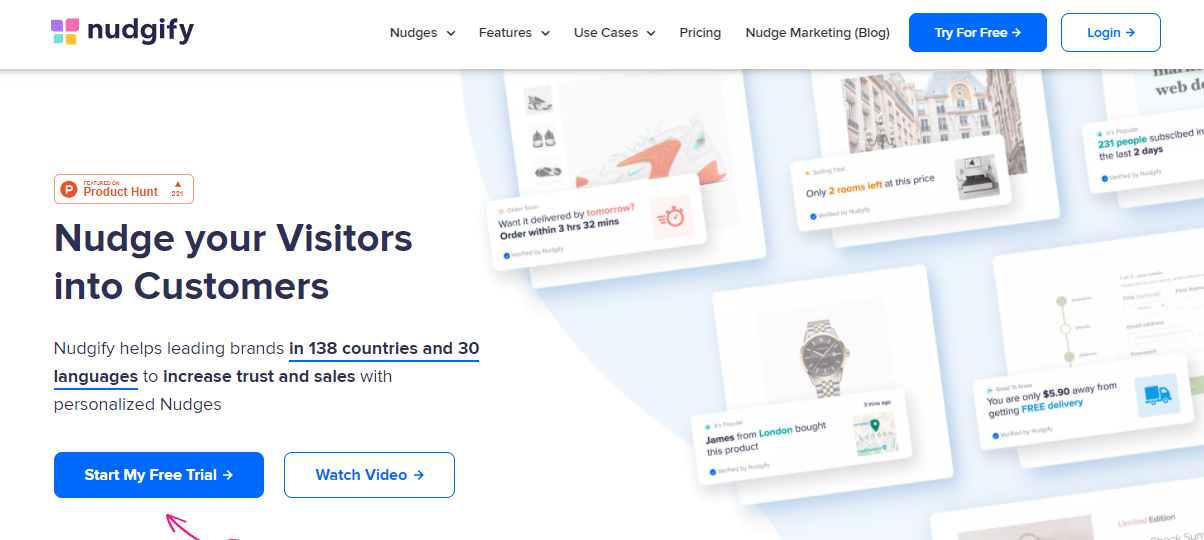 Nudgify is a social proof app that lets you inform customers of metrics that might push them towards a buy. For example, you can display information relative to the behavior of other users regarding your products: recent sales, recent sign-ups, and customer reviews.
You can also let customers know about low stocks, and the app has a designed section to reduce friction and buyers getting cold feet on problem pages. It's a great way to introduce social aspects to your store, as well as urgency and scarcity. It's available through monthly subscriptions ranging from $1 to $89, plus there is a free trial available too.
Bizzy Social Proof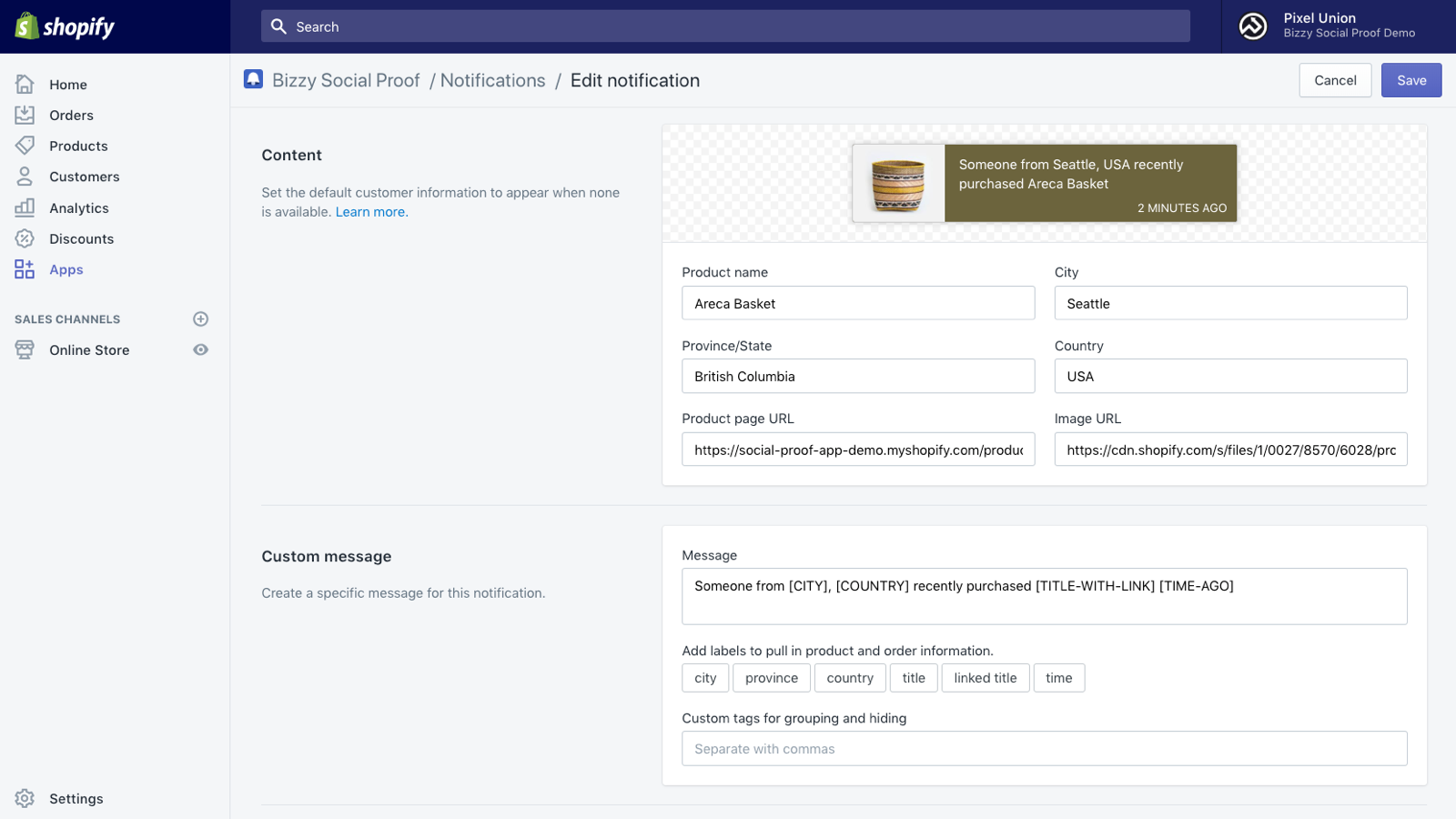 A highly original concept; the Bizzy Social Proof highlights the popularity of your products by playing a tune every time you make a sale. The app also displays information about your most recent sales to customers currently browsing your store, it gives a "busy" feel to your website, as you would find in a successful brick and mortar store.
The service is very lightweight and simple, and therefore might not be suited for every merchant. It is available through monthly paid subscriptions starting from $6.99 a month.
Growave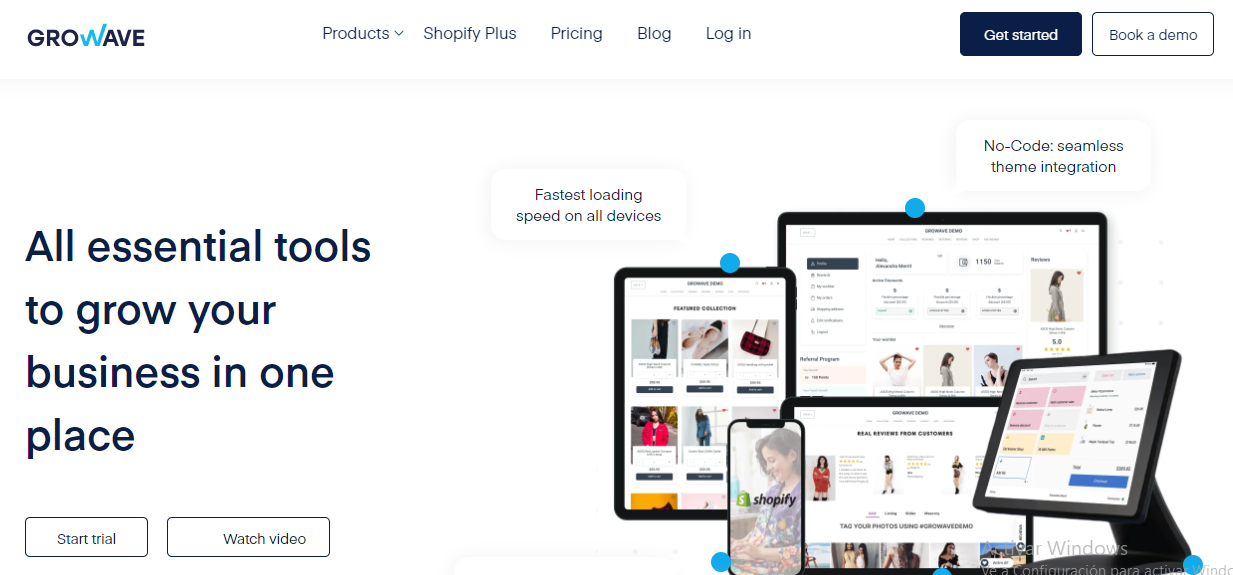 Growave is a heavier and more complete customer engagement service that combines a multitude of features offered by other apps, all in one place. Of course, there is a social proof dimension to Growave, but also email marketing and social media marketing.
The app will let your potential customers know when you make sales, to create scarcity, social proof, and urgency, but also help you keep in touch with them and increase engagement. The customer support has an excellent reputation and the app gathered great ratings online. It has a free version and paid subscription plans that go up to $299 per month.
FAQ's
Question: What are social proof apps?
Answer: Social proof apps are a way for e-commerce stores to increase prospects and customers' trust by displaying that people just like them enjoy your products. It tends to solve a multitude of objections one might have when selling a product, such as whether or not the store is reliable and whether or not customers' money will be well spent.
Question: What should my Shopify conversion rate be?
Answer: In early 2022, the average conversion rate for Shopify stores was 1.8%. The best 20% stores get an average conversion rate of 3.7% and can be considered a good conversion rate. The top 10% of Shopify stores manage an average 5.2% conversion rate, which can be considered very good. Anything less than a 0.5% conversion rate would put you below the bottom 20% of stores and would mean there are important issues with your store that need to be addressed.
Question: How much does the average Shopify store make?
Answer: To calculate how much the average store makes, it is necessary to take into account the revenue per customer. According to statistics from 2020, earning over $226 per customer will get you in the best 10% performing store, and anything below $33 per customer in the bottom 10%. The average Shopify store makes $72 per customer.
Conclusie
The main appeal of the FOMO Social Proof App is most likely going to be its complete freedom when it comes to managing social proof on your digital store. There are set templates, but you're free to customize them as well.
Everything has been made so you can interact in any way you want with your customers and set up automation to do those things for you while you focus on more productive tasks.
The app doesn't have real downsides as it is in itself a service that most digital stores do not natively provide. The admin interface in itself might feel a bit messy or confusing to some, but that will be in the end a very minor point. The price tag seems fair if this is an app that you need, as an increased conversion rate means more money in your pocket.
In het kort:
Better than not having any social proof app.
Extremely customizable, maybe not the greatest fit if you're looking for an out-of-the-box solution.
If you're looking for a social proof app that would let you do something very niche, or something very specific that other apps do not necessarily allow you to do, FOMO Social Proof will most likely solve that problem.