Last Updated on juni 1, 2023 by DMEditor
If you're looking to send money abroad you're probably overwhelmed, as it is way more complex than sending money to another bank account in your country.
In this Below, you'll find a comparison of two overseas money transfer giants: TransferWise and Western Union.
TransferWise definitely comes on top and after reading this article you'll know why.
You'll find out:
why TransferWise is the new champion of international money transfer;

what TransferWise and Western Union do different;

de wisselkoersen;

the rare situation in which it is more advantageous to go for Western Union;

en meer...
Let op: TransferWise zichzelf begin 2021 omgedoopt tot Wise en wordt nu zo genoemd.
Belangrijkste verschillen
TransferWise has transparent transfer fees, whereas Western Union has a more complex fee structure.

TransferWise proposes a multi-currency wallet, whereas Western Union has none.

TransferWise proposes a debit card, whereas Western Union proposes a pre-paid card.

Western Union allows customers to send money to 200 countries, whereas TransferWise only supports transfers to 60 countries.

Western Union allows transfers at physical locations, whereas TransferWise operates online only.
Western Union allows cash pickups, whereas TransferWise niet.
Hoe het beste internationale geldovermakingsbedrijf te kiezen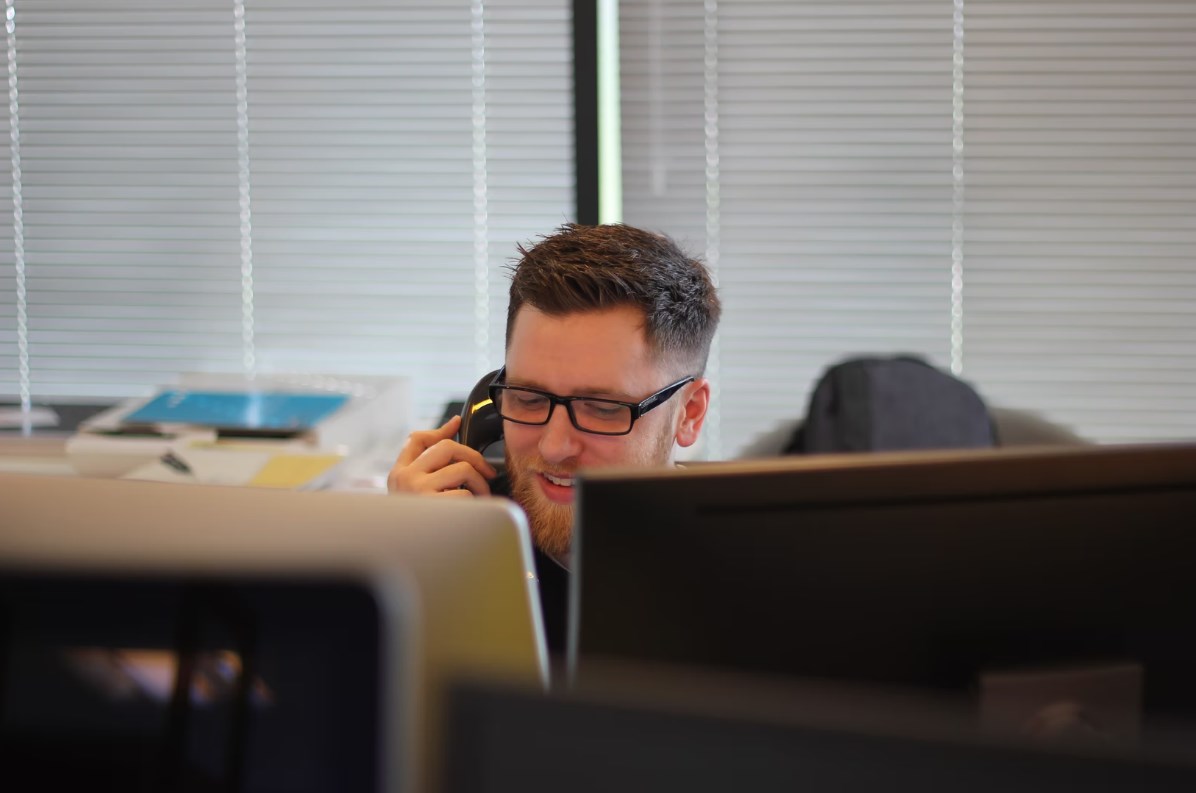 Klantenservice en ondersteuning
Sending money abroad is always a stressful process and you want to make sure you're able to troubleshoot problems. Depending on the service that you use and depending on whether or not they have physical locations, you will have a better time dealing with problems. While money never disappears when being transferred, it is always better to be able to get in touch with the service easily.
Internationale dekking
Not every transfer company can help anyone send money everywhere. Due to numerous laws and banking regulations, you need to make sure you can effectively use a certain service but that you're also allowed to send money to a specific country in your specific desired currency.
Kosten en (verborgen) vergoedingen
If you're sending money abroad, there are many stages in the transfer process at which it will be subject to fees. Some of those costs are more or less opaque depending on the company you're going for, and you want to avoid bad surprises.
Most services will take their margin on charging you a flat amount for the service, but also for changing your currency into the local currency of the transfer's destination. There can be many more fees and you want to make sure you've considered every financial aspect of the transfer service you're going for.
Kaarten
Some companies propose cards to, in some way, substitute themselves to traditional banks. Those cards can be debit cards, credit cards, prepaid cards, etc. Those additional services can be extremely convenient for various reasons, especially for customers who travel a lot. If you're thinking of getting one, it's wise to look at the modalities and fees associated with obtaining and holding such a card.
Manieren om geld te sturen
Not every service uses the same methods and you want to pay attention to how you will fund your transfer, especially if you wish to avoid using banks. Some companies like Western Union can completely erase the need to use a bank at all, but such services often come at a higher price.
Manieren om geld te ontvangen
On the other end of the transfer, how will you receive your money? Most overseas transfer companies will do a bank to bank transfer but some operators will give you more flexible options like cash pickups and debit cards. For your convenience, you want to make sure the service allows you to receive your funds in a way that is convenient to you.
Overdrachtssnelheid
In the era of the internet, you probably expect your money to be transferred as everything else: fast. Especially when you need to send money abroad to deal with a delicate situation, time is of the essence. The speed of transfers will depend on the service you go for and the country you're transferring to. Some services are more proficient at transferring money to and from certain places and using certain currencies.
Belangrijkste kenmerken van TransferWise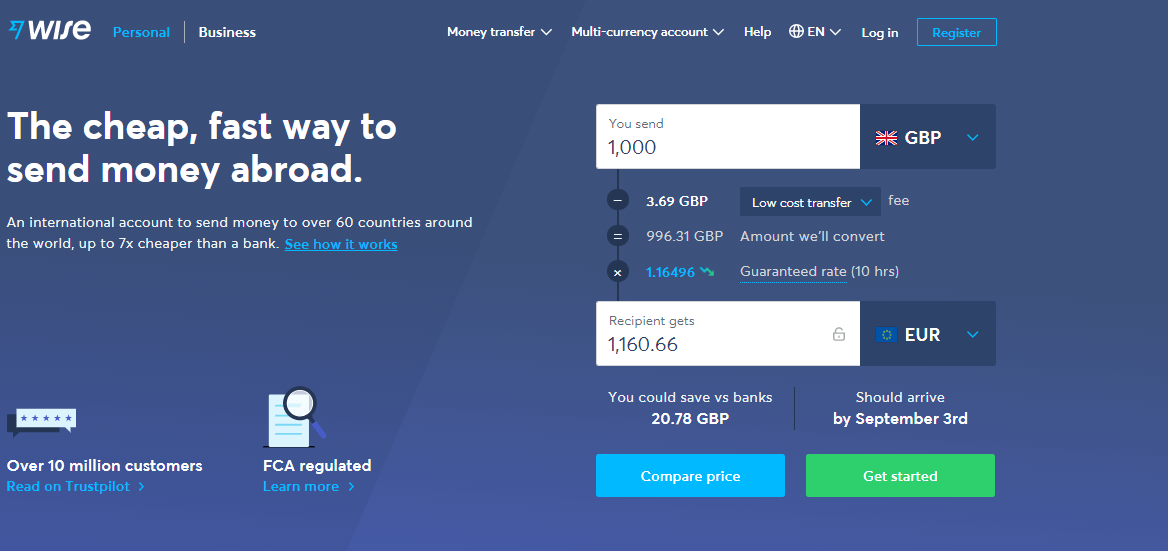 Belangrijkste kenmerken van TransferWise
TransferWise is an online money transfer company founded out of frustration for the very high price and low speed of international money transfers. With its "peer-to-peer like" money transfer model, it's one of the cheapest and fastest options on the market.
Unlike traditional money transfer services, TransferWise was born with the rise of the internet and it shows: it's the new generation of overseas money transferring. While some consider it "too good to be true", it overall really is an amazing service.
Internationale dekking en valuta
Wise allows you to sign up from 69 countries and let you transfer funds to 60 countries worldwide. The service can handle transfer in up to 20 currencies and even more for local transfers. Expect even more freedom with the Borderless card as you will be able to simply fund your Wise wallet and use the debit card to withdraw abroad.
Kosten en vergoedingen
Known for its transparent and very low fees, Wise will let you know exactly how much you will be charged before the transfer. No surprise, no hidden costs.
It charges a percentage fee which is generally from 0.6% to 1% of the transfer amount. This will vary depending on how you fund the transfer but the prices are generally very (if not the most) competitive when compared to other overseas money transfer services.
Furthermore, unlike Western Union, there are no bank-to-bank transfer fees, since Wise has bank details in every country where it operates.
Kaarten
You have the opportunity to sign up for free for the Wise Borderless program which gives you access to a Mastercard debit card. The Borderless card is available in the US, UK, Canada, Europe, Australia, and New Zealand.
There are no minimum balances or account fees nor inactivity fees of any sort. The only fees you can expect are when withdrawing over $250 per month or withdrawing in a foreign currency.
Manieren om geld te sturen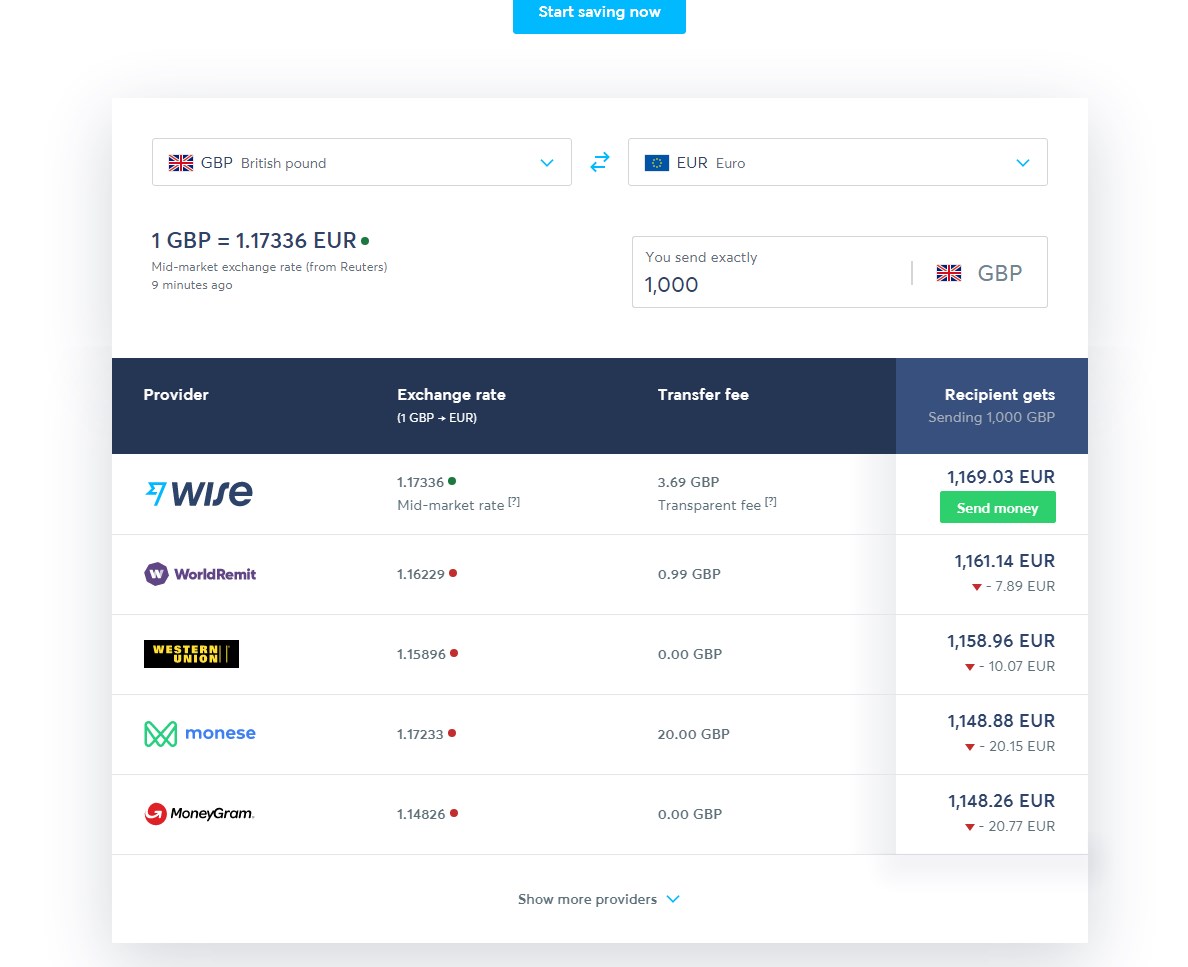 With Wise, you can send money with your debit or credit card, through direct bank transfer, SWIFT payments, and some other location-specific methods such as iDEAL and SOFORT.
Manieren om geld te ontvangen
Wise only allows you to transfer money to another bank account and, while convenient for most people sending money abroad, this lacks flexibility for those looking for bankless overseas transfers. Note that thanks to the Borderless card, you can add funds to your digital wallet and then use your card at a local ATM (for a small fee).
Overdrachtssnelheid
Wise transfers take in theory two to five days. In practice, transfers can take as little as a few seconds only.
While Western Union proposes an instant transfer service for a fee, many transfers made with Wise will be, in fact, instant transfers (without any additional fee).
Klantenservice en ondersteuning
You can get in touch with the customer service through phone calls, emails or live chat service during business hours. Wise's customer service has a great reputation and we found numerous positive reviews online. They are known to reach out and go out of their way to help customers, which is always a reassuring thing when sending money abroad.
Voor- en nadelen
Voors
Fast and simple to set up

Lightning fast transfers

Very low and transparent costs

Rekening in meerdere valuta

Mastercard debit cards

Geweldige klantenservice

Biedt zakelijke rekeningen aan
Nadelen
Online service only

No cash handouts

Not ideal for very large transfers

Grote transfers kunnen iets duurder zijn dan andere alternatieven
Western Union Key Features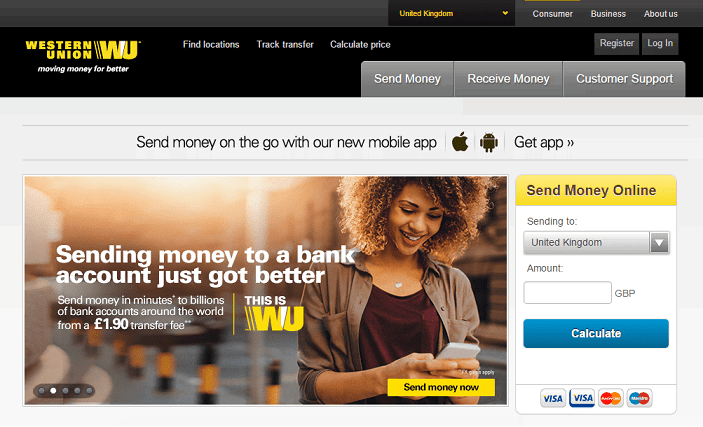 Founded in 1851, it's no surprise that Western Union's reach is massive. The service is available almost anywhere in the world and is most known for letting you receive cash directly, without having to use banks as an intermediary. Western Union has been around for so long that its competence and trustworthiness is now well-established.
Internationale dekking en valuta
With more than 500,000 physical locations around the world, you can be sure to find one near you, no matter where you are in the world.
Western Union currently supports registration from over 100 countries and it lets you send money to 200 countries. The pre-paid debit card is only available to some countries in South America, Europe, and the United States.
Kosten en vergoedingen
Western Union's fees are quite complex, to say the least. The amount you'll be charged depends on :
how the transfer was funded;

the selected transfer speed;

the target currency;

the actual exchange rate at the time of the transfer being pulled, plus a margin on that rate which varies up to 6% of the exchange rate;

how the money will be received;

the country where you're sending the money to and the country where you're sending the money from;

bank transfer fees in case of a bank to bank transfer.
Generally speaking, transfers will be expensive if funded with a credit card and expected to be transferred quickly to another bank account.
Kaarten
The Western Union Netspend Prepaid Mastercard has perks such as:
funding national and international money transfers;

receiving your salary;

receiving government benefits;

setting up direct bills for various payments.
There are multiple cards available, as Western Union offers different types of cards in different regions. These can be useful to expats and long-term travelers.
The major drawbacks of those cards are the highly expensive fees. There is a "convenience fee" that is charged each time the card is used (although this can be replaced by a monthly $9.95 subscription), an ATM withdrawal fee of $2.50 (plus a FOREX fee in case of withdrawing abroad) and an account inactivity fee of $5.95.
Manieren om geld te sturen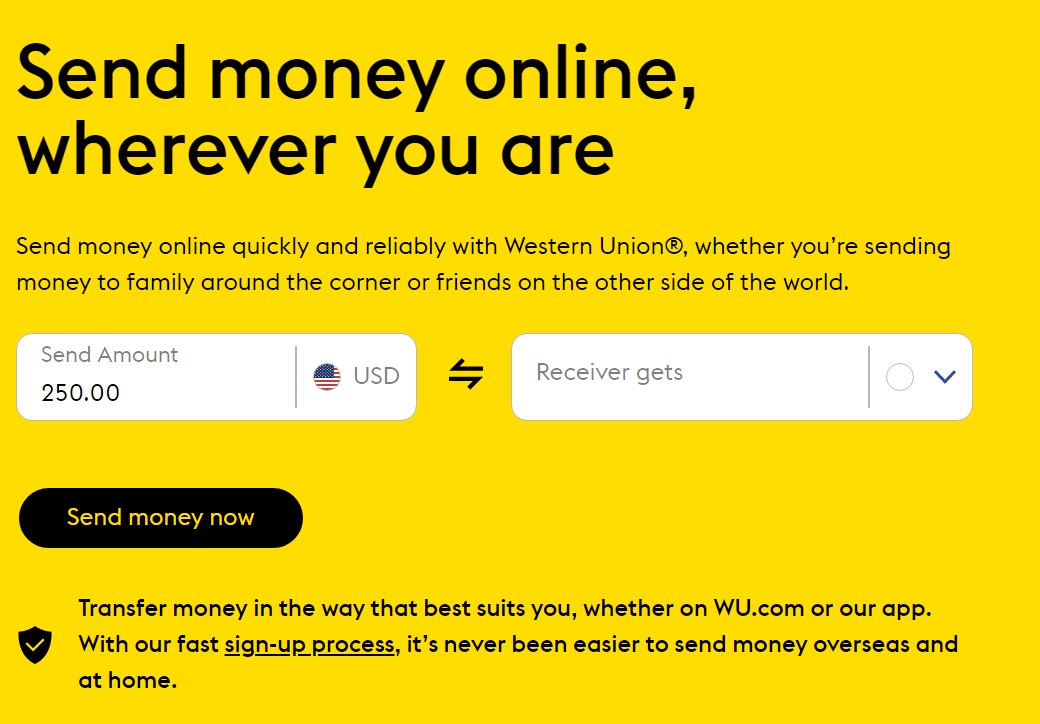 This depends on the sender's currency. Typically, you'll have a lot of options though. You can fund your transfer through debit card, credit card, wire transfer, and by bringing cash directly to a Western Union physical location.
Manieren om geld te ontvangen
Western Union lets you receive your money in a wide variety of ways: bank transfers, cash pickup, bill payments, mobile wallet payments and prepaid cards.
Overdrachtssnelheid
Western Union lets you choose between three different transfer speeds: in minutes, the next day, within the next three days. As expected, faster solutions are more expensive and can include other hidden fees.
Klantenservice en ondersteuning
You can reach Western Union's support through email, phone, or directly at one of their physical locations. It is always appreciated to be able to simply walk up to a physical store and ask the clerk for information.
Voor- en nadelen
Voors
Physical stores almost everywhere in the world

Cash pickups

Fast transfers (for an additional fee)

Pre-paid cards

Dedicated business accounts
Nadelen
Expensive, complex, and obscure transfer fees

No multi-currency wallet

Lots of fees attached to the prepaid cards
Recommended Alternatives To TransferWise and Western Union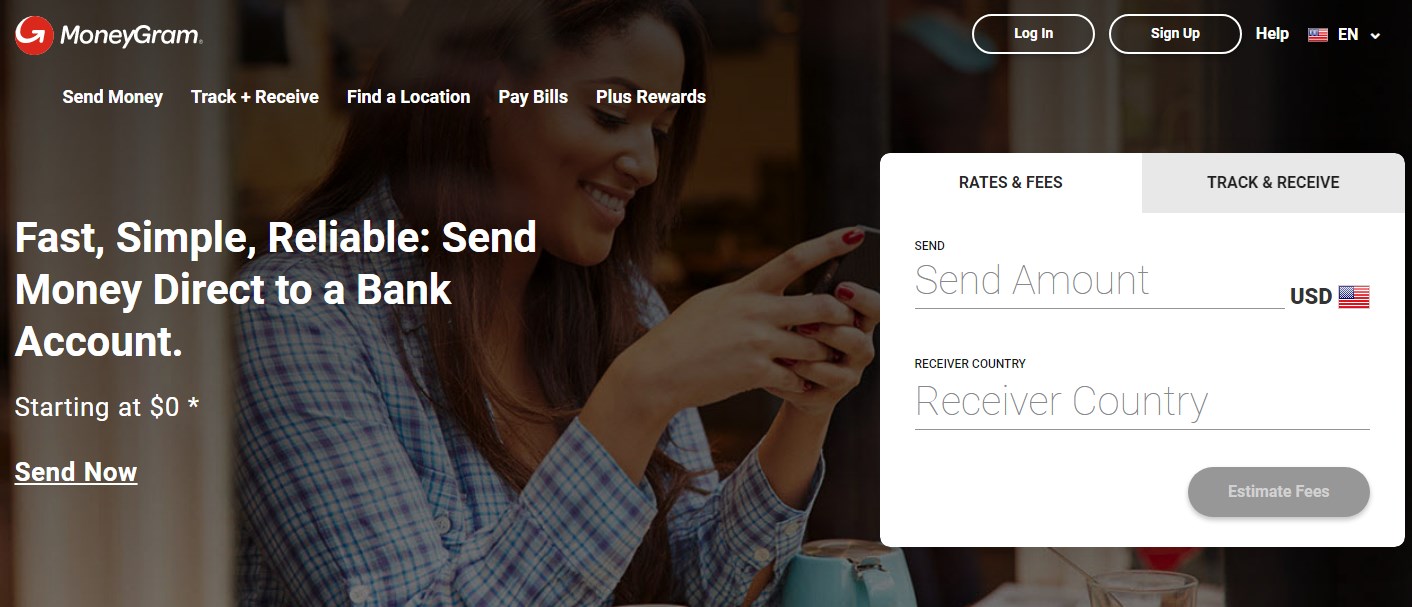 Paypal.

Perhaps the most widely-known way to pay and get paid online, Paypal lets you send money from your Paypal wallet from accounts in different countries. With fees generally cheaper than Western Union but higher than Wise, it's a worthy alternative if you're receiving payments online, as both Western Union and Wise cannot provide this service.

OFX.

OFX is another excellent alternative. It proposes lower rates and fees than Western Union and can be compared to Wise in that regard. Its website and app are easy to use. OFX offers better rates than Wise and Western Union for large transfers. Unlike Western Union, OX does not offer cash pick-up as an option.

MoneyGram.

Moneygram is the world's second top international cash transfer and pick-up service and therefore a direct concurrent to Western Union. It generally proposes fees slightly lower than Western Union, but it has a reportedly slower transfer speed and it's not available in as many locations.
Price Comparison: TransferWise vs Western Union
Western Union includes a lot of fees that aren't always transparent.
The complete list of all applicable fees is available on its website, but it's incredibly confusing and opaque, especially compared to Wise's ultra-transparent fees.
For reference, with Western Union, you can expect to be charged between $5 to $10 for a money transfer of up to $50, but a transfer of $900 could cost $76. There are a number of price points in between, depending on the amount of money transferred.
With Wise, the complete and total fees that one will ever have to pay with any given transfer are displayed right before confirming the transfer. Those fees usually range from 0.4 to 1% of the total amount, plus some small variations depending on how you fund the transfer.
For reference, with Wise you can expect to be charged around $2 to $3 for a $200 transfer.
FAQ's
Question: Will my bank charge me for using TransferWise?
Answer: No. Wise has national bank accounts in every country where it operates. It means that there are no intermediary bank fees. Your money is sent to Wise locally in the country where you funded the transfer and is sent from a local account in the destination country to the destination account.
Question: Does Western Union require ID to send money?
Answer: Yes, even in a physical location and through a physical agent, you will need to show valid identification. You can send cash directly, but a valid ID is still needed to avoid money laundering.
Question: Does Western Union require ID to receive money?
Answer: No. At the time of funding the transfer, the person who is sending the money can set up a "test question" and an answer that the receiver will need to answer. If the question is answered correctly, the receiver can pick up his money without showing any ID (unless prohibited by specific local laws).
De kern van de zaak
Some would describe Western Union as a dinosaur of international money transfers, and they wouldn't be wrong. While the company has done many things to stay relevant with the rise of the internet and instant online money transfers, there simply are better, faster, cheaper, and more convenient options out there.
Sure, not every money transfer service has such a massive reach with the possibility to pick up cash all around the world. But who needs that anymore? Unless you're going on an adventure in a remote country where for some reason you could not access the internet, there will always be better alternatives.
It's nice that Western Union exists as a backup solution, but most of the time and for most people, this won't be the best way to send money abroad. Globalization really didn't help the company. While it used to thrive in a world where it was difficult to send money abroad, the easier it is, the less relevant Western Union becomes.
Wise will be a cheaper and convenient solution, compared to most international money transfer services.