Last Updated on april 25, 2023 by DMEditor
In our post, we 're comparing HubSpot vs Salesfusion (Sugar Market) in detail based on our individual experiences on both platforms.
Main Differences Between HubSpot and Salesfusion (Sugar Market)
The main differences between HubSpot and Salesfusion (Sugar Market) are:
HubSpot is an all-inclusive platform, whereas Sugar Market comes in the form of a marketing automation tool suite
HubSpot includes a free HubSpot CRM tool, whereas Sugar Market doesn't offer anything for free
HubSpot allows you to select the features you need, whereas with Sugar Market you can only purchase it in one package
Sugar Market gives every user access to all its tools, whereas HubSpot offers varying access depending on the platform bundle

Waarom met Hubspot in zee gaan?
Hubspot kan ALLES vervangen. Als u moe bent van meerdere dashboards voor uw marketingautomatisering, lost Hubspot dit probleem brialliant op. Begin met de GRATIS CRM, en schaal vervolgens extra functies op zonder een nieuw platform te leren.
Probeer Hubspot GRATIS uit
Wij verdienen een commissie als u op deze link klikt en een aankoop doet zonder extra kosten voor u.
There's no denying that eCommerce tech is increasingly making things easier for both business owners and customers. But, interestingly, while business is progressively getting simpler, the corresponding buying process is now much more complicated than ever.
Wat bedoel ik?
Well, for starters, today's online-based businesses typically source for leads from multiple marketing channels at the same time. They tend to run partially automated omnichannel campaigns across social media, search engines, email, SMS, and many other digital platforms.
As a result, they usually receive all types of leads from pretty much everywhere on the web. Then to complicate things even further, the leads come with varying levels of readiness.
While some of the visitors on your site can be said to be warm leads, others come as cold leads who might not be ready to buy at the time.
So, what do you do?
At that point, businesses are expected to systematically nurture all the leads and gradually convert them into customers, and possibly even repeat customers. But, as it turns out, this is easier said than done.
Most businesses tend to lose the bulk of their leidt because they simply can't find a good way of streamlining their lead nurturing processes. Plus, their marketing and sales departments find it difficult to work together and engage each lead with a consistent voice while channeling them through every stage of the sales pipeline.
Now guess what? This the type of problem that solutions like HubSpot and Sugar Market (formerly Salesfusion) were built to solve.
You see, both HubSpot and Sugar Market have adapted well to the current complex buying process. Their tools are capable of automating not just email marketing, but also other types of campaigns, including CRM.
They achieve all that by bundling several tools into one streamlined software suite. All the data is then synced accordingly to form a seamless link between the corresponding tools.
The resultant holistic framework, therefore, gives sales teams and marketers the benefit of working together under a centralized sales pipeline, without compromising their respective campaigns. They get to maintain consistent personalized interactions across all their engagement channels.
But, get this. While HubSpot and Salesfusion have been using pretty much the same approach, they are two separate solutions with varying features, tools, and capabilities. Consequently, you can bet they'll provide completely different values to your business.
And that begs the question- which of them offers better features? Sugar Market (formerly Salesfusion) or HubSpot?
Well, if you're torn between the two, today happens to be your lucky day.
It highlights not only their core features and pricing but also the principal differences you should expect between the two.
So, without further ado, let's get down to business…
HubSpot vs Salesfusion (Sugar Market) – Overview
HubSpot Overview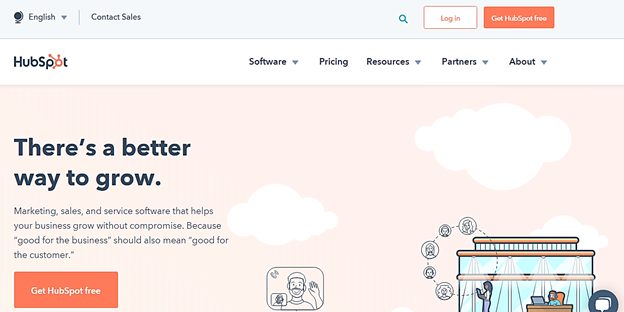 You can think of HubSpot as an all-in-one powerhouse for inbound marketing, sales automation, and CRM automation. It essentially grants salespeople and marketers a wide range of tools for targetting the right audience across multiple channels, creating engaging content, as well as increasing the corresponding conversion rates.
That said, the secret to HubSpot's success is, it helps businesses maintain unique, well-personalized, and brand-specific interactions with their customers as well as leads. Plus, it allows you to set up a complete funnel for nurturing your leads using multiple automated channels.
But, make no mistake about it. HubSpot isn't built like a regular "all-in-one" campaign automation solution. Not at all.
Rather, it's an extensively holistic platform that offers several solutions in the form of specialized tool suites. You can choose between the free HubSpot CRMde HubSpot Marketing Hubde HubSpot Sales Hubde HubSpot Service Hub, or the HubSpot CMS.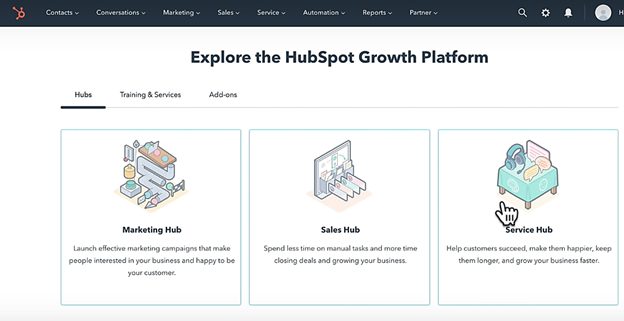 Well, of course, HubSpot's Marketing Hub is the principal tool suite here, as it facilitates automated omnichannel marketing. You get to capture and engage leads using emails, on-site forms, conversational bots, landing pages, ad retargeting, social media, SEO, and smart content marketing.
However, beyond that, you'll need the CRM kit to manage and nurture your leads, track the accompanying deals, plus organize the sales pipeline accordingly. This is where the free HubSpot CRM solution gives you contact management, deal monitoring, meeting scheduling, email tracking, and calling functionalities.
But, if you'd like advanced automation capabilities, you have to scale up and purchase HubSpot's Sales Hub. It supplements the functionalities on the free CRM kit with sales workflow automation, campaign sequences, predictive lead scoring, revenue tracking, and goal monitoring tools.
So, in a way, it's specially optimized for sales teams.
Customer support teams, on the other hand, would appreciate the power that the HubSpot Service Hub packs. It helps them deliver exceptional customer service through conversational bots, ticketing, live chat, email, customer support surveys, multiple ticket pipelines, ticket routing, a knowledge base, plus customer insights.
Then last but not least is the HubSpot CMS suite. This one is slightly different from the rest because it focuses entirely on content creation, SEO, plus an on-site lead capturing campaigns.
Now, all these considered, we can agree that HubSpot is one heck of an expansive platform. And since its tools suites are priced differently, what you end up paying for the service depends on your precise needs.
But, while most HubSpot users typically settle for only one or two of its tool suites, the best approach for growing businesses is combining all of the solutions.
In fact, a business that strategically leverages all these tools at the same time should have an easy time streamlining all its core operations. Plus, such an approach gives you the power to extensively automate your sales, marketing, customer relationship management, and customer service processes.
Sugar Market (Formerly Salesfusion)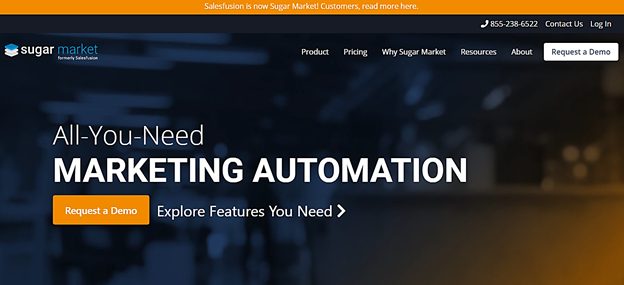 Call it what you want, but Salesfusion and Sugar Market happen to be one and the same thing. Salesfusion was the original name until the company decided to rebrand in 2019.
Ok, I must admit that came as a surprise, but I was glad it didn't affect the platform's architecture. Sugar Market is still the same old Salesfusion kit that was widely renowned and celebrated.
Now, to be more specific, Sugar Market is basically what you'd call an "all-in-one marketing automation" solution. It combines advanced automation capabilities, highly-intuitive campaign builders, and superior analytics to power personalized omnichannel campaigns throughout the entire buyer journey.
That said, Salesfusion was particularly built to seal the gap between marketing and sales. While traditional campaign automation solutions prioritize marketing at the cost of sales, Salesfusion attempts to facilitate a seamless transition of leads between marketing and sales.
But how exactly does it achieve this?
Well, instead of using a linear one-way approach to its buyer journeys, Sugar Market applies a dynamic bi-directional pipeline. That means it allows you to easily push your leads between marketing and sales workflows depending on their interest levels.
If they're ready to buy, for instance, you can go ahead and channel them to the subsequent sales workflow. Similarly, it's possible to push cold leads from the sales workflow back to the marketing workflow for additional nurturing.
In the end, therefore, such a flexible system minimizes the volume of wasted leads. Each contact is placed exactly where they belong.
Then with time, you get to engage them using Sugar Market's email campaigns, customer surveys, landing pages, plus forms. Other notable features include lead journey tracking, SEO auditing, web visitor tracking, lead routing, advanced lead segmentation, trigger-based nurturing, lead scoring, and event management.
It's worth noting, however, that Salefusion focuses heavily on the B2B market. Its tools are purpose-built to help B2B owners streamline their sales and marketing campaigns, nurture company leads, as well as boost the subsequent conversion rates.
HubSpot vs Salesfusion (Sugar Market) – Main Features
Gebruiksgemak
HubSpot Ease of Use
As we've established already, HubSpot is not a single-layered platform. One of the first things you'll notice about it when you try to sign up is that it offers five different products.
You could sign up for its free CRM tool, or instead, proceed with either the HubSpot Marketing Hub, the HubSpot Sales Hub, the HubSpot Service Hub, or perhaps the HubSpot CMS solution.
Otherwise, it's also possible to purchase all of them – except for the CMS option- in an all-inclusive bundle. And if you don't like the default bundle options, you could create your own perfect one, complete with your preferred supplementary bundles. The choice is yours.
Vandaar, HubSpot is a great platform for anyone who'd want the convenience of choosing and paying for only what they need. That's why, when you come to think of it, HubSpot continues to serve all types of businesses- from startups and small businesses to large enterprises with multiple departments.
That said, the subsequent registration process is pretty simple and straightforward. Just pick your preferred package, enter your contact details, and voila! you're in.
Well, the dashboard here is elegantly-designed and quite attractive. HubSpot has done a great job of building an intuitive and easy-to-use interface, which you should be able to work with without any coding knowledge.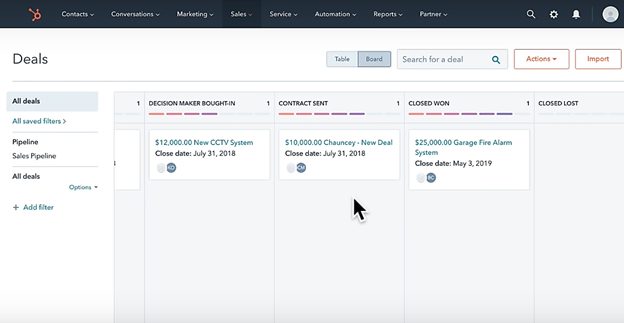 The only problem is, the whole layout might feel a bit overwhelming as you get started. HubSpot is an extensively diverse platform with many tools and numerous functionalities. So, it might take you some time to learn how to leverage each of them independently and collectively as well.
In the meantime, you might want to check out HubSpot's knowledge base for in-depth tutorials on how it works. You should be able to conveniently access the resources directly from the dashboard.
Then as you continue learning the ropes, you could further take advantage of the HubSpot Academy. It provides a library of insightful webinars that'll give you a good idea of what inbound marketing entails. Plus, there are many campaign tricks to learn here.
Sugar Market (Salesfusion) Ease of Use
Considering Sugar Market is a B2B solution, the registration process could take a bit longer than you're used to. In fact, you won't even find a SignUp button. Sugar Market, rather, requires you to get in touch with its sales team, who'll then assess your needs, and finally set up a suitably-provisioned system.
The system itself comes with an admirably neat and intuitive interface, whose layout is well-arranged to give it a minimalistic feel.
From the dashboard, you should be able to briefly track your campaigns, thanks to its default insights and the accompanying visual charts.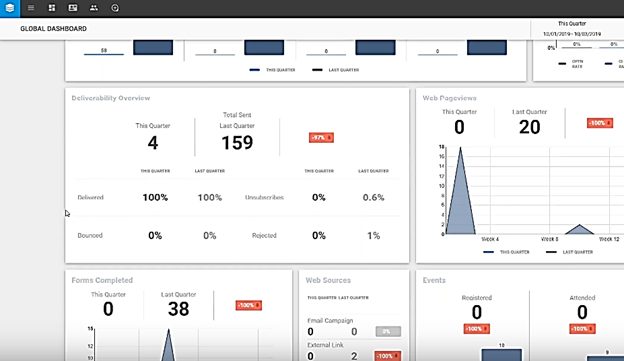 Sugar Market further boasts of a seamless navigation framework, which not only grants you quick access to all the core tools, but also allows you to conveniently switch between them from anywhere in the system.
You can, for instance, proceed straight from the dashboard and start building contact lists, events, web forms, or email campaigns. Alternatively, you could go to the Beheer section to configure your current campaigns, or maybe click on the Analyze menu option to track the progress of your campaigns in detail.
All in all, therefore, Sugar Market is a satisfyingly simple solution whose functionalities you should expect to grasp fairly quickly.
Sugar Market (Salesfusion) vs HubSpot Ease of Use Verdict (Winner: Sugar Market)
Admittedly, both Sugar Market and HubSpot come with pleasantly intuitive user interfaces. However, since HubSpot offers a much wider range of tools, it might take you longer to learn how everything works across each solution.
So, Sugar Market manages to win this round by a razor-thin margin.
Marketing and Automation
HubSpot Marketing and Automation
While every single HubSpot solution is capable of running some form of marketing, the Marketing Hub is the primary tool suite for creating, launching, and managing campaigns. It comes specially optimized for lead capturing campaigns, lead nurturing campaigns, ad retargeting, as well as dynamic omnichannel automation.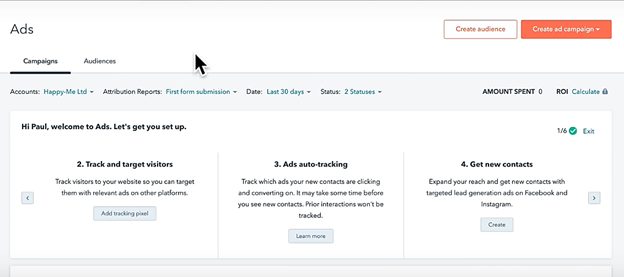 You can, for instance, take advantage of HubSpot's drag-and-drop editor to intuitively customize your emails, landing pages, blog posts, web pages, plus forms.
And since email happens to be the most popular marketing channel here, HubSpot gives you all the tools you'd need for advanced automated email marketing.
Such campaigns are managed using email workflows, from where you should be able to set the relevant campaign triggers and conditions. HubSpot combines all these to define different personalized paths for your leads, based on parameters like interest, behavior, and demography.
When it comes to lead capturing, however, web forms, landing pages, and live chat are the most effective campaign channels on the platform. HubSpot gives you the privilege of designing attractive layouts, and subsequently targetting your website visitors with relevant call-to-action messages.
Live chat, on the other hand, even allows you to engage leads using conversational bots. They can intelligently engage different types of visitors based on several user-defined parameters.
Then to top it off, HubSpot further throws in a couple of content-management tools, which consequently help you manage your site content, SEO, and social media publishing strategies.
Sugar Market (Salesfusion) Marketing and Automation
If there's one thing Sugar Market is particularly obsessed about, then it's marketing. That's why, in fact, it fundamentally sells itself an "all-you-need marketing automation" solution. Hence, there's a lot to expect here when it comes to creating as well as running campaigns.
And, as it turns out, Salesfusion doesn't disappoint at all. It manages to hold up its end of the bargain by providing a range of smart and sophisticated omnichannel marketing tools.
If you're thinking of engaging your leads via email, for instance, Sugar Market gives you the option of either coding your own emails from scratch, or simply customizing its pre-built templates. Then with its multiple email designs, you could further set up dynamically-automated email campaigns with various conditional stages for nurturing your leads.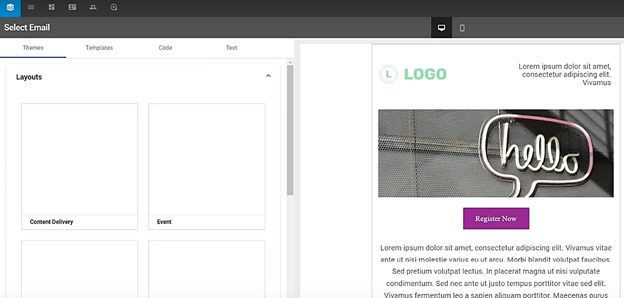 Other notable email marketing features you might want to capitalize on include advanced list segmentation, automated surveys, and trigger messages.
Now, another area where Salesfusion thrives is Google Search. And more specifically, it offers tools for enhancing not only your organic SEO, but also the corresponding paid search ad strategies.
This built-in SEO function, as a matter of fact, goes beyond the basics to facilitate in-depth SEO auditing, rank monitoring, and competitor tracking. You also get some actionable recommendations for tweaking your site's SEO.
The corresponding paid search ads, on the other hand, stand to benefit substantially from Sugar Market's integration with Google Ads. You see, the resultant data is usually taken through an AI system, which then proceeds to generate predictive analytics for influencing your automated campaign bids.
But, that's not all. Sugar Market further supplements its marketing capabilities with a host of social media management tools for enhancing your web reputation, keeping tabs on your social networks, tracking your leads on social media, as well as providing helpful campaign insights.
Sugar Market (Salesfusion) vs HubSpot Marketing and Automation Verdict (Draw)
Based on the features we've reviewed, plus the numerous tests we've carried out so far on both Sugar Market and HubSpot, it's safe to conclude that this contest ends in a draw.
They are both advanced automation solutions that support dynamic data-driven email marketing, search engine automation, content marketing, social media marketing, plus on-site targeting.
Beheer van klantrelaties
HubSpot CRM
Hoewel HubSpot's free CRM tool seems enticing, the fact is, it's pretty useless. You won't be able to leverage it for a fully-automated CRM campaign. Instead, you'll be forced to upgrade to the HubSpot Sales Hub, which happens to serve as the primary CRM solution on the platform.
Now, as you've probably guessed already, this is where the real CRM magic happens. HubSpot's Sales Hub comes with a visual Kanban-style deal pipeline, which helps you manage your entire sales pipeline along with the accompanying deals and tasks.
You can, for instance, add or remove leads to your pipelines, set up automated email campaign sequences, track your recurring sales revenues, configure pipelines using drag and drop editing, identify the most valuable leads based on the platform's predictive lead scoring, etc.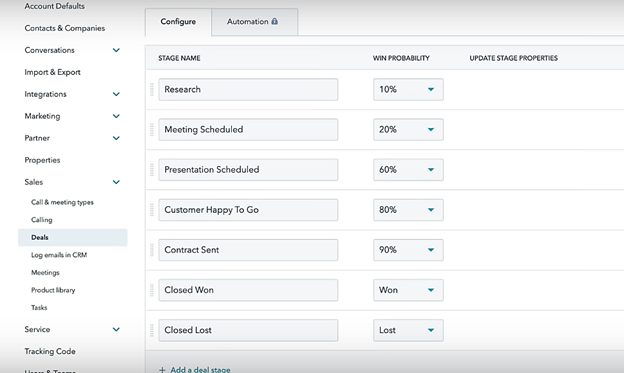 Then most importantly, HubSpot CRM gives you the power to automate your workflows, as well as engage your leads via email, phone calls, physical meetings, and live chat.
Sugar Market (Salesfusion) CRM
The closest thing to a CRM workflow on Sugar Market is a lead nurturing campaign workflow. And, as the name suggests, the goal here is winning deals by systematically nurturing leads through your sales funnels.
That said, the accompanying campaigns rely heavily on emails, which are usually automated based on parameters such as intent, purchase details, demographic info, etc. You even get a visual nurturing campaign builder for creating plus monitoring the workflows.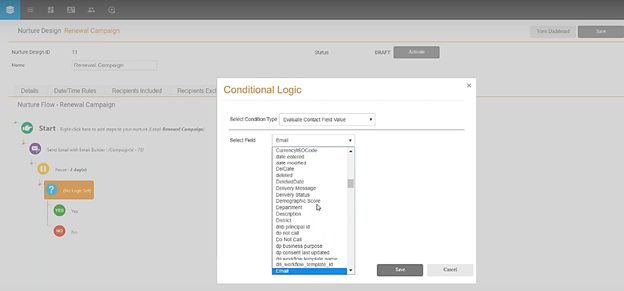 Then as the campaign progresses, Sugar Market applies its rich lead scoring capabilities to help you identify the most promising prospects.
But sadly, that's as far as it goes because as it turns out, Salesfusion doesn't come with a dedicated CRM tool.
So, in the end, you'll have to integrate a CRM solution like SugarCRM, and then combine it with Sugar Market's lead nurturing intel to facilitate in-depth customer relationship management.
Sugar Market (Salesfusion) vs HubSpot CRM Verdict (Winner: HubSpot)
Quite simply, HubSpot comes with a fully dedicated CRM system, while Sugar Market limits itself to lead nurturing campaigns.
HubSpot vs Salesfusion (Sugar Market) – Pricing

The tools here seek to help you analyze revenue with full control, extend the platform, manage your teams and brands, measure traffic and conversions, optimize conversion rates, automate and personalize your marketing, engage your leads, understand your leads, as well as capture and convert leads.

These tools help you manage your growing team, close more deals, faster, keep your data organized, personalize your outreach at scale, automate your sales process, track, iterate and improve, connect with prospects on their terms, plus streamline your outreach.
HubSpot Service Hub: De Start package starts at $40 a month, the Professioneel package costs at least $320 a month, while the Onderneming package will have you paying anything from $1,200 a month.
The tools here give you the power to enable self-service at scale, deliver exceptional service, consistently, measure and improve customer experience, help customers help themselves, delight customers at scale, measure efficiency, maximize productivity, plus organize and track customer communications.
Sugar Market (Salesfusion) Pricing
Sugar Market starts at $1,000 a month for 10,000 contacts a month to at least $2,350 a month for 100,000 contacts a month, and beyond.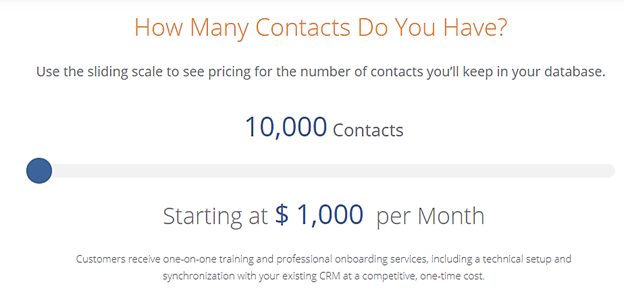 Some of the most outstanding features here include account-based tracking, unlimited custom fields, lead / buyer's journey view, contact management, advanced analytics module, SEO audit tool, website visitor tracking, lead routing with alerts, ability to host scripts from third-parties, Google Analytics integration, URL configuration and SEO tweaks, mobile-responsive pages, drag and drop form builder, landing pages and forms, surveys, advanced list segmentation, event management, execution and reporting, Google Ads integration, trigger-based nurtures, advanced A / B testing, lead and account scoring, drag and drop email builder, plus unlimited email campaigns.
HubSpot vs Salesfusion (Sugar Market) Frequently Asked Questions:
Can HubSpot send emails?
Yes, you can send an email to individual contacts in HubSpot from the contact record or from the associated company, deal, or ticket record.
How long is HubSpot free?
HubSpot CRM allows you to enjoy up to one million contacts with no expiration date for free.
Does Salesfusion (Sugar Market) have any limitations with platform features based on a selected plan?
No, Sugar Market is generous enough to unlock all its tools. Therefore, purchasing any of its packages means you get everything it has to offer.
HubSpot vs Salesfusion (Sugar Market) – The Ultimate Verdict

Waarom met Hubspot in zee gaan?
Hubspot kan ALLES vervangen. Als u moe bent van meerdere dashboards voor uw marketingautomatisering, lost Hubspot dit probleem brialliant op. Begin met de GRATIS CRM, en schaal vervolgens extra functies op zonder een nieuw platform te leren.
Probeer Hubspot GRATIS uit
Wij verdienen een commissie als u op deze link klikt en een aankoop doet zonder extra kosten voor u.
All things considered, both Sugar Market (Salesfusion) and HubSpot have proven that they indeed offer some of the best tools you could get on the market for marketing automation and CRM automation.
It's worth noting, however, that Sugar Market is not ideal for small businesses. With its package prices starting at $1,000 a month for 10,000 contacts, Sugar Market is seemingly developed for large enterprises. Besides, it supports an unlimited number of users per account.
HubSpot, on the other hand, is reserved for small to medium-sized businesses. And while each of its solutions includes an Onderneming package, the farthest it goes is 10,000 contacts and 10 team members. Plus, the tools here are only optimized for low-volume campaigns.
But, make no mistake. Although HubSpot can't possibly match up to Sugar Market's contact volume, it actually offers way more tools for managing omnichannel campaigns.
The only problem is, most of the advanced features are bundled into the relatively pricey Professioneel en Onderneming packages. But, if your budget can comfortably accommodate these packages for the long haul, then you're bound to have a pretty good time with HubSpot.
Sugar Market, on the other hand, is generous enough to unlock all its tools. Therefore, purchasing any of its packages means you get everything it has to offer.
Bottom Line: However, that won't be enough to outshine HubSpot. When you critically compare HubSpot vs Salesfusion by all their respective functionalities, the accompanying pricing packages, plus all the possible privileges, there's no question about it- HubSpot is the better option for small to medium-sized business.
Salesfusion, on the other hand, takes the pole position when it comes to enterprise B2B campaigns.
Over to you now. Any thoughts you might want to share?
Verder lezen: