Last Updated on april 22, 2023 by DMEditor
Starting your own business takes lots of work. Fortunately, much of that work goes hand in hand with your passions – selling the products you love, marketing services you believe in, and reaching out to your audience and community.
However, before you can really hit the ground running with your venture, you'll have to launch your business officially.
And that means paperwork
You need to file your business as a US company, open a business bank account, and ensure you're compliant with your state's tax laws. If you're not a legal guru, this isn't only tedious, but it's also sometimes difficult to grasp.
Jumpstart filing helps you register your company in the US. Then, once you're set-up, they handle compliance for you. Their experts can take on tasks like business formation, compliance, amongst other services, so you can focus on what you do best, running your business.
Sounds good in theory, right?
But how does it hold up? We'll take a close look at Jumpstart today to provide you with an answer to that question.
Over Jumpstart
Jumpstart Filings was founded in 2012 with the belief that business management should be affordable and straightforward. They realize this vision by helping companies form their entities correctly, which, in turn, provides business owners with more time to focus on other money-making activities.
Jumpstart supports all 50 US states and provides everything international entrepreneurs need to start their companies. Jumpstart provides top-notch communication with its clients, a problem-free guarantee to ensure you're compliant with tax regulations (more on this later), and service in over 175 countries.
So, how does it work?
You can apply within minutes by submitting your company information via Jumpstart's online form. You'll have to choose a state and filing option that best describes your business's needs. Jumpstart will then collect and file all the necessary paperwork with the state to form your business based on your chosen plan and timeframe. When we say paperwork, we mean your company application, business formation certificate, and information about you and your company.
From there, all documents are delivered to your online dashboard. From here, you can review the progress of all pending tasks. This includes your business formation certificate and EIN.
Finally, Jumpstart will open a business bank account with Mercury Bank (should you opt for them to do so). They'll then hand it off to you, so you're all set for starting your business.
Handig, toch?
Jumpstart's Core Features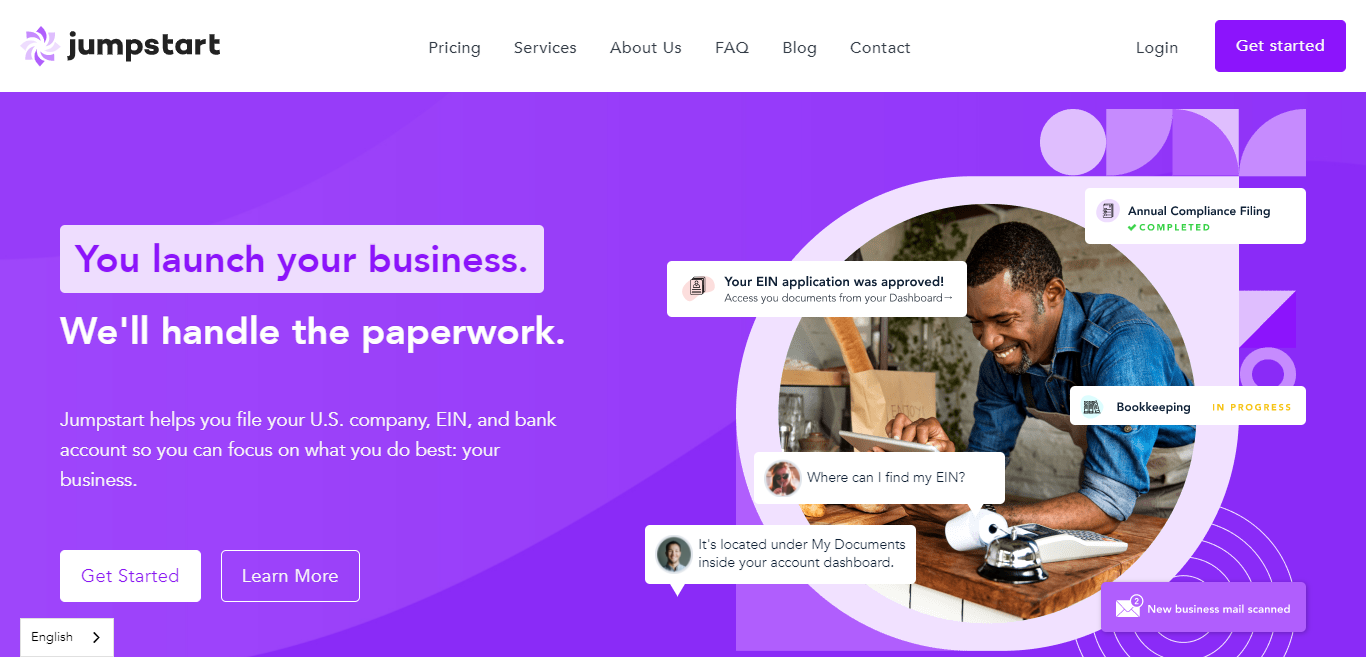 Jumpstart handles all the tasks you would expect any fledgling business to complete. These include:
Filing US Tax returns

Obtaining an EIN or ITIN

Forming a US company

Opening Stripe and PayPal accounts

Opening a business bank account

Creating an Amazon account
Jumpstart's Compliance Guarantee
With Jumpstart's Pro plan (more on this in a sec), you benefit from a problem-free guarantee for compliance. This ensures you never miss a tax deadline or filing event and keeps you in good standing with the state.
Remember, your certificate of good standing confirms you've filed all reports and fees on time. It also serves as proof that your business exists as an entity that's authorized to transact business. In short, compliance is vital to maintain this status!
In light of that, Jumpstart notifies you whenever you're due to file taxes. It also covers your annual tax report filing and two yearly amendments in case any details are missed, or anything is wrong on your tax forms.
Best of all, compliance is guaranteed, so if you miss a deadline, Jumpstart will help you formulate a plan to get back on track and cover the costs required to regain your good standing.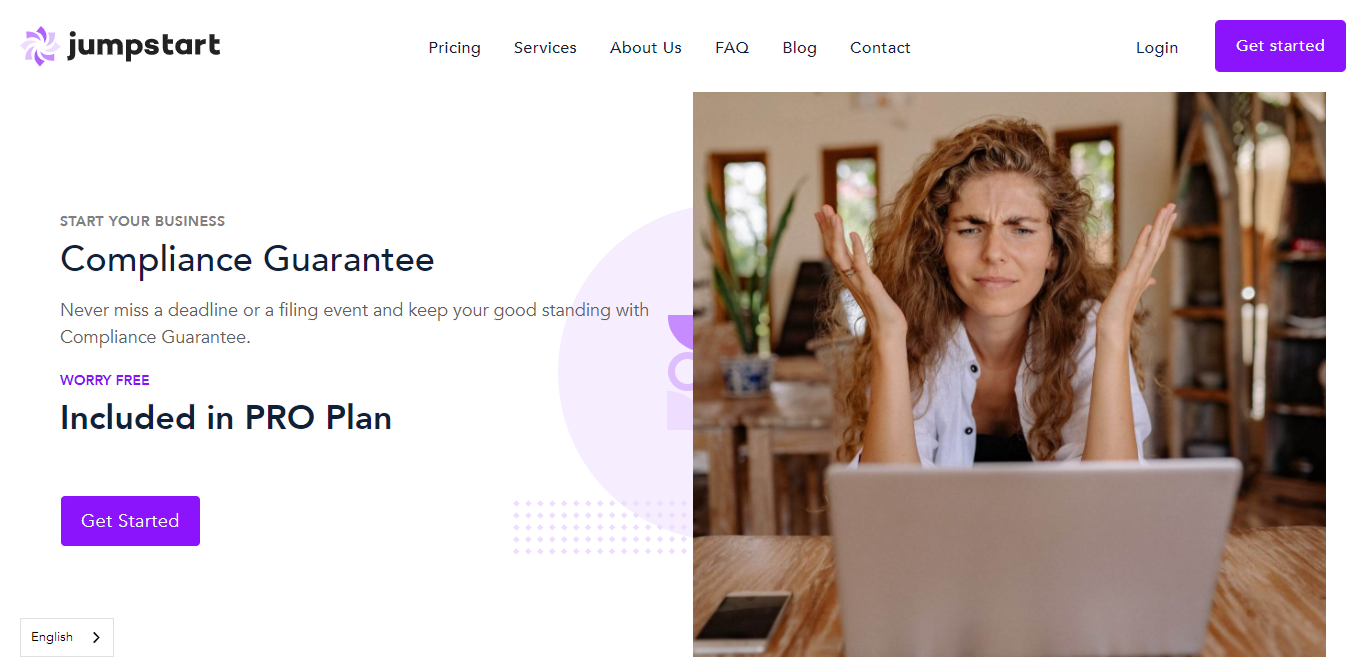 Acting as a Registered Agent
Jumpstart can act as your registered agent. For the uninitiated, a registered agent is a designated person or organization that receives official documents on your behalf. Not every business has an official business address. Still, with Jumpstart, you don't have to worry about that, because as your assigned agent, Jumpstart's offices will act as a business address.
Their office receives your company's important legal documents and files them online so that you can review them from your personal dashboard. A registered agent service also ensures tax notices aren't ever sent to your place of work.
Open a Business Account with Mercury Bank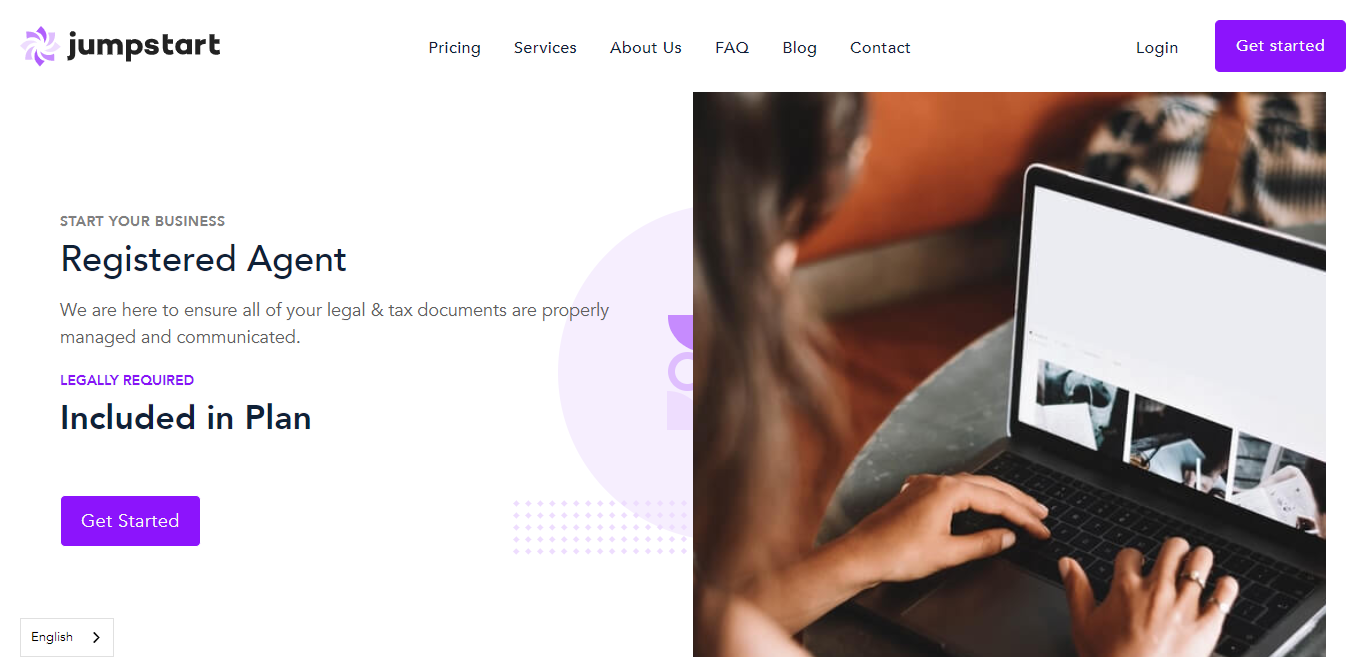 On Jumpstart's Pro plan, or for an additional $99, Jumpstart will open a business account with Mercury in your name and hand over control to you.
There are loads of benefits to setting up a business account. Most notably, it simplifies your accounting as you can track your company's incomings and outgoings, separate from your personal finances. Plus, you can easily keep books with professional bookkeeping software like Xero or QuickBooks. Within minutes you can integrate your business account into your chosen software to start tracking your cash flow.
Let op: Although Mercury accounts are free, there's a fee for wire transfers ($5 domestically, $20 internationally).
Andere kenmerken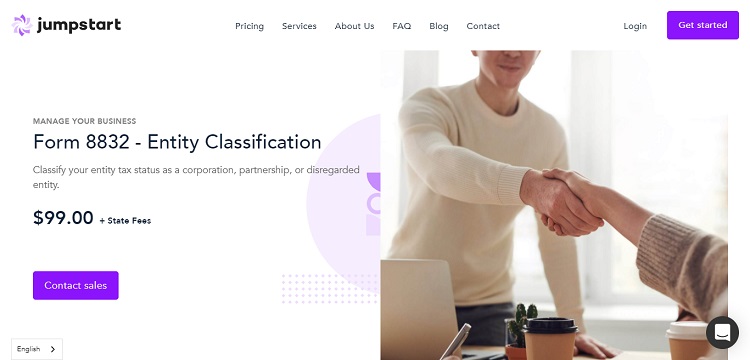 In addition to the features mentioned above, Jumpstart also offers business management tools. Mostly, these aren't included in any of Jumpstart's pricing plans, and as such, they carry an extra cost:
ITIN Application:

Jumpstart helps international clients obtain individual taxpayer identification numbers (ITIN). To learn more about this, you'll have to contact Jumpstart directly.

Amendments:

Should something change about your business later down the line, you may need to alter your name, which your leadership team comprises, etc. In this scenario, you need to update the information on your Articles of Incorporation or Articles of organization. Jumpstart can handle this for you for $99 + state fees.

Foreign Qualification:

Jumpstart can register your company to do business in foreign states. They'll get you a certificate of authority following your foreign qualification filing, which must be completed in each state your LLC or corporation wants to do business in. ($150 + state fees)

S Corporation Tax Election:

Here, Jumpstart will

split up the income or losses amongst company shareholders on your behalf. ($99)

Tax filing:

Purchase affordable and easy tax services for your business. Jumpstart's accountants and tax experts can provide professional assistance to maximize your tax refunds by filling out your tax return on your behalf. (starting from $500)

Doing Business As (DBA):

Use a different business name from your legally registered company name ($99 + state fees). In some states, DBAs or fictitious business names must be filed for the protection of consumers. If you're a sole proprietor or partnership, you can choose a DBA for your business to operate officially under. The procedures for filing this name vary by state. Your DBA name may also be required for you to open a business bank account. Again, Jumpstart can file for your chosen business name for you.

Annual Compliance Filing:

Jumpstart will file annual reports to confirm your current information ($150 + state fees). Annual reports can vary in complexity. They include details about your principal business address, the directors and officers in your corporation, your business's purpose, and essential identification numbers. Most states require these annual updates to keep track of any changes in address or ownership. Jumpstart can file this report for you.

Certificate of Good Standing:

This certificate validates a company's status for governmental and private agencies. Again, the price of this service varies depending on your business's income.

Change of Registered Agent:

If you want to change your registered agent to receive official documentation and correspondence for your business, Jumpstart can handle that for you ($150 + state fees). This includes notifying the state of the change to avoid invoking penalties and any other necessary paperwork.

Form 8832 Entity Classification:

Classify your entity tax status as a corporation, partnership, or disregarded entity. This is done via Form 8832 and filed with the IRS ($99 + state fees)
Jumpstart's Prijzen

Jumpstart offers four formation plans. Its basic filing service and support are included in every one of them. By this, we mean Jumpstart will file the necessary paperwork to obtain your business certification. For them to undertake this task, you'll have to supply Jumpstart with proof of your identity and information about you and your business.
Once your business formation is complete (meaning it's officially founded and certified), you can purchase extra services (as listed above) to help run and grow your business.
Jumpstart's pricing hinges on the kind of business you're founding as the state fee is different for each:
C Corporation

S Corporation (US citizens only)

limited Liability Company (LLC)

Non-profit
As previously hinted at, once you've chosen the kind of company you're setting up, you'll also have to select the state you're operating from. This determines the State fee, which, of course, directly impacts your initial costs.
Each plan has an annual cost, plus the relevant state fee. This is what you'll pay upon purchase.
De prijzen zijn als volgt:
Het basisplan
This package sets you back $129 a year. For this, Jumpstart aims to form your business within 1-2 business days. This involves doing all the prep work for registering your company in your chosen state and then actually going ahead and filing it. Jumpstart will also perform a name availability search and provide 24/7 online document access so that you can track your order status.
They also provide a registered agent for your business and set you up with a business address. However, customer support may take up to 72 hours to get back to you.
Het Plus Plan
Here, the price ramps up to $249 a year. Here, Jumpstart aims to form your business within 12-14 business days. The additional filing time accommodates the extra paperwork covered in this plan.
On this plan, Jumpstart handles your banking resolution. This is how you get authorized to open a bank account and provide signatures for your business. The banking resolution document is created by owners of LLCs or the board of directors for a corporation. Jumpstart delivers a template so you can quickly and easily complete this resolution and open an account for your business.
It also provides you with an operating agreement that outlines all the legal and financial details pertaining to your business. This separates you from your business as a legal entity, and as such, it protects your personal assets in the event your company runs into financial difficulties. It also creates a succession plan if the company owner exits the business.
Jumpstart will also open a bank account with Mercury Bank for your business and file your EIN.
Finally, on the Plus and Pro plan, you'll receive a CPA assessment to better inform you of your tax and accounting needs. Customer support with the Plus plan is also quicker, with Jumpstart aiming to get back to you within 24-48 hours.
Het Pro Plan
For $329 a year, Jumpstart aims to form your business within 7-10 business days. Thanks to the rush-filing included in this plan, more forms are processed within a shorter time than the Plus Plan.
On top of everything included in the Plus plan, you'll also get access to Jumpstart's rush filing service. This expedites your business filing and gives you access to your business documents and certification within just a few days, so you can start operating in an official capacity.
The Pro plan also comes with the problem Free guarantee for full compliance, which comes with two annual tax filings and two yearly amendments in case anything goes wrong with your tax forms. You'll also receive proactive alerts and notifications of upcoming filing events, so you'll always be able to prepare all the necessary information and documents in good time.
Should your company fall short where tax compliance is concerned, this guarantee ensures you'll receive a detailed action plan to help you get back on track. At the same time, Jumpstart covers the costs for the mistake.
Lastly, with the Pro plan, you'll also be able to access chat support, and email support aims to get back to you within 24 hours.
Jumpstart's Customer Support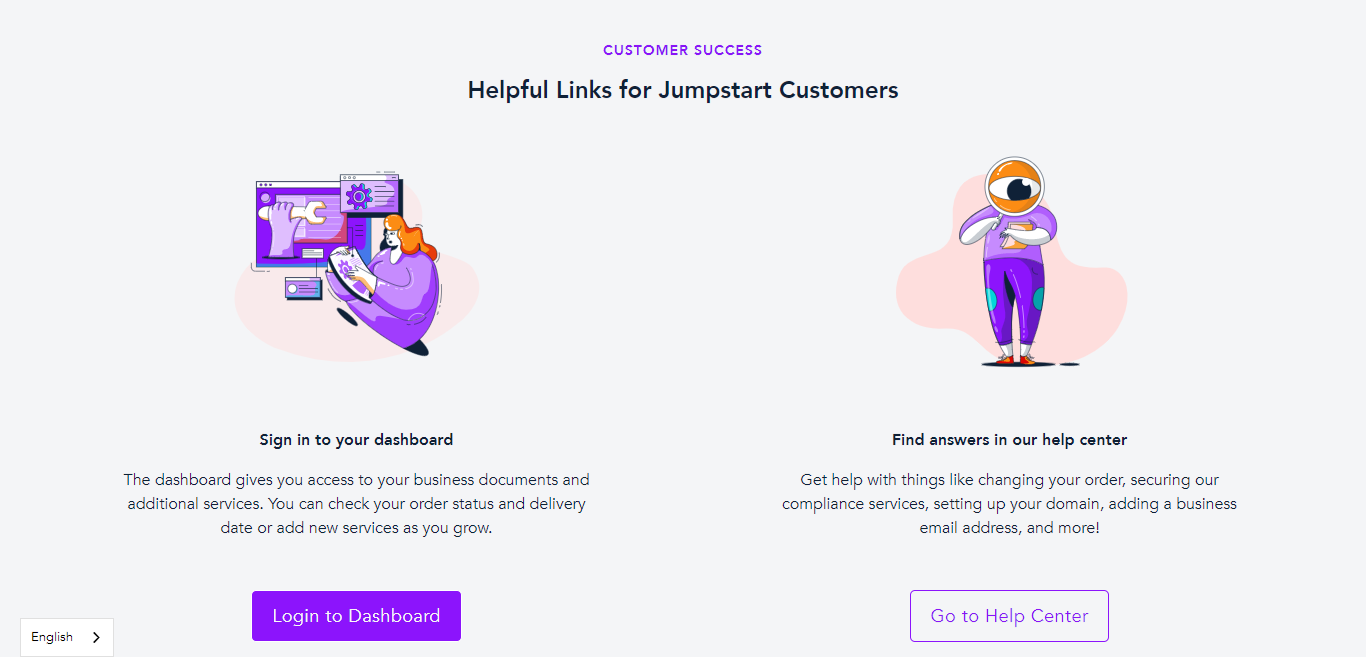 As we've just touched upon in the pricing section above, the customer support you receive is directly tied to your chosen pricing plan. On the Basic plan, Jumpstart might take as long as 72 hours to get back to you via email, which is a long time if you're waiting on important information! Only with their Pro plan can you access live chat support with a guaranteed response time of under 24 hours.
Alternatively, if you prefer the self-help route, you'll find the answers to frequently asked questions on their website. Mostly, these outline the essential steps in business formation and the benefits of some of their features. There's also an online help center available.
At this point, it's worth noting that while Jumpstart's response times might not be the fastest, Jumpstart enjoys a four-star Trustpilot score!
Jumpstart's Pros and Cons
Whether Jumpstart is the right service for you depends on:
Your skills and knowledge where handling taxes and official forms are concerned. For instance, do you understand what's required to stay compliant and how to achieve the best refunds on your tax returns?

The time you have available for handling your business's paperwork, from the initial formation papers for your registration to applying for a banking resolution and filing taxes each year.

How you envision running your business in the future.
…But to make the decision easier, here are a few pros and cons to consider.
De professionals
Jumpstart are experts in their field, so rest assured, you can rely on them to get your business up and running legitimately.

You can make use of them as a registered agent to obtain a legal business address, that otherwise you might not have had access to

You get access to a single online dashboard that keeps all your business documentation in one place.
De nadelen
Despite Jumpstart's annual fee, not many of its services are ongoing or help you manage your day-to-day business needs. For instance, these kinds of features, like bookkeeping, cost extra.

You only get access to live chat support on Jumpstart's most expensive plan.

Many of Jumpstart's services come at an additional charge, so costs can quickly rack up!
Vaak gestelde vragen
Here are some of the most frequently asked questions about Jumpstart:
Question: Are there really no hidden fees with Jumpstart?
Answer: Yes, there are no hidden fees. Having said that, Jumpstart charges at check out the price of the package you've selected. And there will be no surprise add-ons for example added at check out.
Question: Are there monthly plans with Jumpstart?
Answer: The plans available are only yearly and the lowest plan starts at an affordable price of only $129/year.
Question: Is it possible to update your information at any time?
Answer: Yes, updates are possible. It is a lot quicker if you notice something you need to change right after purchasing, but even at a later stage, you can make an amendment. You get free amendments each year as a part of Jumpstart's 'Problem Free Guarantee Service'.
Jumpstart: Our Final Thoughts
Jumpstart can help uncertain entrepreneurs get started with their business journey. Namely, by setting them up with a bank account, business certification, and other documents, they need to hit the ground running. If you're nervous about this process, Jumpstart's filing services might sound appealing to you.
However, when it comes down to it, we think that with some research, many of Jumpstart's services can be handled either by yourself or with an accountant's help. For instance, for a relatively simple task, like opening a business bank account, you'll pay Jumpstart as much as $99!
Let us know in the comments below what you think. Is filing your business through Jumpstart a wise business decision? Is it a good value for money? We'd like to hear what you think.
Lees verder: