Last Updated on april 22, 2023 by DMEditor
Do you have trouble reconciling your monthly bills? Or finding it hard to stay on top of your business costs? You are not alone. According to a CreditWise survey conducted by Capital One, 73% of Americans consider finances as their primary stress in life.
As an entrepreneur, you need to be aware of how much you spend at all times. It is not an easy task — especially if you use multiple credit cards and have various monthly expenses.
At this point, budgeting and managing your expenses is a must. Thankfully, various budgeting and expense tracking tools such as Divvy can help you make the process much easier. Read on to find out how Divvy might be just the tool you need to make your business' financial management easier.
What Is Divvy?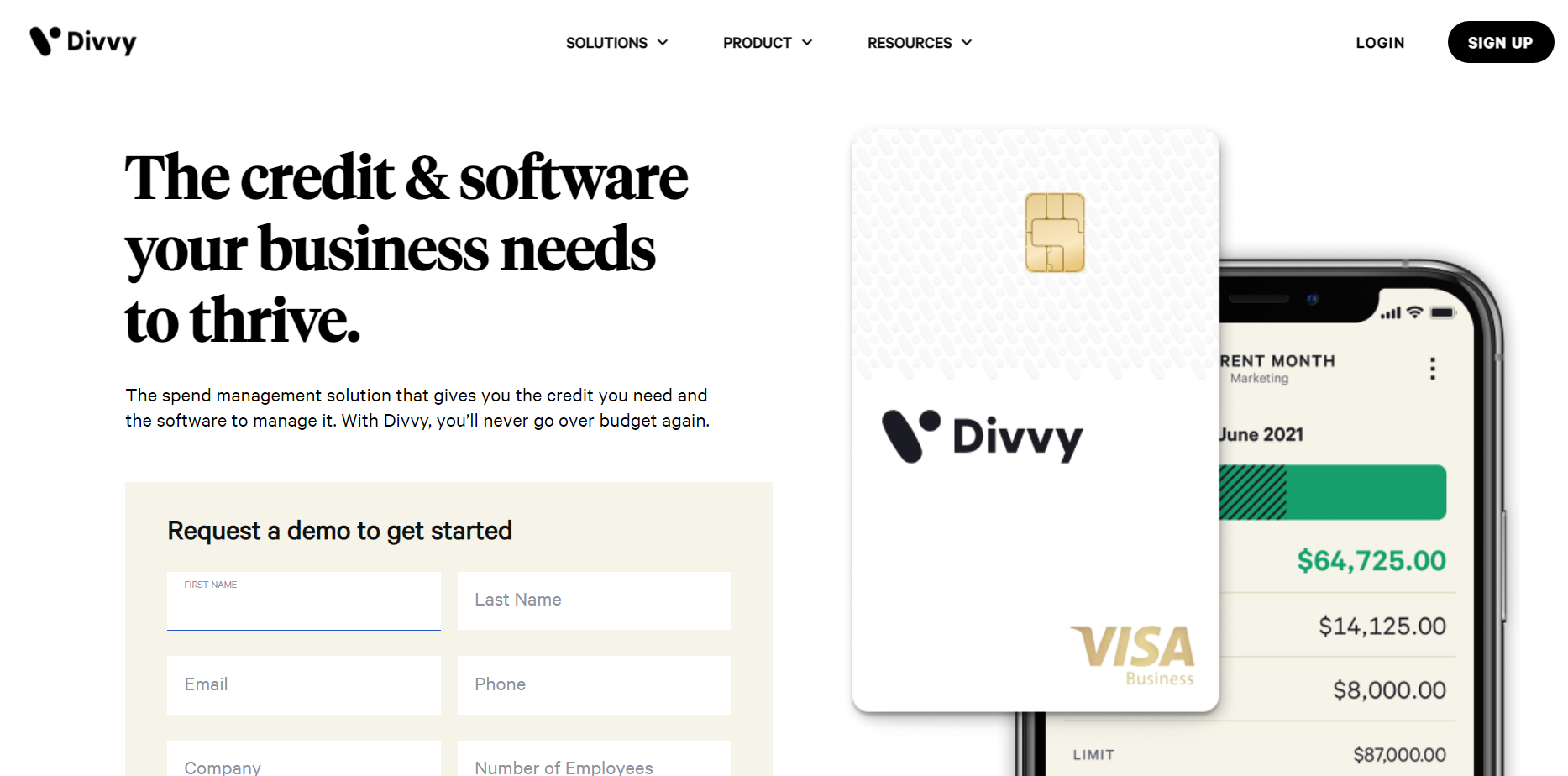 Divvy is a budgeting and expense tracking tool. It helps you keep track of your finances and expenses by offering a way to set financial goals and create budgets. On signing up, you get a virtual or physical Divvy MasterCard to use for business expenses.
Tracking and reimbursing expenses is a burden on both employees and finance, especially when done manually. With Divvy, the process is entirely automated – hence easier. The finance team can approve all transactions in real-time, making it easier to track them and manage them whenever they want.
Employees won't need to pay out-of-pocket expenses, fill out expense reports, or wait for reimbursement. Similarly, the finance department won't need to seek any information from employees since they can readily access it on the app.
Who Can Use Divvy?
Divvy is an easy-to-use app that serves executives and employees no matter the company's size or industry. It is customizable to any business without the need for any workarounds. Divvy works well for multiple niches, including;
Ecommerce and retail companies

Healthcare companies

Technology and SaaS companies

Construction and real estate companies

Logistics and supply chain companies

Banking, Finance, and Insurance

Professional services businesses

Travel and Leisure
How to Sign Up for Divvy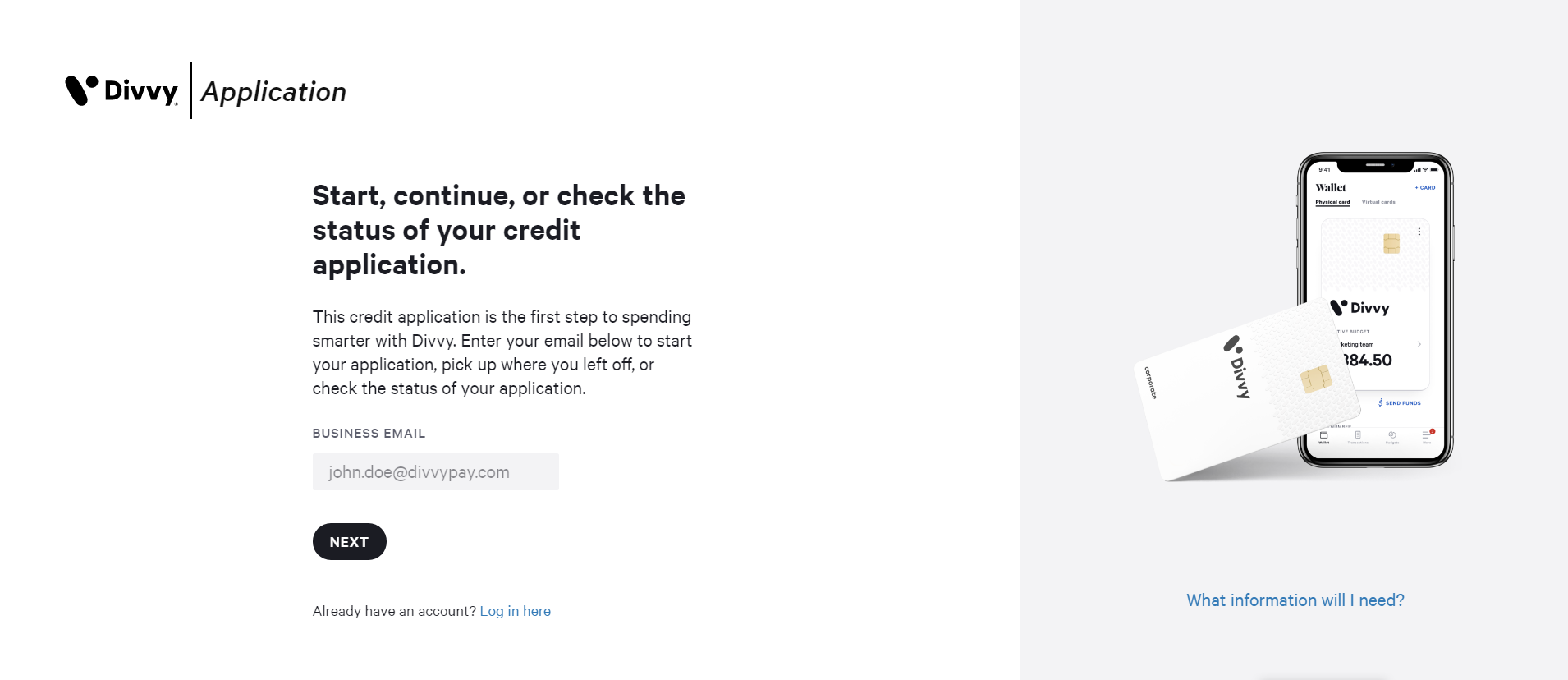 To sign up for Divvy, go to their online sign-up page and enter the indicated details. Once you apply, you will need to designate some of your employees who will be the cardholders. Afterward, you will receive an actual physical card to give to each of the designated employees. Cardholders can also use virtual cards in addition to physical ones.
Divvy's Features
Divvy integrates seamlessly with various boekhoudsoftware, including Sage Intact, QuickBooksen NetSuite, making it a perfect tool for your business expense tracking and management. Below are some notable features of the app.
Budget Management
You can build a budget in the Divvy app for your business in just a few steps. First, you need to name the budget, select the cycle (one-time or recurring), set the goal, designate who has access to the budget, and customize it by team, project, or event.
You can also add or remove members and adjust their funds whenever you like. On the forecast tab, you can track expected monthly expenses projections.
Beheer van uitgaven
Your designated employees can request funds for specific company expenses using their cards. When that happens, the finance team or the manager receives a notification about the request. The finance team can then transfer these funds to the card instantly.
If the expense is recurring, the manager can send it every month to their team. For accountability, employees may take pictures of the expense receipts with their phones and upload them.
The finance team or the manager can track each employee's transactions. They can see the amount of money that's available to your employees at any time. Besides, they can check how much one has spent, pending transactions, or declined ones.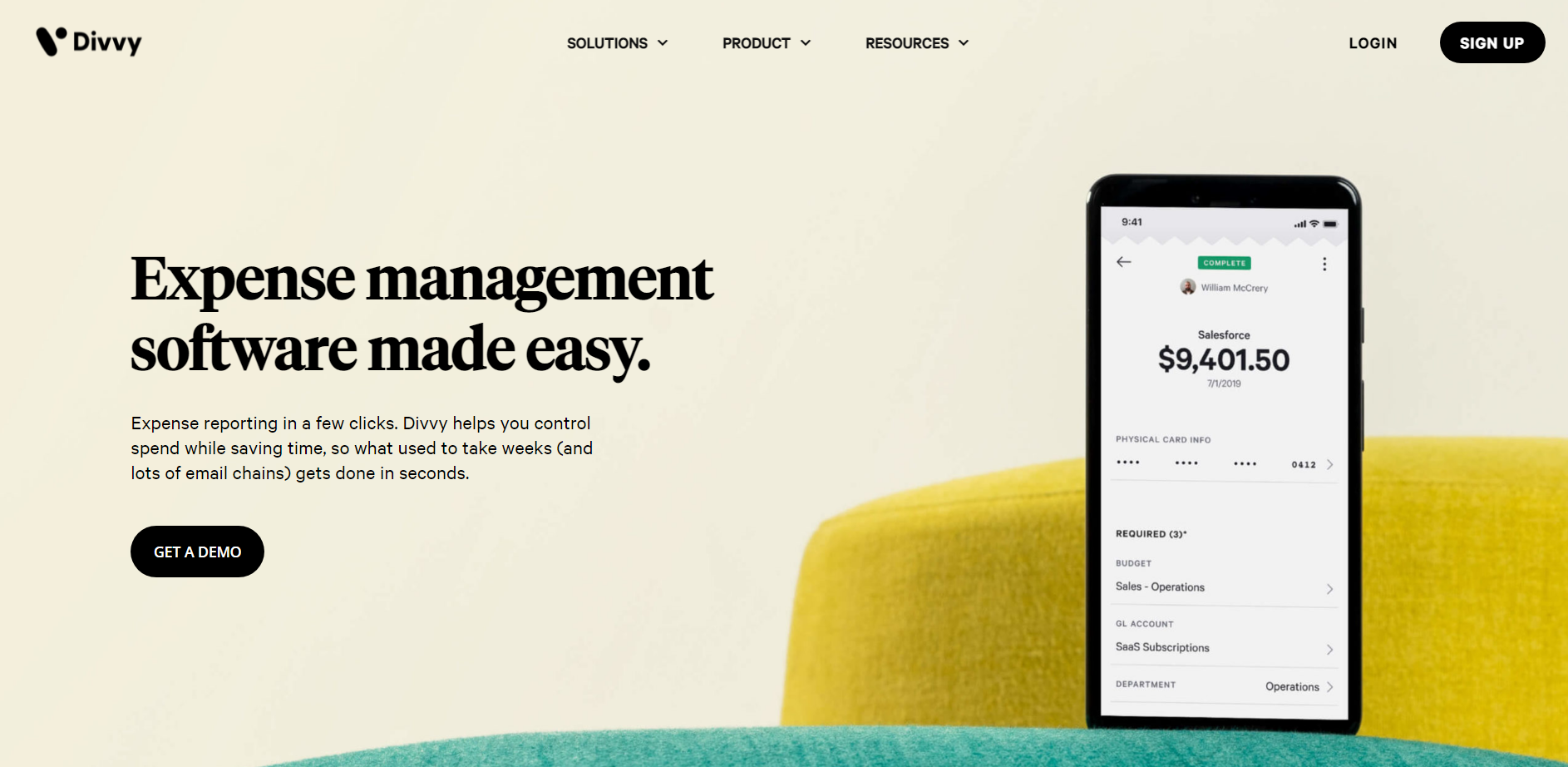 Virtual Credit Cards
You can make a virtual card for any recurring bill or subscription. That way, instead of putting all your expenses on your primary credit card, you can just use the card that corresponds to that expense. You can even manage budgets for each card. For example, you might have a budget for Facebook ads and another budget for the company's DHL account.
Divvy offers you the chance to create two types of virtual cards: Burners cards (for one-time use) and Subscription cards (for frequent use). Anyone with a Divvy account can create a burner card. The budget owner is the only one who can make subscription cards. Once you make a burner card, you can then either freeze it or delete it within six days.
Software Integrations
Manual record keeping is a tedious process that requires you to keep updating them from time to time. Divvy comes fully integrated with essential accounting software such as Oracle NetSuite and QuickBooks Online. Having such resources ensures efficiency and minimizes the chances of having wrongly posted transactions or missing data.
One thing worth mentioning is that you do not have to change how you do business. The software integrations are flexible enough that they won't require any changes on your end. With these integrations, Divvy automatically absorbs your chart of accounts and aligns categories to match. In so doing, you get to save time on manual reentry and meticulous data entry.
Divvy Travel
The Divvy Travel feature saves you up to 50% on hotel accommodations and transportation. You can book both personal and business travel with ease on the platform. Use the app to find the best deals on flights, hotels, and other travel costs.
Credit Builder Program
Divvy understands that not all businesses can have a line of credit right away. The Divvy credit builder is a program that gives small businesses a chance to build their credit even with no credit line.
Their program, however, helps small businesses move towards being approved for credit. It offers the same expense management software and rewards as its standard card programs. With the Credit Builder program, you can accurately track business spending and automate expense reports.

Divvy's Pricing
Divvy is free to use. The company makes revenue by receiving interchange fees from MasterCard when customers use the app. Divvy also provides premium add-ons, like cash reimbursement and implementation services. However, there are instances where Divvy will charge you some fees, as discussed below.
Foreign Transaction Fees
Divvy charges no upfront fees, but you should know that Divvy charges foreign transaction fees if you travel frequently. Here are the charges that you incur when traveling.
Cross-border fees: You will pay 0.90% of the total transaction volume if you are US-based and 0.20% in Canada.

Currency conversion fees: You will pay 0.20% of the total transaction volume regardless of where you are based.
Late payments fees
Any late payments incur a fee of 2.99% of the amount, or $38, whichever is greater.
Divvy's Rewards System
With Divvy, you earn rewards based on your payoff schedule. There are three main categories where you earn bonus points through your spending: Hotels, Restaurants, and Software subscriptions. You can opt for either of the three payment schedules – weekly, semi-monthly, or monthly. In this case, the more frequent your payments are, the more points you earn. Below are the rewards rates for each payment schedule.
Weekly
7 times on restaurants

5 times on hotels

2 times on recurring software subscriptions

1.5 times on everything else
Semi-Monthly
4 times on restaurants

3 times on hotels

1.75 times on recurring software subscriptions

1 times on everything else
Maandelijks
2 times on restaurants

2 times on hotels

1.5 times on recurring software subscriptions

1 times on everything else
Discounts and Credits upon Signing Up
Divvy has partnered with several companies to give discounts and credits for a variety of services. Customers can take advantage of the following deals:
Google Ads – You will get a $150 discount on signing up.

TripActions – In the first year, you get $5000 in sign-up fees waived.

Verizon Wireless – You get a $50 discount when you buy a new phone.

Costco – New members get a $50 discount

Amazon Web Services – You get up to $25,000 in credit over two years.
How Does Divvy Compare to Other Similar Products?
Divvy offers the same conveniences of a credit card with the added boost of cashback rewards, flexible spending categories, and not to mention that it is free. Despite its range of benefits, there are other cards on the market with similar features. Here's how Divvy fares against its competitors.
Divvy vs Brex
| | | |
| --- | --- | --- |
| Category | Divvy | Brex |
| | | |
| Automated expense reports | | |
| Free cards for all employees | | |
| | | |
| | | |
| Real-time expense tracking | | |
| | | |
| | | |
| | | |
| Live klantenondersteuning | | |
| | | |
Divvy vs Expensify
| | | |
| --- | --- | --- |
| Category | Divvy | Expensify |
| | | |
| | | |
| | | |
| | | |
| | | |
| | | |
| | | |
| | | |
| | | |
| | | |
| | | |
Divvy vs Airbase
| | | |
| --- | --- | --- |
| Category | Divvy | Vliegbasis |
| | | Free up to a limit of $25K spent per month |
| | | |
| | | Up to 15 receipts per month |
| | | |
| | | |
| Real-time expense tracking | | |
| Any time customer service | | |
| | | |
| | | |
| | | |
| | | |
Advantages of Divvy
It helps you reduce overspending and enables you to keep track of how each cardholder spends their allocated cash.

Customer support is excellent. You can reach out to Divvy via phone or e-mail, and they are readily available to assist.

Having premium add-ons like cash reimbursements sets them apart from most of their competitors. They offer up to $5 to every active user per month.

Using Divvy is free. You also get a free trial to test whether the service will serve your requirements before you subscribe.

Easy integration with major accounting software ensures efficiency and saves you time.

It is open to all businesses and companies, no matter the size or industry. It serves employees and executives in these companies in equal measure.

Divvy's virtual cards come with 16-digit unique numbers, ensuring security and reducing the risk of fraud.

You can use your Divvy card anywhere around the world to make your payments, as their MasterCard platform is universally accepted.

It has a rewards system that earns you points according to your frequency of payments.
Disadvantages of Divvy
According to some user reviews, Divvy can be buggy at times.

It serves as a budgeting and expense tool and does not offer fully-fledged accounting services to someone looking for such solutions.

User roles are limited to either admin, owner, or member. You do not have the option to customize any of these user roles to your liking.

FAQ's
Question: What is Divvy Used for?
Answer: Divvy helps executives and employees track and manage their company-issued credit cards with a software as a service (SaaS) solution. The app integrates with existing accounts and billing systems and enables instant visibility and control of corporate spending. Divvy also helps reduce approval times since the admin and the accounts department can track expenses and approve cash reimbursements on the platform.
Question: Does Divvy make reports to business credit?
Answer: As part of their mission to support all businesses, Divvy reports customer credit information to the Small Business Financial Exchange (SBFE). This means you can use Divvy as an affordable way to build a strong credit reputation and increase your business credit score by paying on time.
Question: How does Divvy Work?
Answer: Divvy is a new tech solution that optimizes your company's budget. By using a Divvy card, business owners can control how much money is spent and make sure their employees use funds correctly. Physical cards are convenient for most transactions, and virtual cards are essential for self-control or accounting purposes.
Question: Is Divvy secure?
Answer: Divvy has a 256-bit Secure Socket Layer that guarantees that your information is always safe. Divvy comes with multi-factor access control and encrypted information, making every aspect of your account, from login to data storage more secure.
Question: Is Divvy integrated with NetSuite?
Answer: Divvy comes integrated with NetSuite accounting software, which streamlines credit card transactions and makes reconciliations faster. Such integration is helpful as it can be customized to fit your company's needs by allowing you and the accounting team to be aware and stay in control of all financial transactions.
Divvy Review: Conclusion
Divvy is a versatile expense and budgeting solution for businesses, with no interest charged on card usage, an extensive rewards program, and helpful tools. This universal card offers some great benefits for both startup companies and more established brands.
It offers a full-featured rewards perk that can save money, streamline expenses with its software, and has flexible credit lines. Suppose you combine the rewards system, reliable and secure software, plugins, and benefits you get when using the Divvy card. In that case, it becomes a definite contender for companies seeking more than just an ordinary card.