Last Updated on August 1, 2022 by DMEditor
Do you have a US company, or are you thinking of starting one? Do you wish you could take the time to focus on setting up your business while someone else handles the paperwork?
If so, cue: Jumpstart vs Incfile. These companies can help you legally form your US company, claim your EIN, establish a bank account, and much more besides…
If you'd like to find out more about these companies, stick with us! We're going to run through everything you need to know about Jumpstart and Incfile so that hopefully, by the end of this review, you'll be better positioned to pick the best online legal service for your business.
Ready? Let's get started.
Jumpstart vs Incfile – Their Key Similarities
First off, let's take a look at the fundamental similarities between Jumpstart vs Incfile:
Both can obtain your EIN for you.

Both provide a registered agent service.

Both provide certificates of good standing.

Bookkeeping and accounting services are offered by both.

Both offer all the key services needed for business formation including LLC, nonprofit, S corp, and C corp
Jumpstart vs Incfile – Their Key Differences
So, what differences set them apart? Well…
Incfile provides an LLC for FREE for its customers (a nice little optional add-on), but Jumpstart doesn't offer this as a free option.

Incfile provides a trademark database, and they'll register your trademark on your behalf, whereas Jumpstart doesn't provide this service.

Jumpstart offers a 'compliance guarantee,' whereas Incfile doesn't, this is a customer promise that they'll never miss any kind of compliance-related deadline such as an annual report

If you want to be a little nit-picky, some of Incfile's additional features are

slightly

cheaper than Jumpstarts (for example, Incfile's dissolution services are $149, whereas Jumpstarts are $150).

Jumpstart offers a pricing plan for non-US residents who want to run a business in the US, whereas Incfile doesn't appear to offer anything similar
About Jumpstart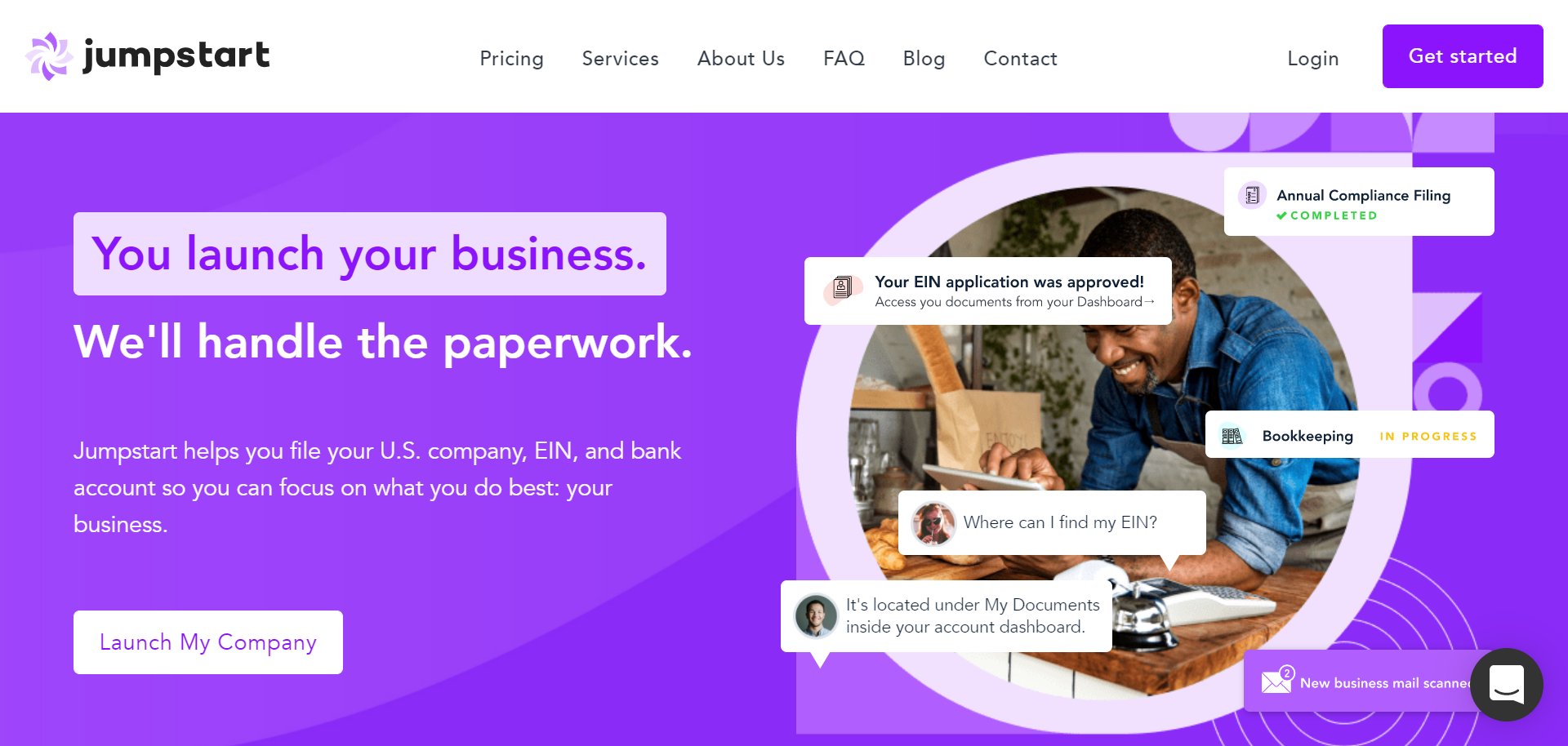 Founded in 2012, Jumpstart provides online company filing services that help business founders start and manage their businesses simply and affordably. Jumpstart's services cover everything from opening your business bank account to handling annual compliance filing, tax filings, bookkeeping, ITIN application, and more.
They claim to assist businesses of all shapes and sizes, from large eCommerce companies to solo engineers. Moreover, everything is done remotely. You don't even need to make an in-person visit to open your bank account. Instead, simply send Jumpstart the required documentation, and they'll handle the rest for you.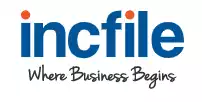 Like Jumpstart, Incfile provides online company filing services to make entrepreneurship as straightforward as possible. Incfile was formed in 2004, and according to their website, they've helped over 500,000 businesses launch.
Both Jumpstart and Incfile essentially offer the same service for anyone wanting to start their own Limited Liability Company (LLC), S-Corporation, C-Corporation, or Non-Profit, Incfile's homepage is quick to align itself with entrepreneurs, stating: 'we're entrepreneurs – just like you. Our goal is to support you with a full suite of startup services that motivate you to chase your dream with a trusted partner by your side.'
Aside from the aforementioned features, Incfile also offers various services, including Articles of Incorporation, bookkeeping, banking, trademarks, and much more.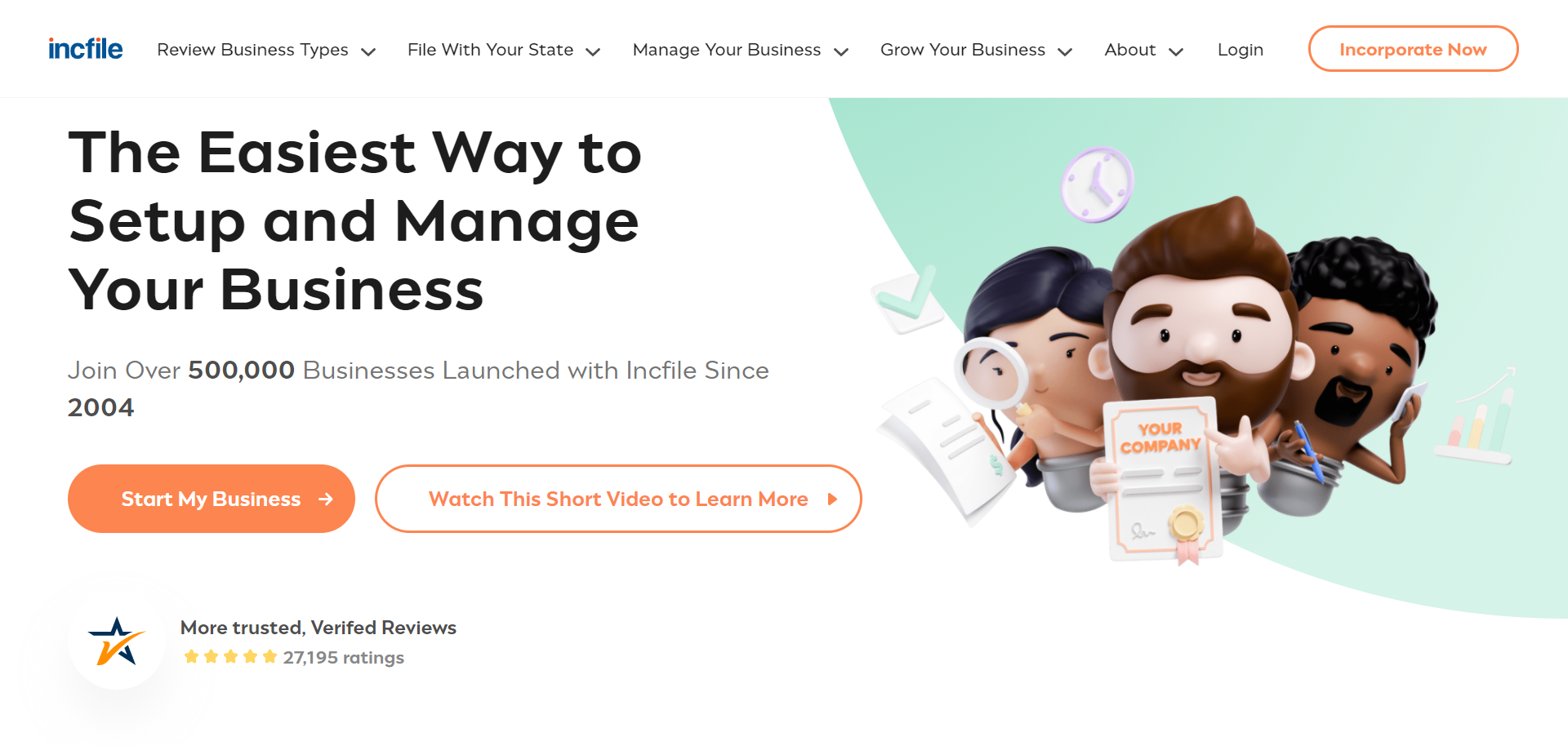 Jumpstart's Key Features
Now that we've covered the basics, let's take a closer look at the primary services Jumpstart offers:
Business Formation
If you're looking to get your business off the ground the right way, you can work with Jumpstart. Simply submit your company information online, and choose the state and filing option that best suits your business needs.
Jumpstart will then collect and file all the necessary paperwork with the state, including your company application, business formation certificate, and any other extra information about you and your company.
Employee Identification Number (EIN) Service
You'll need an employee identification number (EIN) to open a bank account, hire employees, and protect your assets. If you need help securing an EIN, Jumpstart can handle that for you.
Dissolution
If you need to dissolve your LLC, Jumpstart can manage the paperwork for you. However, this will cost you $150 + state fees.
Compliance Guarantee
Jumpstart's compliance guarantee is included in their 'Pro' plan and promises to help you remain compliant with:
State-required annual reports by sending alerts concerning substantial compliance and filing events

Performing your annual filing for you

supporting you to protect your entity and good standing
Registered Agent
If you're an LLC or Corporation, you're required to appoint and maintain a registered agent when you form your business. This agent will act as the primary point of contact between your company and any official government office. Jumpstart can act as your registered agent, and this service is included in their main plan (more about that below).
US Bank Account
Jumpstart partners with Mercury Banking. So, if you opt to open a business bank account, Jumpstart will open one with Mercury for you.
This feature is included with Jumpstart's 'Pro' plan. Mercury accounts are free, have no minimum balances, opening fees, or monthly fees. They also connect with all major payment processors like Amazon, Stripe, PayPal, etc., to easily track your company's incomings and outgoings.
ITIN Application
Jumpstart can help their international clients obtain Individual Taxpayer Identification Numbers (ITIN). You'll be assigned an ITIN specialist to guide you through the process, and Jumpstart will certify your ID for you and handle all the required paperwork. For more information about this service, you'll need to contact Jumpstart directly.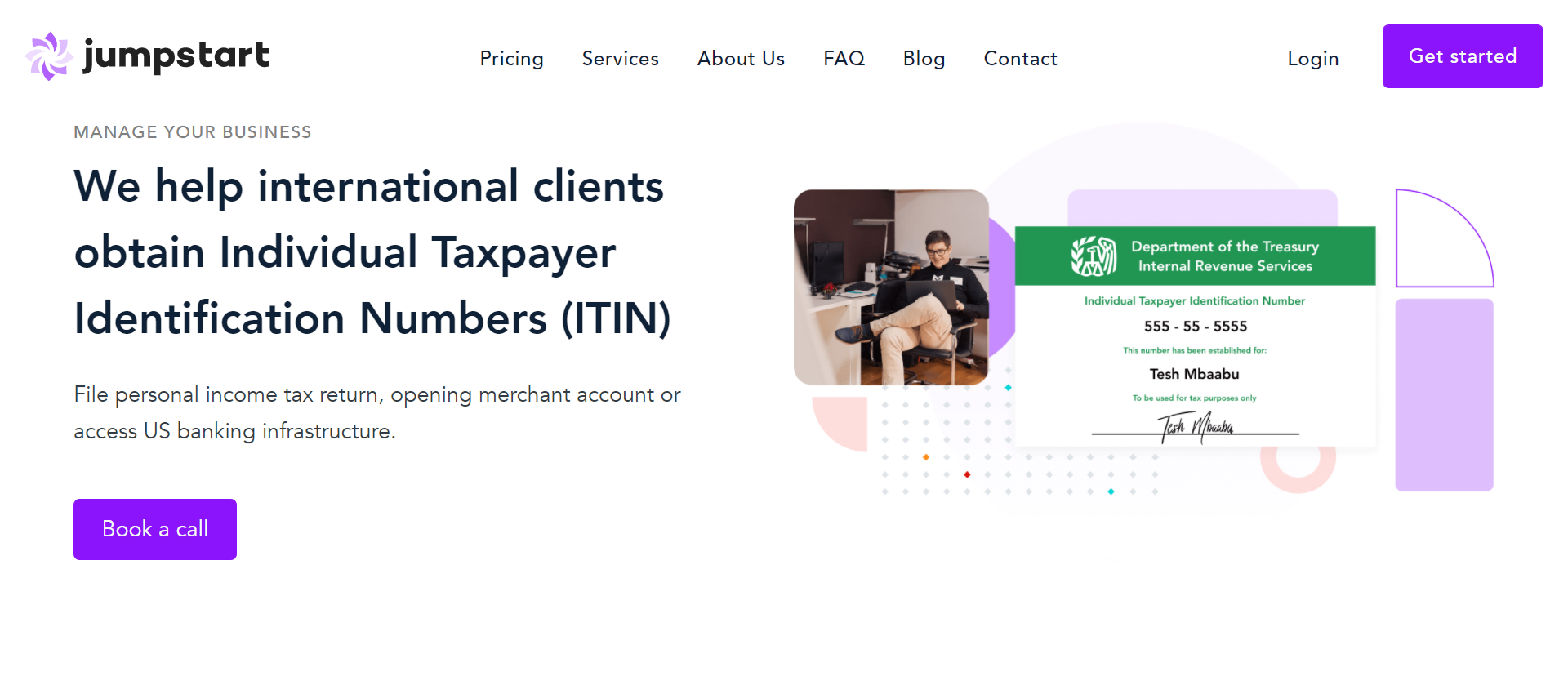 Amendment
Once your business is up and running, there's always a chance that something may change further down the line. For example, suppose your company requires changes to its membership, a change of name, or company address. In that case, Jumpstart can handle this for you for $99 + state fees.
Foreign Qualification
If you need to expand your business to new states, again, Jumpstart can help. With this service, Jumpstart can register your company to do business in foreign states. They'll issue you with a certificate of authority which must be completed in each state you want to do business in. This service will cost $150 + state fees.
S Corporation Tax Election
Jumpstart will split the income or losses amongst company shareholders for you (if you need it). This process costs $99.00.
Bookkeeping
Jumpstart offers a range of bookkeeping plans to its customers. Unfortunately, Jumpstart provides very little information about this online, so you'll have to contact them directly for more details.
Tax Filing
Jumpstart has several professional accountants and tax experts on hand to provide professional advice. In addition, they can fill out your tax return for you to maximize your tax refunds. This service starts from $500.
Doing Business As (DBA)
You'll need to file for a DBA if your company operates under a name that's different from its legal, registered name – and Jumpstart can file your DBA for you. This will cost you $99 + state fees.
Annual Compliance Filing
Some states will require companies to file annual reports to affirm their current information. This information can vary from details about your principal business address to the directors and officers in your corporation. Jumpstart can file this information for you for $150 + state fees.
Certificate of Good Standing
A certificate of good standing is required by government and private agencies to confirm your company's status. Jumpstart can obtain this for you, but the price will vary depending on your income.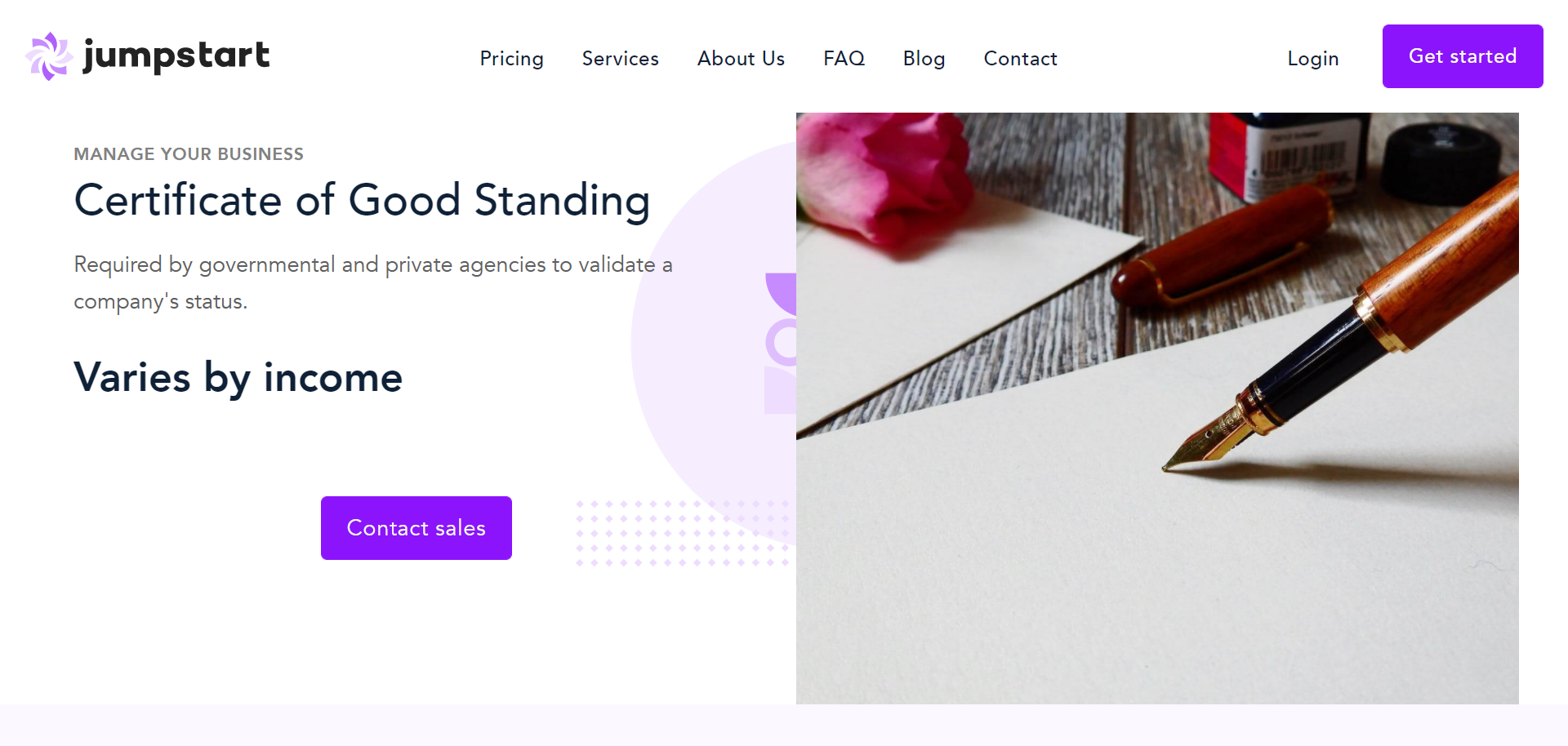 Change of Registered Agent
You might want to change your registered agent. Jumpstart can do this for you and handle the necessary paperwork for $150 + state fees.
Form 8832
This form, otherwise known as 'Entity Classification,' is a legal requirement. It's needed to classify your entity tax status as a corporation, partnership, or disregarded identity. Jumpstart can complete and file this form for you with the IRS for $99 + state fees.
Incfile's Key Features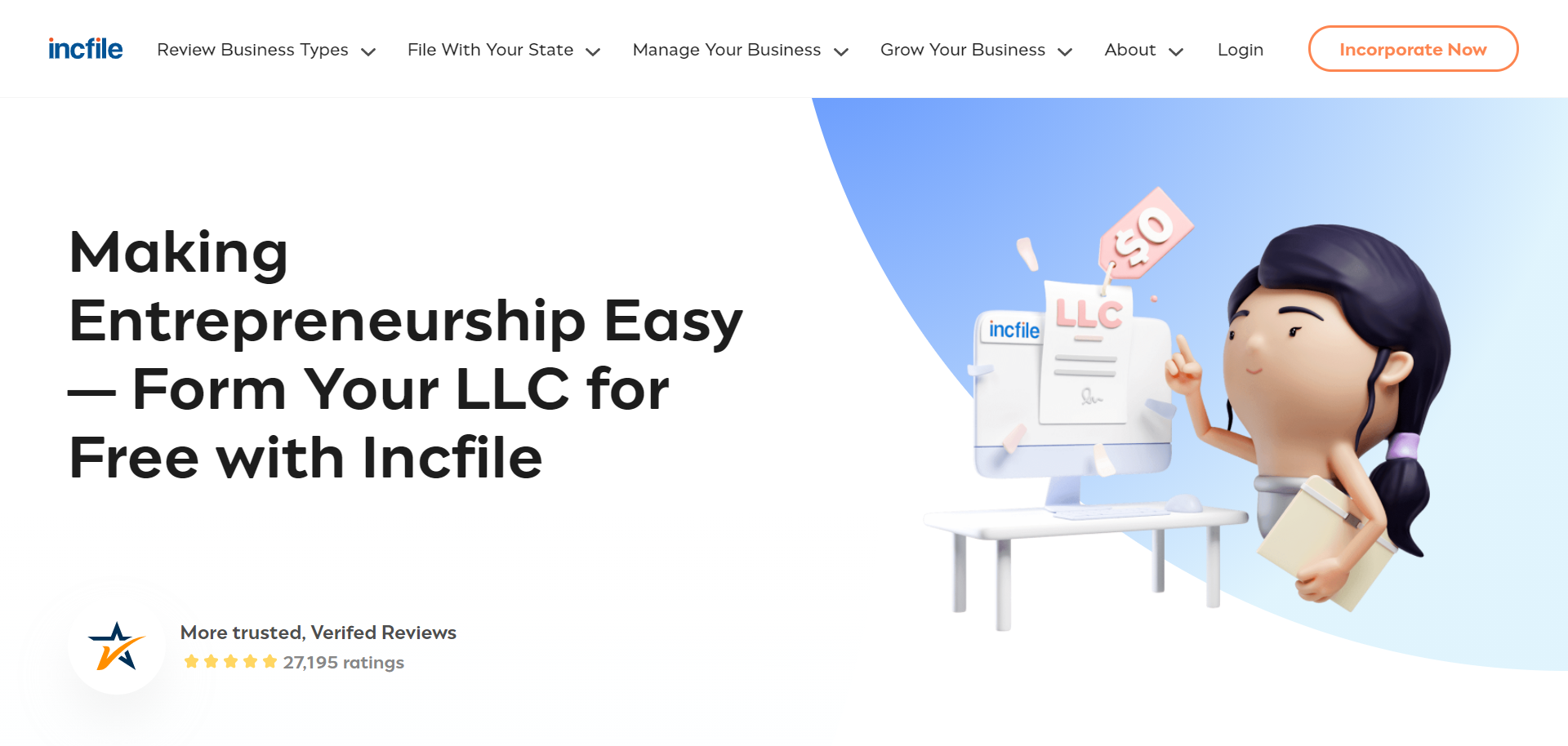 Now, let's see how Incfile's primary services stack up against Jumpstart's:
LLC Filing
With Incfile, you can form your LLC and file it, starting at $0 + state fees. You'll also receive a registered agent service (a legal requirement for LLCs) for a year. This is included with each of Incfile's LLC formation packages. This is free for one year; after this, you'll pay a $119 annual fee to keep it going; however, there's no obligation to do so.
File Articles of Dissolution
If you want to shut down your LLC for good, you'll need to file articles of dissolution. Incfile can complete this paperwork to close your business and remove your responsibility for any ongoing maintenance requirements. This service costs $149.
EIN/Tax Number
Although acquiring an EIN yourself is relatively easy, you can save yourself the time and paperwork by getting Incfile to do it for you.
Business Accounting and Bookkeeping
Let's face it: accounting and bookkeeping are a headache. So, Incfile aims to simplify this process for small and large businesses alike by offering their own accounting and bookkeeping services.
Hare, all your accounting and tax needs are taken care of – i.e., Incfile will handle transactions, tax preparation, reconciliation, and file it all for you.
Change of Registered Agent
If you switch registered agents, you'll need to inform the state. You can do this by filling out a 'change of registered agent' form, or Incfile can do this for you.
Foreign Qualification
As you may remember from our rundown of Jumpstart's key features, a foreign qualification is required when you want to perform business in another state. This service with Incfile will cost $149.
Amendment – Name Change
The time may come where you need to make amendments, like a name change, to your business. In this case, Incfile can file these amendments for you for $99 per amendment, plus the state fee.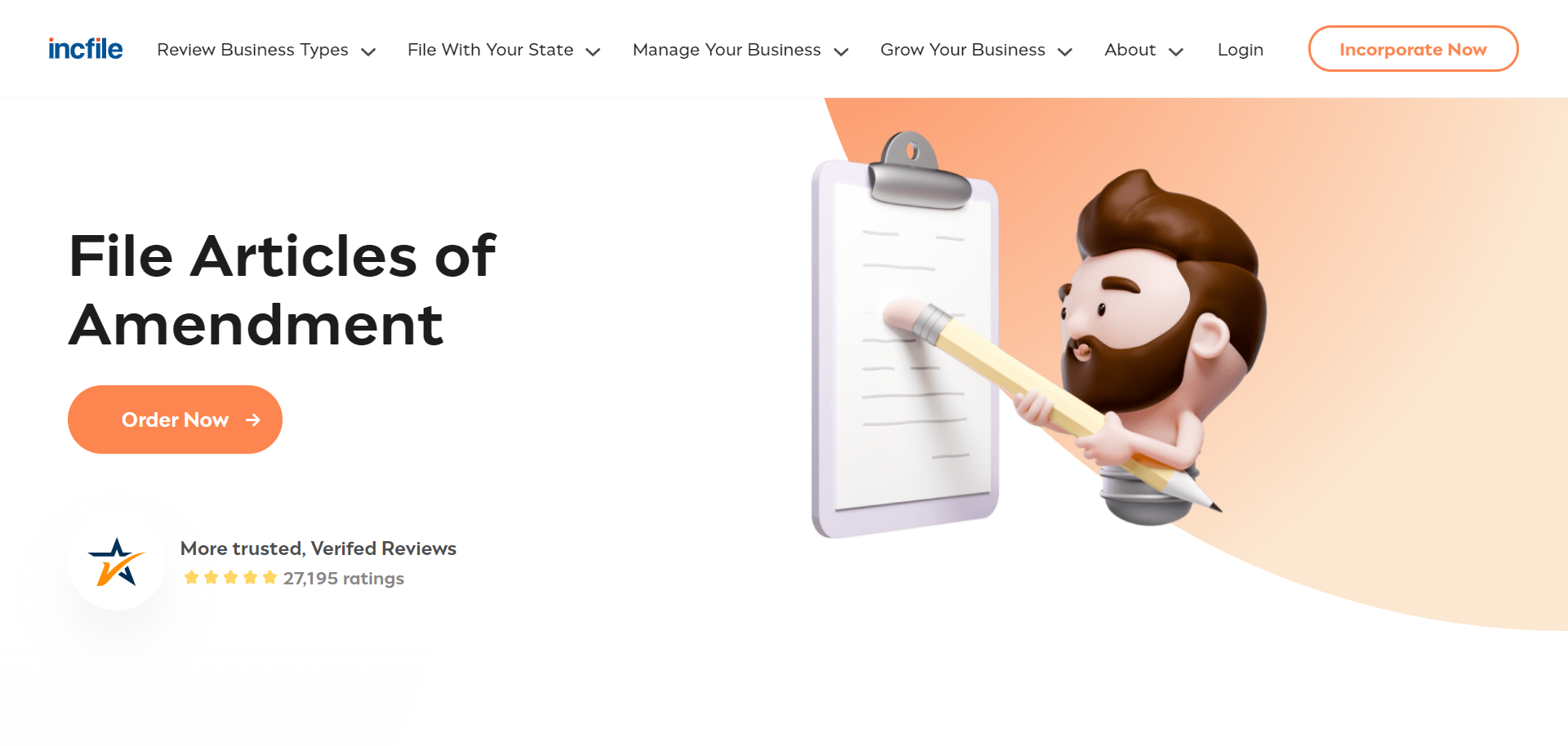 DBA Name
As we've already said, your 'doing business as' name is different from the name your business is legally registered under. You can file for a DBA name with Incfile for $99.
Annual Report
If you're an entrepreneur, most states will require some sort of annual report from you. Like Jumpstart, Incfile can handle this report for you for $99.
File S Corp Election
If you want your LLC to be taxed the same as an S Corporation, you'll need to inform the state. You'll need to fill out an S Corporation Tax Election form, or Incfile can do this for you for $50.
Certificate of Good Standing
This form proves that your current LLC is compliant with state regulations. Incfile will charge $49 to complete this form for you.
Trademark and Search Registration
Incfile will search the federal trademark database and register your trademark on your behalf. They'll also provide you with legal counsel from a trademark attorney.
LLC Kit
This is a binder with your LLC's name on it, but it will set you back $99 to acquire it. It's not a legal requirement, so it's more of a nice little opt-in feature if you need it.
Business Licence Research Package
This provides you with a list of all the licenses and permits you'll need to operate your business and remain compliant. Of course, you'll still have to apply for these licenses yourself, but you'll get an easy-to-use and comprehensive list of all the info you need to hit the ground running.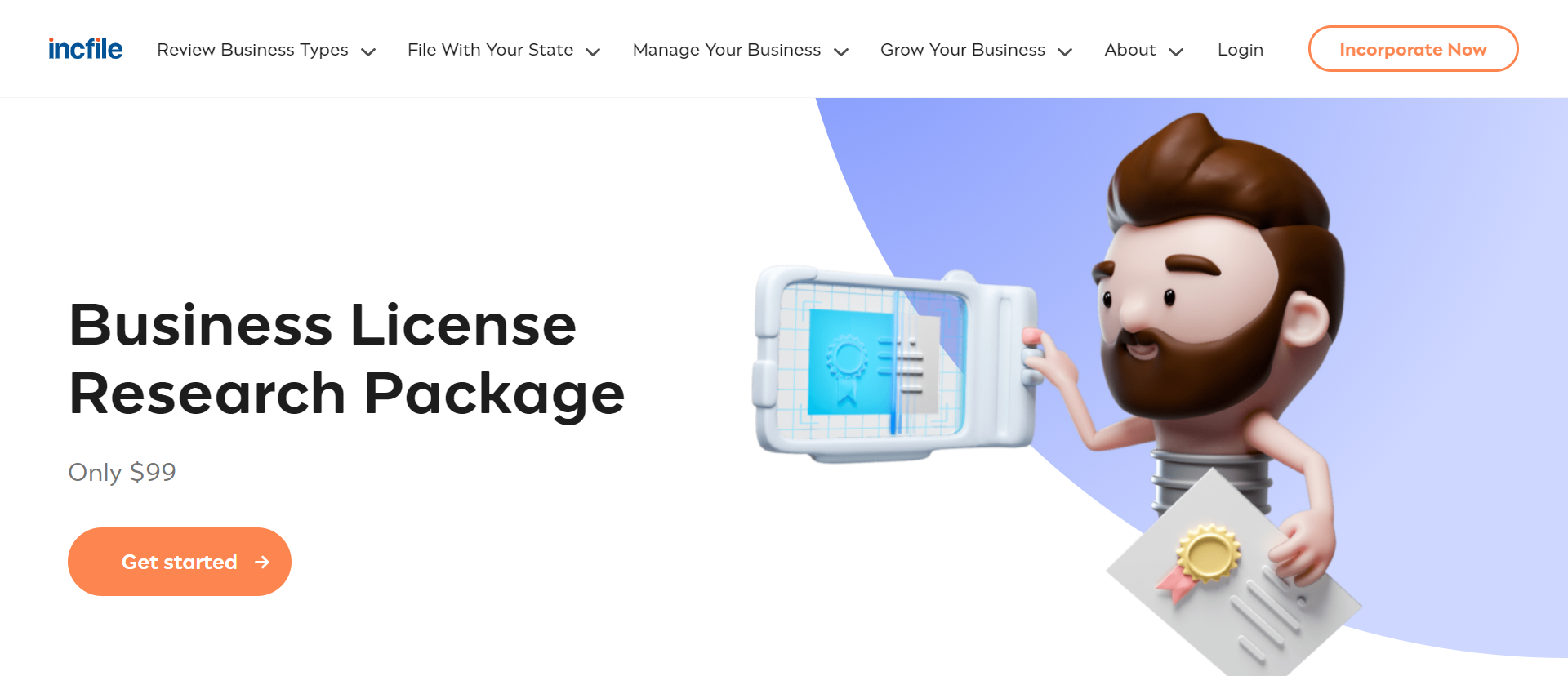 Corporation Bylaws and Meeting Minutes
This is included in Incfiles's Gold Plan and provides a document detailing the provisions outlined in your operating agreement. You'll also get access to an easier way to organize your first organizational meeting minutes. For more info about this package, you'll need to contact Incfile for more information.
Jumpstart: Customer Service
Jumpstart provides its customers with a few different ways to get in touch. Customers can log in to their Jumpstart dashboard and talk to customer support through live chat, phone call, or email. Jumpstart includes 24/7 customer support in all of its pricing packages. You can also use the 'Help' and 'FAQs' sections of their website if necessary.
Jumpstart has received a mixture of positive and negative reviews from customers about their customer support experiences. However, most reviews are overwhelmingly positive. For more information, check out their Trust Pilot page.
Incfile: Customer Service
Like Jumpstart, Incfile customers can contact them through live chat, email, or phone. They also have access to a comprehensive array of self-help guides.
Recently, Incfile has made commitments to improve its customer support experience by doubling the size of its customer service team, adding an interactive help service section, and offering live chat.
You'll receive unlimited phone and email support if you opt for IncFile's Gold or Platinum plans – but not with its Silver plan.
Incfile's customer service reviews are generally excellent. Their website is filled with links to their Shopper Approved review page, which boasts overwhelmingly positive feedback. Here, product satisfaction slightly outweighs customer support, but customer support still receives an average 4.4-star review.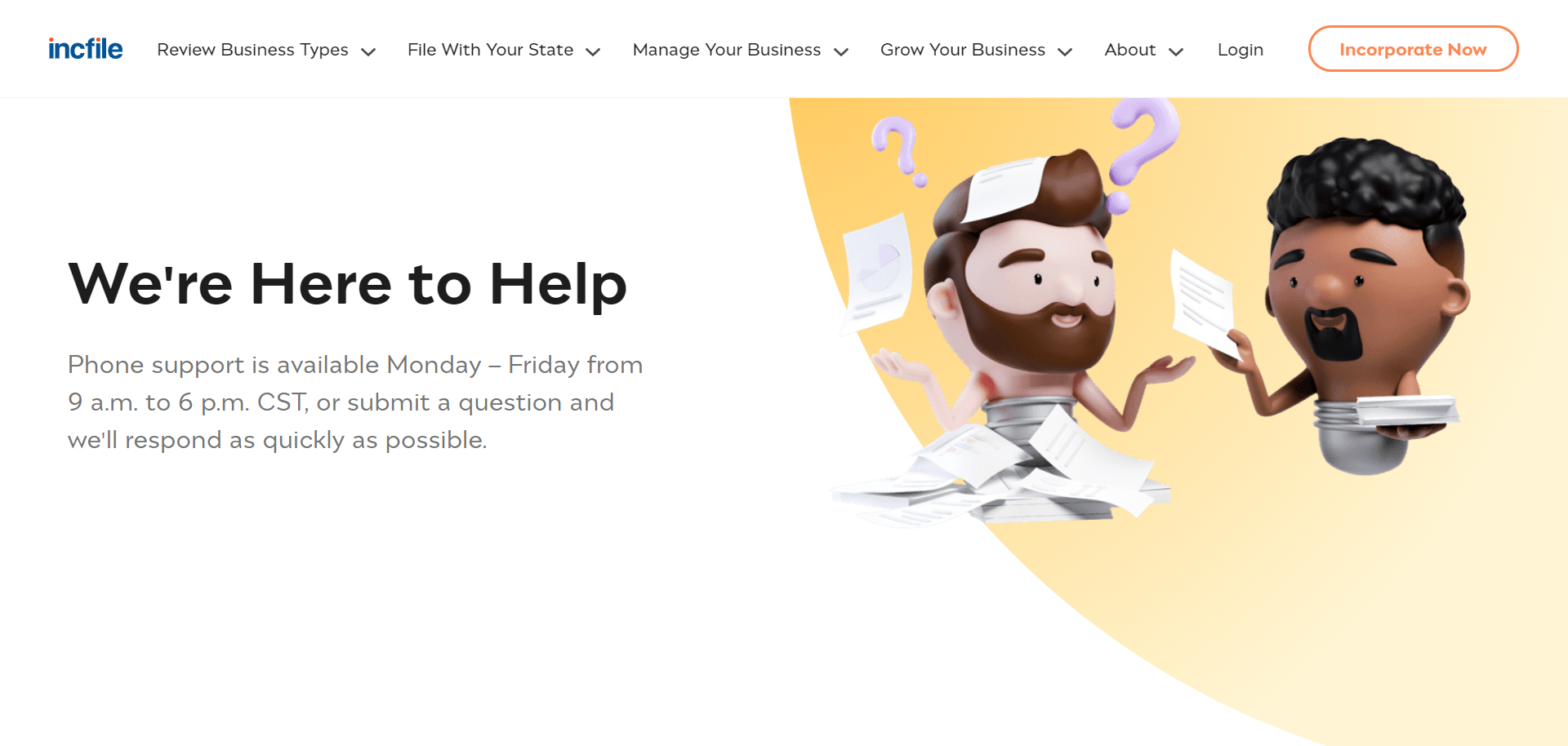 Jumpstart's Pricing
Jumpstart has three main company formation plans, where you'll have to pay an annual fee for each, plus the appropriate state fee.
The price depends mainly on the kind of business you're founding (e.g., C Corporation, S Corporation, Non-Profit, or Limited Liability Company). Their basic filing and support services are provided with each plan. You'll also have to specify which state you're operating from, as this determines the state fee you'll have to pay.
Once you've formed your business with Jumpstart, you have the option of purchasing additional services (listed above).
The Basic Plan
This plan will cost you $129 per year, and Jumpstart will aim to form your business within 48 hours.
They'll:
Do all the preparation work and file your business for you.

Perform a 'name availability search' for you,

Provide access to 'always open' customer support, so rest assured, there's someone on hand to help 24/7.

Provide a registered agent service

Provide a business address
The Plus Plan
The Plus Plan is more expensive than the basic option, coming in at $249 per year. With this plan, it will take between 12-14 days to set up your business. The time scale is slightly longer here to accommodate the extra paperwork and filing processes included in the package.
With this plan, Jumpstart will handle banking resolution for you to get started with your Mercury Bank business bank account and provide signatures for your business.
You'll also get your own EIN and access to a CPA assessment, giving you a comprehensive breakdown of your unique tax and accounting needs.
You'll also receive an operating agreement that will outline all the financial and legal details you need for your business. Most importantly, this will protect your personal assets if your business runs into difficulty.
The Pro Plan
Jumpstart's Pro Plan will set you back $329 a year, and your business will be formed within 7-10 days. 'Rush filing' is included in this plan, which means your documents will be filed much quicker than they would with their other programs.
You'll get everything included in the Plus plan, as well as:
A compliance guarantee

Two annual tax filings and two yearly amendments

Alerts for upcoming filing events
Incfile's Pricing
Rather impressively, Incfile's pricing plans start at just $0 + state fees, making them one of the cheapest online LLC formation services on the market.
Incfile has three main pricing plans.
These are:
Please note: This doesn't include government fees which will vary.
With this plan, it's free to form your LLC – it includes creating, preparing, and filing all the required paperwork to form your new business. In addition, you'll get access to the following:
Prepped and filed Articles of Organisation

Unlimited name availability services

A free registered agent service (for one year)

A small business checking account

Unlimited phone and email support

Online order status tracking

Every order received is forwarded to the relevant state within one business day

Business tax consultation

Online access to incorporation documents
… and more.
For the complete list of Silver plan features, including available add-ons for LLCs, click here.
For S Corporations, C Corporations, and Nonprofits, services may differ. For instance, you'll get features not applicable to LLCs, including IRS Form 2553 preparation. For the complete list of features available to other company types, click here.
The Gold Plan (Starting at $149)
With Incfile's Gold Plan, you'll get all the features included in the Silver plan, plus:
An Employer Identification Number/Tax ID

An operating agreement

Corporation Bylaws and Organisational Meeting Minutes
The Platinum Plan (Starting at $299)
With Incfile's platinum plan, you'll get all the features included in the Silver and Gold plans, plus:
Business contract templates

A business website domain name

Electronic delivery or express shipping
Remember, you can also choose from Incfile's numerous add-on services (many of which are listed above). For more information, check out their website.
FAQs
Jumpstart vs Incfile – Our Final Verdict
If you've made it this far, you've probably realized there are quite a few similarities (and differences) between Jumpstart and Incfile.
Although Incfile caters to other business types (like non-profits and s corporations), most of their features tend to be driven more towards forming LLCs. However, Jumpstart seems more focused on helping S corps, C corps, and nonprofits. That said, there are still LLC formation options available to you.
Incfile also offers customers a few unique features that Jumpstart lacks (including the LLC kit, corporation bylaws, organization for meeting minutes, and more). You probably also noticed that Incfile's pricing packages are much more competitive, especially in terms of pricing. With their Silver plan starting at just $0 + state fees, they've really carved out a name for themselves in this competitive market.
However, Jumpstart does seem to provide customers with much more detail about their add-ons and pricing. In other words, they're transparent where Incfile sometimes isn't. This could be a significant deciding factor for you.
In short, Incfile offers much better value for money. You'll get unique features that you won't get with Jumpstart. If you're not forming an LLC, though, they're probably not the right choice for you. In contrast, if you're creating an S corp, C corp, or non-profit, we recommend sticking with Jumpstart, as this seems to be their area of expertise.
Which (if either) will you decide? Let us know in the comments box below. Speak soon!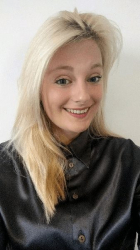 Latest posts by Rosie Greaves
(see all)
Get 40% OFF for 3 Months