Dernière mise à jour le 22 avril 2023 par DMEditor
When starting your own business in the US, you face a mountain of paperwork and compliance standards. If you don't have any legal experience, this poses a challenge. Of course, you could find a lawyer to help you establish your business identity. But unfortunately, lawyers are costly to employ, and needless to say, lawyering up is incredibly daunting for small businesses already feeling like they're taking a leap of faith! This is where online legal services like Autorité Inc. vs LegalZoom provide a convenient and affordable alternative.
These companies offer business owners legal advice, support and can file business documents on your behalf. All this goes a long way to easing the burden off your shoulders when formulating a new company.
That said, in this review, we're putting Autorité Inc. vs LegalZoom head to head to determine which is the more credible, affordable, and better option for your business.
C'est parti !
Main Differences Between Inc Authority vs LegalZoom
The main differences between Inc Authority vs LegalZoom are:
Inc Authority offers a free LLC formation service, whereas LegalZoom doesn't

Inc Authority doesn't advertise its pricing online, whereas LegalZoom is more transparent about its fees.

Inc Authority offers web packages for websites and domains alongside other business services. LegalZoom doesn't provide this kind of service.

IncAuthority offers free access to a registered agent for the first year, which isn't something LegalZoom does.
The Core Similarities Between Autorité Inc. vs LegalZoom:
You can form your business with both Autorité Inc. vs LegalZoom

Both providers offer personal estate management services and trusts for your family

Both Inc Authority vs LegalZoom offer phone support during the week

Registered agent service is available with both providers

Both platforms offer comprehensive legal services for anyone setting up a company
Both companies are well-reviewed online, although IncAuthority's ratings are higher than those of LegalZoom
What's Inc Authority?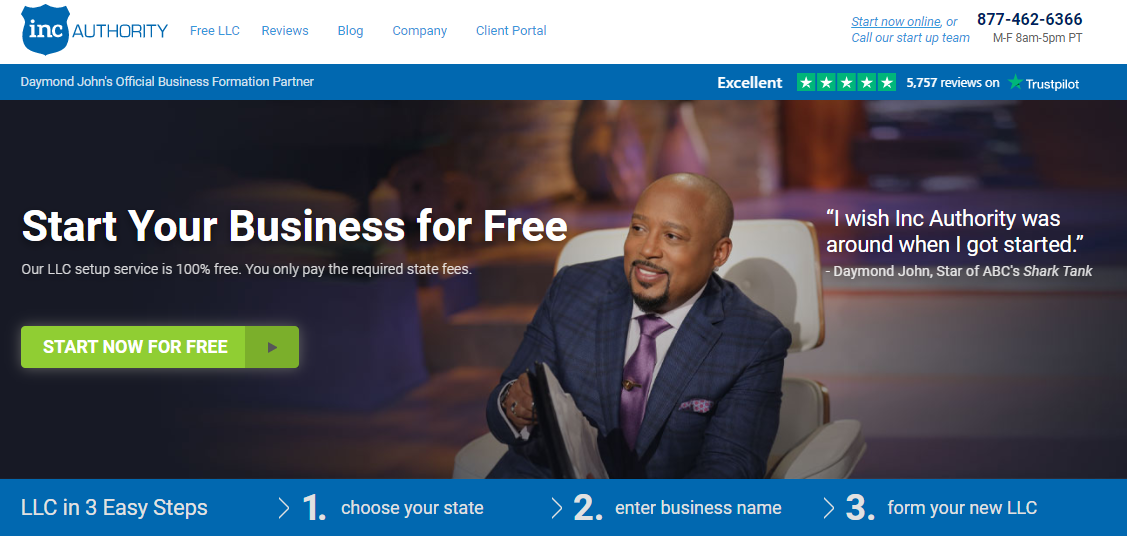 Used by Shark Tank stars like Daymond John and over 130,000 other clients, Inc Authority calls itself the best online LLC service. IncAuthority is no new kid on the block. It's been around for 30 years+ and describes itself as a "full-business formation specialist." While their focus is on company formation, they also provide a wider suite of services aimed at startups and entrepreneurs that include:
Plans d'entreprise

Business credit

Website and marketing packages

Federal trademark

Revocable living trust
While Inc Authority's website doesn't go into a great deal of detail about its 30-year pedigree, it does emphasize that it's a company that "strives for excellence" while supporting new businesses to grow and become successful.
It partners with a few known names such as GoDaddy, PayPal, Bank of America, Intuit QuickBooks, and Authorize.net.
You can set up your business in three steps: You choose your state, enter your business name, and form your new LLC – as simple as that!
What's more, Inc Authority's LLC formation service is free. You're only required to pay for the state fees. Despite not paying a dime, you benefit from preparation and filing services, a business name check, a registered agent for one year, and a tax planning consultation. We'll go into more detail about this later in this review!
So instead of focusing on just company formation as their primary service, Inc Authority could become your new legal partner for all your business needs.
What's LegalZoom?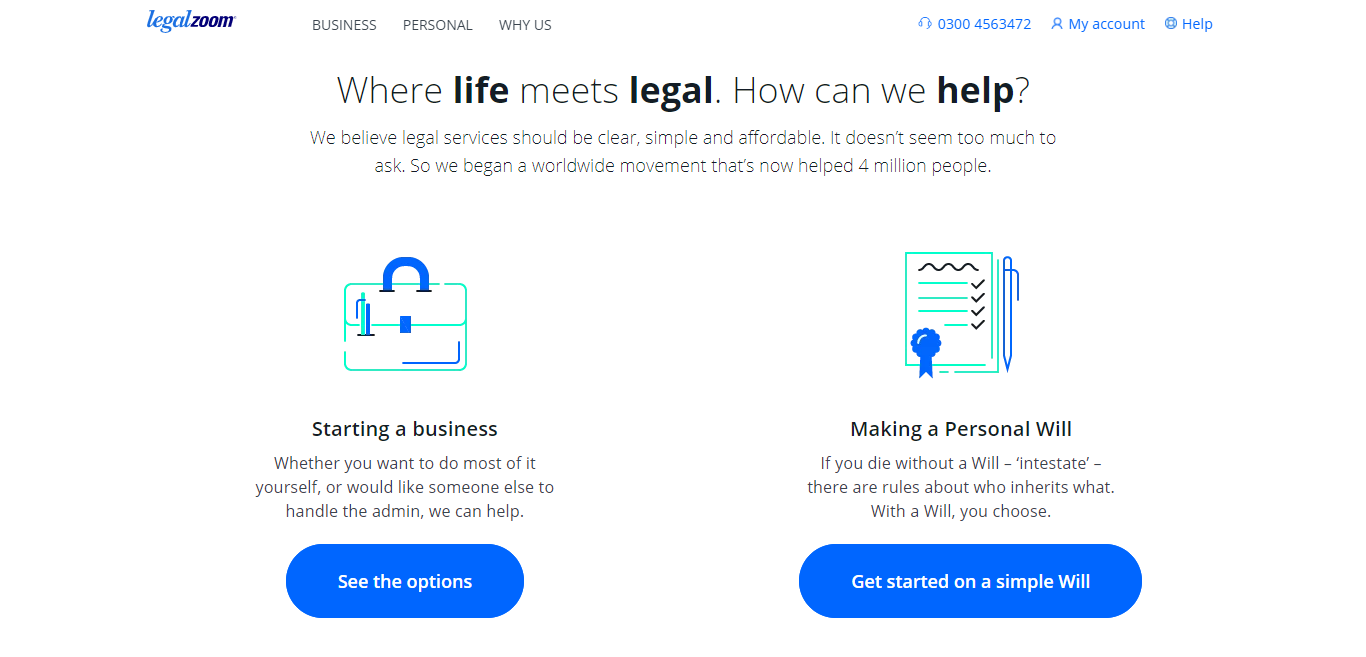 LegalZoom has been around since 2001, so rest assured, they have plenty of experience providing legal services online. Their focus, like Inc Authority, is company formation. But they also handle other legal documents for both businesses and private individuals, including wills.
LegalZoom has amassed over 4 million customers worldwide across both their personal and business service categories. Their broad range of legal products makes them an excellent one-stop-legal-shop. Still, as industry veterans, they come with premium prices.
Inc Authority Services and Prices
As we've already mentioned, forming your LLC or corporation with Inc Authority is 100% free. That said, you'll still need to pay the state fee that's involved with this process. Even so, this remains a much cheaper, more accessible way of starting your business.
This free formation includes:
A business name check within your state

The preparation and filing of formation documents – Inc Authority will submit them to the state.

A registered agent service for one year

The digital storage and delivery of all your start-up documents

A 1-hour tax planning consultation

A business credit and funding analysis that reviews potential steps and solutions

INC care support – an expert team of support staff are on hand via phone or email

Inc Authority prepares and files the S-Election form 2553 with the IRS. This is optional.
On top of this free service, Inc Authority, of course, offers other products to business owners, including:
A full range of business services, including tax planning, bookkeeping, estate and retirement planning, and business credit and funding.

One-on-one support and guidance for your business

Business coaching
Amongst their offers, you'll find a range of business starter bundles. Pricing for these services isn't available on their website, so you need to get in touch with Inc Authority to learn more.
The Starter Business Bundle…
Verifies the availability of your potential business name

Comes with custom state filed articles

Provides a complete operating agreement/bylaws

Provides you with a company seal and record book for all your documents

Registers your IRS Tax ID Number (EIN)

Provides you with ownership certificates

Provides a tax consultation (up to one hour with a tax consultant, who can clarify tax deadlines, deductions, inventory, and other ordinary tax-related questions).

Provides a business credit and funding evaluation. This helps you get pre-approved for $50k – $150k in working capital for unsecured loans and credit lines for start-ups. The process takes less than 10 minutes!

Comes with a success advisor for one year. This means unlimited phone and online support on:

IRS notifications and audits

Tax and accounting

State and local business licenses

Lawsuit defense

Payroll and business funding

Business banking and credit cards
The Executive Business bundle additionally…
Offers a business license report. This means instant access to their software tool that shows what licenses you need for your business – based on location and industry.

Comes with a website domain.
And finally, the Tycoon bundle comes with…
Express processing

BizCredit Express, consisting of:

A business credit coach – 90 days of one-on-one coaching with a dedicated coach

The Business Credit Launchpad – a web-based program that walks you through your business credit development.

A multi-tiered credit building system – Inc Authority takes you through its multi-tiered business development system to help you build credit quickly.

D&B credit bureau registration – This covers the initial registration and reports from the credit reporting bureau Dun & Bradstreet.
If Inc Authority's bundles aren't suitable for your needs, you can enlist each business service individually. For each one, you need to call up to get more details and a quotation. Here's a sample of the kinds of services on offer:
Federal trademark search and registration

Business credit building in 90 days

The website and marketing package – you'll get a private consultation with a website designer (there are various packages to choose from).

Business funding – Pre-qualify for funding and gain instant access to a network of lending options.

Have a dedicated business plan advisor handle your business plan's writing, editing, research, analysis, and projections.

Inc Authority can act as your registered agent.
On top of all that, Inc Authority also offers a personal, revocable living trust service to provide long-term financial planning for you and your family.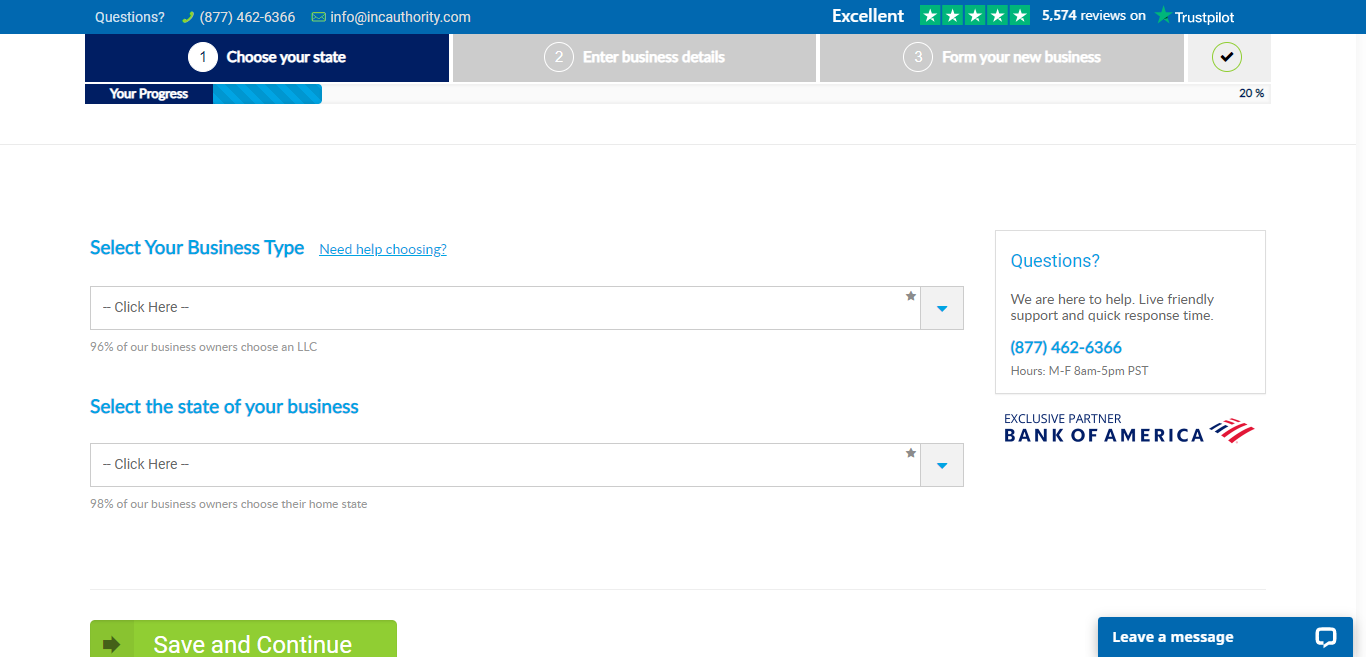 LegalZoom's Services and Prices
While we'll focus primarily on LegalZoom's business services, it's worth noting they also offer personal legal services. We've quickly described these below, but for now, let's check out their business formation services. There are three plans available, the pricing of which depends on the sort of company you're forming.
We'll look at LLC formation for the pricing below.
Economy:

$79 + state fees. Business formation takes roughly 30 days.

Standard :

$329 + state fees. Business formation takes 15 days.

Express Gold:

$349 + state fees. This plan speeds up the business formation process to 10 days.
Here's what's included with these plans:
They'll check the name of your business is available and file your business.

They'll handle your articles of organization – These are the necessary documents to form a legal LLC at the state level, including liabilities, powers, duties, rights, and more.

You get access to an 'LLC Next Steps Guide.' This document provides instructions on reviewing your LLC documents and starting your business.

You'll receive a 'Peace of Mind Review' – This is a personal review of your order before your business is formed, so if anything isn't quite right, you can have it fixed.

Access to lifetime customer support. – LegalZoom's customer care team is available seven days a week.

Financial account authorization. This is the document you need to authorize an individual to create a business bank account and handle the account on your behalf (this can also just be yourself.)
With the Standard or Express Gold plan, you also get:
An embossed organizer file for your documents

20 company membership certificates. These are personalized and can be handed out to your partners and members. Certificates come with a company seal to make it official.

LegalZoom VIP processing – this ensures your order is prioritized by the LegalZoom team.
Then on top of everything listed above, with the Express Gold plan, you also benefit from:
Rush processing with the Secretary of State to complete it within 7-10 business days.

Express shipping
For all these services, LegalZoom provides a 100% satisfaction guarantee. Your money can be refunded after 60 days if you're not happy. Note: this doesn't cover state fees for filing your business.
Beyond these business formation packages, LegalZoom also offers a range of business-related services, including:
Doing business as (DBA).

Starting from $99, you can register a business name that isn't your own legal name. For example, you could operate your dog grooming business as an entity named "FancyPoodles" – you get the idea.

Reserve your entity name.

This ensures your business name is reserved for when you're ready to file your company (providing your business name is available). This service costs $49 + state filing fees.

State Tax ID.

Get your identification number to handle your taxes. This enables you to hire employees and sell goods and services. Get in touch with LegalZoom for a quote.

Seller's permit.

Get the necessary permit to sell or lease at the wholesale or retail level. Get in touch with LegalZoom for a quote.

501(c) (3) application:

Make your non-profit exempt from federal income taxes, and let others make tax-deductible donations. Packages for this service start from $595.
There are also compliance services, including:
Annual reports

: These can be filed for you at $55 + filing fees.

A registered agent.

Appoint a LegalZoom registered agent for $299 a year. This ensures an official entity receives your legal notices and critical mail and keeps them organized for you. You also need a registered agent for each state you want to register your business in.

A compliance calendar.

This document is available for $69 a year. It's loaded with deadlines and filing requirements relevant to your business type.

Minutes manager.

This software tool creates minutes, notices, waivers, and written consent forms for your business. In other words, it's easier to keep your company compliant and your records complete. This will set you back $99 a year for unlimited usage.
Lastly, there are also business growth services, including:
Searching and registering a trademark. LegalZoom investigates if your desired trademark is available ($199 and upwards) and registers it for you ($599 + federal fees).

The advisory plan. This provides continued access to a business attorney for under $40 a month.
If you pay an extra $39.99 a month, you also get access to LegalZoom's library of agreements, legal forms, and templates. These can be filled out online with your business details and printed. Examples include mutual NDAs, letters of resignation, business plans, requests, and much more.
One thing to note is that some of these services come with a free trial, like the template library and access to an attorney. When the trial runs out, you'll be charged automatically – so make sure you're aware of these costs beforehand.
Finally, LegalZoom also offers several personal services less relevant to this review, including will creation, living trusts, and powers of attorney. They can also aid you with name changes, divorces and offer real estate services like residential leases and property deed transfers.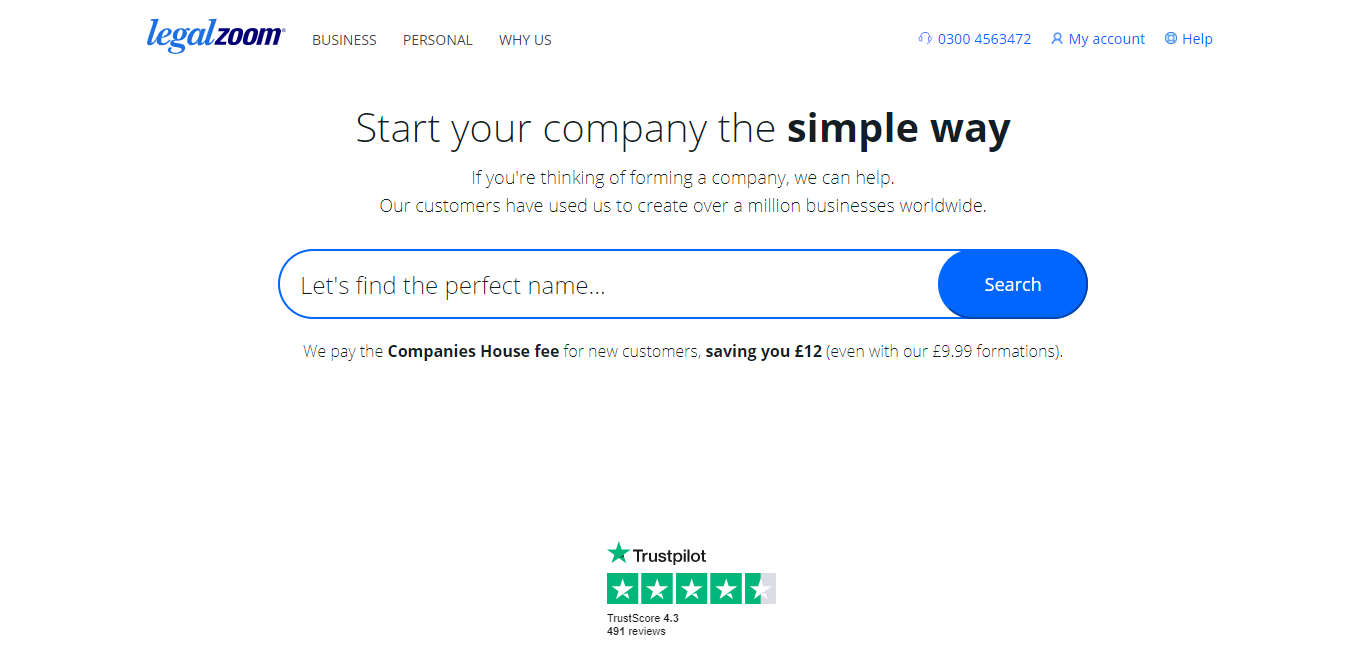 Inc Authority vs Legal Zoom: Customer Support
Inc Authority offers support to its customers via email or phone from Monday to Friday, 8:00 AM to 5:00 PM PST. There's also a blog that's worth checking out. Here you'll find info on step-by-step approaches to starting up a business in different states including Florida and New York. There are also articles on How to Start Your Own Record Label and LLC vs Inc. These blog posts are helpfully organized into categories including Marketing, Personal Growth, Customer Services, and Business Formation.
LegalZoom offers lifetime customer support from Monday to Thursday, 9:00 AM to 5:30 PM Pacific Time. On Fridays, they're open from 9:00 AM to 5:00 PM. You can contact LegalZoom's team via the phone. Alternatively, if you prefer the self-help route, you can peruse through the FAQs section on their website.
There's also a 'Resources' section on its website, with blog posts also split into categories including Business Formation, Last Wills, Estate Planning, US Law, Intellectual Property, and Real Estate. Overall, LegalZoom's blog looks more comprehensive with posts on a broader range of topics.
FAQs
Question: What do people say about LegalZoom online?
Answer: LegalZoom gets positive reviews on sites like Trustpilot and ConsumerAffairs. However, these are closer to 4 out of 5 stars, with some review averages falling to 3.6. The main complaints are that the service is quite expensive. However, many reviews relate to their personal services rather than their business formation. Some customers also criticize that LegalZoom's support team for being slow to respond.
Question: What do people say about Inc Authority online?
Answer: Compared to LegalZoom's online reviews, Inc Authority enjoys the confidence of its audience. On Trustpilot, the provider boasts 4.8 stars with over 5,000 reviews. Customers here praise their reps for the quality of their customer service and how easy the whole process. That said, several recent reviews complain about slow responses or trouble getting money refunded. Many recommend only using Inc Authority for its free filing service.
Question: Why do I need a registered agent?
Answer: A registered agent's address and name are legal requirements for forming a business with the state. You can use your own details for this position. But if you want to establish a business in more than one state, you'll need a registered agent in each one.
New companies might not have the facilities to have a secure address in each location. So, having a third party as a registered agent is an easy solution. Your registered agent also receives legal documents for you, so you won't ever have sensitive information sent to your physical business, potentially in front of customers.
Question: Can I establish my business myself?
Answer: As Inc Authority's free LLC formation service might demonstrate, the formation process itself isn't necessarily exclusive to legal experts. There are plenty of guides and documentation online to help with this process.
That said, you'll need to reserve your business name, find a registered agent or register yourself, and file Articles of Organization. You'll also need to obtain an EIN.
The cost of filing an LLC depends on the state, and so does some of the documentation you'll need. In other words, you can save money by doing this yourself. However, the paperwork can be a hassle and might be confusing if you don't have any legal know-how. This is why using a service like Inc Authority or LegalZoom can help you save time and ensure nothing is filed incorrectly.
Inc Authority vs LegalZoom: Our Final Verdict
Both Inc Authority vs LegalZoom could be the way to get your company formed without shouldering all the paperwork yourself.
Inc Authority is no doubt the cheaper of the two options. Their service isn't all-inclusive, and you'll need to pay extra for many of the other business services. But suppose you just want to get a simple LLC off the ground. In that case, there's no reason why you would have to pay for LegalZoom's more expensive plans.
For everything else, Inc Authority isn't very transparent when it comes to its pricing options. This makes us hesitant to recommend their services over LegalZoom. However, if you like the look of what they have to offer, it would be worth doing some more digging to get to the bottom of their pricing.
For a compromise between these two options, you could consider checking out FileNow. This is more affordably priced than LegalZoom while still providing pricing transparency. Or, if you think you can trudge your way through the paperwork, consider filing your company by yourself.
What's your favored approach for business formation? Let us know in the comments box below!